October 11
[{(o)}]|[{(o)}]|[{(o)}]|[{(o)}]| [{(o)}]|[{(o)}]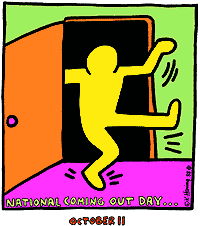 Today is National Coming Out Day. National Coming Out Day was founded by Robert Eichberg and Jean O'Leary on October 11, 1988 in celebration of "The Great March" - the Second Gay March on Washington D.C. a year earlier. The purpose of the march and of National Coming Out Day is to promote government and public awareness of Gay, bisexual, Lesbian and transgender rights and to celebrate homosexuality. National Coming Out Day is a time to publicly display Gay pride. Many choose this day to come out to their parents, friends, co-workers and themselves.It is observed on the 12th in the UK.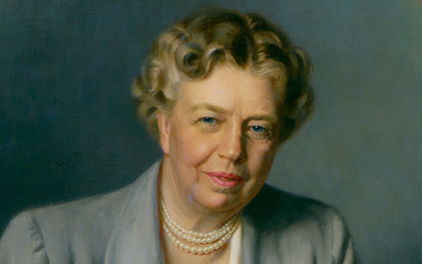 1884 – Born into wealth and aristocratic social rank, Eleanor Roosevelt (d.1962) became one of the twentieth century's most important advocates for the poor and oppressed and one of the most influential women in the world.
She was born in New York City, into one of America's most respected families, a niece of President Theodore Roosevelt. A gangly and awkward child who often felt rejected by her glamorous socialite parents, she was orphaned by the age of nine and went to live with her grandmother. There, she spent much of her childhood trying to escape the attentions of her drunken, abusive uncles and acquiring a lifelong sympathy for the helpless and the forgotten.
She found her first happy home in a community of women, at Allenswood, a girls' boarding school in England, where she studied from 1899 to 1902, forming an especially strong bond with the headmistress. Back in New York, the newly-confident Roosevelt participated in debutante balls, but was more interested in charity work. She joined the Junior League, a social service group for women, and began to tutor and teach classes in the poorer sections of the city.
In 1905, she married her distant cousin, the dashing Franklin Delano Roosevelt, who was drawn to Eleanor's energy and passion for social change. Over the next decade, the couple produced six children while Franklin completed his education and embarked on a political career, rising from state representative in 1910 to Secretary of the Navy in 1913.
Eleanor supported her husband's political ambitions and taught him much about the need for reform and improvements in the conditions of the poor that would later become a part of his political platform. Despite their fertility, however, their relationship was never passionate. It suffered a mortal blow during World War I, when Eleanor discovered that her husband was having an affair with her friend and secretary, Lucy Mercer.
In 1921, Franklin contracted polio, a debilitating disease that left him paralyzed. Eleanor supported her husband through his illness and recovery, encouraged him to continue his political career, and became his emissary into a world he could not easily navigate on his own. During the 1920s, however, she also developed a very satisfying independent life, full of social causes, reform work, and women friends, many of whom were lesbians, such as educators Marion Dickerman and Nancy Cook.
Roosevelt, Cook, and Dickerman were involved in a number of business, charitable, and political activities. Like her years in boarding school, these years of independence and feminism were among Eleanor's happiest.
During the 1930s, as Franklin prepared to run for president for the first time, Eleanor met a dynamic and feisty journalist named Lorena Hickok. Hickok was a star reporter for the Associated Press, as well as the nation's first woman sports reporter, and she and the tall, buck-toothed Eleanor soon became close friends. Their friendship lasted for thirty years and was almost certainly sexually as well as emotionally intimate.
After Franklin's election to the presidency in 1932, Hickok abandoned her career to work for the Roosevelt administration and be closer to Eleanor. They spent much of their time together, and when apart, exchanged thousands of letters full of passionate declarations of love. In one, Eleanor wrote, "I want to put my arms around you, I ache to hold you close."
It was Hickok who encouraged Eleanor to write her popular syndicated column "My Day," which began running in newspapers across the nation in 1935. Though "Hick's" temper and possessiveness caused friction and embarrassment from time to time, the two remained close friends until Roosevelt's death.
Eleanor Roosevelt had a clear and energetic political vision. She embraced causes that would inspire activists decades to come, such as civil rights for African Americans, women's rights, economic fairness, and international human rights. She became the conscience of her husband's administration and the human face of New Deal liberalism. One of her most dramatic statements on behalf of equality came in 1939 when the Daughters of the American Revolution refused to allow African-American opera singer Marian Anderson to perform at Constitution Hall. Mrs. Roosevelt resigned her membership in the society and helped arrange an open-air concert at the Lincoln Memorial that attracted 75,000 people.
In embracing progressive causes, she aroused the enmity of politicians and others opposed to her ideals of justice. She was frequently maligned and her "plain" looks and high voice held up to ridicule.
During World War II, however, Eleanor Roosevelt earned the respect of even those who had been her detractors. She made a 23,000-mile tour of battle sites in Australia and the South Pacific in order to evince concern for the welfare of American soldiers.
She also worked on behalf of European Jews, urging her husband to do more to help them escape Nazi persecution. As she had begun her work before her marriage, she continued it long after her husband's death in 1945. She was the only woman in the U. S. delegation to the United Nations in 1945, and she chaired the U. N. Commission on Human Rights from 1946 to 1951, helping to author the Universal Declaration of Human Rights.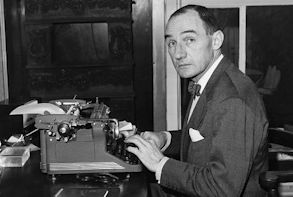 1910 – Joseph Alsop (d.1989) was an American journalist and syndicated newspaper columnist from the 1930s through the 1970s.
Alsop was born in Connecticut, to Joseph Wright Alsop IV and his wife Corinne. His mother was the niece of Theodore Roosevelt and was also related to President James Monroe.
After college, Alsop became a reporter, then an unusual career for someone with an Ivy League diploma. He began his career with the New York Herald Tribune and in a short time he established a substantial reputation as a journalist, particularly by his comprehensive reportage of the Bruno Hauptmann trial in 1934
In 1941, after it had become clear that the United States would soon enter World War II, Alsop volunteered for the armed forces. Alsop entered the Navy and used his political connections to be assigned as Staff Historian to Claire Chennault's American Volunteer Group, later famous as the Flying Tigers, while the group was training at Toungoo, Burma. While on a supply mission for Chennault in December 1941, Alsop was captured and interned at Hong Kong by the Japanese. Repatriated on the neutral liner Gripsholm, he rejoined Chennault in Kunming, China and served with him for the rest of the war.
After the war, Alsop resumed his journalism career, now working with his brother Stewart Alsop to produce a thrice-weekly piece called "Matter of Fact" for the Herald Tribune.
In 1961 he married Susan Mary Jay Patten. By this marriage he had two stepchildren, William and Anne. The couple divorced in 1978.
Alsop kept his homosexuality a closely guarded secret all of his life. Richard Helms called him "a scrupulously closeted homosexual". Nevertheless, Senator Joseph McCarthy insinuated that Alsop was homosexual in the course of a dispute with the Saturday Evening Post about its coverage of his campaign to remove "perverts" from government employment. When McCarthy implied that Alsop was not "healthy and normal", a Post editor vouched for him: "I know Alsop well, and I know he is a man of high character, with great courage and integrity".
Early in 1957, the KGB photographed him in a hotel room in Moscow having sex with another man, a Soviet agent. He rebuffed Soviet attempts at blackmail, instead writing "a detailed account of the incident and a relevant narrative history of his sex life". It has been described as "brimming with revelations about Alsop's sex life on several continents", including a report that one of his lovers was Arthur H. Vandenberg, Jr., who had resigned as Dwight Eisenhower's appointments secretary in 1953. His accounts, delivered to a friend in the CIA, quickly reached the FBI, allowing J. Edgar Hoover to spread the information through the Eisenhower administration, many of whose members had fought sharp battles with Alsop. Hoover told President Lyndon B. Johnson about the Moscow incident in 1964, and Johnson told Secretary of Defense Robert S. McNamara about Alsop's FBI file.
In 1965 Alsop complained to friends that Johnson was tapping his phone, a claim that infuriated the President, who believed that he protected Alsop from McCarthy's attacks years before. Alsop told White House Press Secretary Bill Moyers that he believed the Administration was tapping his phone and spreading gossip about his personal life, all in an attempt to stop leaks. When Moyers reported the charges to the President, Johnson ordered Attorney General Nicholas Katzenbach to be certain no such wiretap was in place and protested that he never ordered one.
In the 1970s, the Soviets sent Alsop's embarrassing photos to several prominent American journalists without consequences. As a consequence, Alsop considered making his homosexuality public to end the harassment, but ultimately did not.
In 1967 Gore Vidal published Washington, D.C., a novel in which the character of a gay journalist is loosely based on Alsop. David Auburn's play, The Columnist, which ran on Broadway from April 25 to July 8, 2012, dramatizes Alsop's life, notably the interplay of his politics, his journalism, and his sexuality.
Joseph Alsop was at work on a memoir when he died at his home in Washington, D.C., on August 28, 1989. The memoir was published posthumously as I've Seen the Best of It.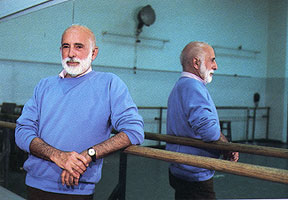 1918 – Born: Jerome Robbins (d.1998) was an American theater producer, director, and choreographer known primarily for Broadway Theater and Ballet/Dance, but who also occasionally directed films and directed/produced for television. His work has included everything from classical ballet to contemporary musical theater. Among the numerous stage productions he worked on were On the Town, Peter Pan, High Button Shoes, The King And I, The Pajama Game, Bells Are Ringing, West Side Story, Gypsy: A Musical Fable, and Fiddler on the Roof. Robbins is a five time Tony Award winner and a recipient of the Kennedy Center Honors. He also received two Academy Awards, including the 1961 Academy Award for Best Director with Robert Wise for West Side Story. A documentary about his life and work, Something to Dance About, featuring excerpts from his journals, archival performance and rehearsal footage and interviews with Robbins and his colleagues, premiered in PBS in 2009.
Robbins was born Jerome Wilson Rabinowitz, exactly one month before the end of World War I, in Manhattan's Lower East Side - a neighborhood populated by many immigrants. Known as "Jerry" to those close to him. Rabinowitz, however, translates to "son of a rabbi", a name Robbins never liked, since it marked him as the son of an immigrant. So he took the name "Robbins".
In the early 1920s, the Rabinowitz family moved to Weehawken, New Jersey. His father and uncle opened the "Comfort Corset Company," a unique venture for the family, which had many show business connections, including vaudeville performers and theater owners. Robbins began college studying chemistry at New York University but dropped out after a year for financial reasons and to pursue dance. He studied at the New Dance League.
By 1939, Robbins was dancing in the chorus of such Broadway shows as Great Lady, The Straw Hat Revue, and Keep off the Grass, which George Balanchine choreographed. Robbins was also dancing and choreographing in the Poconos of Pennsylvania. Here he choreographed many dramatic pieces with controversial ideas about race, lynching, and war.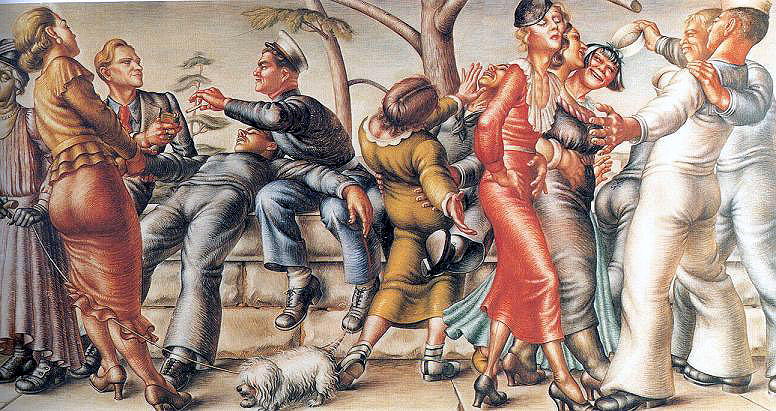 Cadmus: The Fleet's In!
(Click for larger)
In 1944, Robbins choreographed and performed in Fancy Free, a ballet about sailors on liberty, at the Metropolitan Opera. The inspiration for Fancy Free came from Paul Cadmus' 1934 painting The Fleet's In! which is part of the Sailor Trilogy. Robbins was recommended for a ballet based on the art work by his friend Mary Hunter Wolf. Distancing himself from the implicit homosexuality of that depiction, an element of controversy, Robbins said in an interview with The Christian Science Monitor, "After seeing...Fleet's In, which I inwardly rejected though it gave me the idea of doing the ballet, I watched sailors, and girls, too, all over town." He went on to say "I wanted to show that the boys in the service are healthy, vital boys: there is nothing sordid or morbid about them." Oliver Smith, set designer and collaborator on Fancy Free, knew Leonard Bernstein and eventually Robbins and Bernstein met to work on the music. This would be the first of several collaborative efforts. Fancy Free was a great success.
Robbins went on to choreograph his greatest successes On the Town, Call Me Madam, The King & I, Wonderful Town, The Pajama Game, The Bells Are Ringing, and in 1957, he conceived, choreographed, and directed a show that some feel is his crowning achievement: West Side Story.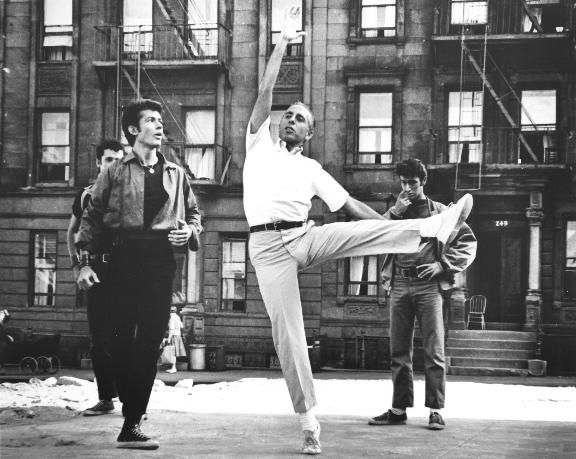 Rehearsing dancers for West Side Story
Robbins was highly sought after as a show doctor. He took over the direction of two troubled productions during this period and helped turn them into smashes. In 1962, he saved A Funny Thing Happened on the Way to the Forum (1962), a musical farce starring Zero Mostel. The show was not working. Robbins staged an entirely new opening number which explained to the audience what was to follow, and the show played beautifully from then on. In 1964, he took on a floundering Funny Girl and devised a show that ran 1348 performances. The musical helped turn lead Barbra Streisand into a superstar.
That same year, Robbins won matching Tony Awards for his direction and choreography in Fiddler on the Roof (1964). The show starred Zero Mostel as Tevye and ran for 3242 performances, setting the record (since surpassed) for longest-running Broadway show
While Robbins's career seemed to be a charmed one, it was not without a period of difficulty. In the early 1950s, he was called to testify before the House Committee on Un-American Activities, suspected of Communist sympathies. Threatened with the exposure of his homosexual side, Robbins named names along with Sterling Hayden, Burl Ives, Robert Montgomery, and Elia Kazan. Because he cooperated with HUAC, Robbins's career did not visibly suffer and he was not blacklisted. Robbins named more names than any other HUAC witness.
Following a bicycle accident in 1990 and heart-valve surgery in 1994, in 1996 he began showing signs of a form of Parkinson's disease, and his hearing was quickly deteriorating. He nevertheless insisted on staging Les Noces for City Ballet in 1998, his last project. He suffered a massive stroke two months later, and died at his home in New York on July 29, 1998. On the evening of his death, the lights of Broadway were dimmed for a moment in tribute. He was cremated and his ashes were scattered into the Atlantic Ocean.
Robbins was bisexual. He had a relationship with Montgomery Clift, and never married.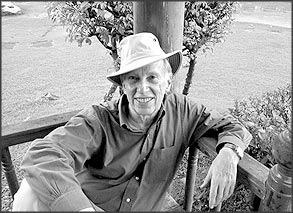 1933 – John Glines, born in Santa Maria, California, is an American playwright and producer.
Glines graduated from Yale in 1955 with a BA in drama. As a writer in children's television, he worked for seven years on Captain Kangaroo and for four years on Sesame Street. His play In The Desert Of My Soul was anthologized in Best Short Plays Of 1976. His musical Gulp!, written with Stephen Greco and Robin Jones, had a lengthy off-off-Broadway run in 1977.
Glines won a Tony Award and a Drama Desk Award in 1983 as producer of Torch Song Trilogy. In his acceptance speech for the Tony, he was the first person ever to acknowledge his same-sex lover on a major awards show
Concurrently with his theatre work, Glines was a founding trustee of Broadway Cares/Equity Fights AIDS, which grew out of Stamp Out AIDS, the non-profit organization he founded in 1985 as a result of his work on As Is.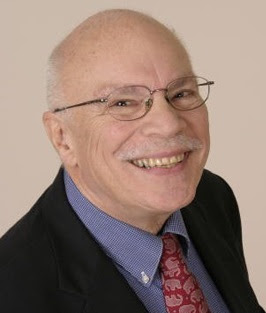 1933 – Richard Pillard is a professor of psychiatry at the Boston University School of Medicine best known for his work on biology and sexual orientation. He was the first openly gay psychiatrist in the United States.
Pillard married Vassar graduate Cornelia Cromwell in 1958, while he was in medical school. They later divorced when he was in his thirties, and Pillard now identifies as gay.
Chandler Burr reported that Pillard jokes:

"he is uniquely equipped to investigate whether homosexuality has a biological basis: he, his brother, and his sister are gay, and Pillard believes that his father may have been gay. One of Pillard's three daughters from a marriage early in life is bisexual. This family history seems to invite a biological explanation, and it made Pillard start thinking about the origins of sexual orientation."
Pillard and biologist James D. Weinrich co-authored a paper which found that homosexuality runs in some families. Pillard feels this is some of his most significant work, and that paper won the Society for the Scientific Study of Sexuality Hugo Beigel Award for the best paper published in The Journal of Sex Research.
Pillard is also well known for a series of studies he coauthored with J. Michael Bailey, which examined the rate of concordance of sexual identity among monozygotic twins, dizygotic twins of the same sex, non-twin siblings of the same sex, and adoptive siblings of the same sex. In all studies they found rates of concordance variantly consistent with the hypothesis that homosexuality has a significant genetic component.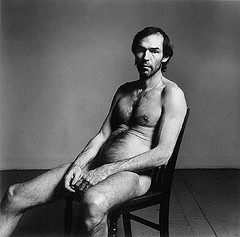 Peter Hujar Self-portrait
1934 – Peter Hujar was an American photographer known for his black and white portraits. (d.1987)
Born in Trenton, New Jersey, United States Hujar later moved to Manhattan to work in the magazine, advertising, and fashion industries. His subjects also consisted of farm animals and nudes, often men mastubating or in full erection.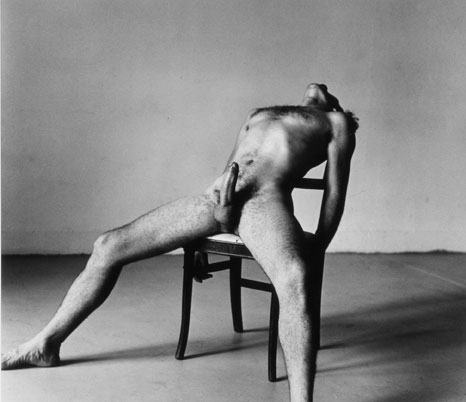 Carlos
His most famous photograph is Candy Darling on Her Deathbed, strikingly used as the cover of Antony and the Johnson's 2005 album I Am A Bird Now.
A one-time partner of artist David Wojnarowicz, Hujar died of AIDS complications on November 26, 1987.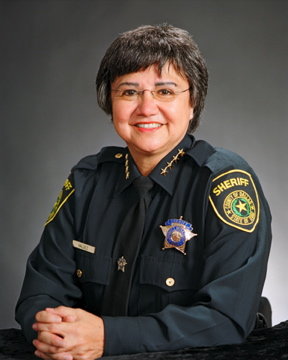 1947 – Today's the birthday of Sheriff Lupe Valdez. Valdez is an Latino-American law enforcement official and the Sheriff of Dallas County, Texas. She is Texas's only elected female sheriff, as well as being the only openly Lesbian holder of that office. Her election in 2004, combined with the fact that Valdez is female, Hispanic and a lesbian, made national headlines and was even reported overseas. She immediately faced opposition by the "good old boys" in the department who resented her election and her commitments to reforming the department.
In 2008, Valdez was re-elected Sheriff of Dallas County with 388,327 votes to her opponent's 322,808 votes, a margin of roughly 65,500. Valdez received over 99,000 more votes than the "Straight Democratic" option as many described it during the race. She won in precincts across Dallas County, including formerly-Republican areas including Irving and Mesquite. She began her second four-year term in 2009.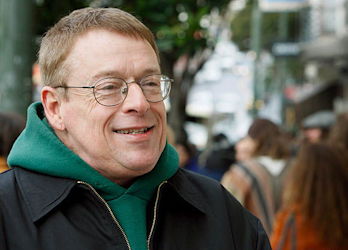 1954 – Cleve Jones is an American AIDS and LGBT rights activist. He conceived of the NAMES Project AIDS Memorial Quilt which has become, at 54 tons, the world's largest piece of community folk art as of 2009. In 1983, at the onset of the AIDS pandemic Jones co-founded the San Francisco AIDS Foundation which has grown into one of the largest and most influential People with AIDS advocacy organizations in the United States.
Jones was born in West Lafayette, Indiana, and raised in Scottsdale, Arizona. His career as an activist began in San Francisco during the turbulent 1970s when he was befriended by pioneer gay rights leader Harvey Milk. He worked as a student intern in Milk's office while studying political science at San Francisco State University. In 1978, Milk was assassinated along with San Francisco's Mayor George Moscone. Jones went to work in the district office of State Assemblyman Art Agnos.
In 1983, when AIDS was still a new and poorly understood threat, Jones co-founded the San Francisco AIDS Foundation. Jones conceived the idea of the AIDS Memorial Quilt at a candlelight memorial for Harvey Milk in 1985 and in 1987 created the first quilt panel in honor of his friend Marvin Feldman. The AIDS Memorial Quilt has grown to become the world's largest community arts project, memorializing the lives of over 85,000 Americans killed by AIDS.
Jones has been working with UNITE HERE, the hotel, restaurant, and garment workers union on homophobia issues. He is a driving force behind the Sleep With The Right People campaign, which aims to convince LGBT tourists to stay only in hotels that respect the rights of their workers. Another part of Jones' work with UNITE HERE is making the labor movement more open to LGBT members.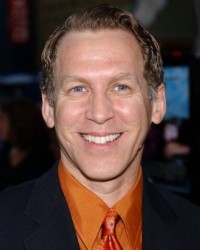 1956 – Stephen Spinella is an American stage, television, and film actor.
Spinella was born in Naples, Italy, to a father who was an American naval airplane mechanic. He grew up in Glendale, Arizona and graduated from the University of Arizona drama department. He also attended NYU's Tisch School of the Arts' Graduate Acting Program, graduating in 1982.
Spinella won consecutive Tony-awards for Best Featured Actor and Best Actor for his performance as Prior Walter in Angels in America: Millennium Approaches and Angels in America: Perestroika respectively. He was also nominated for Best Featured Actor in a Musical for James Joyce's The Dead.

1965 – The Ninth Circuit Court of Appeals upholds an oral copulation conviction of two men in California for sex in a restroom stall that was enclosed and viewed from holes in the ceiling overhead.

1995 – A federal judge in Florida refuses to dismiss a suit brought by a man arrested in a restroom for sex. The court finds that the store may have acted in concert with police, thus creating a possible federal civil rights issue. The court also finds that Florida's privacy provision in its constitution does not give right of action against private individuals.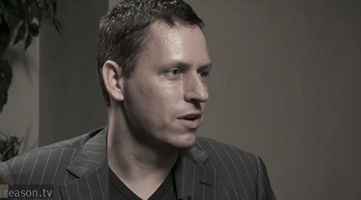 1967 – Peter Thiel is a German-born American entrepreneur, venture capitalist, and hedge fund manager. Thiel co-founded PayPal with Max Levchin and served as its CEO. He currently serves as president of Clarium Capital, a global macro hedge fund with under $700 million in assets under management; a managing partner in The Founders Fund, a $275 million venture capital fund that he launched in 2005; and co-founder and investment committee chair of Mithril Capital Management. He was the first outside investor in Facebook, the popular social-networking site, with a 10.2% stake acquired in 2004 for $500,000, and sits on the company's board of directors. Thiel was ranked #293 on the Forbes 400 in 2011, with a net worth of $1.5 billion as of March 2012. Thiel lives in San Francisco, California.
In 1998 Thiel co-founded PayPal, an online payments system, with Max Levchin. The company later merged with X.com, then headed by Elon Musk. PayPal went public on February 15, 2002, and was sold to eBay for $1.5 billion later that year. Thiel's 3.7 percent stake in PayPal was worth approximately $55 million at the time of the acquisition.
In August 2004, Thiel made a $500,000 angel investment in the social network Facebook for 10.2% of the company and joined Facebook's board. This was the first outside investment in Facebook.
Thiel, who is openly gay, has supported gay-rights causes such as the American Foundation for Equal Rights and GOProud.
In May 2016, Thiel confirmed in an interview with The New York Times that he had paid $10 million in legal expenses to finance several lawsuits brought by others, including a lawsuit by Terry Bollea ("Hulk Hogan") against Gawker Media for invasion of privacy, intentional infliction of emotional distress, and infringement of personality rights after Gawker made public sections of a sex tape involving Bollea. The jury awarded Bollea $140 million, and Gawker announced it was permanently shutting its doors due to the lawsuit in August 2016.[106] Thiel referred to his financial support of Bollea's case as one of the "greater philanthropic things that I've done."
Thiel said he was motivated to sue Gawker after they published a 2007 article publicly outing him, headlined "Peter Thiel is totally gay, people". Thiel stated that Gawker articles about others, including his friends, had "ruined people's lives for no reason," and said, "It's less about revenge and more about specific deterrence." In response to criticism that his funding of lawsuits against Gawker could restrict the freedom of the press, Thiel cited his donations to the Committee to Protect Journalists and stated, "I refuse to believe that journalism means massive privacy violations. I think much more highly of journalists than that. It's precisely because I respect journalists that I do not believe they are endangered by fighting back against Gawker."
On August 15, 2016, Thiel published an opinion piece in The New York Times in which he argued that his defense of online privacy went beyond Gawker. He highlighted his support for the Intimate Privacy Protection Act, and said that athletes and business executives have the right to stay in the closet as long as they want to.
Thiel married his long-time partner Matt Danzeisen in October 2017, in Vienna, Austria. Danzeisen works as a portfolio manager at Thiel Capital.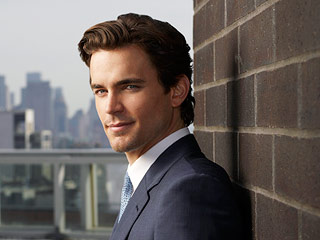 1977 – Matt Bomer is an American film, stage and television actor, best known as the star of the USA Network television series White Collar, which premiered in 2009.
Matt Bomer was raised in Spring, Texas, a suburb of Houston. He is the son of Sissi and John Bomer, a former Dallas Cowboys draft pick. He attended Klein High School (located outside of Houston) with fellow actor Lee Pace.. In addition, they both acted at Houston's Alley Theatre, a non-profit theatre company.
Making his television debut with Guiding Light in 2001, Bomer received notice with his recurring role in the NBC television series Chuck as Bryce Larkin. Bomer has featured in supporting roles in such films as the 2005 thriller Flightplan and the 2011 science fiction thriller In Time. In 2012, Bomer starred as Ken, a male stripper, in the feature film Magic Mike.
Bomer has also starred in the Dustin Lance Black play, 8, on Broadway and at the Wilshire Ebell Theatre as Jeff Zarillo — a plaintiff in the federal case that overturned California's Proposition 8.
Bomer is in a relationship with publicist Simon Halls. They have three sons via surrogacy, including a set of twins. The exceptionally handsome White Collar actor broke his glass closet during an acceptance speech, thanking his partner and children, "And I'd really especially like to thank my beautiful family: Simon, Kit, Walker, Henry. Thank you for teaching me what unconditional love is. You will always be my proudest accomplishment."
Countless gay guys' dreams came true, and Bomer gave them more of what they wanted when he starred alongside Channing Tatum, Joe Manganiello and Matthew McConaughey in Magic Mike.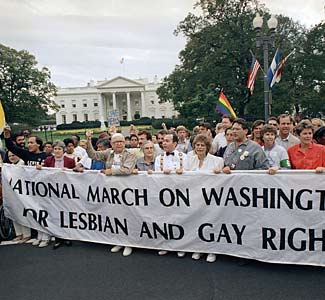 1987 – The Second National March on Washington For Lesbian and Gay Rights. More than a half million people (between 500,000 and 650,000, according to organizers) descended on the capital to participate in the second national March on Washington. Many of the marchers were angry over the government's slow and inadequate response to the AIDS crisis, as well as the Supreme Court's 1986 decision to uphold sodomy laws in Bowers v. Hardwick.
With the first display of the NAMES Project AIDS Memorial Quilt, the 1987 march succeeded in bringing national attention to the impact of AIDS on Gay communities. In the shadow of the U.S. Capitol, a tapestry of nearly two thousand fabric panels offered a powerful tribute to the lives of some of those who had been lost in the pandemic. It was the first time the quilts were displayed on the National Mall in Washington, D.C. It covered a space larger than a football field and included 1,920 panels. Half a million people visited the Quilt that weekend.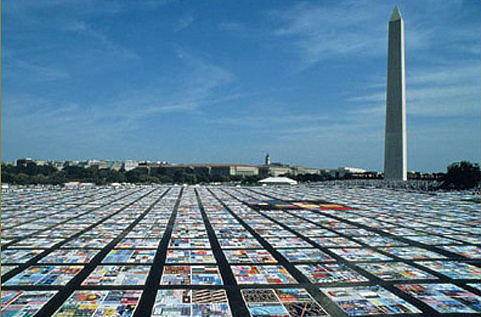 The overwhelming response to the Quilt's inaugural display led to a four-month, 20-city, national tour for the Quilt in the spring of 1988. The tour raised nearly $500,000 for hundreds of AIDS service organizations. More than 9,000 volunteers across the country helped the seven-person traveling crew move and display the Quilt. Local panels were added in each city, tripling the Quilt's size to more than 6,000 panels by the end of the tour.
The march also called attention to anti-Gay discrimination, as approximately 800 people were arrested in front of the Supreme Court two days later in the largest civil disobedience action ever held in support of the rights of Lesbians, Gay men, Bisexuals, and Transgender people.
Along with the formation of new national groups, the most lasting effects of the weekend's events were felt on the local level. Energized and inspired by the march, many activists returned home and established social and political groups in their own communities, providing even greater visibility and strength to the struggle for Lesbian, Gay, Bisexual, and Transgender rights. The date of the march, October 11th, has been celebrated internationally ever since as National Coming Out Day to inspire members of the GLBTQ community to continue to show, as one of the common march slogans proclaimed, "We are everywhere."
Speakers at the rally included former National Organization for Women president Eleanor Smeal, union president and Latino civil rights figure Cesar Chavez, actor and comedian Whoopi Goldberg, and activist Jesse Jackson.

1988 – More than 1,000 demonstrators in Maryland, led by ACT up activists, invade the grounds of the Federal Food and Drug Administration to focus attention on the AIDS crisis and to protest the agency's slow drug approval process. Nearly 150 demonstrators are arrested.

1989 – Robbie Manson, New Zealand Olympic-medalist rowing star, is born in Hamilton New Zealand. Robbie, who started rowing when he was 16, surprised the world when he came out as gay in 2014.
"I started rowing when I was 16," Robbie Manson wrote in an essay published on OutSports. "Who's going to suspect that I'm gay if I'm a rower, right?" For years, the Olympic rower for New Zealand struggled with accepting his sexual orientation. Deep down he was terrified of anyone finding out that he was gay, especially his teammates.
"When I was 19," he wrote, "I knew I was attracted to guys, but I still didn't want to admit it to myself. I thought that I could just deny those feelings and be straight." Then something surprising happened. Mason's older brother, Karl, who is also a rower, came out to him. But Robbie was in no way ready to admit that he was gay to himself let alone come out to anyone else.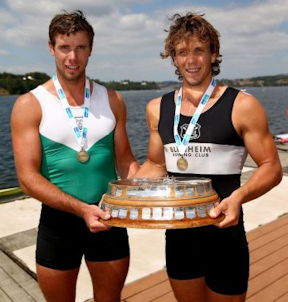 Robbie with brother Karl
Two years later, Manson decided he was finally ready. He came out to his brother when he was 21, and 10 months after that, he came out to his mother, who was very supportive. Over time, he found the courage to come out to even more people, including his friends and teammates.
"Much to my surprise," he wrote, "everyone was fine with it. I didn't have a single bad reaction, and most people were demonstrably supportive." After years of struggling with his sexual orientation, Manson says, he was finally able to accept himself for who he was.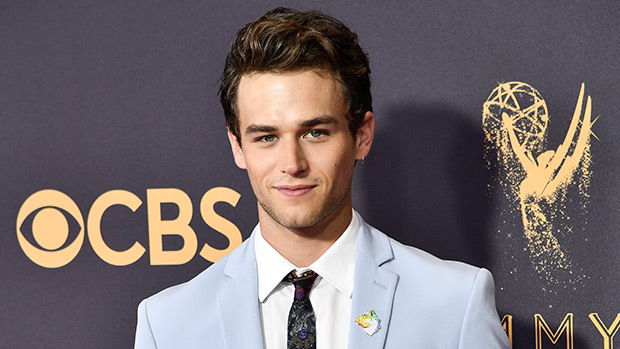 1993 – Brandon Flynn is an American actor, known for his role as Justin Foley in the Netflix series 13 Reasons Why, as well as appearing as himself in the short film Home Movies, and Mike the Intern in BrainDead.
Brandon Flynn was born in Miami, Florida, where he attended high school at New World School of the Arts. He graduated from the Mason Gross School of the Arts at Rutgers University in New Jersey in 2016, with a bachelor's degree in Fine Arts. Flynn's first role was at the age of ten, playing Mr. Smee in a musical version of Peter Pan.
In 2016, Flynn was cast as Mike the Intern in BrainDead. In 2017, he played Luke in the Off-Broadway production of Kid Victory at the Vineyard Theatre.
Prior to these roles, Flynn had acted in various commercials and films, playing a reporter for CWW's "FL Kidcare Health," the principal on Sirens and Sid on Lost and Gone Forever. Flynn has also acted in eleven plays, including Much Ado About Nothing and The Crucible.
Since 2017, Flynn has portrayed Justin Foley in the Netflix series 13 Reasons Why.
In February 2018, he joined the third season of True Detective as Ryan Peters in a recurring capacity.
Flynn is a member of the LGBT community. In September 2017 in a post on Instagram, he protested against an aerial message over Sydney, Australia, which had broadcast a push for a "no" vote on the non-binding plebiscite to legalize same-sex marriage in Australia.
At one time he was reportedly dating singer Sam Smith.

1993 – The US Supreme Court refuses to hear an appeal from a former CIA employee who was fired for acknowledging he was gay.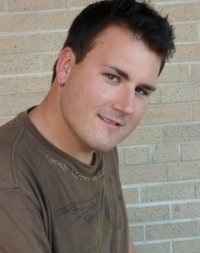 2009 – Winnipeg Aquarius Bathhouse Fire. Arson was the cause of the Winnipeg bathhouse fire that killed Winnipeg resident Steven Yablonski, above, 23, and Robert Clark, a 62-year-old man from Saskatchewan.
The fire broke out at 7 a.m. on the second floor of the 12,000-sq. ft. facility. Homicide investigators lead the investigation and are working to identify suspects In the days following the fire, the Winnipeg Fire Paramedic Service said the business did not have a centralized fire alarm that would have quickly alerted first-responders that a fire was in progress there. City records showed the bathhouse having 20 therapy rooms, plus a sauna, a steam room and washrooms. But the business was advertising it had 45 rooms for clients on its website.
The owner of the bathhouse, Somchai Pengpharsuks, told CBC News the business met all fire codes and was inspected by the city after he renovated it three years ago. Pengpharsuks said he's angry about the arson and can't understand why anyone would want to burn down his business deliberately. But he said he thinks he has an idea who might have started the fire. Staff and customers told him they saw two patrons, men who appeared to be in their 20s, acting suspiciously, he said. When the fire broke out, Pengpharsuks said he was told one of the men was seen running from the bathhouse to a car. Pengpharsuks gave surveillance footage taken by cameras mounted outside the bathhouse to investigators. Pengpharsuks declined to be more specific in describing the men people saw.
"I don't know how they could do it," he said. "They have no heart. They must be really bad people." Pengpharsuks said he's relieved people now know that he wasn't responsible for the fire.
A 25-year-old Winnipeg man, Justin James Rosdobutko, was charged with two counts of manslaughter over the deaths of Steven Yablonski and Robert Clark in the arson fire at the Aquarius bathhouse.
His first trial was declared a mistrial, and in a retrial in 2015 he was found not guilty of two counts of manslaughter. His lawyer Todd Bourcier said even though investigators were able to prove the fire was arson, the crown's case didn't prove beyond a reasonable doubt that Rosdobutko set it. He also says the crown's most important witness, Randy Soper, wasn't believable. Soper testified Rosdobutko confessed to him after the fire was set in the early morning hours of October 11, 2009. But during cross-examination Bourcier highlighted instances where Soper lied to police and during his closing argument Bourcier told the jury Soper had motive to lie about Rosdobutko's confession and implied he could have been the one to set the fire.
To date, justice has not been served.

2013 – Moldova's parliament overturns a newly passed Russian-inspired "Gay Propaganda Law."
OCTOBER 12 →
[{(o)}]|[{(o)}]|[{(o)}]|[{(o)}]| [{(o)}]|[{(o)}]