October 19
[{(o)}]|[{(o)}]|[{(o)}]|[{(o)}]| [{(o)}]|[{(o)}]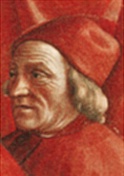 1433 – Born: Renaissance Humanist philosopher Marsilio Ficino (d.1499). Ficino was one of the most influential humanist philosophers of the early Italian Renaissance, an astrologer, a reviver of Neoplatonism who was in touch with every major academic thinker and writer of his day, and the first translator of Plato's complete extant works into Latin. Ficino led the Platonic Academy of Florence, a circle of literary men and artists eager to learn from the man they nicknamed "alter Plato." His large "Platonica familia" included his student Lorenzo de' Medici, philosopher Pico della Mirandola, and poets Angelo Poliziano and Giovanni Cavalcanti, Ficino's dear friend. Throughout his life Ficino also corresponded with numerous prominent men of Europe, political and religious leaders as well as scholars.
Ficino encouraged his followers at the Platonic Academy to write love letters stressing the union of souls who have lost themselves in each other. Ficino's voluminous correspondence, which was published in 1495, contains many examples of such letters, including some to Giovanni Cavalcanti.
Cavalcanti (1444-1509), a handsome Florentine nobleman, lived for many years with Ficino at his villa and was an important member of the Platonic Academy. During a brief separation in 1473-1474 Ficino wrote letters to "Giovanni amico mio perfettisimo" ("Giovanni my most perfect friend") in which he declared his love and compared their union to those of illustrious male companions of classical times.
Ficino's formulation of platonic love exercised an important influence on artists in his own time and beyond, including Michelangelo and Leonardo da Vinci. His influence can also be seen in the homoeroticism in Michelangelo's and Shakespeare's sonnets as well as in the works of Edmund Spenser, Pierre Ronsard, and Maurice Scève.
With time Ficino's concept of platonic love, clearly a relationship between men, was heterosexualized and transformed into courtly love, a reading more acceptable to society at large. It was also subsequently desexualized entirely and came to mean a non-physical love, a notion that distorts Ficino's philosophy.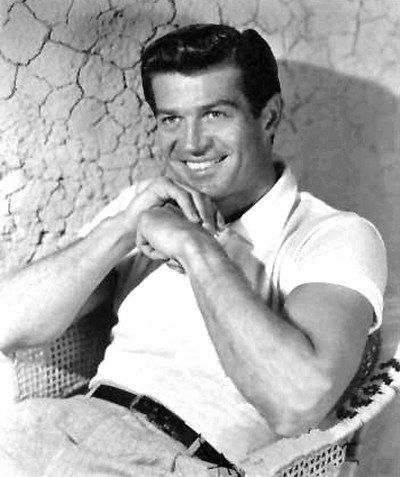 1921 – George Nader (d.2002) was an American film and television actor of Lebanese descent. He appeared in a variety of films from 1950 through 1974, including Phone Call from a Stranger (1952), Congo Crossing (1956), and The Female Animal (1957). During this period, he also did episodic television and starred in several series, including the unique NBC adventure offering, The Man and the Challenge (1959-60). However, his best-remembered role may have been as "Roy", the hero who saves the world from the clutches of "Ro-man" in the low-budget 3-D sci-fi romp Robot Monster (1953).
In the mid-50s Nader often found himself struggling in the shadow of more famous leading men, such as Rock Hudson, Tony Curtis, and Jeff Chandler. His films of that period included 1954's Carnival Story and Sins of Jezebel and 1956's Away All Boats.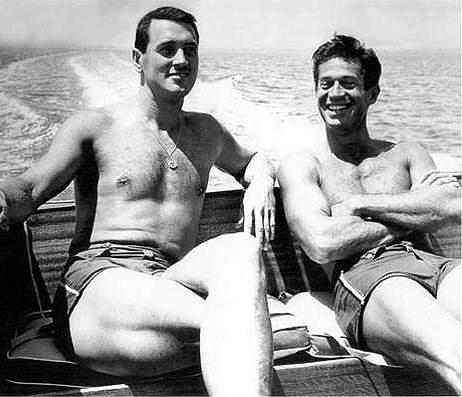 George Nader (R) with Rock Hudson
Also in the mid-1950s, rumors about Nader's private life began to surface. Nader may have had an affair with Rock Hudson with whom he was a life-long friend. However, Nader's full-time companion was Mark Miller. Nader met Mark - his partner of 55 years- when the two appeared together in a musical at the Pasadena Playhouse in 1947. They lived openly together. Because of the rumors, Nader's career in Hollywood was ended. He and Miller moved to Europe, where Nader found steady work in films. A notable role during this period was as U.S. government agent "Jerry Cotton" in a German film series where he became the number two most popular film star in Germany behind Lex Barker, former Tarzan. In 1972 he suffered a detached retina in an automobile accident in the Philippines, and he was no longer able to work under the lights. Miller planned to get a job in real estate to support the couple, but Rock Hudson hired him as his secretary. Hudson left the bulk of his estate to Nader on his death in 1985.
After leaving his acting career, Nader began a career as a writer of science fiction. His groundbreaking 1978 novel Chrome is probably the first science fiction novel to center on a homosexual love affair, and the first to have substantial homosexual erotic scenes. The story was of forbidden love between a human male & a beautiful male robot, who are eventually exiled to different parts of the universe. Chrome is now in its 6th printing.
Nader and Miller eventually returned to the U.S. and settled in Palm Springs. Stricken by multiple medical problems, Nader entered the hospital in September 2001. On February 4, 2002, he died at Woodland Hills, California of cardiac-pulmonary failure, pneumonia, and multiple cerebral infarctions.


Added 2022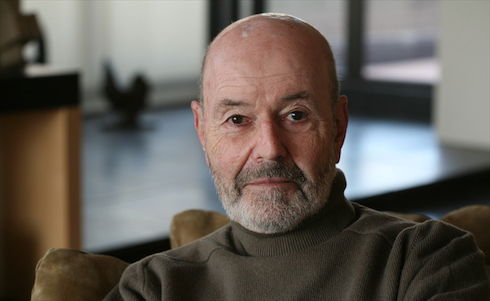 1930 – Henry van Ameringen, a low-key philanthropist, was an early and major donor to L.G.B.T.Q. and AIDS causes. (d.2020)
Henry Pfaltz van Ameringen was born in South Orange, N.J. His father, Arnold Louis van Ameringen, was a founder of International Flavors and Fragrances, a multibillion-dollar international business, noted for his longstanding support for mental health causes. His mother, Hedwig (Pfaltz) van Ameringen, who died in 1996, was known in particular for supporting the New York Philharmonic and Lincoln Center for the Performing Arts.
In a rare interview in 2010, Mr. van Ameringen spoke of his coming of age in repressive times.
"I knew very early that I was gay, so it was very uncomfortable growing up," he said. "I don't really have very happy memories."
After graduating from the Georgetown University School of Foreign Service, he lived in Paris for several decades. He went into the family business and retired as European vice president for fragrance marketing.
In addition to participating in his family's foundation, Mr. van Ameringen formed his own in 1967, the H. van Ameringen Foundation. When AIDS began to devastate the gay community, he donated to organizations that responded to the crisis.
Van Ameringen and business partner and husband T. Eric Galloway  created the Lantern Organization, the Galvan Group, and the Galvan Initiatives Foundation which purchased properties in Hudson, New York, where Galloway owns a part-time residence. As of 2015, the Galvan Initiatives Foundation owned 60 parcels of land in the city with an assessed value of more than $12 million.
Mr. van Ameringen, whose father made a fortune in the fragrances business, gave away some $200 million, and was among the first openly gay major donors to fund L.G.B.T.Q. and AIDS-related organizations, both large and small, at a time before they enjoyed more mainstream support.
But Mr. van Ameringen wasn't just a check writer, especially early in his philanthropic career. At God's Love We Deliver, an organization founded in 1986 to bring meals to people living with AIDS in Manhattan, it was not uncommon to see him in an apron in the kitchen, or delivering meals.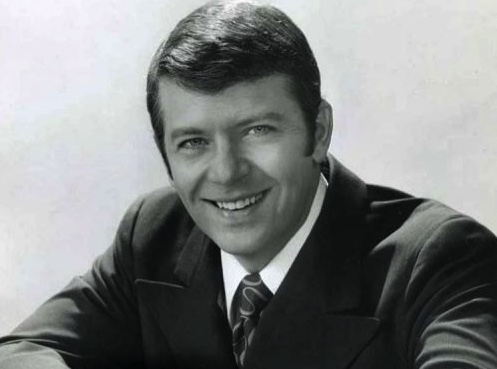 1932 – Robert Reed (d.1992) was a prolific American character actor of stage, film and television. In his first big break, he played Kenneth Preston on the popular 1960s TV legal drama, The Defenders, alongside E. G. Marshall. But he was best remembered for portraying the father, Mike Brady, on the long-running 1970s sitcom, The Brady Bunch, from 1969 to 1974. He also had a recurring role as Lt. Adam Tobias on Mannix.
Despite its long run and popularity, from the beginning of The Brady Bunch, Reed was unhappy with his role of Mike Brady. He felt that acting in the often silly sitcom was beneath his serious Shakespearean training. Despite his discontent with the show, by most accounts, he genuinely liked his co-stars and was a beloved father figure to the younger cast members.
Reed was married for a time to Marilyn Rosenberg (1954-1959). The couple had one daughter, Karen Rietz, who was born in 1956.
Reed felt his career required him to be secretive about his homosexuality. Nonetheless, most of the Brady Bunch cast members—most notably Barry Williams and Florence Henderson—knew of his sexual orientation, and expressed outrage at the media's exploitation of it after his death.
Reed was very close friends with actress Anne Haney. It was she who informed his daughter of his homosexuality and his having contracted HIV. She often got his HIV medication for him under a pseudonym to protect his private life.
Reed died on May 12, 1992, at his home in South Pasadena, California, after a six month battle with colon cancer and lymphoma; he tested HIV positive the previous year but did not have AIDS at the time of his death, as has been reported in the media.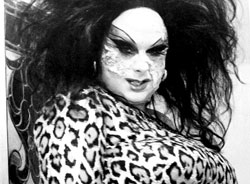 1945 – Divine (d.1988), born (Harris) Glenn Milstead, was an American actor, singer and drag queen. Described by People magazine as the "Drag Queen of the Century," Divine often performed female roles in both cinema and theater and also appeared in women's clothing in musical performances. Even so, he considered himself to be a character actor and performed male roles in a number of his later films. He was often associated with independent filmmaker John Waters and starred in ten of Waters's films, usually in a leading role. Concurrent with his acting career, he also had a successful career as a disco singer during the 1980s, at one point being described as "the most successful and in-demand disco performer in the world."
Born in Baltimore, Maryland, into a conservative, wealthy middle class family, he became involved with John Waters and his acting troupe, the Dreamlanders, in the mid-1960s and starred in a number of Waters's early films such as Mondo Trasho, Multiple Maniacs, Pink Flamingos and Female Trouble. These films have since become cult classics. In the 1970s, Milstead made the transition to theater and appeared in a number of productions, including Women Behind Bars and The Neon Woman, while continuing to star in such films as Polyester, Lust in the Dust and Hairspray.
Despite some claims made to the contrary, Divine always considered himself to be male, and was not transgender or transsexual. He used the term "Divine" as his personal name, telling one interviewer that both "Divine" and "Glenn Milstead" were "both just names. Glenn is the name I was brought up with, Divine is the name I've been using for the past twenty-three years. I guess it's always Glenn and it's always Divine. Do you mean the character Divine or the person Divine? You see, it gets very complicated. There's the Divine you're talking to now and there's the character Divine, which is just something I do to make a living. She doesn't really exist at all." At one point he had the name "Divine" officially recognized, as it appeared on his passport, and in keeping with his personal use of the name, his close friends nicknamed him "Divi".
Divine was homosexual, and during the 1980s had an extended relationship with a married man named Lee, who accompanied him almost everywhere that he went. They later separated, and Divine would go on to have a brief affair with the gay porn star Leo Ford, something that was widely written and gossiped about in the gay press. Divine would also regularly engage in sexual activities with young men that he would meet whilst performing, sometimes becoming infatuated with them: in one case, he met a young man in Israel who he slept with and subsequently wanted to bring back to the United States, something that his manager prevented him from doing.
Divine initially avoided informing the media about his sexuality, even when questioned by interviewers, and would sometimes hint that he was bisexual, but in the latter part of the 1980s decided to change this attitude, and began being open about his homosexuality. Nonetheless, he avoided getting into discussions regarding gay rights, partially at the advice of his manager, realising that it would have had a negative effect on his career.
Divine and his stage act proved particularly popular amongst gay audiences, and he appeared at some of the world's biggest gay clubs, such as Heaven in London. According to Divine's manager, Bernard Jay, this was "not because Divine happened to be a gay person himself ... but because it was the gay community that openly and proudly identified with the determination of the female character Divine".
On the evening of March 7, 1988, a week after Hairspray was released, Divine was staying at the Regency Hotel in Los Angeles. The next day, he was scheduled to film his part in the Fox network's television series Married... with Children. After dining with friends and returning to the hotel, he died in his sleep of an enlarged heart at age 42.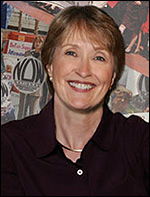 1945 – Today's the birthday of Patricia Ireland, former president of the National Organization of Women (NOW).
Ireland served as president of the National Organization for Women, from 1991 to 2001 and published an autobiography, What Women Want, in 1996. She has advocated extensively for the rights of poor women, Gays and Lesbians, and African women. She has also advocated electing female candidates, and training people to defend clinics from disruptive anti abortion protesters around the United States.
On December 17, 1991 she gave an interview with
The Advocate
, in which she stated that she had both a husband and a female partner,
Pat Silverthorn
, a longtime activist in the Socialist Workers Party.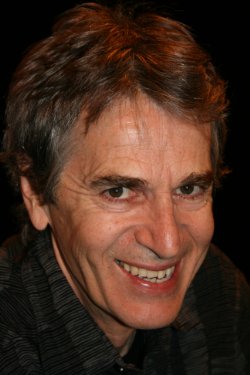 1948 – Openly gay, Greg Malone born in St. John's, Newfoundland is a Canadian impressionist, actor, activist, and politician. He is well known for the CODCO television series and his impersonations of Barbara Frum, Jean Chrétien, and Queen Elizabeth II.
Prior to CODCO, Malone wrote and performed in a number of shows for CBC Television, including The Wonderful Grand Band, The Root Seller and The S and M Comic Book, and appeared in the film The Adventure of Faustus Bidgood.
After the death of his CODCO co-star Tommy Sexton in 1993, he devoted some years of his life to raising awareness of HIV and AIDS. He also directed a docudrama film, The Untold Story of the Suffragists of Newfoundland, in which he appeared as Sir Richard Squires, and acted in the films Rare Birds, Extraordinary Visitor, Messiah from Montreal and Heyday!. He also appeared in a one-man special for the Comedy Channel, Pocket Queen, which won an award at the 1999 Houston International Film and Television Festival. Along with Sexton and their CODCO co-star Andy Jones, Malone was a recipient of the Earle Grey Award, the lifetime achievement award of Canadian television's Gemini Awards, in 2002.
He participated in the campaign that stopped the privatization of Newfoundland and Labrador Hydro, and has championed other environmental causes, including a campaign to ban shipping of garbage to Newfoundland. He ran as a candidate for the New Democratic Party in the St. John's West by-election in 2000, losing narrowly to Loyola Hearn. He supported Elizabeth May and the Green Party of Canada in the 2008 election, and performed at the 2009 Green Party convention in Pictou, Nova Scotia.

1950 – On this date the influential American record-producer and musician of the disco-era Patrick Cowley was born (d.1982). He is often credited with pioneering electronic dance music.
In 1971, at the age of 21, Cowley moved to San Francisco to attend the City College of San Francisco where he studied music, specifically the use of synthesizers. Cowley met San Francisco-based musician Sylvester in the late 1970s. Sylvester had asked Cowley to join his studio band after hearing some of his early synthesizer recordings.
Cowley's own hits included "Menergy" in 1981, a frank celebration of the Gay club sex scene, and "Megatron Man", which hit #1 and #2 respectively on the Billboard Hot Dance Music/Club Play chart in 1982. That same year, Patrick Cowley became the DJ at the "Menergy" parties at The EndUp in San Francisco.
He also wrote and produced the dance single "Right on Target" for San Francisco artist Paul Parker, which also reached #1 on the Billboard dance chart in 1982. A collaboration with Sylvester, "Do You Wanna Funk", made #4 on the Billboard dance chart that same year. Cowley also did a 15'45" long remix of Donna Summer's "I Feel Love", which is now a collector's item.
During a world tour with Sylvester in late 1981, Cowley complained of feeling increasingly unwell. Upon returning to the United States, he visited a doctor who diagnosed food poisoning. Weeks later, with his condition only worsening, doctors again failed to identify what was wrong with him. At this early stage in the history of the HIV and AIDS, misdiagnosis was common and so Cowley, who was gay, was discharged from the hospital (in 1982) after doctors could do nothing more for him.
His final album, Mind Warp, was composed as he felt the increasing effects of HIV infection, and its songs reflect his increasing detachment from conventional reality as the disease progressed. Cowley only released three solo albums, but groups including the Pet Shop Boys and New Order cite Cowley's style as a major influence.


Added 2022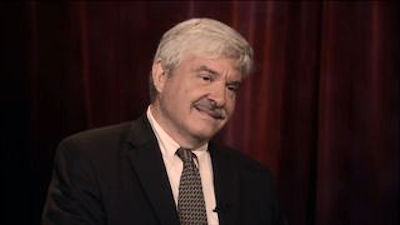 1953 – Andy Humm is a journalist, activist and currently co-host of TV news program Gay USA.
As a gay news reporter, Humm has covered virtually every major gay and AIDS news story since the 1980s. Humm began writing regularly for the gay press in the 1970s and 1980s when he worked for New York City News.
Humm began hosting gay news programs with Pride and Progress, aired on the Gay Cable Network (GCN), in 1985. He co-anchored GCN's nightly coverage of the 1988 Democratic and Republican National Conventions. Humm also did floor coverage of the 1992 Democratic National Convention. From 1986 to 1995, Humm was Director of Education at the Hetrick-Martin Institute for Lesbian and Gay Youth.
Following
Pride and Progress
, Humm became the host of
Gay USA
. In 1996, he began co-hosting the show with veteran journalist and activist
Ann Northrop
.
Humm became President of the Gay Student Union at the University of Virginia in 1974, marking the beginning of his activism. From 1977 to 1991, Humm served as a spokesperson for the Coalition for Lesbian and Gay Rights which helped guide New York City's LGBT rights law through the City Council. He was a New York City Human Rights Commissioner from 1991 to 1993.
Humm's work in the LGBT and AIDS Communities has been honored by the Human Rights Campaign, New York University, the AIDS and Adolescents Network, Advocates for Youth, the Parents and Friends of Lesbians and Gays, the Cincinnati Gay and Lesbian Coalition, the Office of the Public Advocate, the Bar Association for Human Rights of Greater New York, and the Arkansas Lesbian and Gay Task Force. In 1990, Humm was named an Arkansas Traveler by then-Governor Bill Clinton.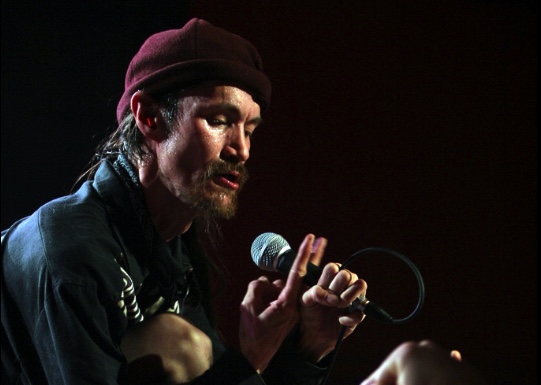 1962 – (Kendall Stephen) Ken Chinn is a Canadian punk rock lead vocalist and artist. He is best known, under the pseudonym Mr. Chi Pig, as the lead singer of the band SNFU. He currently resides in Vancouver, British Columbia.
Born to German and Chinese parents in Edmonton, Alberta, Chinn was the second youngest of twelve children. His early life entailed traumatic episodes related to his unstable family, including manifestations of what would later be diagnosed as schizophrenia. Despite this, he remained close to his siblings and parents, who were important influences. As a teenager, he developed interests in punk rock, skateboarding and art.
In 1981, Chinn formed the punk rock band Live Sex Shows with Marc and Brent Belke, twin brothers whom he had met through the skateboarding subculture. The group was short-lived, but the three musicians next formed Society's No Fucking Use, better known by the acronym SNFU, late that year. SNFU rose in prominence in the Canadian hardcore punk community and ultimately became a formative influence for the skate punk subgenre. In addition to singing, Chinn wrote the group's lyrics and provided much of the artwork used on their records, helping to create their sardonic aesthetic. He also served as an energetic and charismatic front man, incorporating masks, puppets and other props into the band's stage show.
Chinn relocated to Vancouver and fronted a group called The Wongs, who debuted in 1990 and released an EP before disbanding the following year. Another short-lived group, Little Joe, followed soon thereafter. After moving to Vancouver, Chinn began what would become a long battle with various hard drugs. This period also marked the beginning of Chinn's open identification as a homosexual.
In late 1991, SNFU reformed for a reunion tour behind a rarities compilation record released to satisfy their contract with Cargo Records. The tour was successful, and the reinvigorated band properly reformed, signing to Epitaph Records in 1993. Their five years of activity with Epitaph resulted in three studio albums and the greatest industry prominence in the band's career: they enjoyed six-digit record sales and toured alongside successful punk rock acts like Green Day and Bad Religion.
Late in 1997, Epitaph opted against renewing the band's contract. This resulted in heavy band debt and the departure of Brent Belke and longtime drummer Dave Rees; the remaining members, however, kept the band active as a four-piece for the first time in its career while seeking a new recording contract. This era ultimately terminated after the departure of longtime bassist Rob Johnson and a hiatus in 2001.
Chinn then formed the new group Slaveco. with Matt Warhurst and Shane Smith, both future members of SNFU, and Jay Black. SNFU returned to activity late in 2003, releasing an eighth studio album and touring subsequently before again disbanding in 2005 due to further exhaustion. Slaveco. became inactive shortly thereafter, and Chinn spiraled into depression, poverty, and addiction, which ultimately resulted in his homelessness. Nonetheless, Chinn at this time began work on an unfinished solo album in collaboration with other Vancouver musicians, including Johnson.
Chinn and former SNFU bassist Ken Fleming, now on guitar, began playing sets of SNFU material with a new rhythm section in 2007 before deciding to reform the band officially. Later joined by early drummer Jon Card and several new members, this third incarnation of SNFU spent the next several years touring Europe, Canada and Central America while slowly amassing new material.

1964 – Judge Allen O'Connor of Connecticut is accused of sex with a young man. He resigns and is disbarred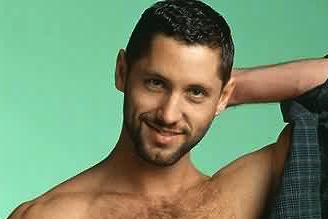 (Click for full Monty)

1968 – Blake Harper, born Peter Tiefenbach, in Windsor, Ontario, a former male nurse, became a porn star. He has shot over 60 pornographic gay films.
Harper was a registered nurse since 1989 and worked as such until a scout offered to set up a meeting with Steven Scarborough of Hot House Entertainment. Scarborough offered to shoot him in a gay adult film. He eventually appeared in around 60 gay adult films in a span of 7 years.
In 2006, he won an award for "Best Performer" at the Young Erotic Gay Video Awards known in the industry as the Grabbys. He also won the 2001 GayVN Award for "Gay Performer of the Year".
The 2004 documentary Naked Fame directed by Christopher Long is about Harper's ex-lover, another porn star, Colton Ford pursuing a career in the dance music industry while in a relationship with Harper. It also shows how Harper retires from adult films and returns to his original profession as a nurse in a bid to support his boyfriend and former porn star Colton Ford in his new music career. Colton also wrote "Love Has Found a Way" which is about his relationship with Harper
According to Ford, the two have split and Harper has moved back to Windsor and works as a nurse at a local hospital.


Added 2021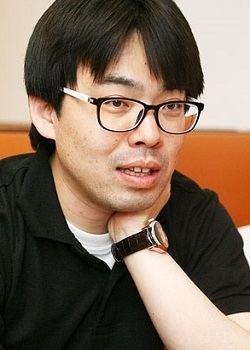 I978 – Jeong Yol (note that the family name comes first) is a South Korean LGBT rights activist. Since the foundation of Solidarity for LGBT Human Rights of Korea in 1997, he has been an early member of SLRK. From 1998 to 2012, he had been a representative of SLRK. His real name is Jeong Min-suk.
During college, he acknowledged that he was gay. Later, while serving his mandatory military service, he came out as a homosexual. Then, his commanding officer took him to a mental hospital. After his discharge, he worked as a pastry chef for six years.
In 1997, he joined SLRK. In 2000, he spent more time with SLRK, From 2002 to 2012, he has been a representative of SLRK. In February 2003, the word "homosexual" was deemed a harmful word for youth by the South Korean government. So, he struggled against the government with Kwak Yi-kyong, Chang Pyong-kwon and others. In April 2004, banning the word "homosexual" for youth was eliminated in South Korea.
In 2003, he led a movement for the Elimination of Discrimination against LGBT. In 2004, he joined anti-war and peace movements. Since 2006, he has fought for the rights of people living with HIV.

1993 – Massachusetts state education officials announced that they would use $450,000 in funds raised from a new state cigarette tax to fund programs to stop anti-gay harassment in public schools.

1994 – A federal judge in New York follows case law in the state and dismisses a public indecency charge against a man for sex in the bushes. He said it couldn't be seen by others.

1996 – Representatives of the American Psychiatric Association met with approximately fifty transgender activists who voiced their concerns about reforming the diagnosis of Gender Identity Disorder.


1999 – A rape center organization in Vancouver was ordered to pay $2,030 in damages for banning a transgendered person from its drop-in center.

OCTOBER 20 →
[{(o)}]|[{(o)}]|[{(o)}]|[{(o)}]| [{(o)}]|[{(o)}]