March 6
[{(o)}]|[{(o)}]|[{(o)}]|[{(o)}]| [{(o)}]|[{(o)}]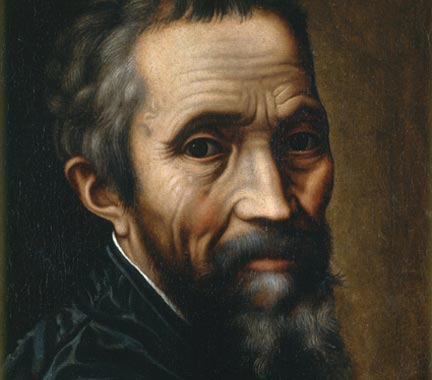 1475 – Michelangelo Buonaroti, the Italian sculptor, painter, master, was born on this date (d: 1564). Commonly known as Michelangelo, he was a painter, sculptor, architect, poet and engineer. Despite making few forays beyond the arts, his versatility in the disciplines he took up was of such a high order that he is often considered a contender for the title of the archetypal Renaissance man, along with his rival and fellow Italian Leonardo da Vinci.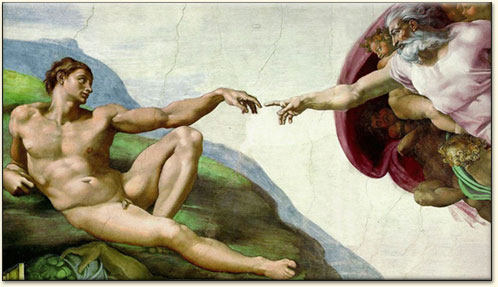 The Creation; Sistine Chapel
While clearly having a keen appreciation for the nude form resurgent in the Renaissance, fundamental to Michelangelo's art is his love of male beauty which seems to have particularly attracted him both aesthetically and emotionally. In part, this was an expression of the Renaissance idealization of masculinity. But in Michelangelo's art there is clearly a sensual response as well.
The sculptor's expressions of love have been characterized as both Neoplatonic and openly homoerotic. One example of the conundrum is Cecchino dei Bracci, whose death, only a year after their meeting in 1543, inspired the writing of forty-eight funeral epigrams, which by some accounts allude to a relationship that was not only romantic but physical as well:
The flesh now earth, and here my bones,
Bereft of handsome eyes, and jaunty air,
Still loyal are to him I joyed in bed,
Whom I embraced, in whom my soul now lives.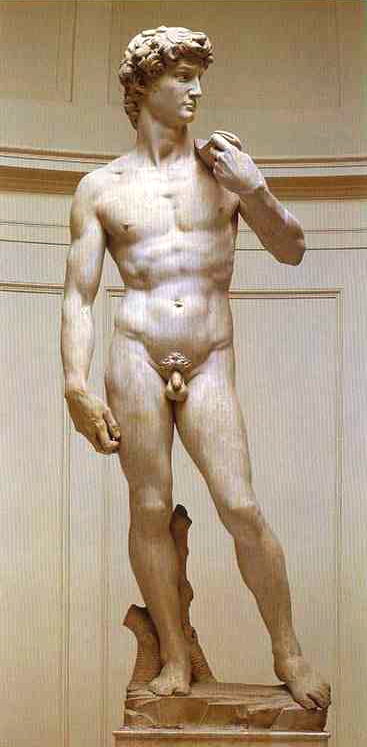 David
(Click for larger)
Some young men were street wise and took advantage of the sculptor. Febo di Poggio, in 1532, peddled his charms—in answer to Michelangelo's love poem he asks for money. Earlier, Gherardo Perini, in 1522, had stolen from him shamelessly. Michelangelo defended his privacy above all. When an employee of his friend Niccolò Quaratesi offered his son as apprentice suggesting that he would be good even in bed, Michelangelo refused indignantly, suggesting Quaratesi fire the man.
The greatest written expression of his love was given to Tommaso dei Cavalieri, who was 23 years old when Michelangelo met him in 1532, at the age of 57. Cavalieri was open to the older man's affection: I swear to return your love. Never have I loved a man more than I love you, never have I wished for a friendship more than I wish for yours. Cavalieri remained devoted to Michelangelo until his death.
Michelangelo dedicated to him over three hundred sonnets and madrigals, constituting the largest sequence of poems that he composed. Some modern commentators assert that the relationship was merely a Platonic affection, even suggesting that Michelangelo was seeking a surrogate son. However, their homoerotic nature was recognized in his own time, so that a decorous veil was drawn across them by his grandnephew, Michelangelo the Younger, who published an edition of the poetry in 1623 with the gender of pronouns changed. John Addington Symonds, the early British homosexual activist, undid this change by translating the original sonnets into English and writing a two-volume biography, published in 1893.
The sonnets are the first large sequence of poems in any modern tongue addressed by one man to another, predating Shakespeare's sonnets to the fair youth by fifty years.
I feel as lit by fire a cold countenance
That burns me from afar and keeps itself ice-chill;
A strength I feel two shapely arms to fill
Which without motion moves every balance.
— (Michael Sullivan, translation)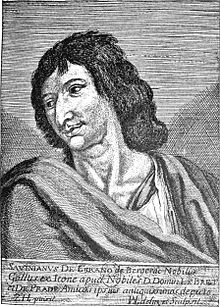 1619 – Hercule-Savinien Cyrano de Bergerac (d.1655) was a French dramatist and duelist. In fictional works about his life he is featured with an overly large nose, which people would travel from miles around to see. Portraits suggest that he did have a big nose, though not nearly as large as described in works about him. Cyrano's work furnished models and ideas for subsequent writers.
He was the son of Abel de Cyrano, lord of Mauvières and Bergerac. He received his first education from a country priest, and had for a fellow pupil his friend and future biographer, Henri Lebret. He then proceeded to Paris, and the heart of the Latin Quarter, to the college de Dormans-Beauvais, where he had as master Jean Grangier, whom he afterwards ridiculed in his comedy Le Pédant joué (The Pedant Tricked) of 1654. At the age of nineteen, he entered a corps of the guards, serving in the campaigns of 1639 and 1640.
One author Ishbel Addyman varies from other biographers and claims that he was not a Gascon aristocrat, but a descendant of Sardinian fishmonger, that the Bergerac appellation stemmed from a small estate near Paris where he was born, and not in Gascony, that he may have suffered tertiary syphilis. She also claims that he may likely to have been homosexual and around 1640 he became the lover of Charles Coypeau d'Assoucy, a writer and musician, until around 1653, when they became engaged in a bitter rivalry. This led to Bergerac sending d'Assoucy death threats that compelled him to leave Paris. The quarrel extended to a series of satirical texts by both men. Bergerac wrote Contre Soucidas (an anagram of his enemy's name) and Contre un ingrat (Against an ingrate), while D'Assoucy counterattacked with Le Combat de Cyrano de Bergerac avec le singe de Brioché, au bout du Pont-Neuf (The battle of Cyrano de Bergerac with the monkey of Brioché, at the end of the Pont-Neuf). Cyrano also associated with Théophile de Viau, the French poet and libertine.
He is said to have left the military and returned to Paris to pursue literature, producing tragedies cast in the orthodox classical mode.
Cyrano de Bergerac's works L'Autre Monde: ou les États et Empires de la Lune (Comical History of the States and Empires of the Moon) (published posthumously, 1657) and Les États et Empires du Soleil (The States and Empires of the Sun) (1662) are classics of early modern science fiction. In the former, Cyrano travels to the moon using rockets powered by firecrackers and meets the inhabitants. The moon-men have four legs, musical voices, and firearms that shoot game and cook it.
His mixture of science and romance in the last two works furnished a model for many subsequent writers, among them Jonathan Swift, Edgar Allan Poe and probably Voltaire. Corneille and Molière freely borrowed ideas from Le Pédant joué.
The Rostand play suggests that he was injured by a falling wooden beam in 1654 while entering the house of his patron, the Duc D'Arpajon. However the academic and editor of Cyrano's works Madeleine Alcover uncovered a contemporary text which clearly points to an attack on the Duke's carriage in which a member of his household was injured. This is a much more likely scenario for Cyrano's fatal accident. It is as yet inconclusive as to whether or not his death was a result of the injury, or an unspecified disease. He died over a year later on July 28, 1655, aged 36, at the house of his cousin, Pierre De Cyrano, in Sannois. He was buried in a church in Sannois. However there is strong evidence to support the theory that his death was a result of a botched assassination attempt as well as further damage to his health caused by a period of confinement in a private asylum, orchestrated by his enemies, who succeeded in enlisting the help of his own brother Abel de Cyrano.

1649 – Mary Hammon and Sara Norman of Plymouth are tried for "lewd and unclean practices with one another." Hammon is acquitted, but Norman is convicted. Norman is required to "make public acknowledgement of her unchaste behavior."

1852 – The Utah Territory passes a criminal code without a sodomy law, thus legalizing it.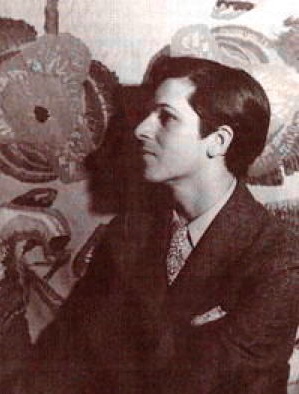 1904 – Harrison Parker Tyler was an American author, poet and film critic. Tyler lived with filmmaker Charles Boultenhouse from 1945 until his death in 1974.
Born in New Orleans, the son of an insurance salesman, Tyler lived a childhood on the move, living in larger cities all over the eastern United States. He completed high school but refused to enter college, determined to continue his education as a poet on the streets of New York, where he arrived in 1924.
By the time he began corresponding with Charles Henri Ford a few years later, Tyler had already published scores of book reviews and hundreds of poems, many of which received their first public hearing in the basement clubs of Greenwich Village, where Tyler lived. Tyler was known in the neighbourhood as a dandy, going about in mascara and attired in cast-off clothing from the second-hand shops of the Lower East Side.
Tyler's letters apparently ignited in Ford a similar desire for the bohemian life, and in January 1930 he set out for New York. Tyler was waiting at the pier when Ford disembarked.
Out of Prohibition of the time Ford arrived came speakeasies, illegal quasi-private clubs, a number of which in the Village were sufficiently sheltered from scrutiny to become some of the first specifically gay and lesbian gathering places in North America. The more visible congregation of gay men in public places led to a vogue among New Yorkers for these 'strange brothers' - the so-called pansy craze.
Tyler co-authored The Young and Evil (1933) with Charles Henri Ford, an energetically experimental novel with obvious debts to fellow Villager Djuna Barnes, and also to Gertrude Stein. Tyler and Ford co-edited the Surrealist magazine View until it folded in 1947.
A writer for the journal Film Culture, Tyler is one of the few film critics to write extensively on experimental film and underground film. His Screening the Sexes (1972) is thought to be the first book-length study of homosexuality in film.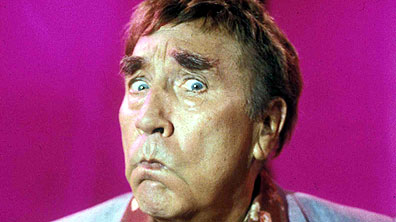 1917 – Frankie Howerd (d.1992) was an English comedian and comic actor whose career, described by fellow comedian Barry Cryer as "a series of comebacks", spanned six decades.
His first stage appearance was at age 13 but his early hopes of becoming a serious actor were dashed when he failed an audition for RADA. He began to entertain during World War II service in the British Army. It was at this time that he adapted his surname from Howard to Howerd "to be different". Despite suffering from stage fright, he continued to work after the war, beginning his professional career in the summer of 1946 in a touring show called For the Fun of It.
His profile rose in the immediate postwar period (aided with material written by Eric Sykes, Galton and Simpson and Johnny Speight).
After suffering a nervous breakdown at the start of the 1960s, he began to recover his old popularity, initially with a season at Peter Cook's satirical Establishment Club in Soho in London. He was boosted further by success on That Was The Week That Was (TW3) in 1963 and on stage with A Funny Thing Happened on the Way to the Forum (1963-1965), which led into regular television work.
During the 1960s and '70s, he was involved in shows for the BBC and Thames Television (as well as Frankie Howerd Reveals All for Yorkshire Television in 1980). Ray Galton and Alan Simpson wrote for him from 1964 to 1966 when he worked for the BBC and also for a one-off show for Thames, Frankie Howerd meets the Bee Gees, shown on 20 August 1968. He was famous for his seemingly off-the-cuff remarks to the audience, especially in the show Up Pompeii!, which was a direct follow-up from Forum. His television work was characterised by direct addresses to camera and by his littering monologues with verbal tics. A later sale of his scripts, however, showed that the seemingly off-the-cuff remarks had all been meticulously planned.
Throughout his career, Howerd hid his potentially career-destroying homosexuality (acts between consenting males being illegal in England and Wales until 1967) from both his audience and his mother, Edith. In 1958, he met wine waiter Dennis Heymer at the Dorchester Hotel while dining with Sir John Mills; Howerd was 40 and Heymer was 28. Heymer became his lover as well as manager, and stayed with Howerd for more than thirty years, until Howerd's death, with Heymer helping to revive Howerd's flagging career in the 1960s. However, the two had to remain discreet as Howerd feared being blackmailed if anyone beyond his immediate circle found out. The relationship was explored in 2008 in a drama for BBC Four, Rather You Than Me, starring David Walliams and Rafe Spall.
Backstage, Howerd was notoriously bold in his advances, and was known for his promiscuity. One of Howerd's former boyfriends was comic actor Lee Young who created the TV sitcom Whoops Baghdad (1973) for him. Howerd's uncomfortable relationship with his sexuality - he once said to Cilla Black, "I wish to God I wasn't gay" - as well as his depressive mental state, led him to seek resolution through a series of different methods. Heymer would often drop Howerd off on Friday at his psychiatrist, who would ply him with LSD over the weekend.
Howerd and Heymer lived for the last twenty or so years of his life in Wavering Down, a house in Somerset. After Howerd's death, Heymer curated Howerd's collection of memorabilia until his own death in 2009. The two were buried together in a replica Egyptian sarcophagus.
Howerd died one day before fellow comedian Benny Hill. News of the two deaths broke almost simultaneously and some newspapers ran an obituary of Howerd in which Hill was quoted as regretting Howerd's passing, saying "We were great, great friends". The quote was released by Hill's agent, who was not aware that his client had died.

1928 – The Wisconsin Supreme Court upholds the right of the state to obtain sodomy convictions based on the uncorroborated testimony of partners.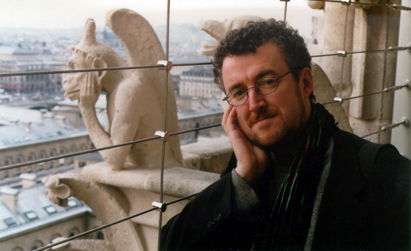 1932 – University of Chicago art historian Michael Camille (d.2002) was the prize-winning Master of Death: The Lifeless Art Of Pierre Remiet, Illuminator (1996). Thoroughly grounded in the middle ages and its experiences of the Black Death, the book was written against the background of Aids, the plague of our day.
Born in Keighley, Yorkshire, educated at the local grammar school, he gained a scholarship to Peterhouse, Cambridge, where he studied English, then art history, and worked with George Henderson on medieval art and informally on critical theory with Norman Bryson, an important influence. After graduating with a first in 1980, he completed his PhD in 1985.
He arrived at the University of Chicago that year, agog at the midwest's strange customs but eager to experience everything. At Chicago, Camille rose quickly to its highest rank of professor. He remained at Chicago because it gave him freedom to design his own courses and to write.
His first article in the English journal Art History (1985) brought him immediate attention. His first book, The Gothic Idol (1989), studied the visual representation of those deemed alien - pagans, Muslims, Jews, and homosexuals.
In the widely read, acclaimed Image On The Edge (1992), Camille revealed the literal underside of the middle ages, from beasts and beastly behaviour in the margins of Gothic manuscripts to the earthy humour.
Michael Camille died aged 44 of a brain tumour. He was survived by his partner in Chicago,
Stuart Michaels
.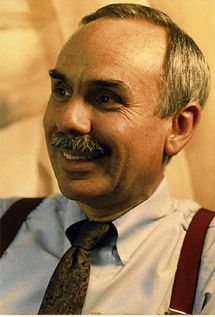 1940 – Paul Rapoport (d.1987), an attorney, was a co-founder of both the New York City Lesbian, Gay, Bisexual and Transgender Community Services Center and Gay Men's Health Crisis. The private foundation that bears his name is one of the oldest and largest LGBT-focused foundations in the country.
Rapoport attended P.S. 107 in New York City, the Horace Mann School and Cornell University. He graduated cum laude from Columbia University Law School in 1965, and later received an LL.M. in tax law from New York University School of Law.
Rapoport died of AIDS at New York University Medical Center in July 1987 at the age of 47. His estate of roughly $8 million was used to establish The Paul Rapoport Foundation, Inc., which at Rapoport's direction gives to LGBT and HIV/AIDS causes in the New York metropolitan area. In a press release dated July 6, 2009, the Foundation announced its intention to "bring its grantmaking operations to a close as of June 30, 2014 and cease operations entirely by June 30, 2015" in order to maximize its impact on current grantees.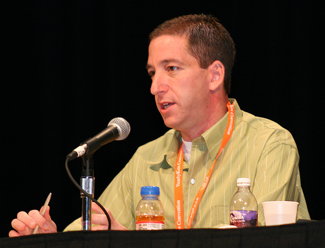 1967 – Today's the birthday of American lawyer, columnist and blogger Glenn Greenwald. Greenwald was born in New York City and earned degrees from George Washington University and New York University Law School. He worked as a constitutional and civil rights litigator prior to becoming a contributing columnist and blogger to Salon.com, where he focuses on political and legal topics. He has also contributed to The New York Times, The Los Angeles Times, and In These Times.
Greenwald wrote the New York Times bestsellers How Would a Patriot Act? and A Tragic Legacy. In 2009, he was selected, along with Democracy Now!'s Amy Goodman, as the recipient of the first annual Izzy Award named after famed independent journalist I.F. "Izzy" Stone and devoted to rewarding excellence in independent journalism. The selection panel cited Greenwald's "pathbreaking journalistic courage and persistence in confronting conventional wisdom, official deception and controversial issues."
In his book Unclaimed Territory, Greenwald observed that he has been openly Gay for 20 years and that, while he has lived in the United States all his life, he divides his time between New York City and Rio de Janeiro, the hometown of his male partner, David Michael Miranda.
In a May, 2008 interview, Greenwald explained that "even though Brazil has the largest Catholic population of any country in the world" and "was a military dictatorship until 1985, I'm able to obtain from the Brazilian government a permanent visa because my Brazilian partner's government recognizes our relationship for immigration purposes, while the government of my supposedly 'free,' liberty-loving country enacted a law explicitly barring such recognition."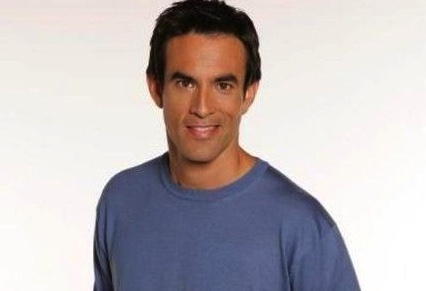 1971 – Jorge Cruise, born in Mexico City, Mexico, is the author of the five book diet series on The New York Times bestseller list: The Belly Fat Cure (2010), Body at Home (2009), The 12-Second Sequence (2009), The 3-Hour Diet (2006), and 8 Minutes in the Morning (2002).
Cruise is the son of Gloria Cansino and Mel Maurer. Casino was a Mexican Cinema star appearing in films alongside Burt Lancaster and Shelly Winters. Cruise was raised in San Diego were he lived with his family and sister Marta. Cruise was raised by his grandmother Maria with oppressive rules and struggled with weight and self-acceptance. After being overweight for most of adolescence and young adulthood, a burst appendix and his father's diagnosis with prostate cancer led Cruise to focus on his own health. He consequently lost over 40 pounds and is now the author of five series addressing weight loss.
After four years as a Sigma Chi, Cruise graduated with his B.A. from the University of California, San Diego in 1994, and studied at Dartmouth College from 1993 to 1994. He received his fitness credentials from the Cooper Institute for Aerobics Research, the American College of Sports Medicine (ACSM), and the American Council on Exercise (ACE)
Cruise began his career working for Tony Robbins and was inspired by Robbins to launch his career as a trainer. Several years later, he got his big break when Oprah both hired him as her personal trainer and featured him on her televised show and in her magazine.
Cruise confirmed he was gay in 2010 by saying, "I finally realized that being gay is not something to be hidden or fixed. In my 39 years of life, this single distinction has been the most profound for me, and I am blessed to finally be living life outside of the closet."
Cruise met his partner, Sam Ayers, in Los Angeles in 2014. On April 15, 2015 Cruise announced that he and Ayers were engaged. The proposal took place at The Los Angeles County Museum. Ayers worked in entertainment at The Hollywood Reporter and Billboard in Los Angeles until June 2015.
Cruise lives in Malibu, California with his husband Sam Cruise (né Ayers) and their two sons Parker and Owen Cruise.

1972 – The American Bar Association passes a resolution recommending that consensual sex acts between people of the same sex be decriminalized.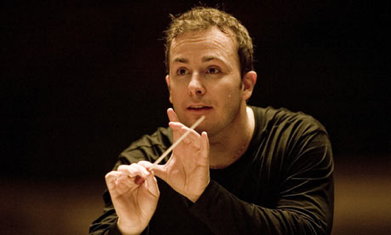 1975
– Today's the birthday of
Yannick Nézet-Séguin
, the openly gay Canadian pianist and conductor. He was born in Montreal as Yannick Séguin, but his mother's maiden name was later added to his name. He is the son of two specialists in education, Serge P. Séguin, Ph.D., a university professor, and Claudine Nézet, M.A., a university lecturer and coordinator. His last name Nézet-Séguin is his own combination of his parents' last names. He began to study piano at age five, with
Jeanne-d'Arc Lebrun-Lussier
and decided to become an orchestral conductor at age ten.
As a native of Montreal, he studied there at the Conservatoire de Musique du Québec and followed master classes with renowned conductors, notably the great Italian maestro Carlo Maria Giulini.
Yannick Nézet-Séguin is among the most sought after young conductors in the world. His personal approach to music, his respect towards the musicians and the public, his loyalty, his generosity as well as his charismatic personality bring him the affection of all.
In June 2010, Yannick Nézet-Séguin became Music Director Designate of the prestigious Philadelphia Orchestra, one of the renowned "big five" of the United States of America, beginning his functions September 2012. He continues as Music Director of the Rotterdam Philharmonic Orchestra where, at the start of the 2008/2009 season, he succeeded Valery Gergiev. He remains Artistic Director and Principal Conductor of the Orchestre Métropolitain of Montréal, a position he took up in March 2000. Since 2008, he is also Principal Guest Conductor of the London Philharmonic Orchestra. Nézet-Séguin began annual appearances with the Metropolitan Opera in New York in 2009, making his début on 31 December 2009, conducting a new production of Carmen.
Nézet-Séguin resides in Montreal and Philadelphia with his husband Pierre Tourville, a violist in the Orchestre Métropolitain.


1978 – Montreal Catholic School Commission reverses a January 25 decision to rent school space for an event sponsored by gay group ADGQ.


1978 – Ontario Provincial Police officer Paul Head is arrested in Hamilton and charged with gross indecency and contributing to juvenile delinquency, for having sex with his under-age lover. He is forced to resign. The gross indecency charge was later dropped in exchange for a plea of guilty to contributing to juvenile delinquency, for which Head was given a suspended sentence.


1979 – In Toronto, Ontario Attorney General Roy McMurtry appeals Pink Triangle Press acquittal.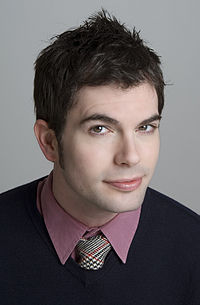 1981 – Shawn Hollenbach, born in Lebanon, Pennsylvania, is an American stand-up comedian, writer and actor, based in New York City. He worked at Comedy Central in the programming department.
As a comic and actor he has performed around the country and throughout New York. He is an energetic and upbeat performer and self-deprecating humorist focusing on LGBT subjects and a "style that capitalizes on the myriad incidents and accidents that befall us all in the midst of our human existence". He is openly gay and his act often incorporates comedy about LGBT subjects.
He currently works at Logo, Viacom's channel that appeals to the LGBT community and their allies as the social media manager for the channel and its most popular show, RuPaul's Drag Race.


1981 – The founding meetings of Toronto Gay Community Council are held. It was the first city-wide coordinating organization of gay and lesbian groups in Canada. The council remained in operation until Sep 1984.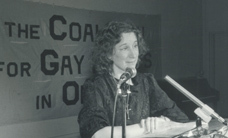 Margaret Attwood speaks

1981 – A "Gay Freedom Rally", effectively Toronto's first Pride event, is held. Speakers, including author Margaret Atwood and Member of Parliament Svend Robinson, denounce the bathhouse raids. Robinson would later become Canada's first openly gay Member of Parliament in 1989; although he was already an MP and a civil libertarian activist at the time of the raids, he had not yet publicly come out.

1981 – The founding meetings of the Toronto Gay Community Council are held. It was the first city-wide coordinating organization of gay and lesbian groups in Canada. The council remained in operation until Sep 1984.

1987 – Vermont becomes the first state to hand out condoms to prisoners on request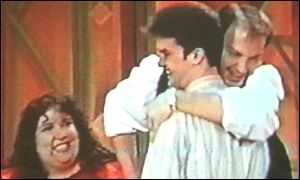 Schmitz (center) hugged by Amedure on the Jones show
1994
–
Jonathan Schmitz
and
Scott Amedure
tape a
Jenny Jones
show about secret crushes. Schmitz expected his admirer to be a woman, not his gay neighbor.
When Schmitz found Amedure, a 32-year-old unemployed gay man, telling a television audience about a fantasy that involved Schmitz, some whipped cream, strawberries and champagne, he became embarrassed and, his lawyers said, enraged.
Three days after the taping, on March 9, 1995, Schmitz received an anonymous, sexually suggestive note on his doorstep and assumed it came from Amedure. Schmitz purchased a 12-gauge shotgun, went to Amedure's mobile home and fired two shots at close range into Amedure's chest.
A few minutes later, Schmitz dialled 911 from a pay phone at a gas station near his sister's house. He said, "I just walked in the room and killed him." Schmitz was later convicted of second-degree murder. Although the conviction was overturned, Schmitz was again found guilty in a second trial and sentenced to 25 to 50 years in prison. In a civil suit, a jury found the Jenny Jones show liable for the murder and awarded the Amedure family $25 million.

MARCH 7 →
[{(o)}]|[{(o)}]|[{(o)}]|[{(o)}]| [{(o)}]|[{(o)}]