April 15
[{(o)}]|[{(o)}]|[{(o)}]|[{(o)}]| [{(o)}]|[{(o)}]
1452 – Leonardo da Vinci, the Italian Renaissance polymath, was born on this date (d.1519); How much of what is known about the sexuality of this greatest of history's geniuses is fact and how much is speculation?
In 1476, just as Leonardo was becoming a master in his own right, probably functioning as a partner to Verrocchio, he was suddenly plagued by scandal. Along with three other young men, he was anonymously accused of sodomy, which in Florence was a criminal offense, even though in most cases the authorities looked the other way and the general culture attached little social stigma to homosexuality.
Leonardo was 24 years old at the time. The accusation specifically charged him with a homosexual interaction with one Jacopo Saltarelli, 17 years old, "a boy of ill-repute" . The charges were brought in April, and for a time Leonardo and the other defendants were under the watchful eye of Florence's "Officers of the Night"—a kind of renaissance vice squad.
However, the charges were dismissed in June, due to a lack of witnesses and evidence. It is probable that the Medici family brought had something to do with this outcome, as another of the defendants was Lionardo de Tornabuoni, and Lorenzo de Medici's mother had been a Tornabuoni.
The second major implication of the sodomy case is, of course, the question of Leonardo's sexuality. Homosexuality was common in quatrocento Florence, and several things indicate that Leonardo was probably gay. He never married or showed any (recorded) interest in women; indeed, he wrote in his notebooks that male-female intercourse disgusted him. His anatomical drawings naturally include the sexual organs of both genders, but those of the male exhibit much more extensive attention. Finally, Leonardo surrounded himself with beautiful young male assistants, such as Salai and Melzi.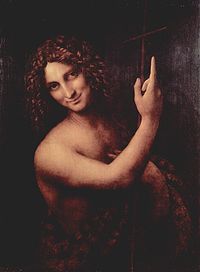 "Salai" as John the Baptist
He complained in his notebooks of his attachment to his student Andrea Salaino, whom he nicknamed "Salai" "("little devil"). Calling Salai a liar and a thief, he was nonetheless obsessed with the handsome young man to have left him a good portion of his estate. He also painted him in a gorgeous portrait as "John the Baptist" seen above.
Francesco Melzi
, Salai's replacement as Leonardo's 'assistant,' was left the larger part of the master's estate.
These are the known facts. That Leonardo chose his students for their looks is contemporary gossip. That all his female subjects were painted from young male models, including the Mona Lisa, is speculation.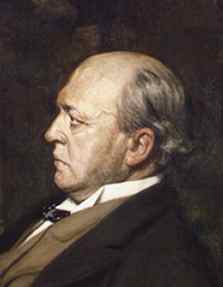 1843 – Henry James, (d.1916) was an American-born writer, regarded as one of the key figures of 19th-century literary realism. He was the son of Henry James, Sr., a clergyman, and the brother of philosopher and psychologist William James and diarist Alice James. He is best-known for The Turn of the Screw, Daisy Miller, and The Ambassadors.
In a brilliant series of articles, endorsed by James's biographer Leon Edel, Richard Hall has shown that James was actually in love with his brother, the Harvard philosopher William James. This finally puts to rest the speculations that have ranged (Honest to God!) from a severe, lifelong case of constipation to his having been hit in the nuts with a pump handle to explain why the famous writer seems to never have had a sex life.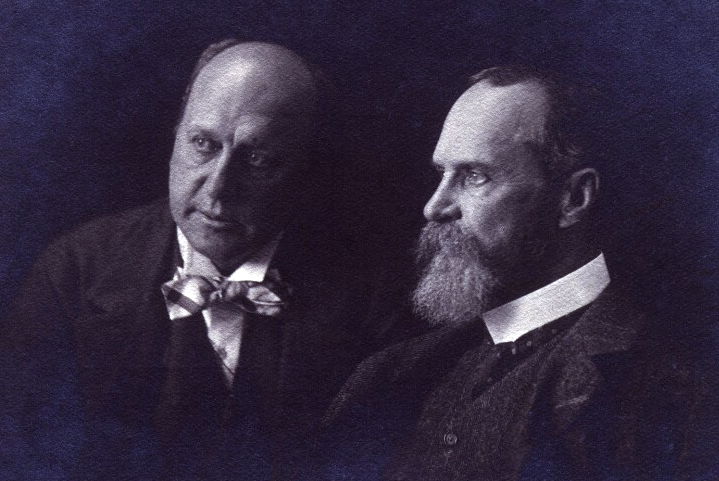 Henry and William James
James had, in fact, proclaimed himself "a bachelor." But as the diaries of contemporaries and hundreds of affectionate and sometimes erotic letters written by James to younger men have come to light, the picture of neurotic celibacy have given way to a portrait of a closeted homosexual, although as author Terry Eagleton has stated, "... gay critics debate exactly how repressed his (probable) homosexuality was ..."
From the late 1890s until the end of his life in 1916, Henry James, by then a permanent expatriate resident in Lamb House, Rye, Sussex, England, kept up a faithful correspondence with four considerably younger men: sculptor Hendrix Andersen, British writer Hugh Walpole, fellow expatriate Howard Sturgis, and Jocelyn Persse.
James's letters to expatriate American sculptor Hendrik Christian Andersen have attracted particular attention. James met the 27-year-old Andersen in Rome in 1899, when James was 56, and wrote letters to Andersen that are intensely emotional: "I hold you, dearest boy, in my innermost love, & count on your feeling me—in every throb of your soul". In a letter of 6 May 1904, to his brother William, James referred to himself as "always your hopelessly celibate even though sexagenarian Henry". How accurate that description might have been is the subject of contention among James's biographers, but the letters to Andersen were occasionally quasi-erotic: "I put, my dear boy, my arm around you, & feel the pulsation, thereby, as it were, of our excellent future & your admirable endowment." To his homosexual friend Howard Sturgis, James could write: "I repeat, almost to indiscretion, that I could live with you. Meanwhile I can only try to live without you."
His many letters to the young gay men who made up a large fraction of his close male friends are more forthcoming. In a another letter to Howard Sturgis, following a long visit, James refers jocularly to their "happy little congress of two" and in letters to Hugh Walpole he pursues convoluted jokes and puns about their relationship, referring to himself as an elephant who "paws you oh so benevolently" and winds about Walpole his "well meaning old trunk". His letters to Walter Berry printed by the Black Sun Press have long been celebrated for their lightly veiled eroticism.
The letters point to a complicated intimacy that James, nearing 60, fostered with these youthful admirers, friends and house guests during his years of declining health and increasing emotional frailty. James seems to have played shifting roles within each relationship: mentor, father, brother, erotic companion, confidant.
James is paternal with Hendrik Andersen, for example, but he also writes of a wish to "put my hands on you (oh, how lovingly I should lay them!)" He is nurturing to Dudley Jocelyn Persse, but also refers to their "promiscuous social exercise." His letters are replete with dazzling melodrama: to Hugh Walpole he writes, "I too, even poor ponderous & superannuated I, am leading the Life for a little, in my clumsy way & with a vocation & a genius so inferior to yours."
The outbreak of World War I was a shock for James, and on 26 July 1915, he became a British citizen as a declaration of loyalty to his adopted country and in protest against America's refusal to enter the war. James suffered a stroke on 2 December 1915, and it soon became apparent that his prognosis was not good. The novelist, now seriously ill, was awarded the Order of Merit, bestowed on 1 January 1916. His health continued to decline and he died in London on 28 February 1916. He was cremated at Golders Green Crematorium and his ashes are interred at Cambridge, Massachusetts.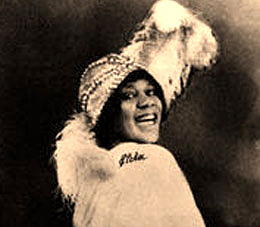 1894 – Bessie Smith, the American blues singer and legend was born on this date (d.1937). When, in "Foolish Man Blues," Bessie Smith sang:
"There's two things got me puzzled, there's two things I don't understand;/ That's a mannish-actin' woman, and a skippin' twistin' woman- actin' man," she wasn't the least bit puzzled. She was a good friend of the male- impersonator Gladys Fergusson and had been introduced to the world of women-lovin' women by the blues singer Ma Rainey.
Among her many Gay male friends was composer Percy Grainger. Bessie herself slept with as many female members of her performing troupe as she could. Though Smith later married a man, she enjoyed numerous sexual relationships with lesbians and bisexual women on the touring circuit, one of whom, Boula Lee, was the wife of her musical director. It has also been suggested that Ma Rainey was her first lover. Smith's lesbian affairs were a frequent source of tension with her husband, Jack Gee, from whom she eventually separated.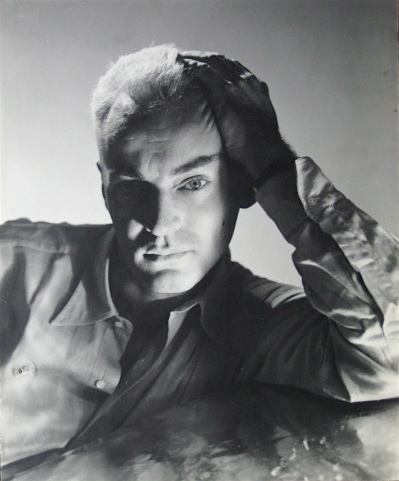 1907 – The American fashion and commercial photographer George Platt Lynes was born on this date (d.1955). He spent his childhood in New Jersey but attended the Berkshire School in Massachusetts. He was sent to Paris in 1925 with the idea of better preparing him for college. His life was forever changed by the circle of friends that he would meet there. Gertrude Stein, Glenway Wescott and Monroe Wheeler—a twosome with whom he became number three in a ménage à trois — and those that he met through them opened an entirely new world to the young artist.
He returned to the United States with the idea of a literary career and he even opened a bookstore in Englewood, New Jersey in 1927. He first became interested in photography not with the idea of a career, but to take photographs of his friends and display them in his bookstore. Returning to France the next year in the company of Wescott and Wheeler, he traveled around Europe for the next several years, always with his camera at hand. He developed close friendships within a larger circle of artists including Jean Cocteau and Julien Levy, the art dealer and critic. Levy would exhibit his photographs in his gallery in New York City in 1932 and Lynes would open his studio there that same year.
He was soon receiving commissions from Harper's Bazaar, Town & Country and Vogue including a cover with perhaps the first supermodel, Lisa Fonssagrives. In 1935 he was asked to document the principal dancers and productions of Lincoln Kirstein's and George Balanchine's newly founded American Ballet company (now the New York City Ballet). While he continued to shoot fashion photographs, getting accounts with such major clients as Bergdorf Goodman and Saks Fifth Avenue during the 1930s and 1940s he was losing interest and had started a series of photographs which interpreted characters and stories from Greek mythology.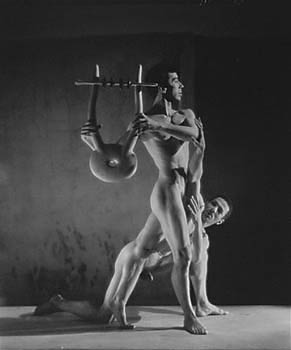 Minotaur
By the mid-1940s he grew disillusioned with New York and left for Hollywood in 1946 where he took the post of Chief Photographer for the Vogue studios. He photographed Katharine Hepburn, Rosalind Russell, Gloria Swanson and Orson Welles, from the film industry as well as others in the arts among them Aldous Huxley, Igor Stravinsky and Thomas Mann. While a success artistically it was a financial failure.
His friends helped him to move back to New York City in 1948. Other photographers, such as Richard Avedon, Edgar de Evia and Irving Penn, had taken his place in the fashion world. This combined with his disinterest in commercial work, meant he was never able to regain the successes he once had.
Focus on homoerotic imagery started to take over his photographic life. He had begun in the 1930s taking nudes of his circle of friends and performers, including a young Yul Brynner, but these had been known only to intimates for years. He began working with Alfred Kinsey and his Institute in Bloomington, Indiana. The Kinsey Institute for Research in Sex, Gender and Reproduction, as it is known today holds the largest collection of his male nudes.
By May 1955 he had been diagnosed terminally ill with lung cancer. He closed his studio. He destroyed much of his print and negative archives particularly his male nudes. After a final trip to Europe, Lynes returned to New York City where he died. For a look at some of his work, visit his pages on Queer-Arts.Org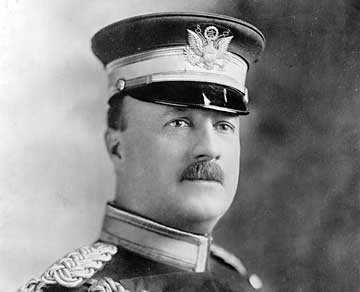 1912 – Died: Major Archibald Willingham Butt (born.1865) was an influential military aide to U.S. presidents Theodore Roosevelt and William Howard Taft. Before becoming an aide to Roosevelt, Butt had pursued a career in journalism and served in the Spanish-American War. He died in the sinking of the RMS Titanic.
On January 2, 1900, Butt received a commission as a Captain of United States Volunteers in the United States Army.He served in the Philippines from 1900 to 1904. In 1904, he was made Depot Quartermaster of Washington, D.C., where he met President Theodore Roosevelt. In 1906, he was sent to Cuba to as part of a pacification force. In 1908, now a captain, Butt was recalled to Washington to serve as chief military aide to President Roosevelt. When William Howard Taft became President the following year, Butt stayed on in the same capacity. In 1911, Butt was promoted to the rank of major.
Butt lived with his longtime domestic partner, the American painter Francis Davis Millet, in an old-fashioned district of Washington, D.C.. "Millet, my artist friend who lives with me" was Butt's designation for his companion. In D.C. they were known for throwing large parties that were attended by members of congress, justices of the Supreme Court and President Taft, himself. As a result of a society not wanting to pry into their lives, insiders in Washington tried not to focus too closely on the men's relationship, but they recognized their mutual affection.
By 1912, Taft's first term was coming to an end and Roosevelt, who had fallen out with Taft, was known to be considering a run against him. Very close to both men and fiercely loyal, Butt was caught in the middle. As his health was deteriorating during this period, his friend Millet asked Taft to give him a leave of absence to recuperate before the presidential primaries began. Taft agreed and ordered Butt to go on vacation.
Butt left on a six-week vacation to Europe. He was accompanied for part of his vacation by Millet, his longtime domestic partner. Butt booked passage on the RMS Titanic for his return to the U.S. He boarded the Titanic at Southampton, UK on April 10, 1912; his partner Millet boarded the ship at Cherbourg, France later that same day. Butt was playing cards on the night of April 14 in the first-class smoking room when the Titanic struck an iceberg. The ship was completely submerged by 2:20 AM the next morning, and plunged to the ocean floor.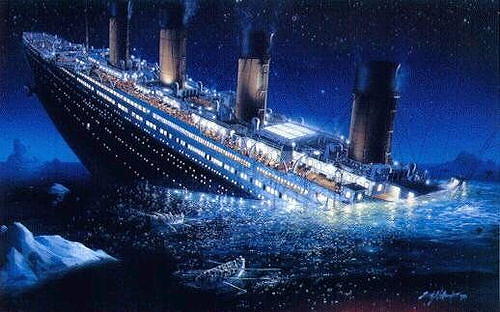 Major Butt's actions on board the ship while it was sinking are largely unverified, but conflicting accounts were published by newspapers after the disaster. According to some accounts, Titanic captain Edward J. Smith informed Butt that the "ship was doomed" and that "lifeboats were being readied." Butt immediately began acting as another officer of the ship, herding women and children into the lifeboats. However, one account tells of Butt preventing desperate steerage passengers trying to escape. Walter Lord's book A Night to Remember disagrees with claims that Butt acted like an officer, claiming he was more likely quietly observing the ship's evacuation.
Butt was last seen in the smoking room, making no attempt to save himself. He went down with the Titanic; his remains were not found; however Millet's body was found later floating on the sea and was returned to the U.S. for burial. The memorial fountain erected in the Ellipse area of the President's Park in Washington is called the Butt-Millet Fountain.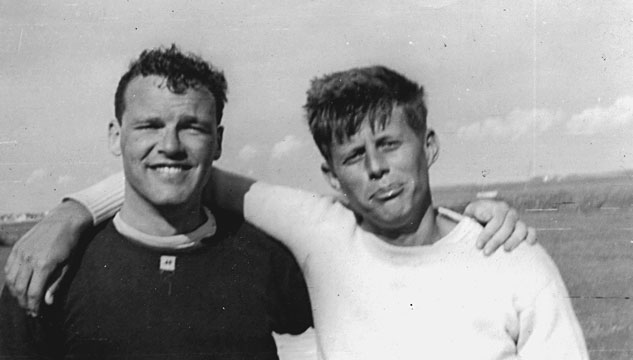 Lem Billings and JFK 1935
1916 – (Kirk LeMoyne) Lem Billings (d.1981) was a close friend of President John F. Kennedy and the Kennedy family. Billings was a prep school roommate of Kennedy, an usher at his wedding, and a campaigner for his successful 1960 presidential bid. Joseph Kennedy, Sr. called him "my second son," and he sometimes acted as escort to several of the Kennedy women. Billings served with Sargent Shriver as a trustee for the Kennedy family trusts.
The book 'Jack and Lem: The Untold Story of an Extraordinary Friendship' by David Pitts, deals with the late President's lifelong friendship with Lem Billings, after the pair first met at school. The book, first issued in 2007, claims President John F Kennedy had a special room in the White House reserved just for his gay best friend. The pair were so close that they wrote lengthy letters to each other whenever they were apart.
In a subsequent book "RFK Jr. and the Dark Side of the Dream" Jerry Oppenheimer claimed the pair had "a friendship that included oral sex, with Jack always on the receiving end".
Billings, a 16-year-old third-year student, and Kennedy, a 15-year-old second-year student, met at Choate, an elite preparatory school, in the fall of 1933. Billings as a teenager was 6' 2", weighed 175 pounds, and was the strongest member of the Choate crew. They became fast friends, drawn to each other by their mutual distaste for their strict school.
From Billings's first visit with the Kennedy family for Christmas in Palm Beach in 1933, he joined them for holidays, participated in family events, and was treated like a member of the family.
Lem Billings was at Choate on scholarship. Billings repeated his senior year so that he and Kennedy could graduate from Choate together in 1935. They spent a semester together at Princeton University until Kennedy withdrew for medical reasons. While attending college, they frequently spent weekends together in New York City.
Some historians believe that Billings expressed his sexual interest in Kennedy in writing in 1934 and that Kennedy rebuffed his advances. Kennedy knew Billings had rightly been accused of homosexual behavior by a fellow Choate student during their years there.
Billings and Kennedy took a summer trip through Europe in the summer of 1937.
In 1941, Billings failed medical tests required by the military. In 1942, supported by a recommendation from Joseph Kennedy, Sr., he won admission to the American Ambulance Field Service, where his poor eyesight was not a disqualification. He saw action in North Africa in 1942–43. In 1944 he received a commission in the U.S. Naval Reserve and served in the South Pacific until being discharged in 1946.
After working on Kennedy's successful campaign for Congress in 1946, Billings toured seven Latin American countries with Kennedy.
Friends from the 1970s confirmed that Billings was homosexual, but not open to discussing it. In 2006, looking back to the Kennedy Administration, Ben Bradlee said: "I suppose it's known that Lem was gay....It impressed me that Jack had gay friends." At the same time, he admitted that no one ever expressed the idea aloud during Kennedy's White House years.
Red Fay, a friend of the President from his World War II service, said of Billings: "I didn't see anything overtly gay about him; I think he was neutral."
Though newspapers often mentioned Billings' attendance at major social events, they identified him either as the escort of a member of the Kennedy family or included him in a list of Kennedy friends. Otherwise he attended without a female partner.
One historian wrote that after the 1963 assassination Billings was: "Probably the saddest of the Kennedy 'widows'."
Charles L. Bartlett, a journalist who introduced Kennedy to Jacqueline Bouvier and friend of both Billings and Kennedy, described their relationship: "Lem was a stable presence for Jack. Lem's raison d'être was Jack Kennedy. I don't think it's true that he did not have views of his own, as some have said. He had a very independent mind. He had interests of his own that Jack didn't necessarily share. He certainly didn't have the same interest in politics and women that Jack had."
Though Gore Vidal thought Billings was "absolutely nobody," he also believed "it was a good idea that Jack had somebody he could trust like that around him." He believed Billings loved Kennedy.
"Jack made a big difference in my life," Billings said. "Because of him, I was never lonely. He may have been the reason I never got married."
After the assassination of Robert Kennedy in 1968, Billings became depressed and started to drink in excess, an addiction that plagued him for the majority of his life. He maintained close ties to the Kennedys and their children for the rest of his life, frequently socializing with Bobby Kennedy, Jr., to whom he became almost a surrogate father, and Christopher Lawford.
On May 28, 1981, Billings died in his sleep in his Manhattan apartment following a heart attack. His dying wish was for the young Kennedy men to carry his casket to its final resting place. When they arrived at the cemetery, it was already in place to be lowered. The young Kennedys took the casket and carried it around the grave site before returning it to the burial plot.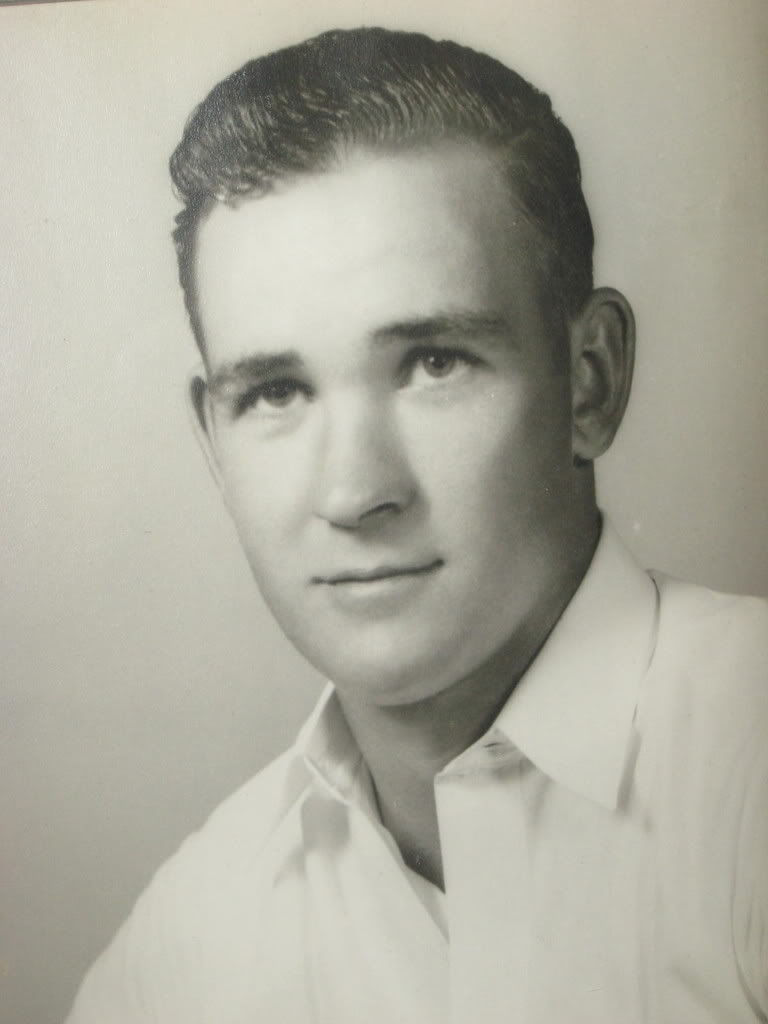 A very young Howard Brown
1924 – Howard Junior Brown (d.1975), a founder of the National Gay Task Force (now the National Gay and Lesbian Task Force) and a former New York City Health Services Administrator, helped change the image of gay men and lesbians in the United States by coming out publicly in 1973.
Born in Peoria, Illinois, to a civil engineer, Howard Junior Brown spent his childhood in several small towns in Ohio. At the age of eighteen, he realized that he was gay when he became attracted to another student at Hiram College in Ohio. Frightened, he sought psychiatric assistance from the head of the psychiatry department at Western Reserve University School of Medicine in Cleveland and was reassured that he could not possibly be gay because "homosexuals don't become doctors, they become hairdressers."
Drafted into the Army during World War II, Brown served as a medical corpsman before being discharged in 1944. He earned a medical degree from Western Reserve in 1948 but believed that he would always be a second-rate physician because of the common psychiatric teaching that homosexuals were inherently impaired. After years spent struggling with his sexuality, Brown quit analysis in 1954 and moved to New York City.
Brown gained notice as the director of the Gouverneur Ambulatory Care Unit on Manhattan's Lower East Side. On June 3, 1966, he became the first head of the New York City Health Services Administration. Brown oversaw 22 municipal hospitals, 23 district health centers, 94 child health stations, and 50,000 city employees but needed to hide his sexual identity to keep his job.
In late 1967, Brown received a warning that an investigative reporter planned to expose homosexuals in the administration of Mayor John Lindsay and resigned rather than be forced out. The article never ran and Brown stayed closeted. He found work as a visiting associate professor of community medicine at the Albert Einstein College in the Bronx and served as the director of community medicine at two Bronx hospitals. In 1970, he joined the faculties of the Graduate School of Public Administration and the School of Medicine at New York University.
By this time, Brown had taken an apartment in Greenwich Village just a few blocks from the Stonewall Inn, and he witnessed the beginnings of the gay rights movement. As gay service organizations and gay churches rose in number, Brown lost his sense of shame about being gay and became increasingly angry about the routine insults directed at men like him. To show that even members of a profession regarded as a citadel of respectability could be homosexuals, Brown decided to make a public announcement about his sexuality. A publicist for the Gay Activists Alliance sent out a press release alerting the media to the story. On October 3, 1973, Brown came out at a symposium on sexuality at the Carrier Clinic in Belle Mead, New Jersey and immediately became a media sensation. His announcement made the front page of the New York Times and received coverage by every television station in New York City.
Capitalizing on the publicity, Brown helped found the National Gay Task Force (NGTF) on October 16, 1973. His bad experiences with psychiatry, shared by many other gay men and lesbians, prompted the NGTF to challenge the American Psychiatric Association's classification of homosexuality as a mental disorder, a battle that was ultimately successful.
Brown's tenure as a gay activist proved brief. Plagued by coronary disease, he suffered a second heart attack on February 1, 1975 and died at the age of fifty. His estate published his autobiography, Familiar Faces, Hidden Lives, a book that also contains anecdotal stories of discrimination experienced by other gay men throughout America.
In 1973, most Americans commonly viewed gay men as effeminate narcissists too disturbed to be respectable members of society. Brown helped change that image. The discovery that a distinguished public figure, the very epitome of respectability as a physician, could also be a homosexual gave the cause of gay liberation a tremendous boost.
In 1974 an alternative health center, specializing in sexually transmitted diseases, and catering to gay men and lesbians, was opened in Chicago as the Howard Brown Memorial Clinic (now known as Howard Brown Health Center). It has since become the premier Midwest health center specializing in the medical and psychosocial needs of the lesbian, gay, bisexual, and transgender community.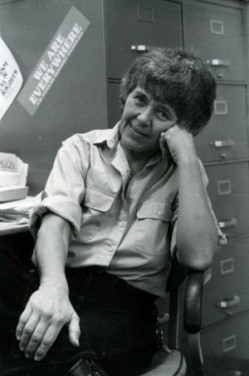 1931 – Sally Miller Gearhart was an American teacher, feminist, science fiction writer, and political activist (d.2021). In 1973 she became the first open lesbian to obtain a tenure-track faculty position when she was hired by San Francisco State University, where she helped establish one of the first women and gender study programs in the country. She later became a nationally known gay rights activist.
Gearhart grew up in the Appalachian mountains of Virginia. She was raised by her grandmother and mother after her parents divorced. Her grandmother owned a local theater, which allowed Gearhart to watch many movies. Looking back, she said, "There was another undercurrent going on. That was my lesbianism. From when I was ten years old, I knew that I wasn't going to have children."
Gearhart attended Sweet Briar College. She graduated with a B.A. in Drama and English in 1952. At Bowling Green State University she obtained a master's degree in theater and public address in 1953. She continued on at University of Illinois at Urbana-Champaign, getting her Ph.D. in theater in 1956.
Gearhart began teaching speech and theater at Texas Lutheran College (now University) in Seguin, Texas. The Lutheran climate of the school did not allow Gearhart to embrace her sexuality fully. Her determination to hide her true sexual identity continued through two more teaching positions in the Midwest, and until she moved to San Francisco, California in 1970. By 1973, Gearhart was employed at San Francisco State University, where she went from teaching speech to teaching women's studies. There she was able to develop one of the first women and gender studies programs in the United States.
After Gearhart received tenure from SFSU she was able to continue her writings focused on lesbianism and related political topics. She also became politically active, in particular, fighting for radical feminist causes.
In the mid-1970s, Ms. Gearhart was co-chair of the Council on Religion and the Homosexual. This organization offered a variety of speaking events and literature to educate followers on the Judeo-Christian tradition. It also educated legislators about LGBTQ people and the issues that they faced.
In 1978, Gearhart fought alongside Harvey Milk, one of the first openly gay politicians in the U.S., to defeat California Proposition 6, known as the "Briggs Initiative." Gearhart famously debated John Briggs, attacking the initiative to ban homosexuals from academic positions. A clip of the debate appeared in the documentary film The Times of Harvey Milk, which also included Gearhart talking about working with Milk against Proposition 6, and reactions in San Francisco in the aftermath of Milk's assassination.
While living in San Francisco, Gearhart began writing science fiction novels and short stories that highlighted her utopian ideals for a wider lesbian audience. In 1978 her most famous novel, The Wanderground, was published. She did not limit her writing to the science fiction genre. She also wrote a book entitled Loving Women/Loving Men: Gay Liberation and the Church, which was aimed at the conservative Christian churches and communities that barred homosexuals from fellowship.
The San Francisco LGBT Pride Celebration Committee recognized Gearhart for her work in 2016 when she received the Heritage of Pride, Pride Freedom Award. She was unable to attend the parade.
Gearhart lived north of Willits, California and labeled herself "a recovering political activist."


Added 2022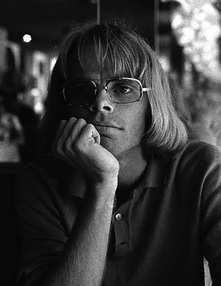 1950 – Lasse Nielsen, born in Copenhagen, is a Danish director and screenwriter. He is representative of Danish film of the 1970s. His coming-of-age films revolve around the topics of first love and awakening desire in adolescence as well as homosexuality.
Lasse Nielsen and his twin brother Carsten Nielsen were born in Copenhagen, Denmark. His cinematic work began after the founding of the Danish Film Institute in 1972, which sponsored many of his early projects.
Together with his brother, Nielsen wrote the scripts for the two feature films Let's Make (1975) and Could We Maybe (1976). From his third feature film You Are Not Alone (1978) up to and including the short film The Game ( post-production in 2017 ), Nielsen has worked with screenwriter Bent Petersen. He also did the directing work in collaboration with Ernst Johansen 1975 and 1978 and with Morten Arnfred 1976.
Nielsen also maintains a long-term partnership for film music. The singer, guitarist and composer
Knud Torben Christensen
, also knwn as
Sebastian
, wrote the music for
Could We Maybe
as early as 1976 . 40 years later, his song
Når lyset bryder Fremd
provides the soundtrack for the 14-minute short film
The Kite
.
In his feature film The Story of Net, released on video in 2010, Lasse Nielsen can be seen in a supporting role as Mr. Kim.
In 2018, six male and sixteen female former child actors accused the two directors of sexual abuse during the production of You Are Not Alone and other films.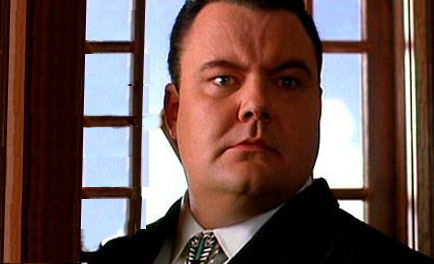 1952 – Glenn Shadix (d.2010) was an actor best known for his role as "Otho" in Tim Burton's Beetlejuice and for his southern baritone voice.
Shadix became fascinated with the power of film and television from childhood when the family would gather rapt for nightly television programs. He gravitated to theater and appeared in every production of his High School's drama club while he was a student.
Shadix informed his parents that he was homosexual in 1969, and, under the threat of being exiled from his immediate family, enrolled in an experimental "aversion therapy" program administered by a Dr Hainey at the UAB Medical Center. To "cure" him of his homosexual desires, painful electroshocks were delivered to Shadix while he viewed male pornography.
During the same summer, he worked re-capping tires at his step-fathers shop and went on a series of unpromising dates with women. The combined ordeal led him to attempt suicide by an overdose of Elavil, after which he was confined to the hospital's psychiatric ward for three weeks.
He made his professional acting debut alongside noted actress Peggy Cass in a summer production of "Goodbye, My Fancy" at Florence State in 1972.
Shadix lived in New York City prior to moving to Hollywood in the late 1970s. While there he befriended playwright Tennessee Williams while working as a production assistant for Vieux Carré at the St James Theater. Once in Los Angeles, he joined The Groundlings, an improv troupe.
Shadix's film debut was a bit part in the 1981 remake of The Postman Always Rings Twice. His success with the Ensemble Studio Theater brought him to the attention of director Tim Burton, who cast him in the major role of Otho. After that, he and Burton became good friends and Shadix was frequently cast in Burton's projects. He was offered his role in The Nightmare Before Christmas while swimming in Burton's backyard pool. He found steady work as a voice artist for various animated series and continued to work as a character actor in smaller films. His first starring role was as "Peter" in 2002's Shut Yer Dirty Little Mouth, an independent film version of the play "Shut Up, Little Man!", which was inspired by audio-verite recordings made of arguments between San Francisco roommates Peter Haskett and Raymond Huffman in the late 1980s.
Shadix underwent gastric bypass surgery in April 2000 and lost more than 100 pounds. In the mid-2000s he retired from acting and moved to the G. H. Stevenson residence in Bessemer to be closer to family. While in the area he participated in local theater programs and was active with Birmingham AIDS Outreach. In September 2010 he fell in the kitchen of his condo and suffered a fatal head injury.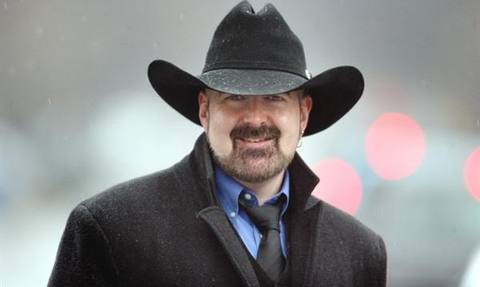 1970 – Drake Jensen is a Canadian country music artist. Jensen was born in Glace Bay, Nova Scotia, on Cape Breton Island.
Drake Jensen gave cowboys something to sing about when he pushed down his closet door in February, 2012. They were forced to hold their horses, though, because Jensen also revealed he has a husband, who appeared in the music video for Jensen's single "On My Way to Finding You," a video dedicated to Jamie Hubley, an Ottawa gay teen who committed suicide after being bullied.
Jensen and his partner, Sean Michael Morin, who is also his personal manager, were married in 2008.
When Jensen publicly announced that he is gay, he told his story of severe childhood abuse and bullying.
"As a child I always knew there was something different about me above and beyond the gay thing. Even during the worst of the bullying I always felt I would make it through. have been so lucky to be given so much, I have no choice but to give back. I give back through my music and through my story. I'm a homosexual musician telling my story through songs and spreading the message of love. In a perfect world, what could be wrong with that?"


1972 – In Ottawa a visible gay contingent joins Viet Nam Mobilization Committee demonstration protesting the visit of US president Richard Nixon to Canada.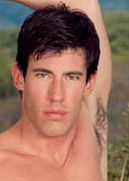 (Click for Full Monty)

1977 – Born: Eddie Stone, whose real name is Patrick Marano, a Canadian gay pornographic actor (porn star) from Montreal, Quebec. He was a champion swimmer at school. Stone was discovered while go-go dancing in a nightclub in Los Angeles, California. He was previously the midday host on the world's first gay and lesbian commercial radio station, 103.9 Proud FM in Toronto, Ontario. He is in a relationship with journalist Shaun Proulx.
In 2003, after appearing on Chi Chi LaRue's internet sex site Live And Raw, Eddie signed an exclusive contract with her studio, Rascal Video. He starred in fourteen movies for Rascal from 2003-2005, most notably When in Rome, Stone Fox, Eddie Stone's Private Screening, Set in Stone, Master of the House, and Little Big League 2: Second Inning, which he also wrote. A screenwriter, Stone also penned Sharp & Unknown: Ghost of a Chance for Rascal Video.
During his time with Rascal, he appeared on the cover of several gay porn magazines: XXXShowcase, the limited edition Rascal magazine, and Unzipped. He also appeared in the erotic coffeetable book Warning!
In 2004, he embarked on a European tour to promote the Live And Raw book, visiting eight cities, including Berlin, Paris, Vienna, and Zurich. He has traveled coast to coast doing live appearances and has been interviewed in magazines, on Jason Sechrest's "The Young & the Curious" radio show, and on QTV. Eddie Stone's porn fame and good looks have led to mainstream modeling jobs for magazines such as GQ.
A sensfirm dildo has been cast from Stone's penis. No longer with Rascal, but with no plans of retiring, Eddie Stone was, and still is, one of Chi Chi LaRue's most popular exclusive performers.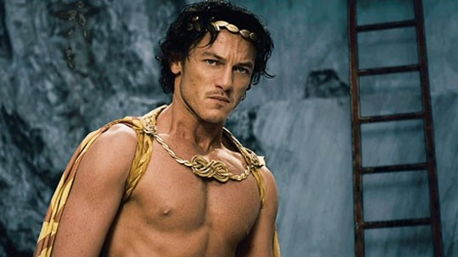 Luke Evans as Zeus in "Immortals"
1979
–
Luke Evans
is a Welsh theatre and film actor. He is known to theatregoers for his stage roles in
Rent, Miss Saigon, Small Change
and
Piaf
, and to filmgoers for his roles in
Immortals, The Three Musketeers, Clash of the Titans
, and
Tamara Drewe
.
Evans got his first film audition aged thirty. In 2009, he landed his first film, playing the Greek god Apollo in the 2010 remake Clash of the Titans. Also in 2010, he appeared as Clive in the film Sex & Drugs & Rock & Roll, and as the Sheriff of Nottingham's thug in Robin Hood, alongside Matthew Macfadyen. Evans played the Musketeer Aramis in Paul W. S. Anderson's version of The Three Musketeers (filmed in 2010 and released in 2011). He was cast in a lead role in Tarsem Singh's Greek epic, Immortals (2011), in which he played the King of the Gods, Zeus.
During his early career, Evans openly identified as gay. In a 2002 interview, he said "[E]verybody knew me as a gay man, and in my life in London I never tried to hide it" and that by being open he would not have "that skeleton in the closet they can rattle out". In 2004, he said that his acting career had not suffered by being out.
And in 2004, Evans told gaydarnation.com about his stockpile of gay porn: "I bought my first film when I was 15, and now I have a good collection and I add to it regularly. I research it almost every night." His pornstar preference? "An enormous big fat cock."

1979 – The Sisters of Perpetual Indulgence is founded in San Francisco by Ken Bunch (Sister Vicious PHB), Fred Brungard (Sister Missionary Position), and Baruch Golden. Their mission is "to promulgate universal joy and expiate stigmatic guilt."

1987 – on this night the AIDS activist group ACT UP held their an protest action at the New York City General Post Office, to a captive audience of people filing last minute tax returns. This event also marked the beginning of the ACT UP Silence = Death Project, which created the famous poster consisting of a right side up pink triangle (an upside-down pink triangle was used to mark Gays in Nazi concentration camps) on a black background with the text "SILENCE = DEATH."
The author Douglas Crimp speaks of the "media savvy" of ACT UP at this demonstration on this date, because of the television media "routinely do stories about down-to- the-wire tax return filers." As such, ACT UP was virtually guaranteed media coverage to draw attention to the government silence around the spreading pandemic of AIDS.


1998 – An appellate court in Quebec strikes down a provision of the Canadian Criminal Code that sets an age of consent of 18 for anal sex, but 14 for all other sexual activity.

2009 – GOProud, an organization representing conservative LGBT people, was founded by Christopher R. Barron and Jimmy LaSialvia, two former Log Cabin Republican staffers who expressed dissatisfaction with that organization's centrist political positions. It is now defunct. The Log Cabin Republicans (LCR) is an organization that works within the Republican Party to advocate equal rights for LGBT people in the United States. Log Cabin Republicans was founded in 1977 in California as a rallying point for Republicans opposed to the Briggs Initiative, which attempted to ban homosexuals from teaching in public schools and authorize the firing of those teachers that supported homosexuality.

APRIL 16 →
[{(o)}]|[{(o)}]|[{(o)}]|[{(o)}]| [{(o)}]|[{(o)}]