Week Three



Brrr! on the Shores of Superior:

Tuesday, June 24th: 3750 km - 4300 km - Dryden, ON - Terrace Bay, ON

Another long day's drive, but at least I am not doing any night driving. My eyes are not up to it.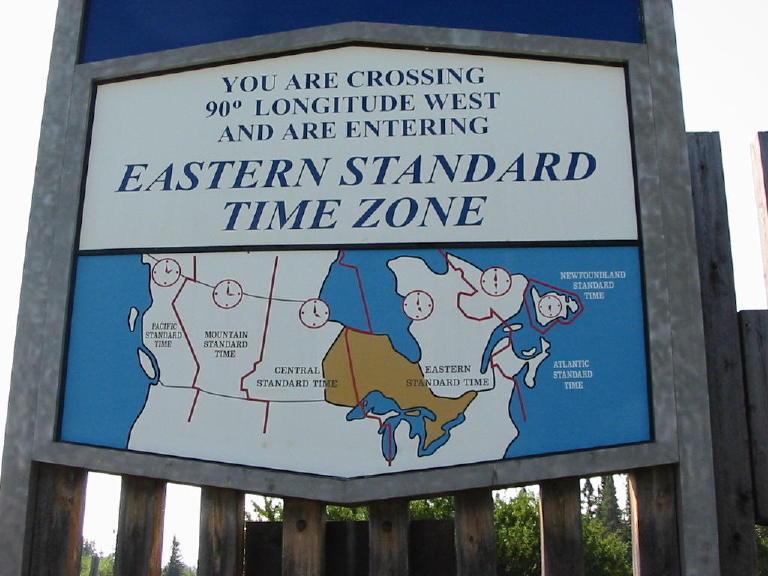 Changing time zones
I crossed over into my 4th time zone this morning, between Dryden and Thunder Bay. As one of those space and time coincidences, as I got back in the van from taking a look at the Eastern time zone cairn, I noticed my trip meter: It was exactly 4000.0 km since I left home.

To put some icing on the cake, when I took another detour off the highway just out of Thunder Bay to have a look at the the Terry Fox Memorial Viewpoint, it was exactly 4100.0 km.

Monument to courage
Driving over the terrain he traversed on his run to that point, I can understand why they have renamed this section of the Trans-Canada the Terry Fox Highway of Courage. Would you believe I used to cry every night watching his progress on TV 27 years ago?

Right now I am in Terrace Bay on the eastern shore of Lake Superior, and there is a cold wind from the lake. It is like winter, but Buddy loves it after the heat she has suffered the last few days. I lucked out with this connection. The dumpy motel does not offer Wi-fi, but there is a restaurant downstairs and it has a wireless set-up and no security, so I am stealing some bandwidth from them.

- Posted By Ted to CanadianGay Blogspot at 6/24/2008 02:45:00 PM

2 Moose, 3 Wolves, a Fox, and a Bear:

Wednesday, June 25th: 4300 km - 4800 km - Terrace Bay, ON to Sault Ste. Marie, ON

Today I really came to appreciate just how big Lake Superior is. I drove along its northern shore for 4 hours yesterday, and down its eastern shore for 7 hours today.

It was an animal day for me. I saw three wolves, which I have never seen live in the wilds before. The first two were big and a bit shaggy. and ran across the road in front of me. The third, which I saw a few miles further on, was smaller and with shorter hair. I don't think it was a coyote.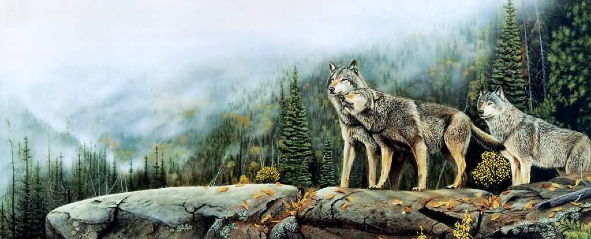 Canadian timber wolves
I also saw two moose, which I had also never seen in the wild before. The male had an enormous rack of antlers.

There was also a fox at the side of the road dining on roadkill.

And we also saw a bear: Winnie the Pooh, to be precise.

During WW1, a Manitoban enlistee, on his way to England to fight in France, bought a black bear cub at the town of White River, Ont. He named it Winnie, after his home town of Winnipeg. While he went to France, he gave it to the London Zoo to look after.

There, it was seen by A.A. Milne and his young son, Christopher, who fell in love with it and named his stuffed toy bear Winnie after it - he also referred to the bear as Pooh Bear. His father immortalized the young cub in the Winnie the Pooh stories.

White River commemorates this with a small park on the main highway.

Below is a pic of me and Buddy with Winnie, taken by a young hottie for me.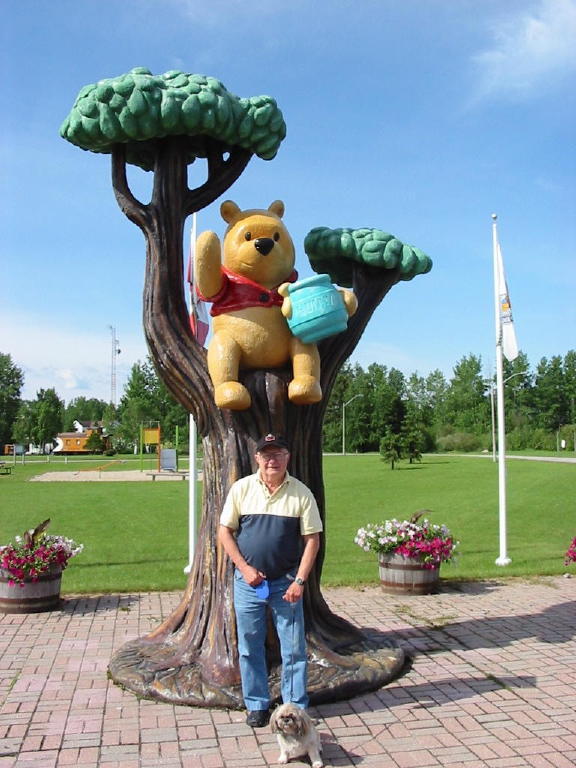 Wiinie the Pooh and Us
An amusing aside: The aforementioned young hottie was with his girlfriend, but he bent down to pat Buddy. He noticed her rainbow collar, held it and looked up at me with a raised eyebrow and gave me a smile and a wink. If he had been alone, I think we might have had some fun!

- Posted By Ted to CanadianGay Blogspot at 6/25/2008 02:34:00 PM

The Soo

Wednesday Night, June 25th, Sault Ste. Marie, ON

(This passage is inserted from memory, as the original no longer exists).
The Sleep Inn in Sault Ste. Marie is the nicest I have been in so far. It is brand new with HD TV's in every room, and wonderful white downy comforters on the beds. It is right beside the riverside park along the St. Mary's River, and in sight of the International Bridge, and its American twin city. It is also only a block from the old town with its quaint shops.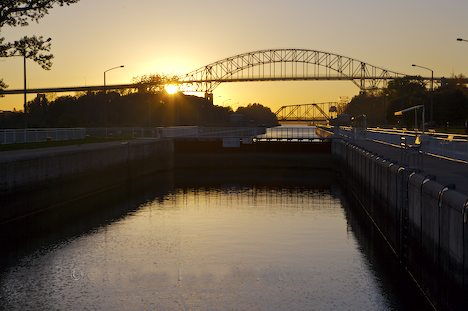 International Bridge and canal
It was too hot in the Soo for Buddy, and she preferred to stay in the air-conditioned motel room while I checked out the old town. I found a nice-looking Vietnamese place to eat, and left it up to the waitress, obviously the daughter of the owner/cook, to choose for me. It was a delicious fish and noodles dish of some kind for a ridiculously cheap price, which included desert and coffee.

After supper, it had cooled down enough to entice Buddy out for a walk in the riverside park, where she made all sorts of friends, both human and canine.

I also met a couple of sweet 15 or 16 year-old skate-boarders who were quite happy to chat with me. They told me all about the gang problems on the other side of the river, confided in me that they were "boyfriends" who come here to neck "and other stuff" when it gets dark enough, and told me that if I was looking for a guy to "play with" that there was a cruising area just further down the river. Although they assured me it was quite safe, I was not into going cruising in a public park in a strange town at night!

I had a lot of problem with my room key-card at the Sleep Inn. Every time I left the room and came back, the card would no longer work. I had to get it reformatted at the front desk. We eventually figured out what was causing it. Each time I came back to the room, I would put it on the chest of drawers right in front of the HD TV set. The magnetic field from the set would wipe it!

An early night tonight. I am running behind to meet a friend in Southern Ontario!

Not Another Ferry?????

Thursday, June 26th: 4800 km - 5250 km Sault Ste. Marie, ON - Owen Sound, ON

I never thought I would drive 5000 Km to catch a ferry in the middle of the continent, but that's what I did today, to save driving about 200 extra k's.

I was running behind schedule to meet e friend in Leamington, so at the suggestion of a group member, I took the ferry across the mouth of Georgian Bay from South Baymouth on Manitoulin Island on the north shore of Lake Huron, to Tobermory on the south shore.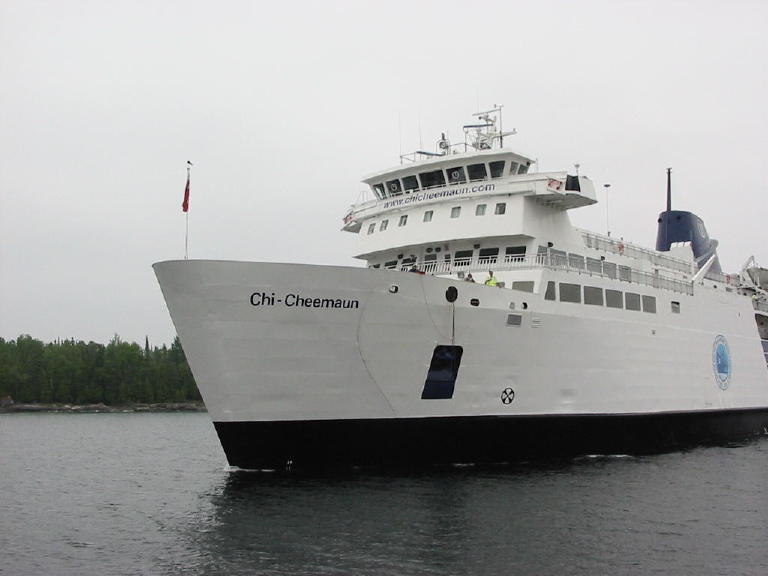 Lake Huron ferry
As ferries go, the Chi-Cheemaun is not particularly big. It is 365 feet long, and can carry 140 cars and 640 passengers, about the same size as the BC ferries on the lesser BC runs, such as to Powell River.

However, it did have some features I liked more than the BC fleet. It had a fully functional cafeteria, which was open throughout the run, and which had a wide range of foods. I had quite acceptable haddock and handcut chips with coleslaw for less than $10.

As most of you know, I am not a drinker, but for those of you who are, it had a bar with quite acceptable prices. I'm not sure that is such a smart idea, though, because the roads at either end are very windy!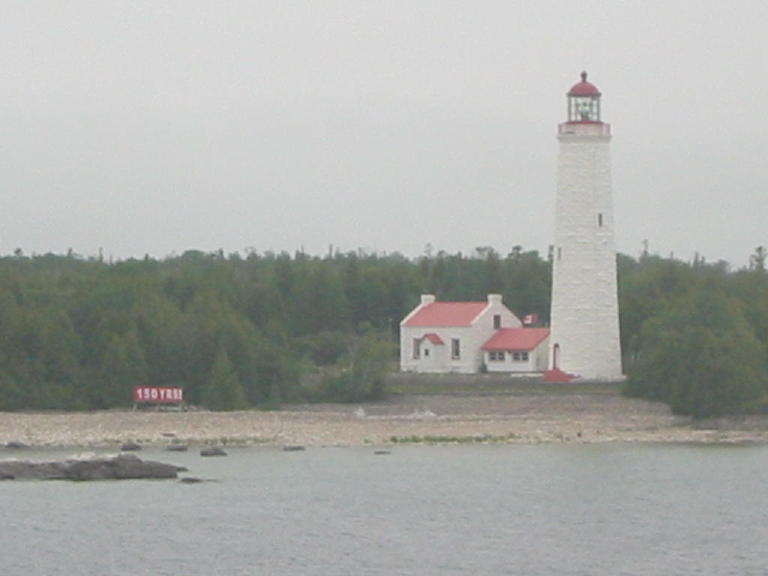 Foggy shoreline from the Lake Huron ferry
And the fare for the 2 hour, 30 mile crossing was $40.05, considerably cheaper than the fare from Vancouver to Vancouver Island. And this was a commercial fleet!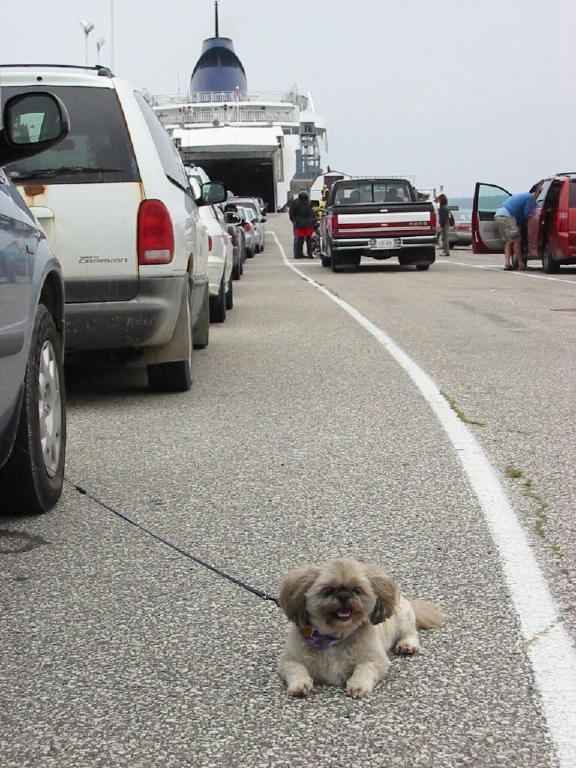 "Not another fucking ferry!"
To Buddy, it just meant being locked in the car below decks once more!

- Posted By Ted to CanadianGay Blogspot at 6/26/2008 06:32:00 PM

Energy and All That Stuff:

Friday, June 27th: 5250 km - 5650 km - Owen Sound, ON to Leamington, ON

Yes, I have sort of backtracked a bit. I am meeting a chat buddy from Michigan here tomorrow for two days of live man to man. We have been chat buds for about 6 years. Tomorrow I expect we will become fuck buds.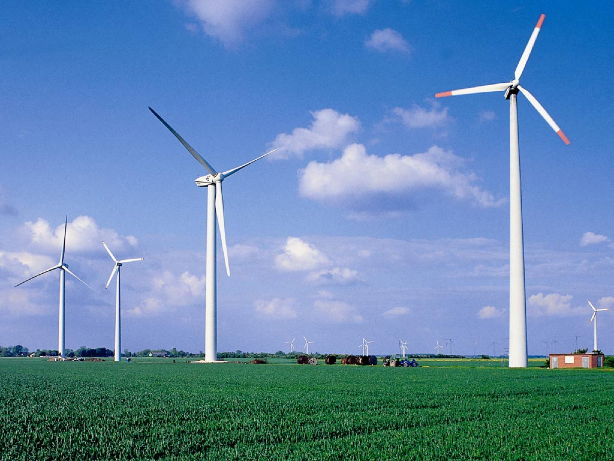 Marching power
On the drive down this morning, I saw wind power generators for the first time. They are quite impressive, like something out of a sci-fi movie. Since I left home, I have passed hydro dams and seen the hydro transmission towers marching across the country. I have seen natural gas well-heads, and petroleum pumps working away. I am sure to come across coal mining somewhere. All that energy at work!

I am happy to say that gas prices have not gone up much since I started. The highest I have paid was 139.9c in BC, and the lowest 129.9c in Calgary. The rest have fallen between, mostly around 135c.

Apart from the wind generators, the south shore of lake Huron seems to be taken up with dairy farms interspersed with golf courses. I never actually saw a cow, unless you count that homely matron I saw teeing off on the 9th at one roadside links. I guess they keep all the milking stock penned up.

So right now I am at Leamington on the north shore of Lake Ontario, but there seems to be little public access to the foreshore in this area. Sometime this weekend I will check out the national park at Point Pelee. I gather there are even some beaches there.

- Posted By Ted to CanadianGay Blogspot at 6/27/2008 04:47:00 PM

The Big Tomato:

Saturday, June 28th - Leamington, ON

Here I am filling time while I wait for my buddy to arrive. He is still two hours from Detroit, so probably 3 hours from here. Can I survive without sex until 1 PM?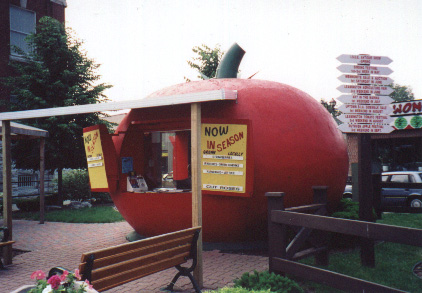 The Big Tomato
Leamington prides itself on being the tomato capital of Canada. Huge hothouses are everywhere, bursting with growing plants of all kinds, but mostly tomato plants. They even have a Tomato Days Festival, with parade and picnic and the whole works. One of our members who lives nearby tells me that in late summer when the Heinz plants are processing, the whole area reeks of cooking tomatoes.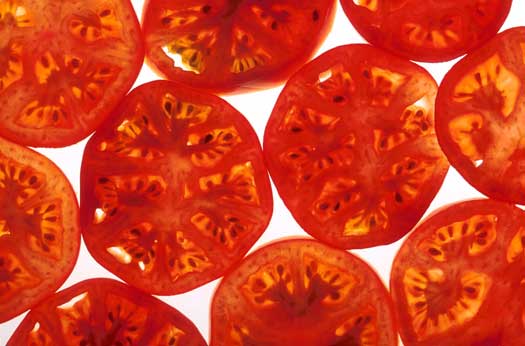 The ripeness is all!
Of course, where there are vegetable crops, there are migrant workers. In this area they tend to be mostly Mexican. There are so many migrant workers that there is a Migrant Workers Centre downtown, and many of the stores are devoted to Mexican products. It actually reminds me a bit of San Pedro, not far from the Mexican border in California. There are even TWO Mexican consular offices - not only for the use of the Mexican nationals, but for Canadian locals who migrate south for the winter.

Check your ketchup bottle. See if it was made right here!

- Posted By Ted to CanadianGay Blogspot at 6/28/2008 07:38:00 AM

Sex and Death in Leamington, ON: More Saturday, June 28th: Leamington, ON

Eric, my chat buddy from Indiana arrived about 1:30 on Saturday. Although we had seen each other over the last six years in pics and on cam, we were both pleasantly surprised with the reality. I saw before me a well-built, 6'2" 43 year-old red-head with blue eyes.

I don't know what he saw. I did find out later he is almost blind without his contacts, which may account for the fact that he finds me "cute." Whatever, it didn't take us long to tumble naked into bed.

By 5:30pm, he had fucked me five times with his fat five-inch cock. He didn't cum each time, but I counted it as a complete fuck if one or the other of us called "uncle."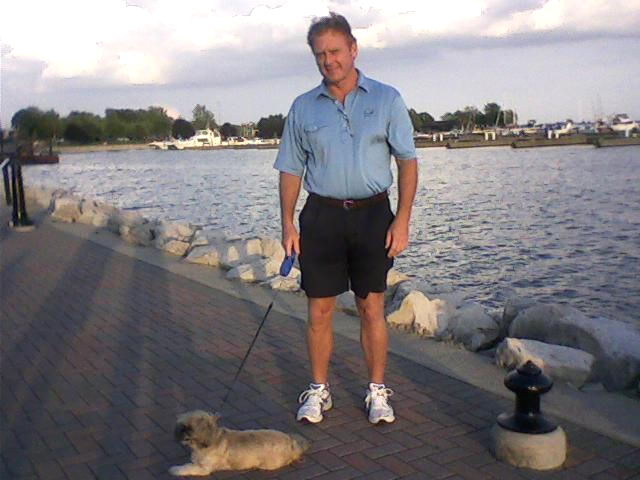 Leamingtom marina
We took a break at 5:30 to go for dinner and a nice walk around the harbour/marina of Leamington, and, yes, watch a ferry come in. Seems I just can't get away from them.

We also watched the mating rituals of the Leamington youth. They cruise the main drag and through the parking lots of the harbour, in some sort of updated "American Graffiti."

Older people walk their dogs in the same area, so Buddy got to socialize somewhat.

But they was another weirder, more deadly mating ritual going on that evening.

All over everything were June bugs / fish flies / May flies mating and dying. These insects swarm for one day every year, to mate and die, having an adult life span of only half and hour to a day. They swarm, they mate, they die ... in their millions. Swarms have even been recorded over the lakes on Doppler radar.

And in the morning, under ever street light and neon sign there are there dead husks, in some places 6" to a foot deep...and beginning to stink, like rotting fish.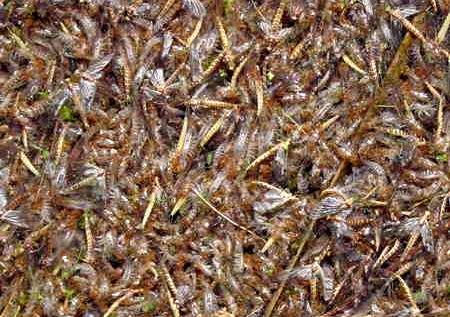 Dead and dying June bugs
Then it was back to the motel for one more fantastic fuck before it was time to rest.

Sunday, June 29th: Leamington, ON

Of course, we started the day with another fuck. As the weather wasn't too bad outside, we decided to make a picnic of it, at Point Pelee National park, the southernmost piece of Canada. It pokes south into Lake Erie, We walked the beaches of the lake, poked our noses into historic sites, trekked round a boardwalk through the marshlands, rode the tourist shuttle, and took a pic at the southern tip.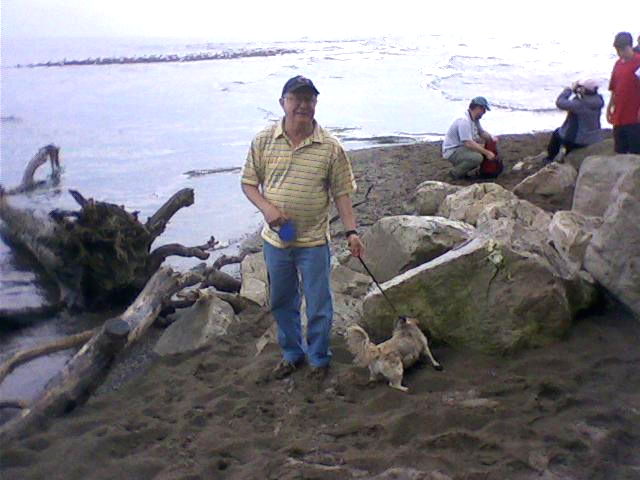 The southermost point
We also got soaked to the skin ... which was a good excuse to go back to the motel, get stripped off, and fuck some more. I even "shot up" my dick with 50 units of tri-mix, so Eric had something more solid to play with and suck.

Exhausted!
For some reason, after supper that night, we both decided to forego sex and just settle for some cuddling and kissing before sleep.

- Posted By Ted to CanadianGay Blogspot at 7/03/2008 01:01:00 PM

Camping in Style:

Monday, June 30th: 5650 km - 5980 km - Leamington, ON - Turkey Point, ON

Of course, we had to have a wake-up fuck, then a parting breakfast, followed by a farewell fuck. Eric had fucked me ten times in less than 48 hours!

Then, for me it was westward once more, and for Eric back to the cornhole state.

I arrived at "The Point" Gay Men's Campground late in the afternoon, after having stopped of in Tilsonberg for a quick coffee with Chuck, one of our members.

"The Point" is just outside Turkey Point National Park on the shores of Lake Erie, a couple of hours west of Niagara. I am not sure what I expected, but it certainly wasn't this. You could hardly call this a campground. It is more like an upscale trailer park.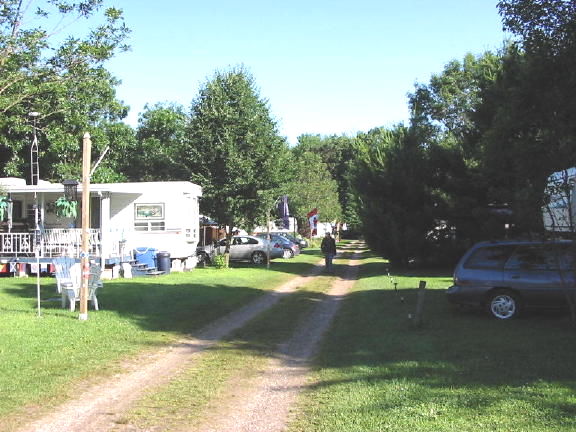 The Point
Many of the "campers" have large mobile homes parked here year round, and have extensive, and tasteful, additions. Most have well-tended lawns and gardens and satellite TV. Some get a little excessive, with tropical gardens, reflection ponds, working fountains, and even a life-size (no, not full-size) copy of the "David."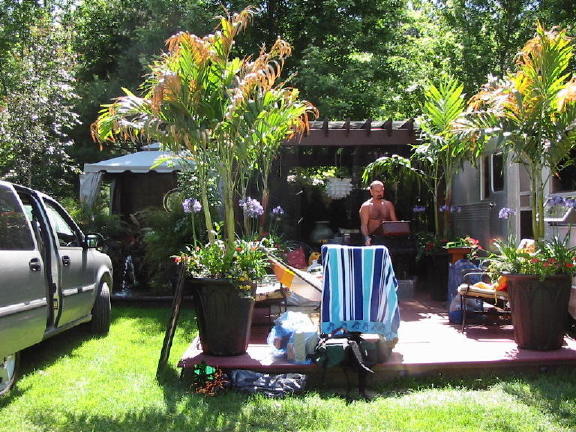 A summer place
One couple even have satellite internet, but they are not in residence at the moment, or I might have borrowed their signal.

I felt like a right peasant with my crawl-in inflatable tent and air-matress, cooking on the propane stove on the picnic table, while all around others cooked their meals on $800 stainless-steel gas barbecues.

But at least there were lots of other fag-dogs for Buddy to sniff asses with.

(Continued on Page Four)