Week One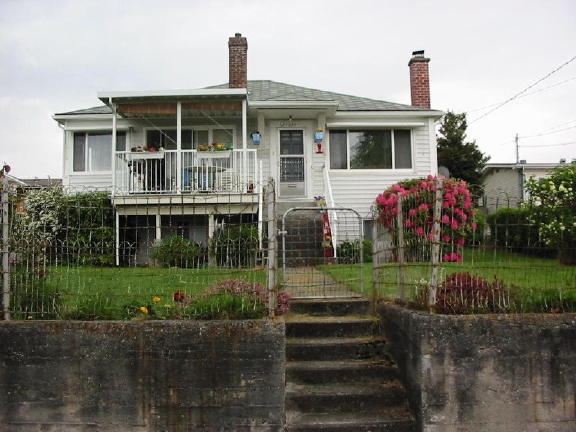 A Homo's Sweet Home



On the Road Tuesday:

I set out on my cross-Canada jaunt this coming Tuesday (10th June) with my faithful dog, Buddy.

Although I will often be out of internet contact, there shouldn't be too much disruption in CanadianGay. As I have mentioned in a recent post, I have set most regular contributors to unmoderated status, so their postings will go through without delay.

As for the majority of you, if you post a message or reply to one, it may take 24 hours or more to appear. I'm sorry I can't set everyone to unmoderated. If I did, the lurking spammers and the secret sickos would have a heyday, and with close to 4000 members now, there are bound to be some of both.

Yesterday's Poll will probably be the last for two months - unless I think up a good topic and am somewhere with broadband for a day or two. Ditto with videos. Both features take me some time to prepare, and I don't know how much broadband time I will have.

I will copy a folder from this computer to my laptop before I go. I have labeled it HOT. It is where I put all the potential pics for the daily eye-openers. I will try to keep up that feature as often as I can.

I will regularly post my itinerary for the next few days, so if I am in your area, let me know. Maybe we can meet for a quick coffee, or even a quick quickie!

Have a great summer! I plan to!

Ted

- Posted By Ted to CanadianGay Blogspot at 6/07/2008 08:11:00 AM

On the Road at Last:

Today is the first time I have had internet access since leaving home Tuesday morning, so you got a flood of late postings this morning. Other than the mail delays, CanadianGay seems to be managing OK. without me. I hope there won't be too many two-day delays in your postings, however.

What follows is a summary of my progress so far:

Tuesday 10th June: 000 km - 260 km - Powell River to Shadow Falls

Left Powell River under grey skies on the 9:30 am ferry. Was an uneventful trip through Vancouver and east to Harrison Falls, and up the mountain to Shadow Falls, a gay male-only campground.

I expected to find at least a few campers there by now, but Buddy and I found the place deserted. and the clubhouse and facilities were locked. I decided to stay the night however, even though it involved a long walk downhill to the only open washroom, toilet, and showers. I had had enough driving for one day, and I wanted to test my camping equipment out, anyway.

So I set up tent with no probs, and Buddy and I spent the afternoon on the porch of clubhouse, hanging out over the river and looking out over a beautiful view.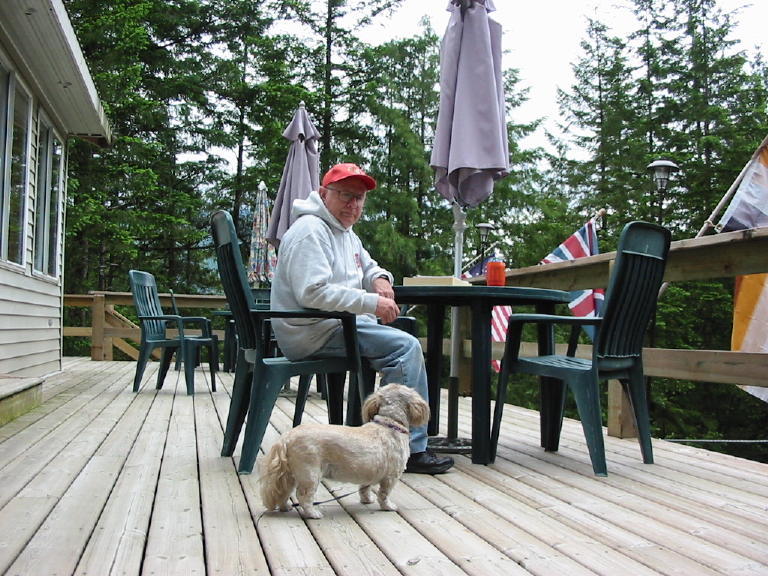 Buddy wants a treat.
As you can see in the pic it is quite grey and overcast as cold to boot! It was nice being all alone, however, and very relaxing. It was not until I was cooking supper that I discovered there was another solitary camper in the place. He had been hiding away in what I thought was a deserted camper van all afternoon.

He pointed out to me that the washrooms and showers in the clubhouse were not locked up as I thought, so I was able to take a nice long hot shower before retiring for the night at around 8:00 pm.There was not much else to do, as there was no internet, and cell phone connections were abysmal, unless I felt like slugging my way further up the mountain.

Wednesday, June 11th.

Took a drive into Harrison Hot Springs. Very touristy and retirement. Saw elderly gentlemen going shopping in their golf carts! Also went into Agassiz, hoping to find an internet hot-spot, but nothing doing. Oh, well, I knew you guys would be getting plenty of hot pics from the regulars, anyway.

Thursday, June 12: 360 km - 630 km - Shadow Falls to Kamloops

We jumped into summer after an uneventful drive over the Coquahalla Highway. It is in the mid eighties (F) here, and Buddy doesn't like it much. Just as well I got her cut real short just before we left, and I have booked us in to an air-conditioned motel.

I was supposed to be meeting a friend here on his trip home from Prince George to Kelowna, but he hasn't shown up yet, and I forgot to give him my cell number. Too bad! I could do with a quickie right now.

Anyway, that's as far as I have got so far.

Tomorrow on to Revelstoke for a weekend of lust!

Ted

- Posted By Ted to CanadianGay Blogspot at 6/12/2008 02:54:00 PM
Fuckfest in Revelstoke:

Friday, June 13: 630km - 850km - Kamloops to Revelstoke

A long day's drive. The highlight of the trip was just south of Revelstoke when traffic both ways was halted by an elderly blind woman crossing the road to a bar in the middle of nowhere. She tapped her way across 4 lanes of traffic with her white cane. It was reminiscent of the opening scenes of Dr. No, with the three blind assassins!

I arrived in Revelstoke around three, and by 3:15 a young chat buddy I first met on SilverDaddies 4 years ago joined me. We wasted no time in getting down to business. He fucked me 3 times in the next three hours, before we took a break for supper, then went back to bed for more loving.

Saturday, June 14:

We started the day with a good-morning fuck - and fooled around in bed till mid-morning. As it was not very nice out, we decided to watch the US Open at his place for the afternoon. At least, that was the plan.

We hadn't watched long before we were both horny again and decided to try out some new positions in his bedroom.

Watched a movie after supper, then back to my motel for another late-night fuck. He decided to stay the night again.

Sunday, June 15:

Another early morning fuck - in fact, two, because he got second wind quite quickly.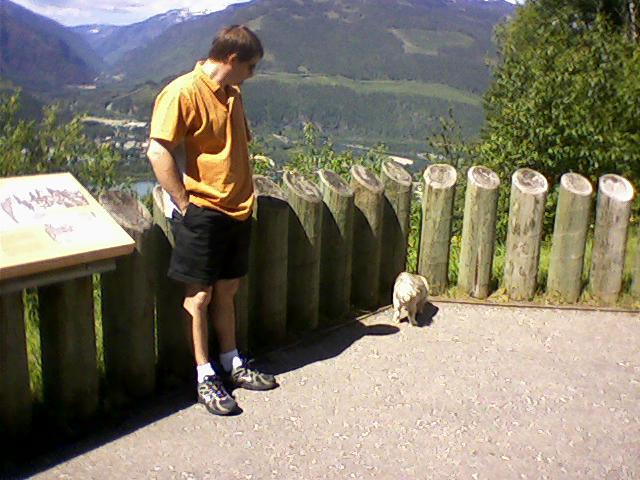 Revelstoke viewpoint

After breakfast it was time for some of the mandatory sight-seeing of the area, checking out the National Parks and the viewpoints around Revelstoke.

Right at home
This is my friend with Buddy, who took an instant liking to him. So did I. Although we had been chatting for 4 years, every other time we had planned to meet fell through for one reason or another.

After the sight-seeing, it was time for more sex. He amazed us both by cumming three times in little over an hour.

I cooked us both supper at his place, then back to mine for more fucking!

What a weekend! He stayed the night again!

Monday, June 16th: 850 km - 1250 km - Revelstoke to Airdrie, Alberta.

A last early morning fuck from my chat buddy (who is now something MUCH more). He had done me 11 times in 3 days and I loved every inch of it!

It was a long, hot drive to Airdrie, north of Calgary. I planned to meet another chat buddy at a motel there. It turned out to be the motel from hell.

It was a run-down dump, with waterstained carpets in the halls, and paper-thin walls. I could literally hear the guy in the next room fart - even over the TV which he kept turned right up.

It had a restaurant, but the stink coming from it convinced me not to eat there. I would have gone looking for somewhere else, but I was beat after the 7 hour trip, and I knew none of the other motels nearby accepted pets.

Although the place had boasted internet, it really only had an internet connection in the office. I did managed to find a wifi connection down the road a bit, and emailed my chat bud not to come there. It would have been too dismal to try to have sex in that dump.

Never stay at the Horseman Motel, Airdrie, Alberta!

- Posted By Ted to CanadianGay Blogspot at 6/18/2008 09:21:00 AM