Week Seven
Cruising Fredericton

Tuesday, 22nd July: Fredericton, NB

Last evening I took Buddy for a walk down the street about 200 yards to the Fredericton Botanical Gardens. A nice innocent place to take your dog, right? Wrong! There is a large unpaved parking lot at the entrance, and a fenced ballpark.

Balling park!
All round the parking lot were cars parked, with single guys sitting inside them. I noticed one guy get out of a pick-up and walk over to another car parked nearby. The two men spoke briefly, then the guy got into the passenger seat. Then the driver's head disappeared from view!

I had accidentally stumbled upon one of the busiest cruise sites in Fredericton. Later, I checked it out on Squirt.org. The action takes place in the parked cars, inside the ballpark compound when it is not in use for games or practice, and on the trails in the surrounding woods.

Yes, I went back - twice as a matter of fact. My dog needed the exercise. And yes, I sucked some dick - two of them- one on a trail and one in a parked car!

I did not take the pic of the parking lot, ball park and gardens entrance above. I borrowed it from Squirt.

- Posted By Ted to CanadianGay Blogspot at 7/22/2008 01:04:00 PM

Deja Voodoo

Wednesday, 23rd July: 10810 km - 11130 km - Fredericton, NB, to Edmundston, NB

Yesterday I lucked out and found a new groomer at the local Pets Unlimited. She hasn't been open long enough to build up much of a clientele, so she was able to take Buddy on short notice.

Talk about small world. We got chatting and said she used to live on the West Coast. She said I probably would never have heard of the small island she used to live on: Texada Island. As it turns out, I look out my front window at Texada, just seven miles away. The only way people can get on or off the island is by ferry to Powell River, where I live.

This morning Buddy's new haircut was my introduction to two 40-ish guys on their honeymoon. They also had a Shi-tsu. At first, the original guy I met kept referring to his "friend" who was still eating breakfast, but after he noticed Buddy's rainbow collar, "friend" became "partner" and then "husband," who he introduced me to when he came out to join us dog-walkers. A handsome twosome!

The New Brunswick government encourages tourists to take the "scenic routes" around the province, and tell you to just follow the attractive, distinctive signs. Unfortunately, not enough work has gone into the placement of these route-marking signs. There will be one at one major intersection, then not at the next. You just have to guess which way to turn. If you are lucky you will find another marker a few kilometers along your route. If you don't, you may or may not be on the wrong road. After a couple of hours of this Russian Roulette with roads, I gave up and returned to the main highway!

Thursday, July 24th: 11130 km - 11450 km - Edmundston, NB to Sainte-Foy, QC

A grey morning and drizzling much of the time. It made for a tiring drive. This is the most expensive Comfort Inn I have stayed at so far, but it's exactly like all the rest. The only reason for the high prices is that it caters to the airport trade. They are charging me $118 a night - and that's with the seniors/AAA discounts, and another $25 for Buddy! What a rip-off!

Mixed Thoughts and Observations:

Worst Drivers: Probably PEI drivers. They all seemed to tailgate, never give way to anyone, and seemed to think a four-way stop is a challenge to the bravest (or the most foolhardy!)

Angriest Drivers: Torontonians. They all seem to be mad at each other. I have never seen so much fist-waving, angry honking, shouting, and flipping the bird as I did in southern Ontario. And I don't mean at me. Not that they bad drivers! They are good. They have to be to survive those madhouse morning commutes!

Best Drivers: Quebec City drivers seem to take it all in stride. Whether it's the freeways or the narrow old city streets, they seem to navigate with ease at high speeds and don't seem to get pissed off at tourists like me doing something stupid!

Maritimes Potatoes: Although the fields are everywhere, and there are roadside stalls selling new potatoes all over, every meal I ate in the Maritimes came with frozen fries - except this morning. My breakfast in Edmundston came with pan-fried new spuds!

And while we are on food: If that tasty, moist white fish I got served all over the Maritimes is haddock, what the hell is that grey, tasteless stuff that Captain Highliner serves us?

Highway Rest Stops:
(A topic dear to the heart - and bladder - of people like me):

The Best Province: Quebec by far. Not only are they about 50 km apart, but there are also signs telling you far to the next, if you skip this one. They are also clean and well-maintained, and usually have a small concession with pop, chips, coffee and sandwiches.

The Worst Province: I think New Brunswick and Manitoba are tied here. I only saw one in each province, although there are washrooms at all the NB Information stands, but you often have a hard time getting to them.

The Strangest Province: PEI has signs along the highway, pointing you in the direction of the pit-stops, but they don't tell you how far you might have to go. Only one was right on the highway. Another I had to travel 10 km!

Are Ontarians taller than the rest of Canadians?

It would seem so by the placement of their urinals. Most of them are too high for me. I either have to use the kids' one or piss upwards!

- Posted By Ted to CanadianGay Blogspot at 7/24/2008 11:32:00 AM

Xmas in July

Friday, July 25th, 11450km - 11859km - Sainte-Foy, QC to Rigaud, QC
(with a side trip to Hawkesbury, ON)

Today was all back-tracking, except that TomTom took me by a devious route and got me to one of Montreal's bridges which was under repair, and 5 lanes of traffic were funneled down to two - or in this case, one.

I arrived just as a car broke down in one of the two lanes, so it took an hour to get across the bridge. Thank God for my anti-pee pills!

I was supposed to meet my old friend Luc (Froggy to you) and his BF Alain for dinner at Plein Bois, but Luc messaged me early this morning that the weather forecast for the area was bad, so we would have dinner in Hawkesbury instead. So I checked into Plein Bois and set up my tent before driving in to Hawkesbury.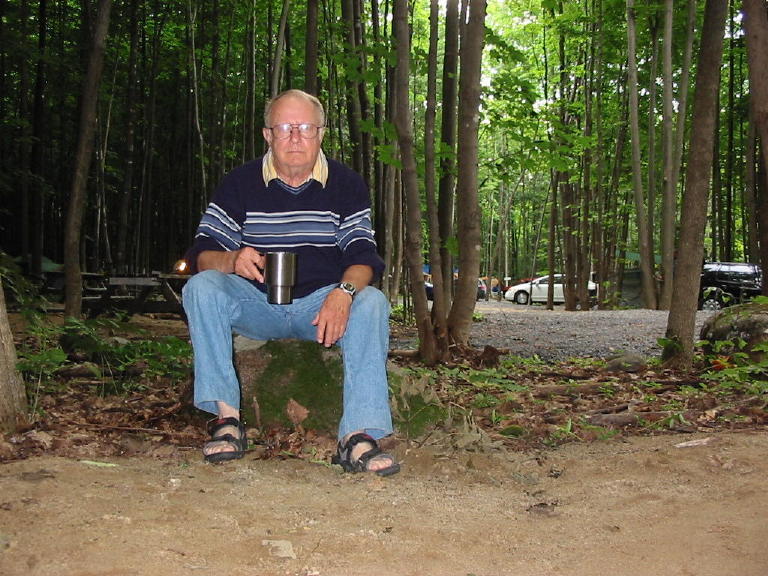 Grim like the weather
I look grim in the pic, because so did the weather. Not only that, I had just discovered there is no wi-fi signal in my section of the campgrounds, so I would not be able to moderate CanadianGay postings.

I had a really nice dinner with my old friend Luc and Alain in Hawkesbury, but the day's driving had taken its toll. I had to beg my excuses soon after supper and drive back to the campground, about 50 km. I was worried that I would fall asleep at the wheel. I was in bed by nine and slept through till seven the next morning.

Saturday, July 26th: Christmas in July at Plein Bois

An annual event at Plein Bois is Christmas in July, and it sure draws a crowd. Although they have around 400 camping sites, I got one of the last ones available when I booked two weeks before, and that was pretty well the furthest from the pool, recreation hall, and showers!

I figure there were close to 2000 guys there for Saturday night.

During the afternoon, Luc and Alain dropped by my tent-site for a visit, and Alain took this pic of us with our respective pooches.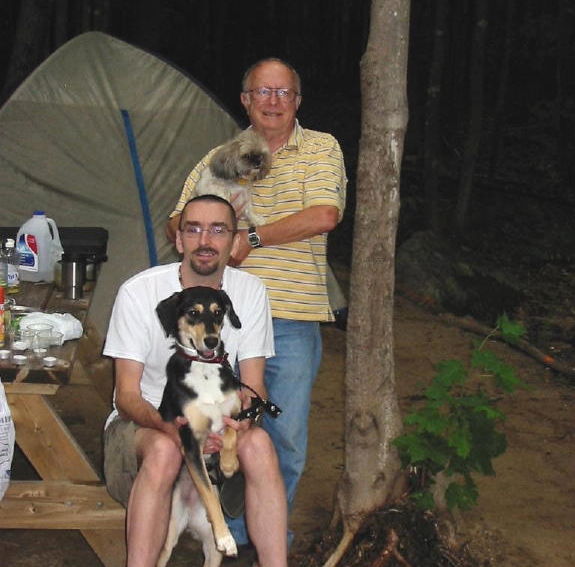 Me, Buddy, Luc, Seven
One of the parts of the Christmas in July tradition is lighting up the whole parkway with tea-light candles along the roadways, about 3 kilometers of them. The owners provided each campsite with 12 tea-candles and 12 plastic glasses to use as wind guards. We lined the roadsides with the candles, and with the help of the local insect - fireflies galore, the whole area was turned into a magical fairyland.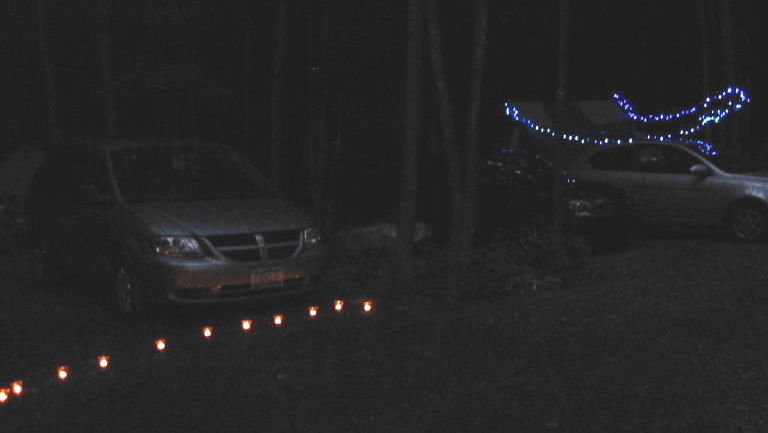 Tealights and fireflies
Along with that, many of the long-term campers had gone to great extremes with Christmas decorations and lights.The pic above is not very good, but you will get the idea.

(Additional material - How did I ever forget to include this before???)
The four teens in the next tent had bought Christmas lights and a portable generator from Montreal to decorate their tent. One of then took a real liking to "Boody" as he called my pooch. At one point in the evening, he took a leak in back of my tent, then stumbled into my campsite to visit Boody, his cock still hanging out. While we chatted, it got hard, and he gave me a big grin and shrugged. He pointed at it, and I took his invitation, and played with it and sucked it a little before he said "Bon soir" and went off to join his buddies, who were heading out to the rec hall.
(End of additional material)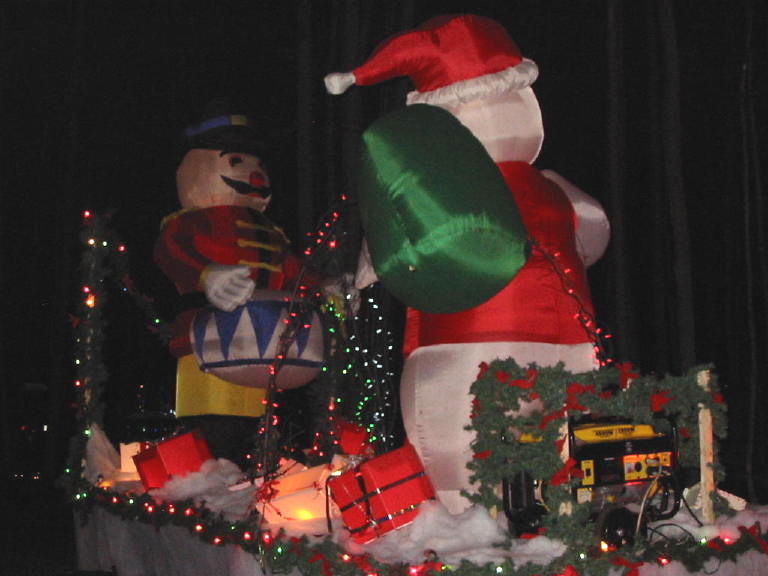 Santa float
And at 9:00 pm came the highlight: the Christmas Parade. About 20 floats weaved their way through all the roads in the campground/trailer park. They were just as elaborate as the floats you see in your hometown parades, with one slight difference. Because of the narrow, winding roads, and the overhanging trees there is a restriction on height and length of the floats.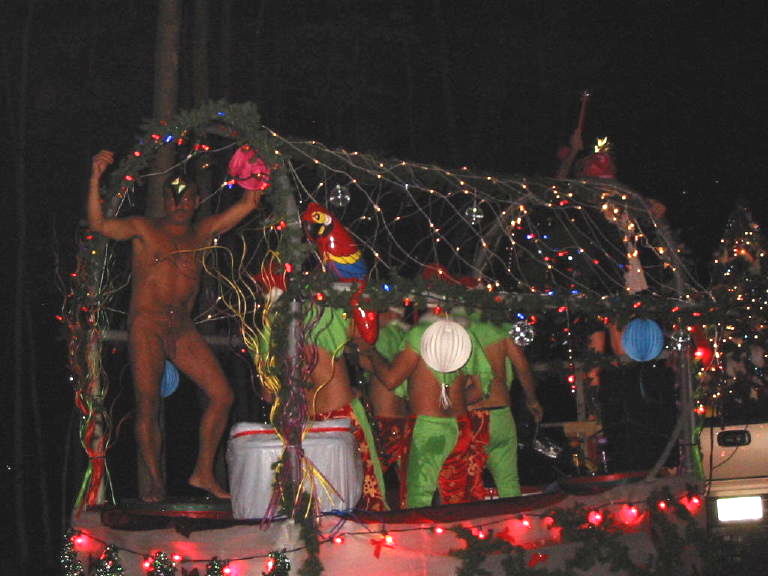 Wiggling dick!

The naked guy on the float above was sure swinging that dick of his in amazing time to the Christmas carols.

(More Additional material:)
I found this YouTube posting of the whole parade to give you more of an idea!:


(End of additional material)

The parade was followed by a Christmas cabaret at the rec hall, which I didn't attend, but I might just have well done so. I could hear the music quite clearly from my tent on the hill a kilometer away, and the 4 teens in the next tent partied for a couple more hours after the cabaret finished.

Sunday, July 27th: 11850 km - 12080 km - Plein Bois, QC to Ottawa, ON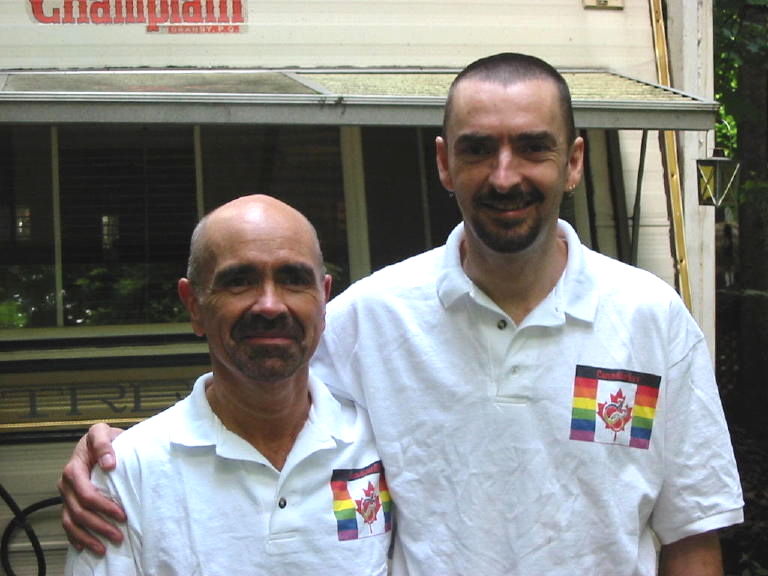 Alain and Luc
Before I left for Ottawa I had a quick coffee with Luc and Alain, and managed to get these pics of us with our CanadianGay golf shirts on.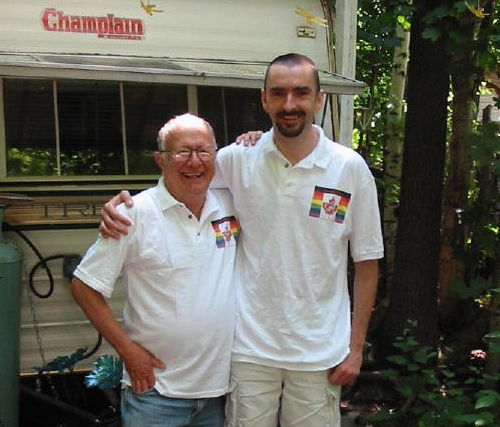 Me and Luc
If you would like a CanadianGay shirt, you can order them from the CanadianGay CafePress online store. See the link on any of my regular emails or on Home Page.

After I left Luc and Alain, I pressed west to Ottawa. The only difference I noticed when crossing from Quebec into Ontario was that the price of gas dropped about 10 cents a liter. Glad I didn't fill up in Rigaud!

- Posted By Ted to CanadianGay Blogspot at 7/27/2008 04:41:00 PM

Impressions from Ottawa

Monday, July 28th: Ottawa

There are hundreds of empty parking spaces around the Parliament buildings and other government buildings in the vicinity. They are all reserved for officials, who either were very late for work on this Monday morning at 10:30, or they are all on summer holidays at the same time.

Never-the-less, uniformed persons are there to inform you that you can not use these unused parking spots. I had been parked in one no more than two minutes, reprogramming TomTom to take me elsewhere, before I was given the warning.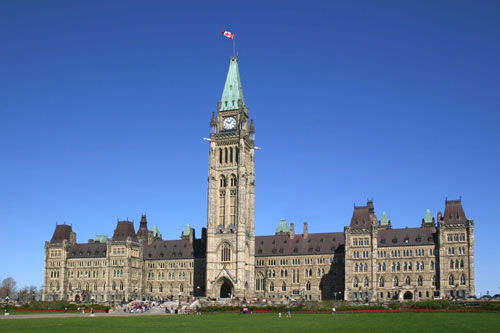 Does anyone work here?
Colonel By Market (aka the byward market) was very interesting - so many fresh veges and fresh fruit and fresh flowers - and not-so-fresh bars, and even less fresh sex clubs.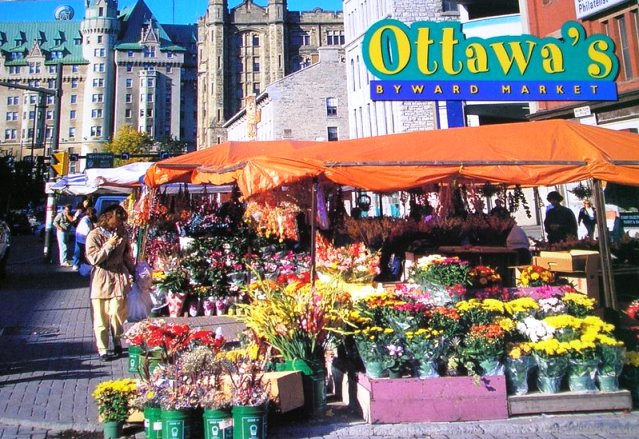 Everything from flowers to sex.
Ottawa seems to have more than its fair share of bums, panhandlers, and deadbeats - and all over town, not just in a small downtown area.

And many of them are in business suits!

I am not sure that downtown Ottawa doesn't beat out Charlottetown for the worst municipal roads.

The drive along the Rideau Canal is very nice, as are the green parks and walking areas. Too bad you can't find any place to park so you can get out and take a walk. I guess that's why there are so few people using the areas except the occasional cyclist or jogger.

A new hazard for toilet paper users:
The Ottawa Travelodge bathrooms combine two of the worst placements: They are not only alongside you but behind you, but also almost out of reach. You have to be very lithe to reach. If you find it easy, you would make a good "Twister" contestant. And even if you succeed in getting some paper, there is still the water hazard to contend with. The water level in the toilet bowl is so high it is almost impossible to wipe your butt with dry paper!

The Best Hamburger Ever!:
I will probably never eat another Big Mac or a Wendy's, but I did get to eat the best hamburger ever from Rockin' Johnny's Diner on Carling Road. It was a mammoth construction with a single 1" thick, juicy patty with relish, lettuce, bacon, sauted onions, tomatoes, and Swiss cheese, served with the best onion rings ever. They even had moist, sweet onion inside the batter! There was also a 6 inch dill quarter. To my credit, I ate it all!

Since Quebec is still only a stone's throw away across the Ottawa River, a couple of recollections:

Passing an ordinary working-man's home with a wooden crucifix in the front yard. It was full size and had a life-sized marble Jesus impaled upon it.

Turning off the highway into a small village (Sainte Anne Del La Perade) to gas up and finding a full-sized cathedral in the center of town.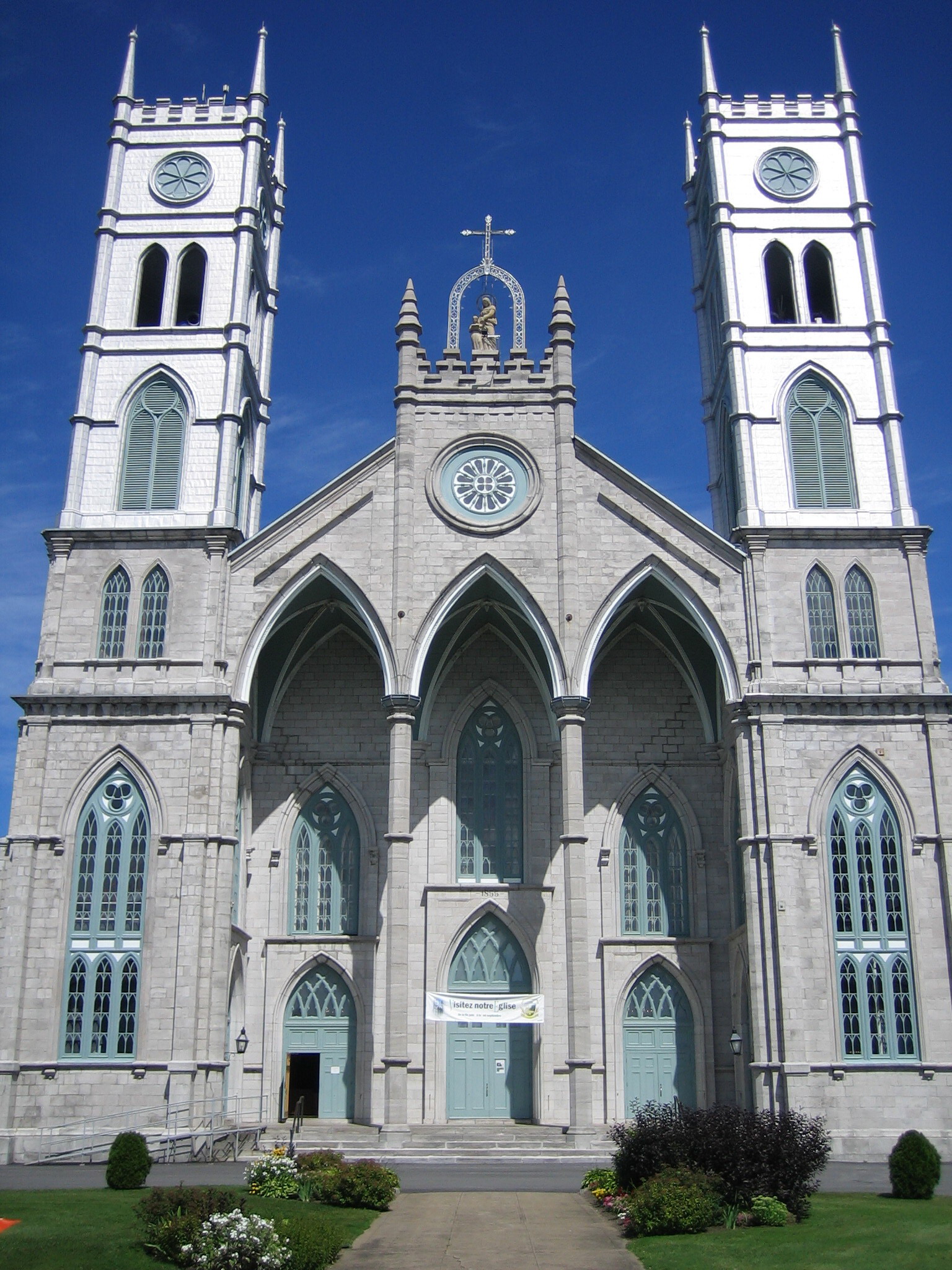 And all I wanted was some gas!
- Posted By Ted to CanadianGay Blogspot at 7/28/2008 11:52:00 AM