Week Six
PEI

Tuesday, July 15th: 8730 km - 8920 km - Eastern PEI

As it was a rainy morning, I took a drive around the eastern part of PEI. What can you say about PEI, other than ... it's nice. How many potato fields, spired village churches, and quaint coves can one handle?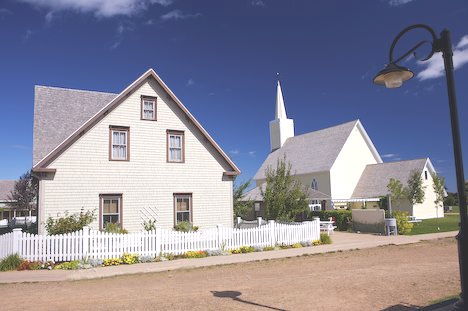 Green Gables country
However! I had supper tonight at the Wharf in Charlottetown and I ate that lobster in yesterday's picture! They might be able to make a broth out of the shells I left, but they sure won't find any left-over lobster meat. I think my waiter was geared up to instruct me how to eat a lobster, but he soon saw that I knew how to handle my tools.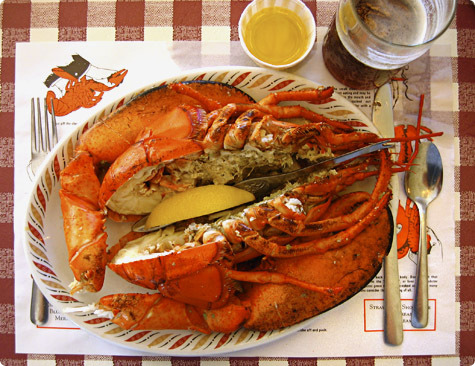 Lobster on the Wharf
After all, I grew up on Australia's crayfish coast. Ironically, when I was in my early teens, my folks were very, very poor. An uncle, who was a crayfisherman, used to give us the "kackers" - the undersized crays that he couldn't market. and mom would serve them every which way - boiled, broiled, sauted, stewed, mornayed, and curried. We ate so much crayfish, we used to beg, "Mom, can't we have weiners or hamburger for a change?"

Maybe I will have room for another before I leave the Atlantic Provinces - if I can afford it!

- Posted By Ted to CanadianGay Blogspot at 7/15/2008 04:09:00 PM

The Road to Nova Scotia

Wednesday, July 16th: 8920 km - 9460 km - Charlottetown, PE to Sydney, NS

It's amazing how much more attractive are all those precisely planted potato fields, those neat white, spired churches, and those quaint coves with still waters mirroring the sky on a sunny morning!

I crossed into Nova Scotia about mid-morning, and soon after was in one of the longest traffic hold-ups I had ever seen. There was some road construction going on for about two km, and they were piloting traffic through on one lane, in one direction at a time. I guess the guys on flag duty were rookies or something, because they were letting traffic through on about a 10 minute schedule - 10 minutes one way, and 10 minutes the other. The trip took about 5 minutes.

They were not taking into account that there was almost no traffic at all coming from the east, but almost bumper-to-bumper traffic coming from the west, many of them trying to make the Pictou ferry to PEI. Of course, that caused a massive line-up to the west in no time at all.

By the time I went through, there were cars lined up all the way to the horizon, maybe 20 miles!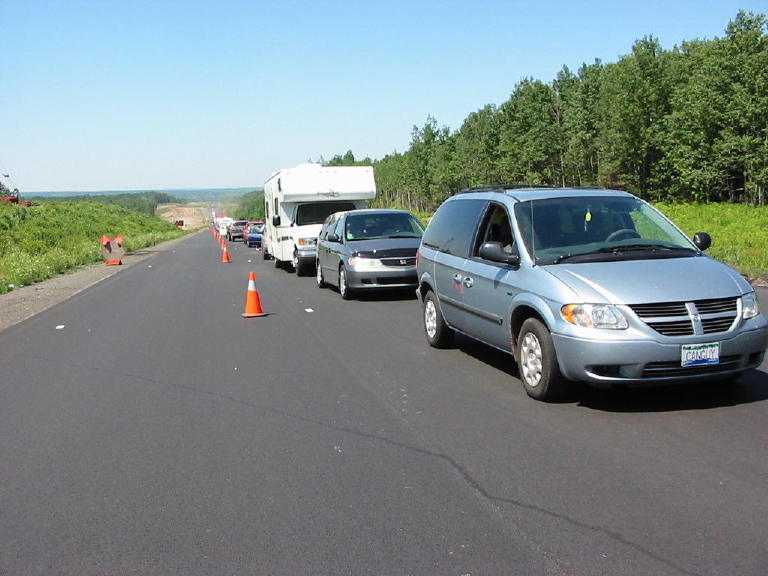 The world's longest traffic jam!
Maybe the flag-men were not Nova Scotians. Maybe they were Newfies!

At a gas station just outside Port Hawkesbury, a rookie female cop decided I was going to be her first victim for the day. She was standing outside the convenience store as I pulled away, and I saw her check out my license plate as I passed her, then hurry to her car. Within a minute she was right on my tail, and stayed there all the way to the outskirts of town on the other side of the causeway, about 10 miles. I am sure she was just dying the nail the smartass with CANGUY for plates!

The drive up Lake Bras D'Or to Sydney was amazingly like the drive up the Sunshine Coast from about halfway up the Sechelt Peninsula to Lund: a windy, rough, two-lane highway that sometimes skirted the water's edge and sometimes climbed high above it for spectacular views.

I was accompanied all the way by bikers. I had chosen this weekend of all weekends to come to Sydney. There is a Hog Convention in town, and there are motorbikes and motorbikers of all shapes and sizes from all parts of eastern Canada and the States. I believe there are upwards of 1000 out-of town bikes and bikers here.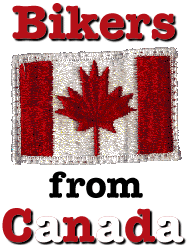 Hog festival
Poor Buddy! Every time one thunders by us, she cringes!

- Posted By Ted to CanadianGay Blogspot at 7/16/2008 04:57:00 PM

A Giant Fiddle

Thursday, 17th July: Sydney, NS

One of Sydney's dubious claims to fame is being home to the largest fiddle in the world.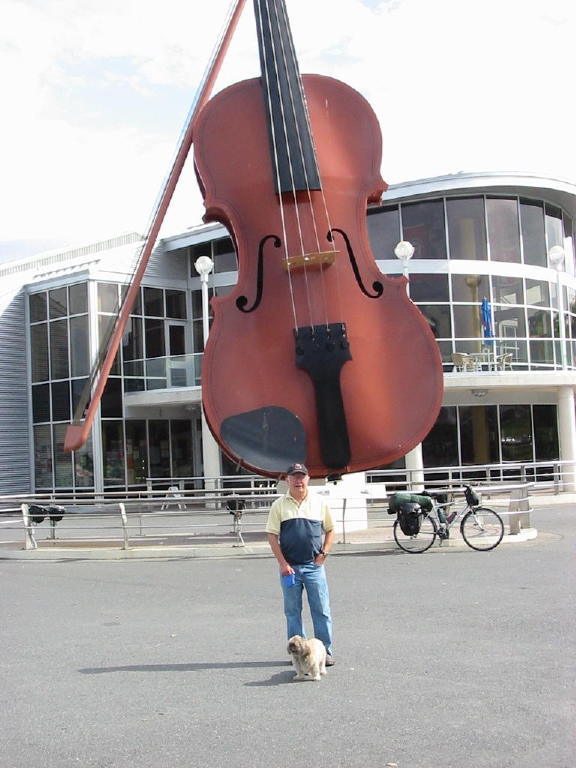 World's biggest fiddle
Actually, that's how the menu should have described my dinner at the restaurant in Day's Inn last night. Instead, they called it Shrimp and Scallop Stir Fry. For $20, I got very bland rice and vegetables with 5 shrimp (no, not even jumbo shrimp) and 5 pieces of scallop. Yes, I counted them! Don't eat here!

Took a walk around Sydney this morning - where we could. It is not a very dog-friendly town. There are No Dogs Allowed signs everywhere. Oh, well, I didn't want to leave my tourist dollars here, anyway.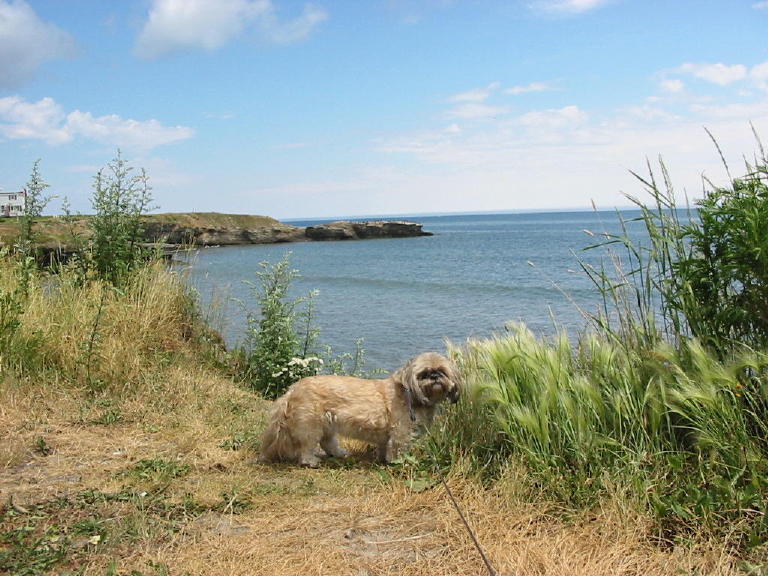 Our easternmost point
In the early afternoon, took a drive over to Glace Bay to finally see the open Atlantic. I could not find a way down to the water's edge without breaking my neck, so I had to be satisfied with the pic above. The wild Atlantic at last! This morning, it was about as wild as Buddy.

Some travel observations:

Ate my first Macdonald's burger of the trip today. It will also be my last!

Why is the gas station you need always on the other side of a divided highway?

The highest gas price so far: 143.9 cents a litre in PEI.

Why do locals insist on cutting out of side street in front of fast-moving highway traffic, at great risk to themselves and others, slowing the flow to a crawl, then turning off the highway again after 200 yards?

Why is the toilet paper in motel rooms placed at the end of the handbasin counter alongside you, but behind you, so that you have to twist awkwardly to reach it? This is an almost impossible feat for fat folk. Or sometimes it is on the wall opposite you, just out of reach. In some cases, the tissues may be within reach, but they are always single-ply and you finger goes right through them.

And did you ever find a motel handbasin with a plug that works well enough to hold water long enough for you to shave? I have found only one in five weeks.

And it's amazing how many different shower switch systems there are. The one that stumped me a couple of years back was the one where you switch the flow to the shower by pulling down the raised ferrule around the bathtub spigot. I never did figure that one out. I had to phone the front desk to ask. They didn't know either, and sent an non-English-speaking maid to show me.

Free Continental Breakfast: Coffee and stale bagels

Full Continental Breakfast: Coffee, Corn Flakes, and stale bagels.

Complete Continental Breakfast: Coffee, Corn Flakes, apples, and stale bagels.

Deluxe Continental Breakfast: Coffee, Corn Flakes, canned fruit salad, stale mini-muffins, and stale bagels.

A sign in one motel "breakfast room" even admonished: Please take only one muffin per person. Who would ever want two of them?

Talking of signs, I saw one in Sydney yesterday: New and Used Antiques

Do hotels really expect you to buy movies from them when the non-adjustable TV pic on the set in the room is mostly black with purple people?

- Posted By Ted to CanadianGay Blogspot at 7/17/2008 03:04:00 AM

Trauma for Buddy

Thurs, 17th July (Continued)

Later Thursday night I took Buddy outside for a leak. When we came back inside a security guard came scurrying up to me to say that they had had a report that there were two Rottweilers loose in the corridors, and that I should take Buddy to my room and stay there.

Easier said than done. My room was at the end of 150 yards of winding corridors. The guard walked along with me, watching for the loose dogs and their owner. We soon came across them, beyond a pair of fire-doors.

The security guard was so eager to nab the culprit owner, a 25-ish young redneck, quite drunk, that he burst through the fire-doors - letting the Rottweilers through at Buddy!

There were two of them, and only one was free. The older female was on a leash, but its owner was too drunk to really restrain it. The loose one was obviously her pup, but almost full-grown. I think it only wanted to play with Buddy, but I wasn't so sure about the bitch. She was baring her teeth.

I managed to protect Buddy with my legs and feet, and squeezed through the fire-door, leaving the Rottweilers behind, but the idiot security guard opened them again to tell me to go straight to my room - and let the dogs through a second time.

Once more the Rottweilers, dragging their owner behind, were trying to get at Buddy, and again I protected her behind my legs. Some of you may ask, as the guard did, why I didn't just pick her up. My dog obedience trainer, who was once a dog handler with the British police, had told me that if you pick up a small dog to protect them from large dogs, and the large dogs leap up, they will take you both down, and you will both be defenseless. While you are standing, you have two powerful weapons at your disposal - your legs. When you are down, you have none. Her advice made sense to me.

Eventually the owners and two security guards managed to hold the Rotters back and I took Buddy to our room. She shook for twenty minutes.

I sort of expected management to phone down and apologize, but heard nothing. In the morning as I was checking out, I complained to the duty manager, who had just finished reading about it in the night reports. He shrugged it off as "just one of those things that happen."

I will not stay at another Days Inn - and not just because of the dog incident! I have already mentioned to you the overpriced food, and the long corridors with no outside access. There was also the non-adjustable TV set that was so dark and so purple it was unwatchable, and the air-conditioner which was so noisy you couldn't hear the sound from the unwatchable TV.

I have already cancelled another Days Inn I had booked for my home journey.

Friday, July 19th: 9460 km - 9960 km - Sydney, NS to Halifax, NS

For a bit of variety, I took the other highway, down the west shore of the Bras D'or Lakes. Going the opposite way there were still streams of bikers, heading to Sydney for the hog rally.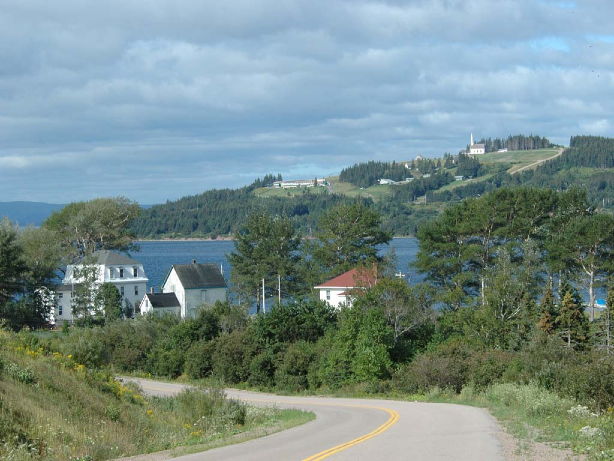 Grand Narrows on the Bras D'Or Lakes
So maybe they really are slower in Nova Scotia: I stopped at an Irving's Big Stop for brunch. Although it was not particularly busy, it took 38 minutes from the time I sat down at the lunch counter until the time I was served my sausages and eggs. The waitress was too busy discussing an upcoming anniversary party with locals.

- Posted By Ted to CanadianGay Blogspot at 7/19/2008 02:45:00 PM

The End of the Road

Saturday and Sunday, July 19th -20th: 9960km - 10360 km - Halifax and Points East

I spent Saturday and Sunday exploring points in and around Halifax, including Mahone Bay, Lunenburg, and, of course, Peggy's Cove.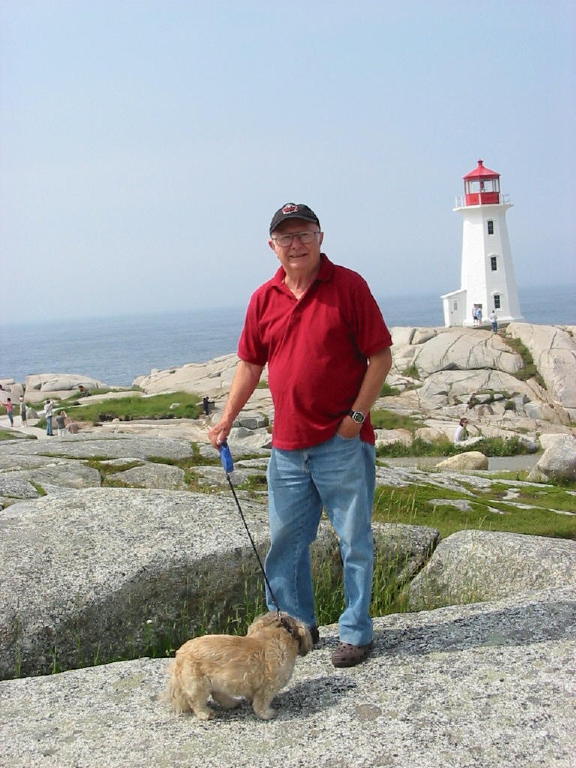 Peggy's Cove
It certainly is very picturesque - and very touristy, and priced accordingly. At Peggy's Cove they were not quite as bad as Niagara Falls at $20 for parking, but they were asking $10 for parking close to the famed lighthouse. A bit steep, especially when the information centre's parking was free, and only 200 yards away.

This is the end of the road for us. Tomorrow we start back-tracking, mostly leap-frogging places where we stayed on the way east.

Monday and Tuesday nights I will be camping at River's Edge, New Brunswick's only gay and lesbian campground, and I don't think I will have internet access, so some postings may be delayed from Monday afternoon until Wednesday afternoon.

I did not stay at PEI's one gay and lesbian campsite, owned by two lesbian ladies. The instruction on their website asking customers to "SHEmail" them for reservations was enough to deter me. That is taking the wimmin thing just a bit too far.

Yesterday I glanced down at the trip-meter. It read only 40km. For a moment, I thought I must have accidentally reset it, then I realized that it only goes to 9999 km then starts over, so the 40km was actually 10040.

My favorite sign this morning: Kathy's Kids Exchange and Consignment. Maybe you can trade yours in for better ones!

An interesting dish: The meal being consumed by the girl at the next table last night intrigued me, because I couldn't figure out what it was. I eventually asked the waitress. She told me the girl was eating from the breakfast menu: fried baloney, eggs, and chips. She was dipping the chunks of meat into a little bowl of some sort of creamy sauce. I think it might have been sort of a fondue cheese. Maybe you east-coasters can enlighten me.

- Posted By Ted to CanadianGay Blogspot at 7/20/2008 09:21:00 AM

Rainy Day Blues

Monday, July 21st: 10360 km - 10810 km - Halifax, NS to Fredericton, NB

The first day of my homeward journey did not start well. It was foggy and raining hard. The Weather Network forecast much of the same for this afternoon and Tuesday in both Halifax and Fredericton, so I quickly booked a motel for two nights in Fredericton. I do not enjoy camping in the rain.

The trip between the two cities was very tiring, because the rain beat down all the way, and at times there were patches of thick fog.

Just as I got to Fredericton, the sun broke through, but the forecast for Tuesday is still rain. If it is half-ass decent tomorrow, I will take a day trip to the River's Edge campground, just to check it out.

One upside to an otherwise lousy day: I lucked upon a groomer who has just opened her business in a Pet Store in the nearby mall. She is new enough in this location that she is not booked out a month in advance, and will clip and bath Buddy tomorrow.

- Posted By Ted to CanadianGay Blogspot at 7/21/2008 01:04:00 PM