Week Two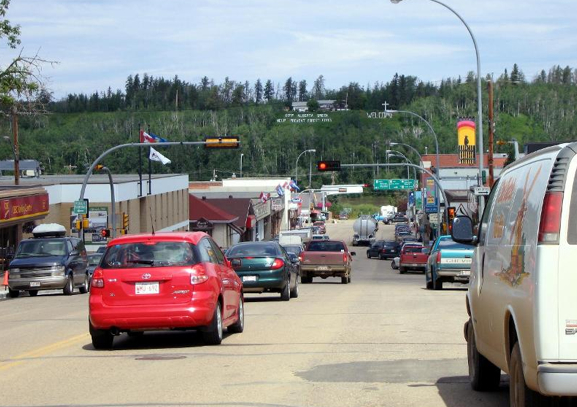 It's all downhill in Athabasca!

Hard Times in Athabasca

Tuesday, July 17th: 1250 km - 1730 km - Airdrie to Athabasca

My main reason for coming so far north was to hook up with yet another chat buddy. This one messaged me through Manline when he still lived in PEI. He moved to Athabasca about a year ago. A couple of times we had planned to hook up but they had fallen through.

I got here in the middle of a prairie thunderstorm, after a hot six hour drive up through Edmonton. There were several delays for road construction. But I got here hot and horny to meet my pal.

Unfortunately, his plans had changed a little. He and his girlfriend were child-minding while the mother was away for a couple of weeks, and my pal was stuck with the kid till his gf got off work at 5:30.

We did manage to hook up for a fast fuck between 6:00 and 7:00 when he had to go back to child-minding. But he promised we would have all day Wednesday to suck and fuck while his gf was at work and the kid was at school. He would be in my bed by 8:00 am!

Wednesday, July 18th:

Plans never work out, do they? He phoned at 6:30 am to inform me that the kid had been vomiting, so she was not going to school, and guess who was stuck looking after her?

Buddy and I spent the day sight-seeing and picnicking at lakes in the area, until my friend escaped for 2 hours this evening.

We had a more leisurely fuck session than the previous night. Not a long dick, but nicely thick!

After he had gone, I took Buddy for a walk in the town's riverside park. It didn't take me long to realize it is the cruising centre for all the horny men wanting other men in town. It seems the Husky station, the large parking lot opposite it, and the adjoining park are all one big hook-up centre. I saw several guys hook-up here, some leaving in pick-ups together, others heading down to the river trails. I'll know for next time!

Tomorrow, off to Paradise Hill, Saskatchewan, north of Lloydminster !

-Posted By Ted to CanadianGay Blogspot at 6/18/2008 08:34:00 PM

Passion in Paradise:

Thursday, 19th July: 1830 km - 2250 km - Athabasca to Paradise Hill I set out pretty early, expecting the trip to take me a lot longer than it did, but my trusty Tom-Tom GPS navigated the backroads for me. By 11 am I was nearing Lloydminster so I phoned my farm-boy friend to tell him I would be there early. As it happened, he was in Lloyd on business, so we had sort of a nostalgic lunch at the same Husky where we had last eaten together 4 years ago, when I spent a week alone with him on his farm.

After lunch, we navigated the 50 miles to his place, much of it on dirt roads, in the aftermath of a rainstorm. The roads had turned nto prairie mud, and soon my light blue CanGay van was orange.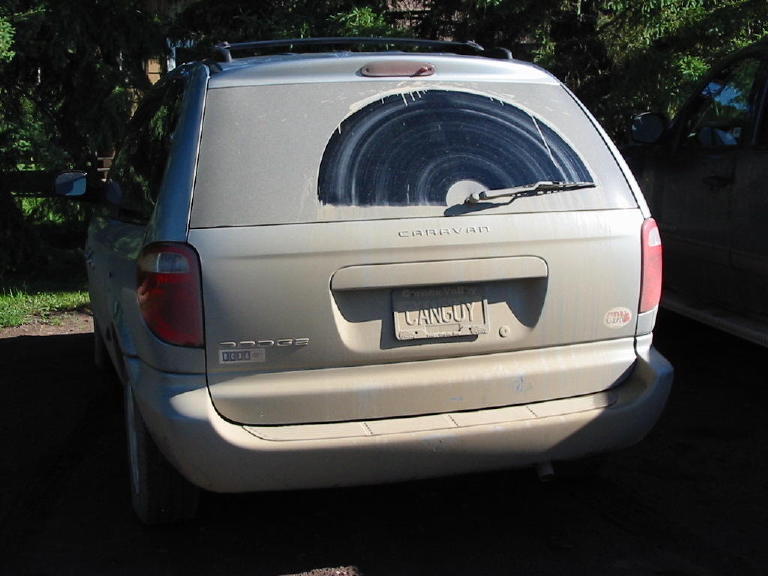 Prairie mud
It didn't take my horny farmer long to get us both naked and into his bed once we reached his farm. For a short, wiry guy, he has a wonderful 7" dick. He is not into playing top, and I am unable to do so, so our afternoon was mainly oral and manual fun.

Boy, did he blow a massive load! He was lying on his back and the cum ended up on the pillow above his head, in his hair, on his forehead, his cheeks and neck, his chest, his navel and his pubic hair. I had fun licking it all up!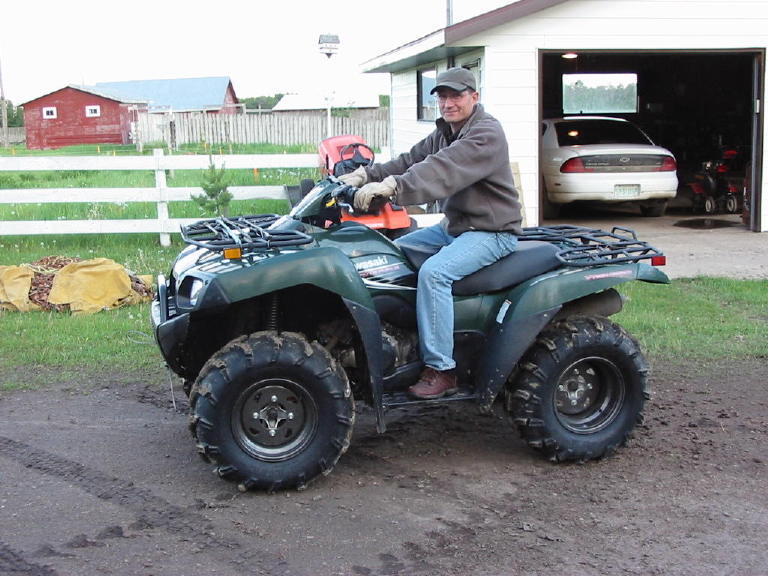 My Saskatchewan farmboy
Unfortunately, the second day he had to do some haying, and the grass pollens caused some sort of asthma type reaction and we had to curtail our sexual activities. Oh, well, what we did have was great fun!

Next stop: Regina!

- Posted By Ted to CanadianGay Blogspot at 6/21/2008 06:30:00 PM

More Prairies:

Saturday, June 21: 2250 km - 2800 km - Paradise Hill, SK to Regina, SK

It was a long, hot drive, made worse by having to piss every twenty minutes (See my separate "Prostate" posting). Thank God for AC!

It was late afternoon when we reached Regina, where Buddy was fascinated by all the gopher burrows. She never did get to see a gopher, however. They were too quick for her!

Sunday, June 22: 2800 km - 3350 km -Regina, SK to Winnipeg, MB

Another hot drive, but we stopped for a while in a park at a sluice gate on the Athabasca and my furry friend got to see and chase the gophers.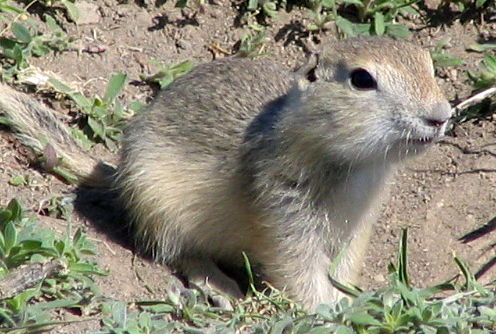 Buddy's tormenters
Tonight, like last night, I don't have any male contacts lined up. In fact, I plan to contact my ex-fiance from 30 years ago, when I still was still pretending to be straight. I will take her and her boyfriend out somewhere!

-Posted By Ted to CanadianGay Blogspot at 6/22/2008 03:12:00 PM

My Last Fiance and My First Trucker:

Monday, June 23: 3350 km - 3750 km - Regina, SK to Dryden, ON

Never did get to meet my ex-fiance last night, but she did phone to tell me that she and her new husband (They have been living together for about 25 years) were at their cabin on Caddy Lake, about 100 km east of Winnipeg on the TransCanada, and invited me for lunch there.

I took them up on their invitation and had a nice lunch and lots of laughs with them. They have also invited me to stay overnight with them on my return trip.

After arriving in Dryden, I checked in at the Holiday Inn, and took Buddy for a walk, then had a short nap. It was getting dark by the time I went to the Husky next door for a meal. I got chatting with a good-looking trucker at the next table.

Later, we were paying our bills, and he invited me to take a look at his rig - the big-wheeled one, not the rig between his legs. I got a guided tour, including his sleeper, but no hint of a line or come-on. He apologized for being so greasy and smelly. I am not sure if the Husky didn't have showers, or whether they were not working, or what, but I invited him to take a shower in my room. He accepted, and I watched some TV while he showered.

When he had finished showering he walked out into my room, still drying off, naked, and with a woody. It was an obvious invitation, so I grabbed it and sucked it. He flopped back on my bed and I blew him and jacked him till he came.

This was only about half an hour ago. It was unexpected and fun.

My first trucker, and I didn't even ask his name!

- Posted By Ted to CanadianGay Blogspot at 6/23/2008 08:16:00 PM