Week Four



Camping in Style (continued)

Tuesday, July Ist: Canada Day, CanadianGay's 4th Birthday.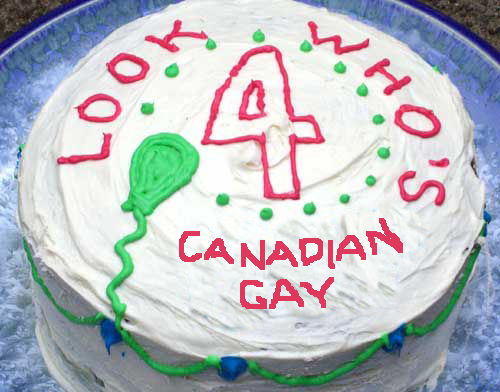 Happy Birthday, CanadianGay
It was four years ago today that I founded CanadianGay, but it was not until about a week later that I announced it to the world. I hoped to have my good friend Luc (aka Froggie/Frenchie) as the second member, but someone else stumbled onto the Yahoo site and applied to join on that first day. I gave the guy the option of waiting until I had installed a few features, but he preferred to join right then. I forget who it was. Was it you?

(The following passage is additional material, not in the original postings.)
I took some time to drive around trying to find a Wi-fi hotpoint in the area, but it was a holiday and most of the likely places were closed. I drove as far north-east as historic Port Dover, and headed down to visit the town. Unfortunately, thousands of others had the same idea. Apparently Port Dover hosts one of the largest July 1st parades outside Toronto. I couldn't find parking anywhere near the place. Instead, I headed down to the public beaches at Turkey Point National Park, but this was almost as busy as Port Dover.

As I was returning to The Point, I saw a young guy hitch-hiking in the stinking heat of the afternoon. I had noticed him there on my way to the point, so I picked him up. He was gorgeous! Buddy immediately made herself at home on his lap. Made me jealous! We got to talking. It soon came out that he was an alcoholic/addict in recovery. He had just had a row with his roomies in the house where he had been staying over their drinking and drugging. He was hitching into Tilsonburg to get a few bucks from his boss to pitch his tent in the Turkey Point National Park, where he worked a concession or something.

At one point he asked me if I had a cigarette. I told him I didn't smoke. He was having a nic-fit, so when we came to a garage/convenience store, I pulled in. I asked him the get out of the van while I went into the store. He wasn't at all offended. I bought a package of smokes and gave them to him when we got back in the van. He protested, saying that he had no money to repay me, and that he knew his boss would only give him enough for his camping space rental. At that point, he offered to give me a blow-job to pay me back!!

I TURNED HIM DOWN!

Yes, I thanked him for his offer, but turned him down. I also offered to wait for him while he went into his boss's place and to give him a ride back with me.

While I waited in the van for his reurn, I regretted my decision, and decided to ask him to stay the night with me in my tent. But it was not to be! He was going to stay here at his boss's and ride with him back to the park on the morrow! Fuck!
(End of added material)

Unfortunately, today I was unable to find internet hook-ups in any of the small surrounding towns, so I had to be contented with phoning Luc and asking him to pass on my Canada Day greetings and my happy birthday wishes to all CanadianGay members.

- Posted By Ted to CanadianGay Blogspot at 7/03/2008 01:11:00 PM

Turkey Point, Turkeys, and a Storm!

Wednesday, 2nd July: Niagara Falls

The day started out sort of auspiciously. I was approached by a naked camper while I was walking Buddy around 8 am. He was an Arab guy named Emir, and had quite an impressive dick standing at half mast. As we talked, it go even harder. I couldn't resist fondling it. He asked me if I wanted to suck it, so we went back to my tent, where I proceeded to blow him. When he was getting close to cumming, he asked me if I wanted him to fuck my ass. I did! I got out condom and lube, and although he was kind of big, he went in pretty easily.

Unfortunately, that was it, because he came on that first thrust, and deflated like a balloon immediately. He quickly departed, leaving me with a hungry hole, and a condom full of cum to dispose of.

I took the backroads that morning to drive into Ste Catharines, to pick up Kevin, one of our members, who had offered to show me round the Niagara area.

The visit to his apartment was a little traumatic for Buddy, because Kevin had a cat with two kittens, and when Buddy went to explore the bedroom where the kittens were, the mother cat attacked. I had to drag her off Buddy, who was screaming in fear. The only cats she had had close contact with were mine, which she grew up with. I was more hurt that my dog, because the cat clawed me a couple of times.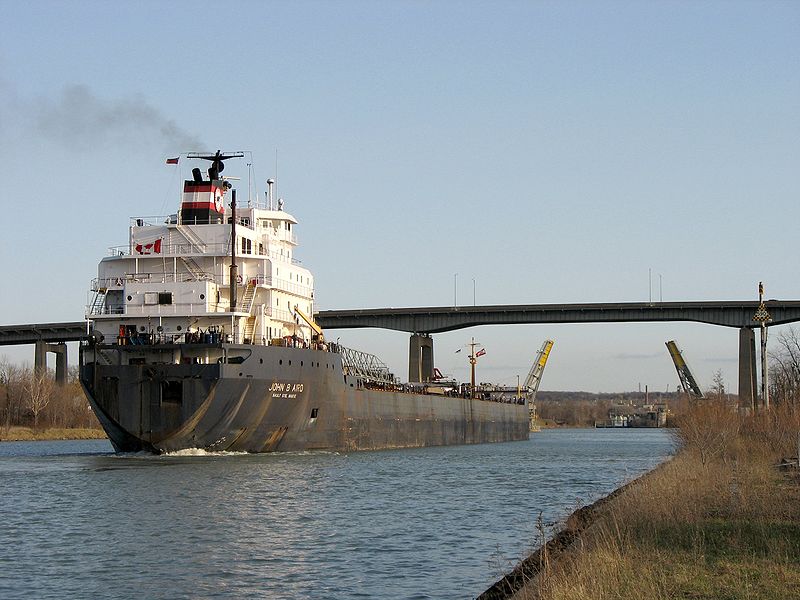 Welland Canal
Leaving Kevin's place, I was startled to see the the upper decks of a full-sized steam-ship going the other way on the next street over. I didn't realize we were driving parallel to the Welland Canal! We drove to Niagara on the Lake, which is just so touristy, then on around toward the Falls.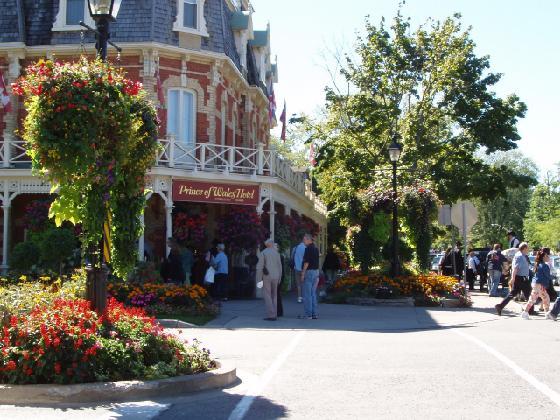 Niagara-On-The-Lake
We did stop at one restaurant to eat, but although I am not cheap, I do draw the line at $18 for the sandwich of the day! We skipped that place. Kevin knew of another, more reasonable place away from the tourist route. I also skipped getting out to view the Falls or take a picture. They have changed only a few feet since I was last there almost 40 years ago, and I thought $20 for parking near the Falls was a bit steep.

Thanks for your hospitality, Kevin!

Going back to Turkey Point, Tom-Tom, the GPS, found me some more back roads to explore. One of the highlights of this leg was stopping the car to let a pair of wild turkeys and their turkeylings (????) cross the road. A handsome family!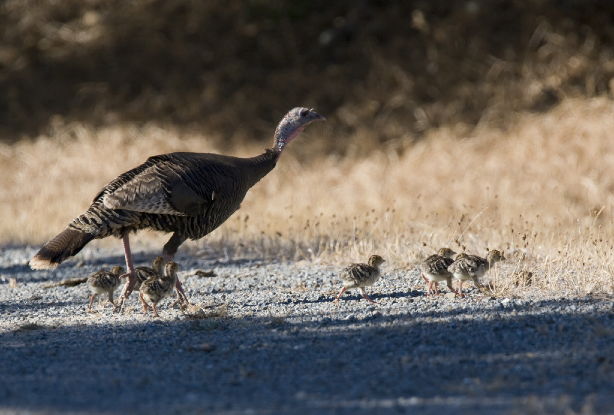 Wild turkey and chicks
The first person I saw when I got back was Emir. He wanted to try again, and said he would return a bit later that evening. Although I would have liked him to finish what he had started this morning, he never returned. Boo-hoo! What a turkey!

That night, the mother of all thunderstorms hit the area. The high winds and heavy rain almost flattened my little inflatable tent. The wind even blew an errant bird against the tent and it flapped and fluttered against the tent until it was exhausted. Buddy chose that night of all nights to need to go for a leak, but once she had taken a piss, she seemed distracted and ran round all over the place, with me chasing after her in the pelting rain, staked naked and soaking wet.

To add to that, about an hour later, she needed to go out to poop. This time I took the precaution of putting her leash on her, but unfortunately, she had a touch of the runs and made a mess of herself, so I had to clean her off outside there in the wind and rain and lightning. The things a guy does for his pets - four-legged or two-legged!

- Posted By Ted to CanadianGay Blogspot at 7/04/2008 12:41:00 PM

Toronto and Beyond

Thursday, July 3rd: 5980 km - 6550 km - Turkey Point, ON to Scarborough, ON

Although the worst of the storm had passed, it was still drizzling a bit when I got up Thursday morning, and everything was soaked. Rather than get all my clothes soaked too, I packed up my equipment and deflated my tent naked. Nobody walking by minded. It is a clothing-optional campground.

Before I left, I stopped in at the office to meet the owner. His name is Phil, and when I booked he had mentioned in his email that his cousin lives in Powell River, my home town. It turned out that I had taught her two kids.

Guys in the Toronto area: Try Turkey Point. It is a real nice place.

I left the point late enough to miss the rush hour on the motorway, but to me it was still a traumatic experience: bumper to bumper cars at 100 km an hour. I couldn't live like that, commuting to work in the city every day every day! No wonder the drivers all seem very angry!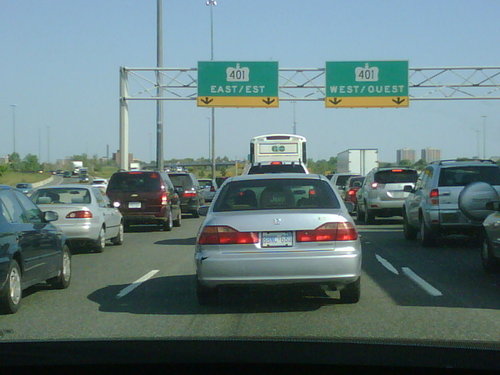 Rush hour madness
I was supposed to meet a hook-up in Scarborough, but for the second time in two days I got stood up. Am I losing all my charm and sex appeal????

- Posted By Ted to CanadianGay Blogspot at 7/04/2008 01:14:00 PM

Backroads Ontario

Friday, July 4th: 6550 km - 6880 km - Scarborough, ON to Kingston, ON

Again I tried to avoid the freeway and see the backroads of Ontario, but my trusty TomTom failed me rather badly. Actually, I don't think it could have done much better. The "backroads" between Toronto and Kingston are not much different to the freeways. They are mostly endless suburbia, punctuated by occasional sections of rural farmland. One town or city leads almost immediately into the next, and the scenery becomes eternal Macs, MickeyDs, Subways, Pizza-Pizzas, Tim Hortons, and Mr. Subs, repeating about every kilometre in some areas.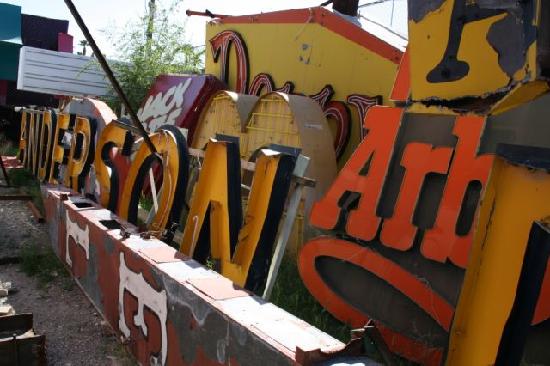 Food stores come and go
On the up-side for a guy with a weakened bladder, they all have fairly clean washrooms, and don't refuse to allow you to use the toilet until you buy something, as at a SpeedyMart in Simcoe last Tuesday. (I didn't buy anything, even though I had intended to get some groceries there. Good thing, too, because I found a Sobey's open soon after!)

Took a drive downtown Kingston this evening. It seems that pedestrians and bicyclists have the right of way here, at least on summer Friday evenings. But that s good. There are too many cars, anyway!

- Posted By Ted to CanadianGay Blogspot at 7/04/2008 05:06:00 PM

Into Quebec

Saturday, 5th July: 6880 km - 7200 km - Kingston, ON to Camp Plein Bois, QC

In contrast to yesterday's drive, Highway #2 from Kingston to Cornwall was a delight, following the St. Lawrence, on a beautiful summery morning. It is surely a great river!

I got thoroughly lost trying to get to Camp Plein Bois, mostly because TomTom's memory doesn't list some of the smaller villages, and the camp is close to one of the smallest.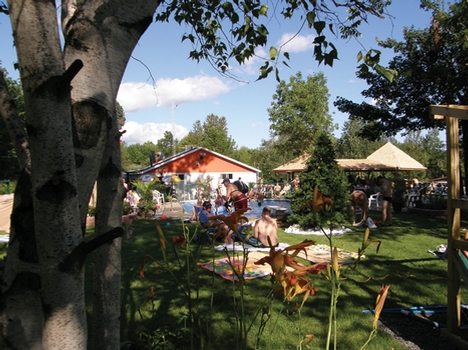 Pool area
Now I am here, it is like a poor man's version of Turkey Point, still lots of full-time mobile homes, but smaller and not so luxurious. But it is obviously very popular with the younger crowd. The average is probably less than 30, with tons of Quebecois 20 somethings strutting their stuff around the pools and on the volleyball courts.

But at least it has internet at a reasonable rate: $18 for three days.

- Posted By Ted to CanadianGay Blogspot at 7/05/2008 03:05:00 PM

Plein Bois

Sunday, July 6th, Plein Bois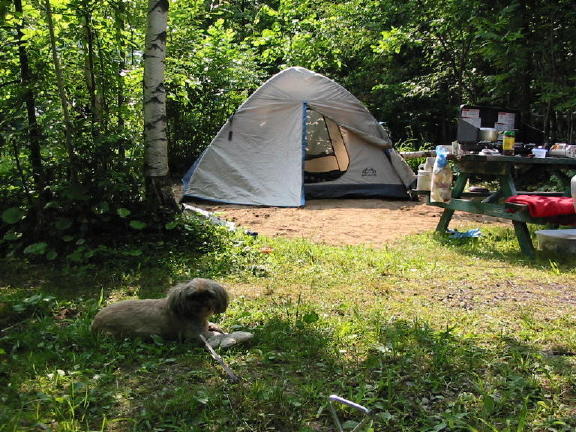 Little home in the bois
Saturday night got noisier and noisier as the 20-somethings got drunker and drunker. One of the loudest, however, was a 60-something Quebecois who kept visiting and re-visiting the young couple of guys in the mobile home next to my tent site. He was probably scrounging drinks, and very loud and obnoxious, whether speaking slurred French or slurred English. A drunken asshole is a drunked asshole in any language. I should know. I used to be one!

There was a disco party in the clubhouse by the pool. It also got louder and louder as the night wore on. That was not the main distraction keeping me awake, however. It was the moans and groans of a femmie little Filipino getting fucked again and again by his 50-ish Anglais daddy in the next tent to mine. Daddy sure had great staying power, and they went at it 4 times between 9 pm and 3 AM.

Strange Campground Ritual: Everyone drives to the garbage disposal area, no matter how close or how far, with their bags of garbage and their boxes of empties balanced on their car roofs or trunks. The roads are potholed, and the garbage invariably falls off, so that the driver has to get out and pick it up again and again. I wonder whether there is some prize or award for getting it there unspilled?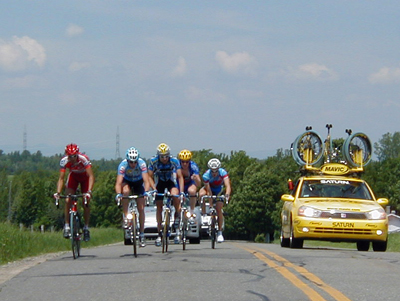 Baskets and buns in Spandex
Another Native Ritual: It seems that Sunday morning in this area is the time for "les Bicyclistes" if that is how you refer to hundreds of Spandex-clad young Frenchmen peddling thier tight asses along every back road. Those Spandex shorts show off their packages to great effect, and most of them have marvellous packages to show off. I wonder how many of those bicycle buddies go home and help each other to shower down?

Later: Although the camping area is thinning out as people head home for work on Monday, the pool and bar area is still wall-to-wall twinks parading their bodies and their baskets.

- Posted By Ted to CanadianGay Blogspot at 7/07/2008 12:00:00 PM

Slow Day in the Bois

Monday, 7th July: Pelin Bois

It was a slow and peaceful day today. I even took a quick dip in the pool which was pretty-well devoid of twinks and 20s today.

Actually, I was pretty excited, because I had come up with a wonderful plan to finish off my journey. At this point, I had better confess something: Remember the guy I spent 3 days with in Revelstoke? The one I had been chatting with for four years, but had never met? Well, he and I seem to have fallen for each other pretty badly. Unfortunately, before discovering this fact, we had both planned our individual holidays, and it would have been too expensive for either of us to change our plans at the last minute, so on I went on my travels, and off he went to a gay convention in Miami.

But we have talked by cell, and cammed on Skype, and talked with Skype Out at least once a day for the last month. It was pretty hard to take Saturday, when we were only about 25 miles apart as he headed home from Miami via Mirabel.

And in two weeks, he is off to northern Michigan on another trip. My idea was that he could cut his trip to Michigan short and meet me in Sault Ste. Marie and we could travel back together across Ontario and Western Canada, fucking all the way. Unfortunately, I had mistaken his travel dates. I thought he was going for two weeks, not one, and he won't be arriving in Michigan until about the same time I am leaving the Soo. I couldn't and wouldn't ask him to give up his visit with his old friends completely.

We will meet instead on the day he returns to Revelstoke and make sure the fire still burns for both of us.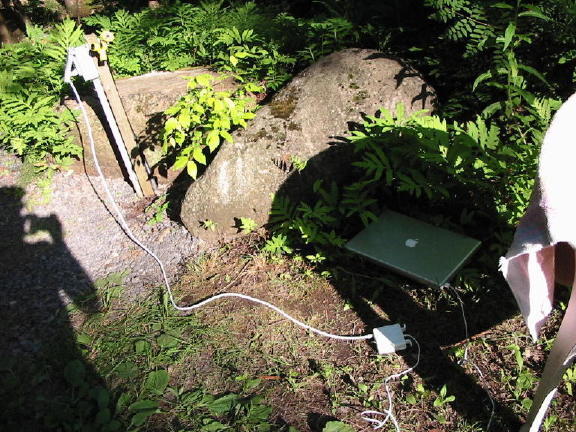 Recharging my trusty MacBook Pro
By the way, I recommend Skype Out to anyone who is travelling and has a laptop. The sound quality of telephone calls is marvellous, far better than cell reception and even landline, and the rates are great. I bought $14 Canadian Skype Out credit about 3 months ago and have made maybe two dozen calls all over Canada and the US, and even a couple to Australia (one lasted 18 minutes - total 48 cents). So far I have only used $4.57 of the original $14.

- Posted By Ted to CanadianGay Blogspot at 7/08/2008 01:00:00 PM