In the Heart of Quebec

Tuesday, 8th July: 7200 km - 7600 km - Plein Bois to Quebec City

Got off to a leisurely start this morning, as it is a relatively short drive to Quebec City, skirting Montreal.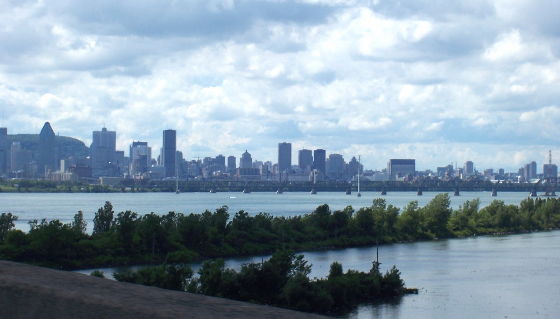 As close as I got to Montreal
One nice thing about the drive is that there are ample rest stops along the 401 in Quebec. Me and my pooch had a Subway picnic lunch at one of them.

I am staying in a Comfort Inn in Quebec City, just east of the downtown and right on the river. Unfortunately, there is a major freeway between me and the river, and I have yet to find a way across.

Went to eat at a local restaurant chain last evening. It was the Normandin chain, and seemed to be a family oriented restaurant. I thought I might get a typical French dinner. It turned out to be rather like a Denny's, specializing in Pizza and BBQ chicken. So I ended up with quart de poulet roti et pomme frites - a quarter roast chicken and French fries. At least the fries were French!

Wednesday, July 9th: Quebec City

Wah! It had to happen, but wah!!!! It is raining! Wah, again!!!! I suppose I can't really complain, though, because it is the first real wet day since I started travelling, over a month ago. I had planned to do a walking tour of the Old City, but it has pissed down most of the morning, along with some rather spectacular thunder and lightning.

I took refuge in the Museum of Civilization, which has as its current feature a "Gold of the Americas" exhibit. It traces gold from Pre-Columbian times to today.One very impressive display houses eight real ingots of gold and a one-of-kind coin the size of a drink tray with a face value of one million dollars.

I left Buddy in the car in a parking lot opposite the museum, and went back every half-hour to walk and air her, but when the thunder and lightning started, I had to pack up and head back to the motel. Thunder terrifies her, like most dogs.

In between downpours, I did manage to get a shot of my faithful friend with the Chateau Frontenac in the background.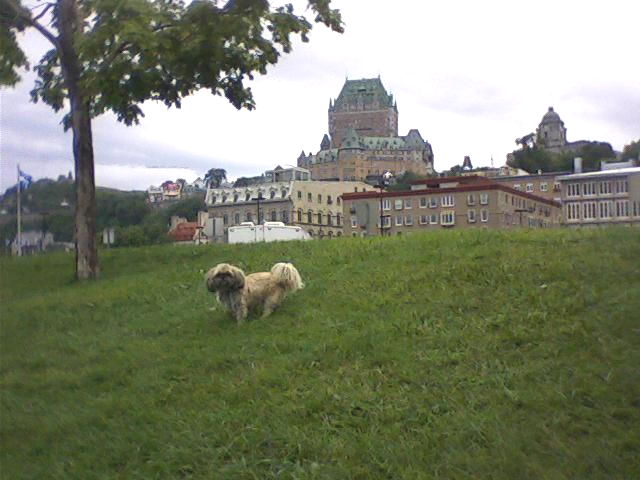 An inelegant pose!
- Posted By Ted to CanadianGay Blogspot at 7/09/2008 10:54:00 AM

The Old City

Wednesday, July 9th (Continued)

One frightening thing about the Museum of Civilization which I forgot to mention: It was absolutely jammed full with tadpoles - not the kind you find in the swamp, but the two-legged kind, 5, 6, and 7 year-old Frogs. Every day camp in the province must have brought their little charges to the museum on this rainy day. I estimate there were probably 2,000 of them, mostly too young to be interested in the exhibits for long.

Yesterday, I also criticized the food. Today I want to make up for that. I went to another local chain called Casa Grecque, and it more than made up for my disappointment at Normandin. The food was excellent, plentiful, and at reasonable rates. It also had lots of very hot - and probably gay - waiters. In fact, I am sure I saw the 30-ish Maitre D' around the pool at Plein Bois last Saturday and Sunday.
Thursday, July 11th: The Old City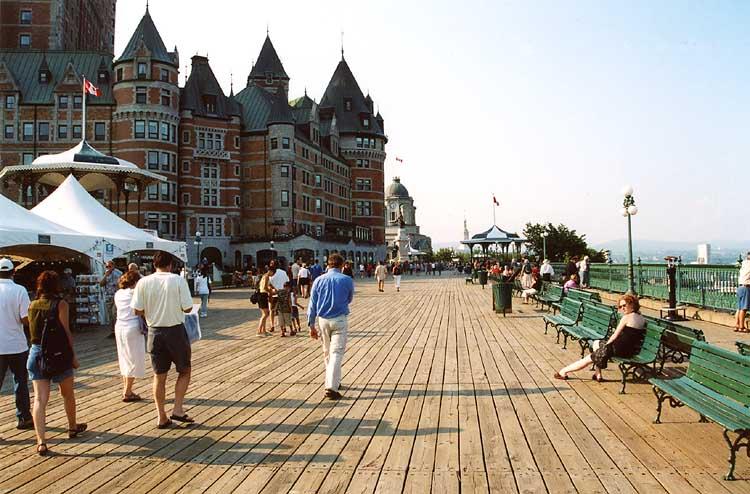 The boardwalk and Chateau Frontenac
Today the rain held off long enough for us to explore the Upper City and admire the buildings and the views. Nearly never made it, though, because TomTom doesn't seem to speak French very well. It insists on telling me to make a turn where there is no place to turn, even directing me into a one-way street the wrong way.

Buddy really liked the boardwalk along the crest of the mount. She had all sorts of admirers and made all sorts of friends, even though she is starting to looking kind of dowdy from lack of a good grooming.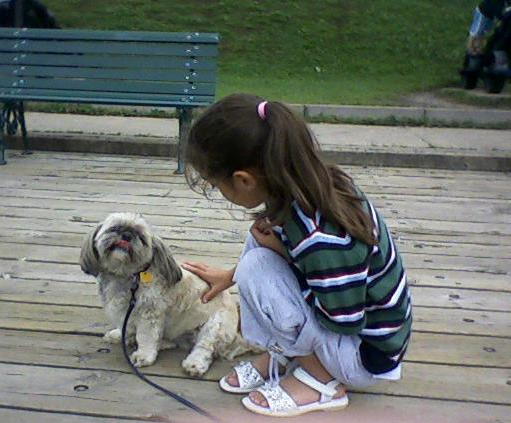 Buddy and a tadpole on the boardwalk
By the way, if you are going to Charlottetown, PEI, and need your dog groomed, don't bother with Barb's All Breed Grooming. The owner was downright snarly with me when I tried to make a booking for next week. She must have been taking lessons from the female dogs she grooms.

By noon, both my little friend and I were exhausted with climbing all those stairs in all those twisty little streets, and headed back to the motel for a nap.

- Posted By Ted to CanadianGay Blogspot at 7/10/2008 12:03:00 PM

Two Suppers

Thursday, July 10th (Continued)

I gave Normandin a second chance tonight, because I felt like pizza. I'm glad I did. I chose to try their new seafood pizza. All their pizzas are thin crust, just how I like them. Your dinner plate is warmed over a candle, on a special rack, and when it is time to eat, your pizza, on a metal plate, is placed on the same warming rack.

The pizza was shrimp, mussels, imitation crab, smoked salmon, and scallops in a sort of tomato-cream sauce, and topped with cheese. It was soooo rich - and soooo delicious. The waitress dropped some little containers of butter on the table as well. I had to ask her what the were for. They were to spread on the left-over pzza crusts. I didn't have any left-over crusts!

Friday, July 11th: 7600 km - 7970 km - Quebec, QC to Edmundston, NB

A nice day for driving. I thought I would be back to English-speaking territory by now, but northern New Brunswick is almost totally French-speaking, although everyone seems to be fluently bilingual.

There is a sports bar and grill in the hotel/motel I am staying in and I lucked out by dropping in to eat on a Friday night. I had already ordered my meal of BBQ ribs and salad from the menu before anyone thought to tell me that Friday nights is free "finger food" - although most of the offerings were not exactly "fingery." Among the offerings were what appeared to be chili, several types of pizza, and my favorites: a sort of Coquille St. Jacques (scallops in a cheesy sauce) and, yum yum, fresh steamed mussels.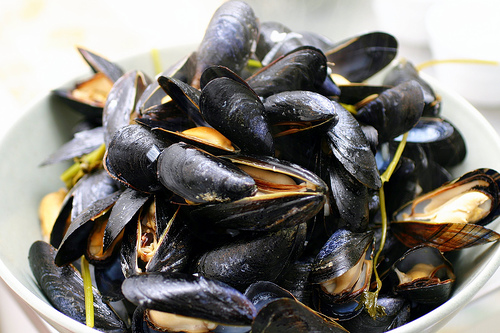 Ever better when they are free!
I just took a small taste of the scallops, because it was too like last night's meal, but I pigged out on the free steamed mussels. I did leave enough room, however, for my ribs and salad.

Tomorrow, it's on to Saint John, and my first look at the Canadian Atlantic. (I have seen it before from England, coastal Europe, and New York and Florida)

- Posted By Ted to CanadianGay Blogspot at 7/11/2008 02:59:00 PM

The Other Side!

Saturday, 12th July: 7970 km - 8350 km - Edmundston, NB to Saint John, NB

We have reached the Atlantic! My faithful steed, my Dodge Caravan SE, nicknamed Roo (Registration plate: CANGUY pronounced "Kangy"-roo. Get it? This was not an accident. I am Australian, you know!), along with TomTom, my navigator, has delivered me and Buddy to the other side of the continent.

We got our feet and paws wet in the Atlantic near Saint John, New Brunswick this afternoon. Buddy loved the beach and galloped along it. Unfortunately, the beach was mostly a red mud. Now I have to figure out how to bath her!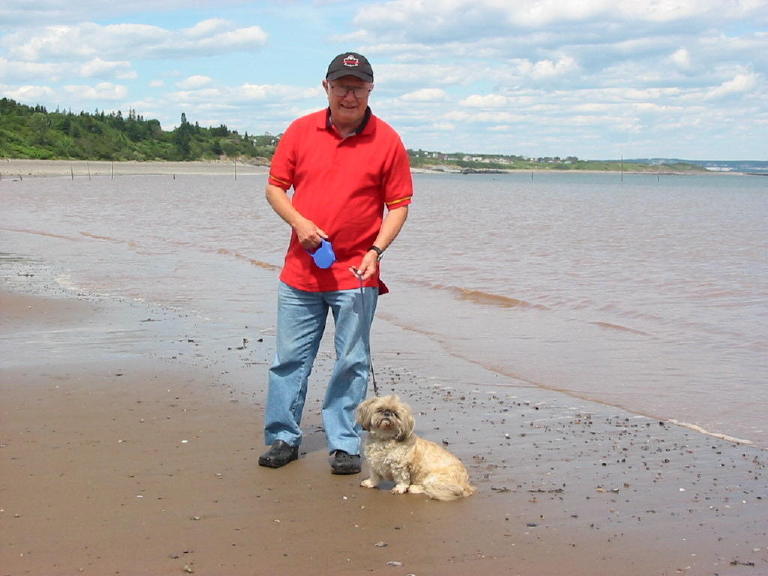 A couple of Atlantic lobsters
This is not the farthest east we are going, but it does call for some sort of celebration. Hope I can find a hottie tonight!

- Posted By Ted to CanadianGay Blogspot at 7/12/2008 12:36:00 PM

If It's Sunday, It Must Be Fundy

Sunday, 13th July: Saint John, NB

I didn't realize when I posted yesterday's photo that it was not, strictly speaking, the Atlantic, but the Bay of Fundy. However, I still consider myself as having reached the east coast.

Today was a sight-seeing day: Downtown Saint John and Harbour Area, the Reversing Falls, and the Irving Nature Park, where my pooch and I took a 1 km each way walk along a deserted beach. We both need the exercise.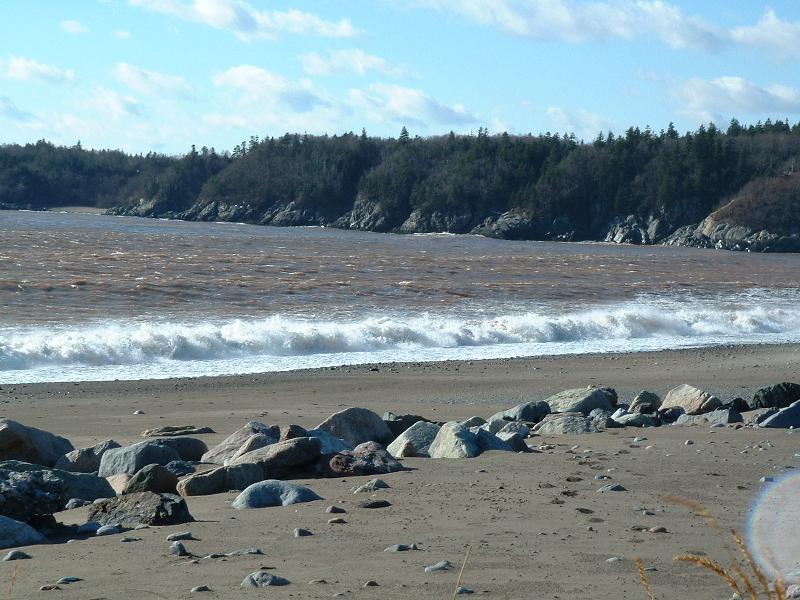 Irving Nature Park on the Bay of Fundy
I also came across a group which I have been playing highway leapfrog with for 3 or 4 days. It consists of eight full-sized customized Greyhound-type buses, each carrying two people (although I think there might be a mother-in-law as an extra passenger in one). Each air-conditioned bus is pulling at least a four-passenger car, although two are towing mini-vans, and one is towing a full-sized pick-up, which in turn is carrying a full-sized motorbike.

This caravan of 16 or 17 people is from Illinois, and is doing a circle tour of Quebec and Atlantic Canada before heading back into the States through Maine.

When they pull into a rest stop, they take up all the available room allotted to truckers. Talk about gas-gobblers! It's not OPEC causing our higher oil prices. It is this one group of tourists!

- Posted By Ted to CanadianGay Blogspot at 7/13/2008 09:27:00 AM

Co-incidence?

Sunday, 13th July (Continued)

For various reasons, I have been having problems connecting with my dear friend Luc (aka Froggy). He lives in Hawkesbury, which I eventually by-passed and went on with my travels without seeing him. I told him I would connect on the way back.

The other day I tried to book a motel in Hawkesbury, rather than impose on Luc, who has had a string of people staying with him. Unfortunately, neither of the two motels would take pets, so I eventually booked a room in nearby Rigaud (close to Pein Bois Campgrounds) and emailed Luc that I would drive from there to see him on the 25th and 26th of July. I got this reply from Luc two days ago:

"On those dates you will be in Rigaud: I should be at the camping Plein Bois it is the week-end of X-Mas in July. We always go every Year and since I don't go often. I promised Alain that week-end I will go. And on that week-end we meet the others that I don't see because I don't go to the camping as often anymore. Since the summer started I went only 2 saturday's. So I do my appearance once in awhile."

I figured that if Luc was going to be at Plein Bois, I might as well be there also, so yesterday afternoon I phoned to make a reservation for those two nights. A few minutes ago, I got this email from Luc:

"That was so funny, we decided yesterday to go to the camping and I was going to pay for my stay. The guy was talking to a Ted Wright and it was you. Coincidence or not. That will be great so will have time to see you at last. If the weather is on ourside What we can't do on Friday will have supper with you and Buddy and spend time with you. On Saturday will go have supper with the French guyz. And will meet after, That was already plan b4. It is always like that every year."

In case you are having trouble with Luc's fractured Franglais, what he is saying is that just by chance, he and his bf went to Plein Bois yesterday and he was in the Plein Bois office paying his fees. The guy he was talking to was also talking to a Ted Wright on the phone - me!

What are the odds? Luc 40 miles from home, paying his fees, and me 4000 miles from home, calling from Saint John, NB, to reserve my site and pay my fees, both talking to the same guy at the same time?

Below is a pic of Luc and I camping at Shadow Falls Gay Campround in 2003, on a group camping trip for my original group, WestCoastGuys. (Buddy is less than a year old in the pic)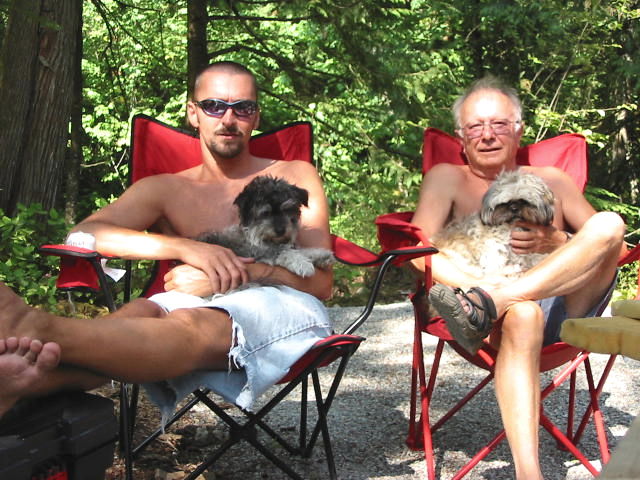 Shadow Falls 2003
- Posted By Ted to CanadianGay Blogspot at 7/13/2008 03:00:00 PM

Allies in Lobsterland

Monday, July 14th: 8350 km - 8730 km - Saint John, NB to Charlottetown, PEI

Headed east again this morning, to the lands of the lobsters. As you can see in the pic below, we were lucky to escape being eaten by a giant one. It is already devouring some other unlucky tourists.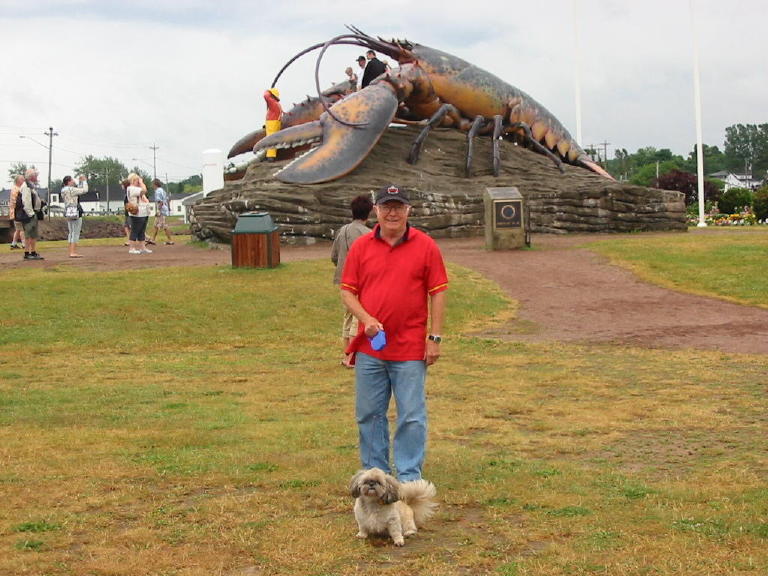 World's Largest Lobster
We did not escape the tricky "information" signs of Shediac, NB, however. I wanted to piss badly, and the information centres usually have toilets, so I followed the "? ->" signs. They led me all over town before finally bringing me to the haunt of the giant lobster.

Bursting for a leak, I asked one of the information people if they had a washroom. He told me, yes, but they were reserved for people with special needs. I told him I had a special need: a special need to piss. He replied that he meant they were for people with a physical handicap. I told him I have a physical handicap: a weakened bladder. He finally relented and let me take a much-needed piss.

Halfway between Shediac and Confederation Bridge, TomTom, the GPS, decided that there was no new highway 15 East. He decided I needed to follow the old coast highway. I'm glad he did.

I rounded a bend, and there in the distance, I could see the marvellous bridge snaking out into the morning mists. If I had followed 15, I would have missed that sight.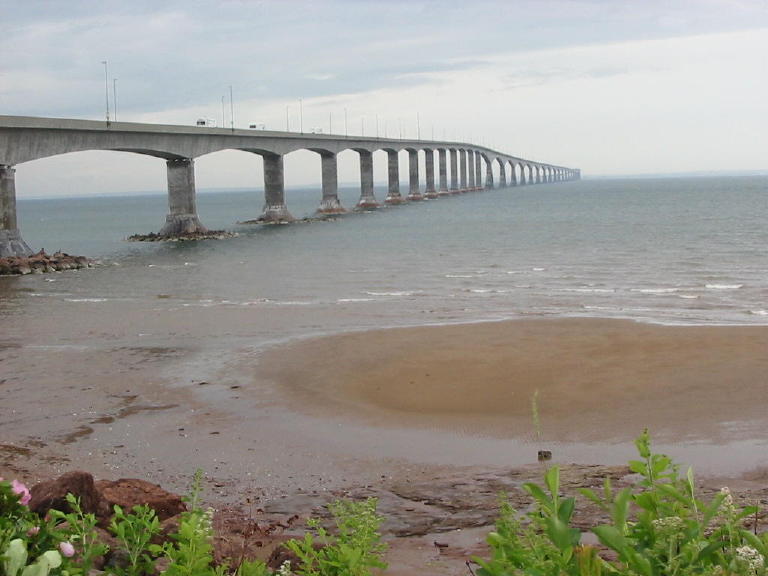 Confederation Bridge
It was quite an experience to drive across the 12.9 km structure, too. It is a two-lane highway floating in the air above the ocean. The return trip for car and driver is $41.40.


- Posted By Ted to CanadianGay Blogspot at 7/14/2008 01:13:00 PM