Week Eight
North Ontario Woods

Tuesday, July 29th: 12080 km - 12470 km - Ottawa, ON to North Bay, ON

What more can I say about the Northern Ontario woods? Except that most towns now have signs posted about more frightening creatures than bears or wolves: mosquitoes. The West Nile virus has been detected in this region, so public health authorities are posting warnings all over.

Other random thoughts: ScotiaBank Place (aka The Palladium or Corel Centre) looks IMMENSE stuck right out there in the middle of nowhere. At least there is plenty of parking! But how many spectators does a Senators game draw?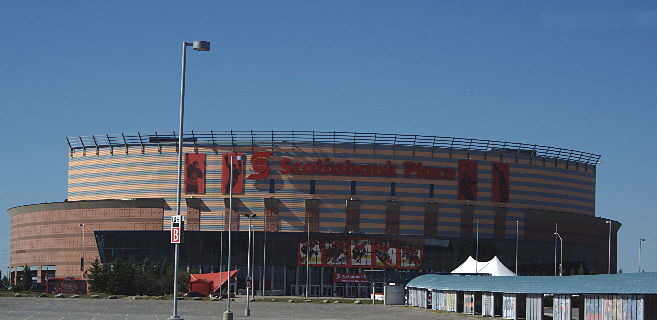 Stadium in the middle of nowhere
Got occasional glimpses of the Ottawa River this morning. It is another impressive river to me, along with the St Lawrence, and the Saint John. I don't know why I am so impressed with rivers. Maybe it is my Aussie upbringing, where even a piddly river is a miracle. The Swan River in Western Australia only flows about six months of the year. The rest of the time it is basically a tidal estuary. And the "Mighty" Murray in eastern Australia, although it is 1200 miles long, for most of its length is nothing more than a creek by Canadian standards, and at times just a series of disconnected billabongs (waterholes).

Saw a lone cop car laying in wait this morning, and the cop just coming out of the woods doing up his fly. Presumably he was taking a leak, but who knows?

Most cops:
Quebec, by far. On most days driving through Quebec I would see at least half a dozen cops pulling motorists over or attempting to trap speeders. In all other provinces I rarely saw more than one a day.

HOWEVER: Most cops at one time:
Revelestoke, BC, where I saw FIVE cop cars at the scene of some incident. I'm not sure if the guy had been speeding, was drunk, or whether the car was stolen, but they had him in cuffs, and were busy having the car towed. A few minutes before the occurrence, all the cop cars had been parked at the nearby Tim Horton's. I guess they got called out from there.

- Posted By Ted to CanadianGay Blogspot at 7/29/2008 01:21:00 PM

A Wooden Nickel In Sudbury

Wednesday, July 30th: 12470 km - 12620 km - North Bay, ON to Sudbury, ON

I have been really horny the last couple of days, and not getting any, so I went on Squirt yesterday and placed a notice for Sudbury. I got replies from several guys, the first of which I was supposed to hook up with tonight.

We exchanged several emails, and had a couple of phone conversations, and during the last of them we agreed to meet in the parking lot of my motel 20 minutes later, at 7:30 tonight. Well, he turned up only to tell me that on the drive over he realized he couldn't go through with it. I thanked him for taking the trouble to let me know.


When you want an out-of-town squirt
A few minutes later, again on Squirt, I was chatting with one of the other Sudbury prospects and told him how I had just been stood up. He asked by whom, and I told him the guy's ID. He said the guy had done the same to him, that he is a married catholic and gets these massive guilt trips.

Oh, well. Maybe one of the others will pan out.

Overheard in the motel corridor in North Bay this morning:
The Super 8 in North Bay rents rooms on a weekly or monthly basis to young working guys. When I opened my motel room door this morning, one of them, a white kid about 25, and clad only in a bathrobe, was knocking gently but insistently on the door opposite mine.

He didn't hear me behind him. He was saying desperately:

"Brad, man. Open the door. I know you can't be asleep yet. Open the door. I left my keycard in there. I can't into my room!"

I had seen Brad coming and going and knew he was a handsome black dude about 30 years old.

The kid rapped louder and spoke even louder:

"Brad! For fuck sake! Open the door and give me my key!" And then in desperation: "Open up, man, or I'll never let you fuck me again!"

At this point he realized I was behind him, and luckily for him, Brad opened the door at that point and he rushed embarrassedly inside.

- Posted By Ted to CanadianGay Blogspot at 7/30/2008 05:54:00 PM

Three More Wooden Nickels ...

Thursday, July 31st: Sudbury, ON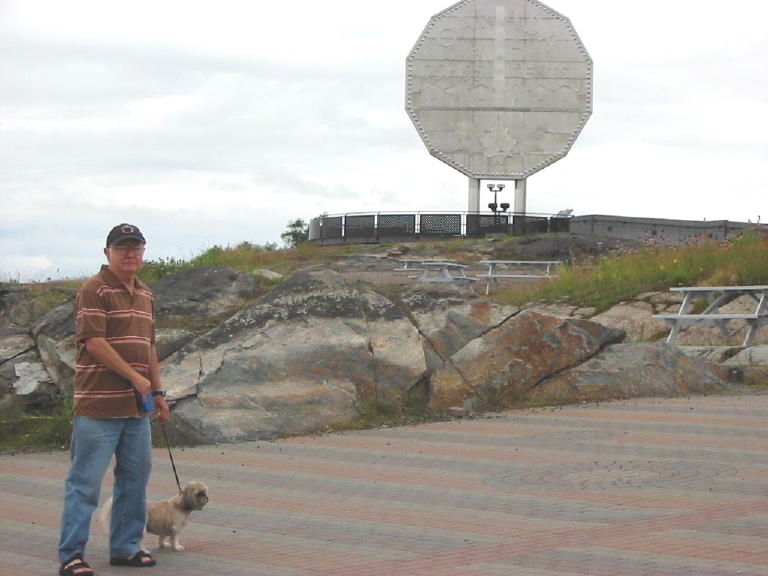 Get your nickels' worth.
As you can see from the pic, Buddy and I did the tourist thing again and got our pic taken with the world's largest nickel. I must remember to get one taken with the goose in Wawa!

The first of today's wooden nickels was at this site. They charge 80 nickels to park so you can take a pic of the Big Nickel. Admittedly, you can also tour the mining museum while you are here (I didn't ask what that cost), but $4.00 is a bit steep if all you want is to take your pic with the Big Nickel.

The second wooden nickel for today is in a similar vein to yesterday's: another of the Squirt contacts.

This one might have shown up, but he wanted to bring a friend for a "3sum." I have nothing against threesomes, but not with two guys I don't know in a motel room in a town I don't know . I turned him down.

The third wooden nickel was also a contact: a 31 year old who sounded pretty good. We chatted for quite a while and were all set to meet this afternoon at three - until he asked me if I would "spoil him." I wasn't sure what he meant, and he told me, "You know ... $$$$$!" I told him, "No fucking way!" He still wanted to meet after that, but I no longer did

... and a Silver Dollar!

The silver dollar was Squirt contact number 4, to whom I had almost sent a "No thanks" message . He did show up at noon today as planned and we had a great fucking time! He was a good-looking, well-built, nice guy in his early 40s, and well and truly made up for the other three! He sucked me, licked me, ate me, fingered me, and fucked me for over an hour, until he had to leave for an appointment!

Are you guys getting the impression that I am a slut?
You're right!

- Posted By Ted to CanadianGay Blogspot at 7/31/2008 10:07:00 AM

The Soo Revisited and Other Stuff

Friday, August 1st: 12620 km - 12950 km - Sudbury, ON to Sault Ste.Marie, ON

Much of today's drive was backtracking my route of almost 6 weeks ago, and the next few days will be much of the same. That's OK. It will give me time to air some odd observations I have made during the journey.

Road Construction:
There are massive highway improvement projects going on in every province. Of course, they all entail some inconvenience for the traveller, usually short delays for one lane sections, or some blasting.

But I do have to admit, the road building programme does keep a lot of guys - and gals - employed.

And talking of employment:
Right across Canada there are "Help Wanted," "Now Hiring," signs everywhere. Admittedly, they are mostly for the service industries, but at least the work is there, which is more than you could say for 20 years back, or even 10 years back.

Bilingualism:
We talk about Canada being a bilingual country, but, of course, for the most part it is not. There is the English-speaking part and the French-speaking part, but in some areas, mostly Northern New Brunswick and along the Ottawa River, there is a true bilingualism. It amazes how people in these areas can slip back and forth between the two languages, speaking fluently and without accents. I admire them.

My French is of the "Wheaties" variety - picked up from the back panel of the cereal boxes.

Cemeteries:
I have noticed that in many towns cemeteries are on both sides of the main road through town. Are there segregated sections? Did they build them that way? Or did the highway come along and run right through the middle of an existing cemetery? Are we driving over someone's grave????

- Posted By Ted to CanadianGay Blogspot at 8/01/2008 12:46:00 PM

Goosed in Wawa

Saturday, August 2nd: 12950 km - 13275 km - Sault Ste. Marie, ON to White River, ON

We are back in Winnie the Pooh's home town of White River this evening, where I was supposed to hook up with one of our members. Unfortunately, he has to work today and tomorrow and has a family function this evening. Hopefully he will find time to give me a call.

Having had our pics taken with Pooh, the Big Nickel, the Monster Lobster, and the Giant Fiddle, of course I had to stop off in Wawa and get one taken with the world's biggest Canada goose. Buddy looks like she would like to pluck its tailfeathers.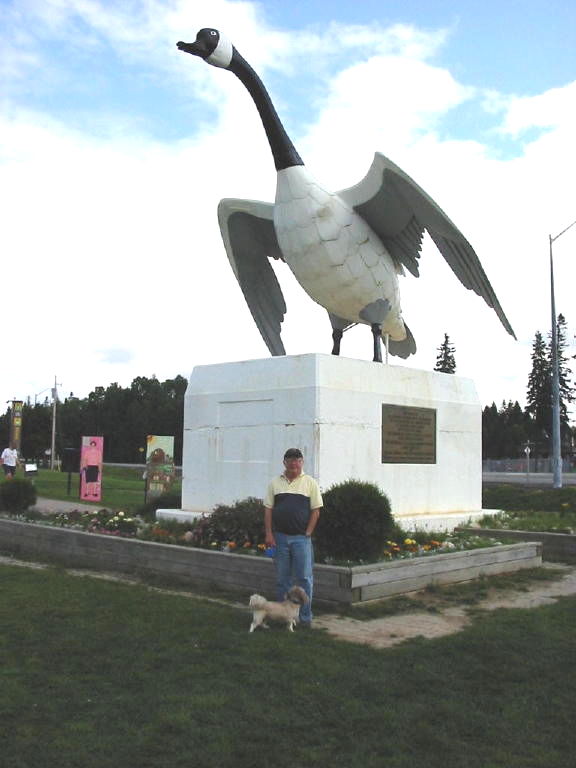 Goose shit everywhere!
The pic reminds me of a thought that crossed my mind walking the boardwalk along the Saint Mary River in the Soo last night. There were Canada geese everywhere, crapping on everything. Also everywhere in the park and along the boardwalk were signs reminding us to keep our dogs leashed and to pick up their poop. It's the same in parks all across Canada. Nothing is done to deter the myriads of geese which drop their smelly crap everywhere, but the same parks regulate against dog poop and often ban dogs completely. Apparently, what's good for the goose is not good for the pooch.

What's in a name?
Another thing which has struck me is the sameness of many place names. I am sure that every province must have at least half a dozen Duck Lakes. And how many Trout Rivers are there? Including the variations: Black Trout Creek, Speckled Trout River, etc?

When I set out, I was aware of many of the place names across Canada:
The imported ones - London, Windsor, Stratford, Kingston, Alberta, Perth, Sydney, Halifax and so on, and their originals' images sprang to mind when I thought of the Canadian version.

And the intriguing Canadian names: Medicine Hat, Saskatoon, Moose Jaw, Sault Ste. Marie, Oshawa, Trois-Rivieres, Petawawa, Thunder Bay, Glace Bay, and on and on. But familiar or exotic, they were just names. They were places foreign to me, places I had never been. But now, just the act of passing through them has made them mine, part of me and my experience, my Canada!

In Memorium:
All along my route I have seen remnants of other days: closed gas stations/roadside diners. They are everywhere, along every highway, empty shells of other years. Some of them have obviously been large, thriving concerns at some point; others were more the little Mom-and-Pop type establishments.

I would love to know what caused them to close. A death in the family? Poor business practices? Changing traffic patterns? Rerouting of highways? Falling into disfavor with the truckers?

I will never know the reasons, but each time I pass another, I will wonder.

- Posted By Ted to CanadianGay Blogspot at 8/02/2008 01:10:00 PM

Thunder Road

Sunday, August 3rd: 13275 km - 13660 km - White River, ON to Thunder Bay, ON

Unlike my journey south on this highway, the journey north was on a clear, sunny morning. The only thing that marred it was the tremendous number of reminders that this is a particularly deadly highway. There must be dozens of make-shift memorials to people who have been killed along this road. And more happen all the time.

In the morning the road was closed while they hauled out a car which had gone out of control on a bend and plunged into a ravine. In the evening, another badly mangled car was hauled into White River. I am guessing the driver did not survive.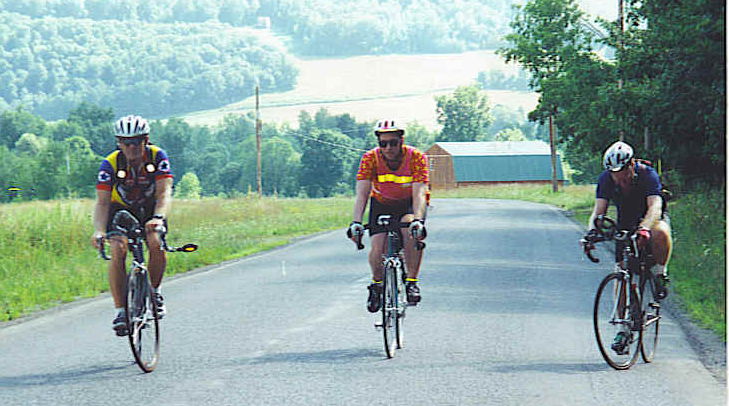 Peddling their asses acrossCanada
Peddling their asses:
I was getting sort of puffed up over my feat of driving from coast to coast alone with Buddy. But I have met a number of people who put my effort to shame. These people were all bicyclists.

In Glace Bay, NS, I met a guy in his 60s who had bicycled all the way from BC. His wife accompanied him in a motor home, where he slept every night.

Last night in White River, I talked with a Quebecer in his 40s who had cycled from Montreal to Newfoundland, flown to Victoria with his bicycle, and had peddled back from there as far as White River on his way back to Montreal.

Early this morning I met a grandmother from BC who had also made it as far as White River and was also aiming for the east coast, staying in motels each night.

And later this morning in Schreiber, ON, I chatted with one member of an odd trio of cyclists. They were a threesome from BC, on their way to Halifax, a man in his late 40s and two younger guys, probably no more than 20 or 21. One of the two younger men sported an impressive bulge in his spandex, and in the washroom of the restaurant where we had all stopped I got to see what made the bulge when he stripped down his shorts to take a piss. Very impressive!

To spark a conversation, I asked him if the older man was his dad. He was not reticent one bit.

He grinned, and said "Sort of..."

I asked him, "What do you mean, 'Sort of...'?"

"He's my boyfriend's dad," he told me. "So he's kinda my father-in-law."

"Doesn't that make it kind of awkward? At night?" I asked.

"Me and the boyfriend only get it on when his dad's asleep or not around," he told me.

"I see," I said.

Then he smiled a big, naughty-boy grin, and added:
"And me and his dad only get it on when my boyfriend's asleep or not around."

I drove on my way after our chat with a woody, thinking of this hot trio!

*Note: The pic at the top is not of them! They were way hotter!

- Posted By Ted to CanadianGay Blogspot at 8/03/2008 06:32:00 PM

Turning Back the Clock

Monday, Aug 4th: 13660 KM - 14015 km - Thunder Bay, ON - Dryden, ON

I screwed up a little this morning when I left Thunder Bay because I did not properly take into consideration the change in time zones from Eastern to Central.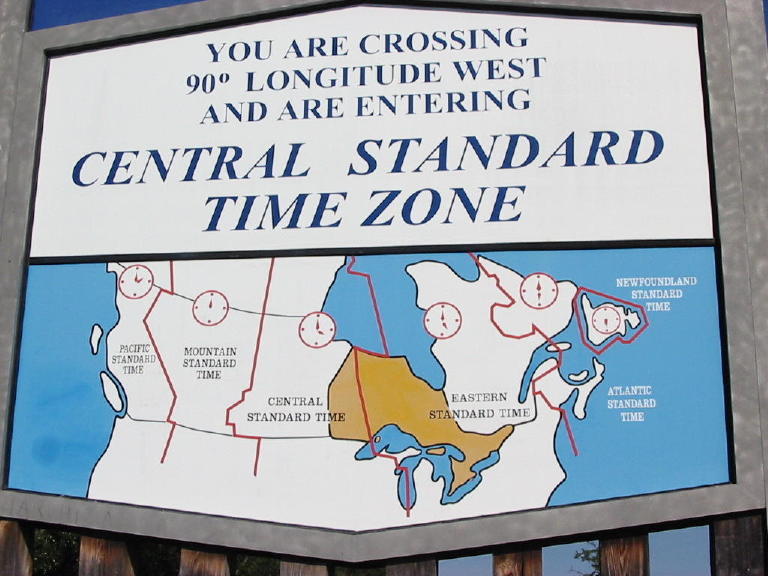 Turning back the clock
But that's OK. It gave me time to dawdle and pop off into local sites for a peek. There are some great picnic spots and rest stops along this section of the road.

If any of you come from Upsula, let them know at the Shell Station that their nasty sign on the door warning that the washrooms are for valued customers only, but that I could become a valued customer by buying some item, cost them my custom.

I was just going in to eat and buy a pop for the road. Instead, I took a leak, which I didn't really need (for a change), and didn't buy anything.

Moosed in Dryden:
All along this highway roadsigns warn of the danger of hitting a moose, and billboards proclaim "Moose on the Loose!" Dryden commemorates this ugly animal (Hope that "ugly" doesn't offend anyone) with a statue of Maximillian Moose. For some reason, he doesn't draw as many visitors as Winnie the Pooh, the Wawa Goose, or the Monster Crayfish, so I couldn't find anyone to take my pic, but Buddy offered to pose.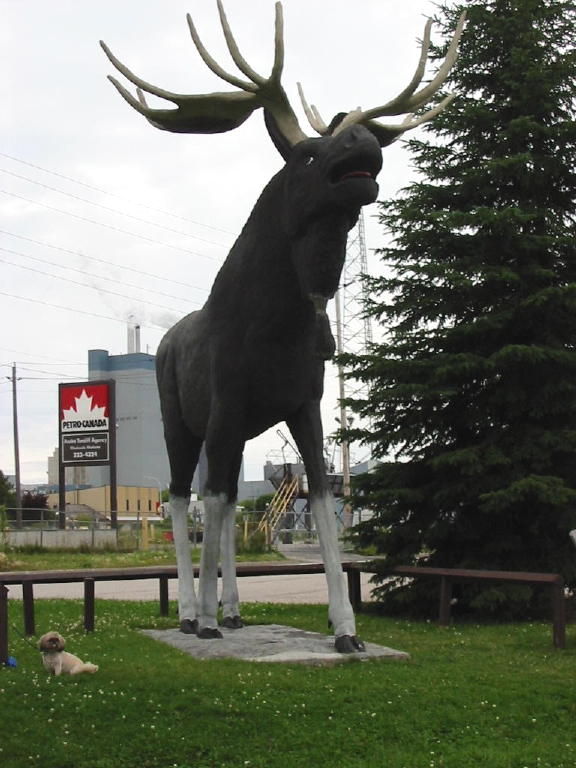 Max the Moose

It was Dryden where I got lucky enough to suck some trucker cock on the way east. I am now in the same motel, next to the same Husky Station and Diner. It's thundercloud weather outside. Will lightning strike twice?

Unfortunately, I doubt it. I advertised on Squirt a couple of days back, and have had no responses at all.

But that's okay! I have a couple of likelies lined up in Winnipeg tomorrow night!

- Posted By Ted to CanadianGay Blogspot at 8/04/2008 12:51:00 PM