Week Nine
Getting Lucky in the Peg

Tuesday, August 5th: 14015 km - 14370 km - Dryden, ON to Winnipeg, MB

Had to change my motel booking in Winnipeg at the last minute yesterday. I went online to look up the address of the Howard Johnson Airport in Winnipeg where I had made bookings. I wanted to feed the address into TomTom. When I Googled it I noticed the reviews. There were 24 of them and they went from bad to worse. Only one was sort of non-commital. All the others told horror stories. I have never seen so many bad, bad reviews for one motel.

I quickly searched for and found another which takes pets.

Getting lucky - twice!

I mentioned last night that I had a couple of contacts lined up for The Peg tonight. The younger one of the two suggested a threesome, and it was agreed that they would meet at my room at 7. The older turned up first and we started playing around. He was a pretty big guy all round. When the younger arrived, he took one look and told me he thought he would give it a miss. I didn't pressure him, and he took off.

The older guy stayed and we played some more, and then he gave me a good fucking. We took a shower together, then sat around naked, BS-ing, until we both got horny again and sucked each other's dicks until he decided to do me again.

After a couple of hours, he left, and I went online. No sooner had I logged in to MSN Messenger than the younger came online to apologize. He had felt intimidated by the bigger older guy.

He said he would have liked to have done me and asked if the other guy had fucked me. I told him, yes, twice.

He asked if I wanted to go again. I said sure, and he asked if he could stop by on his way to work night shift. I agreed, and about a half hour later he showed up.

He had to work at 10, so we wasted no time before getting down to business. and he did me with a very nice six incher with a big knob!

I have a nice warm feeling (in my butt) for Winnipeg right now!

*Note - I still chat on msn with the younger guy. We both would like seconds - and thirds, and if he ever gets to Vancouver, or I to Winnipeg, it will happen!

- Posted By Ted to CanadianGay Blogspot at 8/05/2008 07:49:00 PM

Prarie Driving

Wednesday, August 6th: 14370 km - 14950 km - Winnipeg, MB to Regina, SK

Start Winnipeg 7:00 am. . .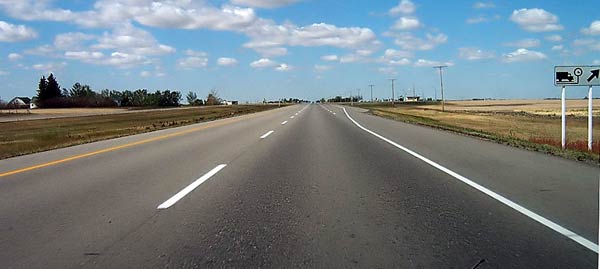 Flat
. . . arrive Regina 2:00 pm

What more is there to say?

- Posted By Ted to CanadianGay Blogspot at 8/06/2008 06:19:00 PM

A Prairie Nightmare

Thursday, August 7th: 14950 km - 15590 km - Regina, SK to Lethbridge, AB

Imagine this scenario:

You are in your early 30's. You finally met Mr Right! You met him online through SilverDaddies. He is not a SD, though. He is just a little older than you.

He has his own home on his own farm somewhere west of Regina. You have chatted and cammed on Skype for nearly a year. You have been living in the West End of Vancouver, and have enjoyed having the Village so close, but your job is a bit of a dead-end, and the city pace is wearing, and you think you might fancy country life.

When Mr Right offers to pay your airfare to come visit him, you accept gladly.

He picks you up at the airport in Regina. He is wearing bib-and-brace overalls, just like Li'l Abner, and he looks about as good, even though he and the overalls are covered in grease and mud. He smiles disarmingly and tells you: "Had a bit of trouble with the tractor this morning and had to get it running, so didn't have time to clean up."

You assure him that's OK.

On the drive west in his mud-covered 4x4, you notice how flat the prairies are, and how a couple of meters before you reach the turn-off for each town there are signboards telling you what services are available: gas, accommodations, meals, groceries, hospital, camping, picnic facilities, etc. Some towns have more services than others.

After about an hour and a half, Mr Right points to the northern horizon where you can just make out some structures. "Almost home." he tells you.

Sure enough, just then the signboard appears: "Grand Coullee: No Services!"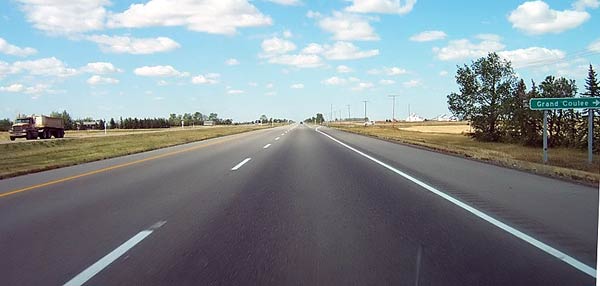 NO SERVICES
NO services? No gas station? No diner? No hotel or motel? No supermarket or general store? No internet? Nothing!

I told you this was a prairie nightmare. You can wake up now. It's over.

No offense intended to the folks in Grand Coullee or similar towns with "No services," but what a horrible addition to your town's signboard!

- Posted By Ted to CanadianGay Blogspot at 8/07/2008 03:33:00 PM

* Note: the following passage is additional material which was posted on my blog, but apparently never reached CanadianGay. I am rewriting it from memory:

Getting Laid in Lethbridge

Thursday, August 7th (continued)

I said goodbye to Highway one near Medicine Hat. I had hope to stay in the Hat overnight, but weeks ago all accomodations were booked out. I don't believe there was anything special going on, just that time of the summer when so many peope are on the road.

It's nice to see gas prices almost down to affordable here. In Taber, AB, this afternoon it was 128.4 cents a liter. I got another 3 cents a liter off for using my Save-On Foods card!

It was stinking hot in Lethbridge. Luckily the AC in the room was efficient - TOO efficient. I could not regulate it and had to turn it off every now and then to warm up.

My room was on the ground floor right under the outside stairs to the second floor. I was disturbed by someone constantly running up and down them. When I looked out, I saw a terrific-looking young guy around 30, clad only in stretchy red shorts (and obviously commando-style) exercising by running up and down.

A litttle later, I walked by the gym the motel provided, and could see him in there using one of the exercise machines.

And soon after that, he was doind laps around the main courtyard. About ten minutes later, he was leaning over the balconey in front of his room, dry-heaving. Then he went back into his room and closed the door.

Intrigued, I casually went up the stairs at the other end of the building and wandered past his closed door. But the picture-window curtains to his room were wide open. He was laying on his bed, naked, and in the final stages of beating off his large dick! As I looked, he shot cum all over himself, smiled at me, then turned over as if to sleep.

Horny, I tapped on his window, but got no response. I went back to my room. I had other plans for the evening.

Using Squirt.org again I had made contact with not one, but two guys. I had first got hold of a guy in his 40s who said he was a top, but liked to get fucked by younger guys occasionally. He introduced me to Johnny, one of those younger guys. We chatted on Squirt back and forth between the three of us, and eventually by phone.

It was agreed that we would meet at my room at 7:30 a three-way. The older guy would fuck me, and Johnny would fuck both of us.

I shot my dick up with meds in anticipation, and was good and hard when a knock came on my door. It was Johnny. He was a native kid about 21. We soon got naked.

Just as the older guy had told me, Johnny had a large, uncut dick, and I soon was tasting it.

We played with and sucked each other for about half an hour, but there was still no sign of his friend. Finally, Johnny donned a condom and fucked me, rapidly, with me bent over the bed. It was not the best fuck I had ever had, but it was better than nothing!

Finished, Johnny got dressed and left, promising to come back later. He never did. And neither did the older guy ever appear.

Later in the evening I went for Thai food at a nearby restaurant, then took Buddy for a walk in the cool of the evening. As I returned to the motel, I came face-to-face with the exercise freak in the red shorts.

"Hey," he said, "you're the guy who saw me jerking off!"

Blushing, I admitted it.

"It's one of the ways I am licking my habit!" he told me.

He went on to tell me that he has a coke addiction, and overcomes the urge by lots of exercise, and lots of jerking off! We chatted for quite a while in the night air, and he eventually said he was off to swim in a hotel pool down the road

I wished him well in his "recovery," and was tempted to offer him my ass to use for jerking off with, but refrained!

The picture below, is not him, but he had a similar build, similar shorts, and looked just as good!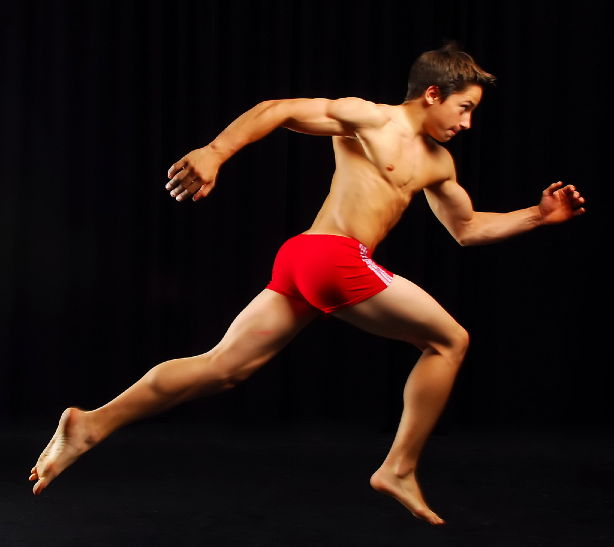 Kicking the habit
* End of missing material
Originally posted Thursday, August 7th, 2008

Horizontal Vs Vertical

Friday, Aug 8th: 15590 km - 16000 km - Lethbridge, AB to Creston, BC

A HOT morning. Thank god for A/C in cars these days.

I had thought the wind power generators in Central Ontario were impressive, but the were not as impressive as the dozens and dozens of them that appeared on the horizon as the morning sun burned off the morning mists west of Lethbridge and Fort Macleod. And beyond them was the outline of the Rockies.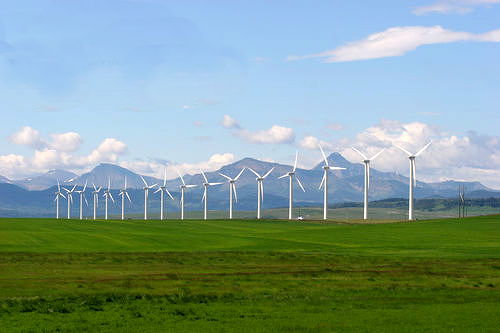 Giants marching to the mountains
Fort Macleod is something else, too. Most such places are sort of museums, off the main highway, but at Fort Macleod history is alive. The main highway runs along Fort Macleod's main street, and you are instantly transported back 200 years!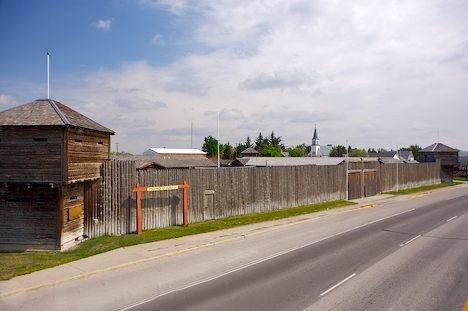 Here comes the cavalry
Then the was the change of perspectives. In just an hour, the scenery went from the horizontal lines of the prairies to the vertical lines of the Rockies. What an amazing transition, emphasizing the diversity of Canada.

*Note: The following passage, and any other reference to the same topic over the following days are added material.
Panning for gold:
I stopped for breakfast at a Husky station at the turn-off to Pincher Creek. The breakfast was really good, but the hash-browns were a little on the crunchy side. As I was paying my bill, I got a toothpick and started to pick them out of my teeth. I suddenly realized that at one place in my mouth there was no longer any tooth. The whole space was just crispy chunks of hash-browns, crushed into the base of my tooth, which had once held a gold crown. I had swallowed over $1000 worth of gold tooth!

But when? Was it just now? Or was it the previous evening at the Thai restaurant? If it had been then, surely I would have noticed it missing before now? I had to assume it was just now, because if it were last night, it was probably gone forever. I had had a touch of the runs this morning.

So now I am panning for gold. Every time I go the the can, I take a tin pie plate and plastic fork with me. Yech!
End of added material

I spent Friday night with my adoptive daughter and grandson. I got back into a bit of my usual Friday night routine: We went to an AA meeting.

I actually heard of a new dodge by one of the locals. He is a bachelor, and when he loses a button off one of his favorite shirts, he donates ithe shirt to the local Goodwill store. A couple of days later, he goes into the store and finds his newly repaired, washed, and ironed shirt on the sales racks and buys it back for just a dollar! Cheap laundry and repairs!

In my drinking days I might have done the same if I had thought of it!

- Posted By Ted to CanadianGay Blogspot at 8/09/2008 04:29:00 PM

A Major Backtrack

Saturday, August 9th: 16000 km - 16380 km - Creston, BC to Revelstoke, BC

This morning I drove from Creston up to the Upper Arrow Lakes and took the ferry from Galena Bay to Shelter Bay, a shortcut to Revelstoke. This ferry (or ferries - they had two in operation) a free ferry as part of the BC Highways system.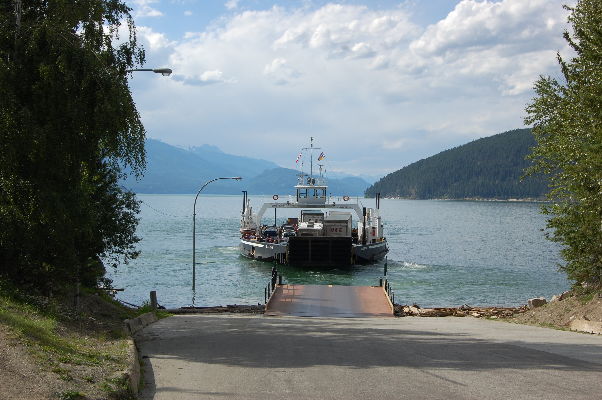 Free ferry ride
Although I appreciated the free ferry ride, it also opened some resentments. I live on the northern "Sunshine Coast," on part of Highway 101. There is no road in or out of my town. We are cut off from the rest of the mainland by the Coast Mountains to the east, fjordal inlets to the north and south, and an arm of the Pacific to the west. We have to take two ferries "as part of the BC Highways system." These ferries are far from free, and get more expensive all the time. There's something wrong with this picture.

The ferry ride was made rather dramatic by a major thunder, lightning, and rainstorm which struck just as we sailed. The same storm had major consequences in the area, probably being the main reason for a very nasty truck accident on the Trans-Canada, and a mudslide at Field, between Golden and Lake Louise, which closed the highway.

The storm also had a nasty consequence for me personally. The Love of My Life, who I spent 3 wonderful days with on the outward journey, was flying back from Seattle into Kelowna to drive back to Revelstoke to spend the next three days with me. The plane was unable to land because of the storm, and he was returned to Seattle. At last word, he was booked on another flight at 10 tomorrow morning, which means he won't get here until at least 3 pm tomorrow.

So much for our weekend of love and lust! When he does arrive, don't expect to hear from me until Thursday. I will grab every minute I can with the L.O.M.L before driving to Hope Tuesday evening and from Hope to Powell River on Wednesday, ending my journey.

I will finish my journal at that tiime and sum it all up for you on Thursday.

* Added material:
I continue with my regular prospecting for gold, but no nuggets so far, not even any gold dust!

Poor Buddy! She is sulking. All across Canada I have carted in her own special travel bag her favorite toy, a little squeaky who looks like a yellow gingerbread man and who is embroidered in red lettering with the name (quite coincidentally) Little Buddy. I accidentally left Little Buddy behind with my friends in Creston. Bigger Buddy has been whining for her toy every time she sees her travel bag. I have had to phone Creston and ask them to mail the toy to Powell River!

- Posted By Ted to CanadianGay Blogspot at 8/09/2008 06:58:00 PM

Filling Time

Sunday/Monday, Aug 10th - 11th: Motel Room, Revelstoke

*I spent a little time searching for the elusive filling again this morning, but I think I may be shit-out-of-luck!

I think I forgot to tell you that I was supposed to be spending these three days in the basement suite of The L.O.M.L. (Love of My Life), but that a week ago he arrived home on Friday night after a week in Edmonton to discover that the boiler in his basement suite had burst, leaving an inch of water throughout his apartment.

He was leaving for Michigan the next morning, but his landlord promised to have it all fixed by the time he got home.

Well, The L.O.M.L finally arrived at 3 pm at the motel I had booked into in lieu of his apartment, after more delayed flights Sunday morning and bad road conditions Sunday mid-day.

We immediately made up for some lost time, and yes, we are still as hot for each other as we were two months ago.

For a rest break, we checked in at his apartment. The landlord had done nothing yet, because the insurance adjuster is not due to visit until this evening (Monday), so we will continue to stay at this dump of a motel for now.

We came back here after supper and watched the Olympic gymnastics, while performing some gymnastics our own. Let the games begin ... and go on and on!

Right now, I am filling time while the L.O.M.L is at work. I sent him off at 5:30 this morning with a quickie dick-sucking, and will be waiting here with a hungry hole when he gets home at 3 pm.

I look forward to a similar routine in the months and years to come. Yes, guys, it's that serious, and I love it!

Talk to you again tomorrow afternoon while I am again waiting for him to arrive home again for a quickie before I head out to Hope for an overnight stay before back to Powell River on Wednesday!

-- Posted By Ted to CanadianGay Blogspot at 8/11/2008 01:02:00 PM