Week Ten
Where There's Hope

Tuesday, Aug 12th: 16380 km - 16850 km - Revelstoke, BC - Hope, BC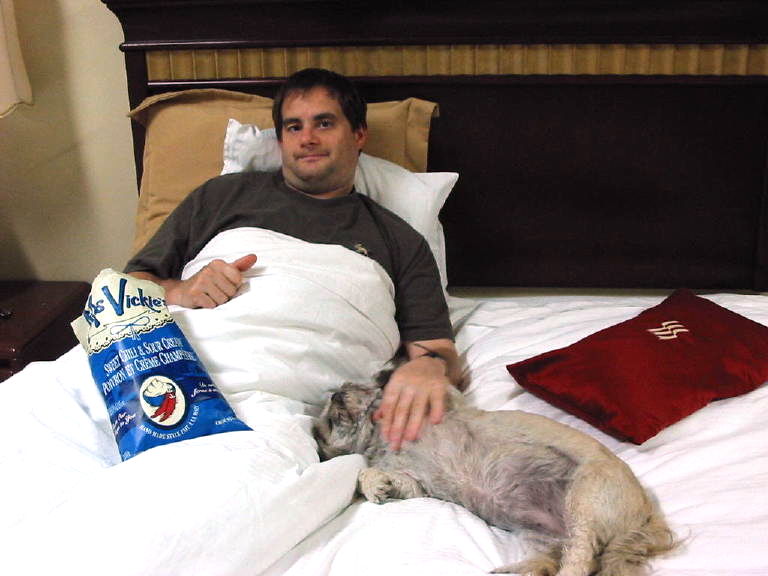 The Love of My Life
The L.O.M.L. had to work again today and crept out of our motel room at 5:45 am. I spent the morning filling time getting the van ready for its final run home, and getting myself scalped. I had got sick of my shaggy hair which didn't hide my advanced baldness anyway, so I got a buzz-cut. It makes my look like Yoda, but the lady barber assured me that everyone thinks Yoda is cute and cuddly!

One of the machines at the mill where LO.M.L. works broke down, so they sent them home early. I was fast asleep in his basement suite when he arrived home, but it didn't take me long to wake up when he waved his viagra-enhanced dick at me. He put it to good use in the next hour, before we said our tearful goodbyes at 3:30, and I set out on the drive south to Hope, via the Coquahalla Highway.

The Coquahalla Highway is just another freeway, really, but what a spectacular one, climbing up from the desert of Kamloops practically to the alpine tree line, and then winding down again over 250 km to Hope in the Coast Ranges.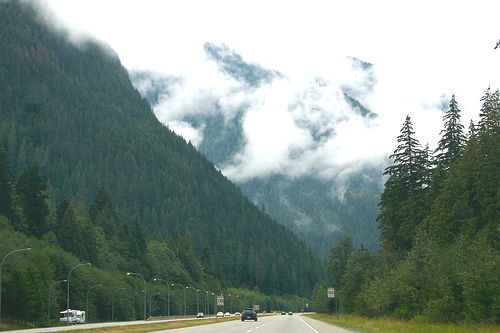 Beyond Hope!
I reached Hope just at dusk, and hit the hay early, because I had a long day ahead of me on Wednesday.
*Unfortunately, I never did "strike gold", not even in Hope which had been the jump-off center of the Great Gold Rushes of the 1890's!

Wednesday, Aug 13th - 16850 km - 17150 km - Hope, BC - Powell River, BC

I guess the gods smiled on me during the night. When I was loading the van for my early morning run this morning, I noticed that several cars in the parking lot of the motel had had their tires slashed. On the ground alongside my vehicle was a length of electrical wire, presumably for the purpose of hot-wiring a vehicle, but my van appeared to be untouched. I suppose I should have been the good citizen and called the cops, but I didn't want to be stuck there for the rest of the day. I am sure the first owner to find his tires flat would call them.

I reached the ferry with plenty of time to spare, and no sailing waits ahead of me, which put me in Gibson's Landing early, which was good, because I had it booked in for 50 000 km service at the local Dodge dealer. We don't have one in Powell River, and I will never deal again with Comox Valley Dodge, where I bought the van, because they tried to pull a major rip-off on me when I took it over for some service and warranty work just before I set out.

After another 80 km drive and another ferry, I was finally home right at 5pm.

Buddy was glad to be home. She spent the first few minutes re-exploring "her" house, making sure all was in order.

Some summaries:

I had been travelling for nine weeks and two days.

I had driven 17150 kilometers (10657 miles for you Yanks) in my 2005 Dodge Caravan SE.

Gas statistics:
Kilometers travelled: 17150 (10657 miles)

Gas used: 1593 liters (344 Imperial gals or 421 US gals)

Lowest Gas price: $1.284 in Taber, AB

Highest Gas price: $1.469 in Marathon, ON.
(Ironically, the second highest price I paid was on my final fill-up right here in Powell River, BC at $146.3. Both of these prices were way above the average!)

Average gas price: $1.34 a liter

Km/Liter: 10.8

Miles/ Imp Gal: 30.4

Miles/US Gal: 25.4

Total Gas Cost: $2177.86c

Best Motel:
The Sleep Inn in Sault Ste. Marie. On.

Worst Motel:
The Horseman Motel in Airdrie, AB

Best Meal Bargain:
The $17.50 "Combination Dinner" at the Bali restaurant in Sault Ste. Marie, ON. For your $17.50 you get to choose any of the soups on the menu, and a spring roll, and an egg roll, and your choice of about 16 of their pork, chicken, or beef main dishes, and a choice of Balinese deserts, and tea or coffee.

Worst Meal "Bargain":
The shrimp and scallop stir-fry at the restaurant in the Day's Inn, Sydney, NS. For $22.50, this "Special of the Day" had 5 small shrimp and 5 small pieces of scallop in some so-so stir fried onion and green peppers and a tasteless sauce.

Sex Life:
In that nine weeks I had sex of one form or another with 13 guys. I had sucked different 12 cocks, and been fucked 31 times by 8 guys. (I don't count the guy who stuck it in, came immediately, then went soft!)

The Most Beautiful Place:
Powell River, BC, my home town. No Kidding! In the last light of the day on Wednesday night, I took Buddy for a walk and could only marvel at the beauty of this area on a warm summer evening, with the Strait of Georgia out there, streaked with the wakes of small boats heading in from a day's fishing and beyond it the silhouette of Vancouver Island.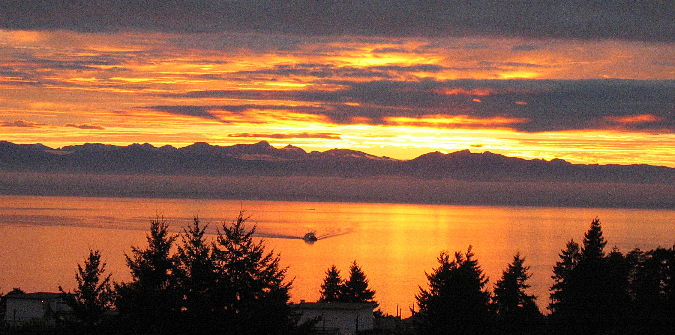 Home, sweet home!
And again in the morning, I was struck once more by the same view in the daylight! I live in a most beautiful place!

I hope you have enjoyed the tales of my travels. The blog will remain as a reminder to me of the fun I had, the places I saw, and the people I met!

*Added material
Good News for Buddy!
This morning we were outside unloading the minivan when the post-lady came up the drive with a package for us. Buddy must have been able to smell the contents, because she began leaping up at the post-lady excitedly. Sure enough! Inside was her beloved Little Buddy!
End of added material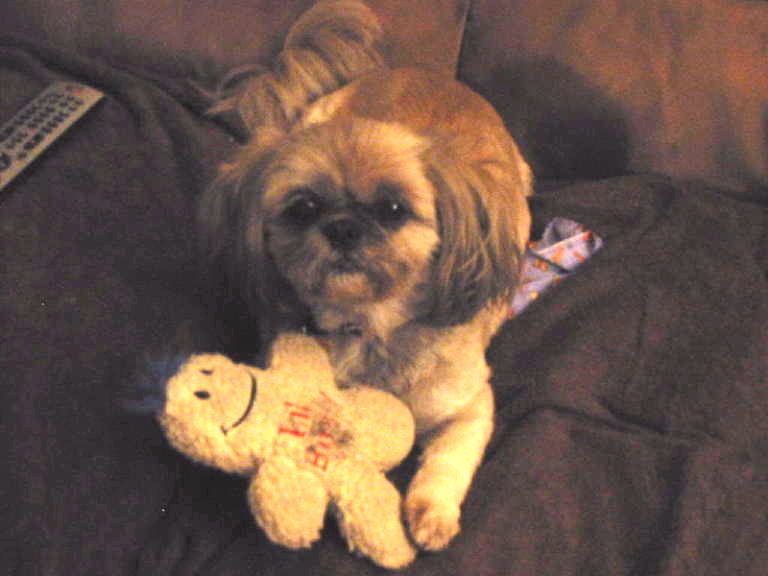 Reunited!
Welcome Home Bonus:
I had hardly finished the essential unpacking when the phone rang. It was a local married man who likes to hook up a couple of times a year. He didn't even know I had been away. He wanted to come over and fuck. I could hardly turn the poor man down, now, could I?

So he did, and we did!

- Posted By Ted to CanadianGay Blogspot at 8/15/2008 01:14:00 PM

A Great Welcome Home:

Monday, Aug 18th - Powell River, BC

While I was on the road, a new member joined. He was from my home town (Powell River, BC, not Perth, Australia). The new guy, in his early 30's, got chatting with me, and he told me he was new to town and didn't know anyone, and was VERY horny!

Last night he messaged me about 11:30, asking if I was horny. I told him I was. He asked if I wanted to get together and fuck. I did! And we did!

We fucked a couple of times in my bedroom, but it was stinking hot in there, so then we went down to one of the basement bedrooms for another round.

We slept down there, and it was great to awaken with his arms round me and his stiffening dick pressing against my back.

We managed to do it again before he had to take a shower and head off to work at 7am.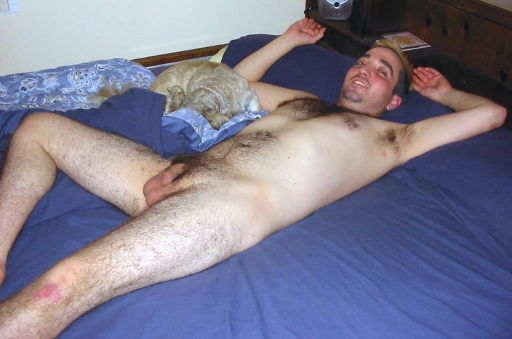 New CanadianGay member and his member!
And he's coming back after work today!

What a welcome home from one of our members!

So good to be home!

- Posted By Ted to CanadianGay Blogspot at 8/18/2008 11:03:00 AM