December 27
[{(o)}]|[{(o)}]|[{(o)}]|[{(o)}]| [{(o)}]|[{(o)}]
c.15 AD – John the Evangelist. The Gospel of John makes several references to "the disciple Jesus loved", and to "the Beloved Disciple", including references to special priviliges that Jesus gave to this relationship, not granted to other disciples. This is taken by some Biblical scholars as evidence that Jesus had a relationship with this disciple which was at least emotionally intimate, and possibly sexual. In medieval Northern Europe, there was even a long-standing tradition that he and Christ were the bridal couple at the Cana Wedding Feast.
It is not clear whether this "Beloved Disciple" was John himself (although it could have been), or someone else possibly Lazarus.
In any event, there are suggestions from elsewhere that John may have had a same-sex relationship with another, his scribe Prochorus, after Christ's death. Prochorus later became bishop of Nicomedia, and in turn, formed a fresh relationship of his own with a younger man, Irenaeus.

1708 – In England, Rev. Bray, the leader of the Societies for Reformation of Manners, preached a sermon in which he referred to sodomy as "an evil force invading our land."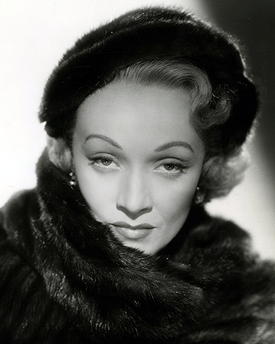 1901 – Marlene Dietrich (d.1992) was a German-American actress and singer.
Dietrich remained popular throughout her long career by continually re-inventing herself, professionally and characteristically. In the Berlin of the 1920s, she acted on the stage and in silent films. Her performance as Lola-Lola in The Blue Angel, directed by Josef von Sternberg, brought her international fame and provided her a contract with Paramount Pictures in the US.
Hollywood films such as Shanghai Express and Desire capitalised on her glamour and exotic looks, cementing her stardom and making her one of the highest paid actresses of the era. Dietrich became a US citizen in 1937, and throughout World War II she was a high-profile frontline entertainer.
Although she still made occasional films in the post-war years, Dietrich spent most of the 1950s to the 1970s touring the world as a successful show performer.
Unlike her professional celebrity, which was carefully crafted and maintained, Dietrich's personal life was kept out of public view. Dietrich, who was bisexual, enjoyed the thriving gay scene of the time and drag balls of 1920s Berlin.
She married only once, to assistant director Rudolf Sieber, who later became an assistant director at Paramount Pictures in France, responsible for foreign language dubbing.
Throughout her career Dietrich had an unending string of affairs, some short-lived, some lasting decades; they often overlapped and were almost all known to her husband, to whom she was in the habit of passing the love letters of her men, sometimes with biting comments.
During the filming of Destry Rides Again, Dietrich started a love affair with co-star Jimmy Stewart, which ended after filming. In 1938, Dietrich met and began a relationship with the writer Erich Maria Remarque, and in 1941, the French actor and military hero Jean Gabin. Their relationship ended in the mid-1940s. She also had an affair with the Cuban-American writer Mercedes de Acosta, who was Greta Garbo's lover. Her last great passion, when she was in her 50s, appears to have been for the actor Yul Brynner, but her love life continued well into her 70s. She counted John Wayne, George Bernard Shaw and John F. Kennedy among her conquests. Dietrich maintained her husband and his mistress first in Europe and later on a ranch in the San Fernando Valley, California.
In 1999, the American Film Institute named Dietrich the ninth greatest female star of all time.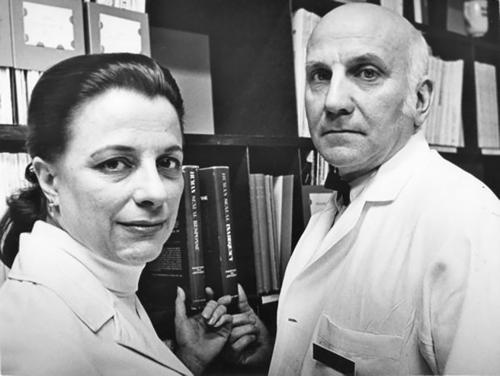 William Masters and Virginia Johnson

1915 – William Masters (d.2001) was an American gynecologist, best known as the senior member of the Masters and Johnson sexuality research team. Along with his wife Virginia Johnson, he pioneered research into the nature of human sexual response and the diagnosis and treatment of sexual dysfunctions and disorders from 1957 until the 1990s.
Born in Cleveland, Ohio William Masters was son of Francis Masters and Estabrooks Masters. He was one of two children. Growing up, Masters had a particularly rough childhood at the fault of his father. Francis was a difficult man, who liked to be in control, and had a very bad temper. All household decisions had to be cleared through him, and in fits of anger he used to beat Bill with a belt, sometimes until he bled. Nevertheless, Bill was a bright child, and excelled at school. After his Aunt Sally decided to pay his tuition, he attended a preparatory school for boys. Once Bill began his education Master's father considered him an adult, and gave him little to no financial or family support. He rarely visited home. With the completion of his early education he then attended and graduated from Hamilton College. Afterward, he enrolled at the University of Rochester Medical School, from which he received his medical degree. He was a member of Alpha Delta Phi, and became a faculty member at Washington University in St. Louis. In 1942, he married his first wife, Elizabeth Ellis, who was known as Libby or Betty. The couple had two children.
Masters met Virginia E. Johnson in 1957 when he hired her as a research assistant to undertake a comprehensive study of human sexuality. Masters divorced his first wife, Elizabeth Ellis Masters, to marry Johnson in 1971. They divorced two decades later, but continued their work professionally.
Their investigation of the physical aspects of sexuality produced some of the first reliable data in the field, and widened public debate and awareness of the role of sex and sexuality in relationships. Alfred Kinsey and his co-workers had began that debate with Sexual Behaviour In The Human Male (1948) and Sexual Behaviour In The Human Female (1953), which, among other things, had disclosed the frequency of various sexual practices, including homosexuality. They had caused a furore, with critics voicing the view that the study and public discussion of sexual behaviour would undermine the family and society.
Their initial research, with 312 men and 382 women, was published as Human Sexual Response (1966), and remains the keystone of modern sex therapy, wherever it is studied or practised.
Throughout the 1970s and 1980s, Masters and Johnson continued their work, publishing The Pleasure Bond (1974), a fresh look at sexuality and commitment, and Homosexuality In Perspective (1979), which described the sexual responses of gay men and lesbians. They debunked the idea that homosexuality is a mental illness, but their claims to be able to change the sexual preferences of homosexuals met with considerable criticism from the gay community and other sex researchers.
William Masters suffered complications from Parkinson's disease and died in Tucson, Arizona on February 16, 2001.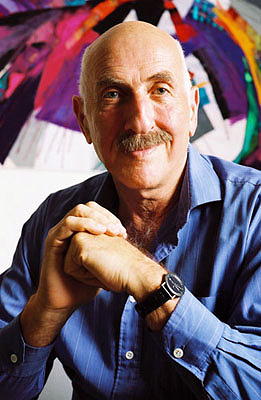 1932 – On this date Fritz "Fred" Klein the Austrian-born American sex researcher, psychiatrist and pioneering Bisexual rights activist was born (d.2006). He's best known as the inventor of the Klein Sexual Orientation Grid. He was also a pioneering bisexual rights activist, who was an important figure in the modern LGBT rights movement.
As a self-identified bisexual, Klein was surprised at the lack of literature on his sexuality in the New York Public Library in 1974. He was inspired to place an advertisement in a New York City alternative newspaper the Village Voice and founded a ground-breaking social and support group for the Bisexual Community called Bisexual Forum.
He devised the Klein Sexual Orientation Grid, a multi-dimensional system for describing complex sexual orientation, similar to the "zero-to-six" scale Kinsey scale used by Alfred Kinsey, but measuring seven different vectors of sexual orientation and identity (sexual attractions, sexual behavior, sexual fantasies, emotional preference, social preference, lifestyle and self-identification) separately, as they relate person's past, present and ideal future.
Klein published The Bisexual Option: A Concept of One Hundred Percent Intimacy in 1978, based on his research, the world's first real psychological study of bisexuality. He also co-authored Man, His Body, His Sex in 1978, and published Bisexualities: Theory and Research in 1986 and Bisexual and Gay Husbands: Their Stories, Their Words in 2001. He published a novel, Life, Sex and the Pursuit of Happiness in 2005.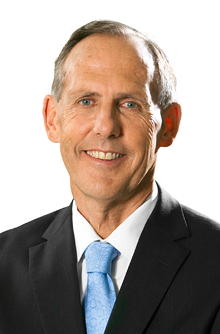 1944 – (Robert James) Bob Brown is former Australian Greens politician, medical doctor, environmentalist, former Senator and former Parliamentary Leader of the Australian Greens. Brown was elected to the Australian Senate on the Tasmanian Greens ticket, joining with sitting Greens Western Australia senator Dee Margetts to form the first group of Australian Greens senators following the 1996 federal election. He was re-elected in 2001 and in 2007. He was the first openly gay member of the Parliament of Australia, and the first openly gay leader of an Australian political party.
Brown moved to Tasmania in 1972 and worked as a medical general practitioner in Launceston. He soon became involved in the state's environmental movement, in particular the campaign to save Lake Pedder. By 1972 he was a member of the newly formed United Tasmania Group, Australia's first "green" party. In a newspaper interview in 1976, Brown announced that he had a gay partner in order to highlight discrimination and encourage law reform as homosexual activity was a crime in Tasmania at the time
Brown has set up the Bob Brown Foundation with his longtime partner Paul Thomas, a farmer and activist whom he met in 1996, to promote environmental awareness.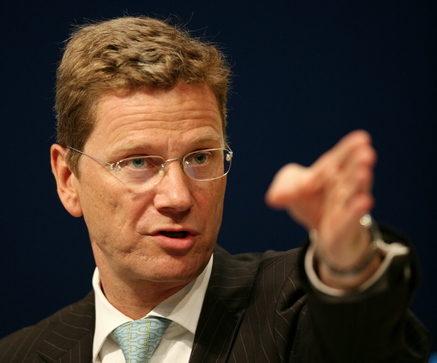 1961 – Guido Westerwelle, German liberal politician, currently serving as the Foreign Minister and a former Vice Chancellor of Germany in the second cabinet of Chancellor Angela Merkel (since 28 October 2009). He is the first openly gay person to hold either of those positions. From 2001, he was the chairman of the Free Democratic Party of Germany, but stepped down in 2011. A lawyer by profession, he has been a Member of Parliament since 1996.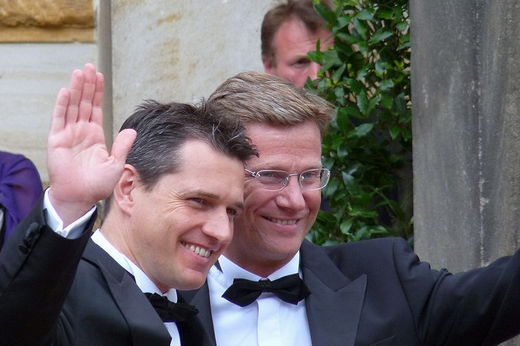 Westerwelle with Michael Mronz (L)
Until 2004 he was not openly gay, although this was fairly common knowledge in the general public. On 20 July 2004, Westerwelle attended Angela Merkel's 50th birthday party accompanied by his partner, businessman Michael Mronz, thereby tacitly acknowledging that he was gay. It was the first time that he attended an official event with his partner. Today, he is frank about his homosexuality and lives together with his partner Mronz. The couple registered their partnership on 17 September 2010 in a private ceremony in Bonn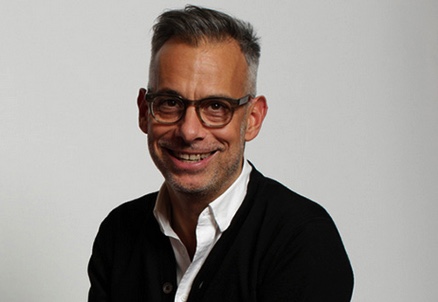 1962 – Joseph Mantello is an American actor and director best known for his work on Broadway productions of Wicked, and Assassins, as well as earlier in his career being one of the original Broadway cast of Angels in America. Mantello directed The Ritz, his sixth production with playwright Terrence McNally, in 2007.
Joe Mantello was born the oldest son of an Italian-American family in the suburban community of Rockford, Illinois, a city some 90 miles outside of Chicago. With his parents' encouragement, he spent much of his childhood acting in community theater.
In 1984, he graduated from the North Carolina School of the Arts with a Bachelor of Fine Arts degree in acting. That same year he moved to New York to pursue a career in theater. As an actor, Mantello appeared in several Off Broadway productions.
Mantello's early acting career culminated in the original Broadway production of Tony Kushner's groundbreaking seven-hour, two-play cycle Angels in America (1993). In both of the play's two parts, Millennium Approaches and Perestroika, Mantello portrayed Louis Ironson, a liberal, self-centered Jewish New Yorker who leaves his lover Prior Walter, a gay man struggling with AIDS, and becomes involved with Joe Pitt, a Mormon Republican lawyer struggling with his sexuality.
Since his appearance in Angels in America, however, he has concentrated on his directing career. Nevertheless, in early 2011 Mantello returned to acting in a limited-run Broadway production of The Normal Heart, Larry Kramer's 1985 landmark play about the AIDS crisis.
Mantello also drew attention for his widely-chronicled romantic partnership from 1990 to 2002 with the playwright Jon Robin Baitz. In 1994, the New York Times dubbed the two men "the New York theater's couple of the moment."
They were linked professionally as well, with Mantello directing several of Baitz's plays. As the New York Times' Bruce Weber noted, their personalities and talents are "complementary," with Mantello's "warmth and humor burnishing" Baitz's "intellectual rigor and undercutting his earnestness."
When the two men separated after 12 years together, Mantello felt "completely isolated and heartbroken," but he never ascribed blame for the breakup to Baitz. "Neither of us felt wronged," Mantello later explained. "There wasn't another person. It was just a very painful, mutual acknowledgement that we had evolved from being a couple who lived together into best friends."
Indeed, Mantello and Baitz have remained friends, and in 2011 the two men reunited professionally, when Mantello directed, to critical acclaim, Baitz's new play Other Desert Cities.
Other noeworthy productions by Mantello include Terrence McNally's play Love! Valour! Compassion!, about eight gay men sharing a series of summer holidays in an upstate New York house; and Richard Greenberg's Take Me Out, which focuses on the issue of gay athletes in the straight-male-dominated world of professional sports.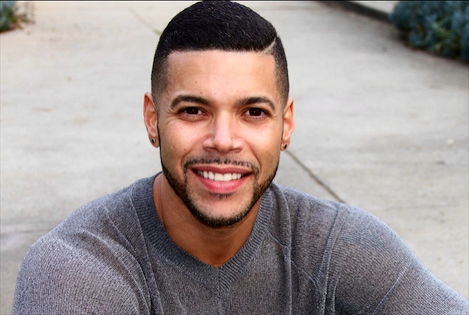 1973 – Wilson Cruz (born Wilson Echevarría) is an American actor known for playing Rickie Vasquez on My So-Called Life and the recurring characters of Junito on Noah's Arcand Dr. Hugh Culber on Star Trek: Discovery. As an openly gay person of Puerto Rican ancestry, he has served as an advocate for gay youth, especially gay youth of color.
Wilson Cruz was born in Brooklyn, New York to parents of Puerto Rican descent. His family eventually moved to Rialto, California where he attended Eisenhower High School, graduating in 1991. At age 19, Cruz came out to his parents as gay, first to his mother and then his father. While his mother was initially hurt and shocked, she eventually accepted the news. His father, however, threw him out of the house, and Cruz spent the next few months living in his car and at the homes of friends. He later reconciled with his father.
After coming out to his parents, Cruz went to Hollywood to seek work as an actor, intending to be open about his sexuality from the beginning of his career. In 1994 he was cast as Enrique "Rickie" Vasquez, a troubled gay teen, in the short-lived critically acclaimed cult classic TV series My So-Called Life. In one episode (entitled "So-Called Angels") drawn from Cruz's own life, Rickie comes out to his family, who throw him out of the house.
Cruz works with and advocates on behalf of LGBT youth, especially youth of color. He has volunteered his time as host for the Youth Zone, an online community at Gay.com for LGBT youth. He was the Grand Marshal of the 1998 West Hollywood Gay Pride parade and the 2005 Chicago Pride Parade. In 2008, he was the keynote speaker at the University of Illinois at Chicago's Lavender Graduation and Rainbow Banquet honoring graduating LGBT students.
Cruz joined the board of directors of GLAAD in 1997 in order to assist the organization through a leadership transition, and joined the staff of GLAAD in 2012 as a National Spokesperson and Strategic Giving Officer.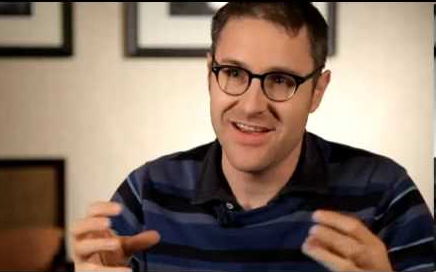 1979 – Peter Zuckerman is an American journalist and author who has focused his career in court reporting, investigative journalism, adventure stories and socially progressive political campaigns.
In 2006, Zuckerman was the lead writer of a controversial multi-part story, Scouts' Honor, in the Idaho Falls Post Register about the coverup of a multi-state child molestation case involving at least two dozen minors and the Boy Scouts of America in Idaho. He was accused of having a bias against the Boy Scouts of America and the LDS Church because of their stance on homosexuallity.
After the story was published, Zuckerman became the target of personal attacks on the basis of his homosexual orientation.
After moving back to Oregon, Zuckerman continued to investigate the Boy Scouts of America and the LDS church in his reporting in 2007 while working for The Oregonian. In this article, Men Sue Scouts, Mormon Church, six men allege a former troop leader and church teacher abused them and seek $25 million in compensation as the LDS church failed to thoroughly investigate, report the abuse to law enforcement, provide mental health services to victims or remove the abuser from contact with children once it learned about the abuse.
In 2013, Zuckerman became the press secretary for Oregon United for Marriage, the campaign to legalize same-sex marriage in Oregon, and for Oregon United Against Discrimination, a related campaign organized to defeat an anti-gay ballot measure. The anti-gay measure would have created an exception to Oregon's anti-discrimination law, allowing businesses to turn people away because of their sexual orientation or gender identity.
During the marriage campaign, support for gay marriage increased by 14 points, volunteers collected 160,000 signatures to put gay marriage on the ballot, and the marriage campaign raised $3 million. In May 2014, LGBT Oregonians won marriage early, through a court case. The anti-gay ballot measure was prevented from qualifying for the ballot.
Zuckerman's partner is Sam Adams, the former mayor of Portland. The Oregonian and Zuckerman took steps to ensure he had no influence over the coverage of his partner.

1990 – San Antonio's AIDS Foundation filed a complaint with the state consumer affairs board against four funeral homes in the area which charged $75 extra to prepare the bodies of people who died of AIDS complications.

DECEMBER 28 →
[{(o)}]|[{(o)}]|[{(o)}]|[{(o)}]| [{(o)}]|[{(o)}]