September 18
[{(o)}]|[{(o)}]|[{(o)}]|[{(o)}]| [{(o)}]|[{(o)}]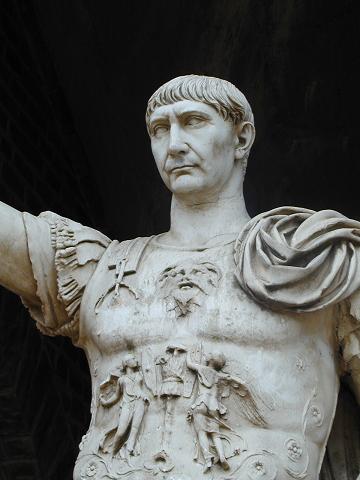 53 AD – Trajan, Roman emperor, born (d.117 AD); The first non-Italian Roman emperor. His accomplishments were both martial and civic, including construction of the aqueducts, the restoration of the Appian Way and the building of the massive Forum of Trajan.

According to Spartianus, he was a proud possessor of a paedogogium, a harem of boys he took along with him on campaign, apparently for his and his officers' pleasure.
Dio Cassius, sometimes known as Cassius Dio, reports that Trajan drank heavily and loved boys. "I know, of course, that he was devoted to boys and to wine, but if he had ever committed or endured any base or wicked deed as the result of this, he would have incurred censure; as it was, however, he drank all the wine he wanted, yet remained sober, and in his relation with boys he harmed no one."
This sensibility was one that influenced even his governing, leading him to favor the king of Edessa out of appreciation for his handsome son: "On this occasion, however, Abgarus, induced partly by the persuasions of his son Arbandes, who was handsome and in the pride of youth and therefore in favor with Trajan, and partly by his fear of the latter's presence, he met him on the road, made his apologies and obtained pardon, for he had a powerful intercessor in the boy."
His sexuality was never in question, only the stories used to illustrate his preferences. The monumental erection, the Column of Trajan, was Rome's highly appropriate tribute to this emperor, considered to have been one of the "good emperors."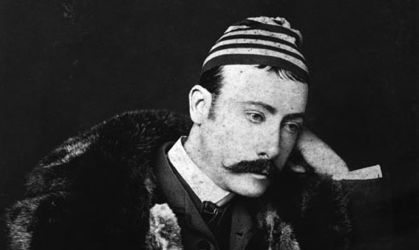 1848 – Francis Grierson (d.1927), English-born American writer and singer, was born Benjamin Henry Jesse Francis Shepard. His family migrated soon after his birth to the United States and by 1849, had settled in Sangamon County, Illinois where he witnessed the Lincoln-Douglas debates. In 1869, Shepard, convinced of his "intuitive" musical talent, left for Europe to seek fame and fortune. Shepard's mother did note in a letter, however, that her son took music lessons in his early childhood, so not all his talent was derived from spiritual revelation.
Shepard had superb self-confidence in his charm and talent, and he launched himself on his world travels without funds, letters of introduction, or prior reputation. Yet somehow he found his way into the salons of Paris, where his musical improvisations and singing of operatic selections charmed his audiences and resulted in a string of invitations.
In 1871, Shepard went to St. Petersburg, where he played for the Czar. When Shepard returned to the United States, he lived in Chicago in 1880, and reputedly gave seances in the home of a prominent medium. He claimed to be in touch with ancient Egyptian spirits, and put on a remarkable musical performance which included singing "in two voices," made possible by his great vocal range. Sometime in 1885, Shepard met Lawrence W. Tonner, a man some fifteen years younger than himself, who became Shepard's devoted secretary and lover for over forty years. When Shepard was down on his luck in later years, Tonner supported him by giving French lessons or by working in a tailoring shop.
He made San Diego his home for two eventful years, during which he built the remarkable Villa Montezuma and underwent a significant artistic and spiritual transformation. The Villa provided an impressive background, indeed, for the lavish receptions that Shepard accorded visiting celebrities.
Joining the group of poets, artists and musicians who formed the nucleus of The Golden Era magazine was an important part of the artistic and spiritual transformation that Shepard underwent during his short residence in San Diego. Shepard embarked on the literary career that became the main outlet for his creativity for the remainder of his life. Symbolic of the change in his life was Shepard's adoption of a literary name: no longer Jesse Shepard, he became "Francis Grierson."
In the fall of 1888, Shepard and Tonner went to France to arrange for the publication of a collection of his essays, titled Pensées et Essais. They returned to San Diego in August, 1889, and began to make arrangements for his departure. In December, Shepard announced he was leaving San Diego permanently and consented to give a public farewell concert. Shepard also completed the sale of the Villa Montezuma and all its furnishings.
Shepard's final years served as poignant testimony to his chronic financial difficulties. Now an elderly man, Shepard depended upon his friend, Tonner, for economic support and encouragement. A small band of expatriots also lent support sometimes holding Sunday afternoon salons at which Shepard presided. He was forced to sell all but a few of the treasured possessions he still owned, and shortly before his death, pawned a beloved gold watch given him by Edward VII.
His pride and dignity remained intact, however, for Shepard did not allow his impoverished circumstances to affect either his outward appearance or inner spirit. Leetha Hofeller, a Los Angeles author who knew Shepard and Tonner well during the 1920s, described Shepard, then in his seventies, as "tall, straight remarkably profound and at the same time delightfully simple." He had seemed in usual health... and he had been smiling and laughing with the company even a few moments before he passed away at age 79.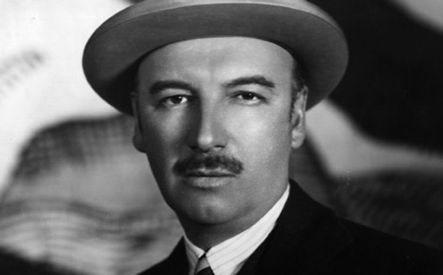 1883 – Gerald Tyrwhitt-Wilson, 14th Baron Berners born (d.1950), also known as Gerald Tyrwhitt, a British composer of classical music, novelist, painter, & aesthete. Berners was notorious for his "eccentricity," e.g. dyeing pigeons at his house in Faringdon in vibrant colors and at one point having a giraffe as a pet and tea companion.
Berners' musical works included Trois morceaux, Fantasie espagnole (1919), Fugue in C minor (1924), and several ballets, including The Triumph of Neptune (1926) (based on a story by Sacheverell Sitwell) and Luna Park (1930). In later years he composed several songs and film scores, notably for the 1946 film of Nicholas Nickleby.
His friends included the composers Constant Lambert and William Walton and he worked with Frederick Ashton; Walton dedicated Belshazzar's Feast to Berners.
He bequeathed his estate to his companion Robert ('Boy') Heber Percy, who lived at Faringdon until his own death in 1987.
Berners obtained some notoriety for his roman-à-clef The Girls of Radcliff Hall, (punning on the name of the famous lesbian writer), in which he depicts himself and his circle of friends, such as Cecil Beaton and Oliver Messel, as members of a girls school. This frivolous satire, which was published and distributed privately, had a modish success in the 1930s. The original edition is rare; rumor has it that Beaton was responsible for gathering most of the already scarce copies of the book and destroying them. However, the book was reprinted in 2000.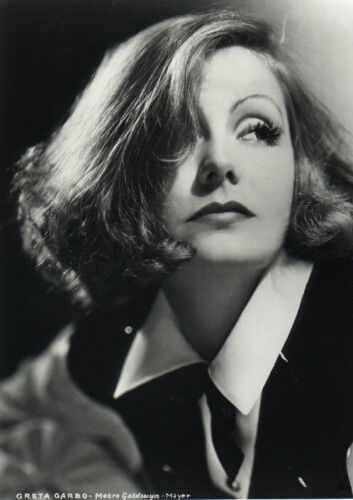 1905 – Greta Garbo (d.1990) was regarded as one of the greatest and most inscrutable movie stars ever produced by Metro-Goldwyn-Mayer and the Hollywood studio system. Garbo received a 1955 Honorary Oscar "for her unforgettable screen performances" and was ranked as the fifth greatest female star of all time by the American Film Institute. Garbo's biographer Barry Paris notes that she was "technically bisexual, predominantly lesbian, and increasingly asexual as the years went by."
Garbo began life in poverty as Greta Lovisa Gustafsson, the daughter of a janitor in Stockholm, Sweden. When her father died in 1919 of tuberculosis, Greta had to quit school at the age of fourteen and go to work. Her good looks helped her get jobs in a couple of advertising films before she was discovered in 1922 by unabashedly homosexual Swedish filmmaker Mauritz Stiller. He cast her as the female lead in Gosta Berling's Saga (1924) and got her a role in a German film, The Joyless Street (1925). Stiller took control of the actress's career, changing her last name to Garbo. When he went to the United States to work for Louis Mayer at Metro-Goldwyn-Mayer, Stiller took his protégée along.

Mauritz Stiller did not succeed in Hollywood, but Greta Garbo was destined to become a star. She made fourteen silent films, among them The Torment (1926) and Flesh and the Devil (1927), where she tended to play the beautiful femme fatale, luring men into passion. Garbo made the rocky transition from silent films to talkies flawlessly. Her husky, accented voice fitted intriguingly with her ethereal beauty, enabling her to create more complex characters than she ever had in silents.
In Anna Christie (1930), Anna Karenina (1935), Camille (1936), and others, she played a tragic heroine, passionate, but doomed. In the delightful 1939 comedy Ninotchka, she mocks this gloomy sensuality with charming self-deprecation, causing MGM to tout the film with the single headline, "Garbo Laughs!" In 1941, prompted perhaps by the failure of Two-Faced Woman, her comedy follow-up to Ninotchka, Garbo took a break from filmmaking. Although she reportedly considered several projects for a comeback, the title roles in Hamlet and The Portrait of Dorian Gray, among them, her break turned into permanent retirement.
It has been suggested that Garbo struggled greatly with her sexuality, only becoming involved with other women in affairs that she could control. Some also suggest that Garbo remained single in the United States because of an unrequited love for her drama school sweetheart, the Swedish actress Mimi Pollak. Garbo's personal letters recently released to the public indicate that she remained in love with Pollak for the rest of her life. When Pollak announced she was pregnant, Garbo wrote: "We cannot help our nature, as God has created it. But I have always thought you and I belonged together."
Famously connected to Mercedes de Acosta, one of the more Sapphic companions of the day, de Acosta wrote of their affair in her book Here Lies the Heart. Upon her death in 1990, Garbo left her entire, substantial estate to her niece, Gray Reisfeld, and nothing to Claire, the elderly female companion with whom she lived for many years.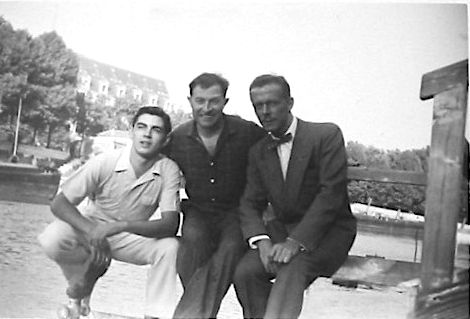 Rose (C), son "Luis" (L) and Sam Steward
1909 – Francis Cyril Rose (d.1979), also Sir Francis, 4th Baronet of the Montreal Roses, was an English painter vigorously championed by Gertrude Stein. His wife Frederica, Lady Rose (1910-2002) became a well known travel writer, notably on Corsica, under the name of Dorothy Carrington.
Rose was born at Moor Park (Hertfordshire), England. He took up residence as an expatriate in Paris between 1929 and 1936, where he trained under Francis Picabia and José Maria Sert. Francis Rose got his beginning as a set painter for Diaghilev's Ballets Russes. He occasionally collaborated in his work with another English painter, and his sometime lover, Christopher Wood. In the 1930s he traveled with his future wife, Dorothy Carrington, in France, Italy, and North Africa.
In France, Rose became an intimate acquaintance of Gertrude Stein and Alice B. Toklas, the former helping to launch his painting career by commissioning several of his works (most notably a portrait of herself) for her own notable art collection. Her memorable utterance, "Rose is a rose is a rose is a rose" dates from 1913, however, long before her acquaintance with the artist. Rose would go on to have exhibits in Paris, London, and New York. He also worked as an illustrator for a cookbook by Toklas, The Alice B. Toklas Cookbook.
The English artist was the last, and probably the most infamous, though least known, of Gertrude Stein's many protégés. Several of Francis Rose's drunken escapades are wonderfully recollected in Samuel M. Steward's Dear Sammy. One story, peculiarly or not-so-peculiarly omitted from the artist's autobiography, Saving Life. (1961), is about Luis, his valet de chambre. In 1952 Alice B. Toklas wrote Sam Steward to tell him that Francis Rose "was in a good deal of trouble with Luis his 'valet de chambre" boyfriend."
A casual encounter between the artist and a Spanish gypsy boy in front of a bistro in Paris had resulted in not only an evening pickup, but in the young man being hired for the entire summer, as both valet and bedmate. As Sam Steward tells it,
"It was only after Luis got into some trouble with the gendarmérie over a stolen bicycle that Francis — after he called to help him out of his difficulty — examined his papers and discovered that the boy was his illegitimate son. This episode titillated both France and England for some time. It certainly titillated Alice B. 'Francis,' she wrote, 'is saying that he is going to recognize Luis so he will inherit his title!! As yet this tale has not been confided to any English friends — who would put him straight about bastards inheriting titles…' "
Rose married the writer Dorothy Carrington in 1942. Alice Toklas for one was greatly enthusiastic about Rose's marriage to "Frederica" (Carrington), noting that the marriage had done Rose "a world of good." But Rose was a noted homosexual and the marriage eventually foundered. They divorced in 1966. Rose spent his final years in penury, helped along by certain friends, among them Cecil Beaton. Some of his paintings today form part of the Yale University Art Gallery (Stein-Toklas collection) and the Fine Arts Museums of San Francisco.
In 1961 Rose published a memoir, Saving Life.
He made a brief appearance as "Lord Chaos" in Kenneth Anger's film Lucifer Rising (1972).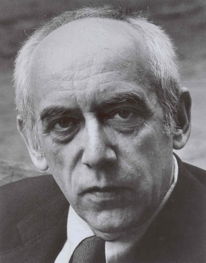 1913 – Edward Sagarin (d.1986), also known by his pen name Donald Webster Cory, was an American professor of sociology and criminology at the City University of New York, and a writer. His book The Homosexual in America: A Subjective Approach, published in 1951, was considered "one of the most influential works in the history of the gay rights movement," and inspired compassion in others by highlighting the difficulties faced by homosexuals.
He was titled "father of the homophile movement" for asserting that gay men and lesbians deserved civil rights as members of a large, unrecognised minority. However, Vern L. Bullough believes the title is undeserved as Sagarin did not actively participate in resistance and did not join any homophile organisations until 1962.
Sagarin was born in Schenectady, New York to Russian Jewish parents. Sagarin was born with scoliosis, which produced a hump on his back. He attended high school, and after graduating, spent a year in France where he met André Gide. Upon his return to New York, he enrolled at City College of New York, but was forced to drop out of college due to the Great Depression.
In 1934, Sagarin met Gertrude Liphshitz, a woman who shared his left-wing political interests. They married in 1936 and soon after, Gertrude gave birth to a boy. Sagarin established himself in the perfume and cosmetics industry.
Sagarin began a dual life, publishing The Homosexual in America: A Subjective Approach in 1951, which was deemed an "act of heroism", under the pseudonym of Donald Webster Cory. The use of the nom de plume, and the attitudes that differed when Sagarin used either of his identities, led to the comparison of Sagarin/Cory to the Dr. Jekyll/Mr Hyde character. Mr. Cory, who presented homosexuals as a despised minority, was seen as a "mythic hero", where Dr. Sagarin (as he would later be known) was a "hunchback deviant".
The publication of the book was considered a "radical step", as it was the first publication in the United States that discussed homosexual politics and sympathetically presented the plight of homosexuals. Sagarin described how homosexuals were discriminated against in almost all aspects of their lives and called for a repeal of anti-homosexuality laws.
Sagarin continued using his pseudonym, and released a second publication in 1953 called Twenty-One Variations on a Theme, an anthology of short stories dealing with homosexuality to which Sherwood Anderson, Paul Bowles, Christopher Isherwood, Denton Welch, Charles Jackson, and Stefan Zweig all contributed.
Throughout the 1960s, Cory was one of the most conservative members of the Mattachine Society, and opposed the rejection of the "sickness theory" of homosexuality by some homophile leaders. His belief was that homosexuality was "a disturbance" that probably arose as a result of a pathological family situation. In 1963, he co-authored a book called The Homosexual and His Society with John LeRoy (pseudonym of Barry Sheer), which claimed that there was no such thing as a "well adjusted homosexual". In 1965 as Cory, he failed in his bid for presidency of the Mattachine Society.
In the 1970s, Sagarin pursued an active homosexual life, though he continued to characterise homosexuals as disturbed, and frequently urged them to seek therapy. He rejected the idea that homosexuality was a natural sexual variant, and criticised the new psychological and sociological studies of Evelyn Hooker and John Gagnon. However, he argued that homosexuality should be decriminalized.
The real identity of Sagarin's persona, Donald Webster Cory, remained unknown until a 1974 convention of the American Sociological Society in Montreal. On a panel entitled "Theoretical Perspectives on Homosexuality", Sagarin levelled criticism at the liberationist scholarship, and in response, Laud Humphreys exposed Sagarin by calling him "Mr. Cory". After the convention, Sagarin withdrew from issues concerning homosexuality.
On June 10, 1986, he died of a heart attack.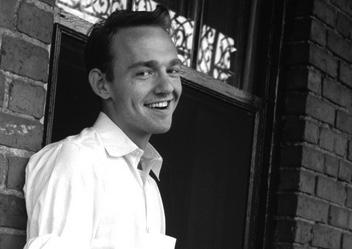 1928 – Jack Robinson (d.1997) was an American photographer famous for 1960s celebrity and fashion photography and documenting the New Orleans of the 1950s. Jack Uther Robinson, Jr. was born in Meridian, Mississippi. He grew up in Clarksdale, Mississippi, in the heart of the Mississippi Delta, an area famous for racial injustice, the Blues, and social and religious conservatism. His father was a mechanic and auto parts dealer.
Robinson attended Clarksdale High School, from which he graduated in 1945. He then enrolled at Tulane University in New Orleans, where he completed five semesters before dropping out in 1948. In 1951, he began his professional career in photography, working as a graphic artist for an advertising agency in New Orleans. He took numerous photographs of the city and his friends, many of them artists and photographers. His early work captured the charm of the French Quarter and documented New Orleans night life. It also preserved valuable glimpses into the New Orleans gay subculture of the 1950s.
Among Robinson's most fascinating images are photographs of the Mardi Gras festivities in the years between 1952 and 1955. Some of these document the celebrations in the gay area of Bourbon Street, especially around Dixie's Bar of Music, then one of the most prominent gay bars in the country.
In addition to architectural photographs, society portraits, and Mardi Gras pictures, Robinson also took a number of photographs of young gay couples, romantically posed. These photographs are striking because of their rarity, and touching because of their sincerity. At a time when there were few precedents for posing gay couples, Robinson conveyed homoerotic attraction in a number of ways, including having the young men stare deeply into each other's eyes and touch tentatively. The very awkwardness of these embraces conveys a profound sense of commitment.
During the New Orleans period, Robinson fell in love with a young man named Gabriel, whom he photographed incessantly, often in the nude. The Gabriel photographs are especially distinguished by their play of light and shadow and by their sensuality.
In 1954, Robinson and Gabriel travelled to Mexico. There the artist captured Mexican scenes in large and medium format photographs.
In 1955 Robinson and Gabriel moved to New York where he quickly became noted for his fashion photography. He was sought out by many of the top designers and others in the fashion industry. By 1959, one of his photographs graced the cover of Life magazine, signalling his arrival as a top commercial photographer.
Vogue's legendary editor-in-chief Diana Vreeland recognised Robinson's particular gift for portraiture. In addition to commissioning fashion photography from him, she also commissioned portraits of celebrities, especially the rising stars of music, film, television, and literature. Robinson's work appeared in Vogue over 500 times between 1965 and 1972.
By 1970, Robinson had established himself as one of the leading commercial photographers in the world. He travelled to Europe to record the fashion innovations of the great design houses. His work was regularly featured in the most prestigious fashion and celebrity magazines of the day.
But even as Robinson succeeded professionally, his personal life became increasingly problematic. His relationship with Gabriel failed. He suffered from the stigma associated with homosexuality. He increasingly turned to drugs and alcohol for solace. Frequently in the company of Andy Warhol and his entourage, he became part of New York's frenetic club scene.
Such fast living soon affected Robinson's work. His daybooks and list of commissions reflect the deterioration of his life. As jobs dwindled, he was forced to move from his fashionable studio at 11 East 10th Street. Finally, in December of 1972, he retreated to Memphis, where his parents and older brother lived.
Broken and addicted to alcohol, Robinson sought help from a long-time friend, who sponsored his membership in Alcoholics Anonymous and helped him recover his emotional health.
In Memphis, Robinson abandoned his career as a commercial photographer. He began painting and soon took a job as assistant to noted artist Dorothy Sturm, who designed stained glass windows for churches at Laukauff Studio, one of the largest stained glass studios in the country. Although he was undoubtedly lonely, and in the words of a friend 'full of anger and angst,' he seemed to enjoy his anonymity and seldom revealed that he had once been a leading photographer in New York City. In 1976, Robinson left Laukauff Studio to work at another glass studio, Rainbow Studio, where he was to remain for the rest of his career.
Robinson fell ill in November 1997 and was soon diagnosed with cancer. He died on December 15, 1997.
Robinson left his estate to his employer, Dan Oppenheimer, owner of Rainbow Studio. Oppenheimer was surprised to discover in Robinson's small and spartan apartment over 140,000 negatives. In 2002, Oppenheimer opened the Jack Robinson Gallery and Archive in Memphis. It is dedicated to preserving and promoting Robinson's legacy.
Although Robinson soon slipped into obscurity, his work has recently been rediscovered, thanks to the efforts of the Robinson Gallery and Archive and to several recent exhibitions in Memphis, London, and New Orleans.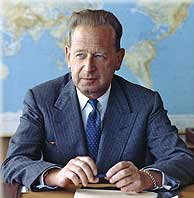 1961 – Dag Hammarskjöld (b.1905), U.N. Secretary-General, dies in a plane crash while attempting to negotiate peace in the war-torn Katanga region of the Democratic Republic of the Congo.
Despite holding a position of public prominence as Secretary-General of the United Nations from 1953 until his death in 1961, he managed to withhold even the most minor details of his personal life from the world. Even his posthumously published journal, Markings, shies away from any mention of his private life. Possibly asexual, probably homosexual, Hammarskjöld was unable to accept his sexuality and lived an unhappy, frustrated life of sexual abstinence, suffering slurs from political figures and the international media. But though he couldn't resolve his own internal conflicts, he was masterful at settling external conflicts as he worked to solve disputes in Palestine, Vietnam, Egypt, and the Congo, demonstrating one of the classic, same-sex archetypes of the mediator.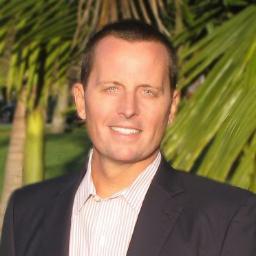 1966 – Richard Grenell is an American political consultant and media commentator who briefly served as national security spokesman for Mitt Romney in his campaign for president of the United States. In April 2012 he became the first openly gay spokesman for a Republican presidential candidate, after being hired by Mitt Romney. Less than one week later, on May 1, he resigned after pressure from social conservatives led by Bryan Fischer.
In 2001 Grenell was appointed by President George W. Bush to serve as director of communications and public diplomacy for the United States Permanent Representative to the United Nations. In 2009 Grenell launched Capitol Media Partners, an international strategic media and public affairs consultancy.
Richard Grenell lives in California with his partner of nine years, Matthew Lashey, a media and entertainment company executive. He is a registered Republican.
In June 2013, Grenell revealed that he has been diagnosed with non-Hodgkins lymphoma and recently started chemotherapy


1980 – The Toronto Board of Education amends its policy to ban discrimination on basis of sexual orientation, but adds a clause forbidding "proselytizing of homosexuality in the schools."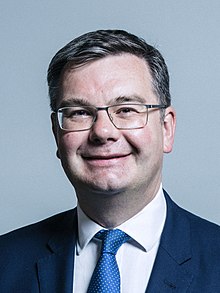 1972 – Iain Stewart is the British Conservative Member of Parliament for Milton Keynes South.
Stewart was born in Scotland and grew up in Hamilton. He went to Hutchesons' Grammar School and studied politics at the University of Exeter before training as an accountant with Coopers & Lybrand in Milton Keynes between 1993 and 1994.
Stewart then worked for the Scottish Conservative Party between 1994 and 2006, first as Head of Research, then Deputy Director and finally as Director between 2001 and 2006. He then worked as an associate for executive recruitment company Odgers Berndtson until his election in 2010.
He is openly gay and was formerly Deputy chairman (Political) of LGBTory, the Conservative LGBT Group. He is now a Patron of the group.
In his maiden speech to the house, on 25 June 2010, he paid tribute to Alan Turing, and Gordon Brown's official apology for the state's persecution of Turing. He has spoken about how he was bullied at school for being gay and on the impact of homophobic bullying in schools. He was shortlisted for the Stonewall 'Politician of the Year' 2012.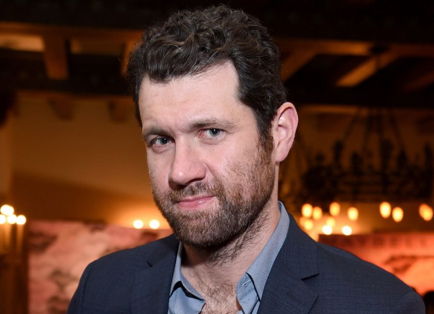 1978 – Openly gay Billy Eichner is an American comedian, actor, writer, and television personality. He is the star, executive producer and creator of Funny Or Die's Billy on the Street, a comedy game show that airs on Fuse TV. Eichner was nominated for a Daytime Emmy Award for "Outstanding Game Show Host" in 2013. He is also known for playing Craig Middlebrooks on the sitcom Parks and Recreation.
Eichner gained attention as the host and writer of
Creation Nation: A Live Talk Show
, a critically acclaimed stage show in New York. He also appeared on Conan as a special correspondent in original video shorts and as himself on Bravo's
Watch What Happens: Live with Andy Cohen
,
Last Call with Carson Daly, The Wendy Williams Show,
and
Fashion Police
with
Joan Rivers
, among others.
On August 5, 2013, it was revealed that Eichner would guest star in the sixth season of Parks and Recreation. Eichner's first episode aired on October 10, 2013. He stars as Donna's Eagleton counterpart, Craig Middlebrooks, who joins the Pawnee Parks and Recreation Department when Pawnee absorbs Eagleton. He became a series regular in episode four of the seventh season of the show.
Eichner currently stars in a Hulu original series titled Difficult People with Julie Klausner, and executive produced by Amy Poehler.

1980
– The
Toronto Board of Education
adopts a policy banning discrimination based on sexual orientation while adding a clause forbidding "proselytizing of homosexuality in the schools."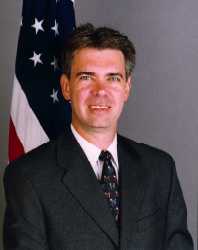 2001 – Sworn in: Michael E. Guest (born 1957), the U.S. Ambassador to Romania, appointed by President George W. Bush. Guest was sworn in by U.S. Secretary of State Colin Powell on September 18, 2001 and took up his duties on September 24, 2001. During his speech at Guest's swearing-in ceremony in the State Department Diplomatic Reception Room, Powell explicitly noted the presence of and positively recognized Guest's life partner, Alex Nevarez. LGBT rights groups viewed Guest's appointment, and Powell's remarks, as historic and indicative of greater recognition of gay State Department employees and same-sex partners. Socially conservative groups expressed opposition to Guest's appointment and to Powell's gesture.
A Foreign Service officer since 1981, Guest was the first publicly gay man to be confirmed by the U.S. Senate to serve as a U.S. Ambassador. The first publicly gay ambassador, James Hormel, received a recess appointment from Bill Clinton after the Senate failed to confirm his nomination. Guest resided together with Nevarez at the residence of the American Embassy in Bucharest until 2004 when his appointment came to an end. Romania's last anti-gay law, Article 200 of the Penal Code, which criminalised public manifestations of homosexuality, was repealed shortly before Guest's arrival as ambassador in 2001.
During his tenure as ambassador, Guest was outspoken against public corruption, which he said had impeded Romania's development since the fall of communism. At the same time, his ambassadorship was characterized by strong relations between the U.S. and Romania. Romania committed troops to support U.S.-led efforts in Afghanistan and Iraq. Romania was also admitted into NATO and intensified negotiations that would eventually lead to the country's accession into the European Union. President George W. Bush made an official visit to Bucharest in 2002.
Before Guest's departure from Romania at the end of his duties in 2003, then Romanian President Ion Iliescu awarded him the Romanian "Order for Faithful Service in the Rank of Grand Cross" in appreciation for his "high professionalism, dedication to his mission ... and for his personal contribution to the strengthening of the Romanian-American partnership." In April 2003, the National Gay and Lesbian Taskforce recognized him with a Leadership Award, which honors individuals who have made a significant difference in promoting equal rights for lesbian, gay, bisexual and/or transgender people. In 2004, the Department of State awarded him the Charles E. Cobb, Jr. award for Initiative and Success in Trade Development due to his leadership in increasing trade between the U.S. and Romania. In June 2006, the American Foreign Service Association awarded him the Christian Herter Award for Constructive Dissent, for his advocacy on behalf of equality for State Department gay and lesbian employees.
On December 4, 2007 the New York Times reported that Guest had retired from the State Department, where he most recently served as a dean at the Department's Foreign Service Institute. At his retirement ceremony in the Treaty Room, Guest publicly criticized Secretary of State Condoleezza Rice on the issue of discrimination against gay employees and specifically the benefits given to same-sex partners of those employees. He remarked, "I've felt compelled to choose between obligations to my partner — who is my family — and service to my country. That anyone should have to make that choice is a stain on the Secretary's leadership and a shame for this institution and our country."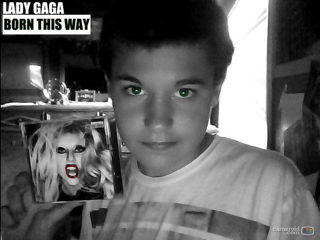 2011 – Died: Jamey Rodemeyer (March 21, 1997 - September 18, 2011) was an openly bisexual teenager, known for his activism against homophobia and his videos on YouTube to help victims of homophobic bullying. He committed suicide as a result of constant bullying.[
Jamey T. Rodemeyer lived with his parents and his sister in their home near Buffalo, New York. He was open about his sexuality, and faced severe bullying as a result of it. Rodemeyer's inspiration to help others came from Lady Gaga, whom he admired most. He often referred to her in his videos, and quoted her lyrics to provide guidance to others. He also made a video for the "It Gets Better" project, a website dedicated to preventing teen suicide.
Rodemeyer was found dead by his sister on the morning of September 18, 2011, in an apparent suicide by hanging. Before his death, he posted a final update on Twitter directed to Lady Gaga. The tweet read, "¡ladygaga bye mother monster, thank you for all you have done, paws up forever".
In an interview with Ann Curry on The Today Show Jamey's parents said that their son was still being bullied, even after his suicide. When his sister attended a school homecoming dance, Jamey's friends began chanting his name in support when a Lady Gaga song began playing. As a result, bullies at the dance began chanting that they were glad he was dead.
Lady Gaga later met with President Barack Obama to discuss what his administration would do to prevent bullying in schools. Also in response to his death, reigning Miss New York Kaitlin Monte founded an online petition to bring the issue of cyberbullying (known as "Jamey's Law") to New York legislators. Shortly after, State Senator Jeffrey Klein proposed new cyberbullying legislation. The two joined to launch the New York Cyberbully Census.
In October 2011 actor Zachary Quinto noted Rodemeyer's death as the genesis of his decision to come out publicly as gay, saying on his website "...but in light of Jamey's death - it became clear to me in an instant that living a gay life without publicly acknowledging it - is simply not enough to make any significant contribution to the immense work that lies ahead on the road to complete equality". In response to Quinto's coming out (and in reaction to gay suicides caused by bullying), Dan Kloeffler of ABC News Now also came out.

2012 – Berkeley, California becomes what is thought to be the first city in the U.S. to officially proclaim a day recognizing bisexuals. The Berkeley City Council unanimously and without discussion declared Sept. 23 as Bisexual Pride and Bi Visibility Day.

SEPTEMBER 19 →
[{(o)}]|[{(o)}]|[{(o)}]|[{(o)}]| [{(o)}]|[{(o)}]