November 3
[{(o)}]|[{(o)}]|[{(o)}]|[{(o)}]| [{(o)}]|[{(o)}]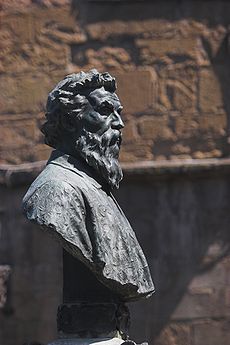 1500 – Benvenuto Cellini (d.1571), sculptor, goldsmith, memoirist, and flamboyant pederast, is one of the greatest artists in the history of Western art. He was the last of the great Renaissance artists, for the free exploration and celebration of the sensual (particularly the homoeroticism) that inspired his genius and was a hallmark of Renaissance Florentine culture were soon aborted.
Benvenuto Cellini was born in Florence at the peak of the Italian Renaissance. Apprenticed to a goldsmith, he excelled in that art. In fact, he was so successful that he was called upon to fulfill major commissions throughout Italy and France. Indeed, he traveled so much that until he was forty-five years old, he never lived longer than five years in any one place. The reasons for his sometimes abrupt departures ranged from political upheavals and plague to outbursts of temperament, including murder.
At nineteen, Cellini went to Rome, where over the years he worked for Popes Clement VII and Paul III. In 1536, he traveled to France, where he sculpted decorations for the palace at Fontainebleau. In 1545, Cellini returned to Florence, where he lived the rest of his life.
Florence was notorious in the Renaissance as "Sodom City": in German slang, "Florenzer" meant "sodomite." In the late fifteenth century, one in two Florentine men had come to the attention of the authorities on suspicion of sodomy by the time they were thirty. In 1432, the "Office of the Night" was created to eliminate sodomy, but after seventy years it was disbanded as the task was deemed hopeless. About ninety percent of the cases reported involved boys under the age of eighteen. Sexual activity between men and boys was an integral feature of Florentine culture in the sixteenth century.
Cellini himself was convicted of homosexual sodomy with a boy named Domenico in Florence in 1523 and fined 12 bags of flour. He was prosecuted but absolved of charges of heterosexual sodomy in France. In Florence, Cellini was supported by his appreciative patron Duke Cosimo I de'Medici. Cosimo's first commission was for a large bronze Perseus holding Medusa's severed head. This magnificent nude figure in the Piazza della Signoria is a gay icon for its depiction of a beautiful young man.
Perseus
(Click for larger)
Cellini's subsequent works, including the marble statues of Ganymede and the Eagle, Narcissus, and Apollo and Hyacinth are particularly appealing to men who love boys. In Ganymede and the Eagle, the young Trojan boy lovingly ruffles the neck feathers of his seducer, while in Apollo and Hyacinth, the mature Apollo ruffles the tousled curls of an expectantly receptive Hyacinth, on his knees at the god's feet.
The homoerotic spirit that nourished Cellini's art was soon to be crushed in Florence. In response to the Protestant Reformation, the Roman Catholic Church at the Council of Trent (1545-1563) adopted policies designed to make the Church even more austere than the Protestants. It also embarked on a campaign to crush heresy. It established the Index of Prohibited Books and it proscribed carnality in art. In 1559, Pope Paul IV ordered draperies painted on the nudes in Michelangelo's Last Judgment. The Council's decrees were enthusiastically enforced through the sadistic power of the Inquisition.
In this context, in 1557, when his apprentice Fernando di Giovanni di Montepulciano accused Cellini of having sodomised him many times, the penalty was a hefty fifty golden scudi fine, and four years of prison, remitted to four years of house arrest thanks to the intercession of Duke Cosimo.
During his years of house arrest, Cellini attempted to rehabilitate his reputation. Not only did he devote himself to religious art (including a deeply religious marble crucifix), but he also took minor holy orders and fathered a son in 1560 by his servant Piera, whom he married in 1563.
Most importantly, however, during his period of house arrest, Cellini began his celebrated Vita. In this autobiography, the artist recounts his acquaintanceships with princes and popes and his great achievements as sculptor and goldsmith, while disavowing, with wounded innocence, his reputation as a pederast. He implies that he is a ladies' man, but cannot resist bragging that once he took his apprentice Diego in drag to a party of artists and their whores. The boy was voted the most beautiful prostitute in Florence, which nearly caused a riot when one of the girls groped Diego and discovered the truth of his sex.
Although the Vita attempts to present an appearance of orthodox morality and fails to mention Cellini's gay affairs or his convictions for sodomy, it nevertheless repays interest for its homosexual content. Especially significant in this context is Chapter 71 of Book Two, which may be read as a defense of sodomy, that "noble practice" indulged in by "the greatest emperors and the greatest kings of the world." Cellini says that he lacks the knowledge or means to meddle in the "noble practice," but he nevertheless commends it as "a marvelous matter." Whether these passages can be taken seriously or in jest is a matter of debate; certainly the context in which he was writing—under house arrest for having had sex with a young man—is an important consideration in interpreting the autobiography.


Revised 2022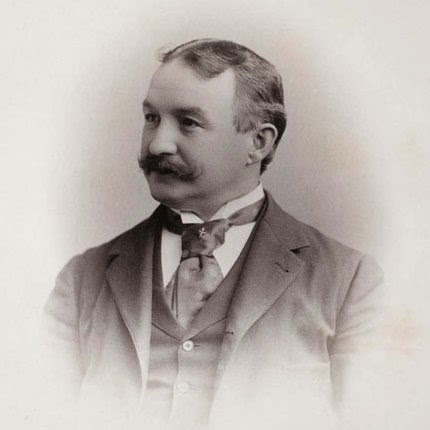 1846 – (Francis Davis) Frank Millet was an American painter, sculptor, and writer who died in the sinking of the RMS Titanic on April 15, 1912.
Francis Davis Millet was born in Mattapoisett, Massachusetts. At age sixteen, Millet entered the Massachusetts regiment, first as a drummer boy and then a surgical assistant (helping his father, a surgeon) in the American Civil War. He repeatedly pointed to his experience working for his father as giving him an appreciation for the vivid blood red that he repeatedly used in his early paintings. He graduated from Harvard with a Master of Arts degree. He worked as a reporter and editor for the Boston Courier and then as a correspondent for the Advertiser at the Philadelphia Centennial Exposition.
Millet had a studio in Rome in the early 1870s, and Venice in the mid-1870s, where he lived with Charles Warren Stoddard, a well-known American travel journalist who, evidence indicates, had an active sexual interest in men. Historian Jonathan Ned Katz presents letters from Millet to Stoddard that suggest they had a romantic and intimate affair while living a bohemian life together.
A well-regarded American Academic Classicist, Millet was close friends with Augustus Saint-Gaudens and Mark Twain, both of whom were present at his 1879 marriage to Elizabeth Merrill in Paris, France; Twain was his best man. He was also well acquainted with the impressionist artist John Singer Sargent, who often used Millet's daughter Kate as a model, as well as the esteemed Huxley family.
Millet became a member of the Society of American Artists in 1880, and in 1885 was elected as a member of the National Academy of Design, New York and as Vice-Chairman of the Fine Arts Committee. He was made a trustee of the Metropolitan Museum of Art, and sat on the advisory committee of the National Gallery of Art. He was decorations director for the World's Columbian Exposition in Chicago in 1893, where he is credited with having invented the first form of spray paint. His career included work with a number of worlds' fairs, including Vienna, Chicago, Paris, and Tokyo, where he made contributions as a juror, administrator, mural painter/decorator, or adviser.
Millet lived with  Archibald Butt, who called him "my artist friend who lives with me", in a large mansion at 2000 G Street NW. They were known for throwing spartan but large parties that were attended by members of Congress, justices of the Supreme Court, and President Taft himself. There is some speculation that Butt and Millet were lovers.
Historian Richard Davenport-Hines wrote in 2012: "The enduring partnership of Butt and Millet was an early case of "Don't ask, don't tell". Washington insiders tried not to focus to closely on the men's relationship, but they recognized their mutual affection, and they were together in death as in life."
On April 10, 1912, Millet boarded the RMS Titanic at Cherbourg, France, bound for New York City. He was traveling with long-time friend Archibald Butt. He was last seen helping women and children into lifeboats. His body was recovered after the sinking by the cable boat Mackay-Bennett and returned to East Bridgewater, Massachusetts, where he was buried in Central Cemetery.
In 1913, the Butt-Millet Memorial Fountain was erected in Washington, D.C., in memory of Millet and his long-time friend and lover Archibald Butt, with whom he shared a home, and who also died on the Titanic.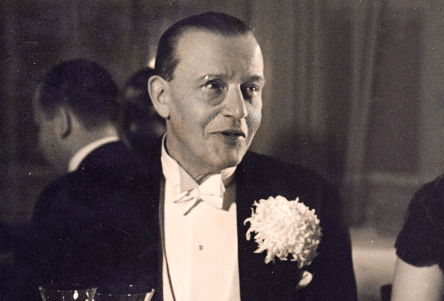 1871 – Hanns Heinz Ewers (d.1943) was a German writer famous for his short stories and novels that expanded the parameters of the horror genre. He began his literary career as a poet when he published "A Book of Fables", satirical verses, in 1901. In addition to writing, he was an actor and created a vaudeville theater the same year he made his literary debut. He also founded another acting company that toured Central and Eastern Europe, but he abandoned the theater due to censorship.
It was his stories about the occult and horror that made his name. His first novel "The Sorcerer's Apprentice" was published in 1910 and his masterpiece, "Alarune", in 1911. The two novels were part of a trilogy based on the autobiographical character of Frank Braun, who also appears in the 1921 novel "Vampyr".
Ewers was deeply attracted to the philosophy of Friedrich Nietzsche, and the Nietzschean philosophy of the "intellectuals" of the Nationalsozialistische Deutsche Arbeiterpartei, as well as their nationalism (to say nothing of their mysticism) attracted him to the Nazi Party, though he never joined it. He did not agree with the party's anti-Semitism and this plus his homosexual tendencies soon ended his popularity with the party management.Though he wrote a novel based on the life of Nazi martyr Horst Wessel, allegedly at the bequest of Adolf Hitler, his works were banned by the Nazis in 1934.
A penniless Hanns Heinz Ewers died from tuberculosis on June 12, 1943 in Berlin. He was 72 years old.

1916 – A California appellate court reverses the conviction of a man for fellatio, because the word "fellatio" in his indictment was not an English word in general knowledge.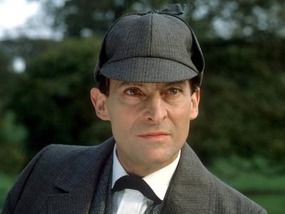 1933 – Jeremy Brett (d.1995), born Peter Jeremy William Huggins, was an English actor, most famous for his portrayal of Sherlock Holmes in four Granada TV series.
Although Brett appeared in many different roles during his 40-year career, he is now best remembered for his performance as Sherlock Holmes in The Adventures of Sherlock Holmes, a series of Granada Television films made between 1984 and 1994. These were adapted from the original stories by Sir Arthur Conan Doyle. Even though he reportedly feared being typecast, Brett appeared in 41 episodes of the Granada series.
Although Brett's feature film appearances were relatively few, he did play Freddie Eynsford-Hill in the 1964 blockbuster film version of My Fair Lady. His singing voice was dubbed in the film, but Brett could still sing, as he later proved when he played Danilo in The Merry Widow on British television in 1968.
Brett was briefly considered by Harry Saltzman and Albert R. Broccoli for the role of James Bond in On Her Majesty's Secret Service after Sean Connery quit the series in 1967, but the role went to Australian George Lazenby instead. A second audition for the role of 007 for Live and Let Die was also unsuccessful, and Roger Moore won the coveted part.
Brett was bisexual, but intensely private. On 24 May 1958 he married the actress Anna Massey (daughter of Raymond Massey), but they divorced in 22 November 1962 after she claimed he left her for a man. In 1976, Brett married Joan Wilson, who died of cancer in July 1985, shortly after Brett had finished filming Holmes' "death" in "The Final Problem". Brett also enjoyed a "close relationship" with gay actor Gary Bond, who was his partner from 1969 -1976.
Brett died on 12 September 1995 at his home in Clapham, London, from heart failure. His heart valves had been scarred by rheumatic fever contracted as a child.

1939 – The Maine Supreme Court rules that consent is no defense to a sodomy charge.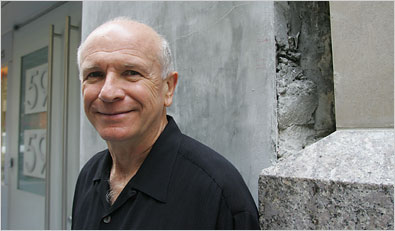 1939 – Terrence McNally (d.2020) was an American playwright who has received four Tony Awards, an Emmy, two Guggenheim Fellowships, a Rockefeller Grant, the Lucille Lortel Award, the Hull-Warriner Award, and a citation from the American Academy of Arts and Letters.
After graduation, McNally moved to Mexico to focus on his writing, completing a one-act play which he submitted to the Actors Studio in New York for production. While the play was turned down by the acting school, the Studio was impressed with the script, and McNally was invited to serve as the Studio's stage manager so that he could gain practical knowledge of theater. In his early years in New York, he was a protégé and lover of the noted playwright Edward Albee.
Although several early comedies such as Next in 1969 and 1975's The Ritz, set in a gay bathhouse, won McNally critical praise, it was not until later in his career that he would become truly successful with works such as his Off-Broadway play Frankie and Johnny in the Clair de Lune and its screen adaptation with stars Al Pacino and Michelle Pfeiffer.
In 1990, McNally won an Emmy Award for Best Writing in a Miniseries or Special for Andre's Mother, a drama about a woman trying to cope with her son's death from AIDS. A year later, he returned to the stage with another AIDS-related play, Lips Together, Teeth Apart, a study of the irrational fears many people harbor towards homosexuals and people who have AIDS.
With Kiss of the Spider Woman (based on the novel by Manuel Puig) in 1992, McNally returned to the musical stage, collaborating on a script which explores the complex relationship between two men caged together in a Latin American prison.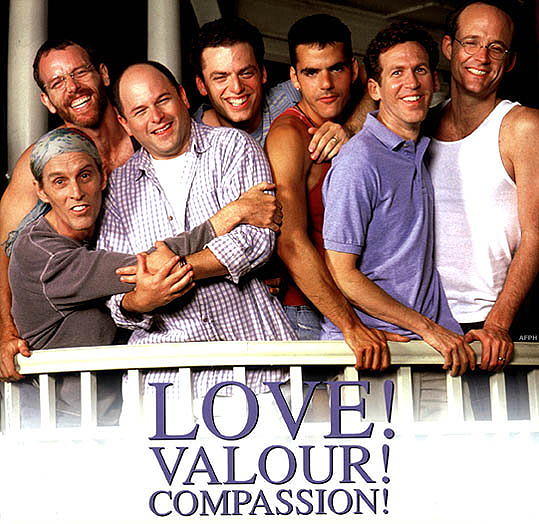 Another of McNally's other plays is 1994's Love! Valour! Compassion!, with Lane and John Glover, which examines the relationships of eight gay men; it, too, was made into a popular movie.
In 1997, McNally stirred up a storm of controversy with Corpus Christi, a modern day retelling of the story of Jesus' birth, ministry, and death in which both he and his disciples are portrayed as homosexual. In fact, the play was initially canceled because of death threats from extremist religious groups against the board members of the Manhattan Theatre Club which was to produce the play. However, several other playwrights such as Tony Kushner threatened to withdraw their plays if Corpus Christi was not produced, and the board finally relented. When the play opened, the theatre was besieged by almost 2,000 protesters, furious at what they considered blasphemy.
On January 19, 2008, Robert Forsyth, Anglican bishop of South Sydney condemned Corpus Christi for depicting Judas seducing Jesus: "It is deliberately, not innocently, offensive and they're obviously having a laugh about it." The play also showed Jesus administrating a marriage between two male apostles.
In a January 2003 interview, McNally addressed critics who said he had "added" two gay characters to his Broadway adaptation of the film The Full Monty: "If Neil Simon had written the script, they wouldn't have said that. I get it for being gay, for proselytising. It's so annoying, all that bullshit."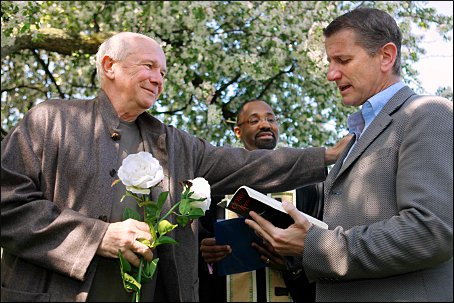 McNally was partnered to Thomas Kirdahy following a civil union ceremony in Vermont in 2003, and they subsequently married in Washington, D.C. on April 6, 2010. McNally was one of the first victims of COVID-19 and died from complications on March 24 2020.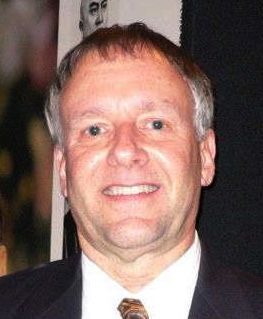 1948 – Walter Lee Williams is a former professor of anthropology, history, and gender studies at the University of Southern California. He is one of the pioneers in the field of Queer studies, with a long background in human rights activism. In 2013, after his retirement, he was arrested and imprisoned for five years on the charge of "illicit conduct in foreign places."
As a teenager in Atlanta in the 1960s, Williams was inspired by Martin Luther King to get involved in the civil rights movement. In 1978 he became a gay rights activist, protesting against Anita Bryant's Save Our Children campaign.
Williams earned an undergraduate degree in History and Anthropology from Georgia State University in 1970, and continued to the University of North Carolina at Chapel Hill where he earned a Master's in History in 1972, and a Ph.D. in History and Anthropology, in 1974. His doctoral thesis was Black American Attitudes Toward Africa: The Missionary Movement, 1877—1900, and would form the basis of his first book.
In 1979, while Williams was an assistant professor at the University of Cincinnati, he and Gregory Sprague founded the Committee on Lesbian and Gay History, an affiliate of the American Historical Association.
In his fourth book, The Spirit and the Flesh: Sexual Diversity in American Indian Culture, in 1986, Williams came out as gay. This book was the first complete study of the berdache, androgynous and gender-variant people among the American Indians. The book won the 1987 Gay Book of the Year Award from the American Library Association, the 1986 Ruth Benedict Award from the Society of Lesbian and Gay Anthropologists, and the Award for Outstanding Scholarship from the American Foundation for Gender and Genital Medicine and Science presented at the 1987 World Congress for Sexology.
He has published ten books and taught American Indian Studies. He has also been recognized for his work with the gay and lesbian community. An ethnographer, Williams has also traveled throughout North America from Alaska to Yucatan to study Native American tribes. His other areas of expertise include cultures of Southeast Asia and the South Pacific, based on his years of field research in Indonesia, Thailand, Malaysia, Cambodia, the Philippines and Polynesia.
In 1994-1995, Williams, with Jim Kepner, oversaw the merger of the International Gay and Lesbian Archives and the ONE, Inc. library holdings to form the ONE National Gay & Lesbian Archives at USC, the largest repository of LGBT materials in the world.
On March 24, 2006, Williams was awarded the Gandhi, King, Ikeda Award from Morehouse College, for his work during the civil rights and peace movements and in support of LGBT rights.
Williams taught anthropology, gender studies and history at the University of Southern California until his retirement in 2011. He lived in Mexico on a retirement visa from 2011 to 2013, where he continued his earlier research among the Mayan Indians.
On April 30, 2013, a federal arrest warrant was issued for Williams in the United States District Court for the Central District of California for sexual exploitation of children, travel with intent to engage in illicit sexual conduct, and engaging in illicit sexual conduct in foreign places. Williams was accused of engaging in sexual acts with teenage boys in the Philippines via webcam.
On June 17, 2013, he was placed on the FBI Ten Most Wanted Fugitives list. He was arrested in Mexico one day after he was put on the FBI Ten Most Wanted Fugitives list and was extradited to Los Angeles, California. The FBI, with reasonable suspicion, searched Williams's computer, finding unclothed photographs of teenage boys. In 2014, he pleaded guilty to illicit sexual contact with boys aged 14 to 16 in the Philippines and was sentenced to five years in prison.


Added 2022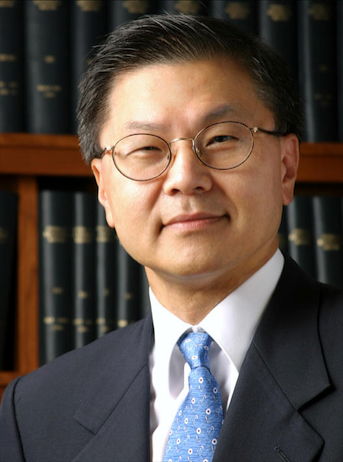 1952 – David Ho, HIV-AIDS researcher, was born on this date; a Taiwan-born American AIDS researcher famous for pioneering the use of protease inhibitors in treating HIV-infected patients with his team. Ho devised the method of treating HIV with "cocktails". He theorized that combining the powerful protease inhibitor drugs with other HIV medications would provide a more effective way to treat the disease.
Ho is married to artist Susan Kuo, with whom he has three children. Many of us owe our lives to his work.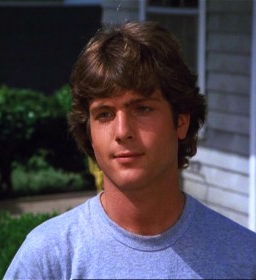 1959 – Timothy Patrick Murphy (d.1988) was an American actor, perhaps best known for his role as "Mickey Trotter" on the popular CBS prime time soap opera Dallas during the 1982-83 season.
Murphy started his acting career as an adolescent in several television commercials and from there he went on to act in the 1978 miniseries Centennial. Other than his role in Dallas, he spent more than a year playing a young con-man on the CBS daytime soap drama Search for Tomorrow, and also had a regular role on the short-lived 1984 ABC prime-time drama Glitter. In addition to this, he appeared in episodes of Hotel, The Love Boat and Hunter.
He appeared in the 1981 film Bushido Blade. One of Murphy's most substantial roles was in the 1984 feature film Sam's Son, the film biography of the life of actor Michael Landon, in which he played the character of Gene Orowitz (the young Landon).
Murphy contracted HIV and died of AIDS on December 6, 1988 in California, aged 29. He once stated that he'd had an affair with the allegedly bisexual actor Brad Davis, who had AIDS and committed assisted suicide in 1991


1979 – Gus Harris, mayor of Toronto borough of Scarborough, calls for gay rights at Human Rights rally. The Gay Human Rights Day rally was organized by Ontario gay rights group CGRO. Messages of support were read from Stuart Smith and Michael Cassidy, leaders, respectively, of Ontario's two opposition parties, the Liberals and the NDP


1981 – A committee of Toronto city council considers the Bruner Report on relations between the police and gay community. It asks the police chief to issue statement recognizing legitimacy of gay community and setting up gay awareness program for police recruits but nothing is done.

1983 – The Hawaii Supreme Court rules that the state's broadly worded privacy amendment to the state constitution does not protect sodomy as a right.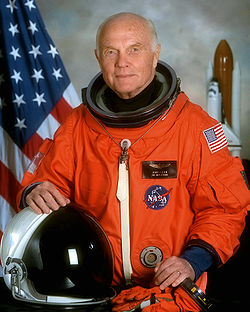 1983 – US Senator John Glenn, former astronaut, told the National Gay Task Force that he does not support gay rights legislation and will not do anything which might be considered advocacy or promotion of homosexuality. He would later add that GLB people should not be allowed to teach or join the military.

1999 – A jury found Aaron McKinney guilty of felony murder and second degree murder in the death of 21-year-old gay college student Matthew Shepard.

2006 – On this date "Doogie Howser, MD" and "How I Met Your Mother" star Neil Patrick Harris came out as a "content Gay man." His career has simply soared!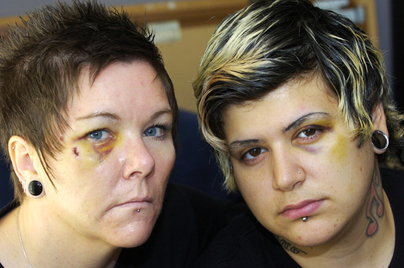 Jane Currie & Anji Dimitriou

2008 – A lesbian couple, Jane Currie and Anji Dimitriou, are physically assaulted while waiting to pick up their son at Gordon B. Attersley Public School in Oshawa, Ontario by Mark Scott, the parent of another child at the school, who reportedly used the terms "dyke" and "lesbian".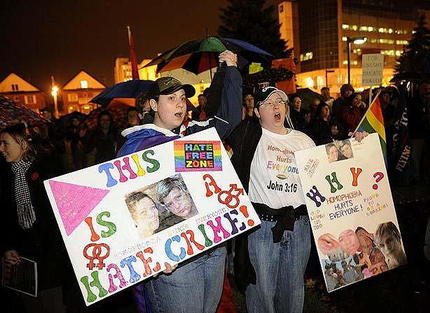 Over 300 people gathered outside Oshawa City Hall on November 14 to protest the incident. Durham Regional Police later announce that the incident will not be prosecuted as a hate crime, as Scott neither advocated genocide nor incited anyone else to join in the attack.

NOVEMBER 4 →
[{(o)}]|[{(o)}]|[{(o)}]|[{(o)}]| [{(o)}]|[{(o)}]