November 4
[{(o)}]|[{(o)}]|[{(o)}]|[{(o)}]| [{(o)}]|[{(o)}]
1650 – William III was a sovereign Prince of Orange of the House of Orange-Nassau by birth, and he governed Holland from 1672. From 1689 he also reigned as William III over England and Ireland. By coincidence, his regnal number (III) was the same for both Orange and England. As King of Scotland, he is known as William II. He is informally known by sections of the population in Northern Ireland and Scotland as "King Billy". In what became known as the "Glorious Revolution", on 5 November 1688 William invaded England in an action that ultimately deposed King James II and won him the crowns of England, Scotland and Ireland. In the British Isles, William ruled jointly with his wife, Mary II, until her death on 28 December 1694. The period of their joint reign is often referred to as "William and Mary".
A Protestant, William participated in several wars against the powerful Catholic king of France, Louis XIV, in coalition with Protestant and Catholic powers in Europe. Many Protestants heralded him as a champion of their faith. Largely because of that reputation, William was able to take the British crowns when many were fearful of a revival of Catholicism under James. William's victory over James at the Battle of the Boyne in 1690 is still commemorated by the Orange Order. His reign marked the beginning of the transition from the personal rule of the Stuarts to the more Parliament-centred rule of the House of Hanover.
During the 1690s rumours grew of William's alleged homosexual inclinations and led to the publication of many satirical pamphlets by his Jacobite detractors. He did have several close, male associates, including two Dutch courtiers to whom he granted English titles: Hans Willem Bentinck became Earl of Portland, and Arnold Joost van Keppel was created Earl of Albemarle. These relationships with male friends, and his apparent lack of more than one female mistress, led William's enemies to suggest that he might prefer homosexual relationships. William's modern biographers, however, still disagree on the veracity of these allegations, with many contending that they were just figments of his enemies' imaginations, and others suggesting there may have been some truth to the rumours.
A spate of political satires accusing William of intimate relations with both men circulated during his reign. These scurrilous poems are quite explicit in their allegations, and are obviously the work of Tory partisans who favored James. For this reason they have been discounted by William's defenders.
One satire begins:
"For the case, Sir, is such,
That the people think much,
That your love is Italian*, your government Dutch.
Ah! Who would have thought that a Low-Country Stallion
and Protestant Prince should prove an Italian*?"

(*Italy was the country most notably associated with sodomy in the seventeenth century.)
Bentinck's closeness to William did arouse jealousies in the Royal Court at the time, but most modern historians doubt that there was a homosexual element in their relationship. But William's young protege, Keppel, aroused more gossip and suspicion, being 20 years William's junior and strikingly handsome, and having risen from being a royal page to an earldom with some ease. Portland wrote to William in 1697 that "the kindness which your Majesty has for a young man, and the way in which you seem to authorise his liberties ... make the world say things I am ashamed to hear". This, he said, was "tarnishing a reputation which has never before been subject to such accusations". William tersely dismissed these suggestions, however, saying, "It seems to me very extraordinary that it should be impossible to have esteem and regard for a young man without it being criminal."
Most telling, however, are the remarks of Bishop Gilbert Burnet, who praised William unstintingly as "a person raised up by God to resist the power of France and the progress of tyranny and persecution." Yet in considering matters that might make it difficult for William to assume the English throne, Burnet refers to one "particular . . . too tender to be put in writing," which under the circumstances can only be interpreted as a reference to William's sexual nature.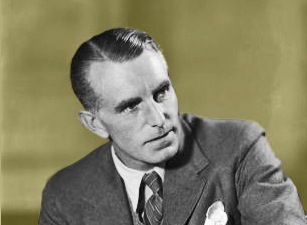 1896 – J. R. Ackerley (d.1967) - His full registered name was Joe Ackerley; Randolph was added later as a tribute to an uncle - was arts editor of The Listener, the weekly magazine of the BBC. He was also openly gay, a rarity in his time.
Ackerley's memoir My Father and Myself, begins: "I was born in 1896 and my parents were married in 1919." His father, Roger Ackerley, was a fruit merchant, known as the "Banana King" of London. His mother, Netta, and Roger had lived together for a number of years and had already had one boy, Peter. An aunt said of Joe's conception: "Your father happened to have run out of French letters that day."
While at public school JR discovered he was attracted to other boys. His striking good looks earned him the nickname "Girlie" but he was not sexually active, or only very intermittently, as a schoolboy. He described himself as
a chaste, puritanical, priggish, rather narcissistic little boy, more repelled than attracted to sex, which seemed to me a furtive, guilty, soiling thing, exciting, yes, but nothing whatever to do with those feelings which I had not yet experienced but about which I was already writing a lot of dreadful sentimental verse, called romance and love.
Failing his entrance examinations for Cambridge University, Ackerley applied for a commission in the Army, and as World War I was in full swing, he was accepted immediately as a Second Lieutenant. In June 1915 he was sent over to France. The following summer he was wounded at the Battle of the Somme on 1 July 1916. He was shot in the arm and an explosion caused shards of a whiskey bottle in his bag to be imbedded in his side.
In May 1917 Ackerley led an attack in the Arras region where he was again wounded, this time in the buttock and thigh. He was taken prisoner. Being an officer, his internment camp was located in neutral Switzerland and was rather comfortable. Here he began his play, The Prisoners of War, which deals with the cabin fever of captivity and the frustrated longings he experienced for another English prisoner. He was repatriated to England when the war ended.
After the war Ackerley returned to England and attended Cambridge. He moved to London and continued to write and enjoy the cosmopolitan delights of the capital. He met E. M. Forster and other literary bright lights, but was lonely despite a plenitude of sexual partners. With his play having trouble finding a producer, and feeling generally adrift and distant from his family, Ackerley turned to Forster for guidance.
Forster got him a position as secretary to the Maharaja of Chhatarpur who he knew from writing A Passage to India. Ackerley spent about five months in India, still under British rule, and met a number of Anglo-Indians for whom he developed a strong distaste. The recollections of this time are the basis for his comic memoir Hindoo Holiday. The Maharaja was also homosexual, and His Majesty's obsessions and dalliances, along with Ackerley's observations about Anglo-Indians, account for much of the humor of the work.
During these months, he also developed a short friendship with the twenty year old Narayan and sixteen year old Sharma, who were servants of the King of 'Chokrapur'. Of one evening with Narayan he wrote, 'he suddenly laughed softly and drew me after him. And in the dark roadway, overshadowed by trees, he put up his face and kissed me on the cheek. I returned his kiss; but he at once drew back, crying out: 'Not the mouth! You eat meat! You eat meat!' 'Yes, and I will eat you in a minute,' I said, and kissed him on the lips again, and this time he did not draw away.'
Back in England, Prisoners of War was finally produced to some acclaim. Its run began at The Three Hundred Club on 5 July 1925, then transferred to The Playhouse on 31 August. Ackerley capitalized on his success, carousing with London's theatrical crowd, and through Cambridge friends met the actor John Gielgud, and other rising stars of the stage.
In 1928, Ackerley joined the staff of the BBC, then a year old, in the "Talks" Department, where prominent personalities gave radio lectures. He was Literary Editor of the BBC's magazine The Listener from 1935-59 discovering and promoting many young writers, including Philip Larkin, W. H. Auden, Stephen Spender, and Christopher Isherwood.
Ackerley spent the last 24 years of his life in a small flat overlooking the Thames. Almost all his significant work was produced during this period. He had a stable job at the BBC, and the unsatisfying promiscuity of his younger years faded. What remained was his search for what he called an "Ideal Friend". He acquired an Alsatian bitch named Queenie from a sometime-lover, Freddie Doyle, who was going to prison for burglary. This scene, with Ackerley visiting Freddie at the police station, is how Ackerely's only novel, We Think the World of You, begins. ("Johnny" in the novel is closely modelled on Freddie.)
In the years folowing, Ackerly worked on his memoir about his father and drank too much gin. His sister Nancy found him dead in his bed on the morning of 4 June 1967. Ackerley's biographer Peter Parker gives the cause of death as coronary thrombosis.
Ackerly was openly gay, at least after his parents' deaths, having realized his homosexuality while interned in Switzerland as a prisoner of war. Ackerley worked hard to plumb the depths of his sexuality in his writings and belonged to a circle of notable literary homosexuals that flouted convention, specifically the homophobia that kept gay men in the closet or exposed openly gay men to persecution.
While he never found the "Ideal Friend" he wrote of so often, he had a number of long-term relationships. Ackerley was a "twank," a term used by sailors and guardsmen to describe a man who paid for their sexual services, and he describes in detail the ritual of picking up and entertaining a young guardsman, sailor or labourer. Forster warned him, "Joe, you must give up looking for gold in coal mines."
My Father and Myself serves as a guide to the understanding of the sexuality of a gay man of Ackerley's generation. W. H. Auden, in his review of My Father and Myself, speculates that Ackerley enjoyed the "brotherly" sexual act of mutual masturbation rather than penetration. Ackerley described himself as "quite impenetrable."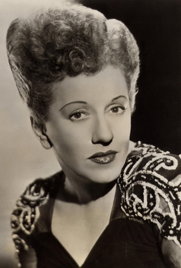 1912 – Openly bisexual entertainer Frances Faye recorded more than a dozen albums for major record companies. She was a gravel-voiced vocalist and pianist whose style included jazz, pop, Latin, and rock influences; but her unique sense of rhythm and timing remained a strong constant.
In addition to her recording career, Faye was a bright star on New York's 52nd Street during its heyday in the 1930s and 1940s and a fixture in major nightclubs around the world for 45 years. Her on-stage persona was as much a comedienne as it was a musician.
Faye earned a reputation in the press as a social revolutionary because she did not shy away from warmly including references to homosexuals (or "gay kids") in her act and for being publicly known as bisexual at a time when few other performers dared to do the same. "Frances Faye, gay, gay, is there another way?" she would burst out singing in every show.
Faye was born in Brooklyn on November 4, 1912, "a Scorpio and Reform Jew . . . Jewess," as she would proudly tell her audiences. Faye left school at the age of 15 after suddenly finding herself in show business. At the last minute she was asked to fill in for an ailing piano player. She did so well that an agent offered her an astounding $120 a week salary.
She appeared on Broadway, filmed musical shorts, wrote the hit Andrews Sisters song "Well, All Right," and had two brief marriages. Faye's first album was issued in 1946 and included the daring song "Drunk with Love," which had previously been recorded for a small under-the-counter "party" label by gay performer Bruz Fletcher, who committed suicide at age 35 in 1941 after police crackdowns on "pansy" performers and gay clubs made it virtually impossible for him to find work. The cover became one of Faye's signature songs and it functioned as a kind of code for her own sexual orientation.
Songs, hairstyles, and musicians would change, but Faye had found the successful sound, style, and format of jazz comedy, self-deprecating humor, fresh banter, and saucy double-entendre that would be her gold mine. She had sold-out performances on the Hollywood Strip and played the major venues in Las Vegas and Miami, earning about $4,000 a week. At a time when such topics were taboo, Faye parodied her bisexuality onstage.
In the late 1950s Faye met a glamorous 22-year-old, Teri Shepherd, who became her lifelong companion and manager. In Shepherd's recollection, "Fran was one big girl, and I was the husband . . . . Once Fran's conservative mother exclaimed, 'Teri is the best son-in-law I ever had.'
At a time when there were no sympathetic gay characters in film or television, or any publicly out performers at her level of mainstream success, Faye was quite literally a pioneer.
Faye was especially well received in Australia, where she made ten tours. In 1962, at Chequers, Sydney's top nightclub, Faye's unconventional act dazzled the young Peter Allen. The seasoned entertainer became a mentor to Allen and taught him about comic timing, how to structure an act, and relate to an audience, lessons that he would use his entire career. In addition, she introduced him to black music and helped him develop his stage persona.
Faye was also influential on the young Bette Midler. In the early 1970s funnyman Bruce Vilanch brought the emerging singer to see and learn from Faye's act, which attracted an increasingly large gay following.
In October 1975 Faye returned to New York City after a decade's absence. Her performances at the Spindletop Cabaret received glowing reviews. From the stage she flirted with female members of the audience, joked about marijuana, and comically outed the club's managers, columnist Rex Reed, singers Johnny Mathis and Peter Allen, and writer Noël Coward. In 1977 Faye had an extended engagement at Studio One in West Hollywood, a cabaret that catered to a large gay and lesbian audience. Part of that show was filmed and worked into a television movie about gay runaways, Alexander: The Other Side of Dawn.
She performed until 1981, when she finally retired. Faye died on November 8, 1991, after a series of strokes. Because Faye was unashamed of her sexuality and of her life, she was able to help pioneer an atmosphere of tolerance and acceptance by publicly embracing her gay and lesbian audience.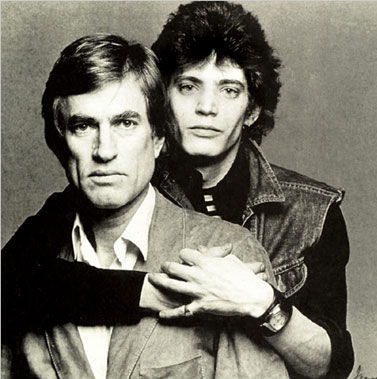 Wagstaff (L) with Mapplethorpe
1921 – Sam Wagstaff Jr. (d.1987) was an American art curator and collector as well as the artistic mentor and benefactor of photographer Robert Mapplethorpe (who was also his lifetime companion) and poet-punk rocker Patti Smith. Wagstaff is known in part for his support of Minimalism, Pop Art, Conceptual Art and Earthworks, but his aesthetic acceptance and support of photography presaged the acceptance of the medium as a fine art.
Born to a wealthy family, after growing up on Central Park South, attending the Hotchkiss School and graduating from Yale University, and being a fixture on the debutante circuit, Wagstaff joined the US Navy in 1941 as an ensign, where he took part in the D-day landing at Omaha Beach in World War II.
In 1959, an art history fellowship took him to the National Gallery of Art in Washington, DC. He served as curator of contemporary art at the Wadsworth Atheneum from 1961 to 1968, and then at the Detroit Institute of Arts from 1968 to 1971.
After seeing the exhibition "The Painterly Photograph, 1890-1914" at the Metropolitan Museum of Art in 1973 and meeting Robert Mapplethorpe in 1972, Wagstaff became convinced that photographs were the most unrecognized and, possibly, the most valuable works of art. He began selling his collection of paintings, using the proceeds to buy 19th-century American, British, and French photography. Then, influenced by Mapplethorpe, Wagstaff's taste veered toward the daring, and he began to depart from established names in search of new talent. His collection was soon recognized as one of the finest private holdings in the United States. In 1984 Wagstaff's photography holdings - comprising at least 2,500 masterworks - went to the J. Paul Getty Museum, for a reported price said to be in the neighborhood of $5 million.
Sam Wagstaff met his lifetime companion and protégé, photographer Robert Mapplethorpe in 1972 at a party. Mapplethorpe, whom Wagstaff called his shy pornographer, was also his guide to the gay demimonde of extreme sex and drugs that flourished in New York in the 1970s and 1980s. In the 1980s, Wagstaff gave Mapplethorpe $500,000 to purchase the top-floor loft at 35 West 23rd Street, where the photographer lived and had his shooting space.
Wagstaff died of pneumonia arising from AIDS at his home in Manhattan on January 14, 1987, two years before Mapplethorpe.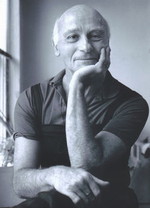 1926 – Murray Louis (d.2016) was an American modern dancer and choreographer.
Louis was known as one of the most influential American modern dancers and choreographers. Born in Brooklyn, New York, he grew up in Manhattan near Henry Street where he would later attend class at the Henry Street Playhouse and also start his company. He was one out of five children and his mother died when he was eight years old. He was then sent to an orphanage until he was twelve. At this time his sister Ethel, who was studying dance at the time, took him to many modern dance concerts. He graduated from Samuel J. Tilden High School in 1944.
Louis was discharged from the U.S. Navy in 1946 and began to live in San Francisco, California. He then enrolled at Colorado College for a summer session conducted by Hanya Holm in 1949. It was there during one of their workshops where he met Alwin Nikolais, who would later become his mentor and lifelong partner. That year he moved back to New York to pursue a Dramatic Arts degree at New York University and attend class with Nikolais at Henry Street Playhouse. Louis made his debut as the lead soloist in Nikolais' newly formed Playhouse Dance Company (which would later be renamed the Nikolais Dance Theater).
Louis speaking of his choreography once said, "I don't have a style. I come out of dance itself. I operate the principles of dance the way I talk. I get a point of view. Each piece has its own identity. It's what choreography is all about."
He died in New York City on February 1, 2016 at the age of 89.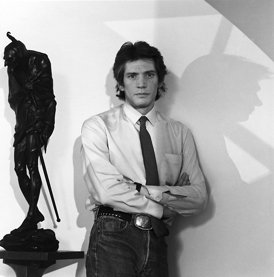 1946 – Robert Mapplethorpe (d.1989) was an American photographer, known for his large-scale, highly stylized black and white portraits, photos of flowers and nude men. The frank homoeroticism of some of the work of his middle period triggered a more general controversy about the public funding of artworks.
Mapplethorpe was born and grew up as a Roman Catholic in Queens, New York. He majored in graphic arts, though he dropped out in 1969 before finishing his degree. Mapplethorpe lived with his partner Patti Smith from 1967-1974, and she supported him by working. They created art together, and even after he realized he was gay, they maintained a close relationship.
Mapplethorpe took his first photographs using a Polaroid camera. In the mid-1970s, he acquired a Hasselblad camera and began taking photographs of a wide circle of friends and acquaintances, including artists, composers, and socialites. In the 1980s he refined his aesthetic, photographing statuesque male and female nudes, delicate flower still-lifes, and highly formal portraits of artists and celebrities. In the 1980s, his mentor and lifetime companion art curator Sam Wagstaff gave him $500,000 to buy the top-floor loft at 35 West 23rd Street, where he lived and had his shooting space.
Mapplethorpe worked primarily in the studio, particularly toward the end of his career. Common subjects include flowers, especially orchids and calla lilies, and celebrities, including Andy Warhol, Deborah Harry, Richard Gere, Peter Gabriel, Grace Jones, and Patti Smith. Smith was a longtime roommate of Mapplethorpe and a frequent subject in his photography, including a stark, iconic photograph that appears on the cover of Smith's first album, Horses.
Other work includes homoerotic and BDSM acts (including coprophagia), and classical nudes. Mapplethorpe's X Portfolio series sparked national attention in the early 1990s when it was included in The Perfect Moment, a traveling exhibition funded by National Endowment for the Arts. The portfolio includes some of Mapplethorpe's most explicit imagery, including a self-portrait with a bullwhip inserted in his anus.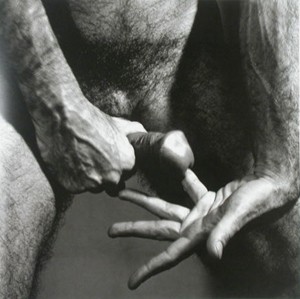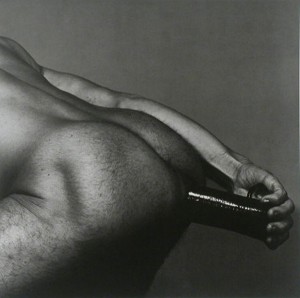 Portfolio X , Lou, N.Y.C. 1978 Portfolio X , John, N.Y.C, 1978
Though his work had been regularly displayed in publicly funded exhibitions, conservative and religious organizations, such as the American Family Association, seized on this exhibition to vocally oppose government support for what they called "nothing more than the sensational presentation of potentially obscene material." As a result, Mapplethorpe became something of a cause célèbre for both sides of the American Culture war. The installation of The Perfect Moment in Cincinnati resulted in the unsuccessful prosecution of the Contemporary Arts Center of Cincinnati and its director, Dennis Barrie, on charges of "pandering obscenity". His photographs of black men have also been criticized as exploitative.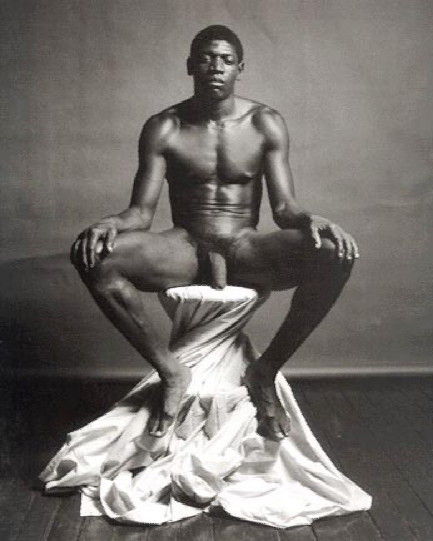 Bob Love
(Click for larger)
Mapplethorpe died on the morning of March 9, 1989, 42 years old, in a Boston, Massachusetts, hospital from complications arising from AIDS. His body was cremated and the ashes buried in Queens, New York, in his mother's grave, marked "Maxey".
Nearly a year before his death, the ailing Mapplethorpe helped found the Robert Mapplethorpe Foundation, Inc. His vision for the Foundation was that it would be "the appropriate vehicle to protect his work, to advance his creative vision, and to promote the causes he cared about". Since his death, the Foundation has not only functioned as his official estate and helped promote his work throughout the world, it has also raised and donated millions of dollars to fund medical research in the fight against AIDS and HIV infection.


1954 – Marcel Hatch, born in Spokane, Washington, is an American-born graphic designer, gay rights and Trotskyist political activist based in Vancouver, British Columbia, Canada.
Hatch joined the Freedom Socialist Party while living in Seattle and subsequently launched its Canadian chapter while living in Vancouver. In 1999 he joined the Socialist Caucus and subsequently left the Freedom Socialist Party to join Socialist Action which he has since left.
In 2001, he challenged incumbent leader Alexa McDonough for the leadership of the New Democratic Party as the candidate of the Socialist Caucus. He received 16% of the vote of delegates to that year's national party convention.
Today, he operates Cuba Education Tours, a non-profit agency organizing educational and solidarity trips to Cuba, Bolivia, Ecuador and Venezuela.
Hatch remains an advocate for Cuba and has contributed a number of articles on the island's political system and in defense of Cuba's progress on LGBT rights.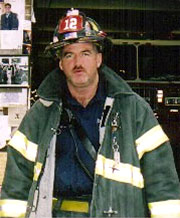 1960 – Tom Ryan, FDNY Firefighter, president emeritus of FireFLAG/EMT and LGBT Rights activist, is born. Ryan retired from FDNY in 2003, after a distinguished FDNY career, and is a veteran of 9/11. He has worked tirelessly for the issues effecting LGBT Firefighters and Emergency Workers, continues to speak out on issues of homophobia in the fire services, the rights of domestic partners, and discrimination toward the gay community.
September 11, 2001, started out as a picture-perfect day in New York City, Tom Ryan recalls. The sun was shining brightly. There wasn't a cloud in the sky. Ryan, a firefighter with Ladder Company 12, a house located in the Chelsea District of Manhattan, was off that day, busying himself in the Bronx home he shared with his partner of 11 years, Scott Arigot, and two of their children.
An instant message alerted him that the beauty of the day was about to be shattered, altering life in America, and the world, as we had known it.
Ryan made a quick call to the firehouse and spoke with his fellow firefighter, Angel Juarde, who told Ryan he was about to leave the station for the enflamed World Trade Center. It turned out to be the last time the two men would speak.
Moments later, all firefighters and police officers were called in to work in the city.
By the time he got to Ladder Company 12 in Manhattan, motorcycling in and out of the steady flow of traffic driving against him, Ryan was not yet aware that both World Trade Center towers had collapsed.
"I was trying to figure out what I should expect when I got down there. Have you ever been in New York to see the ticker-tape parades?" Ryan said in a recent phone conversation, searching for a metaphor to adequately explain the nightmarish specter.
"This was like an evil ticker tape parade. Paper was going everywhere. And dust—that grey dust went everywhere.
"The whole week I felt very isolated, and I know a lot of the other firefighters did, too," Ryan said.
"Basically, you went to the site, you came back to the firehouse. You tried to sleep but ended up walking the floors for a couple hours. Then you went back. You caught little naps, 20 minutes here and 20 minutes there. Your mind was racing. We really thought people were still alive in there."
Saturday morning, September 15, was the first time after the attacks that Ryan had any appreciable time off.
Before leaving the firehouse, he sat in the station's communal kitchen, reading that morning's edition of the New York Times. One of the first articles he read chronicled Jerry Falwell and Pat Robertson blaming the attacks on gays and lesbians, and liberals in general.
"I just went nuts. I could not believe I had just had the week that I had had, and these two supposed-Christians were going to condemn me," Ryan said, the timbre of his voice raising. "I started ranting and raving, and the people in the firehouse kitchen were saying 'What's the problem?'"
Ryan told them the problem. His colleagues' response was, "Well, it's only words."
"But it's not only words," Ryan said. "People believe what they say."
Despite his anger and frustration, Ryan decided to attend the funeral that day of gay fire chaplain Mychal Judge, thought to be the first rescue worker to perish when the World Trade Center Towers fell. A former Catholic, Ryan said he knew Mychal Judge was gay, but had no other connection with him.
The firefighters from the house located across the street from the church were to be Judge's pallbearers. Immediately in front of Ryan, one of the pallbearers began to falter, losing his grip on the coffin.
"I don't know what happened. I don't know if he couldn't emotionally do it, or if he was just physically exhausted, or what," Ryan said. "The coffin was rocking, and someone shouted, 'Step out, step out!'"
Ryan immediately jumped forward, took the weakened pallbearer's place, and began carrying Judge's coffin into the church.
"I felt like it was such a clear message from [Mychal Judge]," Ryan said. "Here he was, the gay chaplain of the New York City Fire Department. What are the odds of me being the firefighter who jumps out and grabs his coffin? I felt like it was a message from him, that there's no difference between any of us."
Ryan retired from FDNY in 2003, having been diagnosed with post-traumatic stress syndrome. He also suffers from respiratory problems he associates with the contaminated air that lingered for weeks at Ground Zero.
After that he attended classes at Brookdale Community College in New Jersey, near the Jersey shore where he and Arigot moved, to earn a his teaching degree. They have two sons and a daughter. The men also opened their home to care for a set of twins, who were seniors in high school.
Ryan continues his association with FireFLAG/EMS, a national support group for gay firefighters, emergency medical technicians, and their friends and families. Ryan is a past president of the organization. What started as a local group for rescue workers within the five New York City boroughs in 1991 has now blossomed into a national organization with as many as 500 members. Ryan estimates that among those members, four lost their lives in the 9/11 tragedy.
"I've been told there were a couple of [gay] police officers, too. Unfortunately, they were very closeted, so nobody stepped forward claiming to be a partner," he said. "I have [gay] friends who were in the Twin Towers," he said, marveling at the irony of the closeted rescue workers. "But they're still afraid to come out of the closet. I say, 'How could you be afraid of anything anymore?'
"It just speaks volumes about the pressures that society puts on you when you're still afraid to come out of the closet even though you lived through this horrendous experience."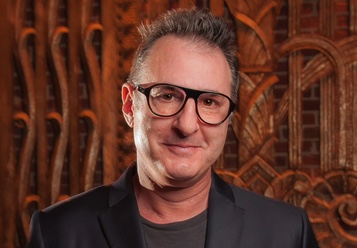 1961 – Today's the birthday of Jon Robin Baitz, the American playwright, screenwriter, television producer and actor. Perhaps most recently well known as the creator and executive producer of the ABC drama Brothers & Sisters, which premiered in September 2006 and ran for five seasons, ending in May 2011.
Baitz was raised in Brazil and South Africa before the family returned to California, where he attended Beverly Hills High School. He drew on his own background for his first two-act play, The Film Society, about the staff of a prep school in South Africa. Its 1987 success in L.A. led to an off-Broadway production the following year. This was followed by The End of the Day, and The Substance of Fire.
In 1991, Baitz wrote and directed the two-character play Three Hotels, based on his parents, for a presentation of PBS's "American Playhouse", then reworked the material for the stage. In 1993, he co-scripted (with Howard A. Rodman) The Frightening Frammis, which was directed by Tom Cruise and aired as an episode of the Showtime anthology series Fallen Angels. Two years later, Henry Jaglom cast him as a gay playwright who achieves success at an early age - a character inspired by Baitz himself - in the film Last Summer in the Hamptons. In 1996, he was one of the three finalists for the Pulitzer Prize for his semi-autobiographical play A Fair Country.
Subsequent stage works include Mizlansky/Zilinsky or "Schmucks", directed by Baitz's then-life partner Joe Mantello (1998), a new adaptation of Ibsen's Hedda Gabler, Ten Unknowns (2001), and The Paris Letter (2005). His screenplays include the adaptation of his own Substance of Fire (1996), with Tony Goldwyn and Timothy Hutton joining original cast members Ron Rifkin and Sarah Jessica Parker, and People I Know (2003), which starred Al Pacino.
From 1990 to 2002, Baitz was the romantic partner of actor and director Joe Mantello. The Advocate wrote that the "couple's star quality lent the aura of a gay Lunt and Fontanne."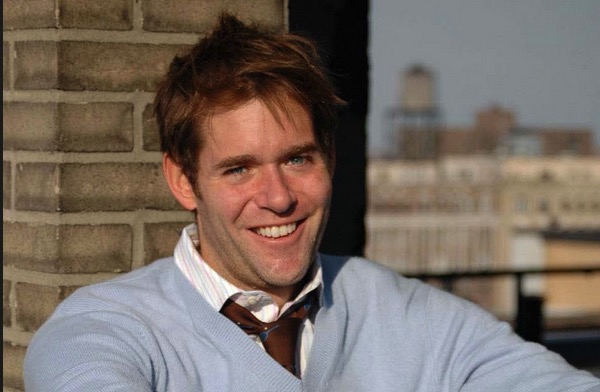 1971 – Perry Moore (d.2011) was an American author, screenwriter, and film director. He was an executive producer of The Chronicles of Narnia film series and the author of Hero, an award-winning novel about a homosexual teenage superhero.
He graduated from the University of Virginia in 1994, and while in college interned at the Virginia Film Festival. He also served as an intern in the White House and at the Metro-Goldwyn-Mayer studios in New York City.
He worked on the production team for
The Rosie O'Donnell Show
, then joined Walden Media (a media production company created by conservative billionaire
Phillip Anschutz
to produce family-friendly movies, documentaries, and television programs). He was the executive in charge of production for the film
I Am David
, an adaptation the
Anne Holm
novel North to Freedom.
He co-wrote and co-directed (with life partner Hunter Hill) the 2008 film Lake City, a drama that tells the story of a mother (Sissy Spacek) and son (Troy Garity) who reunite under desperate circumstances years after a family tragedy drove them apart. He also co-produced (again with Hill) a Spike Jonze-directed 2010 documentary (Tell Them Anything You Want: A Portrait of Maurice Sendak) about children's book author and illustrator Maurice Sendak
Moore had a personal mission: although he was glad that comic books had been introducing Gay superhero characters for some time, he wanted to see them portrayed in a better light. What particularly disturbed him as the death of Northstar, a member of the Marvel Comics' X-Men, whose announcement in the Marvel comic book that he was gay made headlines in 1992. In 2005, Northstar was killed by a brainwashed Wolverine. Moore said he felt that the murder of Marvel's biggest gay hero by one of its most popular characters had sent the wrong message.
He began giving speeches in which he cited his own research showing that more than 60 gay and lesbian comic book characters had been ignored, maimed or murdered. "Yes, bad things happen to all people," Mr. Moore said. "But are there positive representations of gay characters to counterbalance these negative ones?" His answer was "Not enough." So Moore wrote Hero (2007), a novel about Thom Creed, a teen-ager coping with high school, a strained home life and his budding superpowers as well as his sexuality.
A longtime fan of children's literature and comic books, Moore's novel Hero was first published by Hyperion Books in August 2007. The young adult novel tells the story of a closeted homosexual teenager who becomes a superhero. In May 2008, Hero won a Lambda Literary Award as the best LGBT Children's/Young Adult novel of the past year. In 2008, Moore was in talks with veteran comic book writer Stan Lee about producing a television series based on the book. Moore began writing a sequel to Hero in 2009. Moore's father said that in early 2011 his son was working on turning Hero into a movie on the Starz cable television channel.
Openly gay, Moore lived in New York City with life partner Hunter Hill, a writer for Paper magazine. Moore was also a Christian and spoke publicly about his faith. According to family members, Moore had suffered knee and back problems before his death, which required pain medication and corrective surgery, but which he had put off to continue working. Moore died on February 17, 2011 at age 39 of a drug overdose, his body discovered by Hill in their SoHo apartment. While an initial autopsy proved inconclusive, his death was subsequently attributed to a lethal combination of benzodiazepine, methadone, and morphine.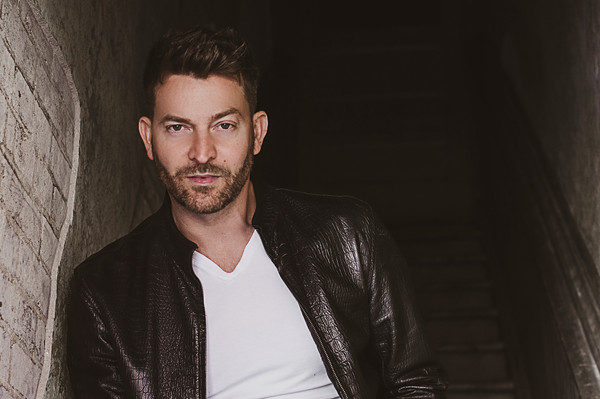 1973 – Levi Kreis is an American recording artist and Tony Award-winning actor from Oliver Springs, Tennessee.
His debut album One Of The Ones was released on November 17, 2005 accompanied by an appearance on a special Sirius/XM radio edition of NBC's The Apprentice. Four hopefuls were chosen from thousands of submissions. The two teams had a challenge to write, record, produce and package an artist for Sirius/XM's station XM Cafe. Levi Kreis and his team won the challenge, launching Levi's recording career worldwide.
He followed his debut album with The Gospel According To Levi, confronting religion and its unhealthy views on sexuality, specifically as it relates to the LGBT community and conversion therapy (Levi did six years with Exodus International.) Levi's early music articulated the growing pains of young gay men and their relationships when it was still not a widely embraced topic of conversation.
In 2009, Levi won the OutMusic Award for his song "Stained Glass Window", a song inspired by the Del Shores play Southern Baptist Sissies. In addition to Levi's early musical activism, his compositions have been featured on many tv shows and movies.
As an actor, Levi was cast in the role of "Roger" in the national tour of RENT. He next starred in the award-winning independent film "Don't Let Go" starring Katharine Ross and Scott Wilson. He also played opposite Matthew McConaughey with the role of "Adam Meiks" in Bill Paxton's directorial debut Frailty.
Levi starred as Pastor Jimmy Ray Brewton in the film A Very Sordid Wedding (2017) and as Tom Cutler in the multi-award-winning film The Divide (2018).

1976 – Syndicated columnist Nicholas von Hoffman's column "Out of TV's Sitcom Closet" appeared. It stated that Americans were experiencing the "Year of the Fag" and claimed the National Gay Task Force was controlling at least one sitcom.

1980 – Barney Frank was elected to his first term in the US House of Representatives. He would later become the second Representative to be openly gay.

1999 – Aaron McKinney, one of Matthew Shepard's killers, was sentenced to two consecutive life terms in prison.

2001 – On this date the openly Lesbian comedienne Ellen Degeneres hosted the Emmy Awards-TV show. It was the first awards show after the 9/11 terrorist attacks. DeGeneres received several standing ovations for her performance that evening which included the line: "We're told to go on living our lives as usual, because to do otherwise is to let the terrorists win, and really, what would upset the Taliban more than a Gay woman wearing a suit in front of a room full of Jews?"

2008
– On this date
Proposition 8
passes in California, representing the first ever elimination of an existing right to marry for LGBT couples in the United States.

2008 – Arizona and Florida voters pass constitutional amendments banning same-sex marriage.

2008 – Arkansas voters pass Act 1, which effectively bans adoption by same-sex couples, by a margin of 54% to 41%. Florida had done so in 1978. Florida's ban was repealed in 2010.

NOVEMBER 5 →
[{(o)}]|[{(o)}]|[{(o)}]|[{(o)}]| [{(o)}]|[{(o)}]