February 29
[{(o)}]|[{(o)}]|[{(o)}]|[{(o)}]| [{(o)}]|[{(o)}]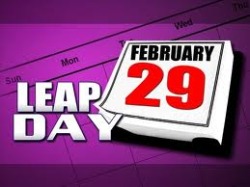 It's Leap-Day, February 29, the day added to our calendar to make the adjustment for all those little extra seconds each day which don't fit into out existing regular calendar. Beware of women who might want to propose to you. If you turn them down—and you probably will—you are expected to buy them a gift!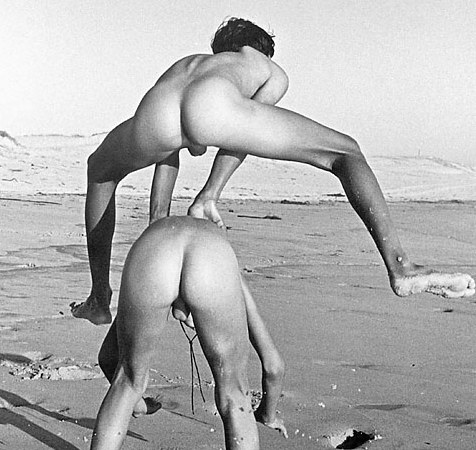 A better suggestion is to hang out with your best butt-buddy and play a game of naked leapfrog. Who knows? Maybe he will propose to you, and you can settle down and play house—and all the other indoor and outdoor activities gay men love, such as Hide the Wiener, Handballs, Cross-country rutting, Muff Diving and the old favorite, Camping. The occasional eating out will be an added treat.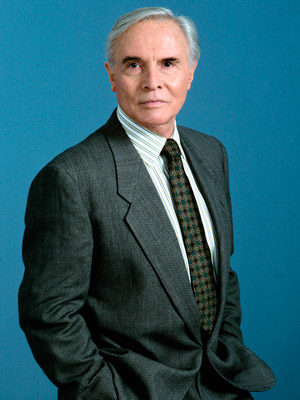 1920 – James Mitchell was an American actor and dancer born on leap-day. (d.2010) Although he is best-known to American television audiences as Palmer Cortlandt on the soap opera All My Children (1979-2009), theatre and dance historians remember him as one of Agnes de Mille's leading dancers.
Mitchell was born in Sacramento, California. Mitchell's father fostered him out for several years to vaudevillians Gene and Katherine King.
While studying drama at Los Angeles City College, Mitchell was introduced to modern dance at the school of the famed teacher and choreographer, Lester Horton. After receiving his associate's degree, he joined Horton's company, where he remained for nearly four years.
While struggling to find either acting or dancing roles in New York, he successfully auditioned for Agnes de Mille, who was choreographing her first musical since Oklahoma!. Mitchell, who did not study ballet until he was in his mid-twenties, was at first at a loss when faced with de Mille's ballet combination, but eventually succeeeded. Bloomer Girl (1944) began an important artistic partnership with de Mille that lasted from 1944 to 1969 and spanned theatre, film, television, and concert dance. De Mille's biographer, Carol Easton, describes him as the 'quintessential male de Mille dancer' and de Mille's 'closest confidant' in her artistic life. Mitchell worked consistently on stage in both musicals and straight dramas until the late 1970s.
As a film performer, Mitchell had only moderate success. In the early 1940s, he did both chorus dancing and extra work in a number of minor musicals and westerns. On the strength of his award-winning performance in Brigadoon, he was scouted by producer Michael Curtiz and signed to a contract at Warner Brothers. After several months, Mitchell eventually made two films for Warner Brothers before following Curtiz to Metro-Goldwyn-Mayer.
At MGM, he played supporting roles in six films between 1949-55, most notably Anthony Mann's Border Incident, and Vincente Minnelli's The Band Wagon. Mitchell's film career ended abruptly after he starred in Hal R. Makelim's Western The Peacemaker (1956), the only time he was ever billed above the title. After that, it took over two decades before he made his next and what proved to be his final appearance on the big screen, The Turning Point (1977).
On television, Mitchell was considerably more active, especially in the late 1950s and early 1960s. In addition to working regularly as a dancer, he played dramatic roles in a number of TV movies and prime-time series, as well as in the anthologies that were once so popular. Besides performing, Mitchell occasionally worked as a director and choreographer, particularly in the late 1960s and 1970s.
In 1979, after several years of only occasional work, he was hired to play the villainous businessman Palmer Cortlandt on the soap opera All My Children. Initially hired for only one year, he remained on contract through 2009. His final appearance as a contract player was September 19, 2008, although his retirement was not made official until September 30, 2009. He made a guest appearance on January 5, 2010, as part of the show's fortieth anniversary.
Mitchell's longtime partner was the Oscar award-winning costume designer Albert Wolsky, whom he met when filming The Turning Point in 1977.
James Mitchell died on January 22, 2010, in Los Angeles, a matter of weeks before what would have been his 90th birthday. His death came after suffering from chronic obstructive pulmonary disease complicated by pneumonia.

1936 – A California appellate court upholds the oral copulation conviction of a man with a 12½-year-old boy with a high IQ and who already was experienced at procuring.

1938 – Superman aka Kal-El aka Clark Kent was born on this day (maybe). Superman only celebrates his birthday on February 29th, which explains why he can look so good even though he's pushing 80. It's a handy way to explain why a guy who has been fighting crime since 1938 doesn't appear to age.
February 29th, 1988 was Superman's "official" 50th birthday celebration, marked by a special edition of Time Magazine and a nearly unwatchable "comedy" special that aired on network TV. More importantly, February 29th is the date that "For the Man Who Has Everything," one of the greatest Superman stories ever told, takes place, which is clearly marked as Superman's birthday.
Whatever Kal-El's actual birthday would be on Krypton depends on how you want to interpret the intricacies of the Kryptonian calendar. A Kryptonian "year" is known as a "zetyar," which is equivalent to roughly 500 Earth days. By the reckoning of the Kryptonian calendar, Kal-El was born on 38 Eorx 9998. The weirdness of the Kryptonian calendar might offer a possible explanation here, so maybe 38 Eorx 9998 fell on the equivalent of February 29th on Earth. Then again, it's best not to think too hard about this.
On the other hand, Clark Kent's birthday would have to be the day his foster parents found his rocket. Superman: Secret Origin by Geoff Johns and Gary Frank put Clark Kent's birthday on December 1st. Some comic book accounts place it in October, while others put it on June 18th. June is significant since Action Comics #1 has a June, 1938 cover date. You can't put too much stock in that, though. Because of the weirdness of comic book cover dating practices (they were competitively dated months in advance), it probably actually hit newsstands in late February or early March of 1938. Also, there was no February 29th in 1938.
We are not trying to suggest here that Superman is gay. Far from it, but many of us as gay teens surely hoped he was, imagining him naked and jerking off to the idea. (I, for one, used to get great pleasure out of drawing him sans pants and with an enormous erection! — Ted)
However, Superman's son, Jon, is definitely gay. He came out of the closet in Superman - Son of Kal-El #5. He has fallen for a human named Jay with purple hair and extra powers such as the ability to walk through walls.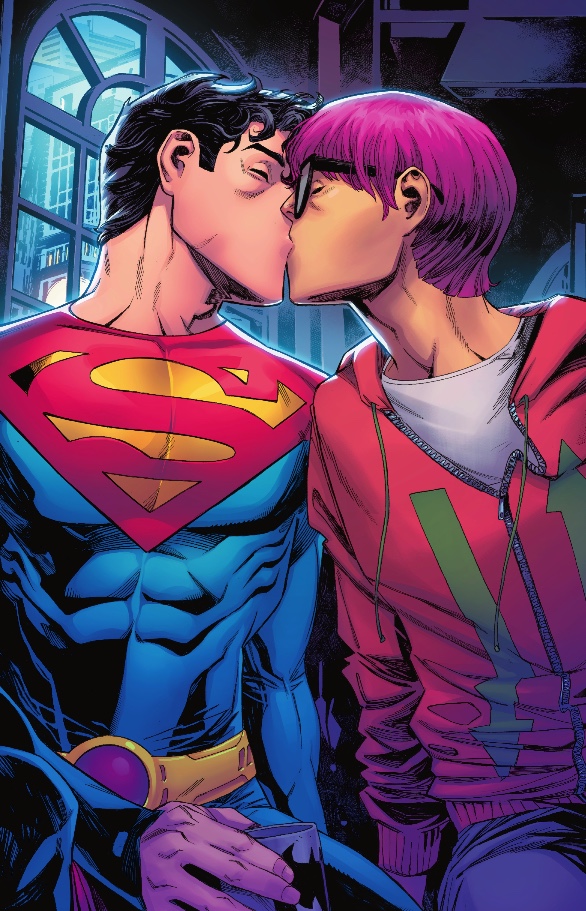 Jon's First Gay Kiss
(Click for larger)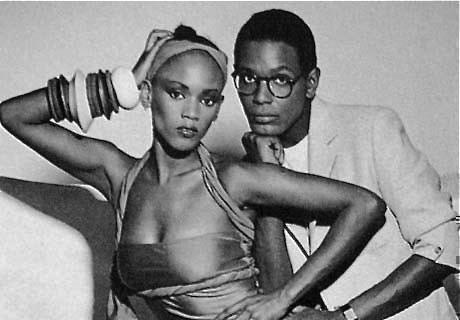 1948 – Willi Smith, cofounder of the WilliWear company, has been called "the most successful black designer in fashion history." He favored natural fabrics and unconstructed clothes since they are more practical for the average consumer. "Models pose in clothes," he said. "People live in them."
Another leap-year baby, Willi Donnell Smith was born in Philadelphia on leap-day. Smith took inspiration from his parents and grandmother, who always dressed fashionably despite being on limited budgets. After studying commercial art, Smith enrolled at the Philadelphia College of Art to study fashion illustration in 1962. He soon realized, however, that he wanted to be a designer.
He earned two scholarships to the Parsons School of Design in New York in 1965. Soon after arriving in the city he began doing freelance work for the designer Arnold Scaasi and the Bobbie Brooks sportswear company. In 1967 he quit school to pursue his career full-time. By 1969 his name was on the label of clothing made by Digits, a sportswear company.
Willi Smith continued doing freelance work until 1976, when he entered into another business partnership, this time with Laurie Mallet, with whom he co-founded WilliWear. Smith and Mallet had met in 1970, when both were working at Digits. After leaving Digits, the two went their separate professional ways, Mallet working primarily in importing textiles and clothing.
WilliWear got off to a modest start. Mallet financed a trip to India so that she and Smith could buy materials and create their first collection. They used the only fabric available, cotton, and, unable to find buttons, designed wrap-around coats. Thus, their initial twelve-piece collection had what would become hallmarks of Willi Smith designs--natural fabrics, a relaxed, comfortable fit, colorful and eye-catching material, and a reasonable price tag.
Smith's eclectic, whimsical, and inventive designs attracted the attention of fashion editors and buyers from department stores and clothing chains such as TJ Maxx. Customers responded favorably, and the fledgling company soon became established in the industry.
Smith's style has been described as "street couture," a designation with which Smith quibbled. While acknowledging that he was acutely aware of what was being worn on the streets of America, he emphasized that he was not designing "for young people who like to look alike," but rather for people who wanted "real clothes" but with a sense of designer fashion.
At first WilliWear produced only women's clothing, but in 1978 the WilliWear Men line was added.
Each year Smith spent several months in India, working on fabrics and designs. On a trip in February 1987 he contracted shigella, a parasitic disease that causes dysentery. His health declined rapidly, and he was hospitalized with pneumonia in April. Two days later he died. A subsequent autopsy revealed that he had AIDS. The news came as a complete surprise to his business partner, Mallet, who said that she had "absolutely no clue" that Smith had AIDS. She described Smith as "fragile" and said that coworkers "were used to him not feeling well, not coming to work." If Smith knew the nature of his illness, however, he did not disclose it to them.
By the time of Smith's death, WilliWear was selling over 25 million dollars' worth of clothing a year. In addition to his retail ventures, Smith occasionally worked for individual clients. For example, he designed suits for Edwin Schlossberg and his groomsmen when Schlossberg married Caroline Kennedy in 1986. He also designed clothing for Spike Lee's film School Daze (1987).
A commemorative panel for Smith is part of the AIDS quilt. He is also remembered in a list of gay black AIDS sufferers in the poem I Speak: A Poem for the Millennium March by Keith Boykin, which the author read at the Millennium March on Washington for Equality on April 29, 2000.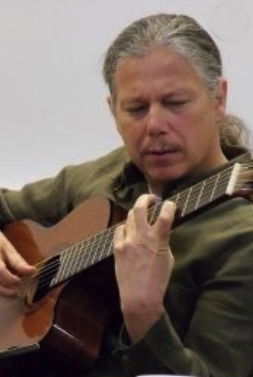 1960 – Craig S. Womack is an author and professor of Native American literature. Creek-Cherokee by ancestry, Womack is best known for Red on Red: Native American Literary Separatism, a book of literary criticism which argues that the dominant approach to academic study of Native American literature is incorrect. Instead of using poststructural and postcolonial approaches that do not have their basis in Native culture or experience, Womack claims the work of the Native critic should be to develop tribal models of criticism. Along with Robert Allen Warrior, Jace Weaver and Greg Sarris, Womack is categorized as a nationalist, a group that have significantly altered the critical metholodogies used to approach Native American literature.
He is an educator and writer who has focused his work on the lives of Native Americans. In his novel Drowning in Fire, published in 2001, he attempts to "show how two Muskogee Creek men's love for one another might be supported by their community, as well as deal honestly with the racism and homophobia that might inhibit that support both inside and outside the Indian world."
Currently, Womack is employed as a professor at Emory University, specializing in Native American literature. His partner is Gerado Tristan.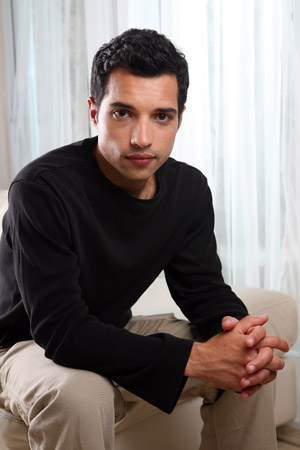 1972 – Pedro Zamora (d.1994) was a Cuban-American AIDS educator and television personality. As one of the first openly gay men with AIDS to be portrayed in popular media, Zamora brought international attention to HIV/AIDS and LGBT issues and prejudices through his appearance on MTV's reality television series, The Real World: San Francisco.
When his mother died when he was thirteen, he went into denial by throwing himself into his schoolwork, and by having promiscuous sex. He was an honors student, president of the Science Club, captain of the Cross-Country team, and as one of the most popular students in Hialeah High School, was voted Most Intellectual and Most All-Around. His mother's death inspired him to become a doctor, but he replaced her presence in his life by becoming sexually active with many male partners.
He was ignorant of safe sex, as the only AIDS education he received was in the seventh grade from a man who did not present the disease as a legitimate threat to him, but as something distant that only afflicted societal undesirables like prostitutes, drug addicts and homosexuals. Things such as sex and condoms were never mentioned, and thus Zamora never identified himself as someone at risk.
When he was fourteen, his father, suspecting his son was gay, had his brother follow him when he was supposed to be going out with a group of friends, only to find Zamora with his boyfriend. Zamora admitted his sexual orientation when his father confronted him. Hector, rather than being upset, was concerned over the homophobia to which his son might be subjected, but affirmed that he would be supportive of his son.
In his junior year of high school, Zamora donated blood during a Red Cross blood drive, and received a letter saying that his blood tested "reactive", though it did not specify for what, as the general screening was for a variety of viruses and infections. Zamora decided to be tested, and on November 9, 1989, the results confirmed that he had HIV.
He decided to graduate from high school before he died, though he did not give much thought to his health, as he was still in denial. He graduated high school in 1990, a year early, but five months later, he suffered a severe case of shingles that covered the entire right side of his body and face. With medication, the condition subsided after two months, but it inspired Zamora to join a Miami-based HIV/AIDS resource center called Body Positive, where he met others with HIV and AIDS, and educated himself about the disease, learning how to lead a positive life with it. Soon thereafter, he began to talk about his condition to others to attempt to raise awareness about the disease in his community.
Zamora decided to make a career as an AIDS educator. He began to lecture at schools of all levels, PTA meetings, churches, and anyone else who would listen, traveling the country, sitting on the boards of various AIDS organizations, and hoping to use what time he had left to prevent others from sharing his fate.
At the age of 19, his work came into national focus when Eric Morganthaler wrote a front page article about him for the Wall Street Journal, resulting in talk show interviews by Geraldo Rivera, Phil Donahue and Oprah Winfrey.
Though Zamora was gay, he chose to not make that explicit point to school children, preferring to emphasize to them that he got the disease through unprotected sex, so as to underscore the fact that both homosexuals and heterosexuals could contract HIV.
On July 12, 1993, he testified before the United States Congress, arguing for more explicit HIV/AIDS educational programs, saying, "If you want to reach me as a young man - especially a young gay man of color - then you need to give me information in a language and vocabulary I can understand and relate to."
In 1993, Zamora met a fellow AIDS educator named Sean Sasser during a gay/lesbian march in Washington D.C., when both were involved with other people, and they became friends. The constant travel took its toll on Zamora, who at times was so tired that he was forced to cancel speaking engagements.
In mid-1993, Zamora learned that MTV was casting for the next season of their reality TV show, The Real World, which would take place in San Francisco. His best friend and roommate, Alex Escarano, convinced him to put together an audition tape, arguing that he could reach more people simply by living in The Real World house than through the cross-country travel that exhausted him. Six months later, Zamora was informed that he had been chosen to be a castmate on the show, beating out 25,000 applicants.
The Real World: S.F cast
Zamora and his six castmates (Mohammed Bilal, Rachel Campos, Pam Ling, Cory Murphy, David "Puck" Rainey, and Judd Winick) moved into the house at 953 Lombard Street on Russian Hill on February 12, 1994. While the producers informed the other six housemates that they would be living with someone HIV-positive, they did not tell them who it was.
Zamora informed his roommate, Judd Winick, that he was the one with AIDS by telling him he was an AIDS educator, and the rest of the cast by showing them a scrapbook of his career as an AIDS educator.
Sean Sasser had been living in San Francisco for a couple of years, so when Zamora moved into the loft, he and Sean began dating. Zamora asked the show's producers for permission to go out without cameras, so that he and Sasser could get to know one another in a more natural setting. The producers allowed this, and the two young men fell in love. Sasser proposed to Zamora, and the two exchanged vows in a commitment ceremony in the loft. Their relationship was nominated for "Favorite Love Story" at the 2008 Real Worlds Awards Bash.
Zamora's health continued to deteriorate, however. Although he was able to participate in activities like parasailing during the group's trip to Hawaii, the cast grew more worried about him nonetheless, often covering up for him during their weekly "confessional" interviews with the producers by telling them that Zamora was doing fine when they knew otherwise.
The cast moved out of the loft on June 19, 1994, and the first episodes of The Real World: San Francisco began airing a week later.
Wishing not to subject his family to a slow and prolonged death as had occurred with his mother, Zamora stated his wish not to be kept alive by artificial means. Hospitalized and unable to speak for almost a month, being fed intravenously, and becoming unresponsive, his family honored his wishes, and withdrew life support, including medication, food and water. Surrounded by his family, Zamora died on November 11, 1994, the day after the final episode of The Real World: San Francisco aired.
U.S. President Bill Clinton credited Zamora with personalizing and humanizing those living with HIV—especially to Latino communities—with his activism, including his testimony before Congress. His romantic relationship with Sean Sasser was also documented on the show with the two getting married on air; their relationship was later nominated by MTV viewers for "Favorite Love Story" award. Zamora's personal struggle with AIDS, and his conflict with housemate David "Puck" Rainey is credited with helping to make The Real World a hit show, for which Time ranked it #7 on their list of 32 Epic Moments in Reality-TV History.


1980 – In Toronto, Judge George Ferguson orders the gay newspaper The Body Politic back to Provincial Court to face new trial on obscenity charges. TBP decides to appeal.


1980 – A Provincial Court judge in Kingston, Ontario awards sole custody of a ten-year-old daughter to a lesbian mother. It concluded that proselytizing or copying of sexual patterns were not dangers. This was the third reported Canadian case of the courts awarding custody to homosexual parent.


Added 2021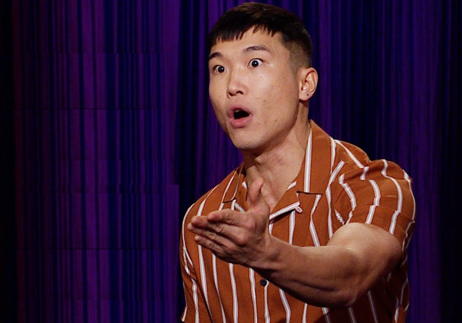 1988 – Joel Kim Booster is an American actor, comedian, and writer. He is best known for his Comedy Central Stand-Up Presents stand-up special.
Kim Booster was born in South Korea and was adopted by a white American couple as an infant. He was raised in Plainfield, Illinois in a conservative, Evangelical Christian family and was initially homeschooled. He went to public school for the first time when he was 16, which he described as his "first time being around non-religious people." He knew he was gay from childhood but kept it a secret. His senior year in high school, his parents found out he was gay by reading his diary where he had described his sexual encounters with other boys. Kim Booster moved out and began to couchsurf until he stayed with a family friend.
He studied theater at Millikin University for his bachelor's degree.
Living in Chicago, he took a job as a copywriter and began to perform in theater and write jokes after work. Kim Booster began his stand-up career in an unconventional fashion by opening up for plays in Chicago's theater scene. He then moved to New York in 2014 to pursue a career in comedy. He performed a set on
Conan
in 2016. He then appeared in his own
Comedy Central Stand-Up Presents
special in 2017. Kim Booster has also written for the shows
Billy on the Street
,
Big Mouth
, and
The Other Two
.
Kim Booster often talks about his sexuality in his stand-up. He has stated that he knew he was gay before he knew he was Asian.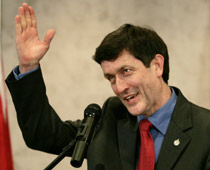 "Me too!"

1988 – Svend Robinson becomes Canada's first elected Member of Parliament to come out as gay.

MARCH 1 →
[{(o)}]|[{(o)}]|[{(o)}]|[{(o)}]| [{(o)}]|[{(o)}]