November 24
[{(o)}]|[{(o)}]|[{(o)}]|[{(o)}]| [{(o)}]|[{(o)}]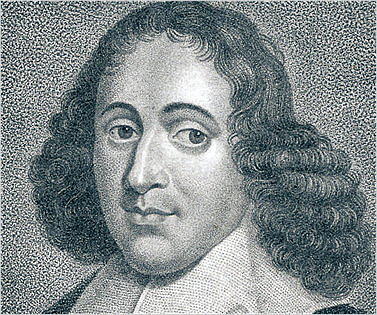 1632 – Baruch Spinoza, the Dutch philosopher was born on this date (d. 1677). One of the great rationalists of 17th century philosophy, he laid the groundwork for the 18th century Enlightenment and modern biblical criticism. By virtue of his magnum opus, the posthumous Ethics, Spinoza is also considered one of Western philosophy's definitive ethicists. He was raised and educated in the Orthodox Jewish fashion, also studying Latin and was thoroughly familiar with European humanism.
What exactly is it that caused him to be excommunicated from the synagogue when he was only 24 years old? Many scholars have speculated that the horror Spinoza inspired in the Jewish community may have come not only from his espousal of advanced economic theories, but from his espousal, as well, of Greek love among impressionable students in the liberal circle where he taught. A Dutch physician, J. Roderpoort, wrote at The Hague in 1897: "Spinoza excites the youth to respect women not at all and to give themselves to debauchery." Was Spinoza merely teaching the Greek and Roman classics, with their inevitable passages on pederasty? What were Roderpoort's motives for discrediting the Jewish philosopher? Was Spinoza, in fact a pederast? It's all open to speculation.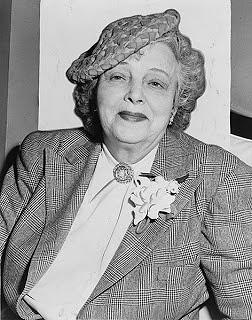 1886 – Born: Margaret Caroline Anderson (d.1973), American founder, editor and publisher of the art and literary magazine "The Little Review", which published a collection of modern American, English and Irish writers between 1914 and 1929. The periodical is most noted for introducing many prominent American and British writers of the 20th century, such as Ezra Pound and T. S. Eliot in the United States, and publishing the first thirteen chapters of James Joyce's then-unpublished novel, Ulysses.
Growing up in a small town in Indiana, Anderson already showed a headstrong, independent nature. After graduating from high school, she enrolled as a piano student at Western College, a women's institution in Oxford, Ohio, but left after three years, without completing a degree.Instead, she headed for Chicago, where within just a few years, in March 1914, she founded the avant-garde literary magazine "The Little Review" during Chicago's literary renaissance, which became not just influential, but soon created a unique place for itself and for her in the American literary and artistic history.
Two years later, she met Jane Heap, who became her lover, and co-editor of The Little Review. Funding for the magazine was scarce, and Anderson always short of money, but even so, she published some of the most influential new writers in the English language, including Hart Crane, T. S. Eliot, Ernest Hemingway, James Joyce, Ezra Pound and William Butler Yeats.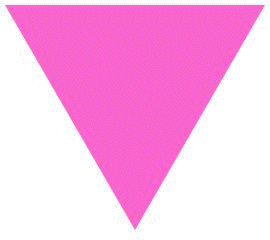 1933 – A law was passed in Germany to allow surgical castrations as a crime prevention measure and a therapeutic treatment for homosexuality.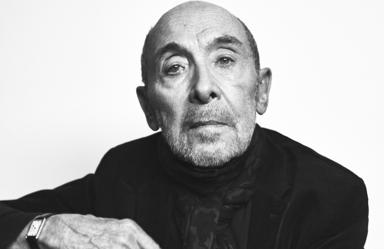 1930 – Albert Wolsky is an American costume designer. He has worked both on stage shows as well as for film, and has received two Academy Awards, for his work on the films All That Jazz and Bugsy.
Wolsky was born in Paris, France, but during World War II, he and the rest of his family fled to the United States to escape the German occupation. After graduating from the City College of New York, he served in the army from 1953–56, spending most of his enlistment in Japan. Once he returned to the United States, he began working in his father's travel agency. However, he decided to change careers and took an assistant's job with notable costume maker Helene Pons.
Wolsky became a well-regarded costume designer, working both on Broadway and in the motion picture industry.
His longtime partner was actor James Mitchell.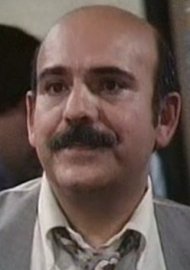 1933 – René Enriquez remembered for his role as the perpetually worried Lieutenant Ray Calletano on Hill Street Blues.
Born in San Francisco, California, he attended San Francisco College and San Francisco State University. He served with the U.S.Air Force during the Korean War. He was a member of the American Academy of Dramatic Arts in New York from 1958. He was also the nephew of General Emiliano Chamorro, one-time president of Nicaragua.
As a film actor, René was known for Bananas (1971), Harry and Tonto (1974), Under Fire (1983) and The Evil That Men Do (1988).
He also appeared in episodes of Charlie's Angles, Benson, WKRP in Cincinnati and Quincy.
In biographies and intervies, Enriquez told of a wife who had tragically died. It was a lie. He was a homosexual bachelor who contracted AIDS in 1987. As he became more and more ill, he told his friends and fans he was suffering from cancer. He died in March 1990.
His publicist and long-time friend Henry Bollinger revealed, "René told me he was dying of pancreatic cancer. He never told me anything about a gay lifestyle."
The true cause of his death only became known when his death certificate was published. Cause of death was given as "cytomegalovirus enteritis due to Acquired Immune Deficiency Syndrome (AIDS)"
The only people privy to René's terrible secret were his two sisters and his 25-year-old Hispanic lover.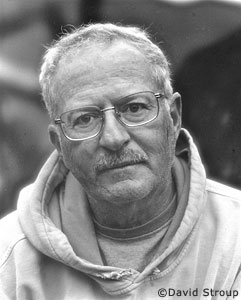 1940 – Arthur Tress, American photographer, born. The uncompromising, poetic imagery of American photographer Arthur Tress is the stuff of dreams, called forth from the artist's reckoning with the world and his place in it.
A New Yorker, he began his photographic career at age twelve, making snapshots of dilapidated mansions and Coney Island decay. An introverted child of divorce, Tress moved between two worlds--his lower-class mother's neighborhoods and his nouveau riche, remarried father's more prosperous one, observing and eventually photographing both milieus.
As he recalls, from a very young age he was already aware that his sexuality was different from most of his classmates and he was drawn to subject matter that was similarly marginalized and different.
During his studies at Bard College, Tress explored painting and filmmaking but was ultimately committed to still photography. Although he worked in a documentary style, from the beginning his imagery was characterized by a surrealist sensibility.
After graduation Tress traveled the world, in part financed by his father and also supporting himself by making ethnographic and documentary images. During his travels he became increasingly influenced by his experience of other cultures, particularly in matters of spirituality and consciousness.
Tress's first book, The Dream Collector (1972), was an attempt to visualize children's dreams, often featuring children whom Tress had interviewed as models. His second book, Shadow: A Novel in Photographs (1975), showed "portraits" of the photographer's shadow and explored the idea that the shadow literally and metaphorically represented one's dark side.
Theater of the Mind (1976), which included an essay by his friend and mentor, gay photographer Duane Michals, explored adult fantasies and marked the introduction in Tress's work of overtly erotic imagery. As Tress explained, he sought to make "photographs [that] attempt to make explicit . . . sexual passions and ironies."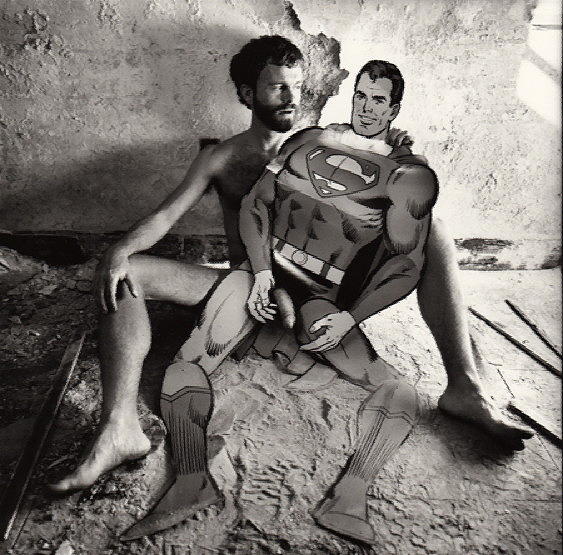 "Superman Fantasy"
(Click for larger)
Around 1972 Tress consciously began to include what he called "the more intimate spheres of a gay sexuality and homoerotic fantasy life." Facing Up (1977-1980), alternately titled Phallic Phantasy, was Tress's first explicitly conscious exploration of his sexuality in which he exclusively photographed male nudes.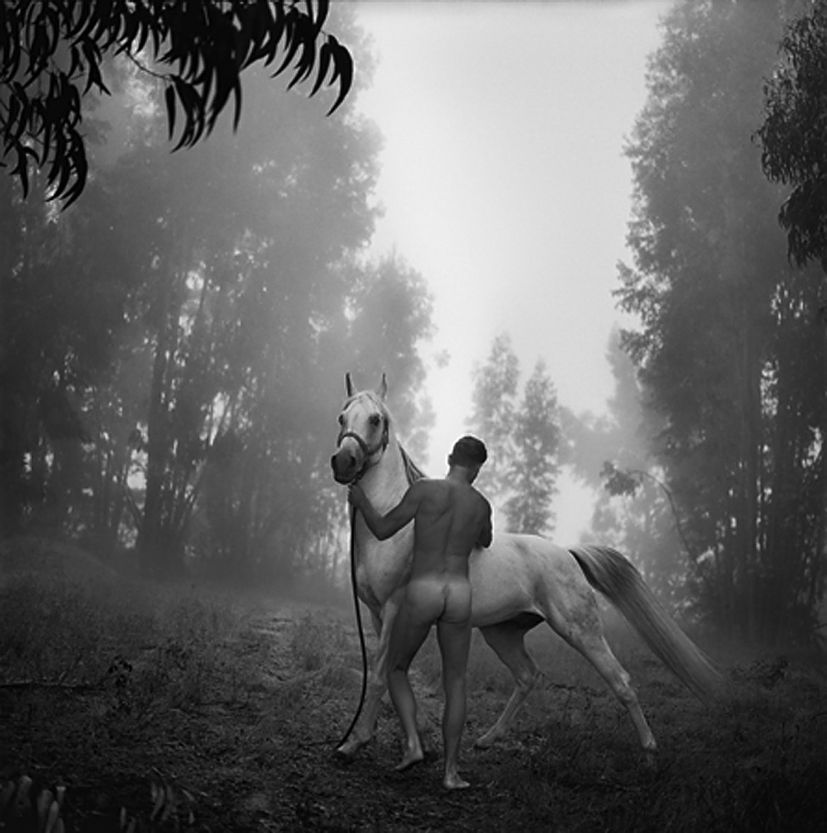 "Groom with White Arabian"
(Click for larger)
Many of these images were included in Tress's homoerotic homage, Male of the Species: Four Decades of Photography of Arthur Tress (1999), which culls imagery from Tress's forty-year career of exploring the male body and sexuality. The sensual photographs, sequenced in a loose narrative of experience from youth to death, matter-of-factly infuse male sexuality with humor and irony.
In contrast, Tress's obsessive constructions made and photographed for the Hospital series (1984-1987) are a garish, nightmarish reckoning with health-related issues and death in the era of AIDS.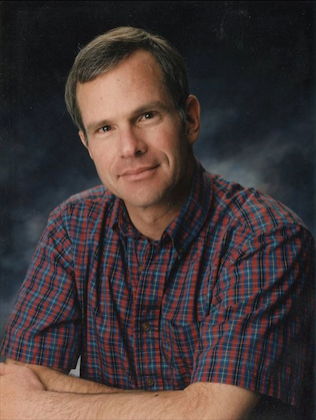 1951 – Neil Isbin, a longtime activist for civil rights and gay and lesbian rights, was born in Minneapolis, Minnesota. He attended college at Rice University in Texas. He moved to New Mexico in 1980.
While in college he was active in voter-registration drives and programs for students with learning disabilities. He graduated with an electrical engineering degree from the Univeristy of Texas in 1984. He worked for Sperry Flight Systems in Albuquerque.
He wrote for OUT!, a magazine about gay and lesbian issues, was President of the New Mexico Lesbian and Gay Rights Political Alliance and was on the board for "Common Bond", a magazine published in Albuquerque, and led the fight for the passage of Senate Bill (SB) 91, gay and lesbian rights legislation in New Mexico.
He died of AIDS in Albuquerque, New Mexico August 9, 1996.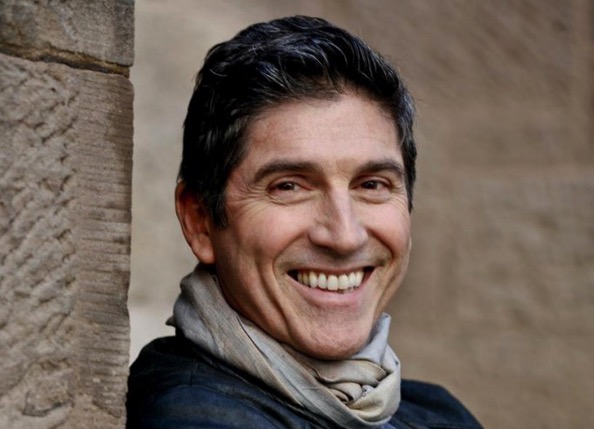 1954 – James Lecesne is an American actor, author, screenwriter, and LGBT rights activist best known for his screenplay of the Academy-award winning short film Trevor. He has written several books including Absolute Brightness and Virgin Territory, and is also active in the entertainment industry as an actor and producer.
Lecesne wrote the 1995 short film Trevor, which won the Academy Award for Best Live Action Short Film. He based the screenplay for Trevor on a character from his one-man show Word of Mouth. Also in 1995, Word of Mouth won the Drama Desk Award for Outstanding One-Person Show. Word of Mouth was directed by Eve Ensler.
In 1998, on the night Ellen DeGeneres hosted the television debut of Trevor on HBO, Lecesne co-founded and launched The Trevor Project as the first nationwide 24-hour crisis intervention lifeline for lesbian, gay, bisexual, transgender and questioning youth, including phone, in-person and online life-affirming resources such as Trevor Lifeline, TrevorChat, TrevorSpace, Ask Trevor and Trevor Education Workshops. The Trevor Project has been supported by a wide variety of celebrities, including Daniel Radcliffe, Neil Patrick Harris, James Marsden, Kim Kardashian, George Takei, and Anderson Cooper.

1955 – In the wake of the murder of a Sioux City, Iowa, boy earlier in the year, 29 men suspected of homosexuality are committed to mental asylums as a preventive measure authorized by the state's "sexual psychopath" laws.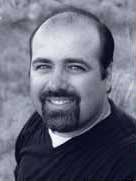 1964 – Rafael Campo is an American poet, doctor, and author.
He graduated from Amherst College and Harvard Medical School. He practices medicine at Beth Israel Deaconess Medical Center in Boston, Massachusetts. His writing focuses on themes that promote equality and justice for gay people, people of color, and working-class people.
He served as a resident poet at Brandeis University and the University of Illinois at Champaign-Urbana. He frequently reads at colleges, including Brown University, Stanford University, and Colby-Sawyer College. He currently instructs in the Lesley University low-residency MFA writing program in Cambridge, Massachusetts.
As a respected and much-loved doctor, Rafael Campo shares favorite poems with patients on his rounds. After all, incantation has played a role in healing for millennia, displaced only recently by modern scientific obsessions.
In his book The Healing Art: A Doctor's Black Bag of Poetry, Campo restores the link between poetry and healing, offering "pharmaceutical" samples of work by a diverse group of poets such as Mark Doty, Marilyn Hacker, Miroslav Holub, Audre Lorde, Lucia Perillo, and William Carlos Williams. He leads us through the stages of illness and recuperation, from first inklings of mortality through symptoms, diagnosis, and treatment, and finally recovery or—and here medicine recoils but poetry perseveres—death, and even immortality.


1984 – England's first national conference on AIDS began, and was organized by the Terrence Higgins Trust.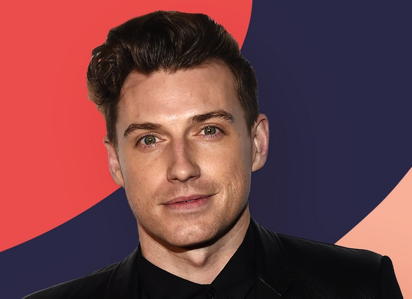 1984 – Jeremiah Brent is an American interior designer and television personality. Artistic from an early age, he started his career as a self-taught designer. He founded his design firm Jeremiah Brent Design (JBD) in 2011, a full service interior design firm in Los Angeles and New York City. The firm specializes in residential, commercial, and hospitality design.
Brent was featured in many television shows with a big break in 2011 when he became a styling associate to Rachel Zoe on her syndicated show The Rachel Zoe Project in the fourth season of the show. He has also appeared in covers of various publications such as Domino magazine, Architectural Digest, Harper's Bazaar and People magazine. He was host of the Emmy Award-winning show Home Made Simple, broadcast for two seasons on Oprah Winfrey's OWN network.
Alongside his husband, fellow interior designer Nate Berkus, he launched in 2017 the TV show Nate & Jeremiah by Design broadcast on TLC network. In 2017, he also became part of Living Spaces particularly Living Spaces presents Behind the Design.
Brent graduated from Modesto High School in 2002, where he was known as Jeremy [Brent] Johnson. In 2004 at the age of 19, he moved to Los Angeles. For the first year that he was there, he was technically homeless, living on friends' couches and in his Jeep. His first apartment was across the street from Covenant House, a shelter for homeless teens, which he later helped redesign.
Brent is openly gay. After eight-and-a-half months of dating, he became engaged to fellow interior designer Nate Berkus in April 2013. They were married on May 4, 2014 in Manhattan. The couple's Jewish-Buddhist ceremony was officiated by the then-president of the Oprah Winfrey Network (OWN), Sheri Salata. For reasons unknown, Brent legally changed his name from Jeremy Brent Clevenger Johnson to Jeremiah Brent on August 25, 2014.


Added 2022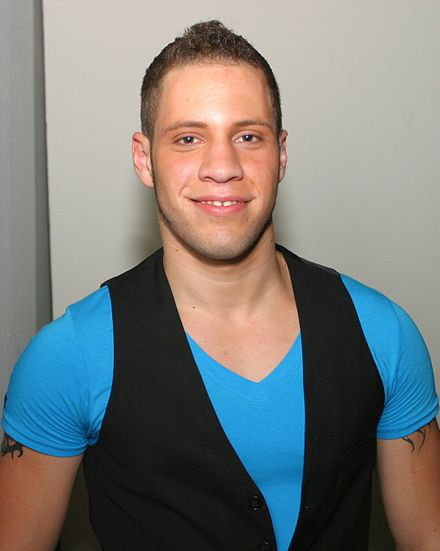 1984 – Wolf Hudson is a Dominican American film director, street dancer and pornographic actor of heterosexual, homosexual, and bisexual films.
Hudson started his adult film career in 2006 at age 22 in New York when he was cast by Michael Lucas in the Lucas Entertainment project Michael Lucas' Auditions Vol. 22. He moved to San Francisco in early 2007 to focus on his career in the pornographic film industry full-time and to work for gay pornographic film studio Factory Videos.
In August 2008, he co-starred in the GayVN Award-winning bisexual film Shifting Gears , directed by Chi Chi LaRue. The film stirred up controversy when the term "Straight-for-pay" (a play on word for Gay-for-pay) was coined to reference performer Blake Riley's first encounter with a woman (Shy Love) and liking it. Riley received most of the criticism, but so did Hudson and LaRue.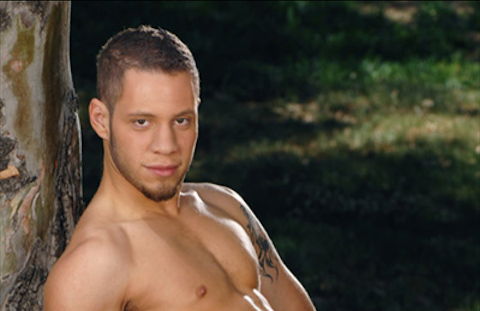 Click for Full Monty
Hudson appeared in the third season of the Canadian TV show Webdreams , which followed Jet Set Men directors Chris Steele and Chad Donovan.
Hudson turned down an offer to appear on a January 22, 2009, episode of The Tyra Banks Show concerning Gay-for-pay performers. He expressed his reservations about appearing because of how the show could twist things around to make the guys look bad.
Hudson identifies himself as heterosexual, even going as far as to call himself a "sexualist" instead of gay-for-pay. He is quoted as saying, "I am not conventional. I am not fully straight because I do gay porn, but I'm not bi because I don't date men in my personal life. I define myself as a 'sexualist'. I think Chi Chi LaRue came up with that term and it works for me."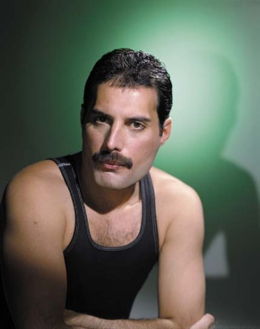 1991 – Freddie Mercury, lead singer for Queen, died of complications from AIDS. It was only the day before that he acknowledged that he had the disease. He left most of his estate to a former girlfriend, Mary Austen, who cared for him during his final months.

1997 – The Associated Press reported that Edgehill United Methodist Church in Nashville Tennessee announced that no weddings would be performed there until same-sex couples were given the right to be married there.

1998 – About 100 people demonstrated to protest the firing of Alicia Pedreira, a lesbian, from Kentucky Baptist Homes for Children in Louisville. According to her termination notice she was fired because "admitted homosexual lifestyle is contrary to Kentucky Baptist Homes for Children core values." Five other employees resigned in protest.

2008 – A lower court in Florida declares that the state's ban on adoption by gay couples is unconstitutional.

2014 – The Ecuador LGBT Film Festival Jury names Letter to Anita as Best Documentary. The film, directed by Andrea Meyerson, tells the story of Anita Bryant's anti-gay campaign and its effect not only on the life of lesbian Ronni Sanlo and her family but also on the budding LGBT civil rights movement.

2015 – The Vietnamese National Assembly passes a law that allows those who have undergone sex reassignment surgery to register under their preferred sex. However, sex reassignment surgery is illegal in Vietnam. The law comes into effect in 2017.

NOVEMBER 25 →
[{(o)}]|[{(o)}]|[{(o)}]|[{(o)}]| [{(o)}]|[{(o)}]