July 13
[{(o)}]|[{(o)}]|[{(o)}]|[{(o)}]| [{(o)}]|[{(o)}]
1888 – According to an article in Ohio's Springfield Daily Republic, James Chesser marries George Ann Holly who is actually one George Burton, discovered to be a male person after a medical exam. They are a young interracial couple living in Fort Smith, Arkansas from May to July of 1888. Both men were charged with sodomy. This is thought to be the first case where two men were duly married to one another.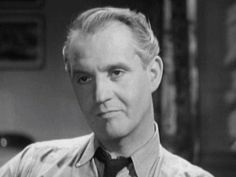 1901 – Eric Portman (d.1969) was a distinguished English stage and film actor. He is probably best remembered for his non-starring roles in British films films such as The Colditz Story, The Deep Blue Sea, and The Naked Edge during the 1940s and 1950s.
He started work in 1922 as a salesman in the menswear department at Marshall and Snelgrove's department store in Leeds and acted in the amateur Halifax Light Opera Society. He made his professional stage debut in 1924 with Henry Baynton's company, before he was engaged by Lilian Baylis for the Old Vic Company. In 1928, he starred as Romeo in the rebuilt Old Vic and forged a reputation as a noted Shakespearian actor.
In the 1930s, he began appearing in films. In 1935, he appeared in four films, including Maria Marten or Murder in the Red Barn.
In 1945, exhibitors voted him the tenth most popular star at the British box office. He maintained that ranking the following year.
In 1967, he played Number Two in the TV series The Prisoner, appearing in the episode "Free For All". Portman is quoted as saying, "Acting is like masturbation - one either does it or one doesn't, but one never talks about it."
Portman was homosexual, although obliging newspapers never reported this during the mid-1950s when homosexuality was illegal in the UK. Newspapers refrained from identifying his sexual preference throughout the 1960s when it could have still damaged his career. He died at the age of 68 at his home in St Veep, Cornwall.


Added 2022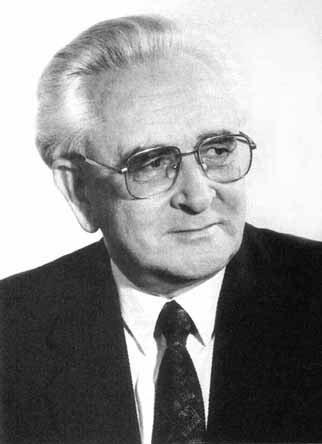 1929 – Gerd Günter Dörner, born in Hindenburg, Silesia, was a German physician and professor of endocrinology.
During his research work in the GDR, Dörner announced that he had found evidence that homosexuality could have endocrinological causes, and therefore demanded that homosexuality be recognized as a natural variation of sexual behavior, which was in line with the social and legal stance of the GDR.
Dörner's research results were based, among other things, on blood samples that he had also received from West German psychiatric university clinics whose employees were scientifically interested, but had not informed their patients about this use.
On March 9, 1989, on Dörner's initiative and on the basis of his research results, the International Congress of the International Society of Prenatal and Perinatal Psychology and Medicine in Jerusalem recommended to the World Health Organization that it should no longer regard homosexuality as a disease. In 1991, the WHO deleted homosexuality from the International Classification of Diseases (ICD).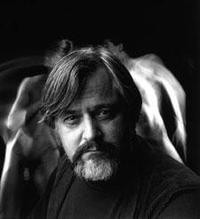 1933 – Scott Symons (d.2009) was a Canadian writer. Born into a wealthy family, he attended a number of private schools, the University of Toronto, Cambridge University and the Sorbonne. A rising star of Canadian literature in the late 1960s and early 1970s, he wrote two novels with homoerotic themes - Place d'Armes (1967) and Civic Square (1969) - before leaving Canada to live in Morocco.
He was openly gay at a time when this was very difficult, publishing his first novel, Place d'Armes, which dealt directly with homosexuality, two years before gay sex was decriminalized in Canada. The novel was one of the first notable gay novels in Canadian literary history. He was an avid diarist and many of his observations and episodes from his life found their way into his novels.
He died in Toronto at the age of 75.
Symons is the subject of a documentary film, God's Fool (1998), by Nik Sheehan.

1934 – In Germany, Hitler gave a speech in response to a retaliation that occurred after the murder of Ernst Rohm. The speech equated being homosexual with being a traitor.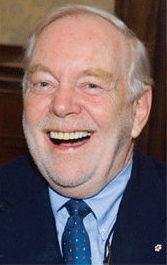 1934 – Ian Scott (d.2006), was a politician in the Canadian province of Ontario.
Scott was the Attorney-General of Ontario in the Liberal government of David Peterson from 1985 to 1990 and was with Robert Nixon and Sean Conway considered to be one of the three top ministers in and "the intellectual heart and soul" of the Peterson cabinet.
Scott was born to a family with extensive political connections. One of his paternal great-grandfathers, Richard William Scott, was a prominent Canadian politician in the nineteenth century, and served for a time as government leader in the Canadian Senate. His other paternal great-grandfather was W.W. Sullivan, Premier of Prince Edward Island from 1879 to 1889.
The 1985 election was a watershed moment in Ontario politics. The Progressive Conservatives were reduced to a minority government. Scott was elected in St. David, defeating Tory candidate and personal friend Julian Porter. After the election, Scott was one of the Liberal envoys who negotiated an accord with the NDP which allowed the two parties to defeat the Tories in a motion of non-confidence, and then allowed the Liberals to form a minority government with NDP support for two years. He was appointed Attorney General and Minister responsible for Native Affairs on June 26, 1985. In the 1987 provincial election, he was easily re-elected in the redistributed riding of St. George-St. David.
Scott was narrowly re-elected in the 1990 election that defeated the Peterson government. He was challenged by former Tory cabinet minister Keith Norton, who had come out of the closet by this point, and ran as an openly gay politician. Scott was widely known to be gay, but declined to reveal it, and there were concerns in Scott's campaign that Norton would attempt to make an issue of this matter. While Scott was criticized for not being open about his sexuality, however, Norton was derided for opportunism, declaring himself openly gay only after he'd decided to run in a riding with a large gay population.
He was unhappy in opposition, and lost interest in the legislature. Scott resigned his seat in the legislature in 1992.
He accepted a teaching position at York University, and remained in the public eye as a political panelist on television until a devastating stroke in 1993 made speech difficult for him. He developed aphasia following the stroke, and was forced to end his legal career.
He was made an Officer of the Order of Canada in 1996.
Scott's sexual orientation was an open secret during his time in politics, although the media respected his privacy and did not report the fact that he was gay or in a long term same-sex relationship. He came under increasing pressure to come out of the closet, particularly from many of his constituents in St. George-St. David, which includes the Church and Wellesley neighbourhood, home to Canada's largest gay and lesbian community. Although he was asked about his sexual orientation at all candidates meetings during the 1990 provincial election, particularly as Keith Norton, the Tory candidate, was openly gay, Scott declined to comment, saying that it was a private matter.
After his retirement from politics, Scott publicly acknowledged his long term relationship for the first time in 1993, upon the death of his partner Kim Yakabuski (son of former Progressive Conservative MPP Paul Yakabuski and the brother of current Progressive Conservative MPP John Yakabuski).
Scott opposed same-sex marriage for most of his life, on the grounds that it reflected the values of a society which for years treated homosexuals as pariahs. He later expressed regret that his government did not introduce spousal benefits for same-sex couples.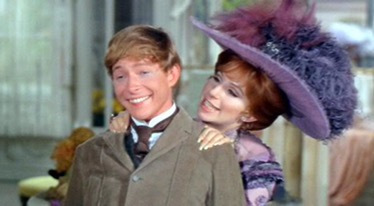 1943
– (Daniel Joseph)
Danny Lockin
 (d.1977) was an American actor and dancer who appeared on stage, television, and film. He was best known for his portrayal of the character Barnaby Tucker in the 1969 film 
Hello, Dolly!
.
Born in Hawaii, Lockin was raised in Omaha, Nebraska. He began dancing professionally at area fairs at the age of eight. His act co-starred Neal Reynolds, an African American boy with whom he would tap dance, tell jokes, pantomime, and do impressions of famous people.
He had an early, and uncredited, role as a young farm boy in the 1962 film version of Gypsy. He appeared in the play Morning Sun in October 1963, but it closed after nine performances. The New York Times said he "dances with acrobatic suppleness and engaging freshness". He made his Broadway debut on April 8, 1964, in West Side Story in New York City in the role of Gee-Tar, and appeared as an actor and dancer in a regional production of Take Me Along. Later that year, he was cast in a starring role in the musical Tom Sawyer, which played at the St. Louis Municipal Opera.
He replaced Jerry Dodge in the role of Barnaby Tucker in
Hello, Dolly!
in the winter of 1965, and went across the United States on six traveling productions with several actresses playing Dolly Levi, including
Betty Grable, Ginger Rogers, Eve Arden, Dorothy Lamour
and
Anne Russell
. He remained in the role for the movie version of
Hello, Dolly!
On the night of August 21, 1977, Lockin went to a gay bar in Garden Grove, California and left with Charles Leslie Hopkins, 34-year-old unemployed medical clerk, who already had a police record and was on probation at the time.
Several hours later, Hopkins called police to say that a man had entered his apartment and tried to rob him. Upon arrival, police found Lockin's body on the floor of Hopkin's apartment. He had been stabbed 100 times and bled to death. His body had also been sexually mutilated after death. Hopkins claimed he had no idea how the dead body got in his apartment. He was arrested immediately.
Police found a book of pornographic pictures in Hopkins' apartment which showed men being tortured during sexual orgies, but the trial court ruled the pornographic book inadmissible as evidence. Hopkins was convicted of voluntary manslaughter and sentenced to a four-year prison term.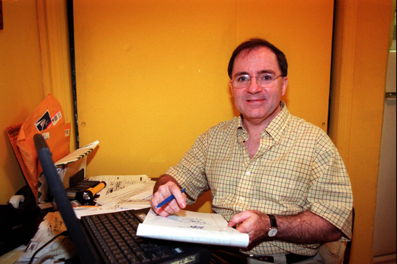 1943 – Joseph Nicholson (d.2014), Former New York Post reporter, is often cited as the first openly gay reporter at a big-city daily, covered high-profile court cases, international affairs, and gay and AIDS issues.
Nicholson, who worked for the Post from 1971 to 1993, began coming out to colleagues in the late 1970s and by 1980 was out to all his major editors, noted a 1990 American Society of Newspaper Editors report on gay people in journalism. He recognized the importance of coming out because of the increasingly antigay editorial stance at the Post after its purchase by Rupert Murdoch in 1976.
In 1980, after a gunman fired shots into a New York gay bar, killing two people and wounding several others, Nicholson offered his Post editors a story about his "reaction as a gay person," according to the Columbia Journalism Review. The Post did not publish the piece, but the New York Native, a now-defunct gay weekly, ran an expanded version of it, according to Nicholson's family.
Nonetheless, his career thrived at the Post. "Rupert Murdoch's Aussie and Brit editors arrived expecting the stereotype they had heard about homosexuals, and so I thought they should get to know an actual gay man who had been a standout player in high school football, a college rugby player, and a Navy officer, things I don't think any of them had been."
Nicholson covered several high-profile trials — of Jean Harris for the murder of "Scarsdale Diet" doctor Herman Tarnower; of Claus von Bulow for the attempted murder of his wife, Sunny; of William Kennedy Smith for rape; and a civil proceeding involving Woody Allen and Mia Farrow. He also interviewed world leaders such as Cuba's Fidel Castro and Israel's Ariel Sharon, and for several years was medicine and science editor.
He covered gay issues as well. "In 1993, during the height of debate on gays in the military, he wrote a first-person account on his experiences as closeted Navy officer when he served in the mid-1960s," the Post noted in his obituary. Long before that, in 1971, one of the first stories he proposed and wrote for the Post was on antigay job discrimination and efforts to get the City Council to pass an antidiscrimination ordinance — which it finally did in 1986. His reporting on gay and AIDS issues brought the Post a GLAAD award in 1992. Ironically, the advocacy organization had been founded partly in response to the paper's earlier derogatory coverage of gay people and their concerns.
Nicholson died in 2014, survived by his long-time lover and husband, Sherman T. Nicholson, whom he had married the previous year.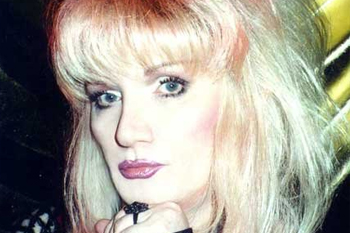 1947 – Jayne County is an American performer, musician and actress whose career has spanned five decades. Formerly known as Wayne County, she went on to become rock's first transgender singer.
County did not think her birth name Wayne Rogers "sounded very glamorous" and decided to adopt the name of the county in which Detroit was located because she admired bands from that city "like Iggy [Pop] and all those people." Though she has never been a commercial success, she has been an influence on a number of musicians including David Bowie, the Ramones, Patti Smith, Pete Burns and Lou Reed. Pianist Jools Holland's first studio outing was with County on her single "Fuck Off".
County is known for her outrageous stage antics and her songs "Are You Man Enough to Be a Woman", "Fuck Off", "Stuck on You," and "Night Time". She also appeared as an actress at Andy Warhol's Factory.
Born Wayne Rogers in 1947, County left her hometown of Dallas, Georgia, in 1968 to move to New York City, where she became a regular at the Stonewall Inn and took part in the historic riots. In 1969 County was asked by Warhol superstar and playwright Jackie Curtis to appear in her play, Femme Fatale. The play had a successful run at La MaMa Experimental Theatre Club
After appearing in Femme Fatale, County wrote the play World – Birth of a Nation (The Castration of Man). The play was directed by Tony Ingrassia and promoted as a "homosexual fantasy." The play was set in a hospital and related to castration of the male sex. Wayne played both Florence Nitingale and her sister Ethel Nitingale.
After seeing County in the play, Warhol cast her in his own theatrical production of Pork, which was also adapted and directed by Tony Ingrassia. After a run in New York, the play was performed in London with the same New York cast.
In 1974 County formed Wayne County and the Backstreet Boys, which recorded three tracks for Max's Kansas City: New York New Wave, a compilation that also featured Suicide, Pere Ubu, Cherry Vanilla and The Fast. Wayne County and The Backstreet Boys played regularly at CBGB and Max's Kansas City, where County was also a DJ. In 1976, she appeared in the film The Blank Generation, directed by Amos Poe and Ivan Kral. The film, the recording and the shows were the beginnings of what came to be known as punk rock, and helped define the movement.
In 1977 County moved to London, where the English punk scene was just emerging, and formed Wayne County & the Electric Chairs. County released the EP Electric Chairs 1977, plus a single on Illegal Records. This was followed by "Fuck Off", recorded as a single for Safari Records and supported with a European tour. While in London, County met Derek Jarman, who cast her as "Lounge Lizard" in the seminal punk film Jubilee, which also starred Adam Ant, Toyah Willcox, Ian Charleson, Little Nell and Jordan. County and band are also featured in The Punk Rock Movie, by Don Letts, containing part of a 1977 performance at The Roxy club in London.
Shortly after this, Wayne County and The Electric Chairs recorded their first, eponymous album, as well as another EP, Blatantly Offensive, which contained "Fuck Off" and "Toilet Love." After their touring in support of these releases was done, they recorded Storm the Gates of Heaven. Their next album, released in 1979, was Things Your Mother Never Told You, which featured several songs based on County's experiences in Germany. The album was produced by David Cunningham. After it was released, the band broke up and County, along with guitarist Eliot Michaels, returned to the U.S.
When County moved to Berlin in 1979, she changed her stage name to "Jayne County", publicly identifying as a woman for the first time. County's release of Rock and Roll Resurrection (In Concert) on Safari Records, was under this new name. The first live show under County's new name in Toronto, Canada, sparked erroneous rumors of a sex change operation.
In the 1990s, many of County's earlier recordings were released, including the early Safari tracks, on a CD called Rock & Roll Cleopatra. She recorded the album Goddess of Wet Dreams in 1993, followed by Deviation in 1995. Later that year, she appeared in Wigstock: The Movie and released her autobiography, Man Enough to Be a Woman.
According to her autobiography, County has not had a sex change operation, but does take female hormones.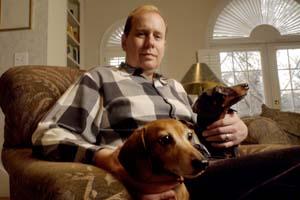 1953 – Novelist, poet, biographer, and scholar, Greg Johnson is a professor of English and a faculty member in the graduate writing program at Kennesaw State University. A frequent reviewer for such publications as the New York Times Book Review, Georgia Review, and Atlanta Journal-Constitution, Johnson has published two novels, a study of Emily Dickinson, three critical works on Joyce Carol Oates, a book of poems, and several collections of short fiction.
Born in San Francisco, California, Johnson moved with his family to Liverpool, England, for three years and then to Tyler, Texas. He received B.A. and M.A. degrees from Southern Methodist University in Dallas, and a Ph.D. from Emory University in Atlanta in 1980.
In his collection of poetry, Aid and Comfort (1993), Johnson deals with the issues of AIDS, dying, suicide, violence, and aging. The same year, he published Pagan Babies, his first novel. Set largely in Atlanta, the novel explores growing up Catholic and homosexual in the age of AIDS, a partly autobiographical tale. The poignant and frankly sexual novel follows the intertwining, stormy relationship between a woman and her gay male friend who first meet as third-graders in a Catholic school in Texas.
In his second novel, Sticky Kisses (2001), Johnson again uses Atlanta as the setting where his characters struggle with the complex rules of society and family in the South. Abby Sadler has returned to be with her estranged brother, Thom, recently diagnosed with HIV. The novel explores the irrevocable stories of family and the healing power of love.
In both his stories and his novels, Johnson is an astute, honest observer of the emotional damage we do to ourselves.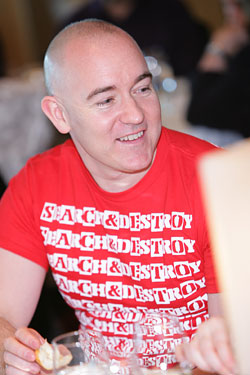 1967 – Novelist and literary critic Dale Peck is the author of a controversial collection of fiction reviews and four novels, including Martin and John, one of the most highly acclaimed works of AIDS literature. Peck's first two novels were published before he turned 30, and his prodigious talents have been praised for their "emotional wisdom" and "somber lyricism."
Dale Peck was born on July 13, 1967 on Long Island, New York, but had a peripatetic childhood, moving with his family from Long Island to upstate New York to Colorado, before finally settling in Kansas. His mother died "under mysterious circumstances," as Peck has recalled, when he was three years old, and his father subsequently remarried three times.
Offered a scholarship, Peck attended Drew University in New Jersey, where he wrote his first novel (unpublished) as his senior honors thesis. After graduating from Drew, Peck attended the writing program at Columbia University.
Peck's first published novel, Martin and John (1993), was sent out to 25 publishers before finally being accepted by Farrar, Straus & Giroux. The novel is an ambitious, intricately structured series of stories about a young gay writer named John and his lover Martin who dies of AIDS. The story of John's life is told in brief, italicized vignettes that chart his violent Midwestern childhood, his eventual escape to New York City, his work as a hustler and sometime porn actor, his love of Martin, Martin's death from AIDS, and John's own probable infection.
Critically lauded upon its release and commercially successful, Martin and John was hailed as one of the first "cross-over" AIDS novels, although Peck himself dismisses this notion as a "myth." As Peck explained in an interview given some three years after the release of the novel,
"Martin and John received enormously positive reviews in the mainstream press, yet as far as I can tell my readership was 90 percent white gay men, and 10 percent heterosexuals. For the most part, heterosexuals don't buy or read books that are deemed 'gay.'"
Peck's next novel, The Law of Enclosures (1996), if not explicitly a sequel, is an extension and amplification of the story begun in Martin and John. The novel was adapted into a film in 2000 by the Canadian director John Greyson, with a screenplay the director co-wrote with Peck.
A slight departure from his first two works, Peck's third novel, Now It's Time to Say Goodbye (1998), is a sprawling, gothic thriller set within a small, racially polarized Kansas town, and told in a heightened, almost biblical, prose style. Recounted by 17 alternating, and mostly first-person, narrators, the story concerns Colin Nieman, a novelist, and his ex-hustler boyfriend, Justin Time, who, reeling from the toll AIDS has taken on their friends and troubled by their own disintegrating relationship, flee New York to the supposed bucolic life of rural Kansas. One month after their arrival, a white teenage girl is raped and kidnapped, and Colin is wrongly implicated in the crime.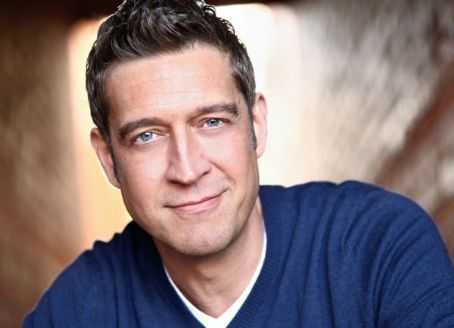 1968 – Robert Gant, American actor, born; Beginning in 2001, the handsome Gant starred in television in Showtime's Queer As Folk as Ben Bruckner, his best-known role to date. He said of his role as Ben:
People who are HIV positive certainly don't have much of a voice and so, in playing Ben, I love getting to be the mouthpiece for a lot of people who are otherwise voiceless.
He attended undergrad at the University of Pennsylvania and law school at Georgetown University. While studying law, he never gave up on his true passion, acting, and performed in numerous theatrical productions. It was his career as a lawyer that brought him to Los Angeles when he accepted a position with the world's largest law firm; the firm's Los Angeles office was closed soon after, so he decided to focus all of his time on acting.
Prior to Queer as Folk, he appeared on the WB's Popular and on NBC's Caroline in the City. Gant has made guest appearances on TV programs such as Friends, Veronica's Closet, Becker, Melrose Place, Ellen, Providence and Nip/Tuck. He also appeared in the independent films The Contract, Fits and Starts and Marie and Bruce, starring Julianne Moore and Matthew Broderick.
In June 2004, Gant, along with actress Cady Huffman (star of Broadway play The Producers), filmed Billy's Dad is a Fudgepacker. The short film is an homage to 1950s educational films. Along with producing partners Chad Allen, and Christopher Racster, Robert has started the film and television production company, "Mythgarden". They have optioned a slate of initial projects, each with varying degrees of Gay-focused content, and are developing a number of other films and television shows. In 2006 they produced Save Me, a a film about religious "curing" of homosexuality, in which Robert also had a co-starring role.
While he gives time to a number of philanthropic and political causes, Gant's "torch issue" is that of aging in the Gay community. He supports such organizations as SAGE (Senior Advocacy for GLBT Elders) and GLEH (Gay and Lesbian Elder Housing). He is also developing a website devoted entirely to Gay elders and matters that affect them.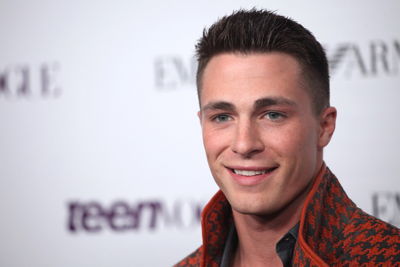 1988 – Colton Haynes is an American actor and model. At the age of fifteen, Haynes began modeling for Abercrombie & Fitch while living in New York City, New York. After moving to Los Angeles, California, he began acting in television. He is best known for his roles as Jackson Whittemore in MTV's supernatural drama series Teen Wolf and Roy Harper/Arsenal in the superhero television series Arrow.
Haynes began his career as a model at the age of fifteen in New York City, New York. Haynes first began his success after appearing in a Bruce Weber photoshoot for Abercrombie & Fitch. He also appeared in a photo shoot for gay-oriented magazine XY in 2006. Afterward, Haynes began modeling in campaigns for Kira Plastinina, J. C. Penney, and Ralph Lauren. In 2008, Haynes continued modeling in campaigns such as Verizon and also appeared in numerous magazine editorials such as Teen Vogue and Arena.
It was announced in 2009 that Haynes had won the role of Shane in the Showtime series Look, based on the 2007 film of the same name. "I play a 17-year-old asshole. The show is very racy with lots of nudity, sex, drugs and real life experiences that will shock audiences," Haynes said in an interview. Filming began in the summer of 2009 and the show premiered in 2010 and was cancelled after its first season. In March 2010, filming began for the ABC television series, The Gates, in which Haynes portrays Brett Crezski, a jock who begins to turn into a werewolf. The series premiered on June 20, 2010. The show was short-lived and was cancelled after its first season. Afterwards he landed the role of Jackson Whittemore in the MTV series, Teen Wolf, based on the 1985 film of the same name.
On October 11, 2012, Haynes tweeted, "These past few years have been the best of my life. I'm sad that this chapter has ended, but excited for a new one to begin. Thx for the love," leaving fans of Teen Wolf confused. The next day it was announced that he would be leaving the show. He was a recurring member on the hit CW show Arrow, playing Roy Harper, a street thug who idolizes the Arrow and later becomes his protegé, Arsenal. Haynes was upgraded to series regular status on Arrow for season two. Haynes left the series at the end of season three.
In May 2016, Colton came out as gay in an Entertainment Weekly interview. He said,
People want you to be that GQ image that you put out; but people don't realize what it's like to act 24 hours a day. I'd go home and I was still acting. People who are so judgemental about those who are gay or different don't realize that acting 24 hours a day is the most exhausting thing in the world."
Colton had been out for years to friend and family, including his gay brother Joshua and Joshua's husband Scott to whom he had publicly offered his support..
Haynes' first credited feature film role was in San Andreas (2015), with Dwayne Johnson.

JULY 14 →
[{(o)}]|[{(o)}]|[{(o)}]|[{(o)}]| [{(o)}]|[{(o)}]