July 14
[{(o)}]|[{(o)}]|[{(o)}]|[{(o)}]| [{(o)}]|[{(o)}]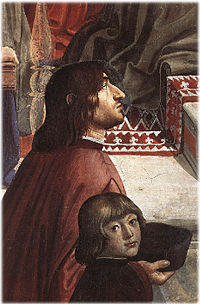 Poliziano & Giulano De' Medici
1454 - Angelo Ambrogini (d.1494), commonly known by his nickname Poliziano, anglicized as Politian, was an Italian Renaissance classical scholar and poet, one of the revivers of Humanist Latin. He used his didactic poem Manto, written in the 1480s, as an introduction to his lectures on Virgil.
In 1470 he won the title of homericus adulescens by translating books II-V of the Iliad into Latin hexameters. Lorenzo de' Medici, who was then the autocrat of Florence and the chief patron of learning in Italy, took Politian into his household, made him the tutor of his children, and secured him a distinguished post in the University of Florence. He was also one of the scholars at the Platonic Academy under the leadership of Marsilio Ficino, at the Careggi Villa.
Among Politian's pupils could be numbered the chief students of Europe, the men who were destined to carry to their homes the creme of Italian culture. He also educated students from Germany, England and Portugal.
His play Orfeo is about the Greek hero Orpheus, who renounces women after the death of Eurydice. James Wilhelm translated Poliziano's Greek Epigrams including the one titled "On the Love of Two Boys" in which Poliziano writes of a "double love" that torments him. Then there's his "Love Song for Chrysokomos" or "Goldenlocks" with its opening lines:
Watch over me from heaven while within my arms I hold my boy,
And don't envy me, Zeus, because I envy no other.
Be contented, Zeus, be contented with your Ganymede, and leave to me
My shiny Chrysokomos, who to me is sweeter than honey.
It is highly likely that Politian was homosexual, or at least had male lovers, and he never married. Evidence includes denunciations of sodomy made to the Florentine authorities, poems and letters of contemporaries, allusions within his work (most notably Orfeo), and the circumstances of his death. The last suggests he was killed by a fever (possibly resulting from Syphilis) which was exacerbated by standing under the windowsill of a boy he was infatuated with despite being ill. Another legend is that a heart attack in bed with one of his students. He may also have been a lover of Pico della Mirandola.
But it's just as likely that his death was precipitated by the loss of his friend and patron Lorenzo de' Medici in April 1492, Poliziano himself dying on 24 September 1494, just before the wave of foreign invasion which was gathering in France swept over Italy.
In 2007, the bodies of Poliziano and Pico della Mirandola were exhumed from St. Mark's Basilica in Florence. Scientists under the supervision of Giorgio Gruppioni, a professor of anthropology from Bologna, used current testing techniques to study the men's lives and establish the causes of their deaths. A TV documentary is being made of this research, and it was recently announced that these forensic tests showed that both Poliziano and Pico della Mirandola likely died of arsenic poisoning. The chief suspect is Piero de' Medici, the successor of Lorenzo de' Medici and docent of Florence, but there are others.

1918 – Arthur Laurents born. (d.2011). Playwright, screenwriter, novelist, librettist and Broadway director, Arthur Laurents was born in New York City. He served in World War II in an army film production unit where he wrote scripts designed to educate servicemen going overseas, as well as radio plays intended to foster civilian support for the war. The success of his first play Home of the Brave (1945) encouraged him to move to Hollywood. His scripts there included The Snake Pit and Hitchcock's Rope (1948), which starred his then-lover, Farley Granger.
His career damaged by the McCarthy witchhunts - he was blacklisted by Hollywood studio bosses - Laurents returned to New York where he enjoyed success as a playwright/ librettist including West Side Story (1957) and Gypsy (1959), and director of I Can Get It for You Wholesale (1962) the 1973 London premiere, and the 1989 Broadway revival of Gypsy and La Cage aux Folles (1983) for which he won a Tony award. His collaborations with such major gay talents as Stephen Sondheim, Leonard Bernstein, Jerry Herman, Harvey Fierstein, and Jerome Robbins have ensured his place in musical theatre history.
Laurents has also written two novels The Way We Were and The Turning Point, both of which became successful films for which Laurents wrote the screenplays .
Laurents' experience of discrimination as both a Jew and a gay man, intensified by his experience during the Hollywood blacklist period, 'infuses his work with a strong social conscience', even if it is often expressed through strong female characters.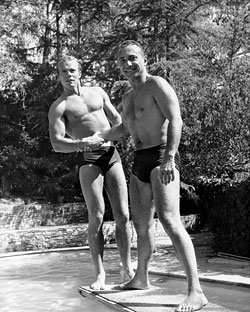 Laurents (R) with Tom Hatcher
(Click for larger)
In 2000, Laurents published Original Story By Arthur Laurents: A Memoir of Broadway and Hollywood. In it, he discusses his lengthy career and his many gay affairs and long-term relationships, including those with Farley Granger and Tom Hatcher, an aspiring actor whom Gore Vidal suggested Laurents seek out at the men's clothing store in Beverly Hills Hatcher was managing at the time. The couple remained together for 52 years. Tom Hatcher, Laurents' life-partner since 1955, died in October, 2006.
Arthur Laurents died in Manhattan, New York, from complications of pneumonia in May 2011. He was 93 years old.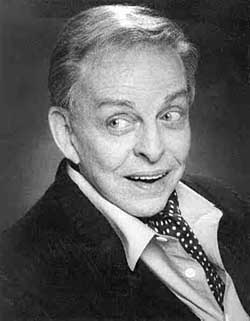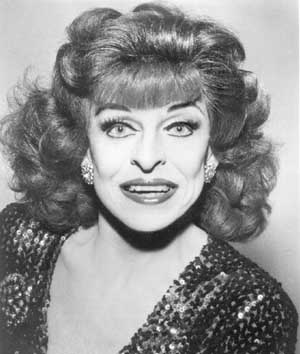 1926
–
Charles Pierce
(d.1999) was one of the great female impersonators, famed for his hilarious recreations of the great Hollywood stars such as
Mae West
,
Tallulah Bankhead
, Gloria Swanson,
Marlene Dietrich
, Katherine Hepburn and especially,
Bette Davis
.
Starting out as radio actor in New York, where he began doing vocal impressions of movie actresses, he moved to San Francisco and starting working the clubs [in the 1950s] where he was faced with homophobia and the challenge of doing his act against a myriad of cross-dressing ordinances - sometimes having to do his routines in a tuxedo, with an array of hats, boas and handbags. With touring, as his fame grew and times changed, the act became more sophisticated and elaborate with props, fabulous make-up, wigs and costumes changes. He was popular with the Hollywood stars he so often mimicked.
"You can call me an impersonator, an impressionist, a mimic, or a comic in a dress. But not a drag queen! A drag queen is someone who dresses up and goes to a ball! I'm an entertainer."
By the 1990s, although he had become a cabaret legend, he began to perform less as his act, which was so reliant on campy vaudeville humour and the bitchy goddesses of Hollywood's golden age, fell out of favour with younger gay audiences, who either didn't get it or found his act dated and sexist.
Pierce made a number of TV appearances, not always in drag, and made a notable appearance in Torch Song Trilogy (1988) as Bertha Venation.
'The Master and Mistress of Surprise and Disguise' died of cancer in 1999 at his home in North Hollywood. His ashes are interred at Forest Lawn - Hollywood Hills Cemetery.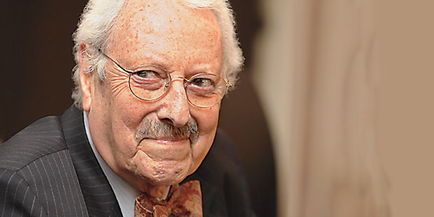 1931 - Thomas Franck (d.2009) was a lawyer, law professor, and expert on international law. Franck was Professor of Law at New York University and advised many nations on legal matters, even helping some to write their constitutions.
Franck was born on July 14, 1931 in Berlin, the son of a Jewish family. In November 1938, his family fled Nazi Germany and spent six months in Switzerland. After being denied visas to emigrate to the United States, the Franck family obtained Canadian visas and moved to Vancouver. Franck attended the University of British Columbia, where he received his B.A. in 1952. In 1953, he received his Bachelor of Laws from the same school.
Franck began his teaching career as an assistant professor at the University of Nebraska in 1954. He then studied at Harvard University where he received a Master of Laws in 1954 and a Doctor of Juridical Science in 1959. He joined the faculty of New York University in 1957 as an associate professor, becoming a full professor in 1962.
Professor Franck's advocacy was rooted in his own childhood, having fled from Nazi Germany just before Kristallnacht. An early advocate of decolonialization in the 1950s, Professor Franck wrote constitutions for several African countries as they emerged from British rule, Tanganyika and Zanzibar, which became Tanzania, and Rhodesia, now Zimbabwe; and Sierra Leone. He later served as legal advisor to the governments of Kenya, Mauritius, the Solomon Islands, El Salvador and Chad. From 1995 to 2007 he was counsel to Bosnia before the International Court of Justice in the case against Serbia in the case of the slaughter of 8,000 Bosnians at Srebrenica.
Dr. Franck's marriage to Martin Daly was one of the 18,000 marriages the Supreme Court of California allowed to stand in the wake of Proposition 8. Franck died on May 29, 2009 and is survived by Daly, his partner of many years.


Revised 2021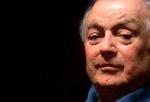 1932 – Jim French (d.1917) was an American photographer who under the name Rip Colt was founder of the Colt Studio line of male erotica.
French began drawing and photographing male erotica in the 1960s, and his first published book, Man, was in 1972. Other books include Another Man, Jim French Men, Opus Deorum, Masc., The Art of Jim French and The Art of the Male Nude.
French was formally trained at the Philadelphia Museum School of Art from 1950 to 1954 and went on active duty in the United States Army in 1955, having been in the reserves for two years prior to his enlisting. He was honourably discharged from the service in 1957. French settled in New York and pursued a successful career in fashion illustration. At the suggestion of an Army contact who had seen some of his early, mostly unpublished homoerotic drawings done under the name Arion, he and French formed a partnership to start a mail order company they named Luger. This brand was chosen because of the strong suggestions of masculinity associated with the German Luger pistol.
While the Arion drawings had been rather romantic and glamorised sketches of Fire Island life and similar scenes (certainly hinting at the paintings of two of his favourite artists, Petty and Varga), the drawings he began to produce for Luger made a considered transition to decidedly more masculine subjects like bikers, cowboys, wrestlers and other familiar macho figures. When his art was featured on the cover and inside several issues of Mars, sales increased dramatically.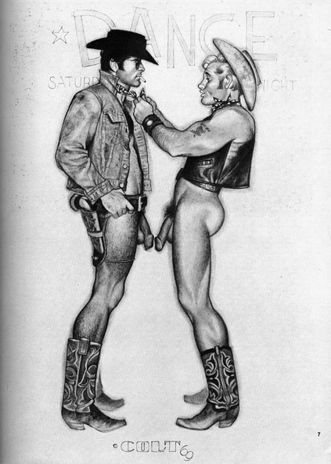 An early French drawing
(Click for larger)
Because of legal restraints of the time, the earliest works did not contain frontal nudity but were nonetheless highly erotic and humorously creative in their suggestiveness. He also began offering prints of photographs he had taken as references for his drawings, and these too sold well.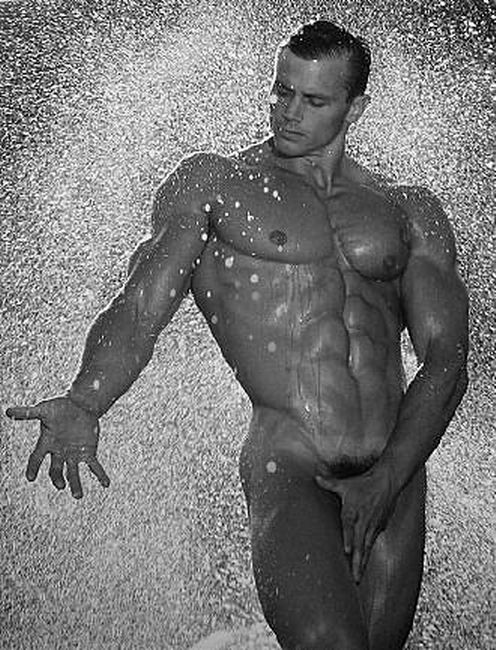 John Pruitt - Splash
(Click for larger)
Eventually French's partner bought out his share of Luger, freeing French and a new partner, Lou Thomas, to establish another business called COLT Studio (again, a reference to a firearm, although before long, this image association was scrapped in favor of a young stallion logo). Having worked for nearly a year to produce the first drawings and photographs to be offered by the new company, Colt was begun in late 1967. Once more the images were offered in sets of prints by mail and the company quickly became successful. But after fifteen years in New York, often travelling to California to take advantage of the weather and abundance of models, French decided to make a permanent move West.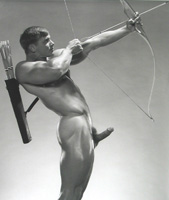 John Pruitt - Bow & Arrow
Finally, in 1974 he bought out his partner's share of the business leaving Lou Thomas to start, briefly, his own company (Target Studio) and French made his home in the Hollywood Hills. From the COLT Studio offices in the San Fernando Valley he continued to run what was the most successful physique photography company since Bob Mizer's Athletic Model Guild. For thirty-six years COLT Studio offered the singularly iconic, erotic and highly influential photographs for which French has become known worldwide. In 2003 he sold COLT Studio and now produces fine art prints from his archives.
In 2013, French relocated to Palm Springs, California. He continued to offer limited edition art prints from his photographic archives as well as original Polaroid photographs taken as studies for his drawings. French died at home at age 84. He was survived by husband
Jeffery Turner
.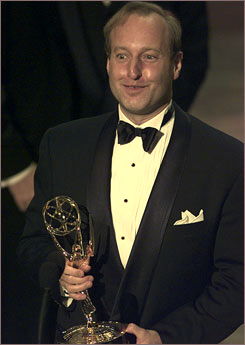 1958 – Joe Keenan is an openly gay American award-winning screenwriter, television producer and novelist. Keenan was born in Cambridge, Massachusetts. His family is Irish American and Roman Catholic. He has a twin brother, John, and two other siblings. Keenan attended Boston College High School and Columbia College.
In 1992, his play, The Times, a musical, won the Richard Rodgers Awards for Musical Theatre, awarded by The American Academy of Arts and Letters. In 1993, the lyrics for The Times won the Edward Kleban Award.
He joined the staff of the sitcom Frasier as an executive story editor in 1994 for the series' second year. Gradually gaining more influence on the show, he was executive producer when the series ended in 2004. Joe wrote or co-wrote 24 episodes of Frasier, more than any other writer, including the series finale, 'Goodnight, Seattle'. Keenan won five Emmy Awards during his tenure on the show. He was nominated for Outstanding Writing in a Comedy Series five times, and won once. He won the Outstanding Comedy Series award four times for his work as the show's producer. He also won two Writers Guild of America Awards for his work on the series.
In 2006, Keenan joined Desperate Housewives as a writer and executive producer for the third season of the television show. Although his work received good critical response, including having one of his episodes, 'Bang', named the best of the season by many critics, he chose to leave the series after one year.
Keenan also created two short lived comedy series with fellow Frasier producer/writer Christopher Lloyd: Bram and Alice in 2002 and Out of Practice in 2005. He also co-wrote the 1994 film Sleep with Me as well as the screenplay for the 2007 Annie Award-winning animated feature Flushed Away.
Keenan is also a published author. As of 2007, he has written three hilarious comic novels:
Blue Heaven
(1988),
Putting on the Ritz
(1991) and the award-winning
My Lucky Star
(2006).
Keenan lives in Los Angeles. Since 1982, he has been partnered with Gerry Bernardi. Joe and Gerry were married in Los Angeles in July, 2008, a month after celebrating 25 years together.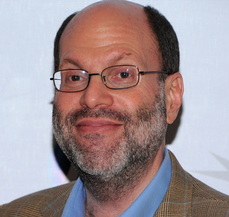 1958 – Scott Rudin is an American producer. By his late 20s Rudin was president of production at 20th Century FOX. He produced a steady stream of hits there and at Paramount, with films such as The Firm, There Will be Blood and No Country for Old Men. Rudin is only one of 14 people to have received the four major entertainment honors: Emmy, Grammy, Oscar and Tony. For his work on Captain Phillips (2013), he was nominated for yet another Oscar in 2014 for best picture.
Scott Rudin was born in New York City, and grew up in the town of Baldwin on Long Island. Rudin gained career experience at age 15 by working as an assistant to legendary theater producer Kermit Bloomgarten and later for producers Robert Whitehead and Emanuel Azenberg. After graduating from high school, Rudin shocked his parents by declining a scholarship from Brown University. Instead he worked as a casting agent, and within a couple of years he launched his own casting company.
At age 21, Rudin relocated to Hollywood and worked as a producer on dramas such as the miniseries Little Gloria ... Happy at Last (1982), a biopic based on Gloria Vanderbilt, and He Makes Me Feel Like Dancin' (1983), an Emmy-winning children's program.
20th Century FOX soon recognized Rudin's talent and recruited him to serve as its executive producer. By his late 20s, Rudin was promoted to president of production, a position he held for a year before resigning to revive his production company. Scott Rudin Productions partnered with Paramount to produce films such as Pacific Heights (1990), Regarding Henry (1991), The Addams Family (1991), Little Man Tate (1991) and Sister Act (1992).
He stayed with Paramount for almost 15 years. He eventually moved to Disney where he made movies under the Touchstone Pictures, Walt Disney Pictures, Hollywood Pictures and Miramax Films labels.
With his zeal for working non-stop, there's little time for personal relationships for Rudin, who is openly gay. He is known in the entertainment industry for both his intelligence and his bad behavior, and the turnover rate for his assistants is notoriously high, due to his demanding and sometimes extreme behavior.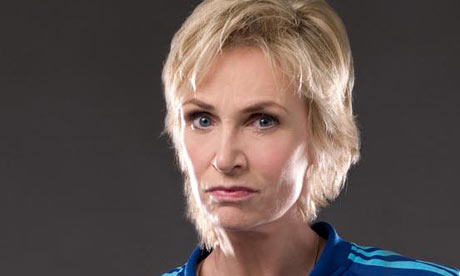 1960 – Today is the birthday of the American comedienne, actress and singer Jane Lynch. She is known for her roles in comedies such as Best in Show, A Mighty Wind, and The 40-Year-Old Virgin, and for her recurring role as lawyer Joyce Wischina in The L Word. She starred opposite Meryl Streep in Julie and Julia, playing the role of Dorothy McWilliams, Julia Child's sister.
As of 2009, Lynch currently appears on the Fox series Glee. Lynch won glowing reviews for her role as the aggressive cheerleading coach Sue Sylvester. Mary McNamara of the LA Times wrote, "Lynch alone makes Glee worth watching." Lynch received a 2009 Golden Globe nomination for Best Supporting Actress in a Series, Miniseries, or Television Film for her role on Glee. The series itself also received nominations in three other categories. She won the 2010 Primetime Emmy Award for Outstanding Supporting Actress - Comedy Series for her work in Glee. Lynch hosted Saturday Night Live for the first time in October.
Lynch is an out Lesbian and married her wife, Dr. Lara Embry, on May 31, 2010 at the Blue Heron Restaurant in Sunderland, Massachusetts. Embry herself had received much publicity surrounding a custody battle over two children with her former partner. In June 2013, Lynch announced that she and Embry were divorcing after three years of marriage. The divorce was finalized in January 2014.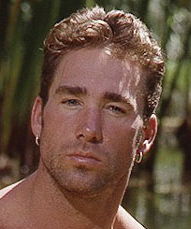 (Click for full picture)
1969 – Billy Herrington, born in Long Island, New York (d.2018), was a bisexual American actor best known for his work in gay pornography. In the late 2000s, his appearances in various gay pornography movies led him to become a popular Internet meme on video sharing websites such as Japan's Nico Nico Douga. Since then, at least 110,000 short mash-up parodies of his clips — known as "Gachimuchi" — have been produced by fans.
Herrington grew up in Long Island learning karate from his father, a sensei. He had interests in boxing, wrestling and martial arts, but did not start bodybuilding until he was 24 years old, after moving to New York City.
Herrington began his erotic career when a friend surreptitiously submitted his nude pictures to Playgirl magazine. The photographs won him a "Real Men of the Month" contest and a $500 prize. His appearance in the magazine caught the eye of famed photographer Jim French, but, it was two years before Herrington filmed his first Colt calendars for French.
Soon after, Herrington was filming hardcore same-sex adult films for All Worlds Video. Herrington became one of the best known same-sex adult film stars of the late 1990s, appearing on mainstream TV programs such as Love Connection and the Ricki Lake talk show. Herrington says the adult film industry helped him to understand his bisexuality.
Among his starring roles is the Roman emperor in the Danish feature film HotMen CoolBoyz (2000), produced by Lars von Trier's company Zentropa, also known for such films as the Oscar-nominated After the Wedding (2006) and Dogville (2003) starring Nicole Kidman.
Herrington's scene in Conquered with Nino Bacci, Colton Ford, Blake Harper, and Jay Ross won the "Best Group Sex Scene" at the 2001 Adult Erotic Gay Video Awards ("Grabbys").
Occasionally, Herrington, who sported an eight-inch cock, performed a striptease act at gay clubs in the United States.
Herrington gained fame in Japan as an internet meme, after a clip from one of his videos Workout was posted on Niconico, a Japanese video-sharing website. Thousands of mash-up parody videos of him have been made, many of which utilize deliberate mishearings (soramimi) of lines from his films. He is affectionately called "Aniki" (lit. older brother) among the Nico Nico Douga community, and most of his videos are deliberately mistagged with "Wrestling Series", "Forest Fairy", "Philosophy", or all three.
As of March 2018, over 110,000 Gachimuchi videos had been uploaded on YouTube alone.
During the evening of March 1, 2018, Herrington was involved in a car accident on California State Route 111 in Rancho Mirage. He was found trapped in the wreckage and was brought to a Palm Springs hospital, where he died the next day. News broke of his death one day later. Fans responded with hundreds of tributes across video sharing sites and message boards. One tribute video uploaded on Niconico accumulated over 80,000 views in less than one week. Herrington was buried at the Forest Lawn Cemetery in Cathedral City, California.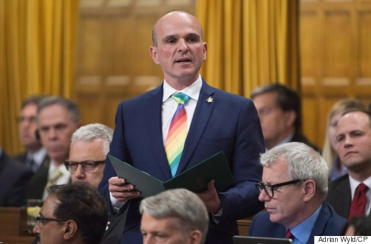 1970 – Randy Boissonnault, MP is a Canadian politician, who was elected to represent the riding of Edmonton Centre as a Liberal member of the House of Commons of Canada in the 2015 federal election.
He is one of six openly LGBT MPs serving in the 42nd Canadian Parliament, alongside Scott Brison, Rob Oliphant, Seamus O'Regan, Randall Garrison and Sheri Benson. He is also the first openly gay MP elected in Alberta.
Boissonnault was born in the Franco-Albertan town of Morinville, Alberta on July 14, 1970. After graduating from the University of Alberta, Boissonault studied at the University of Oxford as a Rhodes Scholar. He subsequently worked as a lecturer at the University of Alberta's Campus Saint-Jean and as a journalist and political commentator for Radio-Canada and Les Affaires.
Boissonnault was elected in the 2015 election in the riding of Edmonton Centre, the first Liberal MP to win in the riding for almost a decade. Upon being sworn in as a Member of Parliament, Boissonnault was named Parliamentary Secretary to the Minister of Canadian Heritage.
When Degas Sikorski, one of Boissonnault's constituents, received a valentine with a homophobic slur on it, Boissonnault delivered a valentine to him signed by Prime Minister Justin Trudeau and Members of Parliament.
On November 15, 2016 Boissonnault was named special advisor on LGBTQ2 issues to the Prime Minister. The role will involve advising Trudeau "on the development and co-ordination of the Government of Canada's LGBTQ2 agenda" including protecting LGBT rights in Canada and addressing both present and historical discrimination.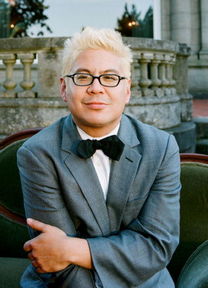 1970 - Thomas Lauderdale, born in Oakland, California, is a musician, largely known for his work with the Portland-based band Pink Martini.
Lauderdale was adopted by Kerby and Linda Lauderdale. In 1972, the family moved to Indiana, where his father was pastor at Eel River Church of the Brethren. In 1976, his father resigned from the ministry, and the family moved to Portland, Oregon, in 1980, after his parents divorced and his father, Kerby, came out of the closet.
In the 1990s, Thomas's parents went on several talk shows - including 20/20, Oprah, Jane Whitney, and Christina, to talk about what happens when a spouse comes out. Kerby returned to the ministry, and is the first openly gay pastor in his denomination. He performed the service when his former wife Linda remarried in 2000.
Lauderdale studied at Harvard University, where he studied History and Literature. He spent most of his time in college in cocktail dresses, throwing waltzes with live orchestras and ice sculptures; disco masquerades with gigantic pineapples on wheels; nude midnight swimming parties in the Adams House swimming pool; and operating a Tuesday night coffeehouse called Café Mardi.
After seeing the Del Rubio Triplets on Pee-Wee Herman's Christmas Special, Lauderdale flew them to Portland in 1994 to do a series of concerts at retirement homes, nursing homes, and hospitals. After a week of performances and appearances, the Del Rubio Triplets performed at a fundraising concert at Cinema 21 in Northwest Portland. Stuck for an opening act for the group, Lauderdale threw on a Betsey Johnson cocktail dress, and joined by a bass player, a bongo player, and a singer, took to the stage as Pink Martini. The band has grown from its original four musicians to its current twelve, with Lauderdale as the bandleader.
Pink Martini's first concerts were often politically motivated, with performances at events for progressive causes such as the environment, affordable housing, civil rights, libraries, and public broadcasting.
Beginning in high school, had Lauderdale became interested in politics. He worked in Portland City Hall in the office of international relations, and later on the city's civil rights ordinance. He was appointed to the Juvenile Justice Advisory Committee; to the Metropolitan Youth Commission; and bto the Public Safety in the Parks Task Force. In 1992, he was involved in the No on 9 and No on 13 Campaigns, in response to measures that would amend the Oregon constitution to declare homosexuality illegal.
In June of 2009, Lauderdale organized a rally of support for Portland Mayor Sam Adams, the first openly gay mayor of a major American city. Adams was caught up in an alleged sex scandal with intern Beau Breedlove. There were reports that the "Oregonian, the local police union and JustOut, a local gay periodical" were calling for his resignation. Portlanders at Lauderdale's rally compared Adams to Bill Clinton, saying he only lied about sex and should not resign.
Lauderdale lives in a 9,600 square foot building in the down-town commercial district in Portland, Oregon. He has shared the place with his domestic partner, Philip Iosca, since 2005

1987 – In Williamson, West Virginia, a public swimming pool was closed temporarily by Mayor Sam Kapourales who ordered a scrub-down of the diving board, lounge chairs, and locker room, the pool drained and refilled, and 16 times the normal amount of chlorine added because he learned that a man with AIDS had gone swimming in the pool.


Added 2021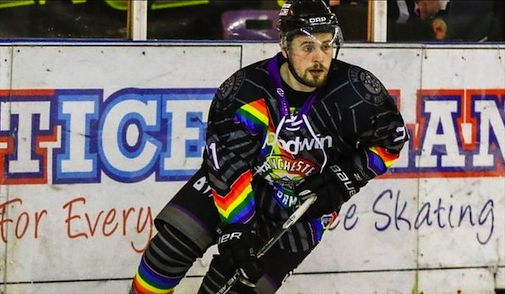 1994 – Zach Sullivan, a professional ice-hockey payer for Manchester Storm, is believed to be the first professional ice hockey player to come out as bisexual. His statement coincided with Elite Ice Hockey League's first Pride weekend to celebrate inclusivity and diversity within ice hockey.
In his statement on Twitter, Zach, from Redhill, Surrey, said he had "battled with mental health problems" but made the decision to go public "with the support, understanding and acceptance" of his family, friends and teammates."
"I'm not doing this in the hope of any publicity. I've always been a very private guy, but I realise that I have a unique opportunity to do some good," he said.
"If I can be open and honest about my sexuality, then hopefully that will give other hockey players around the country the same confidence to do the same."
Head coach Ryan Finnerty said it was a "historic moment" as Zach Sullivan is believed to be the first professional ice hockey player to go public while still playing the sport.

1998 – The city council of West Hartford, Connecticut voted not to allow same sex couples access to family rate discounts at the city pool.


2000 – Canada's Yukon Territory became the most northern area of the world to legalize same-sex marriage.

2014 – The Los Angeles OUTFEST premiere of the documentary Letter to Anita, the heart-wrenching documentary by award-winning filmmaker Andrea Meyerson that explores the painful legacy of singer Anita Bryant's infamous anti-gay campaign of the late 1970s.

JULY 15 →
[{(o)}]|[{(o)}]|[{(o)}]|[{(o)}]| [{(o)}]|[{(o)}]