March 10
[{(o)}]|[{(o)}]|[{(o)}]|[{(o)}]| [{(o)}]|[{(o)}]
1778 – Lieutenant Frederick Enslin is drummed out of the army for attempted sodomy on a fellow soldier, John Monhort. His commanding officer is George Washington. His sentence was "to be drummed out of Camp tomorrow morning by all the Drummers and Fifers in the Army never to return." Enslin was "dismissed with Infamy."

1845 – Florida prohibits anyone convicted of sodomy from being a witness in a trial, even though the state has a compulsory death penalty, meaning that anyone convicted isn't likely to be around to testify.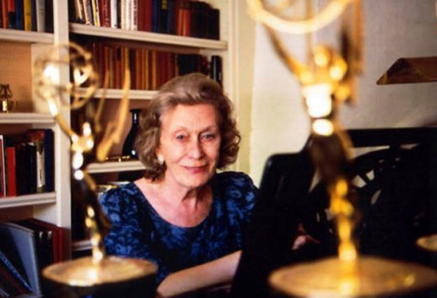 1924 – Angela Morley (d.2009) is born as Walter 'Wally' Stott. She was an English composer and conductor who, as Wally Stott, became a familiar household name to BBC radio listeners in the 1950s. She attributed her entry into composing and arranging largely to the influence and encouragement of the Canadian light music composer Robert Farnon.
In 1972, Morley underwent sex reassignment surgery. Later in life, she lived in Scottsdale, Arizona. She became the first openly transgender person to be nominated for an Academy Award when she was nominated for one in the category of Best Music, Original Song Score/Adaptation for The Little Prince (1974), a nomination shared with Alan Jay Lerner, Frederick Loewe, and Douglas Gamley.

1934 – Born: Contemporary Indian artist Bhupen Khakhar who earned an international reputation for paintings that are explicitly homosexual in theme, but that also address universal human needs. They are rooted in traditional Indian art, but are startlingly original.(d.2003)
Born in Bombay, the self-trained painter lived and worked in Baroda, India, Khakhar initially trained as an accountant. He decided to pursue his love for art when he was in his late twenties; he moved to the university town of Baroda in 1962 and completed a degree in art criticism.
Initially a painter of complex, finely detailed, brightly colored scenes of everyday life, he began painting works with blatant homosexual themes during the 1980s. This type of "coming out" was unprecedented in Indian culture; although many Indians are homosexuals, same-sex themes are exceedingly rare in modern Indian art.
Khakhar frequently painted men nude with erect penises. They touch one another and gaze lovingly into each other's eyes. In the work entitled Two Men in Benares (1985), for example, two standing, life-size, nude men hug one another in the left third of the composition. Vignettes of everyday life fill the remaining two-thirds of the canvas.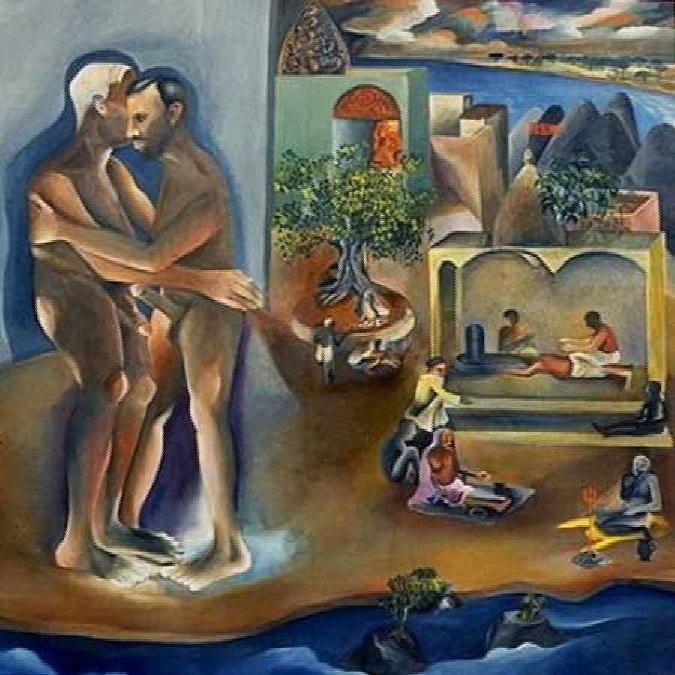 Two Men in Benares
(Click for larger)
Although partially separated from the scenes, then, the two men are also integrated into them. The vignettes in Two Men in Benares encourage the viewer to interpret the work as a visual statement about the life experiences of homosexuals in India.
Khakhar used a narrow band of everyday scenes, this time at the top of the canvas, to make the fantastic primary theme of his painting Yayati (1987) seem more realistic. According to a myth taken from The Mahabharata, the king Yayati, through a curse, began to age prematurely before he had satisfied his sexual appetite. Puru, his youngest son, agreed to exchange his youth for his father's age.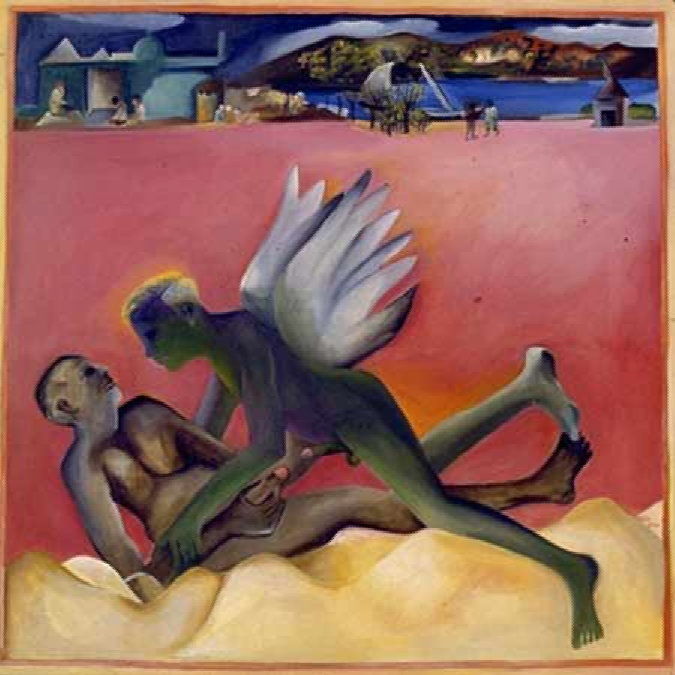 Yayati
(Click for larger)
In Khakhar's painted interpretation, this exchange occurs through penis-to-penis contact. Yayati, with white wings, an erect penis, and jewel-toned purple and green skin, hovers prone over Puru, who holds his penis in his right hand. The background, a radiant, seemingly undulating pink, serves to create a plausible alternate reality. The everyday scenes at the top of the canvas heighten this impression as trees grow from, and people walk around in, the pink area.
Although Khakhar experienced prejudice and violence as a result of his sexual preferences, his paintings do not function as protests. Peopled with a variety of human figures co-existing in harmony, they are celebrations of love and contentment.
Many of the figures in his works gaze into each other's eyes with mutual love, understanding, and desire. Although homosexual in theme, Khakhar's works address universal human needs such as physical closeness, interaction, and pleasure.
Khakhar died on August 8, 2003 in Baroda, India, aged 69.

1938 – A California appellate court rules that intoxication is no defense to a charge of sodomy.

1963 – John Rechy, Mexican-American author born in El Paso, Mexico, John Rechy studied journalism in Texas and New York before serving in Germany in the US Army. Returning to New York, he drifted and spent some time hustling, which inspired his early writing.
He is best known for his earlier novels City of Night (1963) and Numbers (1967) which may seem dated now, but were significant in an era when gay behaviour was evolving its identity and moving towards gay liberation and community; his novels capture the gay sexual underworld in the pre-Stonewall, and pre-Aids, years.
Although almost all of Rechy's novels contain gay characters and themes, his only two other novels to deal primarily with them are This Day's Death (1969), which tells the story of a man caught in a police vice raid in Griffith Park, and Rushes (1979), which tells the bleak story of a group of friends in an urban leather bar. Rechy also has written a nonfiction 'documentary' about three days in the life of a gay hustler, The Sexual Outlaw (1977).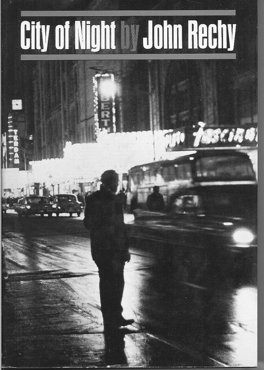 City of Night now seems dated after almost 50 years. It is hard to remember how enlightening it all was in its time as an exploration of the underside of contemporary Gay life. An outspoken activist and Sexual Outlaw, proud of both his years as a hustler and his physique, Rechy is not without a sense of humor about both. He reports that he was once told by an irate transvestite at whom he had sneered, "Your muscles are as Gay as my drag".
Rechy is still very much with us, and has a new book out, About My Life and the Kept Woman: A Memoir. Author David Leavitt, sniffs at it in his review in the NY Times calling the stories "narcissism mingled with self-hatred" but also calls Rechy "the first bard of West Hollywood". It's hard out there on an aging hustler.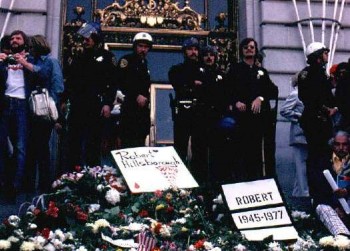 The Pride memorial to Hillsborough
1944 – Robert Hillsborough was a gardener for the City of San Francisco. His brutal murder in 1977 is sometimes referred as the catalyst that "woke up the city" to the growing violence against homosexuals in the city - and in fact, the entire state.
On June 21, 1977 he had gone to a disco with his friend Jerry Taylor. At about midnight they stopped at a burger joint a few blocks from Robert's apartment in the Mission District. They were followed from the parking lot by four young men and attacked when they parked their car. Taylor managed to escape and make his way to a friends apartment, but Robert didn't. After being beaten, he was stabbed 15 times by a 19 year-old youth who yelled "Faggot! Faggot!"
Mayor George Moscone offered a $5,000 reward for information leading to the arrest of four men who attacked the homosexual couple.
Various homosexual organizations pledged private rewards for capture of the attackers. The Tavern Guild of San Francisco, an organization representing the city's homosexual bars, pledged a $5,000 reward. The Biarritz restaurant and the N'Touch Disco jointly posted a $2,000 reward. And a $1,000 reward was offered by the Emperors Council, a social organization of wealthy homosexual men.
John Cordova was eventually arrested along with three other young men - Thomas J. Spooner (21), Michael Chavez (20) and a 16-year-old boy whose name was not released by officials - all were from Daly City. Cordova was convicted of second-degree murder and sentenced to ten years in prison.
The mayor directed much of his anger at state Sen. John Briggs, a gubernatorial hopeful and a vocal supporter of Anita Bryant's anti-homosexual campaign in Florida. Moscone called Briggs an anti-homosexual "demagogue" and said he was responsible for "inciting trouble by walking right into San Francisco, knowing the emotional state of his community. He stirred people into action," Moscone said. "He will have to live with his conscience."
Hillsborough's death also struck a deep nerve in the gay community. "We live in a paranoid state," said Harvey Milk, who was preparing his run for the San Francisco Board of Supervisors, "and the death of Robert is only the culmination of a lot of violence that's been directed at us." San Francisco's Pride celebration, which took place just a few days later, attracted a record-breaking 300,000 people, and it became an impromptu memorial march as participants erected a makeshift shrine at City Hall.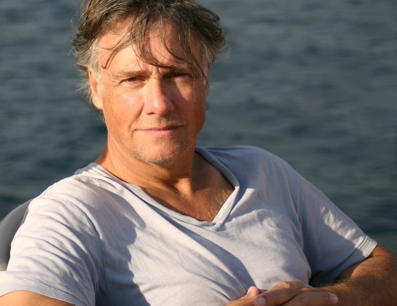 1956 – Today's the birthday of American actor, writer and director Mitchell Lichtenstein. Born as Mitchell Wilson Lichtenstein, his father is pop-art artist Roy Lichtenstein. You may remember his role from Ang Lee's The Wedding Banquet where he played the partner of a gay Taiwanese man living in the United States who is forced to marry by his parents. If you're not familiar with this film, you should be. It was an early example of Lee's thoughtful dealing with gay subjects ten years before Brokeback Mountain.
Lichtenstein shines in what is a funny and moving sweetheart of a film. His other films include Streamers (1983), The Lords of Discipline (1983), Crackers (1984), The Wedding Banquet (1993), Ratchet (1996), Flawless (1999), Twin Set (2002). He produced, wrote, and directed the 2007 black comedy horror film Teeth, about the pitfalls and power of a girl as a living example of the vagina dentata myth. The film premiered at the 2007 Sundance Film Festival to positive reviews. Lichtenstein latest film Happy Tears premiered at the Berlin International Film Festival in 2009.

1958 – The Montana Supreme Court overturns a sodomy conviction because penetration had not been proven.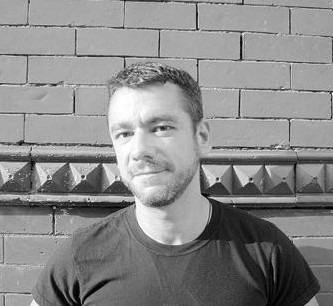 1968 – Spencer Cox, was the pivotal AIDS activist who co-founded two important and ongoing initiatives. (d.2012)
As a very young man fresh from Bennington, where he studied Theater and English Literature, he arrived in NYC after finishing just 3 years. He was diagnosed with HIV soon after.
By 1989, at age 20, he had become spokesman for ACT UP during its zenith through the early 90s. A member of its renowned Treatment & Data committee, and later co-founder of TAG (the Treatment Action Group), he schooled himself in the basic science of AIDS and became something of an expert, a "citizen scientist" whose ideas were sought by working scientists.
IP>In the end, Spencer wrote the drug trial protocol which TAG proposed for testing the promising protease inhibitor drugs in 1995. Adopted by industry, it helped develop rapid and reliable answers about the power of those drugs, and led to their quick approval by the FDA.
Even before ACT UP, he began work for amfAR, first as a college intern, eventually going on staff as assistant to Director of Public Affairs, responsible for communications and policy. He left there to co-found the Community Research Initiative on AIDS (now the AIDS Community Research Initiative of America, ACRIA) with Dr. Joseph Sonnabend and Marisa Cardinale. At ACRIA, he ran public affairs and edited all publications.
From 1994 to 1999, he was Director of the HIV Project for TAG, where he did his groundbreaking work in drug trials designs. He designed the drug trial adopted in part by Abbott as they were developing Norvir, the first Protease Inhibitor to head into human trials. It had an "open standard-of-care arm," allowing people on the control arm to take any other anti-AIDS drugs their doctors prescribed, versus the arm taking any other anti-AIDS drugs plus Norvir. It was this study that showed a 50% drop in mortality in 6 months. Norvir was approved in late 1995. Though the results were positive, the proposal sharply divided the community, many of whom thought it was cruel to withhold Norvir on the control arm. Spencer defended himself in a controversial BARON'S coverstory that made him, briefly, the most-hated AIDS activist in America. Ultimately he was vindicated.
"Spencer single-handedly sped up the development and marketing of the protease inhibitors, which currently are saving 8 million lives," says TAG executive director Mark Harrington. "He was absolutely brilliant, just off the charts brilliant,"
After the plague was transformed with the drug revolution, he was the first to see there would be a psychological burden to address in the gay community members who survived the worst of the epidemic. He founded the Medius Institute For Gay Men's Health, a think tank focusing on gay male emotional health. MEDIUS produced several important reports but failed to find the financial support it needed to continue his work.
Spencer died of AIDS-related causes December 2012.


1982 – GATE representatives meet with full Alberta Human Rights Commission in Edmonton to ask for the inclusion of sexual orientation in Alberta Human Rights Protection Act. The bill became Alberta's Individual Rights Protection Act.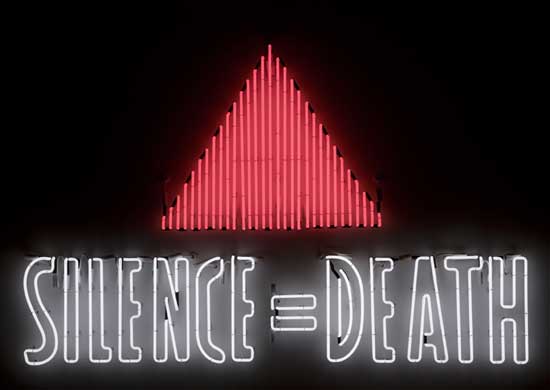 1987 – ACT UP was formed on this date at the Lesbian and Gay Community Services Center in New York. The writer Vito Russo wrote at the time that "living with AIDS in this country is like living through a war that's happening only for those people in the trenches. Every time a shell explodes you look around to discover that you've lost more of your friends. But nobody else notices, it isn't happening to them."
Larry Kramer had been asked to speak at the Lesbian and Gay Community Center as part of a rotating speaker series, and his well- attended speech focused on action to fight AIDS. Kramer spoke out against the Gay Men's Health Crisis (GMHC), which he perceived as politically impotent. Kramer had actually co-founded the GMHC but had resigned from its board of directors in 1983.
According to Douglas Crimp, Kramer posed a question to the audience: "Do we want to start a new organization devoted to political action?" The answer was "a resounding yes." Approximately 300 people met two days later to form ACT UP.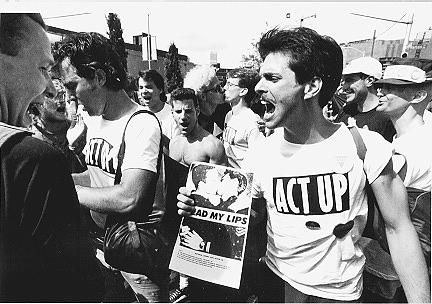 They became confrontational about the government's complete lack of urgency towards the plight of the thousands of Gay men dying of AIDS. That was the face of AIDS at the time and no one seemed to care that so many were dying. And many were actively blocking (as many still do) the use of condoms for AIDS prevention. They called out Ronald Reagan and Cardinal O'Connor and Pope John Paul for their responsibility in the deaths of millions while they prevented treatment and prevention.
Because of ACT UP, political leaders and the media were forced to pay attention to what was happening. Because of ACT UP things moved for the care and treatment of people living and dying with AIDS. Their work is not finished and their model is one that has been replicated by many dealing with entrenched hostility and animus.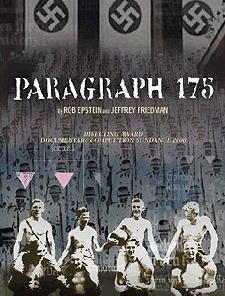 1994 – On this date Germany's Paragraph 175 was finally revoked.
Originally adopted in 1871, Paragraph 175 was a provision of the German Criminal Code that made homosexual acts between males a crime. The statute was amended several times.
The Nazis broadened the law in 1935 and increased prosecutions by an order of magnitude; thousands died in concentration camps, regardless of guilt or innocence.
East Germany reverted to the old version of the law in 1950, limited its scope to sex with youths under 18 in 1968, and abolished it entirely in 1988.
West Germany retained the Nazi-era statute until 1969, when it was limited to "qualified cases"; it was further attenuated in 1973 and finally revoked entirely in 1994 after German reunification.

[{(o)}]|[{(o)}]|[{(o)}]|[{(o)}]| [{(o)}]|[{(o)}]
TODAY'S GAY WISDOM:
John Rechy
[{(o)}]|[{(o)}]|[{(o)}]|[{(o)}]| [{(o)}]|[{(o)}]
I once—and quite literally—became a character from one of my own books. My second novel, "Numbers", was set mainly in Griffith Park, its protagonist a young man named Johnny Rio, who spends his idle time seeking adventures in the park. I was idling in the same park one afternoon—still anonymous—when a stranger braked his car to tell me that someone had written a book about me. "Who?" I asked, befuddled. "His name is John Rechy," he said, "but I don't think that's his real name because nobody would write a book like that under his own name." As he left, he called back, "Goodbye, Johnny Rio." - Jon Rechy
Within the artistic creation occurs the only means of stopping time. All characters can be brought back to life, simply by opening the first page of a book. Don Quixote begins his quest, the Governess moves undaunted into Bly; Molly pursues the evasive Yes of her ruminations, Marcel struggles for his mother's kiss, Tristram delays his birth, Odysseus is on his way back to Penelope, Emma prepares for the ball, Catherine's ghost searches along the moors. - John Rechy
Gay men should not adopt the sophomoric model of heterosexual dating; gay men should always have sex first. - John Rechy

MARCH 11 →
[{(o)}]|[{(o)}]|[{(o)}]|[{(o)}]| [{(o)}]|[{(o)}]