July 11
[{(o)}]|[{(o)}]|[{(o)}]|[{(o)}]| [{(o)}]|[{(o)}]

Added 2023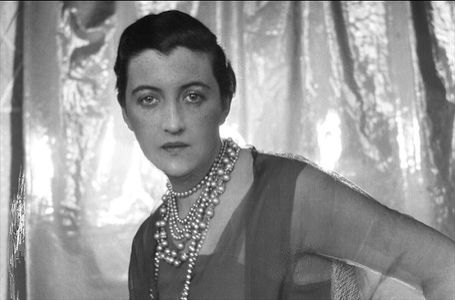 1895 – Dorothy Ierne Wilde, known as Dolly Wilde (d.1941), was an English socialite, made famous by her family connections and her reputation as a witty conversationalist. Her charm and humour made her a popular guest at salons in Paris between the wars, standing out even in a social circle known for its flamboyant talkers.
Wilde, born in London three months after her uncle Oscar Wilde's arrest for homosexual acts, was the only child of Oscar's older brother, Willie, and his second wife, Sophie Lily Lees. Though Wilde had never met her uncle, she idolized him far more than she did her own father, who was violently alcoholic and died just a few years after her birth.
This left her under the care of her mother and stepfather, translator Alexander Teixeira de Mattos, though at the time, her mother was "so impoverished that she could not afford to keep her at home" and sent young Wilde away to what she described as a "country convent."
In 1914, she travelled to France in order to drive an ambulance in World War I. About 1917 or 1918, while both were living in Paris, she had an affair with one of her fellow ambulance drivers, Standard Oil heiress Marion "Joe" Carstairs, who in the 1920s became a speedboat racer and was known as "the fastest woman on water." Although she "revelled in" attracting both men and women, Wilde was a lesbian.
Wilde drank to excess and was addicted to heroin. She went through several detoxification attempts, none successful; she emerged from one nursing-home stay with a new dependency on the sleeping pill paraldehyde, then available over-the-counter.
In 1939 she was diagnosed with breast cancer and refused surgery, seeking alternative treatments. The following year, with the Germans approaching Paris, she fled to England. She died aged 45 in 1941, of "causes unascertainable", according to the coroner's inquest—possibly the cancer or possibly a drug overdose.
Wilde's longest relationship, lasting from 1927 until her death, was with openly lesbian American writer Natalie Clifford Barney, who was host of one of the best-known Parisian literary salons of the 20th century.


Added 2023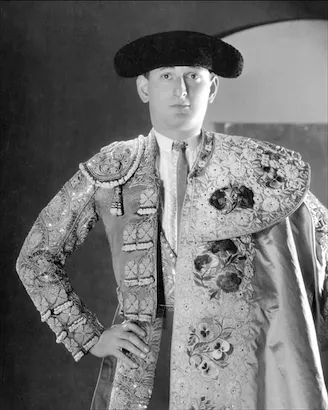 1903 – Sidney Franklin (né Sidney Frumkin d.1976) was the first American to become a successful matador, the most senior level of bullfighter.
Sidney Franklin was born in Brooklyn, New York to Orthodox Jewish parents. In 1922, he traveled to Mexico City, where he started creating posters for bullfights and was initially repulsed by the animal cruelty, even while being fascinated by the exalted role of the matador at the center of the elaborate show.
His passion for the pageantry and the heroics won out. He began a career in bullfighting. He made his debut in 1923 in Mexico City and was carried out of the ring by the crowd after a particularly impressive killing of the bull. He fought bulls in Spain, Portugal, Mexico, Colombia, and Panama. He was known as "El Torero de la Torah," or Bullfighter of the Torah.
Franklin appeared in a few films in the USA and Mexico, including The Kid From Spain (1932) with Eddie Cantor and Robert Young. Later he presented bullfights on American TV. He wrote an autobiography, Bullfighter from Brooklyn, and was a close friend of the American actor and legend James Dean, who was a big fan of the art of bullfighting.
He died at home in 1976, age 72, of natural causes. He was gay, his sexual identity having been an open secret among those who knew him, but remaining unknown to the public.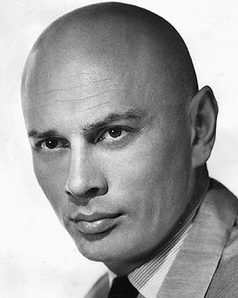 1920 – Yul Brynner (d.1985) was a Russian-born United States-based Eurasian actor of stage and film. He was best known for his portrayal of the King of Siam in the Rodgers and Hammerstein musical The King and I, for which he won two Tony Awards and an Academy Award for the film version; he played the role 4,625 times on stage. He is also remembered as Rameses II in the 1956 Cecil B. DeMille blockbuster The Ten Commandments, General Bounine in the 1956 film Anastasia and Chris Adams in The Magnificent Seven. Brynner was noted for his distinctive voice and for his shaved head, which he maintained as a personal trademark long after adopting it in 1951 for his role in The King and I. Earlier, he was a model and television director, and later a photographer and the author of two books.
Yul Brynner was born Yuliy Borisovich Briner. He exaggerated his background and early life for the press, claiming that he was born Taidje Khan of part-Mongol parentage, on the Russian island of Sakhalin. In reality, he was born at home in a four-story residence at 15 Aleutskaya Street, Vladivostok.
He began his career playing guitar and singing gypsy songs among Russian immigrants in Parisian nightclubs. His fluency in Russian and French enabled him to build up a following with the Czarist expatriates in Paris. After a brief stint as a trapeze artist with the famed Cirque D'Hiver company in France, he started acting with a touring company.
In 1940, speaking very little English, Brynner and his mother emigrated to the US aboard the SS President Cleveland, arriving in New York City on October 25, 1940, where his sister already lived.
In the U.S., where he began an affair with American actor Hurd Hatfield (1918-1998), best known for playing the title role in the 1945 film The Picture of Dorian Gray. Both men were enrolled at the Michael Chekhov Theatre Studio in Ridgefield, Connecticut.
A year later, twenty-two year old Brynner (before he shaved his head) posed in full-frontal nude positions for noted gay photographer George Platt Lynes.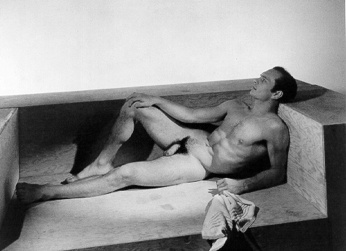 A Lynes study
(Click for larger)
He began playing his most famous role, the King of Siam, in The King and I in the Broadway production of the Oscar and Hammerstein musical in 1951. After more than three years and 1,246 performances, he starred in the screen version in 1956, winning an Oscar for Best Actor. He then returned to the stage for an additional 3,379 stage performances that stretched all the way to 1985.
Brynner's romantic life included throngs of women, as well as men. He had four wives – actress Viriginia Gilmor, Chilean model Doris Kleiner, Jacqueline Thion de la Chaume, ballerina Kathy Lee – in addition to numerous affairs with such stars as Marlene Dietrich, Judy Garland, Joan Crawford, and Ingrid Bergman.
Yul Brynner died of lung cancer on October 10, 1985, in New York City at age sixty-five. When he developed lung cancer in the mid-1980s, he left a powerful public service announcement denouncing smoking as the cause, for broadcast after his death. The Yul Brynner Head and Neck Cancer Foundation was established in his memory.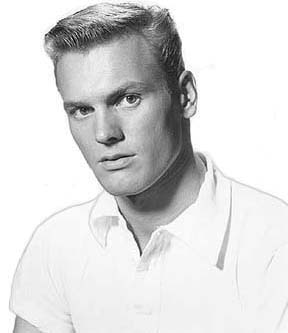 1931 – Young Tab Hunter's blond good looks made him a movie idol in the 1950s (d.2018). His romantic heterosexual roles on screen concealed his true identity as a gay man.
The actor was born Arthur Kelm in New York City. A few years later his mother, Gertrude Gelien Kelm, divorced her abusive husband, Charles Kelm, and moved to California with her two young sons. She resumed her maiden name and changed the children's surname as well. Hunter left school at fifteen to join the Coast Guard, lying about his age in order to be accepted, but was discharged when the deception was discovered. He returned home and went to work at a riding academy. Horsemanship had long been Hunter's passion. As a young teen he had frequented a riding school where he met an actor named Dick Clayton. After Hunter's dismissal from the Coast Guard, Clayton encouraged him to try his hand at acting and introduced him to agent Henry Willson, who represented Rock Hudson, among others.
Willson decided that the aspiring actor needed a new name, declaring, "We've got to tab you something." When Clayton volunteered that the young man was a horseman who rode hunters and jumpers, Arthur Gelien (né Kelm) became Tab Hunter.
Hunter's film debut in Joseph Losey's The Lawless (1950) was less than auspicious: his only line was cut. His first major role came in Stuart Heisler's Island of Desire (1952) opposite Linda Darnell. Often half-naked in this film, Hunter attracted the attention of gay men across the country, who were to become some of his most loyal fans.
He rose to stardom in 1955 when he appeared in Raoul Walsh's Battle Cry, playing a Marine in a love triangle. In September 1955, with the release of Battle Cry imminent, Confidential, a Hollywood magazine known for exposing closeted gay celebrities, ran an article about the arrest by the Los Angeles vice squad of Hunter and about two dozen others who were attending a "pajama party" in suburban Walnut Park in 1950. Since the police found nothing more than dancing by same-sex couples in progress, the party-goers were at first charged as "idle, lewd or dissolute persons" and even that was reduced to "disorderly conduct." Hunter was assessed a fifty-dollar fine. In a 1974 interview Hunter downplayed the incident, claiming that he had only gone to the party—which was not, he insisted, a pajama party—at the casual suggestion of a friend and that he had been surprised to find gay men and lesbians in attendance. He added that he had been in the kitchen innocently preparing a peanut butter sandwich when the raid by the vice squad occurred. Since Confidential had a limited circulation and the national press did not pick up the story, Hunter survived the 1955 outing and his career did not suffer.
In addition, he used the common ruse of "dates" with actresses—duly photographed and reported by popular fan magazines—to mask his true personal life. While America was reading that Hunter was enamored with Debbie Reynolds, Dorothy Malone, or Natalie Wood, Hunter was actually pursuing an affair with actor Anthony Perkins, a tortured homosexual who eventually (though apparently not successfully) attempted to become heterosexual. Hunter and Perkins were involved with each other for several years.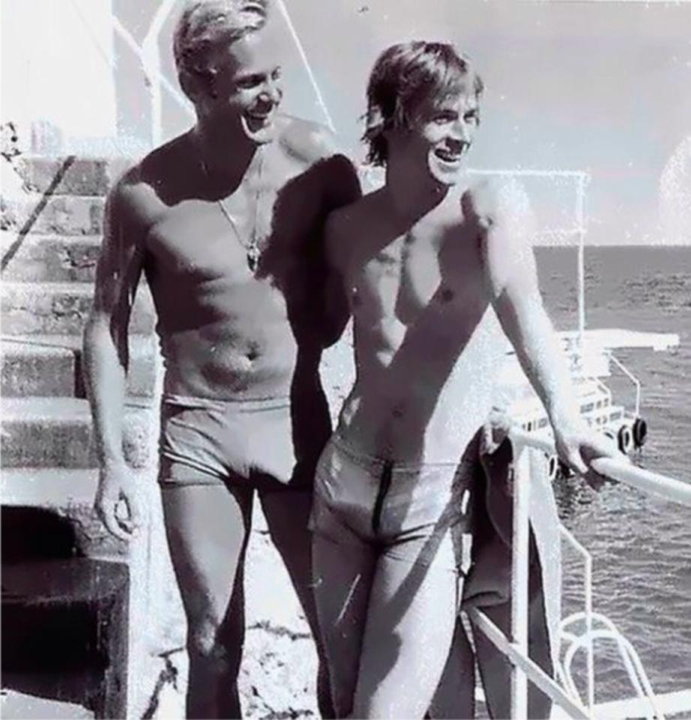 A Well-endowed pair, Hunter and Nureyev
(Click for larger)
Although the public remained in the dark, members of the entertainment industry were aware of Hunter's sexual orientation. His sexual orientation was also widely suspected by members of the glbtq community, who were among his most ardent fans. Hunter solidified his image as a "Golden Boy" and teen idol by recording the pop tune "Young Love" (by Carole Joyner and Ric Carty), which topped the charts for over a month in 1957. Gifted with a pleasant voice, but not great musical talent, Hunter subsequently recorded other singles and albums, their successes due more to his celebrity as an actor than to his musicianship.
His movie career prospered for a while. He enjoyed notable success in the 1958 films Damn Yankees (directed by George Abbott and Stanley Donen) and Lafayette Escadrille (directed by William J. Wellman) and in Sidney Lumet's That Kind of Woman in 1959.
Of Hollywood's studio era, Hunter said, "[life] was difficult for me, because I was living two lives at that time. A private life of my own, which I never discussed, never talked about to anyone. And then my Hollywood life, which was just trying to learn my craft and succeed..." The star emphasized that the word 'gay' "wasn't even around in those days, and if anyone ever confronted me with it, I'd just kinda freak out. I was in total denial. I was just not comfortable in that Hollywood scene, other than the work process."
"There was a lot written about my sexuality, and the press was pretty darn cruel," the actor said, but what "moviegoers wanted to hold in their hearts were the boy-next-door marines, cowboys and swoon-bait sweethearts I portrayed."
As he matured and was no longer suited to "boy next door" roles, he worked increasingly in television. His own Tab Hunter Show (1960-1961) was short-lived, but he continued to appear on the small screen in both dramas and comedies and occasionally on game shows. Even as his spectacular looks faded, Hunter remained popular by virtue of his ability to project a sweet nature.
In 1981, he appeared with transvestite actor Divine in John Waters's Polyester, which has become a cult classic. Four years later, Hunter again teamed with Divine in Lust in the Dust, a spoof of cowboy pictures, directed by Paul Bartel and co-produced by Hunter and Allan Glaser. The two later became life partners.
In 2005, Hunter published a memoir, Tab Hunter Confidential: The Making of a Movie Star, co-authored with Eddie Muller. In the memoir, Hunter not only discusses his career and his relationship with Anthony Perkins, and champion figure skater Ronnie Robertson, but also reveals that he and Allan Glaser have been life partners as well as business associates for many years.
Hunter died on from complications of deep vein thrombosis that caused cardiac arrest on July 8, 2018, three days before his 87th birthday. According to his partner Allan Glaser, Hunter's death was "sudden and unexpected".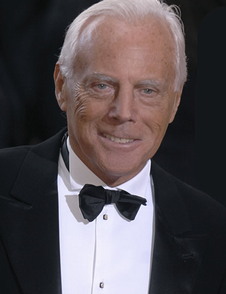 1934 – The name of Italian designer Giorgio Armani is synonymous with sophisticated and elegant fashion. In addition to apparel his spectacularly successful business empire includes lines of jewelry, cosmetics, fragrances, and eyewear, among other products.
Armani grew up in the northern Italian town of Piacenza. His family was hard-working but not prosperous. Armani aspired to a career in medicine and began a university course. In 1953, after two years of studies, he was called to military service, which included working in a military hospital. The experience convinced him that he was not cut out to be a doctor.
After his stint in the armed forces Armani found a job as a window dresser at La Rinascente, a department store in Milan. He went on to become a buyer for the men's wear department, in which capacity he gained valuable experience in the marketing aspect of the fashion industry. In the mid-1960s Armani moved to the Nino Cerutti company, for which he designed men's wear. His skills were in demand, and for the next decade, while continuing to work for Cerutti, Armani also freelanced, contributing designs to as many as ten manufacturers at a time.
In 1966 Armani met architect Sergio Galeotti. Galeotti, eleven years Armani's junior, moved to Milan to be with him. Galeotti had immense confidence in Armani's talent and urged him to produce his own collection instead of designing for others. In 1975 the pair founded Giorgio Armani SpA with an initial investment of approximately ten thousand dollars, part of it derived from the sale of their Volkswagen. Armani immediately introduced an innovation that has become a signature of his work, the "unconstructed" suit jacket, which he offered in both men's and women's collections. Armani removed the lining and padding that had previously been standard in suit jackets and created a more supple garment in soft fabric. The fluid lines created a look that was at once sophisticated and sensual, flattering to both men and women.
Armani and Galeotti were soon able to expand their enterprises, launching the chain of Emporio Armani stores to sell ready-to-wear lines and to bring in younger customers. They also diversified into other product areas such as fragrances, which were added in 1982.
Armani is a lifelong movie fan, and Hollywood returned the compliment. His suits were prominently featured in Paul Schrader's 1980 film American Gigolo, and since then his work has been seen in more than one hundred movies, including De-Lovely (directed by Irwin Winkler, 2004), a screen biography of composer Cole Porter. Fashion critics praised the clothing in the latter as a perfect reflection of the taste of the sophisticated set in the 1920s and 1930s and also as timelessly classic in design.
In 1985 Armani suffered a severe personal and professional loss: Galeotti died of AIDS at the age of forty. There was widespread speculation within the industry that Armani would choose the moment to retire—as he could well afford to do because of the great success of the business. An intensely private person, Armani generally reveals little about his personal life. In a 2000 Vanity Fair interview, however, he spoke at length about his relationship with Galeotti. Armani stated, "He helped me believe in my own work, in my energy." He acknowledged that he considered retirement after Galeotti's death but decided instead to persevere rather than abandoning "all the hopes of Sergio." "It is he who gives me the strength even now to continue," declared Armani, who added that Galeotti "is always there" in the home that they shared. Tangible reminders include photographs of Galeotti that adorn the bedrooms of all of Armani's residences.
In the same interview Armani said that he had had both men and women—including a fiancée when he was young—in his romantic life. "You know very well that to do this work one must have a free mind," he commented.
Armani's view is that fashion should evolve rather than change radically from year to year. He commented in 2003 that he had "always tried to do things that are new but that can be combined with what you've already got in your wardrobe." His emphasis has consistently been on the classic and the elegant, gently draped soft fabrics, and meticulously designed details such as exquisite beadwork. On the occasion of Armani's twenty-fifth anniversary as a designer in 2000 the Guggenheim Museum in New York mounted an exhibition of his work. The show later traveled to the Guggenheim Museum in Bilbao, Spain and to Berlin.
In a 2001 interview Armani was asked about the greatest failure of his career. He dismissed fashion lines or merchandising ideas that did not work—although he had relatively few of those—as "normal things." "Perhaps the greatest failure," he replied, "was not being able to stop my partner from dying."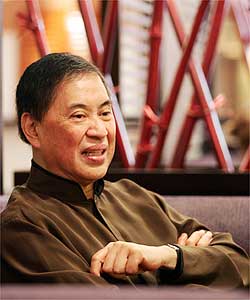 1937 – Kenneth Hsien-yung Pai is a writer who has been described as a "melancholy pioneer." He was born in Guilin, Guangxi, China at the cusp of both the Second Sino-Japanese War and subsequent Chinese Civil War. Pai's father was the famous Kuomintang (KMT) general Pai Chung-hsi, who he later described as a "stern, Confucian father" with "some soft spots in his heart." He was diagnosed with tuberculosis at the age of seven, during which time he would have to live in a separate house from his siblings (of which he would have a total of nine). He lived with his family in Chongqing, Shanghai, and Nanjing before moving to Hong Kong in 1948 and Taiwan in 1952.
After graduating from high school in 1956, Pai enrolled as a hydraulic engineering major, because he wanted to participate the Three Gorges Dam Project. The following year, he transferred to the National Taiwan University to study English literature. In September 1958, he published his first short story "Madame Ching" in the magazine Literature. Two years later, he collaborated with several NTU classmates to launch Modern Literature, in which many of his early works were published.
Pai has been credited with perspectives that are groundbreaking in Chinese literature. Pai's first novel, Crystal Boys (1983), tells the story of a group of homosexual youths living in 1960s Taipei largely from the viewpoint of a young, gay runaway who serves as its main protagonist. The novel's comparison of the dark corners of Taipei's New Park, the characters' main cruising area, with the cloistered society of Taiwan of that period proved quite unacceptable to Taipei's then KMT-dominated establishment, though Pai has generally remained a loyal KMT supporter.
Other famous works include: Fallen Immortals (1967); "Wandering in the Garden, Waking from a Dream" (1968); Taipei People (1971); and "Lonely Seventeen" (1976).
Pai is one of the few Chinese homosexuals that have come out. Pai has explained that he believed his father knew of his homosexuality and "never made it an issue," though it was never discussed.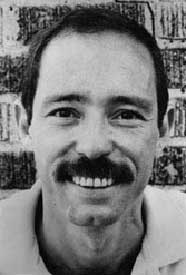 1946 – Born: New Yorker Vito Russo (d.1990) was a gay activist, film historian and author who is best remembered as the author of the book The Celluloid Closet (1981).
Russo developed his material following screenings of camp films as fundraisers for the early gay rights organisation Gay Activists Alliance. He travelled throughout the country from 1972 to 1982, delivering The Celluloid Closet as a live lecture presentation with film clips. In both the book and in the lecture presentation, he related the history of gay and lesbian moments - and the treatment of gay and lesbian characters - in American and foreign films of the past.
In 1983, Russo wrote, produced, and co-hosted a series focusing on the gay community called Our Time for WNYC-TV.
Russo's concern over how LGBT people were presented in the popular media led him to co-found the Gay and Lesbian Alliance Against Defamation (GLAAD), a watchdog group that monitors LGBT representation in the mainstream media and presents the annual GLAAD Media Awards. The Vito Russo Award is named in his memory and is presented to an openly gay or lesbian member of the media community for their outstanding contribution in combating homophobia. Russo was also actively involved in the AIDS direct action group ACT UP.
Russo appeared in the 1989 Academy Award-winning documentary Common Threads: Stories from the Quilt as a "storyteller," relating the life and death of his lover Jeffrey Sevcik.
Russo died of AIDS-related complications in 1990. His work was posthumously brought to television in the 1996 HBO documentary film The Celluloid Closet, narrated by Lily Tomlin.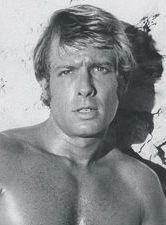 "Every inch a star" - (Click for Full Monty)
1946 – Jack Wrangler (d.2009), American actor, born; Jack Wrangler was every inch a star. He survived the mayfly world of porn, in which the rate of turnover is unusually high, to become a legend in his own time. The camera loved him and he loved the camera and himself, in uninhibited return.
Porn-starring is consistently hard work. And if you doubt that such hard labor is difficult to keep up, just think of your own performance in a crowded doctor's office when the army-sergeant nurse bellows loudly that she wants a specimen right this minute in this tiny cup and you spend the next eternity in a narrow cubicle unzipping your fly and looking for it, the poor frightened thing. Would you be able to perform on cue in front of three cameras, fourteen arc lights, a script girl, and a crew of six?
Porn is notoriously dumb—dumb plots, dumb faces, dumb music — and uniquely difficult to pull off with any true eroticism or style. (A spot of acne on a callipygous ass can disconcert.) But the moment the camera focused on Jack, something magical occured. He was the real thing, intelligent, alert, alive.
Wrangler was born John Robert Stillman in Beverly Hills, California. His father was Hollywood film and television producer Robert Stillman, who produced such films as Champion, Boots and Saddles, Second Chorus, and Home of the Brave and produced television series such as Bonanza. His mother, Ruth Clark Stillman, was a former dancer in Busby Berkeley musicals.
He became aware of his homosexuality when he was 10 years old.
Despite his good looks and acting skills, Stillman found only limited early work in Los Angeles, California, and New York City on the stage and as a model and dancer. One of his first roles was in Douglas Dean Goodman's play Special Friends, one of the first gay-themed plays by a gay playwright to be performed in San Francisco, California. He played a former prostitute from Arkansas who becomes a bad go-go dancer in California, in a role which required extensive nudity. He finally settled in New York City and found work as a bartender and go-go dancer.
In 1970, he made his first appearance in a male strip show, using the name "Jack Wrangler." (The pseudonymous last name was taken from the label on his Wrangler-brand work shirt.)
Wrangler was approached to appear in gay pornographic films by Magnum Studios, the pioneering gay adult film studio and magazine publisher, after studio heads saw a poster for Special Friends featuring him semi-nude. His first gay porn film was 1970's Eyes of a Stranger (also known as Eyes of a Gay Stranger; Magnum Studios), one of the first hard-core gay adult films to be released commercially in the United States. Wrangler performed in gay pornographic films for several reasons. First he saw them as culturally subversive and politically liberating:
"At the time we were all trying to find out who the hell we were as individuals, what we wanted specifically on our own terms, who we wanted to be, what our potentials were, what our differences were, what made us unique... And I think that's why the XXX-rated films were important, because it was like, Oh, my God, there are other people who like the same things as me, like leather, or being blown on a pool table. [Laughs] It was a start—literally stripping ourselves naked and trying to begin from there."
Second, he "wasn't comfortable in his own skin" and wanted some adventure in his life.
During his adult-film career, Wrangler appeared in 47 films. Among his more notable gay films were Kansas City Trucking Co., Hot House, Sex Machine, and A Night At The Adonis.
In 1976, Wrangler met celebrated 1940s pop singer and film actress Margaret Whiting when she attended one of his one-man erotic shows in New York. As he later recalled, "I was with my manager when I looked over at Margaret, who was surrounded by five guys at a booth. 'There she was with the hair, the furs and the big gestures. I thought, 'Boy, now that's New York! That's glamor!' I had to meet her." A relationship developed. He was 33; she was 55. When Wrangler confided to Whiting that he was Gay, her response was "only around the edges, dear." The couple were married from 1994 until his death.
Soon after becoming involved with Whiting, Wrangler retired from porn and devoted his time to his first love, musical theater. A fan of Johnny Mercer, he was one of the co-producers of the cabaret Dream, which featured songs by the composer and included Whiting in the cast. Other performances he has written and produced include Midnight in the Garden of Good and Evil: the Jazz Concert; The Valentine Touch; The First Lady and Other Stories of Our Times, and Irina Abroad!
In 2008, a feature-length documentary film about Wrangler, Wrangler: Anatomy of an Icon, was released. It was produced and directed by Jeffrey Schwarz of Automat Pictures.
Wrangler died on April 7, 2009, at the age of 62 from complications from emphysema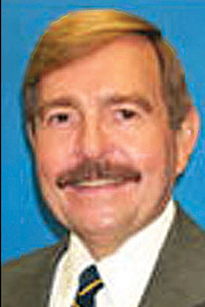 1948 – George Alan Rekers is an American psychologist and ordained Southern Baptist minister. He is emeritus professor of Neuropsychiatry and Behavioral Science at the University of South Carolina School of Medicine.
Rekers has a Ph.D from University of California, Los Angeles and has been a research fellow at Harvard University, a professor and psychologist for UCLA and the University of Florida, and department head at Kansas State University. In 1983 Rekers was on the founding board of the Family Research Council, a non-profit Christian lobbying organization, and he is a former officer and scientific advisor of the National Association for Research & Therapy of Homosexuality (NARTH), an organization offering conversion therapy intended to change homosexuals into heterosexuals. Rekers has testified in court that homosexuality is sinful and destructive, and against parenthood by gay and lesbian people in a number of court cases involving organizations and state agencies working with children.
In May 2010 Rekers employed a male prostitute as a travel companion for a two-week vacation in Europe. Rekers denied any inappropriate conduct and suggestions that he was gay. The male escort, Jo-Vanni Roman, told CNN he had given Rekers "sexual massages" while traveling together in Europe. In subsequent interviews, Roman said Rekers had paid him to provide nude massages daily "which included genital touching." He also talked about how he believed that Rekers was, in fact, homosexual: "It's a situation," Roman said, "where he's going against homosexuality when he is a homosexual." Rekers subsequently resigned from the board of NARTH.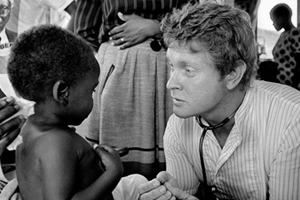 1953 – During South Africa's apartheid era, Dr Ivan Toms sinned on two counts in the eyes of the security forces. He was known to be homosexual – a criminal offence at the time – and, as a founder and leader of the End Conscription Campaign (ECC), was also active in discouraging the compulsory recruitment of the country's white youths to the ranks of the military. As a result, security force chiefs approved a vicious campaign of harassment against the young doctor. Pig manure was delivered to his home and to members of the ECC executive, while street posters were put up referring to Dr Toms' "fairy tales".
His life was one of public service. Born in Cape Town, he took his medical degree at the University of Cape Town in 1976. Two years later he was conscripted to serve in the South African Defence Force (SADF), and although he vehemently opposed its operations, leaving South Africa was never an option for him. He did his six-months national service, but in the capacity of a non-combatant doctor in Namibia. Returning to Cape Town, he became the sole doctor servicing a population of some 60,000 in the squatter camp of Crossroads.
In September 1983, a three-week confrontation erupted between the Crossroads community and police as a result of squatters erecting "illegal structures". The brutalities of the SADF made Toms determined never again to serve in the army. He decided to go public with his opinions in the press and became a founder member of the ECC. In February 1985, the Government decided to forcibly remove the Crossroads settlement, resulting in several deaths and injuries. Toms and his clinic team stayed for four days attending to the injured. That year he went on a three-week hunger strike in opposition to the deployment of troops in black townships. "As a Christian, I am obliged to say no, to say never again will I put on that SADF uniform," he said.
In 1986, the SADF took control of the clinic and in July 1987, Toms refused to accept a one-month call-up to a military camp and suffered intense victimisation at the hands of the SADF.
In 1988 he was sentenced to 21 months' jail for refusing to accept the military call-up and served nine months at Pollsmoor Prison. The judge told Toms that, although he had no option but to follow the law and sentence: "You are not a criminal. Our jails are there for people who are a menace to society - you are not a menace to society. In fact you are just the opposite, you have always been an asset to society in the services you have rendered."
In 1991 Toms became national co-ordinator of the National Progressive Primary Healthcare Network, responsible for developing a national Aids programme. In 1993, he became director of the Students' Health and Welfare Centres Organisation, a non-government organisation which ran mobile clinics in townships staffed by medical students.
He continued to do charity work until 1996, when he went into municipal health. In 2002 he became Cape Town's director of health. His stand against apartheid and his public service were recognised by South Africa's President Thabo Mbeki, who presented him with the Order of the Baobab (an African tree) in 2006. He died from meningitis in 2008.

1966 – Oklahoma County Attorney Curtis Harris revealed that 26 teachers and school administrators in Oklahoma City had resigned following a six-month investigation into "alleged homosexual activity."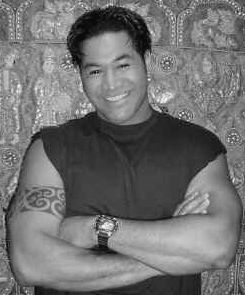 1968 – Esera Tuaolo, born in Honolulu, Hawaii, played professional football in the National Football League for nine years, including participation in the Super Bowl.
He is of Samoan ancestry, and was raised in poverty in a banana farming family. His father died when Esera was ten years of age.
He played for Oregon State University and was selected in the 1991 NFL Draft. Nicknamed 'Mr. Aloha', Tuaolo played nose tackle for several teams in his career, reaching the Super Bowl in 1998 while playing with the Atlanta Falcons. He also played for the Carolina Panthers, Jacksonville Jaguars, Minnesota Vikings and Green Bay Packers during his career.
In 2002, having retired from sports, he announced publicly that he was gay and was living with his partner, Mitchell Wherley, and their children - twins, son and daughter Mitchell Jr. and Michelle, who were adopted from Tuaolo's native Samoa. This made him the third former NFL player to come out, after David Kopay and Roy Simmons. He has since worked with the NFL to attempt to combat homophobia in the league and is a board member of the Gay and Lesbian Athletics Foundation.
Tuaolo and Wherley separated in July 2007.
In April, 2006, he testified at the State Legislature Senate Judiciary Committee hearing in opposition to an anti-gay-marriage bill.
In 2006, Tuaolo sang the national anthem at the opening ceremony of the Gay Games, a quadrennial Olympics-style event. David Kopay administered the official's oath during the opening ceremony of the same event.
Tuaolo's autobiography, Alone In The Trenches: My Life As A Gay Man In The NFL, was released in Spring, 2006.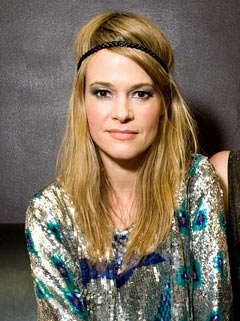 1971 – Leisha Hailey is an American actress and musician most widely known for playing Alice Pieszecki in the Showtime Networks production The L Word. Hailey first came to the public's attention as a musician in the pop duo The Murmurs and has continued a music career as part of the band Uh Huh Her.
Born in the United States Civil Administration of the Ryukyu Islands, Japan to American parents, Hailey grew up in Bellevue, Nebraska. At 17, she came out as a lesbian before moving to New York City to attend the American Academy of Dramatic Arts.
Openly a lesbian, Hailey dated k.d. lang for nearly five years until the relationship ended in 2001. In 2011, news of her relationship with Uh Huh Her bandmate Camila Grey became public after the two were ejected from a Southwest Airlines flight for arguing with a flight attendant who asked them to stop kissing.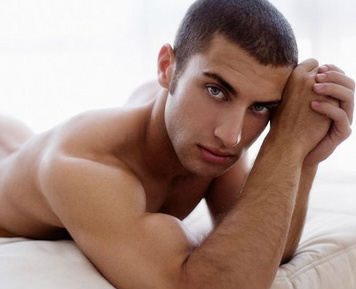 1982 – Max Rhyser is a Danish-American-Israeli model, stage, television and film actor.
Rhyser was born in Amsterdam, Netherlands to a Danish father and American-Israeli mother. Throughout his boyhood he moved often with his family around Europe because of his father prone to following the new career paths every few years. When he was 10 his family moved to Paris and when he was 15 they moved to Denmark. Every time his family moved Rhyser would join the local school theatre company. He is fluent and conversational in English, Dutch, French and Danish.
Rhyser considers himself Jewish and is openly gay. He lived in London where he moved when he was 20. Currently he resides in New York City.
Rhyser's older brother, also an actor but primarily in the European market, paved the way for him. His professional career began at the age of 18 as a stage actor in Amsterdam. Rhyser started his television and film career in 2005 when he signed with Q Management as a model. His first acting role was as a guest-star in BBC sitcom My Hero. In 2007 he appeared in a film A Four Letter Word. Rhyser's breakthrough film was Homeland, where he played Kobi Zucker an Israeli looking to start fresh in New York City who falls in love with a young Palestinian woman. Rhyser also works as a stage actor.
2010's Violent Tendencies was a feature-length opportunity for a resurrection of his character "Long John" from A Four Letter Word.
In Between Men (2010–2011) is a web series in which Rhyser played a lead character in a group of gay friends in New York. The series' ten-minute format and millennial mentality has been nonetheless compared to gay LGBTQ high-water mark Queer as Folk, and has so far received lackluster notoriety and critical reception. The series is available for free on YouTube and has garnered a substantial cult following.
In 2014 he starred along Robert MacNaughton and Ashton Leigh in the Damien Leone Indie Horrorfilm Frankenstein vs. The Mummy.

1986 –The New Zealand Homosexual Law Reform Act of 1986 decriminalizes consensual sex between men. Homosexual male sex had been illegal in NZ since 1840.

JULY 12 →
[{(o)}]|[{(o)}]|[{(o)}]|[{(o)}]| [{(o)}]|[{(o)}]