November 11
[{(o)}]|[{(o)}]|[{(o)}]|[{(o)}]| [{(o)}]|[{(o)}]
1634 – Ireland: "An Act for the Punishment for the Vice of Buggery" is passed by the Irish House of Commons, making anal intercourse punishable by hanging. The primary advocate of the act is Anglican Bishop John Atherton.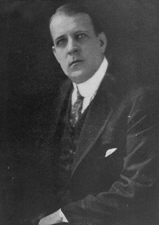 1872 – David I Walsh (d.1947) US Senator for Massachusetts, was named in 1942 by the New York Post as implicated in a sensational Nazi spy sex scandal.
It was alleged that he was a frequent visitor to a male brothel patronized by US Navy personnel, that had been infiltrated by Nazi spies. The brothel owner, Gustave Beekman, was subsequently convicted and sentenced to 20 years for sodomy, and three Nazi agents arrested and convicted.
Senator Walsh predictably protested his innocence, insisting that he had never been near the place. However, in statements to police, Beekman and others identified Walsh as a regular patron. President Roosevelt, in conversations with his vice-president and with the Senate majority leader, said "everybody knew" that Walsh was homosexual.
The scandal was complex in that it implicated the Senator as a homosexual, as a patron of a male bordello, and as a possible dupe of enemy agents. Homosexuality was a taboo subject for public discourse, so the Post referred to a "house of degradation." At one point a sub-headline in the New York Times called it a "Resort." In the Daily Mirror, columnist Walter Winchell mentioned "Brooklyn's spy nest, also known as the swastika swishery." The Post first suggested a scandal. Over the course of several weeks it hinted an important person was involved, then named "Senator X", and finally identified Walsh by name. Its sensational treatment of the story detracted from the seriousness of its charges.
The brothel's owner and several others arrested in a police raid identified Walsh to the police as "Doc," a regular client, whose visits ended just before police surveillance began. Some furnished intimate physical details.
On May 20, 1942, with a full report from FBI Director J. Edgar Hoover in hand, Senator Alben W. Barkley, the Senate majority leader, addressed the Senate at length on the irresponsibility of the New York Post, the laudable restraint of the rest of the press, the details of the FBI's report, and the Senate's affirmation of Walsh's "unsullied" reputation.
He declined to insert the FBI report in the Congressional Record, he said, "because it contains disgusting and unprintable things." Without addressing Walsh's sexuality, he said the report contained no evidence that Walsh ever "visited a 'house of degradation' to connive or to consort with, or to converse with, or to conspire with anyone who is the enemy of the United States." He denied the charges related to espionage. He provided no specifics about the sexual activity at issue and said the details of the charges were "too loathsome to mention in the Senate or in any group of ladies and gentlemen."
The press treated the charges in a similar way. For example, the
New York Times
report of Barkley's speech said that the FBI reported that
"there is not the 'slightest foundation' for charges that Senator Walsh, 69-year-old chairman of the Naval Affairs Committee, visited a 'house of degradation' in Brooklyn and was seen talking to Nazi agents there."
In other words, while outwardly saying the charges were untrue, they reiterated them.

1901 – The new Alabama constitution specifically denies the right to vote to anyone convicted of the "crime against nature."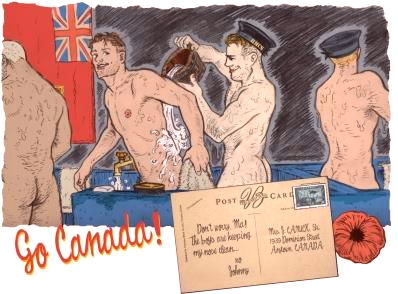 1939-1945 – Canadian Gays at war find a new identity.
While there was a well-documented purge of gay servicemen during the '60s, '70s and '80s, the realities of gay life in the military a couple of decades earlier were quite different. During the Second World War, some gays were turfed, while others were tolerated. Often, getting kicked out of the military for being gay had to do with circumstance — when Canada's troop levels ran low, gays were far less likely to be discharged.
But for a generation of young men and women, the Second World War was both their coming of age experience and their opportunity to come out. The war changed the world of gay life indelibly. Several years of war helped thousands of young men and women explore their sexuality.
Montreal writer Paul Jackson has found that the war not only showed soldiers a world they had never seen before, it also revealed a way of life that was equally foreign.
"For many queer servicemen, the transfer overseas represented a break with heterocentric Canadian social structures," he wrote in One of the Boys, a book that chronicles the wartime experiences of Canadian gay men. "Many found new opportunities for sexual self-discovery."
During World War II, military bases (which were already homoerotically charged) became brazen cruising zones. So it's not surprising that one of the most prominent wartime hotspots for gays developed in one of central Canada's traditional military strongholds — Kingston, Ontario.
Marney McDiarmid, who wrote about Kingston's queer history, says the war transformed the city's relatively quiet gay community. She wrote that, during the conflict, "the sheer presence of so many young men, far from home, transformed city streets into sites of sexual possibility."
For years after the war, the Kingston garrison remained quite large. Six thousand men were stationed in town as late as the 1960s. McDiarmid detailed the experience of one man, identified only as Earl, whom she interviewed about that period of time.
"One of the great hobbies was to get in your car and drive the La Salle Causeway," he said, referring to the road that bridges the Cataraqui River between downtown and the army base.
"[Soldiers] were short of money — naturally, in the military, they weren't paid too well — and they were always walking up the hill," he said. "So you'd stop and offer a lift — and they'd get back a lot later than they should have."
But even though the Canadian conscription crisis interrupted the homosexual witch-hunt that was, until then, being carried out by commanding officers, psychiatrists and snitches at home and abroad, being discovered as gay was still something that earned a soldier a dishonourable discharge.
Jackson wrote that military officials argued — and in some cases, still argue — that "the presence of openly homosexual soldiers would disrupt unit cohesion. Queer soldiers would be a disturbing influence, weakening the bonds that hold a group together and making it less effective."
But, outside the context of outright discovery, gay presence and gay activity was often simply ignored.
Gay sex and intimacy were often tolerated by soldiers on the ground. Solidarity among men on the front lines — both gay and straight — often trumped any pre-war prejudice or bigotry that might otherwise have caused divisions.
"There were secrets everywhere, and soldiers protected each other from [their superiors] in the army, navy and air force. It was to everyone's benefit to protect the unit," Jackson said.
After the war, Jackson said, Canadian society embraced a return to pre-war normalcy. There was a sense that Canadians needed "to put society back together again," he said. But for that simple, gay farm boy from Upper Buttfuck, Saskatchewan, there was no going back.
- (Adapted from Xtra! Jan 20, 2010)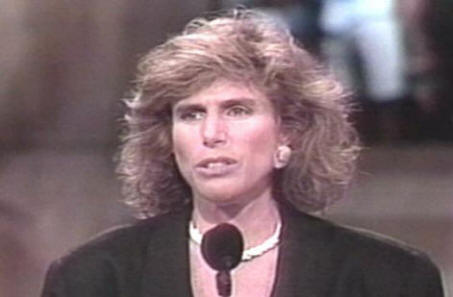 1947
– Born:
Elizabeth Glaser
(d.1994); major American HIV-AIDS activist and child advocate, married to actor and director
Paul Michael Glaser
. She contracted HIV very early in the modern AIDS epidemic after receiving an HIV-contaminated blood transfusion in 1981 while giving birth. Like other HIV-infected mothers, Glaser unknowingly passed the virus to her infant daughter, Ariel, through breastfeeding. The Glasers' son, Jake, born in 1984, contracted HIV from his mother
in utero
.
The virus went undetected in all three infected family members until they underwent HIV testing in 1985, after the Glasers' daughter, Ariel, began suffering from a series of unexplained illnesses. Ariel had developed full-blown AIDS at a time when the medical community knew very little about the disease and there were no available treatment options. Early in 1987, the U.S. Food and Drug Administration finally approved AZT as an effective drug to extend the lives of AIDS patients, but the approval only extended to adults. With their daughter's condition rapidly deteriorating, the Glasers fought to have her treated with AZT intravenously. However, the treatment came too late, and the child eventually succumbed to the disease late in the summer of 1988.
Mourning the loss of her daughter and determined to save her surviving child, Jake, along with other HIV-positive children, Glaser co-founded the Elizabeth Glaser Pediatric AIDS Foundation in 1988. Glaser's work raised public awareness about HIV infection in children and spurred funding for the development of pediatric AIDS drugs as well as research into mother-to-child transmission (MTCT) of HIV. (Significantly, Glaser's children received the virus through two of the most common means of mother-to-child transmission.) Before her death in 1994, Glaser entered the national spotlight as a speaker at the 1992 Democratic National Convention. She criticized the federal government's under-funding of HIV-AIDS research and its lack of initiative in tackling the HIV-AIDS crisis.

An early Mattachine meeting
1950 – The Mattachine Society – the organization founded by Harry Hay along with a small group of Los Angeles male friends, first met on this date. The met in Los Angeles with Hay, Rudi Gernreich, Bob Hull, Chuck Rowland, and Dale Jennings in attendance, but was not incorporated until 1954 when a different group assumed leadership positions.
Because of concerns for secrecy and the founders' leftist ideology, they adopted the cell organization being used by the Communist Party. In the anti-Communist atmosphere of the 1950s, the Society's growing membership replaced the group's early Communist model with a more traditional ameliorative civil rights leadership style and agenda. Then, as branches formed in other cities, the Society splintered in regional groups by 1961.
Harry Hay conceived of the idea of a homosexual activist group in 1948. After signing a petition for Progressive Party presidential candidate Henry A. Wallace, Hay spoke with other gay men at a party about forming a gay support organization for him called "Bachelors for Wallace". Encouraged by the response he received, Hay wrote the organizing principles that night, a document he referred to as "The Call".
He planned to call this organization "Bachelors Anonymous" and envisioned it serving a similar function and purpose as Alcoholics Anonymous. Hay met Rudi Gernreich in July 1950. The two became lovers, and Hay showed Gernreich The Call. Gernreich, declaring the document "the most dangerous thing [he had] ever read", became an enthusiastic financial supporter of the venture, although he did not lend his name to it (going instead by the initial "R".
Finally on November 11, 1950, Hay, along with Gernreich and friends Dale Jennings and lovers Bob Hull and Chuck Rowland, held the first meeting of the Mattachine Society in Los Angeles, under the name "Society of Fools".
James Gruber and Konrad Stevens joined the Society in April 1951 and they are generally considered to be original members. Also that month the group changed its name to Mattachine Society, a name suggested by Gruber and chosen by Hay, after Medieval French secret societies of masked men who, through their anonymity, were empowered to criticize ruling monarchs with impunity.
A largely amicable split within the Society in 1952 resulted in a new organization called ONE, Inc. ONE admitted women and, together with Mattachine, provided vital help to the Daughters of Bilitis in the launching of that group's magazine, The Ladder, in 1956.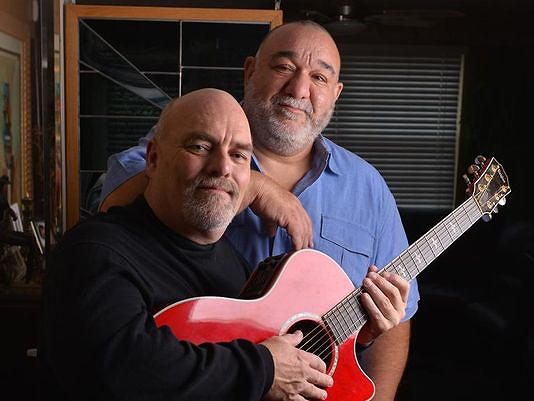 Ray Boltz with Franco Sperduti
1953 – Ray Boltz, born in Muncie, Indiana, is a singer-songwriter who first came to wide notice in contemporary Christian music. Many of his songs tell stories of faith and inspiration.
Boltz is the middle child of his parents' three children (a fourth child died shortly after birth). He was married to his wife Carol for 33 years, and they have four children.
Boltz was virtually unknown when he wrote "Thank You", which won the Song of the Year prize at the 1990 GMA Dove Awards. His song "I Pledge Allegiance to the Lamb" also won a Dove Award for Inspirational Recorded Song of the Year at the 25th GMA Dove Awards in 1994. After the release of Songs from the Potter's Field in 2002, and his last tour in 2004, Boltz retired from the music industry. He separated from his wife in 2005 before moving to Fort Lauderdale, Florida, with their divorce being finalized in early 2008.
On Friday, September 12, 2008, during an interview with the Washington Blade, Boltz disclosed that he was gay. Since then, Boltz has performed at several churches of the Metropolitan Community Church, a gay-affirming Christian denomination. His songs often tell stories of faith and inspiration. He travels the world in the group of Michael English, Michael W Smith with Gaithers Group.
In 2010, he released the album
True
, which won Album of the Year at the OUTMusic Awards. Boltz currently lives in Fort Lauderdale, Florida, with his partner
Franco Sperduti
, who is also his talent agent.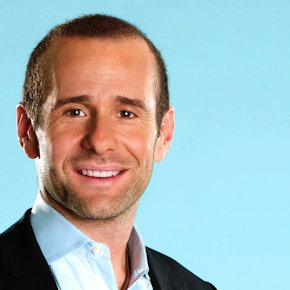 1965 – Max Mutchnick is an American television producer. He has received an Emmy Award, a People's Choice Award, and several Golden Globe Award nominations.
Mutchnick was born in Chicago, Illinois, and raised in Beverly Hills by his single Jewish mother.
Mutchnick got his start writing for game shows, Good Advice and The Wonder Years. He and David Kohan created Boston Common and Will & Grace. He also produced and wrote for Good Morning, Miami, and produced Twins and Four Kings with Kohan. The title characters of Will & Grace are based on Mutchnick and his best friend, Janet. Mutchnick, like Will Truman, is openly gay. He and Kohan have a production company, KoMut Entertainment, which is a combination of their two last names.
On June 7, 2006, Emerson College announced the naming of the Max Mutchnick Campus Center after Mutchnick donated a major gift. The apartment of Will Truman and Grace Adler resided in the Emerson College Library on display. The set was donated by Mutchnick.
Mutchnick married his partner, lawyer Erik Hyman, on October 25, 2008. The couple are fathers to twin girls, Evann and Rose, via a surrogate.
Mutchnick and Kohan created a half-hour comedy series for CBS called Partners in 2012, but was canceled that same year.

1966 – Todd Verow, born in Bangor, Maine, is an American film director who now resides in New York City, New York. He attended the Rhode Island School of Design and the AFI Conservatory. Together with his creative partner, James Derek Dwyer, he formed Bangor Films in 1995. He was also the cinematographer for Jon Moritsugu's film Terminal USA (1993).
After a string of widely screened and praised short films he shot his first feature film, Frisk (Sundance, Berlin, Toronto '96) a hyper-controversial adaptation of the novel of the same name. Featuring PXL vision, video, and super 8, the film assaulted audiences. Praised and reviled, it more importantly proved that Verow was an original voice that could not be ignored.
In late 1996, Verow shifted creative gears. It was while searching for a more intimate film language with his new improvisational acting troupe that he happened to experiment with digital video technology. This led to the award winning films of his Addiction Trilogy; Little Shots of Happiness (Berlin 97, SXSW 97, Mill Valley '97), Shucking the Curve (SF IndieFest 99, No Dance '99.) and The Trouble With Perpetual Deja Vu (Singapore '99, Chicago Underground '99, Vancouver International 99). Verow and producing/writing partner James Derek Dwyer created Bangor Films to support their prolific film output, (Verow vowed ten features by the year 2000.)
Verow's twisted Anti-Bush/Dangerous Liasons political drama, Bulldog in the White House won the Best Film Prize at the Chicago Underground Film Festival.
His most autobiographical pic to-date, Vacationland greeted the world with a multi-city film fest tour, a limited domestic and international theatrical engagement and a DVD release on Water Bearer Films in October 2007.
He has been called a veteran of the New Queer Cinema, and his numerous productions on digital video have led to his being called "once and future king of DV" by Film Threat.
Verow is openly gay.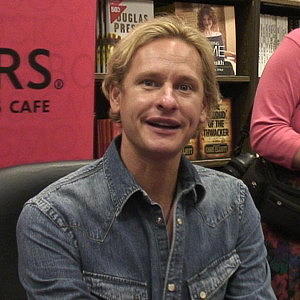 1969 – Carson Kressley was the fashion expert on the American television program Queer Eye, where he was one of the show's "Fab Five". He was also the motivational host of the TV show How to Look Good Naked and OWN's Carson Nation. He was a fan favorite on season 13 of the world wide hit Dancing with the Stars.
He began as an independent stylist, then worked for Ralph Lauren from 1994 until 2002, working in several areas including menswear and corporate advertising. His leap into television took place in 2003 when he gained great exposure as the "fashion savant" on
Queer Eye
when the show debuted on the Bravo cable television network. He remains active and visible on television as a fashion critic or commentator. Kressley frequently appears on
Good Morning America
and for the
E! Network
. In February 2007, he was announced as the host of new
Lifetime
makeover show,
How to Look Good Naked
(a U.S. version of a British series).[3] The show's premiere episode on January 4, 2008 drew record numbers for
Lifetime
—1.6 million viewers, which included significant numbers in the adults 18-49 and adults 18-34 demographics, as well as the network's target demo of women 18-34. As of January 2008, the debut episode of
How to Look Good Naked
is Lifetime's highest-rated premiere in those three demographics.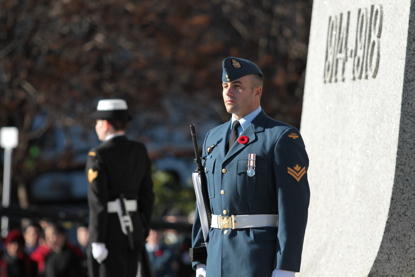 1975 – Two members of Gays of Ottawa lay a wreath at the National War Memorial. It is the first time a gay group is allowed to participate in the Remembrance Day ceremony.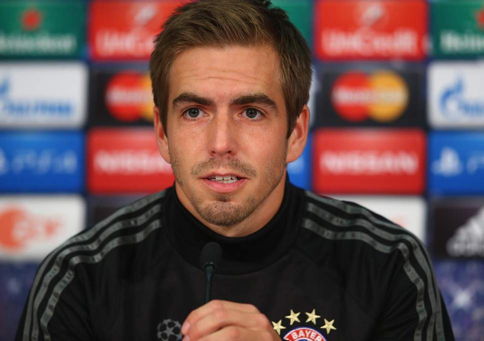 1983 – Philipp Lahm is a German footballer who has played for and captained both Bayern Munich and the Germany national football team. He is a staunch supporter of gay causes, evn though he is heterosexual.
Lahm is considered one of the best full backs in the world, and was included in the World Cup team of the tournament in 2006 and 2010, the UEFA Team of the Tournament in 2008 and 2012 and in the FIFA Team of the Year 2008. Although Lahm is right-footed, he is able to play on both sides of the pitch. He often cuts from the flank to the inside of the pitch to either shoot or pass. He is well known for his pace, dribbling and precise tackling abilities as well as his small stature, giving him the nickname the "Magic Dwarf".
Lahm has established a foundation, Philipp Lahm-Stiftung, to support underprivileged children and is also an official ambassador representing "FIFA for SOS Children's Villages". In addition he was an ambassador of the 2007, 2008 and 2009 World AIDS Day. He has also taken part in a campaign against speeding and various others such as Bündnis für Kinder, a campaign against child abuse.
Lahm was awarded a Tolerantia-Preis on 20 September 2008, due to his outstanding contribution against intolerance and homophobia in sports, particularly in football. He also stated that it's a "pity that being gay in football is still a taboo subject" and he would have no problem with a homosexual teammate and is "not afraid of homosexuals". However, Lahm doesn't advise footballers to publicly admit to being homosexual, because of the abuse they would suffer. He alluded to the tragic death of homosexual footballer Justin Fashanu.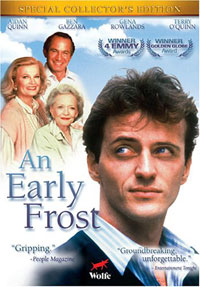 1985 – After a year of cold feet, "An Early Frost" airs on NBC. Writers Dan Lipman and Ron Cowen (later to produce "Sisters" and "Queer as Folk") attempt to create the first TV movie to deal with both homosexuality and the impact of AIDS on a beleaguered community of Gay men.
In the film, the suburban Pierson family not only deals with closeted workaholic son Nick's dual secret (along with the unfaithfulness of his partner Peter), but also the anger, resentment and frustrations of mother Kate and sister Susan.
While it draws an amazing ⅓ of the viewing audience, the daring broadcast loses NBC about a half million dollars in ad revenue. And while many consider the broadcast a success, others feel the film's directness stalls nationwide discussion of AIDS, "because it achieved its narrative and informational goals so well."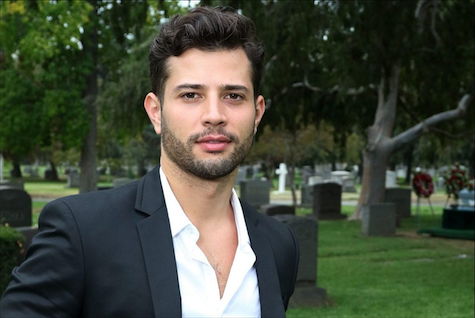 1986 – Rafael de la Fuente is a Venezuelan actor and singer. He is known for his roles in the fantasy television series Grachi (2011-2013) and the soap opera reboot Dynasty (2017-present). His other notable role was in the first and second seasons of the drama series Empire (2015-2016).
De la Fuente was born in Caracas, Venezuela. He started his acting career in 2009 with the role of Jorge Giraldo in the Telemundo telenovela, Más sabe el diablo. In 2011, de la Fuente appeared as Max in the telenovela Aurora. This was followed by the recurring role of Diego Forlán in the Nickelodeon Latin America fantasy series, Grachi, which became a main role in the second season. In 2014, de la Fuente appeared as Coach Julio on Every Witch Way, an English-language remake of Grachi.
In 2015 and 2016, de la Fuente appeared in the recurring role of Michael Sanchez, the boyfriend of Jamal Lyon, in the Fox musical prime time soap opera, Empire. In 2017, he appeared as Cleve Jones' boyfriend Ricardo Canto in the ABC miniseries When We Rise. In March 2017, de la Fuente was cast in The CW's Dynasty reboot as Sam Jones, a gay male version of the original series' Sammy Jo Carrington (Heather Locklear).
In December 2019, de la Fuente publicly acknowledged his sexuality, as a gay male.


Added 2021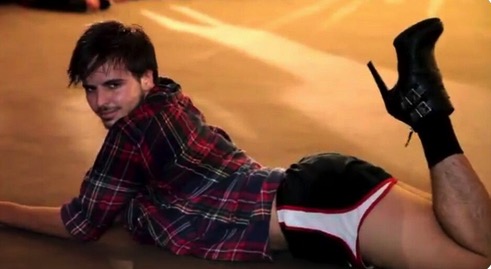 1989 – Yanis Marshall is a French dancer and choreographer. He was born in Grasse, France. He specializes in a style of dance choreography in which dancers of all genders wear high-heeled shoes.
In 2014, he auditioned for Britain's Got Talent with two backup male dancers and ended up becoming a finalist. Marshall also has spent time working as a coach and choreographer on Dancing with the Stars and the Ukraine's version of So You Think You Can Dance. He is also the choreographer for Cirque du Soleil's Las Vegas Zumanity show.
In 2018, he appeared as the dancing Deadpool in Céline Dion's video "Ashes", while Ryan Reynolds appeared as Deadpool in the speaking part. In 2019, he appeared in the 4th episode of RuPaul's Drag Race Season 11 "Trump: The Rusical".
Marshall is openly gay and has spoken about the role dancing plays in the coming out of people.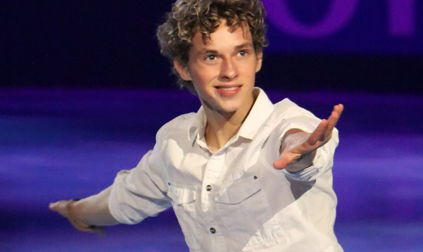 1989 – Adam Rippon is an American figure skater. He won the 2010 Four Continents Championships and the 2016 U.S. National Championships. Earlier in his career, he won the 2008 and 2009 World Junior Championships, the 2007–08 Junior Grand Prix Final, and the 2008 U.S junior national title. Rippon was selected to represent the United States at the 2018 Winter Olympics in Pyeongchang, South Korea.
At the 2018 Winter Olympics, Rippon won a bronze medal as part of the figure skating team event, thus becoming the first openly gay U.S. male athlete to win a medal in a Winter Olympics. Later that year, he won season 26 of Dancing with the Stars with professional dancer Jenna Johnson, making Rippon the first openly gay celebrity to win the competition.
Adam Rippon was born in Scranton, Pennsylvania. The oldest of six children, he was born with severe hearing loss but underwent surgery at Yale University just before his first birthday, allowing him to hear almost perfectly. Rippon started to skate when he was ten years old; his mother skated and brought him along to the rink. He was coached by Yelena Sergeeva from 2000 to 2007.
On October 2, 2015, Rippon publicly came out as gay. In February 2018, Rippon raised concerns about Vice President Mike Pence being chosen to lead the US delegation to the 2018 Winter Olympics opening ceremony because of Pence's history of support for anti-gay legislation and policies. At the Time 100 Gala, Rippon honored his mother, a single parent, for her inspiration and dedication to his success.[46] He reminded people that success is not overnight it requires dedication and the support of others. In addition to his mother, Kelly, he has a close relationship with his siblings.

1992 – Australia removes its restrictions on gays and lesbians serving in the military.

NOVEMBER 12 →
[{(o)}]|[{(o)}]|[{(o)}]|[{(o)}]| [{(o)}]|[{(o)}]