September 21
[{(o)}]|[{(o)}]|[{(o)}]|[{(o)}]| [{(o)}]|[{(o)}]
1372 — England: King Edward II is killed. The King was rumored to have had an affair with Hugh Despenser. Edward also had a close and controversial relationship with Piers Gaveston who had joined his household in 1300. The precise nature of Edward and Gaveston's relationship is uncertain; they may have been friends, lovers or sworn brothers.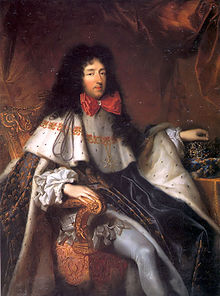 1640 – Philippe I, Duc d'Orléans (d.1701) was the second son of Louis XIII of France and Anne of Austria, and thus the younger brother of Louis XIV of France. He was known as Monsieur at the French court, Monsieur becoming the traditional name of the King's eldest brother from 1660. He was born at St Germain-en-Laye.
In 1661, he was made Duke of Orléans, and married his first cousin Henrietta Anne Stuart, sister of Charles II of England, also known as 'Minette'.
Traditionally, in the French court, a king's younger son was not given significant responsibility, and Philippe was no exception. His mother discouraged him from traditionally male pursuits such as arms and politics, and encouraged him to wear dresses, make-up, and to enjoy traditionally feminine pursuits. This was part of Queen Anne's effort to distract Philippe from challenging his older brother's rule and position.
As an adult, Monsieur continued to enjoy wearing feminine clothing and fragrances, but also proved to be a brave and competent commander in the field. He fought with distinction in the 1667 promenade militaire against Flanders during the War of Devolution, though he hastened back to his life at court immediately after victory was assured. Monsieur resumed military command in 1672, and in 1677 won a great victory at the Battle of Cassel and took St Omer. Louis XIV, it was said, was jealous of his brother's success, therefore Monsieur never commanded an army again.
Monsieur's favorites, invariably handsome young men, dominated contemporary and historical commentary about his role at court, particularly one man who shared his princely rank and much of his life: Philip of Lorraine-Armagnac was three years younger than Philip of Orléans. Handsome, brutal and devoid of scruples, he was the great love of Monsieur's life. He was also the worst enemy of Monsieur's two wives...
As greedy as a vulture, this cadet of the French branch of the house of Lorraine had, by the end of the 1650s, hooked Monsieur as though harpooning a whale. The young prince loved him with a passion that worried Madame Henrietta and the court bishop, Cosnac, but the King understood that, thanks to the attractive face and sharp mind of the good-looking cavalier, he would have his way with his brother.
Under these circumstances it is no surprise that Monsieur's first marriage was unhappy. In January 1670 his wife prevailed upon the King to imprison the chevalier, first near Lyon, then in the Chateau d'If, and finally banish him to Rome. But by February Monsieur's protests and pleas persuaded the King to restore him to his brother's entourage. The death of the Duchess in the following June was popularly attributed to poison.
His second arranged marriage was to 'Liselotte' Elisabeth Charlotte, daughter of Charles Louis, Elector Palatine of the Rhine Whereas Monsieur's first wife had been known for beauty, charm and wit, no one accused Liselotte of those graces, and some said that this lack explained why she fared better with Monsieur than did his first wife. She gave him his only surviving son. She also became known for her brusque candour, upright character, lack of vanity, and prolific foreign correspondence about the daily routine and frequent scandals of Versailles.
Monsieur failed to stand up to Louis XIV's insistence on marrying his daughter Françoise Marie Monsieur's son and heir, Philippe d'Orléans. But when, years later, the King rebuked him for his son's indifference toward her, Monsieur defended his son with such vehemence that a footman felt obliged to enter the King's chamber to warn the royal brothers that their argument was being overheard by the entire court. Monsieur is the only man known to have raised his voice to the adult Louis XIV— though he did not live to see the King again.
Monsieur was an art collector and perhaps also a shrewd investor. Monsieur enjoyed court life, gambling, chasing young men, and ceremony. Despite the fact that his debts and dalliances often cost the King, the brothers spent much time together. Orléans' loyalty was never in question; but his unabashed effeminacy probably deprived him of the credit he deserved among his countrymen and in history. Louis XIV, however, seems to have fully appreciated their relationship, as he treated Monsieur, publicly and privately, with respect and leniency.
He died at Saint-Cloud in 1701 of an apoplectic fit brought on by his heated argument with the King.


Added 2021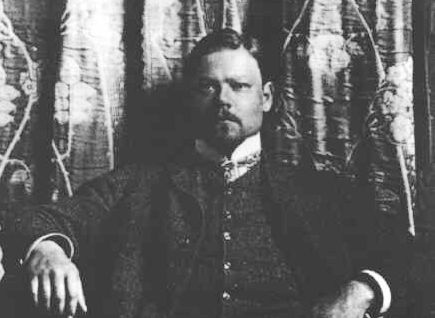 1870 – Sascha Schneider was a German allegorical painter and sculptor born on this date (d.1927).
Schneider was born in Saint Petersburg in 1870. During his childhood, his family lived in Zürich, but following the death of his father, Schneider moved to Dresden, where in 1889 he became a student at the Dresden Academy of Fine Arts. In 1903, he met best-selling author Karl May, and subsequently became the cover illustrator of a number of May's books including Winnetou, Old Surehand, Am Rio de la Plata. A year later in 1904, Schneider was appointed professor at the Großherzoglich-Sächsische Kunstschule Weimar.
During this period, Schneider lived with painter Hellmuth Jahn. Jahn began blackmailing Schneider by threatening to expose his homosexuality, which was punishable under §175 of the penal code. Schneider fled to Italy, where homosexuality was not criminalized at that time. In Italy, Schneider met painter Robert Spies, with whom he traveled through the Caucasus Mountains. He then traveled back to Germany, where he lived for six months in Leipzig before returning to Italy, where he resided in Florence.
When the First World War started, Schneider returned to Germany again, taking up residence in Hellerau (near Dresden). After 1918, he co-founded an institute called Kraft-Kunst for bodybuilding. Some of the models for his art trained here. Schneider's painting Hypnosis inspired a key shot in the Robert Eggers' 2019 film The Lighthouse. Schneider, who was diabetic, suffered a seizure during a ship voyage in the vicinity of Swinemünde. As a result, he collapsed and died in 1927 in Swinemünde. He was buried in Loschwitz Cemetery, Germany.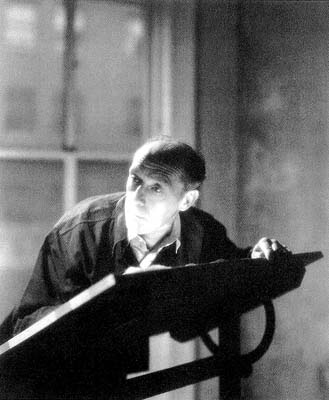 1898 – Pavel Tchelitchew (d.1957) was a Russian-born surrealist painter. Tchelitchew was born near Moscow on the estate of his aristocratic family. He was educated by a series of French, German, and English governesses, who encouraged his interest in the arts. His father, a follower of Tolstoyian principles, supported his desire to become a painter. In spite of his father's liberal views, however, the family was expelled from its property in 1918 following the revolution of 1917.
Tchelitchew joined the White army, and the family fled to Kiev, which was not yet under Communist control. While in Kiev he continued his studies and produced his first theatre designs. By 1920 he was in Odessa, escaping the advancing Red armies. He went on to Berlin via Istanbul. There he met Allen Tanner, an American pianist, and became his lover. In 1923 they moved to Paris and Tchelitchew began painting portraits of the avant-garde and homosexual elite. His work was much admired and bought by Gertrude Stein.
In addition to becoming an accomplished painter, he also became one of the most innovative stage designers of the period and designed ballets for Diaghilev and the Ballets Russes in Paris.
His first US show was of his drawings, along with other artists, at the newly-opened Museum of Modern Art in 1930. In 1934, he moved from Paris to New York City with his then partner, writer Charles Henri Ford. He and Ford were at the centre of a social world of wealthy, artistic homosexuals, such as Lincoln Kirstein, for whom he also designed ballets. He also designed for Balanchine's fledgling American Ballet.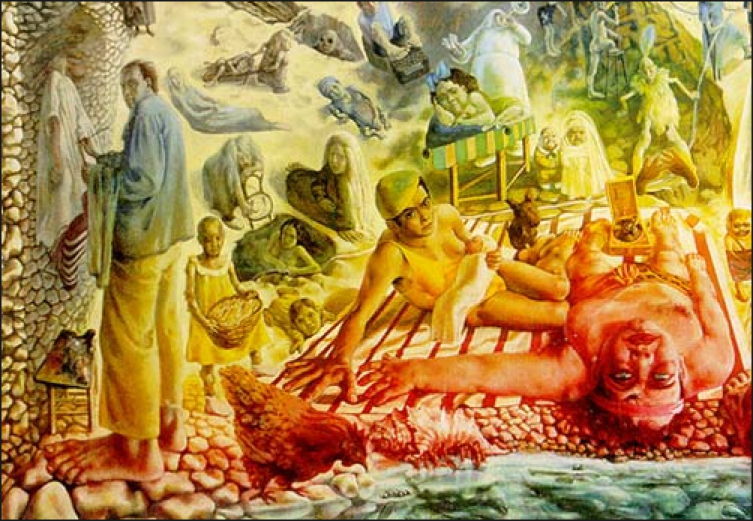 (Click for larger)
From 1940 to 1947, he provided illustrations for the Surrealist magazine View, edited by Ford and writer and film critic Parker Tyler. Tchelitchew's critical reputation declined in the 1950s and 1960s along with the decline of interest in figurative art.
In 1952 Tchelitchew became a US citizen, but shortly afterwards moved to Frascati, Italy. He suffered a heart attack in 1956 and died on July 31, 1957 in Rome, with Ford by his bedside.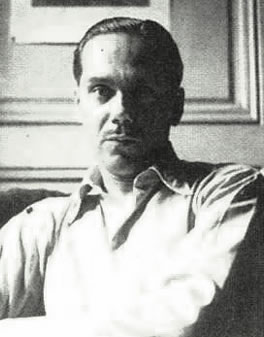 1902 – Luis Cernuda, born Luis Cernuda Bidón in Seville (d.1963), was a Spanish poet and literary critic. The son of a military man, Cernuda received a strict education as a child, and then studied law at the University of Seville, where he met the poet and literature professor Pedro Salinas. In 1928, after his mother died, Cernuda left his home town, with which he had all his life an intense love-hate relationship.
He briefly moved to Madrid, where he quickly became part of the literary scene. His mentor and former professor Salinas arranged for him to take a lectureship for a year at the University of Toulouse. From June 1929 until 1937 Cernuda lived in Madrid and participated actively in the literary and cultural scene of the Spanish capital. Cernuda collaborated with many organisations working to support a more liberal and tolerant Spain. He participated in the Second Congress of Anti-Fascist Intellectuals in Valencia.
The central concerns of this poet are evident in the title of his life's major opus: La realidad y el deseo ('Reality and Desire'). He published his first collection of verse, Perfil del aire ('Profile of the Air'), in 1927. Several books followed, and he collected new and already published poetry under this title in 1936. Subsequent editions would include new poetry as new books inside La realidad y el deseo. Expanded on almost until his death in 1963, in this work the poet explores desire, love, subject, object, history and sexuality in poems which draw influences from romanticism, classicism, and the surrealist avant-garde.
Deeply influenced by André Gide, Cernuda embraced his homosexuality at an early age and made homosexual desire and love the core of his poetry. Or, at least, unlike other gay poets at the time, in his poetry he was never ambiguous about the fact that the objects of his desire and love were men. One of the most influential poets in contemporary Spanish poetry, he is definitely a crucial ground-breaking figure for homosexual writing in Spanish.
During the Spanish Civil War, Cernuda fled to England, where he began an exile that later took him to France, Scotland, Massachusetts, California and finally settling in Mexico; he never returned to Spain.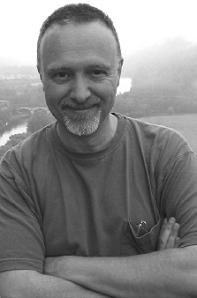 1948 – John D'Emilio, born in New York City, is a professor of history and of women's and gender studies at the University of Illinois at Chicago. He taught at the University of North Carolina at Greensboro. He earned his Ph.D. from Columbia University in 1982. A Guggenheim fellow in 1998 and National Endowment for the Humanities fellow in 1997, he served as Director of the Policy Institute at the National Gay and Lesbian Task Force from 1995 to 1997.
D'Emilio was awarded the Stonewall Book Award in 1984 for his most widely cited book, Sexual politics, sexual communities, which is considered the definitive history of the U.S. homophile movement from 1940 to 1970. His biography of the civil-rights leader Bayard Rustin, Lost prophet: Bayard Rustin and the quest for peace and justice in America, won the Stonewall Book Award for non-fiction in 2004.
His and Estelle Freedman's book Intimate matters: A history of sexuality in America was cited in Justice Anthony Kennedy's opinion in Lawrence v. Texas, the 2003 American Supreme Court case overturning all remaining anti-sodomy laws.
Jim Oleson, his partner since the early 1980s, died at their home in Chicago on April 4, 2015.

1950 – The Illinois Supreme Court rejects the claim that sodomy can be committed only by people of the same sex.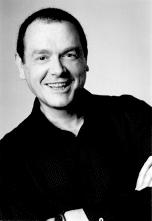 1955 – Playwright and fiction writer Jim Grimsley has firmly established himself as a central voice in an exploding, Southern, gay literary renaissance. Grimsley's success as a novelist, however, was hard won. Born into an alcoholic and poverty-stricken family in rural Pollackville, North Carolina, in 1955, Grimsley endured a childhood that later caused him to remark that "for us in the South, the family is a field where craziness grows like weeds" ("Out of Silence," 1998).
Grimsley moved to Atlanta as a young adult and continued to dream of "just being a writer," although he would spend nearly twenty years as a secretary at Atlanta's Grady Memorial Hospital before joining the creative-writing faculty at Emory University. During those years, Grimsley wrote prolifically and steadily, both fiction and drama—fourteen of his plays were produced between 1983 and 1993.
His first novel, however, the semiautobiographical Winter Birds (1994), was rejected as "too dark" by American publishers for ten years before appearing in a German edition; it finally was published in English some two years later. Winter Birds brought Grimsley a Sue Kaufman Prize for First Fiction from the American Academy of Arts and Letters and a PEN/Hemingway Award citation. The novels that followed—Dream Boy (1995) and My Drowning (1997)—received, respectively, the American Library Association's Gay, Lesbian, and Bisexual Book Award for Literature and the Lila Wallace-Readers Digest Writers' Award, in addition to significant critical acclaim.
Grimsley's two overtly gay-themed novels are Dream Boy and Comfort and Joy (1999), each quite different from the other in theme and construction. In Dream Boy, adolescent Nathan falls for the "perfect" boy next door, Roy; a simple story of young love, however, opens into a touching, metaphorical tale of resistance and resurrection.
More traditional in approach, Comfort and Joy focuses on the two-year-old relationship of a wealthy Savannah doctor, Ford McKinney, and Dan Crell, a working-class functionary in the administrative office of the hospital where Ford works, who is, like Grimsley, both a hemophiliac and HIV-positive.
Grimsley is also an accomplished and award-winning playwright and has been connected with Atlanta's 7 Stages Theater since 1980; he has served as writer-in-residence there since 1988.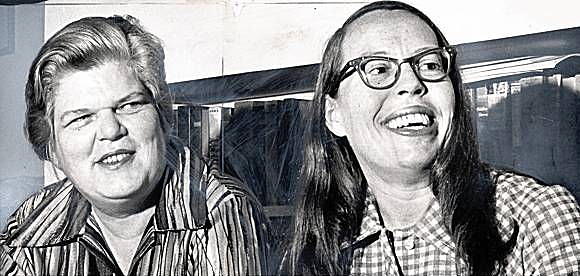 Del Martin and Phyllis Lyon
1955 – Daughters Of Bilitis, the first Lesbian organization, is formed by four Lesbian couples, including Phyllis Lyon and Del Martin. As the DOB gained members, their focus shifted to providing support to women who were afraid to come out, by educating them about their rights and gay history. Historian Lillian Faderman declared, "Its very establishment in the midst of witch hunts and police harassment was an act of courage, since members always had to fear that they were under attack, not because of what they did, but merely because of who they were."
In 1955, Del Martin and Phyllis Lyon had been together as lovers for three years when they complained to a gay male couple that they did not know any other lesbians. The gay couple introduced Martin and Lyon to another lesbian couple, one of whom suggested they create a social club. In October 1955, eight women — four couples — met to provide each other with a social outlet. One of their priorities was to have a place to dance, as dancing with the same sex in a public place was illegal. Martin and Lyon recalled later, "Women needed privacy...not only from the watchful eye of the police, but from gaping tourists in the bars and from inquisitive parents and families." Although unsure of how exactly to proceed with the group, they began to meet regularly, realized they should be organized, and quickly elected Martin as president. From the start they had a clear focus to educate other women about lesbians, and reduce their self-loathing brought on by the socially repressive times.
The name of the newfound club was chosen in its second meeting. "Bilitis" is the name given to a fictional lesbian contemporary of Sappho, by the French poet Pierre Louÿs in his 1894 work The Songs of Bilitis in which Bilitis was an Isle of Lesbos alongside Sappho. The name was chosen for its obscurity; even Martin and Lyon did not know what it meant. "Daughters" was meant to evoke association with other American social associations such as the Daughters of the American Revolution.
Within a year of its creation, most of the original eight participants were no longer part of the group, but their numbers had grown to 16, and they decided they wanted to be more than only a social alternative to bars. Historian Marcia Gallo writes "They recognized that many women felt shame about their sexual desires and were afraid to admit them. They knew that...without support to develop the self-confidence necessary to advocate for one's rights, no social change would be possible for lesbians."
By 1959 there were chapters of the DOB in New York City, Los Angeles, Chicago and Rhode Island along with the original chapter in San Francisco. Upon arrival at a meeting, attendees would be greeted at the door. In a show of good faith, the greeter would say, "I'm ---. Who are you? You don't have to give me your real name, not even your real first name."
Soon after forming, the DOB wrote a mission statement that addressed the most significant problem Martin and Lyon had faced as a couple: the complete lack of information about female homosexuality in what historian Martin Meeker termed, "the most fundamental journey a lesbian has to make." When the club realized they were not allowed to advertise their meetings in the local newspaper, Lyon and Martin, who both had backgrounds in journalism, began to print a newsletter to distribute to as many women as the group knew. In October 1956 it became The Ladder, the first nationally distributed lesbian publication in the U.S. and one of the first to publish statistics on lesbians, when they mailed surveys to their readers in 1958 and 1964. Martin was the first president and Lyon became the editor of The Ladder.
The DOB advertised itself as "A Woman's Organization for the purpose of Promoting the Integration of the Homosexual into Society." The statement was composed of four parts that prioritized the purpose of the organization, and it was printed on the inside of the cover of every issue of The Ladder until 1970:
Education of the variant...to enable her to understand herself and make her adjustment to society...this to be accomplished by establishing...a library...on the sex deviant theme; by sponsoring public discussions...to be conducted by leading members of the legal psychiatric, religious and other professions; by advocating a mode of behavior and dress acceptable to society.
Education of the public...leading to an eventual breakdown of erroneous taboos and prejudices...
Participation in research projects by duly authorized and responsible psychologists, sociologists, and other such experts directed towards further knowledge of the homosexual.
Investigation of the penal code as it pertain to the homosexual, proposal of changes,...and promotion of these changes through the due process of law in the state legislatures."
New York chapter president Barbara Gittings noted that the word "variant" was used instead of "Lesbian" in the mission statement, because "Lesbian" was a word that had a very negative meaning in 1956.
As a national organization, the Daughters of Bilitis folded in 1970, although some local chapters still continue. By 1972, The Ladder had run out of funds and it folded.
Dozens of other lesbian and feminist organizations were created in the wake of the Daughters of Bilitis. However, the impact of the fourteen-year run of the DOB on the lives of women was described by historian Martin Meeker: "The DOB succeeded in linking hundreds of lesbians across the country with one another and gathering them into a distinctly modern communication network that was mediated through print and, consequently, imagination, rather than sight, sound, smell, and touch."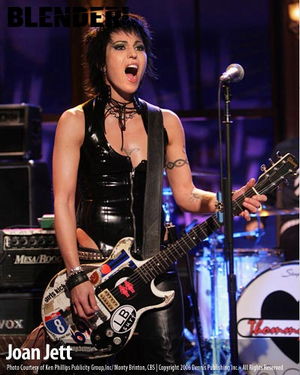 1960 – Pop icon of the 1980s, Joan Jett has long been a part of the rock-and-roll world. Referred to as "the godmother of riot grrrl" for her emergence as an aggressive, punk-influenced guitarist and singer in a time when most mainstream female musicians performed either bubble-gum pop or folk, Jett remains vital as a musician, producer, and actor. Fans admire the fact that, despite her increasing technical proficiency, Jett's music has remained satisfyingly consistent since the outset of her solo career.
Jett was born Joan Larkin in Philadelphia on September 22, 1960. She spent most of her childhood in Baltimore. Her family moved to Los Angeles in 1972, where she became interested in artists such as David Bowie, Suzy Quatro, and Gary Glitter. Jett's interest in performing rock music was piqued when she received a guitar for Christmas at age 13. Only two years later, in 1976, she helped form the Los Angeles-based, all-teen-girl band the Runaways. The group made a splash in Europe, but was not taken seriously in the United States; largely written off as a novelty act, it disbanded in 1979.
Jett, who had decided early on that she did not care about prescribed gender roles and wanted to succeed in the rock world, went on to establish her musical career without the Runaways. She produced an album for the punk band The Germs and recorded with former members of the Sex Pistols. After the demise of the Runaways, Jett began looking for a new band; in 1980 she put together The Blackhearts. Their debut album, originally titled Joan Jett, was renamed Bad Reputation when it was released in the United States in 1981, on Jett and manager Kenny Laguna's own Blackhearts Records label (in conjunction with the now-defunct Boardwalk Records).
But it was Jett's hugely successful second album, I Love Rock 'n' Roll (1982), with its #1-hit title track, that made her a star. In the 1980s, Jett had some top-40 hits and then experienced several ups and downs in her career. She toured frequently in the 1990s and contributed to several soundtracks and compilation albums, in addition to issuing two full-length releases. Jett's leather-clad, bad-girl image, and her collaboration with seminal Riot Grrrl act Bikini Kill, as well as with (female) rock groups L7 and Babes in Toyland, helped cement her reputation as a kind of queercore role model despite her lack of a genuine niche. The queercore movement, characterized by hardcore punk music and militant lyrics, embraced her, though she had already achieved prominence when queercore came to the fore in the late 1980s.
While she has not issued a public statement regarding her sexuality, Jett has performed publicly with a sticker on her guitar that proclaims, "Dykes Rule," and her sizable lesbian following is a formidable presence at her shows. With the Blackhearts, Joan has performed at numerous gay-rights events, headlining at St. Louis's Pride Fest in 2001, and she often appears at queer-themed shows and clubs in New York City. In response to the rumors surrounding her sexuality, Jett has said, "I don't really care what people call me. I think it's important to support people you want to support and not be afraid of being called names."
Jett's acting assignments have included a role in the 1987 feature film
Light of Day
and a successful eight-month stint as Columbia in the 2001 Broadway production of the
Rocky Horror Picture Show
. Her greatest hits album,
Fit to be Tied
, came out on Mercury Records--distributing the album for Blackheart Records--in 1997. Later albums include
Fetish
(1999),
Unfinished Business
(2001),
USA: Joan Jett and the Blackhearts
(2002),
Naked
(2004), and
Sinner
(2006). In addition to maintaining a busy touring schedule, Jett hosts a
Sirius Satellite Radio
show,
The Radio Revolution with Joan Jett.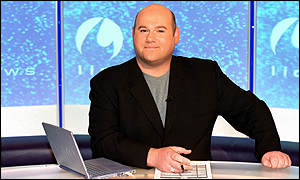 1967 – On this date Christopher Price the British Radio and TV presenter was born (d. 2002). He left university with the desire to become a journalist - he enrolled into the BBC reporter training scheme in 1991. Once completed he pursued his desire and in 1993 he became a reporter on Radio Berkshire - soon to move to Radio Solent.
In March 1994 he joined BBC Radio 5 Live to eventually become a Senior Broadcast Journalist. He sometimes stood in for Sybil Ruscoe, and occasionally presented Up All Night. He joined BBC News when it was launched in September 1997 and presented a mixture of news, fashion, and entertainment. However, after nine months he was called to the office of a senior colleague and told that he was too "camp" to read the news.
He and the producer Chris Wilson put together a nightly entertainment news discussion program called Zero 30. After Stuart Murphy said that he enjoyed the programme he was persuaded to take it to digital television channel BBC Choice where it became Liquid News in 2000.
In early 2001 he hit the headlines when he signed a £280,000 two-year contract for presenting Liquid News. At the time, Christopher himself was quoted as jokingly saying that he didn't understand why people would want to watch a programme presented by a "fat, balding, homosexual".
In 2002, he co-hosted BBC One's A Song For Europe competition to choose the UK entry into the Eurovision Song Contest. He had previously hosted BBC Three shows relating to the contest, including the preview programmes. He had been scheduled to host BBC Three's coverage of the 2002 contest before his untimely death from complications from meningoencephalitis.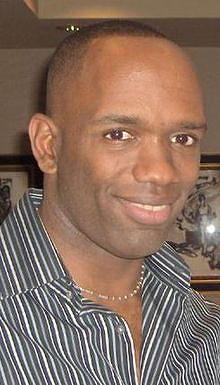 1967 – Alan G. Rogers (d.2008) was an ordained pastor, a U.S. Army Major and Intelligence Officer, a civil rights activist in the gay, lesbian and bisexual military community and the first known gay combat fatality of Operation Iraqi Freedom. The subsequent coverage of his death in the media sparked a debate over the effect of the military's "Don't Ask, Don't Tell" (DADT) policy and what information should be included in the biography of a gay military person killed in action.
Rogers expressed his opinion on the "Don't Ask, Don't Tell" (DADT) policy in his Master's thesis, written in 2005 shortly before he was deployed to Iraq and reportedly killed by an improvised explosive device (IED) while on foot patrol:
"Today's current policy on gays in the military seems to rest on many faulty assumptions - namely that homosexuals will jeopardize unit cohesiveness. My research has been unable to justify that position and has found that the opposite is more true. Denying service members the right to serve freely and openly violates basic dignity and respect of the human experience and puts our national security at risk."
In June 2006, Rogers provided the opening prayer for a same-sex wedding ceremony. Rogers reportedly expressed "an intensely deep loneliness that stemmed from his inability to have both a [same-sex] relationship ... and the military career he also loved so much."
In July 2007, Rogers was deployed to Iraq. According to an Army report, Rogers was killed by an improvised explosive device while on foot patrol in Baghdad, on January 27, 2008.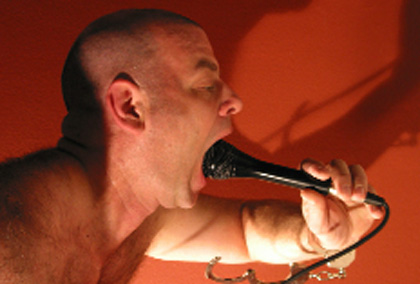 1968 – John Patrick Kamys, born in Chicago, IL, and better known by his stage name Jinx Titanic is an American composer, singer, songwriter, recording artist, and author, best known for his outrageous stage persona, and image as the beer-swilling, cigar-smoking, sexually-candid, lead singer of the eponymous rock band. Occasionally he will appear as a stage actor, movie actor, comedian, television personality, or host, and is also considered a notable member of the Queercore and Homocore movements.
Before taking on the persona and public life of Jinx Titanic, Kamys worked regularly in Chicago as a composer and songwriter. His first score for theater was written in 1994 for Teatro Vista's production of Romulus Linney's play Ambrosio.
In 1999, he also wrote and played the lead (Logan John) in the alt-country/Americana musical Future City Homosexual Tells All "about a small town boy trying to do the big town thing." at The Theater Building in Chicago.
Jinx Titanic, was born in May 2002 at a recording session at Chicago's Rax Trax Studios. Kamys had assembled four musicians to record under the band name Super 8 Cum Shot. He described the band as a "good-natured, bawdy and unforgettable punk/party/porno/pop experience," and dubbed its members, "the beer-swilling ambassadors of the orgasm." In keeping with the spirit of the band, each member was asked to choose a pseudonym. Kamys chose Jinx Titanic for himself. Super 8 Cum Shot Volume I was released July 31, 2002 with a performance and party at the historic Whisky a Go Go in Los Angeles, California. The original members of Super 8 Cum shot, performing on the recording are: John Kamys aka Jinx Titanic vocals, Jeff Kust aka G.I. Tarbaby Barbra guitar, Mitch Marlow aka Machine Gun Garafalo guitar, Chris Sewell aka Dax Malkovich bass, Timothy Ford aka Posey (t-mint) Parker drums.
In January 2005, Titanic, who is openly bisexual, was invited to play the Queer Lounge at the Sundance Film Festival. This event marked the beginning of his affiliation with the Q Television Network, and in June 2005 he began working as a guest host and regular correspondent for the network, continuing to do so until Q Television closed its doors in late 2006. During this period, while retaining a band, Titanic repositioned himself as the solo artist Jinx Titanic.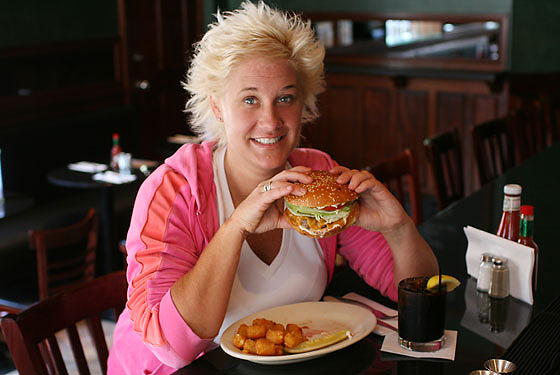 1969 – Anne Burrell is an American chef, TV personality, and was an instructor at the Institute of Culinary Education in New York City until 2007. She is the host of the Food Network show Secrets Of a Restaurant Chef and co-host of Worst Cooks in America. She is also one of Iron Chef Mario Batali's sous chefs in the Iron Chef America series and appears on other programs on the network such as The Best Thing I Ever Ate.
She was a contestant on the fourth season of The Food Network competition show, The Next Iron Chef Super Chefs being eliminated in episode 6. She was also a contestant on the first season of Chopped All-Stars Tournament, winning the "Food Network Personalities" preliminary round to advance to the final round, where she placed second runner up to Nate Appleman (winner) and Aaron Sanchez. She also hosts the series Chef Wanted with Anne Burrell.
Burrell released a statement to the New York Post confirming that she is a lesbian and has been in this relationship with her girlfriend for two years, after cookbook author Ted Allen brought up the subject on a radio show. On December 31, 2012, Anne publicly tweeted she is engaged to fellow chef Koren Grieveson, her partner of two years.


Added 2021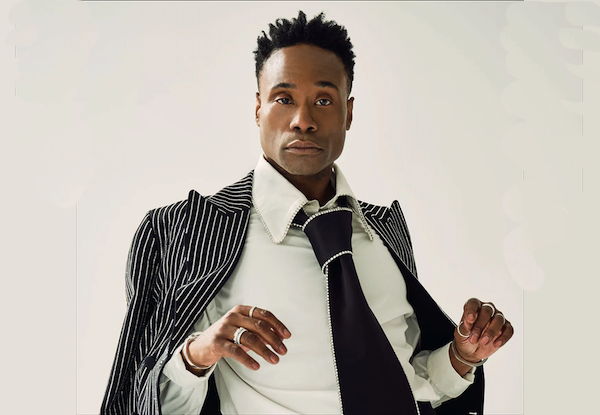 1969 – Billy Porter is an American actor and singer. He graduated from Carnegie Mellon University School of Drama, and achieved fame performing on Broadway before starting a solo career as a singer and actor.
Porter won the 2013 Tony Award for Best Actor in a Musical for his role as Lola in Kinky Boots. He credits the part for "cracking open" his feminine side to confront toxic masculinity For the role, Porter also won the Drama Desk Award for Outstanding Actor in a Musical and Outer Critics Circle Award for Outstanding Actor in a Musical.
In 2014 Porter won the Grammy Award for Best Musical Theater Album for Kinky Boots. Porter starred in all three seasons of the television series Pose, for which he was nominated for a Golden Globe Award and won the 2019 Primetime Emmy Award for Outstanding Lead Actor in a Drama Series, becoming the first confirmed gay black man to be nominated and win in any lead acting category at the Primetime Emmys.
Porter was included in Time magazine's 100 Most Influential People of 2020.
Porter is openly gay, having come out at the age of 16, "in the middle of the AIDS Crisis". He married his husband, Adam Smith, on January 14, 2017, after meeting him in 2009. He was very keen to get married "while Obama was still president and before January 20th, 2017" so the two got engaged on December 29, 2016 and married 2 weeks later.
Porter attributes his love of fashion from an early age to growing up in the black church which he describes as "a fashion show". His style has gone through many phases over the years, including vintage, Abercrombie and Fitch and geek chic.
Porter shared his views on race in the US in a 2020 interview with Vanity Fair, saying, "The reason why our country is in the mess we're in is simply because of whiteness. White supremacy. White people choke-holding power and sucking the life out of humanity".
In May 2021, Porter told The Hollywood Reporter that he had been diagnosed with HIV in June 2007; he was also diagnosed with type-2 diabetes in February 2007 and filed for bankruptcy in March 2007. In the same interview, he talked about renting a house on Long Island during the COVID-19 pandemic due to a pre-existing health condition.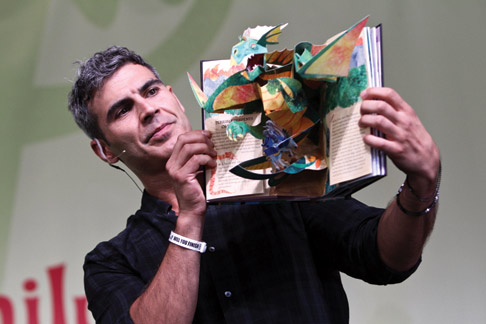 1971 – Matthew Reinhart is an American writer and illustrator of children's pop-up books and picture books. His most recent books, including Star Wars: The Pop-up Guide to the Galaxy, Encyclopedia Mythologica: Fairies and Other Magical Creatures (with Robert Sabuda), and Brava, Strega Nona! (with Tomie DePaola and Robert Sabuda) have received much popular and critical acclaim.
Matthew Christian Reinhart was born in Cedar Rapids, Iowa. After his father joined the U.S. Navy, Matthew and his younger sister, Erin, moved around the United States with their family, living in Florida, Texas, Illinois, California, Virginia and South Carolina.
Art was an important part of Reinhart's life from childhood. He drew constantly, as drawing and making crafts were his favorite activities. After high school, however, Reinhart felt a career in art was unlikely, and biology at Clemson University in South Carolina in preparation for medical school. However, this did not satisfy him, and he took various art courses in addition to his required science courses in order to build up a portfolio. After graduation, he moved to New York City for a year before starting medical school.
In New York, he met children's book author Robert Sabuda, with whom Reinhart did volunteer work for a local community center. The two became a couple in 1997. After Sabuda's book, Christmas Alphabet, was released to positive reviews, he convinced Reinhart to follow his true calling. The following year, Reinhart attended Pratt Institute in Brooklyn as an industrial design major, concentrating in toy design, though his interests eventually evolved to paper engineering.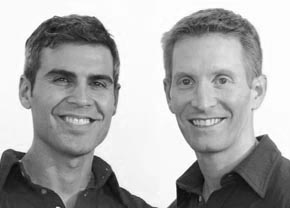 Reinhart and Sabuda
After working with Sabuda on books such as The Wonderful Wizard of Oz, A B C Disney and Movable Mother Goose, Reinhart made his first entry into the pop-up book field with The Pop Up Book Of Phobias.
Reinhart has created many award-winning pop-up books, including Cinderella, Star Wars: The Pop-Up Guide to the Galaxy and Mommy? (by Maurice Sendak and Arthur Yorinks). He is the co-creator with Robert Sabuda of the New York Times best-selling three-volume pop-up series Encyclopedia Prehistorica. The couple's latest pop-up series is Encyclopedia Mythologica which leads off with Fairies and Magical Creatures.

1982 — The Oklahoma Supreme Court awards custody of two boys to their divorced gay father, declaring homosexuality isn't in itself grounds for ruling a parent unfit.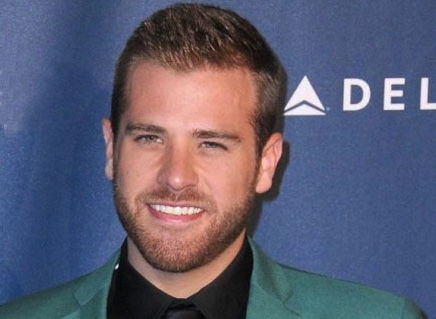 1983 – Scott Evans is an American actor, best known for his role as the police officer Oliver Fish on the ABC daytime soap opera One Life to Live. He is the younger brother of actor Chris Evans (Johnny Flame in The Fantastic Four; Captain America).
Evans began playing the recurring role of police officer Oliver Fish on One Life to Live on January 15, 2008. He subsequently appeared briefly on Guiding Light as Trey in 2008, and guest-starred as Woody Sage in the June 22, 2008 Law and Order: Criminal Intent episode "Betrayed" as well as the role of Ben in the October 21, 2008 Fringe episode "The Cure." Evans was also seen as Chad the Mail Clerk in the 2009 film Confessions of a Shopaholic.
Initially brought in to One Life to Live for five episodes, Evans returned several times. In July 2009, his character Oliver Fish became involved in a romantic relationship with another man. The storyline came to wider attention when Patricia Mauceri, an actress who had played a recurring role on the One Life to Live since 1995, was replaced after reportedly voicing personal religious objections to her character's involvement in his storyline. The Fish storyline on One Life to Live was canceled and Scott was let go. Evans was later outted as gay by his brother Chris.
Scott said of coming out:
You know, I have to tell you, I don't think I ever really had a thought process about being an out actor. I came out when I was 19-years-old, and then I became an actor. I didn't want to be one of those people who goes back into the closet and tries to hide because I knew it would come out. With the success of my brother, I didn't feel it was necessary to hide it once I'd come out. I'm an out person, as opposed to an out actor, I suppose.

1996 – President Bill Clinton signs the Defense of Marriage Act (DOMA), banning federal recognition of same-sex marriage and defining marriage as "a legal union between one man and one woman as husband and wife."

1998 – "Will & Grace," the first prime-time program to feature openly gay lead characters, premiers.


2003 – Soldier's Girl, a film based on a true story about solider in love with a transsexual woman, is nominated for an EMMY.

2010 – Dan Savage and husband Terry Miller upload their first It Gets Better video on YouTube, to help prevent suicide among LGBT youth. Dan is an American author, media pundit, journalist, and activist for the LGBT community. He writes Savage Love, an internationally syndicated relationship and sex advice column. He has also worked as a theater director, sometimes credited as Keenan Hollahan.

SEPTEMBER 22 →
[{(o)}]|[{(o)}]|[{(o)}]|[{(o)}]| [{(o)}]|[{(o)}]