November 21
[{(o)}]|[{(o)}]|[{(o)}]|[{(o)}]| [{(o)}]|[{(o)}]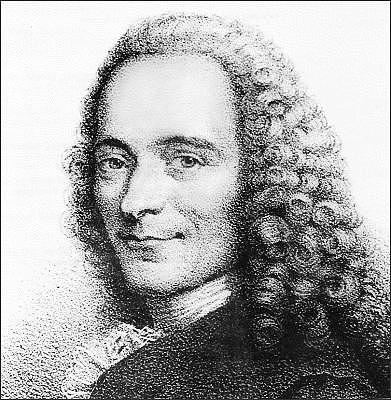 1694 – Voltaire, French philosopher, born (d.1778); born François-Marie Arouet, better known by the nom de plume Voltaire, was a French Enlightenment writer, essayist, deist and philosopher known for his wit, philosophical sport, and defense of civil liberties, including freedom of religion and the right to a fair trial. He was an outspoken supporter of social reform despite strict censorship laws and harsh penalties for those who broke them. A satirical polemicist, he frequently made use of his works to criticize Christian dogma and the French institutions of his day.
The name "Voltaire," which he adopted in 1718 not only as a pen name but also in daily use, is an anagram of the Latinized spelling of his surname "Arouet" and the initial letters of the sobriquet "le jeune" ("the younger"): AROVET Le ieune. The name also echoes in reversed order the syllables of a familial château in the Poitou region: "Airvault".
In terms of religious texts, Voltaire was largely of the opinion that the Bible was:
1) an outdated legal and/or moral reference,
2) by and large a metaphor, but one that perhaps taught some good lessons, and
3) a work of Man, not a divine gift.
These beliefs did not hinder his religious practice (It is a line from one of his poems that translates "If God did not exist, it would be necessary to invent Him.") though it did gain him somewhat of a bad reputation in the Catholic Church. He is best known today for his novel, Candide.
Voltaire blew hot and cold on the subject of homosexuality. Although he is known to have sampled the delights of same-sex love on one occasion, he nonetheless admonished a friend who wanted to try it a second time, "Once, a philosopher," he proclaimed, "twice, a sodomite!"
He was locked in a love-hate relationship with Frederick the Great, with whom he spent agonizing, ecstatic years. In her biography of Voltaire, Nancy Mitford writes that "nobody who studies the life of Voltaire can doubt that he had homosexual tendencies, and one wonders whether his feelings for the king were not exacerbated by unrequited passion."
Whatever his personal reservations about homosexuality, the famous French writer was forthright in declaring that sodomy, "when not accompanied by violence, should not fall under the sway of criminal law, for it does not violate the rights of any man."

We will never know why Voltaire once signed a letter to a male friend, "E vi baccio il catzo," which, politely translated means, "I kiss your rod."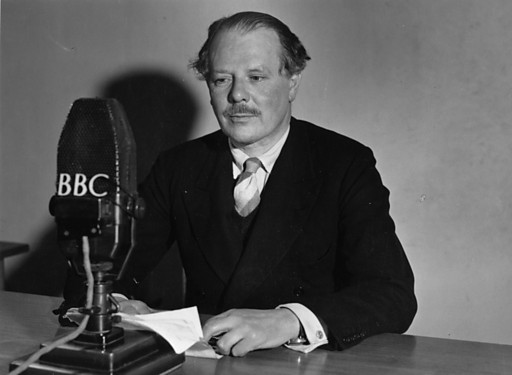 1886 – Sir Harold Nicolson (d.1968) was an English diplomat, author, diarist and politician. He was the husband of writer Vita Sackville-West, their unusual relationship being described in their son's book, Portrait of a Marriage.
In 1913, Nicolson married the writer Vita Sackville-West, who encouraged his literary ambitions. He published a biography of French poet Paul Verlaine in 1921, to be followed by studies of other literary figures such as Tennyson, Byron, Swinburne and Sainte-Beuve. In 1933, he wrote an account of the Paris Peace Conference entitled Peacemaking 1919.
Nicolson and his wife practised what today would be called an open marriage. Once, Harold had to follow Vita to France, where she had "eloped" with Violet Trefusis, to try to win her back. Harold himself was no stranger to homosexual affairs. Among others, he was involved in a long-term relationship with Raymond Mortimer, author and critic, whom both he and Vita affectionately referred to as "Tray". They discussed their mutual homosexual tendencies frankly with each other, and remained happy together. They were, in fact, famously devoted to each other, writing almost every day when separated due to Harold's long diplomatic postings abroad, or Vita's insatiable wanderlust. Eventually, he gave up diplomacy, partly so they could live together in England. They had two sons, Nigel, also a politician and writer, and Benedict, an art historian.
It is perhaps his diary for which Harold Nicolson will be most remembered, as the author was variously an acquaintance, associate, friend, or intimate to such figures as Ramsay MacDonald, David Lloyd George, Duff Cooper, Charles de Gaulle, Anthony Eden and Winston Churchill, along with a host of literary and artistic figures.
Nicolson is also remembered for his 1932 novel Public Faces, the first book foreshadowing the nuclear bomb. A fictional account of British national policy in 1939, it tells how Britain's secretary of state tried to keep world peace, even with the Royal Air Force aggressively brandishing rocket airplanes and an atomic bomb. In today's terms, it was a multi-megaton bomb, and the geology of the Persian Gulf played a central role, but on the other hand, Nicolson never foresaw Hitler.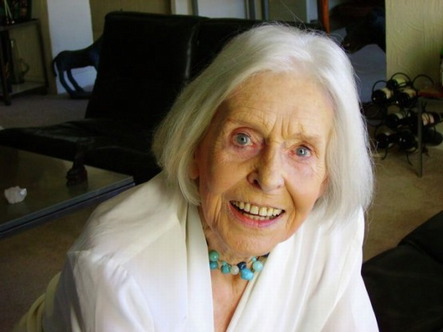 1920 – Annemarie Madison, (nee Zimmermann) born in Jakarta, Indonesia, of Dutch and German parents. (d.2010) She was a caregiver and nurse of AIDS patients.The Annemarie-Madison Award was named after her.
Annemarie left her country of birth at the age of 4 because her mother was seriously ill with malaria. She attended a boarding school in the Netherlands. After graduation she worked as a secretary until WWII, when she joined the German Red Cross.
After WWII she worked as interpreter for the British forces in the north Rhine area and took her first job with the regional government in Düsseldorf at the request of the British governor, where she progressed to become the personal assistant to the Minister of Economics and Traffic.
She married Louis Madison, American, in 1956. In 1979 moved to San Francisco with her husband.
In, Annemarie 1984 volunteered to care for AIDS patients with the "visiting nurses program" in San Francisco. In October 1985, she spoke at the first major AIDS benefit at the San Francisco Opera.
The German government asked Annemarie to speak about AIDS in Germany – this was the first time anyone had spoken publicly in Germany about AIDS, and she described the acceptance of homosexuality and care given in San Francisco to victims of the epidemic. In the next three years she gave talks about AIDS and care in seven cities in Germany and Switzerland, sponsored by the German Minister of Health, and appeared on several German talk shows and radio interviews, including interviews on German state TV channel 2.
In 1995, the German KIS Foundation for research on Immune Deficiency and Treatment, Munich, Germany, established the annual Annemarie Madison Award for special Services in AIDS , and Annemarie gave the keynote address at the 5th Annual Munich AIDS conference on the subject of "Humanizing AIDS Care."
Annemarie gives comfort to one of her "boys"
While caring for AIDS patients in San Francisco, Annemarie gave comfort to more than 256 of her "boys" as they lay dying. Annemarie's main focus was on making them feel comfortable and accepted during these hard times, and working with their other caregivers and doctors, lovers, friends, siblings and often estranged parents. She guided these men through the dying process, helping them to pass on with dignity and love. Later, her files with the detailed accounts of her daily visits were given to the SF Public Library for their section on the history of the AIDS epidemic.
In 2002, partners and friends of deceased patients had Annemarie's name engraved in the circle of Friends at the National AIDS memorial Grove in Golden Gate Park.
Over the years she was supported in her work by her husband Louis Madison, a local restaurant critic (San Francisco on a Shoestring), who died in January 2008 after almost 56 years of marriage with Annemarie.
Annemarie remained active and independent, spending her days conversing with friends and former colleagues in the USA and around the world via email. She died in 2010 in San Francisco.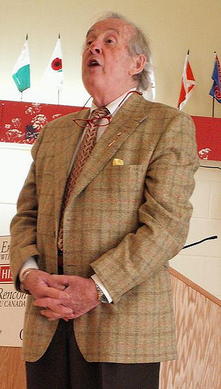 1929 - Born: Laurier L. LaPierre in Lac Megantic, Quebec, retired Canadian Senator and former broadcaster, journalist and author (d.2012). He was a member of the Liberal Party of Canada.
LaPierre is best known for having been co-host with Patrick Watson of the influential public affairs show This Hour Has Seven Days in the 1960s. After the show's cancellation, LaPierre moved to politics as a "star candidate" for the New Democratic Party in the 1968 federal election. The party was hoping that he would help achieve an electoral breakthrough in Quebec, but he managed to come only in a distant second place in the riding of Lachine with 19.5% of the vote.
He returned to broadcasting and writing for the next several decades until his appointment to the Senate in June 2001. As a member of the Liberal caucus, LaPierre was an outspoken supporter of Jean Chrétien against supporters of rival Paul Martin.
LaPierre received a B.A in 1955 (St.Michael's College), M.A in 1957 and Ph.D in history in 1962 from the University of Toronto. He has written several books including Quebec: A Tale of Love; Sir Wilfrid Laurier and the Romance of Canada; 1759: The Battle for Canada; Québec hier et aujourd'hui; and, The Apprenticeship of Canada, 1876-1914. He has written articles for The Financial Post, International Review, Canadian Forum and Encyclopædia Britannica.

He has been an activist with EGALE, a lobby group for gay and lesbian rights, since coming out as gay in the late 1980s. He was Canada's first openly gay senator.
In 2004, Senator LaPierre made news by responding in an e-mail to a Christian regarding the then proposed hate crime Bill C-250, with various comments, including the statement "God! You people are sick. God should strike you dead!" and commented on the Bible by saying, "In a book that is supposed to speak of love ... you find passages of hatred. You should be ashamed of yourself of reading such books!" The senator later issued an apology. He retired upon reaching the mandatory retirement age of 75 on November 21, 2004.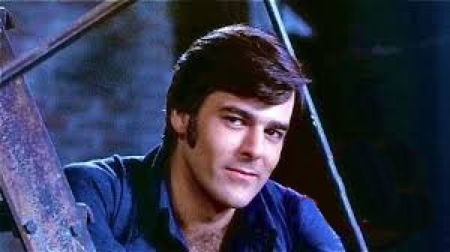 1940 – Keith Prentice (d.1992) was a Dayton, Ohio-born American TV, film and stage actor, whose most famous role was the part of Larry in both the original stage and film versions of The Boys in the Band. Prentice also appeared on the classic TV soap Dark Shadows during the series' final months in 1971. Until just several years ago, his picture was displayed on the Tasters Choice coffee label.
Prentice studied in New York City at the American Academy of Dramatic Arts. His stage musical credits include Sail Away, The Sound of Music, Paint Your Wagon, and The King and I. In 1968, he appeared off-Broadway in the non-musical The Boys in the Band, a then controversial play featuring gay characters at a dramatic birthday party - the Summer before the Stonewall gay civil rights riots. He also appeared in the movie version of the play. In 1971 Keith joined the cast of Dark Shadows playing Morgan Collins. Prentice also appeared as Nils Fowler in the 1972 film The Legend of Nigger Charley and had a small role in the 1980 film Cruising which, like Boys in the Band, was directed by William Friedkin.
In 1982 Keith Prentice co-founded Kettering Theatre Under The Stars, and directed summer shows there until the year of his death. He died of AIDS-related cancer on September 27, 1992 in Kettering, Ohio.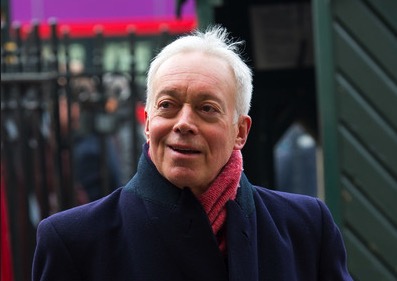 1947 – Nickolas Grace is a British actor known for his roles on television, including Anthony Blanche in the acclaimed ITV adaptation of Brideshead Revisited and the Sheriff of Nottingham in the 1980s series Robin of Sherwood. Grace also played Dorien Green's husband Marcus in the 1990's British comedy series Birds of a Feather.
Although Grace had a small uncredited part in The City of the Dead (1960), his first known work in feature films as an adult came with Bruges-La-Morte (1978) directed by Ronald Chase. After this, Grace secured the part of the flamboyant aesthete Anthony Blanche in Brideshead Revisited which filmed off and on from 1979 to 1981.
Following the success of Brideshead Revisited on television , Grace played Richard II at the Young Vic in 1981, and Mozart in Amadeus with Frank Finlay at Her Majesty's Theatre in 1982. He then began working in operetta, playing Koko in The Mikado and Joseph Porter in HMS Pinafore for Sadler's Wells Opera in repertoire from 1982-1986. The film Heat and Dust appeared in 1983. It was around this time that took the role of Robert de Rainault, the Sheriff of Nottingham, in ITV's Robin of Sherwood.
In the "official biography" of the actor Alan Bates, Otherwise Engaged, by Donald Spoto, Spoto quotes Grace describing his "intense affair" with Bates, who was "terrified of exposure": "I told him labels didn't matter, but that we must be who we are. But he just could not accept that. Alan was at ease as long as he pretended - and he insisted on pretending - that our relationship was not what it was, and was not disclosed to or evident to others."
Bates, who was then 39 and married, and Nickolas, who was 25, became in the latter's words "very close and very loving, in an intense affair that was one of the most important relationships of my life".
As he had with previous male lovers, Bates denied to Nickolas that he was truly homosexual. If they travelled by car together, "he made me lie down in the back - he didn't want me to be seen with him. That was an indication of the fear that he had".
When the inevitable split with Nickolas came, it was brutal. "It's been very nice to have known you," Alan told him with astonishing coolness one day, "and I'm sure I'll see you around in London." He spoke as if they had been polite colleagues on a project, or fellow travellers on a train journey. It took Nickolas months to recover.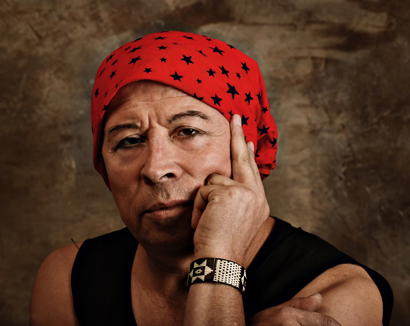 1952 – Pedro Lemebel (d.2015) was an openly gay Chilean essayist, chronicler, and novelist. He was known for his cutting critique of authoritarianism and for his humorous depiction of Chilean popular culture, from a queer perspective. He was nominated for Chile's National Literature Prize in 2014. He died of cancer of the larynx on 23 January 2015 in Santiago, Chile.
Lemebel was born in El Zanjón de la Aguada, a poor neighborhood in Santiago on the banks of Zanjón de la Aguada, an irrigation canal that flows into the Mapocho river. In the late 1980s, he chose to be identified by his mother's surname, Lemebel, as his choice for surname instead of his father's (Mardones). He attended an industrial school of carpentry and metal forging and later studied plastic art at University of Chile's Art School. He subsequently became a high school art teacher but was let go based on the presumption of his homosexuality.
Lemebel attended writing workshops to hone his skills and network with other writers. His first writing recognition was in 1982, when he won an award for his short story, Porque el tiempo está cerca. In 1986, he published as his first major work, the book Incontables, a compilation of short stories under the feminist publication label, Ergo Sum. A year later, he co-founded a performance collective that used the tactics of intervention and disruption of events to raise public consciousness about the struggles of minorities in Chile. The disruption and performances of the collective brought Lemebel into public limelight in Chile. In 1986, he disrupted a meeting of Chile's left wing groups opposed to Augusto Pinochet's dictatorship. He entered the meeting in high heels and with makeup on his face depicting an hammer and sickle extending from his mouth to his left eyebrow. At the event, he spoke about his manifesto, 'Manifest: I Speak for my Difference' criticizing homophobia in left wing politics.
In 1987, Lemebel co-founded a group with Francisco Casas, poet, artist and student of literature. The duo called the group "The Mares of the Apocalypse,"or "Yeguas del Apocalipsis," a reference to the biblical "Horsemen of the Apocalypse" that appear in the New Testament. This performing duo made appearances sabotaging book launches, art expositions and even political discussions. Their appearances were usually surprising, provocative and demonstrated an aspect of counter culture.
Around this time he decided to abandon his paternal last name, Mardones, and begin using that of his mother, Lemebel. In an interview the writer would explain his choice of name change as the following, "Lemebel is a gesture of femininity, to engrave a maternal last name, to acknowledge my (washer) mother in light of the illegality of homosexual(s) and transvestite(s)."
In 2001 he published his first novel Tengo Miedo Torero a difficult story of contextualized love during the attempt on the life of Augusto Pinochet . For the presentation of the book, Lemebel arrived in a red dress with a feathered headdress, at a ceremony with many people that was public with politicians, filmmakers, journalists and a few writers. The book would later gain international recognition after being translated into English, then French and Italian.
In 2003 he continued his work as a journalist, publishing his anthology of
Chronicles Zanjón de la Aguada
, that spoke of the gay community in neighborhoods of distinctive social classes in Santiago and where appeared some real people like the social leader and president of the Agrupación de Familiares de Detenidos Desaparecidos (AFDD)
Sola Sierra
. This work was followed a year later by
Adios Mariquita Linda
, another anthology of stories that maintained the same tendencies of his previous works.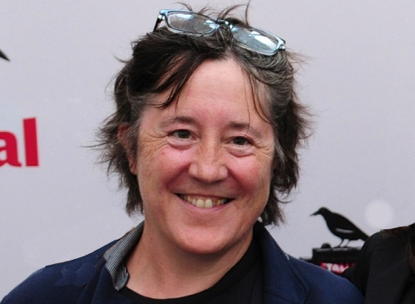 1962 – Christine Vachon is an American film producer active in the American independent film sector.
Christine Vachon produced Todd Haynes' first feature, Poison, which was awarded the Grand Jury Prize at the 1991 Sundance Film Festival. Since then, she has gone on to produce many acclaimed American independent films, including Far From Heaven (nominated for four Academy Awards), Boys Don't Cry (Academy Award winner), One Hour Photo, Hedwig and the Angry Inch, Happiness, Velvet Goldmine, SAFE, I Shot Andy Warhol, Go Fish, Swoon, I'm Not There, Gigantic, Cracks, and Cairo Time. Her latest and upcoming projects include a short film collaboration with ACE Hotel and online film content producers Massify entitled "Lulu at the Ace Hotel" as well as a five-part HBO mini-series adaptation of James M. Cain's 1941 novel, Mildred Pierce.
Vachon also participates as a member of the Jury for the NYICFF, a paramount New York City Film Festival dedicated to screening films for children between the ages of 3 and 18.
She graduated from Brown University in 1983, where she met fellow alums director Todd Haynes and Barry Ellsworth. Together, they created Apparatus Productions in 1987, a non-profit company deeply inspired by the anti-Hollywood New York film scene and oversaw the production of seven films in five years. Most notoriously, Apparatus produced Haynes' controversial Superstar: The Karen Carpenter Story, a film depicting the dramatic rise and fall of the anorexic pop star. To make financial ends meet, Vachon became a proofreader by night. She also took on odd jobs in the film industry to learn the trade.
Vachon and fellow New York producer Pamela Koffler currently run Killer Films, which was established in 1996. The company celebrated its 10th anniversary in 2005 and was honored with a retrospective at the Museum of Modern Art in New York.
Vachon and her partner, artist Marlene McCarty, live in the East Village of New York with their daughter Guthrie. In the fall of 2009, Vachon went into remission after a battle with breast cancer.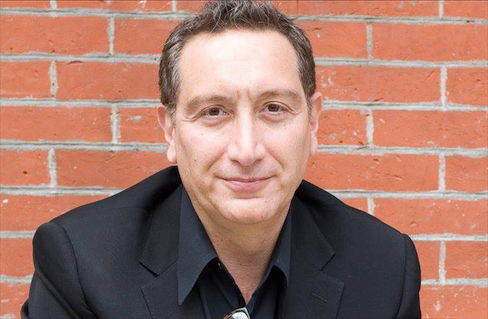 1963 – The playwright, director and founder of Tectonic Theater Project, Moisés Kaufman, was born on this date. He is the author of Gross Indecency: The Three Trials of Oscar Wilde, 33 Variations and is perhaps best known for writing The Laramie Project with other members of Tectonic Theater Project. He was born and raised in Caracas, Venezuela and moved to New York City in 1987. He made his Broadway directing debut in the 2004 production of I Am My Own Wife by Doug Wright, for which he received a Tony Award nomination for Best Direction of a Play. Mr. Kaufman is a Guggenheim Fellow.
Kaufman is of Romanian and Ukrainian Jewish descent. He described himself in an interview as "I am Venezuelan, I am Jewish, I am gay, I live in New York. I am the sum of all my cultures. I couldn't write anything that didn't incorporate all that I am."


Added 2021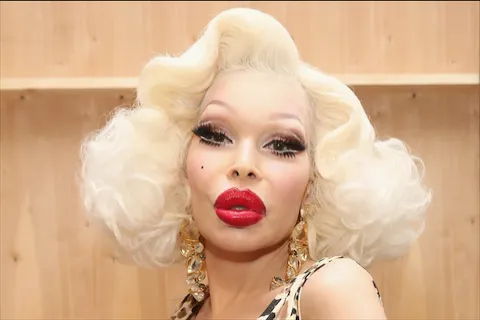 1967 – Amanda Lepore is a transgender American model, singer, and performance artist. A former Club Kid, she has appeared in advertising for numerous companies. Lepore is noted as a regular subject in photographer David LaChapelle's work, serving as his muse, as well as many other photographers, such as Terry Richardson and Ruben van Schalm. She participated in LaChapelle's Artists and Prostitutes 1985–2005 exhibit in New York City, where she "lived" in a voyeuristic life-sized set.
Lepore has released several singles, many written by and/or recorded with Cazwell. In 2011, she released her debut studio album, I...Amanda Lepore, on Peace Bisquit.
Amanda grew up in the Essex County community of Cedar Grove, New Jersey, with one sibling, an older brother. Her father was an Italian-American chemical engineer, and her mother was a German-American housewife. Her mother had schizophrenia and spent much time in mental institutions.
Lepore later wrote that "Ever since I can first remember, I knew I was a girl. I couldn't understand why my parents were dressing me up in boys' clothing. I thought they were insane."
In her early teens, Lepore began making costumes for a transgender friend in exchange for female hormones. Having already grown isolated from her peers and schooling, her parents withdrew her from public school and hired a private tutor. They also took her to a psychologist, who helped her obtain a prescription to begin hormone therapy.
At the age of 17, and through a legal loophole, Lepore married a male bookstore owner. She was granted permission for gender affirmation surgery, which she had at age 19 in Yonkers, New York. Lepore later left her husband. In 1989, she relocated to New York City.
In the early 1990s, Lepore tried to establish herself as a nightlife figure (including being a member of the Club Kids). She supported herself by working in a nail salon, as a dominatrix, and later as a cosmetics salesgirl for Patricia Field. After meeting photographer David LaChapelle one evening while hosting at Bowery Bar, she began collaborating with him.

1972 – Jim Gaylord is fired from his teaching job in Tacoma, WA, via a letter. It read, in part: "The specific probable cause for your discharge is that you have admitted occupying a public status that is incompatible with the conduct required of teachers in this district. Specifically, that you have admitted being a publicly known homosexual."
In 2016, 42 years after he lost his job, Gaylord received an apology from the Tacoma School District.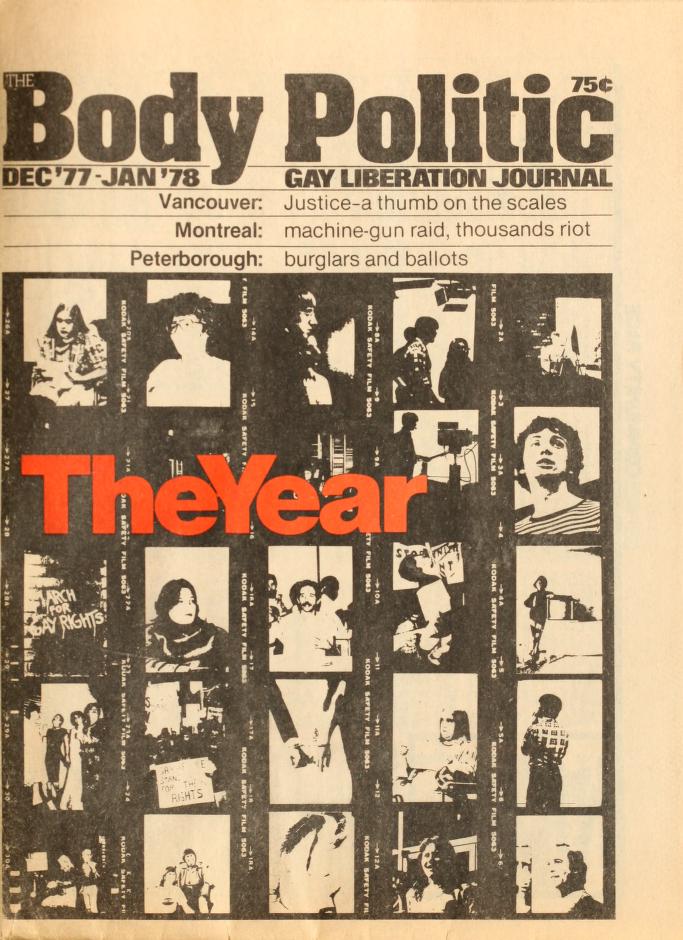 1977 – In Toronto, The Body Politic containing the article "Men Loving Boys Loving Men" goes on sale. The article by Gerald Hannon sparked a controversy that eventually led to the folding of the paper.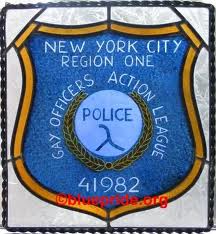 1981 – Sergeant Charles Cochrane, a 14 year veteran of the NYPD, created shock waves by testifying before a New York City Council hearing in favor of a gay rights bill. Following on the testimony of a Patrolmen's Benevolent Association Vice President who denounced the bill, and declared he didn't know of any homosexual police officers, Cochrane stunned those present by announcing, "I am very proud of being a New York City Police Officer, and I am equally proud of being gay."
Cochrane's public testimony lent significantly toward the official formation of the Gay Officers Action League, Inc., aka G.O.A.L. - NY, which became the first official police fraternal society in the world to represent LGBT professionals within the criminal justice system. Since that time, similar organizations for LGBT Law Enforcement Officers, Criminal Justice professionals as well as Firefighters and EMS personnel have been established around the world.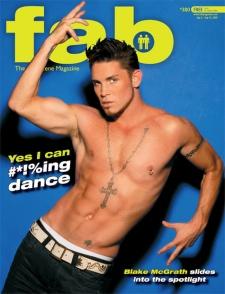 1983 – Blake McGrath is a Canadian professional dancer, pop singer and choreographer. He was known for being on the first season of So You Think You Can Dance in 2005, and on the MTV reality dance show, DanceLife. He has also developed a solo singing career with a debut album Time to Move in 2010.
McGrath was born in Mississauga, Ontario.
His early television appearances include: Choices of the Heart: The Margaret Sanger Story (1997) playing Stuart Sanger, and the TV show recreation of Goosebumps book "Stay Out of the Basement". He played the brother Casey.
In 2015, McGrath was chosen to perform on Michael Jackson's thirtieth anniversary special. In 2006, he performed alongside Paulina Rubio at the 2004 Latin Grammy Awards. Also in 2006 he had an appearance in the documentary Freestyle (with Brian Friedman). He has appeared in Gap campaigns (with Sarah Jessica Parker), and in advertisements for iPod, Jc Penny (which he also choreographed), and Hummer.
He has danced with stars such as Madonna, Britney Spears, Kylie Minogue, Janet Jackson, Adam Lambert, Ashanti, Destiny's Child, Katy Perry, Craig David, Jewel.
In addition to his appearances on television shows, McGrath has also appeared in the films Butterbox Babies, Life With Mikey, Chicago, and Rent. He was also featured as a dancer in The Suite Life of Zack & Cody in the episode Commercial Breaks. He was a waiter. He studied at both Tiffany Dance Academy in Hamilton Ontario and Joanne Chapman School of Dance in Brampton, Ontario.
He is owner of VIP Dance Events which tours major cities throughout Canada. He also appeared on the magazine cover of Hotshoes and appeared in Dance Spirit Magazine December 2006 issue. Lastly, he appeared on the 9/10/13 episode of Dance Moms as a guest choreographer. He is the lead choreographer for the audition cities and alternating third judge on So You Think You Can Dance Canada.
He is bisexual. "I've been attracted to men and attracted to women," he told Canada's gay mag Fab. "My feelings change all the time. One day I can feel like I'm gay, another day like I'm straight. But I'm not just one or the other, I'm Blake McGrath and I'm attracted to somebody on the inside.

1987 - In a series of raids on gay bars, the Los Angeles Police Department closed down the One Way for fire ordinance violations. The LAPD decided that the manpower necessary to close the One Way would be ten police cars, several fire trucks, and various other city vehicles.

2000 – The Virginia Court of Appeals upholds the solicitation convictions of 10 men for soliciting or fondling undercover police officers while seeking sex in a public park.

2001 – Maryland's Anti-discrimination Act becomes law. It prohibits discrimination based on sexual orientation in public accommodations, housing and employment. Maryland becomes the 12th state to enact such protections for homosexuals.

2006 – Israel's Supreme Count recognizes international same-sex marriages.

[{(o)}]|[{(o)}]|[{(o)}]|[{(o)}]| [{(o)}]|[{(o)}]
Today's Gay Wisdom:
Quotes from Voltaire: