June 27
[{(o)}]|[{(o)}]|[{(o)}]|[{(o)}]| [{(o)}]|[{(o)}]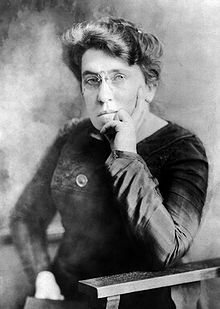 1869 – Emma Goldman, the anarchist and feminist known for her political activism, writing, and speeches was born on this date (d.1940). She was lionized as a free-thinking "rebel woman" by admirers, and derided as an advocate of politically motivated murder and violent revolution by her critics. Although she was hostile to first-wave feminism and its suffragist goals, Goldman advocated passionately for the rights of women, and is today heralded as a founder of anarcha-feminism, which challenges patriarchy as a hierarchy to be resisted alongside state power and class divisions.
In 1897 she wrote: "I demand the independence of woman, her right to support herself; to live for herself; to love whomever she pleases, or as many as she pleases. I demand freedom for both sexes, freedom of action, freedom in love and freedom in motherhood."
A nurse by training, she was an early advocate for educating women concerning contraception. Like many contemporary feminists, she saw abortion as a tragic consequence of social conditions, and birth control as a positive alternative. Goldman was also an advocate of free love, and a strong critic of marriage. She saw early feminists as confined in their scope and bounded by social forces of Puritanism and capitalism. She wrote: "We are in need of unhampered growth out of old traditions and habits. The movement for women's emancipation has so far made but the first step in that direction."
Goldman was an outspoken critic of prejudice against homosexuals. Her belief that social liberation should extend to Gays and Lesbians was virtually unheard of at the time, even among anarchists. As Magnus Hirschfeld wrote, "she was the first and only woman, indeed the first and only American, to take up the defense of homosexual love before the general public."
In numerous speeches and letters she defended the rights of Gays and Lesbians to love as they pleased and condemned the fear and stigma associated with homosexuality. As Goldman wrote in a letter to Hirschfeld, "It is a tragedy, I feel, that people of a different sexual type are caught in a world which shows so little understanding for homosexuals and is so crassly indifferent to the various gradations and variations of gender and their great significance in life."


Added 2022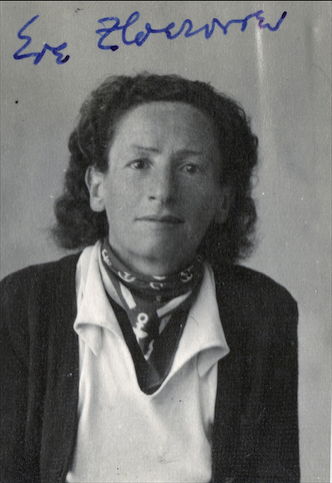 1891 – Eve Adams, (nee Chawa Zloczower) born on this date, was variously called a "novelty girl," "a bit of an anarchist," "the queen of the third sex," "a self-professed 'man-hater,'" the author of an indecent book and, finally, Passenger 847 on Transport 63 to Auschwitz.
Filled with wanderlust as a young woman, she boarded the S.S. Vaderland in Antwerp, Belgium, and, at age 20, arrived alone on Ellis Island in New York in June  1912.
Preferring men's clothes and women's company, Adams lived her life boldly at a time when the world considered the only decent way to live it was to keep it behind closed doors. She counted among her friends the anarchists and revolutionaries Emma Goldman and Alexander Berkman as well as the taboos-shattering author Henry Miller.
Adams was also an outspoken gay writer and Polish Jew in an often homophobic, anti-Semitic, anti-immigrant America in the 1920s and '30s, one who published an early example of American lesbian literature written by a lesbian.
Her Lesbian Love, a collection of short stories and illustrations, was published in February 1925. Written under the pseudonym Evelyn Addams, it explores the sexual awakenings and gender-defying nature of several dozen women of varying social pedigrees whom Adams had met in Greenwich Village and in her travels around the country as a roving saleswoman of revolutionary multilingual periodicals. She changed the names of her characters to protect their identities.
Ms. Adams gave copies to friends in the Village, where she ran Eve's Hangout, a lesbian-friendly tearoom where she hosted salons and poetry readings. (Earlier, while living briefly in Chicago she had run The Grey Cottage, another literary haunt that doubled as a refuge for gay people.)
The United States government considered Adams an "agitator," records show. Headed by the closeted J. Edgar Hoover, the "Radical Division" of the agency that would become the F.B.I. had been charged with spying on her since at least 1919. She was arrested in 1927 by an undercover police officer, Margaret M. Leonard, who had walked into Eve's Hangout and obtained a copy of Lesbian Love. The book was deemed indecent, and Adams was held on several charges, including disorderly conduct. She was convicted and spent 18 months in jail before being deported to Poland in December 1927.
At the time, books like Adams's were considered indecent and often burned. Her 150 printed copies of "Lesbian Love" disappeared. Over time her work faded from memory.
In 1933, Adams met Hella Olstein Soldner, a cabaret singer from Germany. Adams later described their meeting as "fate." In a letter to a friend, she called Soldner a "most beloved girl." They lived together from then on — even after Soldner had married a man — though their relationship was never openly described as romantic.
By June 1940, as German troops were approaching Paris, the women fled to the south of France. There are suggestions in the research about them that they may have aided the Resistance. The women were arrested while living in Nice and hauled to the Drancy internment camp in Paris in December 1943.
Later that month they were crammed, with about 850 Jews, onto cattle cars headed for Auschwitz, according to Nazi police records. The journey took three days. Just 31 of the group lived to see liberation, in 1945, and though there is no record of their deaths at the camp, Adams and Soldner were not among them.
A street in Paris's 18th Arrondissement, on the right bank near Porte de La Chapelle, now bears her name, celebrating her contribution to the city as a "pioneer activist for women's rights." A school and nursery there are also named for her.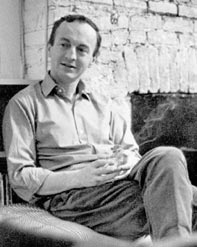 1926 – The New York poet Frank O'Hara (d.1966) grew up believing he was born today, but in fact had been born on March 27, his parents having disguised his true date of birth because he was conceived out of wedlock. This poet, playwright, and art critic died just two days before his 40th birthday in a freak accident on New York's Fire Island in which he was struck and seriously injured by a man speeding in a beach vehicle during the early morning hours. He died the next day of a ruptured liver at the age of 40 and was buried in the Green River Cemetery on Long Island.
Frank O'Hara's poetry was published in a collected edition, posthumously in 1971. In recent years, the painter Larry Rivers, in discussing his own Bisexuality, said that he was for a time, one of O'Hara's lovers.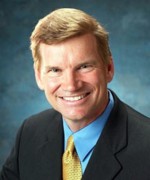 1956 – Ted Haggard is an American evangelical pastor. Known as Pastor Ted to the congregation he served, he was the founder and former pastor of the New Life Church in Colorado Springs, Colorado; a founder of the Association of Life-Giving Churches; and was leader of the National Association of Evangelicals (NAE) from 2003 until November 2006.
In November 2006, escort and masseur Mike Jones alleged that Haggard had paid Jones to engage in sex with him for three years and had also purchased and used crystal methamphetamine. Jones said he had only recently learned of Haggard's true identity, and explained his reasons for coming forward by saying, "It made me angry that here's someone preaching against gay marriage and going behind the scenes having gay sex." Jones made the allegations public in response to Haggard's political support for a Colorado Amendment 43 on the November 7, 2006 Colorado ballot that would ban same-sex marriage in that state.
Jones told ABC News, "I had to expose the hypocrisy. He is in the position of influence of millions of followers, and he's preaching against gay marriage. But behind everybody's back [he's] doing what he's preached against." Jones hoped that his statements would sway voters. A few days later Haggard resigned from all of his leadership positions
After the scandal was publicized, Haggard entered three weeks of intensive counseling, overseen by four ministers. In February 2007, one of those ministers, Tim Ralph, said that Haggard "is completely heterosexual." Ralph later said he meant that therapy "gave Ted the tools to help to embrace his heterosexual side."
In June 2008, an email surfaced in which Haggard admitted masturbating with Mike Jones and taking drugs, as alleged in 2006. Kurt Serpe, who provided the email, said Haggard "craved sex, he was a sexaholic." In November 2008, Haggard said in guest sermons at an Illinois church that his actions had roots in sexual abuse by an adult when he was seven years old.
On June 1, 2010 Haggard announced that he intended to start a new church in Colorado Springs. In the February 2011 issue of GQ, Haggard said "...probably, if I were 21 in this society, I would identify myself as a bisexual."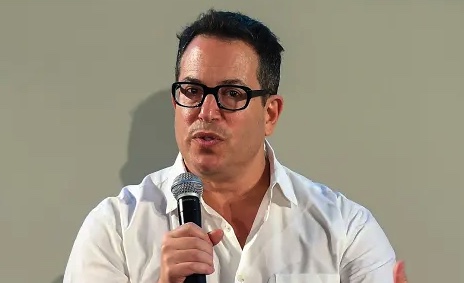 1960 – Michael Mayer is an American theatre director, filmmaker, and playwright. He won the Tony Award for Best Direction of a Musical in 2007 for directing Spring Awakening.
Mayer was born in Bethesda, Maryland. For his bar mitvah in 1973 he asked his parents for a movie camera and received a Super 8 single lens with a zoom. His first film was a dramatization of "The Night the Lights Went out in Georgia." After graduating from Charles W. Woodward High School, he studied acting at New York University's (NYU) Graduate Acting Program at the Tisch School of the Arts, where he earned an MFA in Theater in 1983. He began performing onstage in New York City but by 1990 had turned his efforts to directing, working as a freelancer while also teaching at NYU, the Lincoln Center Theater Institute, and the Juilliard School.
In 2007, Mayer won his first Tony Award for his direction of the musical adaptation of Spring Awakening (2006), which also won the award for Best Musical. He was nominated for the 2002 Tony for his direction of Thoroughly Modern Millie, which he then directed on London's West End. Mayer also won the Drama Desk Award for Outstanding Director of a Musical for both Spring Awakening and Thoroughly Modern Millie.
Other Broadway credits include The Lion in Winter (1999), the 1999 revival of You're a Good Man, Charlie Brown and Side Man (1998; Drama Desk Award). He directed the 1998 Tony Award-winning revival of Arthur Miller's A View from the Bridge starring Anthony LaPaglia and Brittany Murphy, for which he was nominated for a Tony and won the Drama Desk Award. He directed Triumph of Love in 1997, starring Betty Buckley, Susan Egan and F. Murray Abraham, with music by Jeffrey Stock and lyrics by Susan Bikenhead.
He directed and wrote the book for the musical American Idiot (2010), based on Green Day's 2004 album American Idiot. He directed and "re-conceived" the 2011 revival of On a Clear Day You Can See Forever starring Harry Connick Jr. He directed the first Broadway production of Hedwig and the Angry Inch, which opened in 2014.
After directing on- and off-Broadway for more than 15 years, Mayer made his feature film directorial debut with A Home at the End of the World, starring Colin Farrell and Robin Wright Penn.
He is married to Roger Waltzman.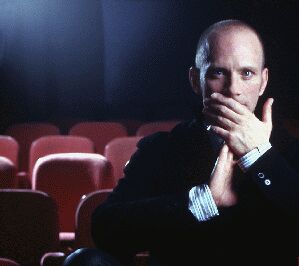 1963 – David Drake, born in Edgewood, Maryland, is an American playwright, stage director, actor and author. He is best known as the author and original performer of The Night Larry Kramer Kissed Me, for which he received a Village Voice Obie Award, a 1994 Drama-Logue Award for "Outstanding Solo Performance," and a Robbie Stevens Frontiers Magazine Award for the same. Nominations include a 1994 LA Weekly Theater Award and a Lambda Literary Award nomination for "Best New Play of 1994".
Born as David Drakula, and raised in Baltimore, Maryland, he later began going by the name David Drake. He has contributed articles to the Advocate, TheaterWeek, and Details. One of the longest one-actor plays in Off Broadway history, Larry Kramer has received over thirty productions in nearly a dozen countries, and the published version was nominated for a Lambda Literary Award.
In 2000 Drake starred in a movie version of The Night Larry Kramer Kissed Me. The movie was directed by Tim Kirkman and was filmed at Baltimore Theatre Project.
David Drake has appeared in the feature film Philadelphia and on the stage in Vampire Lesbians of Sodom, Pageant, The Boys in the Band, and A Language of Their Own.
He now lives in Manhattan.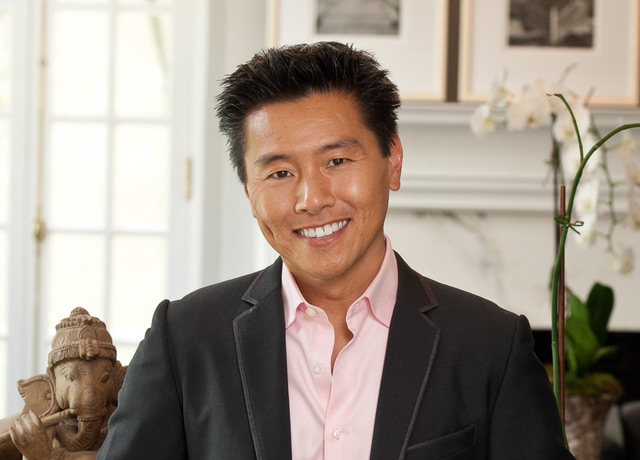 1968 – Vern Yip, born in Hong Kong, is an American interior designer based in Atlanta, Georgia. He was raised by his mother, who was a loving and strong presence in his life.
Yip went to high school in northern Virginia. Yip received his bachelors in economics from the University of Virginia, and a masters in management and architecture from the Georgia Institute of Technology. After earning two degrees at university, just prior to entering his pre-medicine program, he changed his mind, and decided to get into architecture. Yip states he would have been quite happy running a design company, and never intended to become a television personality, but he's very pleased with the new show, and he felt it was what he was meant to do.
He periodically appeared on TLC's Trading Spaces through its fourth season, and was known for frequently including silk, candles and flowers in the rooms he designed. He is one of the panel of judges on HGTV's Design Star. Yip hosted four seasons of HGTV's show Deserving Design.Yip hosted an HGTV special called Urban Oasis, in which he designed a Chicago loft in the Trump International Hotel, to be given away to a winner.
Vern is involved in an array of volunteer activities, including doing design work for New York City's 2009 Snowflake Ball, a fundraiser for UNICEF.
Yip and his partner, Craig Koch, a dog groomer, have a son and a daughter, both born by surrogate.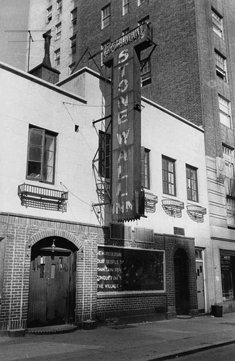 1969 – On this date the Stonewall Riots that mark the beginning of the Gay liberation movement began in New York City's Greenwich Village neighborhood.
The Stonewall Riots were a series of violent conflicts between LGBT people and New York City police officers that began during a police raid in the early hours of June 28th 1969 , and lasted several days. They were centered at the Stonewall Inn and are widely recognized as the catalyst for the modern-day movement towards LGBT rights. Also called the Stonewall Uprising, Stonewall Rebellion, Stonewall Revolution or simply Stonewall, the clash was a watershed for the worldwide Gay rights movement, as Gay, Lesbian and Transgender people had never before acted together in such large numbers to forcibly resist police harassment directed towards their community. Many also credit the events as igniting a movement to celebrate Gay pride with events such as pride parades and dyke marches.
As the police raided the Stonewall Inn that night, a crowd of four hundred patrons gathered on the street outside and watched the officers arrest the bartender, the doorman, and a few drag queens.
The crowd, which eventually grew to an estimated 2000 strong, was fed up. Something about that night ignited years of anger at the way police treated gay people. Chants of 'Gay Power!' echoed in the streets. Soon, beer bottles and trash cans were flying.
Police reinforcements arrived and attempted to beat the crowd away, but the angry protesters fought back.
By 4AM, it looked like it was over. But the next night, the crowd returned, even larger than the night before. For two hours, protesters rioted in the street outside of the Stonewall Inn until the police sent a riot-control squad to disperse the crowd.
On the first night alone, 13 people were arrested and four police officers were injured. At least two rioters were said to be severely beaten by the police and many more sustained injuries.
The following Wednesday, approximately 1000 protesters returned to continue the protest and march on Christopher Street. A movement had begun.
Stonewall turned out to be a pivotal moment in the gay rights movement. It united the gay community in New York in the fight against discrimination. The following year, a march was organized in commemoration of the Stonewall Riots and between 5,000 and 10,000 men and women attended the march.
Here's an example of the newspaper coverage of the time:
HOMO NEST RAIDED - QUEEN BEES ARE STINGING MAD
- by Jerry Lisker, New York Daily News, July 6th 1969


She sat there with her legs crossed, the lashes of her mascara-coated eyes beating like the wings of a hummingbird. She was angry. She was so upset she hadn't bothered to shave. A day old stubble was beginning to push through the pancake makeup. She was a he. A queen of Christopher Street.

Last weekend the queens had turned commandos and stood bra strap to bra strap against an invasion of the helmeted Tactical Patrol Force. The elite police squad had shut down one of their private Gay clubs, the Stonewall Inn at 57 Christopher St., in the heart of a three-block homosexual community in Greenwich Village. Queen Power reared its bleached blonde head in revolt. New York City experienced its first homosexual riot.

"We may have lost the battle, sweets, but the war is far from over," lisped an unofficial lady-in-waiting from the court of the Queens.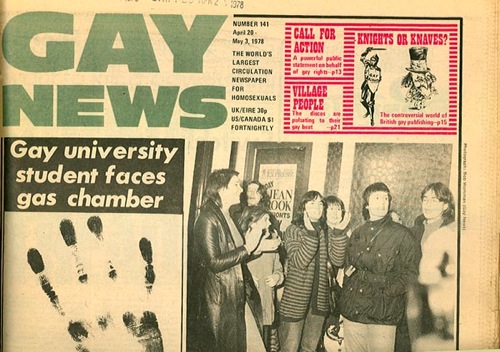 1972 – On this date England's first Gay newspaper, Gay News, was founded. Five years later, its publishers lost a lawsuit charging them with blasphemy for having printed a poem in which Gay imagery was used in connection with Jesus Christ. Editor Denis Lemon was found guilty when the case came to court in July 1977 and sentenced to a suspended nine-month prison sentence and personally fined £1,000. When all totalled up, fines and court costs awarded against Lemon and Gay News amounted to nearly £10,000. After a campaign and several appeals the suspended prison sentence was dropped, but the conviction remained in force. The case drew enormous media coverage at the time. This was one of only two successful blasphemy lawsuits in England in over 100 years.
The original editorial collective included Denis Lemon (editor); Martin Corbett – who later was an active member of ACT UP; David Seligman, a founder member of the London Gay Switchboard collective; Ian Dunn of the Scottish Minorities Group; Glenys Parry, national chair of CHE; Suki J. Pitcher; and Doug Pollard, who later went on to launch the weekly gay newspaper, Gay Week, affectionately known as Gweek. (Pollard is now a presenter on Joy Melbourne 94.9FM, Australia's first full-time GLBTI radio station, and was for a time editor of Melbourne Star, the city's fortnightly gay newspaper). Amongst Gay News's early "Special Friends" were Graham Chapman of Monty Python's Flying Circus, his partner David Sherlock, and Antony Grey, secretary of the UK Homosexual Law Reform Society from 1962 to 1970.
Sex between men had been partially decriminalised for males over the age of 21 in England and Wales with the passage of the Sexual Offences Act in 1967. After the Stonewall Riots in New York in 1969, the Gay Liberation Front spread from the United States to London in 1970. Gay News was the response to a nationwide demand by lesbians and gay men for news of the burgeoning liberation movement.
The paper played a pivotal role in the struggle for gay rights in the 1970s in the UK. It was described by Alison Hennegan (who joined the newspaper as Assistant Features Editor and Literary Editor in June 1977) as the movement's "debating chamber". Although essentially a newspaper, reporting alike on discrimination and political and social advances, it also campaigned for further law reform, including parity with the heterosexual age of consent of sixteen, against the hostility of the church which treated homosexuality as a sin, and the medical profession which treated homosexuality as a pathology. It campaigned for equal rights in employment (notably in the controversial area of the teaching profession) and the trades union movement at a time when left politics in the United Kingdom was still historically influenced by its Nonconformist roots in its hostility to homosexuality.
But under the influence of its features editors, Howes and Hennegan, it also excavated the lesbian and cultural history of past decades as well as presenting new developments in the arts. Keith Howes later published the encyclopaedic reference, Broadcasting It, ostensibly dealing with homosexuality in film, radio and TV from 1923 to 1993 but amounting to a cultural review of British homosexuality in the twentieth century.
Gay News challenged the authorities from the outset by publishing personal contact ads, in defiance of the law — in early editions this section was always headlined "Love knoweth no laws."
In the first year of publication, editor Denis Lemon was charged and fined for obstruction, for taking photographs of police behaviour outside the popular leather bar in Earls Court, the Coleherne pub.
In 1974, Gay News was charged with obscenity, having published an issue with a cover photograph of two men kissing. It won the court case.
One of the biggest problems the newspaper faced was that, although it was not an obscene publication, sale outlets were hard to find. W.H. Smith then controlled much of the newspaper and magazine distribution in the UK through a wholly owned subsidiary and they refused to sell it or allow their distribution company to distribute it to other suppliers. Various campaigns organised by the gay community to shame W.H. Smith into carrying the paper met with success. Gay News Ltd ceased trading on 15 April 1983.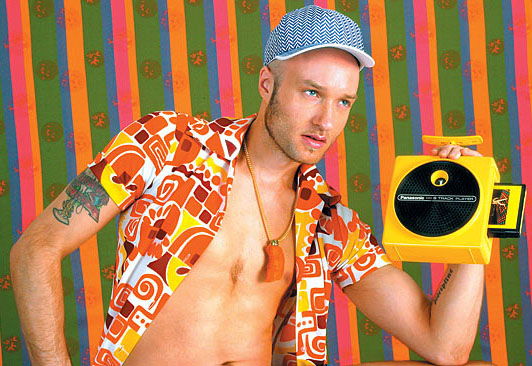 1972 – Born: Cazwell, American rapper, from Worcester, Massachusetts. A former member of the duo Morplay, he is best known for his explicit lyrics and his association with trans-superstar Amanda Lepore. His work focuses on gay and bisexual situations, and his music is heavily played on LOGO, an American television station that targets the lesbian, gay, bisexual, and transgender (LGBT) community, though some of his music has been considered too explicit for this channel. His music and videos are rude, sexy and witty, with a kind of queer 80s take on hip-hip and electro.
He released an album in 2006, named Get Into It, with the lead single All Over Your Face, which was banned from LOGO due to the sexual imagery portrayed in the video and explicit lyrics.
Cazwell is known for hosting and spinning at parties, often at BoysRoom in New York City.
During the summer of 2007 Cazwell was a part of the multi-artist LOGO-sponsored True Colors Tour, which travelled through 15 cities in the United States and Canada. Hosted by comedian Margaret Cho and headlined by Cyndi Lauper, the tour also included Debbie Harry, The Gossip, Rufus Wainwright, The Dresden Dolls, Rosie O'Donnell, Indigo Girls, The Cliks, and other special guests. Profits from the tour helped to benefit the Human Rights Campaign as well as PFLAG and The Matthew Shepard Foundation.
One aspect sets Cazwell apart from many of his peers - his sexuality and his openness about it:
'I want to make gay people cool again. Yeah, we have Queer Eye for the Straight Guy, but not all gay men want to makeover your house. Growing up gay, you have to think outside the box your whole life. I want to show what the gay mind can do for hip-hop, for electronic music, and how interesting that take can be.'


1975 – In Ottawa, the National Gay Rights Conference (June 27-July 7) sees the formation of the National Gay Rights Coalition. It was disbanded two years later. (see 1980 below)


1979 – Ottawa – Celebration '79, the seventh annual conference of lesbians and gay men opens (June 27-July 1). It is officially opened by Ottawa Mayor Marian Dewar, who proclaims June 27 "Human Rights Day."


1980 – In Calgary, Celebration '80, (June 27-July 4), the eighth annual conference of lesbians and gay men, disbands the moribund Canadian Lesbian and Gay Rights Coalition. Proposals are made to form a more limited group aimed at lobbying federal government. The lobby group, the Canadian Association of Lesbians and Gay Men (CALGM), was tentatively set up at the conference but the group faded from view by early 1981.

1987 – The NAMES Project displays the first 40 panels of The Quilt from the Mayor's balcony at San Francisco City Hall. Each panel measured 3'x6′, the size of a human grave, and bore the name of an individual lost to AIDS. The NAMES Project AIDS Memorial Quilt is an enormous quilt made as a memorial to celebrate the lives of people who have died of AIDS-related causes. Weighing an estimated 54 tons, it is the largest piece of community folk art in the world as of 2016. The idea for the NAMES Project Memorial Quilt was conceived in 1985 by AIDS activist Cleve Jones  during the candlelight march, in remembrance of the 1978 assassinations of San Francisco Supervisor Harvey Milk and Mayor George Moscone.

JUNE 28 →
[{(o)}]|[{(o)}]|[{(o)}]|[{(o)}]| [{(o)}]|[{(o)}]