September 4
[{(o)}]|[{(o)}]|[{(o)}]|[{(o)}]| [{(o)}]|[{(o)}]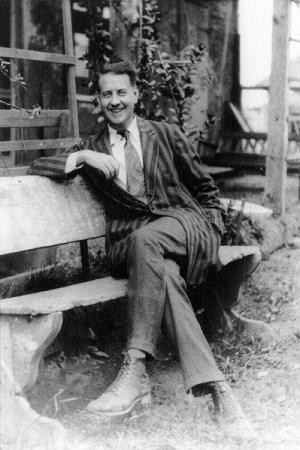 1891 – Lyle Saxon (d.1946) was New Orleans' most popular writer during the second quarter of the twentieth century, He is remembered as an editor and friend to writers, as well as an architectural preservationist, a French Quarter booster, and beloved public personality.
Saxon's parents' marriage disintegrated shortly after his birth, and apparently he never afterwards had any contact with his father. He grew up in his grandfather's house with his mother and two spinster aunts.
By 1919 Saxon was in New Orleans writing for the city's leading newspaper, The Times-Picayune. After a stint as a general reporter he began to write book reviews and fiction for the newspaper, as well as features about the city, its history and unique culture.
Over a four-month period in 1921, he wrote a fictionalized history of New Orleans. In it, a newspaperman, quite like Saxon himself, has an almost mystical love for the city. It is not surprising, therefore, that Saxon once wrote tellingly to a friend, "I--as a man--am also a lover. I shall try to tell you of the woman to whom I offer my love . . . this woman, New Orleans."
His enthusiasm for the romanticism and mystique of the French Quarter was boundless, and he used his newspaper pulpit to preach its charms.
Soon Saxon began to attract a brilliant assortment of young writers and artists. Traipsing in and out of his salon on Royal Street, and swigging contraband Prohibition liquor, were William Faulker, William Spratling, Sherwood and Elizabeth Anderson, Edmund Wilson, Dorothy Dix, John Dos Passos, and John Steinbeck.
Saxon quit the newspaper in 1926. Over the next four years he produced four very popular books, Father Mississippi, Fabulous New Orleans, Old Louisiana, and Lafitte the Pirate. He also wrote some well-received short stories and a novel, Children of Strangers.
Saxon's personal love life is more difficult to discern. Some authorities suggest that his only great love was his childhood friend, George Favrot, who went to Europe as a World War I soldier and died in Paris in 1918. Other sources maintain that he had a sexual relationship with Joe Gilmore, his long-time black valet.
Biographer James W. Thomas interviewed many of Saxon's closest friends and concluded, "Saxon's homosexual affairs were discreet, never a problem for his heterosexual friends, and not a significant part of his literary life." Homosexual characters or subjects do not appear anywhere in his published work.
He died in his beloved New Orleans in 1946.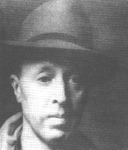 1900 – Baron George Hoyningen-Huene (d.1968) was a seminal fashion photographer of the 1920s and 1930s. He was born in Russia to Baltic German and American parents and spent his working life in France, England and the United States. Born in Saint Petersburg, Russia, Hoyningen-Huene was the only son of Baron Barthold Theodorevitch von Hoyningen-Huene (1859-1942), a Baltic nobleman and military officer. His mother was an American.
During the Russian Revolution, the Hoyningen-Huenes fled to first London, and later Paris. By 1925 George had already worked his way up to chief of photography at French Vogue. In 1931 he met Horst [pictured lbelow, photographed by Hoyningen-Huene], the future photographer, who became his lover and frequent model, and travelled to England with him that winter. While there, they visited photographer Cecil Beaton, who was working for the British edition of Vogue.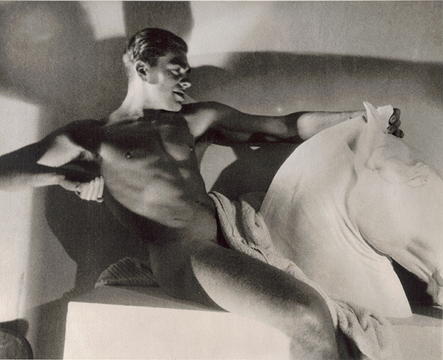 "Horst on Mantel"
In 1935 Hoyningen-Huene moved to New York City where he did most of his work for Harper's Bazaar. He published two art books on Greece and Egypt before relocating to Hollywood, where he earned a living shooting glamorous portraits for the film industry.
Hoyningen-Huene worked before anything resembling contemporary flash photography was known. Working in huge studios and with whatever lighting worked best. There is something about the texture of his black and whites that one seldom finds in contemporary work. Beyond fashion, he was a master portraitist as well from Hollywood stars to other celebrities.
He also worked in Hollywood in various capacities in the film industry, working closely with George Cukor, notably as special visual and colour consultant for the 1954 Judy Garland movie A Star Is Born. He served a similar role for the 1957 film Les Girls, which starred Kay Kendall and Mitzi Gaynor and the Sophia Loren film Heller in Pink Tights.
He died at 68 years of age in Los Angeles.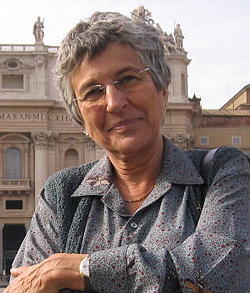 1905 – After five nursing romances which included suggested lesbianism, Mary Renault (d.1983) turned to open male homosexuality in the last nine, which included The Charioteer and eight celebrated historical novels set in ancient Greece. In addition to vivid fictional portrayals of Theseus, Socrates, Plato and Alexander the Great, she wrote a non-fiction biography of Alexander.
Renault was born Eileen Mary Challans in London, September 4, 1905. (Her pen name, which she used throughout her career, was taken from Otway's Venice Preserved.) Although she wrote short stories, radio plays, and nonfiction, Renault is best known as a novelist. The last eight of her fourteen novels, historical fictions set in ancient Greece, are the most highly regarded. All of her novels, however, deal at some level of explicitness with homosexuality: a diffused or suggested lesbianism in the first five and an openly presented male homosexuality in the last nine.
Educated in London and Bristol, Renault read English at St. Hugh's College, Oxford, from which she graduated in 1928. In 1933, having rejected most of the conventional options available to women, Renault entered nurses' training. At Radcliffe Infirmary, Oxford, she met Julie Mullard, a fellow nurse who became her lifelong companion.
Renault's first novel, Purposes of Love, was published in 1939 and like the next five was based more or less directly on her nursing and hospital experience. Her fourth novel, Return to Night (1947), won the MGM Prize of $150,000. The money provided a financial base for Renault and Mullard, and in 1948, they emigrated to South Africa where they lived, first in Durban and, after 1960, in Cape Town, until Renault's death on 13 December 1983.
There, she found a community of Gay expatriates who had "escaped the repressive attitudes towards homosexuality in Britain for the comparatively liberal atmosphere of Durban.... Mary and Julie found themselves able to set up home together in this new land without causing the outrage they had sometimes provoked at home." It was in South Africa that Renault was able to write forthrightly about homosexual relationships for the first time — in her last contemporary novel, The Charioteer, published in 1953, and then in her first historical novel, 1956's The Last of the Wine, the story of two young Athenians who study under Socrates and fight against Sparta. Both these books had male protagonists, as did all her later works that included Gay themes; her sympathetic treatment of love between men would win Renault a wide Gay readership.
Her historical (and gay-themed) novels are:
The Last of the Wine (1956) — set in Athens during the Peloponnesian War
The King Must Die (1958) — the mythical Theseus up to his father's death
The Bull from the Sea (1962) — the remainder of Theseus' life
The Mask of Apollo (1966) — an actor at the time of Plato
Fire from Heaven (1969) — the young Alexander the Great
The Persian Boy (1972) — Alexander the Great after the conquest of Persia
The Praise Singer (1978) — the poet Simonides of Ceos
Funeral Games (1981) — Alexander's successors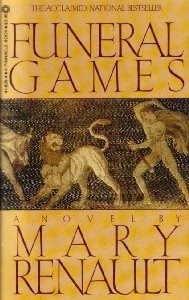 Three things mark Renault's progress from a competent popular novelist to a master of her craft: first, the change of emphasis from female to male homosexuality with The Charioteer in 1953; second, the move from contemporary to ancient setting in The Last of the Wine (1956) and after--her choosing, that is, to become a historical novelist; and third, her adoption of a first-person narrative point of view. By moving into the distant past, specifically a past where homosexual relationships were not just accepted but in some contexts celebrated, Renault could show the integrity and fitness of such bonds. Adopting a first-person narrator allowed Renault to imagine her way more deeply into Hellenic culture, just as Hellenic culture itself allowed her to imagine her characters' sexuality more liberally.

Above all, Renault's work depicts with love and care an age and a culture in which homosexual love was neither deviance nor norm but part of experience.
Though Renault appreciated her gay following, she was uncomfortable with the "gay pride" movement that emerged in the 1970s after the Stonewall riots. Like the protagonist of her 1953 novel The Charioteer, she was suspicious of identifying oneself by one's sexual orientation. Late in her life, she expressed hostility toward the gay rights movement, troubling some of her fans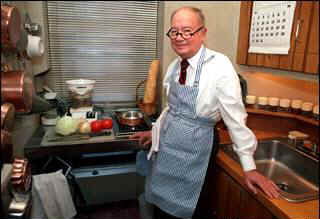 1920 – Restaurant critic, food writer and former food editor for the New York Times, Craig Claiborne (d.2000) was born in Sunflower, Mississippi. Claiborne authored numerous cookbooks and an autobiography, "A Feast Made for Laughter," in which he wrote about his being gay.
Claiborne was a fixture of the New York social scene for decades. He was gay, and although he was out to most of his friends and colleagues, he struggled to come to terms with his sexuality. In his 1982 autobiography, A Feast Made for Laughter, Claiborne described a bizarre, almost Faulknerian, childhood and adolescence in small-town Mississippi where he was mocked by schoolmates for his meek temperament and dislike of sports and had explicit sexual contact with his own father on at least one occasion. His mother was a warm and very genteel Southern lady, but doting and often overprotective of her young son. The young Claiborne often sought solace in the company of his mother's black kitchen and housekeeping staff, whose food, humor and culture he came to love.
Claiborne made many contributions to gastronomy and food writing over the course of his career. He helped popularize many ethnic, and at the time bizarre sounding, schools of cooking. He lived through a real revolution in culinary culture in the United States. As he explained in the preface to the revised 1980s edition of his bestselling "New York Times Cookbook."
Italian was a strange and foreign form of cooking in the 1960s when the first volume came out and access to things as foreign sounding (in the 1960s) as "pasta" was difficult. Claiborne also helped popularize great chefs like Paul Prudhomme as few people outside the Deep South at the time had any awareness of Louisiana's Cajun culture or its unique culinary traditions. Along with Julia Child, Claiborne has been credited with making the often intimidating world of French and other ethnic cuisine accessible to an American audience and American tastes. Claiborne authored or edited over 20 cookbooks on a wide range of foods and culinary styles.
One of the most famous (or infamous depending on your point of view) episodes in Claiborne's career occurred in 1975 when he placed a $300 winning bid at a charity auction for a no price-limit dinner for two at any restaurant of the winner's choice, sponsored by the American Express company. Selecting his friend Pierre Franey as his dining companion, the two settled on the prestigious Parisian restaurant Chez Denis where they racked up a $4,000 tab on a five-hour, 31-course meal of foie gras, truffles, lobster, caviar and rare wines. When Claiborne later wrote about the experience in his "Times" column, the paper received a deluge of reader mail expressing outrage at such an extravagance at a time when so many in the world went without. Even the Vatican and Pope Paul VI criticized it, calling it "scandalous." Despite its scale and expense, Claiborne gave the meal a mixed review, noting that several dishes fell short in terms of conception, presentation or quality.

Claiborne died at age 79 in 2000. He bequeathed his estate to the Culinary Institute of America in Hyde Park, New York.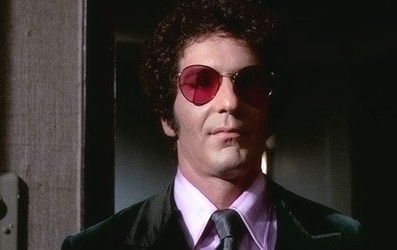 1938 – Leonard Frey (d.1988) was an American actor. He is best remembered for his performance in the 1971 film Fiddler on the Roof, which earned him an Academy Award for Best Supporting Actor nomination.
Frey was born in Brooklyn, New York. After attending James Madison High School, he studied art at Cooper Union, with designs on being a painter, before switching to acting at New York City's Neighborhood Playhouse under famed acting coach Sanford Meisner, and pursued a career in theater instead. Frey made his stage debut in an Off-Broadway production of Little Mary Sunshine.
Frey received critical acclaim in 1968 for his performance as Harold in off-Broadway's The Boys in the Band. He would go on to appear alongside the rest of the original cast in the 1970 film version, directed by William Friedkin.
Frey was nominated for a 1975 Tony Award as Best Featured Actor in a Play for his performance in The National Health. Other stage credits include revivals of The Time of Your Life (1969), Beggar on Horseback (1970), Twelfth Night (1972) and The Man Who Came to Dinner (1980). He also played Clare Quilty in the Alan Jay Lerner musical Lolita, My Love which closed, before reaching Broadway, in 1971.
Frey was nominated for the Academy Award for Best Supporting Actor for his performance as Motel the tailor in Norman Jewison's 1971 film Fiddler on the Roof (he had appeared in the original Broadway musical production as Mendel, the rabbi's son). His other film credits included roles in The Magic Christian (1969), Tell Me That You Love Me, Junie Moon (1970), Where the Buffalo Roam (1980), Up the Academy (1980), and Tattoo (1981).
Frey's television credits included appearances on Hallmark Hall of Fame; Medical Center; Mission Impossible; Eight is Enough; Quincy, M.E.; Hart to Hart; Barney Miller; Moonlighting; and Murder, She Wrote.
Frey died at the age 49 of an AIDS-related illness in New York on August 24, 1988.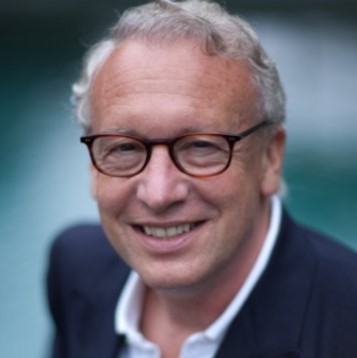 1947 – Jeffrey Satinover is an American Orthodox Jew, psychiatrist, psychoanalyst, and physicist. He is known for books on a number of controversial topics in physics and neuroscience, and on religion, but especially for his writing and public-policy efforts relating to homosexuality, same-sex marriage and the ex-gay movement.
Satinover's book, Homosexuality and the Politics of Truth (1996) debates the nature of homosexuality from psychological, religious and scientific perspectives, discussing homosexuality primarily in the context of being a condition that can or should be treated, contrary to the views of the mainstream psychiatric and psychological community.
Satinover draws comparisons between homosexuality and various pathologies (e.g., alcoholism, pedophilia) and argues that homosexuality involves compulsive impulses. He states that homosexuality "is not a true illness, though it may be thought an illness in the spiritual sense of 'soul sickness,' innate to fallen human nature."
He also argues that "gay activism distorts the truth and harms not only society, but homosexuals themselves".
Most of the book discusses whether homosexuality is biological and genetic and if it can be changed. About one fifth of the book discusses human sexuality from Jewish and Christian perspectives. In the book's introduction, Satinover states that "[i]n the end the debate over homosexual behavior and its implications for public policy can only be decided conclusively on moral grounds, and moral grounds will ultimately mean religious grounds."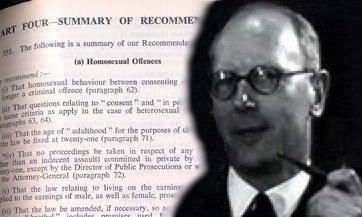 1957 – On this date in the United Kingdom, the Wolfenden Report was published. It was the culmination of a request by the Conservative government in 1954 to set up a Departmental Committee to look into aspects of British sex laws. The committee of 13 members committee was chaired by Sir John Wolfenden, Vice-Chancellor of Reading University, investigated the current laws on homosexuality and prostitution. The Wolfenden Report was published after a succession of well-known men, including Lord Montagu, Michael Pitt-Rivers and Peter Wildeblood, were convicted of homosexual offences.
Disregarding the conventional ideas of the day, the committee recommended that "homosexual behaviour between consenting adults in private should no longer be a criminal offence". Contrary to some medical and psychiatric witnesses' evidence at that time, the committee found that "homosexuality cannot legitimately be regarded as a disease, because in many cases it is the only symptom and is compatible with full mental health in other respects." The report added, "The law's function is to preserve public order and decency, to protect the citizen from what is offensive or injurious, and to provide sufficient safeguards against exploitation and corruption of others ... It is not, in our view, the function of the law to intervene in the private life of citizens, or to seek to enforce any particular pattern of behaviour." The recommended age of consent was 21 (the age of majority in the UK then).
The report also discussed the rise in street prostitution at the time, which it associated with "community instability" and "weakening of the family". As a result there was a police crackdown on street prostitution following the report.
"The enforcement of Morals", by Patrick Devlin, stated that "Adultery, fornication, and prostitution are not, as the Report points out, criminal offences: homosexuality between males is a criminal offence, but between females it is not."
The recommendations of the report eventually led to the passage of the Sexual Offences Act 1967, applying to England and Wales only, that replaced the previous law on sodomy contained in the Offences against the Person Act 1861 and the 1885 Labouchere Amendment which outlawed every other homosexual act. The law was only passed a decade after the report was published in 1957.
John Wolfenden came 45th in a list of the top 500 lesbian and gay heroes, Pink Paper, 26 September 1997. It later became known that his son Jeremy Wolfenden was gay.

1973 – A federal court in Pennsylvania upholds the right of the federal government to prosecute prisoners in federal prisons for sodomy under the Assimilative Crimes Act, but questions the constitutionality of state laws regulating consenting adults.


1976 – The Fourth Annual Gay Conference for Canada and Quebec is held in Toronto and includes a rally and march.

2012 – The Democratic Party becomes the first major U.S. political party in history to publicly support same-sex marriage on a national platform at the Democratic National Convention.


2017 – Canada has discreetly granted asylum to 31 gay men from Chechnya working with the NGO Rainbow Railroad,  a clandestine program unique in the world. In April, Justin Trudeau and the Canadian  government strongly condemned persecution of homosexuals in Chechnya. Canada is not the only country to accept gay refugees from Chechnya and other countries in the region. France has accepted at least one person, as has Germany, and two are in Lithuania. An undetermined number of individuals have traveled to European Union countries on tourist visas, and then applied for refugee status. So far, the United States has done nothing.

SEPTEMBER 5 →
[{(o)}]|[{(o)}]|[{(o)}]|[{(o)}]| [{(o)}]|[{(o)}]