January 14
[{(o)}]|[{(o)}]|[{(o)}]|[{(o)}]| [{(o)}]|[{(o)}]
1523 – The famous artist Benvenuto Cellini is sentenced – for the fourth time – of committing sodomy on both men and women. He was an Italian goldsmith, sculptor, draftsman, soldier, musician, and artist who also wrote a famous autobiography and poetry. He was one of the most important artists of Mannerism. He is remembered for his skill in making pieces such as Perseus with the Head of Medusa.

1540 – Pier Luigi Farnese is the Duke of Parma and the son of Pope Paul II, He mounts a manhunt in search of a boy who had refused his sexual advances. In 1537, Farnese was accused of raping Cosimo Gheri, the young bishop of Fano who died shortly afterward.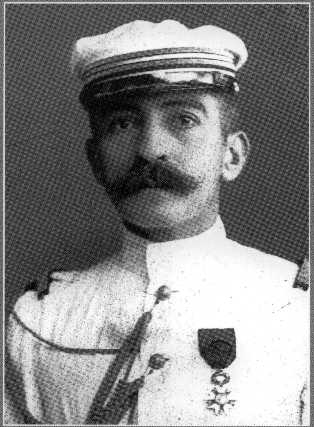 1850 – Julien Viaud, who wrote under the name Pierre Loti, one of the most popular and respected French novelists of the late nineteenth and early twentieth centuries, created a series of novels that chronicle the struggle of a man to understand his homoerotic feelings and their implications for him.
Viaud was born in Rochefort on January 14, 1850, to one of the city's few Protestant families. He attended high school in Rochefort, and then the Lycée Napoléon (today Henri IV) in Paris to prepare for the entrance exam for the Naval Academy.
While he was there he also studied art, and for the rest of his life found pleasure in drawing and painting. The works that survive show a real talent, and some of the drawings reveal a clear interest in the male body.
Graduating from the Naval Academy in 1867, he began a career as an officer that extended over 43 years and took him to many of the exotic lands that he used as settings for his books. Unlike Conrad or Melville, who left the sea to pursue writing, Viaud published his more than twenty novels and travelogs while still in the service.
In 1886, in part to end pressure from his family, in part because he wanted a son, Viaud married Blanche de Ferrière, a woman whom his mother had picked out for him while he was away at sea. The marriage was not a happy one, and in 1906 Blanche Viaud returned to her family.
In 1910, despite his efforts to remain on active duty, the navy finally forced Viaud to retire. When World War I broke out, however, he managed to obtain a commission in the army as assistant to General Galliéni, military governor of Paris after the flight of the French government in the face of the Geman invasion. In addition to diplomatic missions that he was able to perform because of his friendship with several of the crowned heads of Europe, Viaud covered the war for the Parisian daily Le Figaro and the weekly L'Illustration.
Back in civilian life after the War, Viaud became subject to depression and declining health. He published several volumes of somewhat fictionalized memoirs and, with the help of his son Samuel, revised the diary he had been keeping since he was sixteen. Viaud died of uremia and pulmonary edema on June 10, 1923, shortly after a last visit from his friend Sarah Bernhardt.
Because of the homosexual themes in a few of his early novels and Viaud's sometimes flamboyant lifestyle, the French popular press of his time depicted him as gay in satirical cartoons. These cartoons and the rumors that gave rise to them fixed Viaud in the public's mind as gay, to the extent, for example, that French senator Cécile Goldat grouped Viaud with Gide and Cocteau as a distinguished gay writer when legislation concerning homosexuality was debated in the 1980s.
Notwithstanding these widespread assumptions, however, there is no definite evidence that Viaud ever had homosexual relations himself. Edmond de Goncourt, in his diary entry for September 21, 1890, wrote that Viaud had been caught in flagrante delicto with a sailor, but Goncourt was a malicious gossip and not always reliable, so this entry proves nothing.
Viaud's family, especially his grandson, has always denied that he was gay. Near the end of his life, Viaud and his son Samuel went through his diaries, excising and rewriting, so even if they had contained evidence of his homosexuality at one time, they no longer do.
Yet, there are barely disguised homoerotic plots in almost all his novels, often paralleled in a heterosexual situation. In his fourth novel, My Brother Yves (1883), there is no heterosexual romance cover. Viaud recounts the love of his protagonist, French naval officer Pierre Loti, for the handsome Breton sailor Yves Kermadec in a fairly direct manner. (Jean Genet alludes to this novel repeatedly in his own tale of a naval officer's love for a Breton sailor, Querelle [1953].) The mystery, never resolved, is to what extent Yves reciprocates that love and shares Pierre's homosexual feelings.
Madame Chrysanthemum (1888) became one of the sources of Puccini's Madame Butterfly and the musical Miss Saigon. In it Pierre "marries" Madame Chrysanthemum for the duration of a tour of duty in Japan. The author makes it very clear, however, that, unlike in the theatrical works derived from it, the officer has no romantic interest in the young geisha. He is, rather, more than a little worried that Yves might become involved with her.
Viaud's novels never deal with homosexuality directly, but works such as My Brother Yves were obvious enough to foster rumors about Viaud's homosexuality in the popular press of the day. Read in chronological order, Viaud's novels present the story of a gay man working to come to an understanding of his feelings and who he is as a result of them, the first novelistic corpus in Western literature to do so.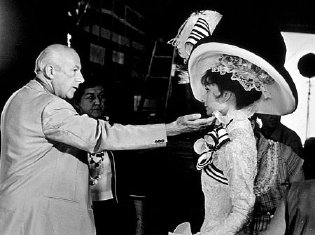 Beaton with Audrey Hepburn for My Fair Lady
1904 – Writer, costumer, photographer, designer and raconteur Cecil Beaton was born on this date in London (d.1980).
Beaton launched his career as a `society' photographer in 1920s. Beaton's fascination with glamour and high society prevailed throughout his life and in 1937 he became court photographer to the British Royal Family. Beaton often photographed the Royal Family for official publication. Queen Elizabeth, the Queen Mother was his favorite Royal sitter. Beaton took the famous wedding pictures of the Duke and Duchess of Windsor. During World War II, he worked for the British Ministry of Information, as a documentary photographer. In 1953 he photographed the coronation of Queen Elizabeth II.
Beaton also became a successful stage and costume designer, most notably for My Fair Lady (1956) which led to two Lerner and Loewe film musicals, Gigi (1958) and My Fair Lady (1964), both of which earned Beaton the Academy Award for Costume Design. He also was the winner of four Tony Awards. He died in 1980.
Though primarily homosexual — the great love of his life was the wealthy art collector Peter Watson – he did have relationships with women. Beaton also claimed to have had an affair with the American actor Gary Cooper, who was a close friend of his for many years.
In 1972, he received his knighthood, but suffered a stroke two years later. This hindered him from photographing for five years. He picked up the camera again for a short while in 1979, but died the following year.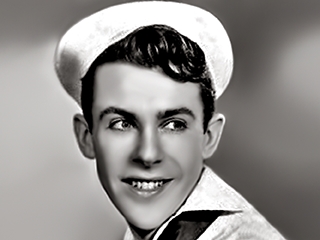 Cris as Chip in 'On The Town'
1920 – Cris Alexander, born Alan Smith, (d.2012) was an American actor, singer, dancer, designer, and photographer.
Born in Tulsa, Oklahoma, by his teens he was calling himself Christopher, a name he thought befitting of a distinguished actor. Then, as he recalled, he visited a spiritualist, who asked what he most desired. "Success," he shot back.
"Well I can guarantee you success if you do one thing," he quoted her as saying. "Call yourself 'Chris' and take the 'h' out." The next day Cris went to a radio station and got a job as an announcer, even though he stuttered. (He would eventually overcome that speech disorder.)
"I came to New York because I thought they were waiting for me," he once said, recalling how he fled Tulsa, Okla., in 1938 with a high school classmate, Tony Randall.
In New York, Cris Alexander didn't reach the peaks when Tony Randall did, but Cris did land a major part in "On the Town," the 1944 musical that introduced Broadway to its composer, Leonard Bernstein; Betty Comden and Adolph Green, who wrote the book and lyrics; and Jerome Robbins, the show's choreographer. But rather than on the stage, Alexander made it in New York as a photographer, taking portraits of the likes of Martha Graham and Vivien Leigh; having gallery shows; working for Andy Warhol's Interview magazine and the New York City Ballet; and providing droll pictures for the best-selling 1961 satire of a movie star's memoir, Little Me written by Patrick Dennis and later adapted for the Broadway stage by Neil Simon.
He had begun taking pictures with his mother's Brownie at 11 or 12. As an adult, his photography was uninhibited. He gave costume parties and took vivid pictures of his friends, whom he characterized in the Show Music magazine interview as "very gifted fools." One day Patrick Dennis, famed for his oddball novels, admired the "fools" hanging in Mr. Alexander's bathroom. "These are your real work," Mr. Dennis told him. He suggested they collaborate on a "documented autobiography of someone who never was." The result was Little Me.
And he found love. When marriage equality became a reality (and legal) in New York in 2011, he married Shaun O'Brien, the celebrated character dancer with the New York City Ballet. They had been together for more than 60 years and died less than two weeks apart — Mr. Alexander on March 7 in Saratoga Springs, N.Y., at age 92; Mr. O'Brien on Feb. 23 at 86. They shared a Victorian house in Saratoga Springs.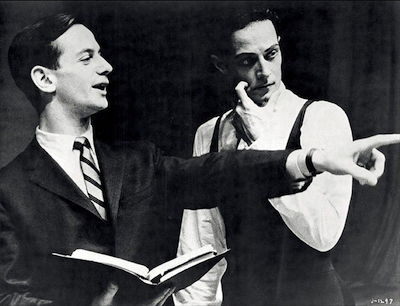 1923 – Gerald Arpino was an American dancer and choreographer (d.2008). He was the artistic director and co-founder of The Joffrey Ballet.
Born in Staten Island, New York, Gerald Arpino studied ballet with Mary Ann Wells, while stationed with the Coast Guard in Seattle, Washington.
Arpino first met Robert Joffrey at Wells's school. It was love at first sight. Although the passion between them faded after a few years, they maintained a close domestic arrangement until Joffrey's death in 1988. Arpino studied modern dance with May O'Donnell in whose company he appeared in the 1950s.
In 1956, Arpino was a founding member of the Robert Joffrey Ballet. He served as co-director of the American Ballet Center, the school of the Robert Joffrey Ballet, was resident choreographer for the company, and, in 1965, became co-director of the Joffrey Ballet.
After the death of Robert Joffrey in 1988, Arpino became the Artistic Director of the Joffrey Ballet and in 1995 moved the company to Chicago. In July 2007, he was named 'Artistic Director Emeritus' as a search for a successor began. Although the ballet he founded carried his partner's name, Arpino was equally significant in founding and artistically driving one of the great American ballet companies.
Arpino suffered an illness for seven months and eventually died on October 29, 2008.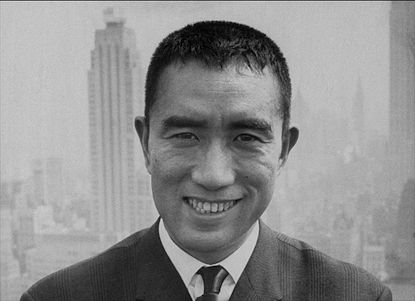 1925 – Yukio Mishima was the public name of Kimitake Hiraoka, a Japanese author and playwright, famous for both his highly notable nihilistic post-war writings and the circumstances of his ritual suicide by seppuku.(d.1970)
Mishima's early childhood was dominated by the shadow of his grandmother, Natsu, who took the boy and separated him from his immediate family for several years. Natsu famously did not allow Mishima to venture into the sunlight, to engage in any kind of sport, or to play with boys; he spent much of his time alone, or with female cousins and their dolls.
Mishima returned to his immediate family at 12. He entered into a relationship with his mother that some biographers have described as nearly incestuous; it was to his mother that he turned always for reassurance and proofreading. His father, a brutal man with a taste for military discipline, employed such tactics as holding the young boy up to the side of a speeding train; he also raided the young boy's room for evidence of an 'effeminate' interest in literature, and ripped up adolescent Mishima's manuscripts wantonly.
At 12, Mishima began to write his first stories. Although his father had forbidden him to write any further stories, Mishima continued to write secretly every night, supported and protected by his mother Shizue, who was always the first to read a new story.
Mishima began his first novel, Tõzoku (Thieves), in 1946 and published it in 1948. It was followed up by Kamen no Kokuhaku (Confessions of a Mask), an autobiographical work about a young latent homosexual who must hide behind a mask in order to fit into society. The novel was extremely successful and made Mishima a celebrity at the age of 24.
After Confessions of a Mask, Mishima tried to tie himself to the real, physical world by taking up stringent physical exercise. In 1955, Mishima took up weight training, and his workout regimen of three sessions per week was not disrupted for the final 15 years of his life. From the most unpromising material he forged an impressive physique, as the photographs he took show. He also became very skillful at Kendo (the Japanese martial art of swordfighting).
Although he visited gay bars in Japan, Mishima reportedly remained an observer, and had affairs with men only when he travelled abroad. After briefly considering an alliance with Michiko Shoda — later the wife of Emperor Akihito — he married Yoko Sugiyama in 1958. Over the next three years, the couple had a daughter and a son.
In 1967, Mishima enlisted in the Ground Self Defense Force (GSDF) and underwent basic training. A year later, he formed the Tatenokai (Shield Society), composed primarily of young patriotic students who studied martial principles and physical discipline and who were trained through the GSDF under Mishima's tutelage.
On November 25, 1970, Mishima and four members of the Tatenokai under a pretext visited the commandant of the Ichigaya Camp - the Tokyo headquarters of the Eastern Command of Japan's Self-Defense Forces. Once inside, they proceeded to barricade the office and tied the commandant to his chair. With a prepared manifesto and banner listing their demands, Mishima stepped onto the balcony to address the gathered soldiers below. His speech was intended to inspire them to stage a coup d'etat and restore the Emperor to his rightful place. He succeeded only in irritating them and was mocked and jeered. Unable to make himself heard, he finished his planned speech after only a few minutes, stepped back into the commandant's office and committed seppuku. The customary decapitation at the end of this ritual had been assigned to Tatenokai member Masakatsu Morita. But Morita, who was rumored to have been Mishima's lover, was unable to perform this task properly: after several failed attempts, he allowed another Tatenokai member, Hiroyasu Koga, to finish the job. Morita then attempted seppuku and was also beheaded by Koga.
Mishima prepared his suicide meticulously for at least a year and no one outside the group of hand-picked Tatenokai members had any indication of what he was planning. Mishima must have known that his coup plot would never succeed and his biographer, translator, and former friend John Nathan suggests that the scenario was only a pretext for the ritual suicide of which Mishima had long dreamed. Mishima made sure his affairs were in order and even left money for the legal defence of the three surviving Tatenokai members.
While his end may have been intended as a sort of spiritual testament, the theatrical nature of his suicide, the camp nature of photographs he posed for and the occasionally bathetic nature of his prose have taken their toll on his legacy. In both Japanese and Anglo-American academia today, Mishima is virtually unspoken of, especially as his ostensibly 'right-wing' opinions are not politically correct. Nevertheless, outside of academia Mishima's works remain popular both in Japan and throughout the rest of the world.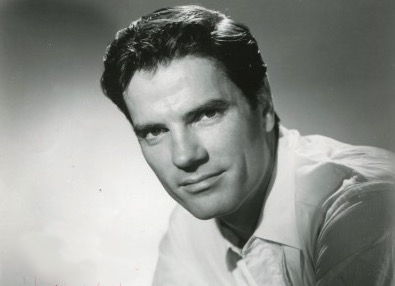 1926 – On this date the American actor and writer Tom Tryon was born (d.1991). Tryon was most famous as the Walt Disney television character Texas John Slaughter (1958-1961), as well as author of several science fiction, horror, and mystery novels. He was born Thomas Tryon in Hartford, Connecticut and is usually credited and listed as an author under his birth name.
Tryon's early film roles were mostly in B-horror and science fiction films, most notably I Married a Monster From Outer Space (1958) and Moon Pilot (1962) and in westerns, especially Three Violent People (1956), with Charlton Heston, The Glory Guys and a remake of Winchester '73 (1967). His best role, however, is considered by many to have been in the 1965 film, In Harm's Way, which is itself considered one of the best films set in the period of World War II. He also appeared, among many other stars, in The Longest Day, one of the central films of the World War II generation. Darryl F. Zanuck saved 20th Century Fox with it, after the disaster of Cleopatra.
In 1962 Tryon was cast to play the role of Stephen Burkett ("Adam") in the unfinished Marilyn Monroe-Dean Martin comedy film, Something's Got to Give, directed by George Cukor, but lost that role after Monroe was fired from the movie. The part went to Chuck Connors when the film was finally completed as Move Over, Darling with Doris Day and James Garner. (Completed footage from the Monroe version has recently been released on video and DVD in the documentary Marilyn: The Final Days.) He was also considered but eventually passed over for the role of Janet Leigh's lover, Sam Loomis, in the classic thriller, Psycho.

Television roles included the Texas John Slaughter series which ran on The Wonderful World of Disney in the 1950s (based on actual historical figure John Slaughter), guest appearances on The Virginian and The Big Valley, and a live television performance of The Fall of the House of Usher. He also co-wrote a song, "I Wish I Was," which appeared on an obscure record by Dick Kallman, star of the short-lived and now largely forgotten 1965 television sitcom, Hank.
Tryon was nominated for a Golden Globe in 1963 for his role in The Cardinal , but the honor barely compensated for the trauma and abuse he suffered at the hands of director Otto Preminger. At one point during filming, Preminger actually fired Tryon in front of his parents when they visited the set, then rehired him after being satisfied that Tryon had been sufficiently humiliated. Disillusioned with acting, Tryon retired from the profession in 1969 and began writing horror and mystery novels. He was successful, overcoming skepticism about a classically handsome movie star suddenly turning novelist.
His best-known work is The Other (1971), about a boy whose evil twin brother may or may not be responsible for a series of deaths in a small rural community in the 1930s. The novel was adapted as a film the following year, starring Diana Muldaur, Uta Hagen, and John Ritter. Harvest Home, about the dark pagan rituals being practiced in a small New England town, was adapted as The Dark Secret of Harvest Home, an insanely campy television mini-series starring Bette Davis in 1978. An extensive critical analysis of Tryon's horror novels can be found in S. T. Joshi's book The Modern Weird Tale (2001).
His other novels include Crowned Heads, a collection of novellas inspired by the legends of Hollywood. The first of these novellas, Fedora, about a reclusive former film actress whose relationship with her plastic surgeon is similar to that between a drug addict and her pusher, was later filmed by Billy Wilder. Though the film was only moderately successful, it is considered by many to be a minor classic of the thriller and horror genres. Another novella in the collection was based on the murder of Gay silent screen star Ramon Novarro. Lady, written in 1975, concerns the friendship between an eight-year-old boy and a charming widow in 1930s New England and the secret he discovers about her. Many consider this to be Tryon's best work. His 1989 novel Night of the Moonbow tells the story of a boy driven to violent means by the constant harassment he receives at a summer boys camp. Night Magic, written in 1991 and posthumously published in 1995, is currently slated for a screen adaptation.
During the 1970s, Tryon was in a romantic relationship with Clive Clerk, one of the original cast members of A Chorus Line and an interior designer who decorated Tryon's Central Park West apartment, which was featured in Architectural Digest. Tryon was also involved in a relationship with Calvin Culver, also known as Casey Donovan, the Gay porn star. Tryon reportedly spoke of an unseen lover throughout his life, a lover he had dubbed "Patrick Norton." This Patrick resided in the dreams and imagination of Tryon and is the basis for many of his characters (all of which, notably, die horrific deaths.)

Tryon continued writing through the 1980s and 1990s, before dying at the age of sixty-five from stomach cancer.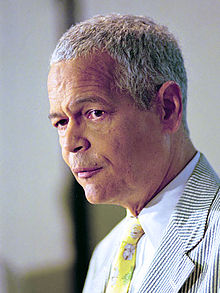 1940 – Born: Julian Bond, ally to the movement for Gay equality, civil-rights activist, and legend (d.2015). While a student at Morehouse College in Atlanta, Georgia during the early 1960s, he helped found the Student Nonviolent Coordinating Committee (SNCC). He has been Chairman of the National Association for the Advancement of Colored People (NAACP) since 1998 and has been a staunch advocate for gay and lesbian equality.
Bond has been an outspoken supporter of the rights of gays and lesbians. He has publicly stated his support for same-sex marriage. Most notably he boycotted the funeral services for Coretta Scott King on the grounds that the King children had chosen an anti-gay megachurch. This was in contradiction to their mother's longstanding support for the rights of gay and lesbian people. In a 2005 speech in Richmond, VA, Bond stated:
African Americans ... were the only Americans who were enslaved for two centuries, but we were far from the only Americans suffering discrimination then and now. ... Sexual disposition parallels race. I was born this way. I have no choice. I wouldn't change it if I could. Sexuality is unchangeable.
In a 2007 speech on the Martin Luther King Day Celebration at Clayton State University in Morrow, GA, Bond said, "If you don't like gay marriage, don't get gay married." His positions have pitted elements of the NAACP against religious groups in the Black Civil Rights movement who oppose gay marriage mostly within the Southern Christian Leadership Conference (SCLC) which was blamed partly for the success of the recent gay marriage ban amendment in California.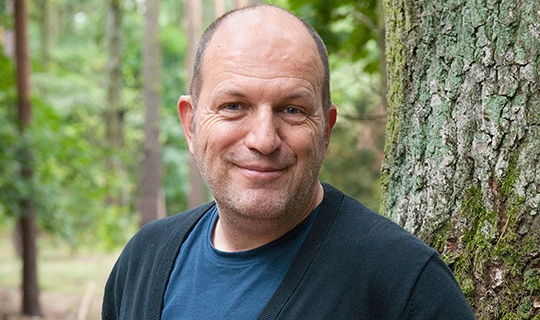 1962 – Andreas Steinhöfel, born in Battenberg, Hesse, is a German author for children and young adult books, and a translator.
Andreas Steinhöfel grew up with two brothers in the Middle Hesse small town of Biedenkopf, and did his A levels there. At first he began to study Biology and English, but then decided to study media at the University of Marburg. After his graduation in 1991 he published his first book, Dirk und ich.
One of his most famous books is Paul Vier und die Schröders (1992), which is now one of the standard readings in German schools. The movie adaptation of the book won the 1995 Deutschen Kinderfilmpreis. The novel Die Mitte der Welt is especially popular among teenagers, and was also nominated for the 1999 Deutschen Jugendliteraturpreis, as well as the sequel Defender – Geschichten aus der Mitte der Welt. Die Mitte der Welt was translated into English (The Center of the World) by Alisa Jaffa.
Steinhöfel lives and works in Hesse. His long-time companion was Gianni Vitiello, a well-known German DJ. They were partners until Vitiello's sudden death in 2009.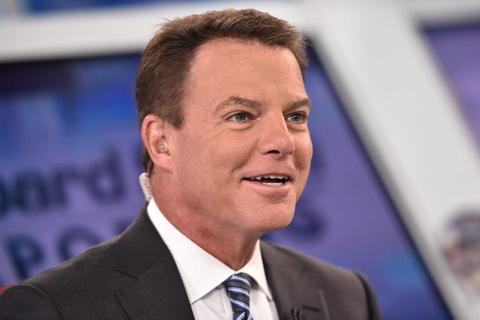 1964 – Shepard "Shep" Smith is an American broadcast journalist. He joined the Fox News Channel at its 1996 inception and is known for his former role as the chief anchor and managing editor of its breaking news division. Smith is the former host of Fox News' evening newscast, The Fox Report with Shepard Smith, and Studio B. In October 2013, Shepard Smith Reporting replaced Studio B. Smith's ratings were consistent with those of his Fox News Channel colleagues, continually finishing ahead of his competitors at 3:00 p.m.
Smith was born in Holly Springs, Mississippi. He attended Marshall Academy in Holly Springs. After high school, his parents separated and he moved to Florida with his mother. He went on to attend the University of Mississippi, where he studied journalism, but left two credits away from graduation. He frequently returns to the university during college football season and delivered the university's annual commencement address on May 10, 2008.
Smith signed his first television contract with WJHG-TV in Panama City Beach, Florida, in 1986. He worked as a reporter for WBBH-TV in Fort Myers, reporter/anchor in Miami with WSVN, and as a reporter at WCPX-TV (now WKMG-TV) in Orlando. In Los Angeles, California, he was a correspondent for A Current Affair. He joined the Fox News Channel at its inception in 1996.
On October 11, 2019, after working at Fox News for 23 years — since its first broadcast in 1996 — Smith abruptly announced on Shepard Smith Reporting that he was leaving the network. Among Smith's final comments was that he and his colleagues had "endeavored to deliver [news reports] to you, while speaking truth to power without fear or favor, in context and with perspective." Many journalists and related professional organizations lamented the loss of the reporting by Smith on Fox News and noted that he has not "retired" but, after a hiatus, will resurface to continue making contributions elsewhere.
Speculation arose quickly regarding possible implications of Attorney General William Barr having met privately with Rupert Murdoch just days before Smith's abrupt departure.
In a speech to the 2019 International Press Freedom Awards on November 21, 2019, Smith told the audience that authoritarian governments around the world are making it dangerous and difficult for journalists to do their jobs. He said that autocrats have learned to use online tools and social media to shore up their power. Smith also said, "Intimidation and vilification of the press is now a global phenomena." At the event Shephard gave five hundred thousand dollars of his own money to the host organization, the Committee to Protect Journalists.
Smith married Virginia Donald, a University of Mississippi classmate, in 1987. They divorced in 1993 with no children. In 2017, Smith confirmed in a speech that he is gay, but never thought of himself as "in the closet", stating, "I don't think about it. It's not a thing. I go to work. I manage a lot of people. I cover the news. I deal with holy hell around me. I go home to the man I'm in love with." A reporter covering the speech wrote, "Smith believes his sexuality is a piece of his personal story, but not the most defining factor."

1967 – The "Human Be-In" takes place in San Francisco's Golden Gate Park, launching The Summer Of Love. Between 20,000 to 30,000 people attend.


Added 2022

1969 – Dave Grohl is an American musician. He rose to fame as the drummer for the grunge band Nirvana and then became the founder, lead singer, guitarist, and primary songwriter for the alternative rock band Foo Fighters. He is also the drummer and co-founder of the rock supergroup Them Crooked Vultures and had short-lived side projects called Late! and Probot. He has also recorded and toured with Queens of the Stone Age.
At the age of 17, Grohl joined the punk rock band Scream after the departure of drummer Kent Stax. He joined Nirvana soon after Scream's disbandment. Nirvana's second album Nevermind (1991) was the band's first to feature Grohl and became a worldwide commercial success. Following the suicide of Nirvana frontman Kurt Cobain in 1994, Grohl formed Foo Fighters as a one-man project. In 1995, the project's self-titled debut album was released by Roswell and Capitol Records. After the success of the album, Grohl assembled a band for touring and further recording under the Foo Fighters name, and the band has since released nine studio albums.
Grohl is an advocate for LGBT rights. He has worn a White Knot ribbon, a symbol of support for same-sex marriage, to various events; when questioned about the knot, he responded, "I believe in love and I believe in equality and I believe in marriage equality." Grohl's gay rights activism dates back to the early 1990s, when Nirvana performed at a benefit to raise money to fight Oregon Ballot Measure 9, which forbade governments in Oregon from promoting or facilitating homosexuality. Grohl has also participated in two counter-protests against the Westboro Baptist Church for their anti-gay stance, once by performing "Keep It Clean" on the back of a flatbed truck.



1978 – On this date a rally and march is organized to protest the visit of Anita Bryant to Toronto. The trip was sponsored by fundamentalist group Renaissance Canada.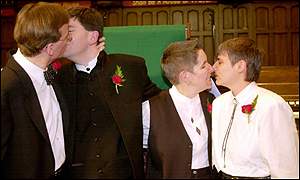 2001 – On this date in two couples, one gay the other lesbian, were married in a double ceremony at Toronto's Metropolitan Community Church after Rev. Brent Hawkes, the pastor discovered the ancient Christian tradition of reading banns was still legal in Ontario and did not specify sexuality. The Ontario government refused to register the marriages citing federal law defining marriage as being between a man and a woman. (See Below)


Relocated 2022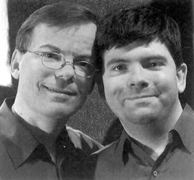 Kevin Bourassa (L) & Joe Varnell (R)

2001 – Kevin Bourassa and Joe Varnell become the first same-sex couple to be married in Canada.
Kevin Bourassa (b.1958) was raised near military bases in Ontario, in France, and in Germany and moved to Toronto in 1976. He is a former manager at the Canadian Imperial Bank of Commerce, specializing in process management. His husband, Joe Varnell (b.1969) was born in Toronto and is a former e-commerce consultant.
Today Kevin works full time as a human rights advocate and writer. Joe is now a manager at the bank where Kevin used to work. Their book, Just Married, has been published to critical acclaim in Canada (Doubleday), the United States (University of Wisconsin Press), and around the world in French translation (Les Editions Stanke).
Just Married is an account by Bourassa and Varnell of how their church, the Metropolitan Community Church of Toronto, decided to test the Canadian marriage laws, and how they and a lesbian couple agreed to be the ones to make the attempt.
Under the Ontario Marriage Act, any adult couple can be granted a marriage license if a church, following ancient tradition, reads the marriage banns on the three Sundays prior to the wedding. Joe and Kevin had long wished to be legally married in their church. They expected controversy, but little expected the massive scale of the international coverage that occurred, as reporting on their intentions and their wedding of them shot across the Internet and their photographs appeared in newspapers not only across North America but also in Europe, Asia, and South America.
On January 14, 2001, Kevin married his partner of three years Joe in a Metropolitan Community Church of Toronto service. They became thus the first gay couple anywhere in the world to be issued a government marriage certificate. The marriage would not become fully legal, however, until the Ontario provincial government registered the marriage, and it refused to do so. Bourassa, Varnell, and their church brought a lawsuit asking for legal registration.
On June , 2003, Bourassa and Varnell and the other litigants received a favorable decision from the Ontario court of appeal in their suit against the provincial government.

JANUARY 15 →
[{(o)}]|[{(o)}]|[{(o)}]|[{(o)}]| [{(o)}]|[{(o)}]