June 26
[{(o)}]|[{(o)}]|[{(o)}]|[{(o)}]| [{(o)}]|[{(o)}]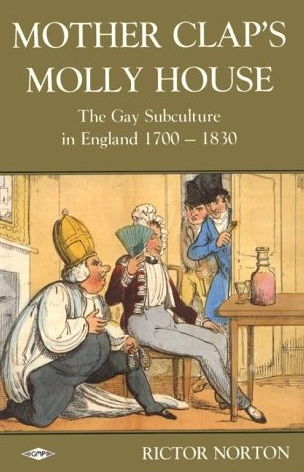 c.1726 – Died - Margaret Clap, better known as Mother Clap, ran a coffee house from 1724 to 1726 in Holborn, London. Notable for running a molly house, an inn or tavern primarily frequented by homosexual men, she was also heavily involved in the ensuing legal battles after her premise was raided and shut down.
While not much is known about her life, she was an important part of the gay subculture of early 18th century England. At the time sodomy in England was illegal, punishable by a fine, jail time or execution. Despite this, particularly in larger cities, private homosexual activity took place.
To service these actions there existed locations where men from all classes could find partners or just socialize, called molly houses, "molly" being slang for a gay man at the time - and possibly originating from Margaret Clap's house, given that Molly is a short name for Margaret, much like Ted is short for Edward. One of the most famous of these was Clap's molly house.
Margaret Clap ran a coffee house that served as a molly house for the underground gay community. Her house was popular during the two years of its existence (1724-1726), being well known within the gay community. She cared for her customers, and catered especially to the gay men who frequented it. She was known to have provided "beds in every room of the house" and commonly had "thirty or forty of such Kind of Chaps every Night, but more especially on Sunday Nights."
Unlike other molly houses, it was not a brothel. Clap's intentions may have been based more upon pleasure than profit, judging by her goodwill towards her customers. For example, one man lodged at her house for two years and she later provided false testimony to get a man acquitted of sodomy charges. Her actions during the charges later laid against her and many of the gay community showed her loyalty to her customers.
In February 1726, Margaret Clap's molly house was raided by the police; some 50 men were found making love, "kissing in a lewd manner and using hands indecently." Around 40 of its occupants were arrested. Primarily targeted by the Society for the Reformation of Manners, the house had been under surveillance for two years. The surveillance seems to have been instigated by a collection of vengeful mollies-turned-informants. A man named Mark Patridge was outed by his lover and was then turned as an informant for the police. He led policemen into molly houses, introducing each of them as his "husband" so that they could investigate more thoroughly. Patridge was not tried in court for sodomy. Another notable informant was Thomas Newton, who frequently used entrapment to allow constables to arrest men in the act of instigating sodomy.
Rictor Norton wrote a study of the gay subculture of the period: Mother Clap's Molly House.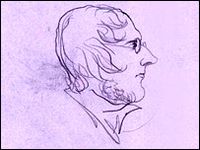 1817 – Patrick Branwell Brontë (d.1848) was an English painter and writer. He was the only son of the Brontë family, and brother of the writers Charlotte, Emily and Anne.
Brontë was rigorously tutored at home by his father, and shared much of his sisters' creative talent, earning praise for his poetry and translations from the classics. But he drifted between jobs, supporting himself by portrait-painting, and gave way to drug and alcohol addiction, apparently worsened by a failed relationship with a married woman, leading to his early death.
Is it unforgivable to call Branwell the fourth Brontë sister? Born a year after Charlotte, a year before Emily, and three years prior to Anne, Patrick Branwell Brontë was kept home for schooling while the girls were sent off to boarding school. A child of great promise, he trained as a painter and, not surprisingly given how things turned out, his most important work is a portrait of his three writer siblings. (That bizarre gap in the portrait is where Branwell put himself; following a quarrel, his father rubbed him out.)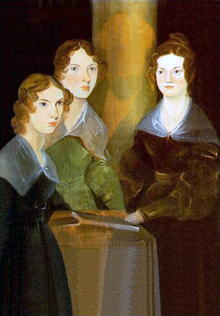 To support himself, Branwell took a job tutoring a Lancashire family's sons, a railway clerk position, and another job tutoring a boy named Thorp Green. From each employment Branwell was dismissed. He returned home, drank heavily, contracted tuberculosis, and died at thirty-one.
For a "marvelous free and direct telling" of his life, read the novel Branwell by Douglas A. Martin. The book "offers a tender, tragic portrayal of a doomed artist and homosexual…" and "this volume's beautiful declarative sentences are perfectly fitted to this famously imaginative, headstrong family; they bring Branwell Brontë's world to light."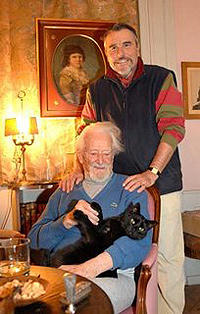 Cuénod with partner Alfred Augustin
1902 – Hugues Cuénod (d.2010) was a Swiss tenor known for his performances in opera, operetta, both traditional and musical theatre, and on the concert stage, where he was particularly known for his light, romantic and expressive interpretation of mélodie (French art song). His repertoire encompassed everything from the medieval chansons of Guillaume de Machaut to the avant garde works of Igor Stravinsky. He had an extraordinarily long career of over 64 years: he gave his first concert in 1928 and his last in 1992 when he was aged 90, hence breaking the record for the longest career as a professional vocalist.
In 1928, he made his stage debut in Ernst Krenek's Jonny spielt auf in Paris, and in 1929 he sang for the first time in the United States in Noël Coward's Bitter Sweet. His very last appearance on stage was in 1992, aged 90, when he sang M. Triquet in Tchaikovsky's Eugene Onegin at the Théâtre du Jorat in Mézières
Cuénod resided with his life partner, Alfred Augustin (41 years his junior), in the Vaud region of Switzerland. They lived in the Le Château de Lully, an 18th-century castle that belonged to his ancestors. In June 2007, when Cuénod was 105, he and Augustin entered into a civil union after changes in Swiss law gave same-sex couples many of the legal benefits of marriage. As he remarked in Playbill, "Most people were happy for us, though a few promised us 15,000 years in hell."
He turned 108 on 26 June 2010 and died in Vevey on the following 6 December.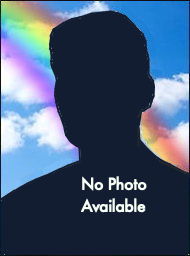 1906 – Leo Clasen (d.1972) was imprisoned in the Sachsenhausen concentration camp because of his homosexuality. He wrote about his experiences in 1954–1955 in the homophile magazine Humanitas, Monatszeitschrift für Menschlichkeit und Kultur, which was published in seven parts under the pseudonym L. D. Classen von Neudegg. His account is one of the most significant records of the experience of homosexuals persecuted by Nazi Germany.
He was born in in Neumünster, Schleswig-Holstein, Germany and was educated as a doctor.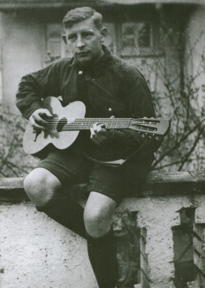 1907 – Albert Christel was born in the city of Metz in northwestern France. After completing his studies in physics and chemistry, he worked as a student teacher at a school in Leipzig. In his free time, he was active in the German Youth Movement. In 1934, he was dismissed from his teaching post because of his opposition to National Socialism.
As a political opponent of the Nazi regime and a homosexual, Albert Christel was arrested several times during the 1930s. In late 1939, he was arrested by the Gestapo on political grounds and detained in the Sachsenhausen concentration camp. He was sent to Flossenbürg in April 1940. There he was put to work in the "artists' commando," where he wrote poems and painted for the SS. Christel later said his assignment to this commando saved his life.
His brother Ernst submitted numerous petitions for his release, with no success. The SS told Albert Christel that he would only be released if he submitted to forcible castration. Although his family urged him to undergo the procedure, Albert Christel refused. After three years in Flossenbürg, he was transferred to several other concentration camps, where he remained incarcerated until the end of the war.
After May 1945, Albert Christel moved to Frankfurt am Main to be near his family. Because male homosexuality was still illegal in the Federal Republic of Germany, Albert Christel was awarded a one-time compensation payment for his years in the concentration camp only after a long struggle with the authorities.
Despite numerous lengthy and exhausting applications, he was repeatedly denied additional compensation for the damage to his health that was a result of his incarceration. He was also denied a teaching position in the schools. Albert Christel documented his experiences of persecution in numerous writings, theater pieces, and poems. After outliving most of his family, Albert Christel withdrew to a solitary life in Frankfurt. He committed suicide on December 26, 1977.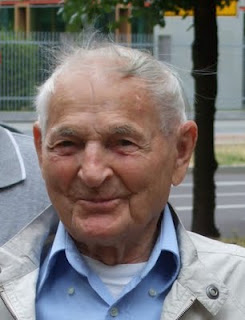 1913 – Rudolf Brazda, believed to be the last surviving man to wear the pink triangle — the emblem sewn onto the striped uniforms of the thousands of homosexuals sent to Nazi concentration camps, most of them to their deaths — was born on this date (d.2011).
Brazda spent nearly three years at the Buchenwald concentration camp, where his prisoner uniform was branded with the distinctive pink triangle that the Nazis used to mark men interned as homosexuals.
Although other gay men who survived the Holocaust are still alive, they were not known to the Nazis as homosexuals and were not deported as pink triangle internees. At least two gay men who were interned as Jews, for instance, have spoken publicly of their experiences.
After the liberation of Buchenwald, Brazda decided to settle in southern Alsace and started visiting local gay cruising grounds, noticeably the Steinbach public garden where Pierre Seel, another homosexual deportee, had been identified by the French police shortly before the outbreak of World War II.
In the early 1950s, at a costume ball, Brazda met Edouard "Edi" Mayer, who became his life companion. In the early 1960s, they moved into a house they built in the suburbs of Mulhouse, where Brazda resided until not long before his death. He tended to Edi for over 30 years after Edi was crippled by a severe work accident, until his death in 2003.
In spite of old age, he remained a keen observer and follower of the news. Thus, in 2008, when he heard on German TV of the impending unveiling of a memorial to homosexual victims of Nazism in Berlin, he decided to make himself known. Although he was not present at the monument's inauguration in 2008, an invitation was extended to him to attend a ceremony later, on the morning of the Berlin gay pride march.
Brazda subsequently was invited to attend a number of gay events. His original biography, Itinéraire d'un Triangle rose (A Pink Triangle's life journey; currently available in French, Portuguese, Spanish and Czech) is the only book he personally verified and authorised. It is the testimony of the likely last survivor of those men who were marked by a pink triangle and shows how Nazi repression of homosexuality directly impacted his life path. For the first time a book disclosed the details of minute police investigations that led to convict him and other homosexuals who had come under scrutiny. It also deals with issues such a human sexuality in concentration camps.
Brazda died lin 2011 at the age of 98 in northeastern France. After his funeral and remembrance service, his body was cremated and his ashes interred alongside those of his late partner Edouard Mayer.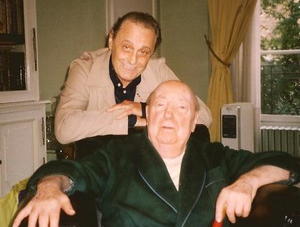 Roland Lesaffre (rear) with Marcel Carné
1927 – Roland Lesaffre was a French actor born on this date (d.2009). He was born in the elevator of the hospital of Clermont-Ferrand. After an adventurous youth, he joined the WWII French Resistance and then the marines and made the acquaintance of actor Jean Gabin.
He became a favorite actor and lover of Director Marcel Carné. He played a large number of secondary roles, recurrently with a number of renowned directors (Carne, Sacha Guitry, Alfred Hitchcock, Henry Decoin , etc.). He won awards for his role in L'Air de Paris, alongside actress Areletty. He retired from the screen in the 1970s.
He had a romantic relationship with Marcel Carné, although he himself qualified this: he believed that the relationship between the filmmaker was "homosensuality" and not homosexuality. He published his autobiography under the title Mataf (1991). He was married from 1956 to 1962 with actress Yoko Tani, who he met in 1955 at Cannes, and then with actress Tania Busselier.
The central boulevard of Clichy in Paris, between Calaincourt Street and the Place Blanche was named in his honor in 2014, Promenade Roland-Lesaffre.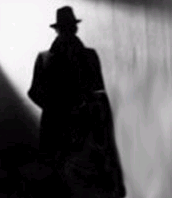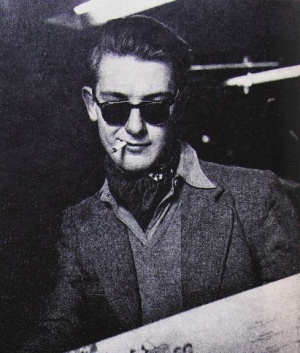 1934 – Born: Jeremy Wolfenden, foreign correspondent and British spy at the height of the Cold War (d.1965).
Wolfenden won a scholarship to Eton where he was known as 'cleverest boy in England', then to Magdalen College, Oxford where he obtained a first in PPE. He was recruited by the Secret Intelligence Service (SIS) before becoming the Daily Telegraph foreign correspondent in Moscow where he indulged in his twin passions for sex and alcohol and was eventually compromised by the KGB.
He struck up friendships with Guy Burgess the British defector, and Martina Browne, the nanny employed by Ruari and Janet Chisholm who were working for SIS and were instrumental in the defection of Oleg Penkovsky – a colonel in Soviet military intelligence - who was responsible for disabusing the Kennedy administration of the myth that the 'missile gap' was in the Soviet's favour.
Wolfenden subsequently came under pressure from both SIS and the KGB while in Moscow and swapped roles with the Telegraph's Washington correspondent, where he married Martina Browne. He died aged 31 in what appeared to be suspicious circumstances in Washington. It was claimed he had fainted in the bathroom, cracked his head against the washbasin and died of a cerebral haemorrhage. It is now thought likely that he died of liver failure brought on by his excessive drinking.
Interestingly, Jeremy Wolfenden was the son of John, later Lord Wolfenden, who chaired the committee responsible for producing the Wolfenden Report in 1957 - which was instrumental in the eventual 'decriminalisation' of homosexuality in England and Wales in 1967.
Before winning his scholarship to Oxford, Jeremy had told his father, John, that he was gay. John Wolfenden was horrified, writing to suggest "we stay out of each other's way for the time being." Thinking homsexuality was 'an abomination', Wolfenden remained ashamed and fearful of his son's homosexuality becoming known even as he - probably unwittingly - made gay history.
In 2007, to mark the 50th anniversary of the Wolfenden Report - more significantly the 40th anniversary of the decriminalisation of homosexuality in England and Wales, BBC Drama commissioned Consenting Adults for BBC Four, a 75-minute special set against the deliberations of the Wolfenden Committee. The drama considers the conflict between Wolfenden, played by Charles Dance, and his son, Jeremy, played by Sean Biggerstaff.


Relocated 2021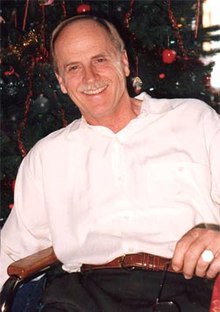 1940 – (James Melville) Mel White is an American clergyman and author. White was a behind-the-scenes member of the Evangelical Protestant movement through the 1960s, 1970s, and 1980s, writing speeches and ghostwriting books for televangelists such as Jerry Falwell, Pat Robertson, and Billy Graham. After years of writing for the Christian right, he came out as gay in 1994.
In 1962, White graduated from Warner Pacific College. That same year, he married his wife Lyla. They had two children, one of whom is the actor/comedian and screenwriter Mike White.
After receiving his B.A. from Warner Pacific College, then graduating with an M.A. in communications from the University of Portland, White followed with graduate work in communications and film at University of Southern California, UCLA, and Harvard. He received his Doctorate of Ministry from, and was a professor of communications and preaching for over a decade at, Fuller Theological Seminary. During this time he also worked as an evangelical pastor.
After their marriage, White admitted to his wife that he had always been attracted to men. He embarked on a long process of attempted cures for his homosexuality, including psychotherapy, prayer, electroconvulsive therapy, and exorcism. None of these techniques changed his homosexuality, and after he attempted suicide, he and his wife agreed to an amicable divorce. His son Mike is bisexual.
In 1984, White began dating Gary Nixon. In 1994, White wrote his autobiography, Stranger at the Gate: To Be Gay And Christian In America, which detailed his former career in the Religious Right and his struggle coming to terms with his sexuality. His ex-wife wrote the foreword to this book.
After coming out, White transferred his clergy credentials to the gay-affirming Metropolitan Community Church.
In 1997, White was awarded the American Civil Liberties Union's National Civil Liberties Award for his efforts to apply the "soul force" principles of Mahatma Gandhi and Martin Luther King Jr. to the struggle for justice for sexual minorities. He founded Soulfource, a gay advocacy group, in 1998.
0n June 18, 2008 White and Nixon were the first same-sex couple legally married at All Saints Episcopal Church (Pasadena, California) following the May 16, 2008 action of the Supreme Court of California overturning the state's ban on same-sex marriage. They currently reside in Lynchburg, Virginia.
In 2009 White appeared on the fourteenth season of The Amazing Race along with his son Mike. The two lasted for seven legs on the race before being eliminated in sixth place in Phuket, Thailand. The team competed once again in The Amazing Race: Unfinished Business, an edition featuring eleven returning teams. They were the second team eliminated and finished in 10th place in Yokosuka, Japan at the end of the third leg.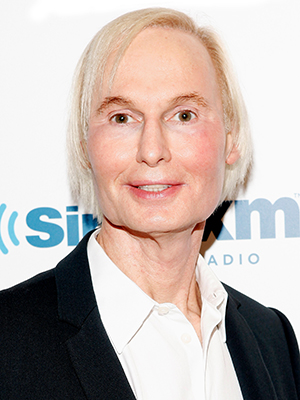 1949 – Fredric Brandt (d.2015) was an American physician, researcher, lecturer, author, and radio host specializing in cosmetic dermatology. Among the first to use botulinum toxin ("botox") and fillers, Brandt was noted for his role in the FDA approval of numerous fillers and botulinum toxins for cosmetic use in the United States.
Brandt, who hosted a radio show called Ask Dr. Brandt on SiriusXM radio and whose celebrity patients included Madonna, was called the "Baron of Botox" by W magazine and "King of Collagen" for using more botox and collagen than any other dermatologist in the world.
Brandt was born into a Jewish familyin Newark, New Jersey, where his parents owned a candy shop. He graduated from Rutgers University in 1971. Brandt then obtained his medical degree from Hahnemann Medical College and completed an internal medicine residency at New York University, followed by a dermatology residency at the University of Miami. He set up a practice in Miami in 1982, and subsequently opened up a practice in New York City in 1998.
When Madonna was living in London, stuck in the midst of a disintegrating marriage and in need of a man who could still make her feel beautiful, it was Dr. Fredric Brandt who jetted across the Atlantic to cheer her up.
Marc Jacobs, Donna Karan, Calvin Klein and Tomas Maier visited his offices. So did Linda Wells, the editor in chief of Allure, the magazine devoted to beauty and trends in plastic surgery and dermatology. "I did anything he let me do," she said. "I trusted him implicitly." Same for the models Naomi Campbell, Linda Evangelista and Stephanie Seymour; the fashion photographers Steven Meisel and Steven Klein; the celebrity hairstylists Garren and Sally Hershberger; and the actress Ellen Barkin.
Fredric Brandt wanted to be famous. He had his own radio show on SiriusXM, kept a publicist on retainer and provided heavily discounted treatments to practically every beauty editor with a business card.
One of his own best clients was himself. His face became a parody of botox users. Several years ago, W magazine published an article about plastic surgeons and cosmetic dermatologists who are their own worst advertisements and cited him as a prime example. The headline was 'C'est Chic le Freak,' and there was a pull quote in the middle of the page that said 'When I see Dr. Brandt's face, it makes me glad I have wrinkles'
In recent years, friends said, they began to see signs that Dr. Brandt was having trouble adjusting to some of the less glamorous aspects of his life, one of which was being a single, 65-year-old gay man. He hadn't been in a relationship since his 20s or 30s.
Brandt hanged himself on April 5, 2015 in his home in Coconut Grove, Florida, aged 65. Police officers responded to a call placed by John Joseph Hupert, a friend who was staying at the Coconut Grove house where Brandt took his own life. According to the police report, Hupert was concerned that the doctor, who was under psychiatric care for depression, was suicidal. His publicist reported that he had been suffering from depression.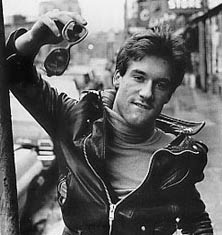 1951 – (Alanson Russell) Lance Loud (d.2001) was an American magazine columnist and new wave rock-n-roll performer. Loud is best known for his 1973 appearance in An American Family, a pioneer reality television series that featured his coming out, leading to his status as an icon in the gay community.
Loud was born in La Jolla, California, while his father was in the United States Navy. He spent his early childhood with his parents and four siblings in Eugene, Oregon, and his later childhood and adolescence in Santa Barbara, California. When he was 14, Loud discovered Andy Warhol, The Factory, and The Velvet Underground. He later became penpals with Warhol.
As a teenager, Loud commandeered the family car and drove some friends to Haight-Ashbury to investigate the San Francisco neighborhood's renowned cultural scene. He hitchhiked to Altamont Raceway Park to attend The Rolling Stones concert, which later became the subject of the documentary Gimme Shelter.
Loud's fame came with An American Family, a documentary of his family's life, which was broadcast in the U.S. on PBS in 1973, drawing 10 million viewers and causing considerable controversy. The show was based in Santa Barbara, California.
Loud moved to New York City, driven by his obsession with the Velvet Underground and everything related to Warhol. He became a regular at Max's Kansas City and attended Charles Ludlam productions at La Mama, with luminaries such as Jackie Curtis (who later became a close Loud family friend) and Holly Woodlawn. Shortly after the series ended, Loud appeared on The Dick Cavett Show, performing with a working version of what would later become the band "Mumps" (which at that point included Delilah, Michelle and Kevin in the line-up), under the name "Loud". He stated at the time that he thought the filmmakers had intentionally edited the series to make him seem obnoxious and grating.
Loud became a gay icon by having his homosexuality revealed to a national audience during the course of the documentary. His sexual orientation became a topic of national controversy and media scrutiny after several appearances on Dick Cavett and other talk shows, but the overwhelmingly positive and grateful feedback the gay community led Loud to embrace this role with passion and flamboyant, often self-deprecating wit
In 2001, Loud entered the Carl Bean hospice in Los Angeles, California, suffering from HIV and hepatitis C. Realizing he was dying, Loud called the Raymonds back to film again, expressing dissatisfaction with the way An American Family ended and how the family members were portrayed in it. His wish was that the Louds be portrayed as the family Loud knew them to be. While in hospice care, he wrote his final article, "Musings on Mortality".
On December 22, 2001, Lance Loud died of liver failure as a result of hepatitis C and a co-infection with HIV. He was 50 years old.
The Loud family was kept in the public eye through two televised PBS updates, both filmed by the original Academy Award winning team of Alan and Susan Raymond.
The last, called Lance Loud! A Death in An American Family, was a poignant depiction of Loud's physical decline, due to a combination of an addiction to crystal meth, which had lasted for over 20 years, and the complications from HIV. It was shown on PBS in January 2003.
Subsequent to the showing of A Death in An American Family, Pat and Bill Loud moved back in together, granting one of their oldest son's last wishes. They live very close to three of their their surviving children in California, with the exception of Kevin, who lives out-of-state with his family.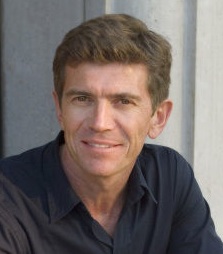 1955 – Stephen McCauley is an American author. He has written six novels to date including Insignificant Others. His best known novel is The Object of My Affection, which was made into a film starring Jennifer Aniston and Paul Rudd.
He was raised outside Boston and went to public schools for his education. Later, as an undergraduate, he attended the University of Vermont and then spent a year in France at the University of Nice. McCauley worked a series of unrelated jobs including teaching yoga, working at a hotel, a kindergarten, and manning an ice cream stand. He worked as a travel agent for many years before moving to Brooklyn in the 1980s. There he attended adult learning centers to take some writing classes before enrolling in Columbia University's writing program. The writer Stephen Koch gave him the idea to begin work on his first novel.
His stories, articles and reviews have appeared in
Gay Community News, Bay Windows, the Boston Phoenix, the New York Times Book Review, Vogue, House & Garden, Details, Vanity Fair, Harper's
, and T
ravel and Leisure
, among others. His first novel,
The Object of My Affection
, was adapted in 1998 into a Hollywood feature film; his fourth,
True Enough
, was adapted in France in 2007 with the title
La Verite ou Presque
. His 1992 novel
The Easy Way Out
was adapted into the feature film
L'Art de la fugue
, directed by
Brice Cauvin
.
His riveting, knockout piece, "Let's Say," about his uneasy truce with his difficult, antigay father in was included in Patrick Merla's collection Boys Like Us.
A couple as handsome as they are talented, McCauley and longtime partner Sebastian Stuart (who won the Ferro-Grumley Award for The Hour Between) live in Cambridge, Massachusetts.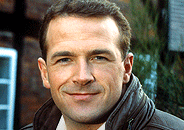 1957 – Martin Smith was a Scottish actor and singer (d.1994). After various appearances on television and in the film Yanks (1979), Martin Smith is best known for his appearance as Micky Doyle in long-running British TV soap Crossroads from 1985-86.
Martin Smith was also a fine singer and made appearances in the West End in musical theatre, including Che in Evita. He featured on a Cole Porter tribute album A Swell Party - A Celebration of Cole Porter (1992) singing Love For Sale as it was originally intended to be sung - by a man.
In the 1980s Smith became a member of The Salvation Army at Regent Hall Corps in Oxford Street, London. He played several concerts for the organisation and recorded the song "I'll Make My Promises" for the soundtrack album for the Gowans/Larsson musical "The Blood of the Lamb" (released by SP&S in 1981).
He also appeared in a production of William Finn's March of the Falsettos at the Library Theatre in Manchester in 1987. He recorded several concerts with BBC Concert and Radio Orchestras and was a regular vocalist on the BBC Radio2 shows Songs From the Shows and Friday Night Is Music Night in the 1980s.
In 1988 he starred in a new London production of Noël Coward's operetta Bitter Sweet. He played Marius and later Jean Valjean in Les Misérables, the Phantom in Phantom of the Opera and Stine in City of Angels in London, as well as creating original roles such as 'Adam' in Children of Eden.
As a composer Smith wrote scores for several musicals, including King and La Tosca. He recorded several songs from those shows on a solo album a year before his death.
Martin Smith died from an AIDS-related illness in 1994. A year after his death, a gala tribute concert was held in his honour at the Prince Edward Theatre. The concert featured Michael Ball, Dora Bryan, Lily Savage, John Barrowman, Sally Ann Howes, Ruthie Henshall, and many other stars.

1969 – A group of New York drag queens organize a memorial wake for the next night for Judy Garland who had died several days earlier. Little did they know the wake would turn into a riot - Stonewall - and give birth to the gay liberation movement .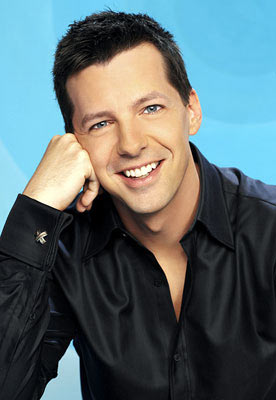 1970 – Born: Sean Hayes, American actor and comedian. He is best known for his role as Jack McFarland in the NBC sitcom Will & Grace, for which he won an Emmy Award, four SAG Awards, one American Comedy Award, and six Golden Globes nominations.
Hayes was born in Chicago, Illinois. He is of Irish descent and was raised as a Roman Catholic. After graduating from high school, Hayes attended Illinois State University. There he studied piano performance and conducting, with a special focus on the music of Mozart, but he left before graduating. He worked as a classical pianist, and served as a music director at the Pheasant Run Theater in St Charles, Illinois. He also composed original music for a production of Antigone at the Steppenwolf Theatre Company in Chicago.
Hayes moved to Los Angeles in 1995, where he found work as a stand-up comedian, stage actor and as an actor in television commercials.
As a teenager, Hayes was an extra in Winona Ryder's first movie, Lucas (1986), which was filmed at his high school. He made his professional film debut in the independent film Billy's Hollywood Screen Kiss (1998), which brought him wide attention and caught the attention of executives who cast him in the NBC comedy television series Will & Grace, as Jack McFarland, a flamboyantly gay, frequently unemployed actor. The show became a long-running hit and Hayes's performance as Jack earned him seven consecutive Emmy Award nominations (2000-06) as Outstanding Supporting Actor in a Comedy Series.
Hayes's success led to film appearances in Cats & Dogs (2001), as Jerry Lewis in the made-for-TV movie Martin and Lewis (2002), Pieces of April (2003), The Cat in the Hat (2003) and Win a Date With Tad Hamilton! (2004). He has also guest starred in several television programmes, including Scrubs and 30 Rock.
In 2007, Hayes was featured in a major role as Matthew, also called Thomas, in Rob Reiner's film The Bucket List, starring Jack Nicholson and Morgan Freeman. On July 5, 2008, Hayes made his New York stage debut as Mr Applegate/Devil in New York City Center's Encores! production of Damn Yankees opposite Jane Krakowski and Cheyenne Jackson.
Hayes has played gay and straight characters during his time as an actor, and will be playing a bisexual character in the upcoming BiCoastal, but he had long refused to discuss his sexual orientation in public until he finally revealed he was gay in an interview for The Advocate magazine in March 2010. Answering the charge he had skirted the issue of his sexuality for too long, Hayes was reported as saying,
'I feel like I've contributed monumentally to the success of the gay movement in America, and if anyone wants to argue that, I'm open to it.'
Whilst no one thought that Sean Hayes wasn't gay, his refusal to discuss the issue whilst playing a mainstream TV role that to many seemed to perpetuate negative gay sterotypes as much as it brought gay characters into the mainstream was often seen as annoying and disappointing.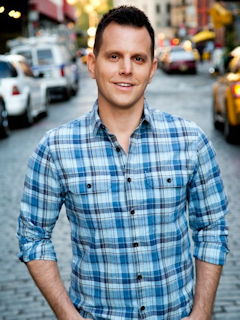 1976 – Dave Rubin is an American stand-up comedian, talk show host, and television personality. He is the creator and host of political comedy talk show Rubin Report, part of RYOT and formerly of the The Young Turks Network. He previously hosted the The Six Pack podcast and radio show on Sirius XM Radio and TYT140, a scripted take on daily news stories in 140 seconds or less.
Rubin was born in Brooklyn, New York City, New York, spent his adolescence in Syosset, New York, and resided for thirteen years on the Upper West Side in Manhattan, New York City, New York. He is of Jewish descent and the oldest of three siblings. In 1994, Rubin graduated from Syosset High School. In 1998, he earned a bachelor's degree in Political Science from Binghamton University, in Vestal, New York. After nine years working as a comedian, Rubin publicly came out in 2006. As of December 2014, Rubin is engaged to producer David Janet.
Rubin was the co-founder of several successful comedy clubs in New York City, New York, including Comedy Company NY in Times Square, Midtown Manhattan, Manhattan. He was the co-creator of the public-access television series The Anti-Show, which was filmed at NBC Studios in 30 Rockefeller Plaza, Midtown Manhattan, Manhattan. Following his success in the comedy scene, he was the host of two popular podcasts, Hot Gay Comics and The Ben and Dave Show. Both podcasts were turned into a television series on the here! television network. Rubin co-created and co-hosted a new podcast in May 2009, The Six Pack, which went on to become a top podcast on iTunes.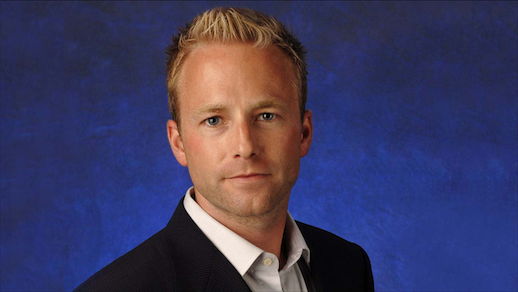 1978 – Seth Doane who was born on this date in Harwich, Massachusetts, is a Rome-based correspondent for CBS News. He is the son of Paul Doane who is former Massachusetts Republican State Senator. In addition to traveling with Pope Francis and covering the Vatican, Doane's reportage also includes coverage of the wider region from earthquakes in Italy, to terrorist attacks in France, to the refugee and migrant crisis in the waters of the Mediterranean.
From April 2013 until March 2016, Doane was based in Beijing, China covering events in Asia for CBS News. Since April 2016, the Peabody Award-winning journalist has been based in Rome and covering Europe, Africa, and the Middle East for CBS News.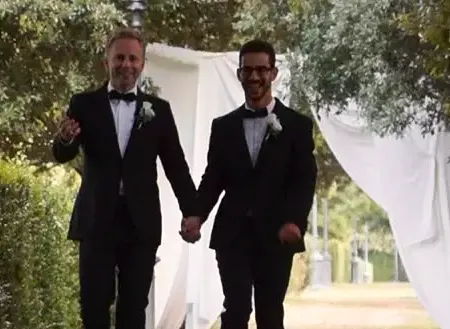 On September 6, 2014, Doane married his Italian boyfriend Andrea Pastorelli  in a same-sex civil ceremony in Arezzo, Italy at the Villa Rosa Badia Di Campoleone.
In March 2020, Doane tested positive for COVID-19. He was one of the first news correspondents to go public with his HIV status and told Gayle King on CBS This Morning that he did so to raise awareness, combat stigma and help people recognize symptoms.

1990 – South Africa: The first Pride parade on the African content takes place in Johannesburg. Eight hundred people attend. It is organized by the Gay and Lesbian Organization of the Witwatersrand (GLOW) which was launched by gay anti-apartheid activist Simon Nkoli in 1988. He said, "I cannot be free as a Black man if I cannot be free as a gay man." He died of AIDS in 1998 in Johannesburg.

2003 – The U.S. Supreme Court overturns Bowers v. Hardwick, the 1986 case that upheld sodomy laws. The Supreme Court strikes down a Texas anti-sodomy law, reversing an earlier decision made in another case 17 years earlier that Justice Anthony Kennedy said "demeans the lives of homosexual persons." Gays are "entitled to respect for their private lives," Kennedy said for the court, according to The New York Times. "The state cannot demean their existence or control their destiny by making their private sexual conduct a crime."


2006 – On the 25th anniversary of Toronto's Pride Week, Bill Blair becomes the first chief of police in the city's history to participate in the parade.

2013 – The US Supreme Court in a 5-4 decision, struck down the Defence of Marriage Act (DOMA), declaring it unconstitutional, clearing the way for equal benefits for legally marriage same-sex partners.

2013 – The US Supreme court rejected the appeal against the lower Court of Appeal ruling that California's Proposition 8 is unconstitutional. The lower courts ruling stands, opening the gate for resumption of same-sex marriages in California.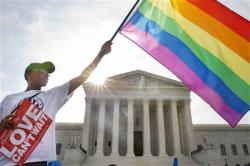 2015 – The Supreme Court declared that same-sex couples have a right to marry anywhere in the United States, a historic culmination of decades of litigation over gay marriage and gay rights generally.
Gay and lesbian couples already could marry in 36 states and the District of Columbia. The court's 5-4 ruling means the remaining 14 states, in the South and Midwest, will have to stop enforcing their bans on same-sex marriage.
A court in Atlanta issued marriage licenses to three same-sex couples Friday morning, soon after the decision.
Gay rights supporters cheered, danced and wept outside the court after the decision, which put an exclamation point on breathtaking changes in the nation's social norms.
Justice Anthony Kennedy wrote the majority opinion, just as he did in the court's previous three major gay rights cases dating back to 1996. It came on the anniversary of two of those earlier decisions.
"No union is more profound than marriage," Kennedy wrote, joined by the court's four more liberal justices.
As he read his opinion, spectators in the courtroom wiped away tears after the import of the decision became clear. One of those in the audience was James Obergefell, the lead plaintiff in the Supreme Court fight.
Outside, Obergefell held up a photo of his late spouse, John, and said the ruling establishes that "our love is equal." He added, "This is for you, John."
President Barack Obama placed a congratulatory phone call to Obergefell, which he took amid a throng of reporters outside the courthouse.
Speaking a few minutes later at the White House, Obama praised the decision as "justice that arrives like a thunderbolt." He said it was an affirmation of the principle that "all Americans are created equal."

JUNE 27 →
[{(o)}]|[{(o)}]|[{(o)}]|[{(o)}]| [{(o)}]|[{(o)}]