September 5
[{(o)}]|[{(o)}]|[{(o)}]|[{(o)}]| [{(o)}]|[{(o)}]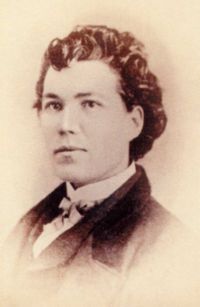 Sarah Edmonds as Frank Thompson

1898 – Died: Sarah (Emma) Edmonds (b.1841), was a Canadian-born American woman who is known for serving with the Union Army during the American Civil War.
During the Civil War, she enlisted in the 2nd Michigan Infantry on her first try, disguising herself as a man named "Franklin Flint Thompson." She felt that it was her duty to serve her country and it was truly patriotic. Extensive physical examinations were not required for enlistment at the time, and she was not discovered. She at first served as a male field nurse, participating in several campaigns under General McClellan, including the First and Second Battle of Bull Run, Antietam, the Peninsula Campaign, Vicksburg, and others.
Frank Thompson's career took a turn before the war when a Union spy in Richmond, Virginia was discovered and went before a firing squad, and a friend, James Vesey, was killed in an ambush. She took advantage of the open spot and the opportunity to avenge her friend's death. When she went before the committee for an interview as Franklin Thompson, Edmonds impressed the committee and the position was given to her.
Traveling into enemy territory in order to gather information required Frank Thompson to come up with many disguises. One disguise required Edmonds to use silver nitrate to dye her skin black, wear a black wig, and walk into the Confederacy disguised as a black man by the name of Cuff. Another time she entered as an Irish peddler woman by the name of Bridget O'Shea, claiming that she was selling apples and soap to the soldiers. Yet another time she was "working for the Confederates" as a black laundress when a packet of official papers fell out of an officer's jacket. When Thompson returned to the Union with the papers, the generals were quite pleased. Another time, she worked as a detective in Maryland as Charles Mayberry, finding an agent for the confederacy.
Edmonds' career as Frank Thompson came to an end when she contracted malaria. She left and abandoned her duty in the military for fear that if she went to a military hospital she would be discovered. Rather than return to the army under another alias or as Frank Thompson, risking execution for desertion, she decided to serve as a female nurse at a Washington, D.C. hospital for wounded soldiers run by the United States Christian Commission.
Her fellow soldiers spoke very highly of her for her military service, and even after her disguise was discovered, they still believed that even as a woman she was a good soldier. She was very determined and always eager to fight and take down the enemy. She was referred to as a "frank and fearless" soldier and was active in every battle her regiment faced.
In 1864 Boston publisher DeWolfe, Fiske, & Co. published Edmonds' account of her military experiences as The Female Spy of the Union Army. One year later her story was picked up by a Hartford, CT publisher who issued it with a new title, Nurse and Spy in the Union Army. It was a huge success, selling in excess of 175,000 copies. In 1867, she married L. H. Seelye, a Canadian mechanic with whom she had three children.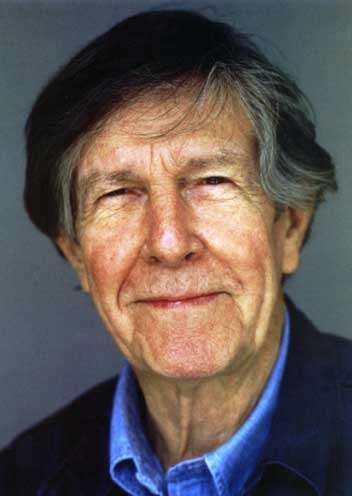 1912 – John Cage (d.1992) was an American experimental music composer, writer and visual artist. He is most widely known for his 1952 composition 4'33". The score instructs the performer not to play the instrument during the entire duration of the piece—four minutes, thirty-three seconds—and is meant to be perceived as consisting of the sounds of the environment that the listeners hear while it is performed.
Cage was an early composer of what he called 'chance music' — music where some elements are left to be decided by chance; he is also well known for his non-standard use of musical instruments and his pioneering exploration of electronic music. His works were sometimes controversial, but he is generally regarded as one of the most important composers of his era, especially in his raising questions about the definition of music.
Along with painters Robert Rauschenberg and Jasper Johns, John Cage and his life partner choreographer, Merce Cunningham became a part of a circle of young gay artists whose ideas challenged the macho, self-expressive Abstract Expressionists, who were to dominate the 1950s New York art scene. They developed an alternative creative process that has become the hallmark of post-modern art.
On August 11, 1992, while preparing evening tea for himself and Cunningham, Cage suffered another stroke. He was taken to the nearest hospital, where he died on the morning of August 12 The composer's death occurred only weeks before a celebration of his 80th birthday organized in Frankfurt by the composer Walter Zimmermann and the musicologist Stefan Schaedler was due to take place. However, the event went ahead as planned, including a performance of the Concert for Piano and Orchestra by David Tudor and Ensemble Modern. Merce Cunningham outlived his partner by 17 years, and died peacefully in his home, of natural causes, on July 26, 2009.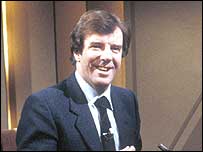 1934 – (Frederic) Russell Harty (d.1988) was an English television presenter with a distinctly camp turn of phrase; his name has been used as Cockney rhyming slang for party.
Born in Blackburn, he attended Queen Elizabeth's Grammar School on West Park Road and Exeter College, Oxford, where he obtained a first-class degree in English Literature. He worked as an English teacher at Giggleswick School, where one of his pupils was Richard Whiteley, the future TV presenter and host of Countdown.
He got his first break in 1970 presenting the arts programme Aquarius that was intended to be London Weekend Television's response to the BBC's Omnibus. A memorable programme involved a typically bizarre clash of cultures as Harty travelled to Italy to unite on camera the singer Gracie Fields and the classical composer William Walton. In 1973 he was given his own series Russell Harty Plus on ITV, which placed him against the BBC's Parkinson, conducting lengthy celebrity interviews. The show lasted until 1981.
In 1983, Harty moved to the BBC with an early evening celebrity chat show, which gained some notoriety when he was smacked in the face by Grace Jones on live TV. He had offended Jones by turning away from her to talk to another guest. This show was cancelled in 1985.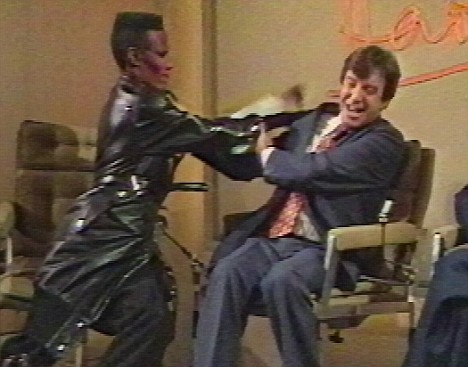 Harty began working on a new series Russell Harty's Grand Tour for the BBC in 1987; the few interviews completed before his death included Salvador Dalí and Dirk Bogarde. His partner from 1982 to 1988 was the novelist Jamie O'Neill.
Russell Harty died of AIDS related Hepatitis B in 1988 in London.
Russell Harty was a good friend of the playwright Alan Bennett, who talks about him and his family, in relation with Bennett's own family, in the episode 'Written on the Body', taken from his semi-biography Untold Stories.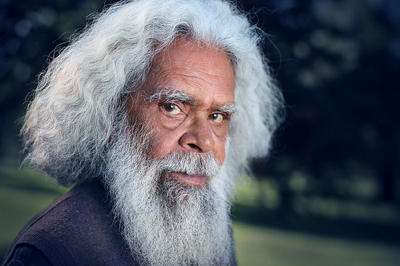 1943 – Jack Charles is an Australian Aboriginal actor, musician, potter, and Aboriginal elder. His screen credits include the landmark Australian film The Chant of Jimmie Blacksmith (1978), Bedevil (1993), Blackfellas (1993), Tom White (2004) and Pan (2015), among others.
Born to a Bunurong mother and Wiradjuri father at Cummeragunja Mission on the Murray River, Charles was a victim of the Australian Government's forced assimilation programme which took him from his mother as an infant. He was long of the mistaken belief he was a Koori. He was raised in the Salvation Army Boys' Home at Box Hill, suburban Melbourne, where he was the only Indigenous child and where he was sexually abused.
Charles received a Christian education from the Salvation Army and continued to observe Christian values into his 70s when he told Geraldine Doogue,
"I've employed my Aboriginality as my religion now ... instead of God, I've found that the Godhead is within me ... I'm solely directed towards making an accommodation between Black and White."
In 1970, the director of the New Theatre Melbourne, Dot Thompson, cast Charles in Athol Fugard's The Blood Knot and this was followed by a non-Aboriginal role in Rod Milgate's A Refined Look at Existence.
Charles was involved in establishing Indigenous theatre in Australia. In 1971 he co-founded, with Bob Maza, Nindethana ('place for a corroboree') at The Pram Factory in Melbourne, Australia's first Indigenous theatre group. Their first hit play was called Jack Charles is Up and Fighting, in 1972, and included music composed by him.
In 1972, Charles auditioned for the role of the Australian Indigenous title character in the television show Boney but was declined because they were "looking for an actor with blue eyes". The job went to New Zealand-born James Laurenson who wore black face make-up for the role.
In 1974, Charles played Bennelong in the Old Tote Theatre production of Michael Boddy's Cradle of Hercules which was presented at the Sydney Opera House as part of its opening season. Also in the cast was a very young David Gulpilil.
Stage work includes Jack Davis' play No Sugar for the Black Swan Theatre Company in Perth.
Charles was the subject of Amiel Courtin-Wilson's 2008 documentary Bastardy which followed him for seven years. The film's tagline describes him as: "Addict. Homosexual. Cat burglar. Actor. Aboriginal." The film was in the official selection for Singapore, Melbourne, Sydney and Sheffield Doc/Fest film festivals.
In 2010, Ilbijerri Theatre staged Charles' one-man show called Jack Charles v The Crown at the Melbourne Festival. Charles was nominated for a Helpmann Award for Best Male Actor in a Play for this performance. Jack Charles v The Crown has since toured across Australia and internationally. In 2012, he performed in the Sydney Festival production I am Eora.
Charles played Chief Great Little Panther in Joe Wright's 2015 film Pan.
In 2016, Charles played the role of Uncle Paddy in two episodes of the television horror drama series Wolf Creek. Also in 2016, he played the role of Uncle Jimmy in the television drama series Cleverman.
Charles was for most of his adult life a petty thief and drug addict. He was sentenced to imprisonment 22 times and convicted twice as many times, mainly for burglary and drug offences. His first conviction was entered when he was 17 for the offence of leaving his foster home without the permission of his foster parents. In breach of a forced assimilation order, driven by curiosity about his race, he had been seeking out members of his tribe in Melbourne. He later commented, half-jokingly, that his cat burglary endeavours in luxury districts such as Kew, Melbourne, were rent-collecting missions on Aboriginal land.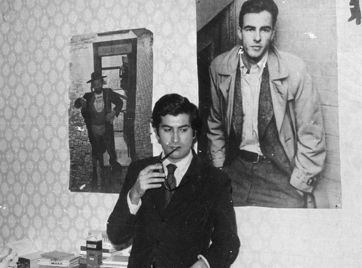 1944 – Dario Bellezza (d.1996) was an Italian poet, author and playwright. He won the Viareggio, Gatto, and Montale prizes.
Dario Bellezza was born in Rome on 5 September 1944. After his studies at a liceo classico in his native city, from which he graduated in 1962, he worked for several Italian literary and poetry magazines: Paragone, Carte segrete, Bimestre, Periferia, and Il Policordo. He was known for various poetry collections and novels reflecting his homosexuality. He first came to prominence in the mid-1960s as a contributor to the periodical Nuovi argomenti, where he proved himself to be what a Times Literary Supplement critic called "a very young and very daring poet who unashamedly describes his homosexual exploits."
Bellezza entered the Roman intellectual world in the mid-1960s when, thanks to literary critic and writer Enzo Siciliano, he became increasingly close to Sandro Penna, Aldo Palazzeschi, Attilio Bertolucci, Alberto Moravia, and Elsa Morante, who eventually became a confidant.
The difficulty of homosexual life in Rome, particularly the requirements of secrecy and clandestinity of the love act, is a staple of Bellezza's poetic and prosaic writing. In Bellezza's first novel, L'innocenza (Innocence, 1971), Nino, the protagonist, consciously chooses the perdition and corruption of a living homosexual hell. In Bellezza's infernal world, homosexuality can be nothing else but prostitution and neurotically masochistic obsessions: in Lettere da Sodoma (Letters from Sodom, 1972), his conclusion is that everything is Hell and that the only salvation is the systematic refusal of the self.
He died of AIDS in Rome on 31 March 1996. That year, a poetry prize was established in his name.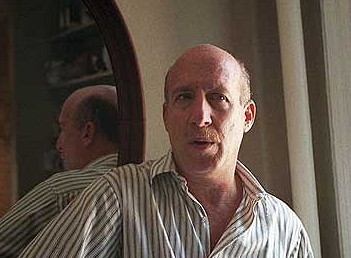 1946 – Stephen Crohn (d.2013) was known as "the man who can't catch Aids" despite being a homosexual with a high-risk lifestyle in Los Angeles; as a result was able to make a huge contribution to scientific understanding of the disease.
In March 1982 Crohn's partner, Jerry Green, with whom he ran a restaurant, became one of the first people to die of Aids, though the disease only acquired its name six months later. In the years that followed, Crohn lost, by his own estimation, more than 70 friends to the disease. Yet even though he had taken no special precautions and remained sexually active, every time he went to be tested the results were negative.
In the early 1990s his case came to the attention of Bill Paxton, a scientist at the Aaron Diamond AIDS Research Center in New York who had been looking for gay men who seemed resistant to infection. With a colleague, David Ho, Paxton exposed Crohn's blood cells, and those of another volunteer, to HIV.
HIV causes infection by penetrating a type of white blood cell known as CD4, locking into two receptors on the outside of the cell. But the scientists found that the HIV, even at concentrations thousands of times higher than those that occur outside the laboratory, could not penetrate Crohn's CD4 cells. The reason, they discovered, was that one of the cell receptors, known as CCR5, was genetically flawed, preventing HIV from getting through. The variation, which appears to have no other effect on health, positive or negative, is known as the "delta 32 mutation" and occurs in less than one per cent of the population.
The research into Crohn's immune system led to the development of maraviroc, a drug that blocks the CCR5 receptor and is used to prevent infection spreading in patients who have contracted the virus. In 2006, an Aids patient in Germany was pronounced cured after receiving bone marrow transplants from a donor who had the mutation.
In later life he ran support groups for Aids patients and made sure that the lives of all his friends who had died of the disease were commemorated with a square on the huge Aids Memorial Quilt, which now consists of more than 48,000 hand-sewn panels.
But despite his contribution to scientific knowledge about Aids, according to his family Crohn suffered from an all-consuming sadness about friends who had died. On August 24 2013 he took his own life.
Crohn was the great-nephew of Burrill Crohn, a gastroenterologist who first described the inflammatory bowel disease that carries his name. Crohn himself felt that by helping scientists he was carrying on the family tradition.

1946 – For two decades, Freddie Mercury (d.1991) was the front man of one of the world's most popular rock groups, Queen. That he was able to maintain this status in spite of continued critical hostility, his flamboyant gender-bending androgyny, and questions about his sexuality is one of the more impressive accomplishments in the history of popular culture. He was also, arguably, the first Indian international rock star.
Freddie Mercury was born Farrokh Bulsara in the British colony of Zanzibar, East Africa (now part of Tanzania) on September 5, 1946. His parents were Parsees and his father was employed in the British civil service. From the age of six, he attended boarding school near Bombay, India, and showed a considerable aptitude for art and music. It was here that he was first called "Freddie" by his classmates.
In 1964, the Bulsara family moved to England, where Freddie completed his education, graduating in 1969 from the Ealing College of Art with a diploma in art and design. Around this time he adopted the surname Mercury, naming himself after the messenger of the gods.
After college, he sold second-hand clothes in trendy flea-markets, where he met future bandmate Roger Taylor, and joined Ibex, a local London group, as a vocalist and keyboard player. In 1970, he formed a group with Taylor and Brian May (joined in 1971 by John Deacon) for which he chose the provocative name Queen.
Even in its earliest days the band was notable for its stage performances, replete with light shows, flamboyant costumes, theatrics, and loudness. The group's first album, Queen (1973), was greeted with critical hostility, as were its early live performances, a result, no doubt, of the implied queerness of its name and Mercury's effeminate, long-haired, heavily made-up stage persona. The group's breakthrough came the following year with the album Queen II, and the first big hit single, "Killer Queen," a tribute to a fabulous individual "just like Marie Antoinette" who may or may not have been female.
Within a year Queen was one of the most popular bands in the world and began a series of world tours that drew crowds often in the hundreds of thousands. From 1975 until 1983, Queen enjoyed a long string of successful best-selling recordings. These include "Bohemian Rhapsody" from the album A Night at the Opera (1975), "Somebody to Love" from A Day at the Races (1976), "We Will Rock You" and "We Are the Champions" from News of the World (1977), "Bicycle Races" and "Fat-Bottomed Girls" from Jazz (1978), "Crazy Little Thing Called Love" and "Another One Bites the Dust" from The Game (1979), and "Under Pressure" (with David Bowie, 1981).
In 1980, Mercury underwent a drastic image change that demonstrated his talent as a gender shape-shifter. Gone was the flaming, campy, "queeny" persona, replaced by a macho one, mustachioed, muscular, short-haired, and attired in an undershirt and tight-fitting jeans (he had an impressive package). The new image was not without its own camp elements, which many fans took at face value.
Mercury nevertheless continued to confound gender assumptions, performing with the rest of the band in complete drag - and full moustache - in the video I Want to Break Free (1984).
During his lifetime, Mercury made no definitive statements about his private life or sexuality, leaving the interpretation of his public image up to the individual imagination; accordingly, many fans were shocked when events made some sort of revelation inevitable. In Queen's early years, Mercury lived with a woman, Mary Austin, with whom he subsequently maintained a significant friendship; in 1980, however, they separated, and he lived thereafter until his death with Jim Hutton, supposedly his gardener.
On November 23, 1991, Freddie Mercury released a statement confirming that he suffered from AIDS, as had long been rumored. He died the following day.
Jim Hutton, who himself was tested HIV-positive in 1990, lived with Mercury for the last six years of his life, nursed him during his illness and was present at his bedside when he died. Hutton claimed that Mercury died wearing a wedding band that Hutton had given him. Hutton died from cancer on 1 January 2010.
Since Mercury's death, many tributes, including an AIDS benefit concert and a ballet choreographed by Maurice Béjart, have honored him. In 2001, he was posthumously inducted as a member of Queen into the Rock and Roll Hall of Fame.
Bohemian Rhapsody is a 2018 biographical drama film about Freddie Mercury. It follows the singer's life from the formation of the band up to their 1985 Live Aid performance at the original Wembley Stadium. It was directed by Bryan Singer from a screenplay by Anthony McCarten. It stars Rami Malek as Mercury, with Lucy Boynton, Gwilym Lee, Ben Hardy, Joe Mazzello, Aidan Gillen, Tom Hollander, Allen Leech, and Mike Myers in supporting roles. Queen members Brian May and Roger Taylor served as consultants.
Bohemian Rhapsody received numerous accolades, including a leading four awards at the 91st Academy Awards for Best Actor (Malek), Best Film Editing, Best Sound Editing and Best Sound Mixing; it was also nominated for Best Picture. The film also won Best Motion Picture – Drama at the 76th Golden Globe Awards, and was nominated for the Producers Guild of America Award for Best Theatrical Motion Picture and BAFTA Award for Best British Film, while Malek won the Golden Globe, Screen Actors Guild and BAFTA for Best Actor.

1954 – UK: Violet Ellen Katherine Jones pretends to be a man so she may marry Joan Lee in the Catholic Church. Rev. D. Clark performs the ceremony. Rev. Clark informs the Bishop of his suspicions. The couple is caught and taken to court where they admit to making false statements on their marriage license. They're fined £25.

1957 – George Curley, son of former Boston Mayor and Massachusetts Governor James Curley, is arrested on a same-sex sex charge.

1967 – The television series N.Y.P.D. includes gay characters. N.Y.P.D.was the first television series in America to air an episode with a gay theme. It was entitled "Shakedown." The police track down a man blackmailinggay men, prompting several suicides.

1968 – The Iowa Supreme Court upholds the conviction of a prisoner for consensual sodomy with his cell mate. The prisoner was sentenced only to concurrent time he already was serving, making it unclear why he was even prosecuted.

1969 – Unitarian Universalist minister James Stoll is the first ordained minister in the U.S. or Canada to publicly come out. He did so at the annual Continental Conference of Student Religious Liberals on September 5, 1969 at the La Foret Conference Center near Colorado Springs, Colorado. He led the effort that convinced the Unitarian Universalist Association to pass the first-ever gay rights resolution in 1970. He founded the first counseling center for gays and lesbians in San Francisco. In the 1970s he established the first hospice on Maui. He was president of the San Francisco chapter of the American Civil Liberties Union in 1990s. He died at the age of 58 from complications of heart and lung disease, exacerbated by obesity and a lifelong smoking habit.

1970 – Colombia reduces the penalty for consensual sodomy from a felony to a misdemeanor.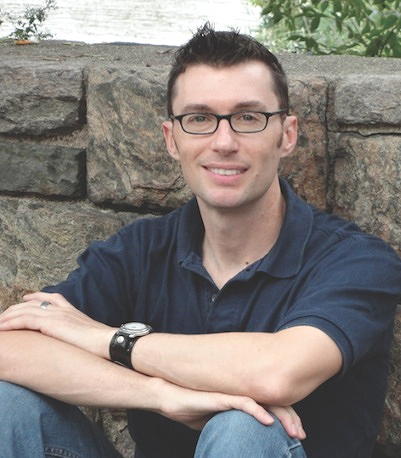 1970 – Michael Akers is an American film director, producer, screenwriter and editor. In 2000, he founded United Gay Network (UGN) with his longtime partner, Sandon Berg. Most of his films are LGBT-related.
In forming United Gay Network, Michael Akers and Sandon Berg aspired not only to promote the genre of "gay films" but also tried to bring gay cinema closer to mainstream cinema. As Berg stated in a radio interview, he and Akers were striving to create stories that would crossover to a broader audience. Akers has released his films through the company.
Nowhere is this more apparent than in their latest production Morgan. Berg said: "I think Morgan is a very universal story. I don't think it is gay-specific at all." Morgan is the story of a gay and paralyzed young athlete that defies stereotypes and pushes through boundaries. The lead character, a young athlete, named Morgan Oliver, is first seen wallowing in a state of depression, drowning his sorrows in beer as he watches bicycle racing (the sport that at once defined his sense of purpose and drove him to his catalytic accident) on television.
Morgan achieves a depth that even exceeds UGN's first long feature film, Gone, But Not Forgotten, itself considered ground breaking and to have set the pace for normalizing the portrayal of gay people in cinema.
Each successive film produced by UGN has increasingly pushed limits and expanded the range of Akers and Berg as filmmakers. With each film, Akers and Berg shook things up. Matrimonium was a unique foray into comedy that played to reality show hype, while addressing homosexual stereotypes, and Phoenix was yet another step, into the suspenseful and mysterious journey of two jilted lovers following the trail of their mutual betrayer.

1970 – Columbia "decriminalizes" "homosexual behavior" changing it from a felony to a misdemeanor. The maximum penalty is reduced to "only" three years.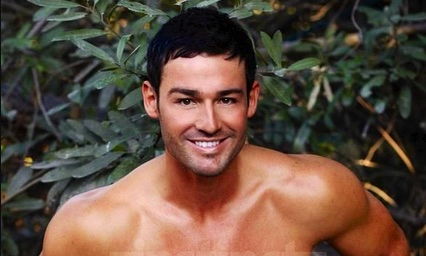 1975 – (John Paul) J. P. Calderon is an American professional volleyball player, model and reality television participant. In 2006 he was a contestant on Survivor: Cook Islands, the 13th season of the CBS reality show.The following year he became a regular member of the The Janice Dickinson Modeling Agency. As part of his experience he was the February 2007 cover guy of Instinct magazine. He did so again in 2008, becoming the first man to be featured on their cover twice.
He attended California State University, Long Beach, where he played for the school's nationally ranked men's volleyball team. His family is into soccer so it was a point of stress from his father that he played volleyball instead, until he started winning volleyball awards. From a young age he wanted to be a model but got negative feedback from his dad, so he stuck to sports instead. His dad was won over when Calderon modeling career took off.
Calderon was offered a pro volleyball opportunity in 1998 in Barcelona, Spain but decided instead to finish his degree. He was offered the assistant coach position for the Long Beach State University women's volleyball team. He did so for five years, first as a volunteer for three years, then paid for two more years. He credits the time as learning the differences between men's and women's volleyball styles. At the same time he got a local club coaching position at Mizuno Long Beach Volleyball Club, and began coaching for Junior Olympics. He began his professional volleyball career in 2004 and became a nationally ranked Association of Volleyball Professionals player.
He credits his time on Survivor: Cook Islands (2006) with opening his eyes than he controlled his choices and had options.
In 2007, Calderon began his modeling career when he joined the cast of The Janice Dickinson Modeling Agency. Stating that he had for a long time wished to model, Calderon came to an open casting call held in the first episode of Season 2. He said the process, and Dickinson, were fun, but they did have the models drop their modesty, and be naked, and in their underwear constantly. He was called back in episode 2 and eventually signed to the agency.
The third episode saw Calderon being approached to appear on the cover of Instinct magazine, a publication that requires that its male cover models be openly gay. Although he had been "in and around gay people and nightlife", he had not publicly talked about his sexuality to the media. He knew he was gay since high school, and even worked as a bartender in a gay bar. There were rumors that he was gay but he avoided addressing them, as well as invitations to interview with gay publications like Instinct.
Calderon came out as gay on his appearance in the February 2007 issue, their swimsuit edition, which included the cover, a photo spread, feature story and interview. He said he wasn't pressured into the decision and was supported by Dickinson. "All of my fears, everything that I was scared of… it was the complete the opposite," he said. "It's been great. All of my friends, the volleyball world, absolutely everybody has been supportive. No one has shut me out."
Dickinson, in particular, has been very supportive, and told him that her role models for being tough, driven and ambitious, were all gay men. He credits his coming out as helping him reprioritize his life. In 2009, he was also a cover model for the popular French gay magazine Têtu.
In 2012 Calderon modelled for the NOH8 Campaign created by celebrity photographer Adam Bouska, to oppose California Proposition 8 which attempted to change California's constitution to forbid same-sex marriage. Proposition 8 was ruled unconstitutional in 2010, and confirmed in June 2013 following the conclusion of appeals in Hollingsworth v. Perry at the U.S. Supreme Court.
In October 2013 he became engaged to his longtime boyfriend Julz Heaney, in Hawaii. They have been together since 2007.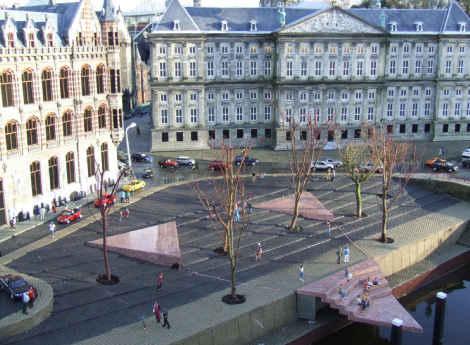 1987 – The Homomonument, dedicated on September 5, 1987, this gay monument is located in down-town Amsterdam, near Westerkerk and the Anne Frank Huis. This monument is a symbol against denial, suppression and discrimination. The monument also commemorates those who were victims of persecution because of their sexual orientation.
The planners also wanted to make sure that the monument didn't just honor those whom the Nazis killed, but gay and lesbian men and women who have suffered throughout the centuries and who continue to suffer today. Discrimination and oppression of the LGBT community is hardly a recent phenomenon and people still suffer greatly around the world for no reason other than being born the way they were born. The Homomonument recognizes and honors this.
As it is meant to honor both men and women, the designers were adamant that the monument wouldn't be tucked away in some dark alley, the location of which known only by those with a keen interest. It was always the intention of developers to place the monument in a central spot in Amsterdam, and the Westermakt is indeed the perfect location.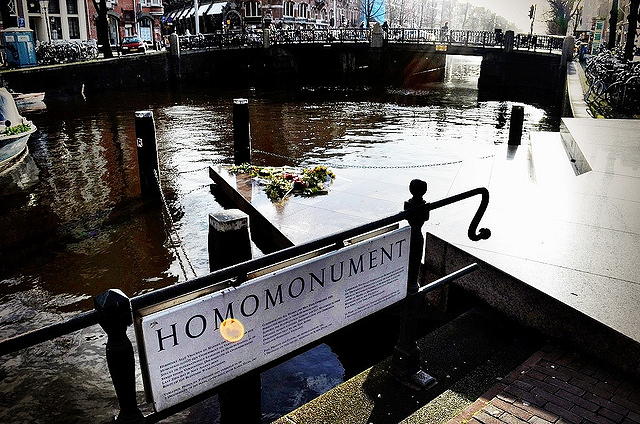 The monument was designed by Karin Daan and consists of three 10 x 10x 10 meters of triangles forming a large imaginary triangle 36 x 36 x 36 meters. A triangle is located on the Prinsengracht and it is often normal to put flowers close to it. At street level there is a triangle of granite with the text "Naar een vriendschap zulkir mateloos verlangen" ("a desire as limitless as friendship), a quote by gay poet Jacob Israel de Haan ,born in Amsterdam, who was killed in WWII. The third triangle is located near Westerkerk and is often used as a stage. The triangle was chosen because homosexuals had to wear this symbol in pink for the concentration camps. Since the seventies the triangle is often used by people proud of being gay at Gay Pride Parade.

1991 – On this date a group of ACT UP AIDS activists called "Treatment Activist Guerrillas" (TAG) accomplished one of the funniest and most outrageous bits of public activism when they literally put an enormous condom over the home of homophobe and antii-AIDS research and education Senator Jesse Helms in Arlington, Virginia. The activists knew they only had 7 minutes before the police showed up.

SEPTEMBER 6 →
[{(o)}]|[{(o)}]|[{(o)}]|[{(o)}]| [{(o)}]|[{(o)}]