April 2
[{(o)}]|[{(o)}]|[{(o)}]|[{(o)}]| [{(o)}]|[{(o)}]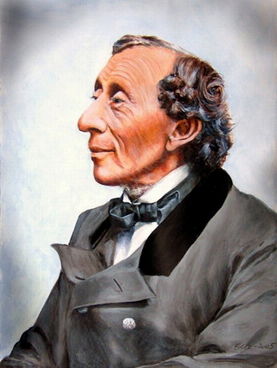 1805 – Born: Hans Christian Andersen, often referred to using the initials H. C. (d.1875). Andersen was a Danish author, fairy tale writer, and poet noted for his children's stories. These include "The Steadfast Tin Soldier", "The Snow Queen", "The Little Mermaid", "Thumbelina", "The Little Match Girl", and "The Ugly Duckling".
During his lifetime he was acclaimed for having delighted children worldwide, and was feted by royalty. His poetry and stories have been translated into more than 150 languages. They have inspired motion pictures, plays, ballets, and animated films.
Hans Christian Andersen was born in the town of Odense, Denmark. The family was associated with Danish royalty, through employment or trade. Whatever the reason, King Frederick VI took a personal interest in him as a youth and paid for a part of his education. Later, Hans Christian was forced to support himself. He worked as a weaver's apprentice and, later, for a tailor. At 14, he moved to Copenhagen to seek employment as an actor. Having an excellent soprano voice, he was accepted into the Royal Danish Theatre, but his voice soon changed, and he began to focus on writing instead.
Jonas Collin, who, following a chance encounter with Andersen, immediately felt a great affection for him, sent him to a grammar school in Slagelse, covering all his expenses. Andersen had already published his first story, The Ghost at Palnatoke's Grave, in 1822. Though not a keen student, he also attended school at Elsinore until 1827.
He later said his years in school were the darkest and most bitter of his life. At one school, he lived at his schoolmaster's home. There he was abused in order "to improve his character", he was told. He later said the faculty had discouraged him from writing in general, causing him to enter a state of depression.
In 1833 he received a small traveling grant from the King, enabling him to set out on the first of many journeys through Europe.
It was during 1835 that Andersen published the first installment of his immortal Fairy Tales. More stories, completing the first volume, were published in 1836 and 1837. The quality of these stories was not immediately recognized, and they sold poorly.
His true genius was however proved in the miscellany the Picture-Book without Pictures (1840). The fame of his fairy tales had grown steadily; a second series began in 1838 and a third in 1845. Andersen was now celebrated throughout Europe, although his native Denmark still showed some resistance.
In June 1847, Andersen paid his first visit to England and enjoyed social success. The Countess of Blessington invited him to her parties where intellectual and famous people could meet, and it was at one party that he met Charles Dickens for the first time. They shook hands and walked to the veranda, much joy to Andersen, and he wrote of it in his diary.
In Andersen's early life, his private journal records his failure to have sexual relations. Andersen often fell in love with unattainable women. The most famous of these was the opera soprano Jenny Lind. One of his stories, "The Nightingale", was a written expression of his passion for Lind, and became the inspiration for her nickname, the "Swedish Nightingale". Andersen was often shy around women and had extreme difficulty in proposing to Lind. When Lind was boarding a train to take her to an opera concert, Andersen gave Lind a letter of proposal. Her feelings towards him were not the same; she saw him as a brother, writing to him in 1844 "farewell... God bless and protect my brother is the sincere wish of his affectionate sister, Jen."
Just as with his interest in women, Andersen would become attracted to non-reciprocating men. For example, Andersen wrote to Edvard Collin:
"I languish for you as for a pretty Calabrian wench... my sentiments for you are those of a woman. The femininity of my nature and our friendship must remain a mystery."
Collin, who did not prefer men, wrote in his own memoir: "I found myself unable to respond to this love, and this caused the author much suffering." Likewise, the infatuations of the author for the Danish dancer Harald Scharff and Carl Alexander, the young hereditary duke of Saxe-Weimar-Eisenach, did not result in any relationships.
In the spring of 1872, Andersen fell out of his bed and was severely hurt. He never fully recovered, but he lived until August 4, 1875. Shortly before his death, he had consulted a composer about the music for his funeral, saying: "Most of the people who will walk after me will be children, so make the beat keep time with little steps." At the time of his death, he was an internationally renowned and treasured artist. He was receiving a stipend from the Danish Government as a "national treasure".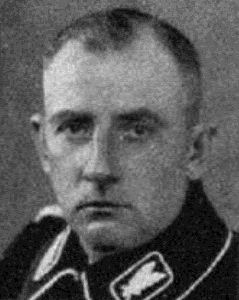 1891
–
Emil Sembach
(d.1934) was born near Greinburg, Austria. He was an SS Oberführer (Senior Colonel) of the SS headquarters of Silesia.
In 1934, after being caught by Reinhard Heydrich's Sicherheitsdienst (SD), for embezzlement and also for having a homosexual relationship with Kurt Wittje, he was expelled from the party and the SS.
Fearing for his life he asked Minister of the Interior Wilhelm Frick for protection, but his protection could not save him when on the Night of the Long Knives Sembach was arrested on the orders of his rival Udo von Woyrsch, and the next day under the command of SS-Hauptsturmführer (Captain) Paul Exner, Sembach was taken to the mountains and executed on the orders of Von Woyrsch.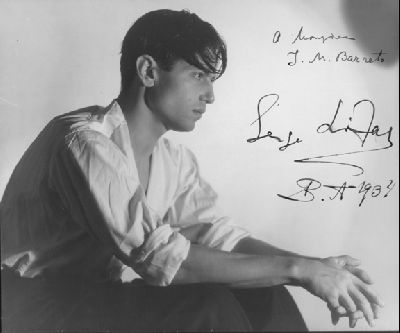 1905 – Serge Lifar, Russian dancer, born (d.1986); Lifar was the last of Diaghilev's dancer- lovers. He used his looks, charisma and talent, fuelled by his fierce ambition to become one of the greatest dancers and choreographers of the 20th century.
Some say that Diaghilev was instantly drawn to the handsome 18 year-old dancer, others suggest that Lifar made sure Diaghilev noticed him. One slight fault had to be corrected before the 'honeymoon' - and before the stardom that 'marriage brought'. "Don't sit in the sun. The paraffin will melt," his colleagues teased. But the nose job had its intended results. Lifar, just twenty, became the lead dancer of the Ballet Russes and Diaghilev's lover, as well. His charm, persistance, whatever, paid off and he joined the list of Diaghilev star dancers/lovers in the footsteps of Nijinsky, Leonide Massine & Anton Dolin. This meant he was cast in leading roles and encouraged to choreograph, as Diaghilev had done before.
He was at Diaghilev's bedside when he died in 1929, but the maestro's death left the Ballet Russes in chaos. However, Lifar was invited to star in a production at the Paris Opera Ballet, to be choreographed by George Balanchine, but his illness saw Lifar taking his place and he successfully went on to become ballet master and director of the Paris Opera Ballet until 1957 - although he was accused of collaborating with the German High Command during the Occupation of Paris and banished between 1944 and 1947.
He remained a major figure in international ballet for the rest of his life and was, with Boris Kochno, Diaghilev's last love, the last of the line from the great Diaghilev. He died in Switzerland in 1986.

1906 – New Jersey prohibits "private lewdness," which apparently includes oral sex.

1907 – Iowa prohibits sending anyone convicted of sodomy to the state Reformatory. All must go to the Penitentiary.

1914 – Sir Alec Guinness, English actor (d.2000); Guinness married the artist, playwright, and actress, Merula Salaman in 1938, and they had a son in 1940, Matthew Guinness, who later became an actor.
In his biography of the actor, Alec Guinness: The Unknown, Garry O'Connor reveals that Guinness was arrested and fined 10 guineas for a homosexual act in a public lavatory in Liverpool in 1946. Guinness avoided publicity by giving his name as Herbert Pocket to both police and court. The name Herbert Pocket was taken from the character in Charles Dickens' Great Expectations that Guinness had played on stage in 1939 and was also about to play in the film adaptation. The incident did not become public knowledge until April 2001, eight months after his death.
The authenticity of this incident has been doubted, however, including by Piers Paul Read, Guinness's official biographer, who believes that Guinness was mixed up with John Gielgud, who was infamously arrested for such an act at the same period of time, though Read nonetheless acknowledges Guinness's essential bisexuality.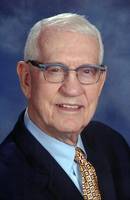 1927 – Chet Flake of Dallas, Texas (d.2014), was a leader of the Turtle Creek Chorale from its fledgling days and a volunteer recognized for his longtime service to the gay and lesbian community.
Flake was born in Iola, Kansas, but soon after moved with his family to Colorado Springs. He served on active duty for two years in the U.S. Army and in the reserves for another six.
Flake met Bud Knight in 1965, and they became life partners for the next 45 years. They married in Vancouver, British Columbia, in 2005.
Flake spent much of his career as an educator but also served as the proprietor of three Dallas restaurants — the best known being Chester's in North Dallas.
When Flake joined the governing board of the chorale in the 1980s, the all-male chorus was not the high-profile Dallas institution it would later become. When at a concert at Southern Methodist University in the early 1980s, the group for the first time mounted the risers wearing their signature tuxedos, "I felt that this was finally their time."
Flake and his husband Bud, were well-known figures in the Dallas LGBT community, particularly for their work volunteering with AIDS-related service organizations. In 2011, Flake and Knight, who had died the previous year, were awarded the Black Tie Dinner's Kuchling Humanitarian Award.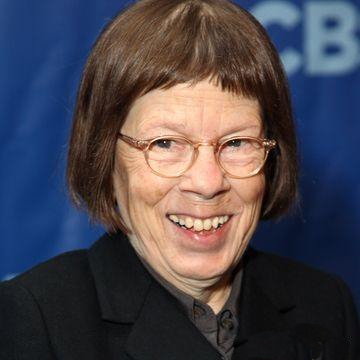 1945 – Linda Hunt, is an American film, stage and television actress known for her role as Henrietta Lange in the CBS series NCIS: Los Angeles. After making her film debut playing Mrs. Oxheart in Popeye (1980), Hunt portrayed the male character Billy Kwan, her breakthrough performance, in The Year of Living Dangerously (1982). Her role as Billy Kwan earned her an Academy Award, an Australian Film Institute Award, a Golden Globe nomination and various other awards.
She has had great success in films such as The Bostonians (1984), Dune (1984), Silverado (1985), Eleni (1985), Waiting for the Moon (1987), The Relic (1997), Dragonfly (2002), Yours Mine and Ours (2005) and Stranger Than Fiction (2006).
Hunt has also had a successful television career. From 1997 to 2002, Hunt played the recurring role of Judge Zoey Hiller on The Practice. She currently plays Henrietta 'Hetty' Lange on the CBS television series NCIS Los Angeles, a role she has played since its debut in 2009. The role earned her a Teen Choice Award nomination in 2011. She is also the narrator in the God of War video game franchise.
Hunt is is 4 feet 9 inches (1.45 m) tall. In high school, she was diagnosed as having hypopituitary dwarfism. She does not have Turner Syndrome as some blogs have stated.
Hunt is openly lesbian, and since 1987 has lived in Los Angeles with her wife Karen Klein, whom she married in 2008.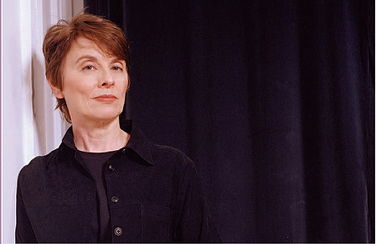 1947 – Camille Paglia, American feminist writer, born; an American social critic, author and teacher. Her book, Sexual Personae: Art and Decadence from Nefertiti to Emily Dickinson , published in 1990, became a bestseller. She is a professor of humanities and media studies at the University of the Arts in Philadelphia, Pennsylvania.
She has been variously called the "feminist that other feminists love to hate," a "post-feminist feminist," one of the world's top 100 intellectuals by the UK's Prospect Magazine, and "a feminist bisexual egomaniac." Paglia describes herself as a feminist and as a Democrat who voted for Bill Clinton and Ralph Nader, and even campaigned for John F. Kennedy as an adolescent.
Her vocal skepticism of global warming, however, indicates her willingness to break with liberal orthodoxies. Her views on the legalization of recreational drugs and prostitution, and on the relaxation of sexual consent laws, are more libertarian. She is a strong critic of much of the feminism that began with
Betty Friedan
's 1962
The Feminine Mystique
and compared feminists — whom she considered to be victim-centered — to the Unification Church. At the same time Paglia's embrace of fetishism, pornography, prostitution and, most prominently, male homosexuality, puts her at odds with the "family values" of American social conservatives.
Paglia attended Yale as a graduate student, and she claims to have been the only open lesbian at Yale Graduate School from 1968 to 1972. While at Yale, Paglia quarreled with Rita Mae Brown, whom she later characterised as "then darkly nihilist", and argued with the New Haven, Connecticut Women's Liberation Rock Band when they dismissed the Rolling Stones as sexist.
For over a decade, Paglia was the partner of artist Alison Maddex. Paglia legally adopted Maddex's son (who was born in 2002). In 2009, the couple separated.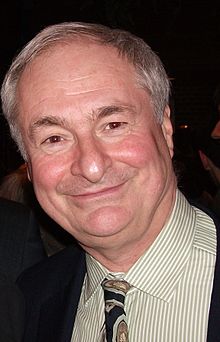 1949 – Paul Gambaccini is an American-British radio and television presenter and author in the United Kingdom. He has dual United States and British nationality, having become a British citizen in 2005.
Known as "The Great Gambo" and "The Professor of Pop", Gambaccini was a BBC Radio 1 presenter for 16 years, including 11 years at the helm of a Billboard Top 30 countdown show. A regular contributor to BBC Radio 4's long-running arts programme Kaleidoscope, Gambaccini was a long-time TV morning show correspondent for British television, and makes regular appearances on other British TV magazine shows. He was the host of the 12-part Classic FM series Paul Gambaccini's Hall of Heroes, and chaired the Radio 4 music quiz Counterpoint until 2013, when he was temporarily replaced by Russell Davies. Gambaccini returned to hosting Counterpoint in November 2014. Inducted into the Radio Academy Hall of Fame in 2005, Gambaccini is the author of more than 15 books.
Born in the Bronx, Gambaccini studied at Dartmouth College, from where he obtained a degree in history in 1970. He then migrated to the United Kingdom and attended University College, Oxford, where he read for a degree in politics, philosophy and economics. He has since returned to Oxford, where he delivered a series of lectures in January and February 2009, as the News International Visiting Professor of Broadcast Media. In February 2010 he was invited by the Vice-Chancellor of Oxford University Andrew Hamilton to deliver the inaugural LGBT lecture Out on Monday to the university's LGBT staff, students and faculty.
Gambaccini has always been openly gay, asserting in 2013: "I was never 'in'." In June 2012, he entered into a civil partnership. In 2013, he married Christopher Sherwood, in New York Botanical Garden.
In 2013, Gambaccini revealed he had been highlighted as a potential security risk by the BBC earlier in his career due to his sexuality.
On 1 November 2013, it was reported that he had been arrested on suspicion of historical sexual offences as part of an investigation by Operation Yewtree in the United Kingdom. Gambaccini was released on bail and his spokesman said that he denied the allegations. It was announced on 10 October 2014 that no charges would be brought.
Gambaccini has been a supporter of gay-related charities. In 1995, he was named Philanthropist of the Year by the National Charity Fundraisers for his work on behalf of the Terrence Higgins Trust. He is a patron of the London Gay Symphony Orchestra. In 2010, he won an episode of celebrity Mastermind, with his chosen beneficiary charity being Stonewall.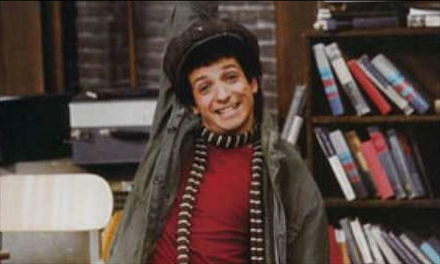 1949 – Ronald Gabriel Paolillo (d.2012), known onscreen as Ron Palillo, was an American television and film actor. He was best known as Arnold Horshack on the ABC sitcom Welcome Back, Kotter (1975-79).
Palillo, in a newspaper interview in 1997, said he lamented his role as Horshack as he was permanently typecast, which he believed had damaged his career.
After Welcome Back, Kotter, Palillo appeared in leading and supporting roles in various television series and films. He voiced characters on such animated series as Laverne & Shirley in the Army, Darkwing Duck, and Rubik, the Amazing Cube, in which he played the lead character. In 1996, Palillo played himself in several episodes of the television sitcom Ellen, playing Ellen's friend's love interest. Palillo also spent a year on the popular daytime show "One Life to Live" and also acted in Friday the 13th Part VI: Jason Lives (1986), and the lead in The Curse of Micah Rood.
He returned to New York in 1991, and played such roles as Mozart in Amadeus and regionally as George in Who's Afraid of Virginia Woolf?, Arthur in Camelot and Nathan Detroit in Guys and Dolls.
He appeared on Broadway in 2008 in Broadway Backwards 4, a charity event benefiting Broadway Cares/Equity Fights AIDS and The Lesbian, Gay, Bisexual & Transgender Community Center.
In 2005, his first full-length play, The Lost Boy, the true story of Peter Pan author J. M. Barrie, premiered at the Helen Hayes Theatre in Nyack, New York, and later played at the Queens Theatre in the Park, in Queens, New York.
Palillo and his partner of 41 years, Joseph Gramm, lived in Palm Beach Gardens, Florida. On August 14, 2012, Palillo suffered a heart attack at his home and was taken by ambulance to a nearby hospital, where he was pronounced dead on arrival.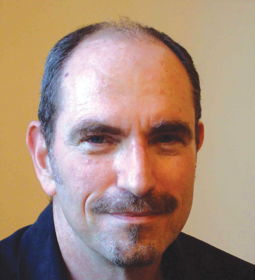 1952 – David M. Halperin is an American theorist in the fields of gender studies, queer theory, critical theory, material culture and visual culture. He is the cofounder of GLQ: A Journal of Lesbian and Gay Studies, and author of several books including Before Pastoral (1983) and One Hundred Years of Homosexuality (1990).
Halperin is openly gay. In 1990, he launched a campaign to oppose the presence of the ROTC on the MIT campus, on the grounds that it discriminated against gay and lesbian students. That same year, he received death threats for his gay activism. In 1992, he was accused of sexually harassing a male assistant professor, Theoharis C. Theoharis, in his department at MIT. In 2003, the Michigan chapter of the American Family Association tried to ban his course entitled 'How to Be Gay: Male Homosexuality and Initiation.' In 2010, he wrote an open letter to Michigan's 52nd Attorney General Mike Cox to denounce the homophobic harassment by one of the latter's staffers, Andrew Shirvell, of a University of Michigan student, Chris Armstrong.
Halperin uses the method of genealogy to study the history of homosexuality. He argues that Aristophanes' speech in Plato's Symposium does not indicate a "taxonomy" of heterosexuals and homosexuals comparable to modern ones. According to Simon LeVay, Halperin believes that "Aristophanes did not recognize a category of homosexual people, but only the separate categories of men-loving men and women-loving women" and that he "divided men-loving men into two independent 'sexualities' - the love of youths for adult men and the love of adult men for youths."

1952 – A New York court dismisses the disorderly conduct charge of a man who asked an undercover police officer to go to his apartment for "fun."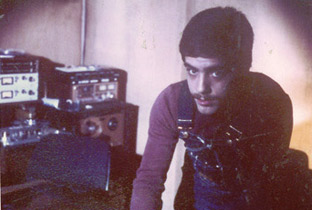 1954 – Walter Gibbons (d.1994) was an American record producer, early disco DJ and remixer.
Aside from being gay, Walter Gibbons was unlike most DJs at disco's dawn. Born April 2, 1954 in Brooklyn, New York, he was slight, introverted and Irish-American when his rivals were outgoing and black or Italian-American.
Long before he got his own first big break at Galaxy 21 in 1975, Gibbons made things happen for himself. In 1972, at age 18, he met his first lover Rich Flores, and the pair lived together with an acetate lathe that made possible their own acetate label, Melting Pot Sound, which bootlegged the underground club jams of the early '70s. By the time Galaxy 21 – an afterhours Chelsea club at 256 West 23rd Street – opened in August 1975, he'd broken up with Flores, and was more than ready for Manhattan.
Fellow Galaxy 21 DJ Joey Madonia – who later became Levan's lover and lighting man – describes the multi-floored main room as a simple, unadorned space: Nothing distracted from the lighting and music. You couldn't even tell it was a club from the outside.
He was an important part of the early 1970s New York City disco underground scene, influencing garage and house music DJs like Frankie Knuckles and Larry Levan. He also laid the foundations for early 1980s experimental Chicago house music. One of the early pioneers of beat-mixing, and known for considerably more skillful mixing than many better-known DJs at the time, he is cited by many early pioneers of the house-music scene as an influence. His "Disco Blend" remix of Double Exposure's "Ten Percent" was once described by UK DJ Ashley Beedle as providing a "blueprint for house music".
Gibbons was known as "the DJ's DJ" because his peers would go out of their way to hear him play. Kool DJ Herc brought Dub to the New York City music scene, where Gibbons and other remixers played it and applied dub techniques to dance music. He played disco songs, focusing more on the percussion than the melody, and "stretched out the grooves so much that they teetered on the edge of motionlessness." Like Arthur Russell, who recorded with him, Gibbons "used dub as a dislocating device, preventing disco's simple groove from developing under the dancers' feet."
Gibbons became a reborn Christian in the 1980s, but still managed to turn out cutting edge mixes during this period (he simply focused on songs and lyrics that did not offend his beliefs). He died of AIDS-related symptoms in 1994.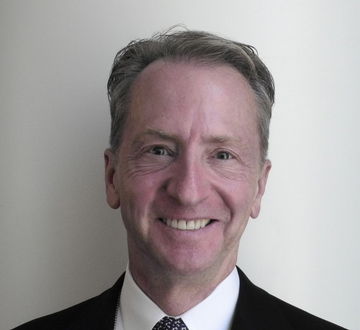 1956 – David Bohnett is an American philanthropist and technology entrepreneur. He is the founder and chairman of the David Bohnett Foundation, a non-profit, grant-making organization devoted to improving society through social activism.
Bohnett founded the pioneering social networking site GeoCities in 1994; the highly successful site went public via an IPO in 1998, and was acquired by Yahoo! in 1999. Bohnett currently invests in technology start-ups via Baroda Ventures, a Los Angeles–based venture capital firm he started in 1998.
Bohnett was interested in business at an early age, selling Amway products and delivering newspapers. In high school he became fascinated by computers, and chose to attend college at the University of Southern California – where he received a BS in business administration – because it was one of the few universities at the time with a computer science program. He put himself through college by waiting tables and other service jobs.
In his youth Bohnett experienced the isolation and pain of being gay, first in his conservative suburban hometown, and then in 1978 in college when his first lover, from a small-town Indiana Catholic family, committed suicide.
Bohnett became active in gay rights at graduate school at the University of Michigan, beginning in the fall of 1978 as a hotline counselor at the Jim Toy–founded University of Michigan Lesbian and Gay Male Program Office, now called the Spectrum Center. As an openly gay MBA student, he volunteered to go to freshman psychology classes and, looking like an average Midwesterner, said to the students, "I'm gay, ask me anything." He received his MBA in finance from University of Michigan's Ross School of Business in 1980.
When he returned to Los Angeles after graduate school, he became involved with GLAAD and the Los Angeles Gay and Lesbian Center, came out to his parents, and in 1983 entered a longterm relationship with fellow activist and openly gay judge Rand Schrader, 11 years his senior. When Schrader died in the AIDS epidemic in 1993, Bohnett, like many surviving same-sex partners prior to marriage equality, was left with no legal spousal benefits and a significant estate tax bill. He did however receive $386,000 from Schrader's life insurance.
Bohnett had been a staff information systems consultant at Arthur Andersen from 1980 to 1983 and, unable to be openly gay in that world, he had left to work at software companies instead. As his career in software was progressing, and shortly after Schrader's death, he searched for a way to tie together the software and activist sides of his life. Around this time the World Wide Web was just starting to be introduced, and he felt compelled to be a part of it.
In 1994 Bohnett's business and software expertise and his interest in giving people a voice led him to develop GeoCities.com, with John Rezner as co-founder and chief technical officer. GeoCities was the first social networking site on the internet, an early forerunner of MySpace and Facebook. It allowed users to engage in a variety of innovative activities: freely create their own web pages, organized into communities of interest; connect with others online; express their passions; and engage in e-commerce. By 1997 it was the fifth most popular site on the internet, and the company went public in 1998. By December 1998 it was the third most visited internet site. Yahoo! Inc. purchased GeoCities during the dotcom boom in 1999 for $3.57 billion, and Bohnett netted about $300 million.
Immediately after selling his popular internet social-network company GeoCities to Yahoo! in 1999, Bohnett turned his attention to activism, and created the David Bohnett Foundation to make grants in activist areas most important to him. According to the Los Angeles Times Magazine, he "invests where he can actually improve lives, empower individuals and build viable communities in meaningful ways". To serve as executive director and strategist for his foundation he hired Michael Fleming, who had been a media leader for the American Civil Liberties Union.
The David Bohnett Foundation is devoted to improving society through community-building and social activism, and it provides funding, state-of-the-art technology, and technical support to relevant innovative organizations and institutions. As of 2015, the foundation had donated $85 million. Its current primary funding areas are:
The Fund for Los Angeles, which supports a broad spectrum of arts, educational, and civic programs in Los Angeles,
LGBT-related causes
AIDS services and research
Voting rights and voter registration
Gun violence prevention
Animal research and animal rights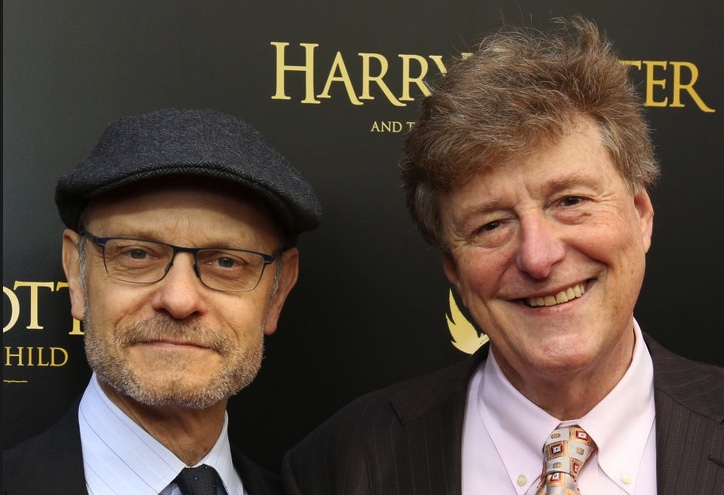 Brian Hargrove (R) with David Hyde Pierce
1956 – Brian Hargrove is an American television writer and producer. He was a co-creator of the television series Titus, along with Christopher Titus and Jack Kenny.
Born David Brian Hargrove in Tarboro, North Carolina, he earned his BFA degree from the University of North Carolina at Chapel Hill. He then studied acting at New York City's Juilliard School as a member of the drama division's Group 10 (1977–1981), which also included Val Kilmer and Linda Kozlowski.
Hargrove is the creator and producer of many television shows, including "Titus," "Wanda at Large," and "Nora". He also has written for several television series, including "Dave's World," "Caroline in the City," "Holding the Baby" and "Maggie."
Hargrove wrote the book and lyrics for the musical, It Shoulda Been You, which opened on Broadway in March 2015. It was directed by David Hyde Pierce.
Hargrove married long-time partner, actor and comedian David Hyde Pierce, on October 24, 2008. They have been together since the early 1980s.


Added 2022

1961 – Christopher Meloni is an American actor. He is known for his television roles as NYPD Detective Elliot Stabler on the NBC legal drama Law & Order: Special Victims Unit for its first 12 seasons and its spin-off Law & Order: Organized Crime, and as inmate Chris Keller on the HBO prison drama Oz. In June 2012, he returned to HBO as the vampire Roman on the main cast of True Blood for the series' fifth season. Meloni also starred in and executive produced the Syfy series Happy! from 2017 to 2019. His films include Man of Steel, Wet Hot American Summer, Harold & Kumar Go to White Castle, 12 Monkeys, Runaway Bride, 42, and Fear and Loathing in Las Vegas.
Meloni was born in Washington, D.C., the youngest of three children of Cecile (née Chagnon), a homemaker, and Charles Robert Meloni (1927–2012), an endocrinologist. His maternal ancestry is French Canadian, and he is a descendant of Matthias Farnsworth. His paternal ancestry is Italian, with roots in Velva [it],in the municipality of the town Castiglione Chiavarese, (province of Genoa, in the region of Liguria.)
Meloni worked as a construction worker prior to getting his acting break. He has also worked as a bouncer, bartender, and personal trainer. Meloni worked his way up the acting ladder with commercials, short-lived TV series, and bit parts in a number of films. His first noticeable role was the hotheaded son of a Mafia don in the 1996 thriller Bound. He appeared as Robbie Sinclair's friend Spike in Dinosaurs in the early 1990s. He played criminal Jimmy Liery in eight episodes of NYPD Blue during 1996-1997 and the fiancé of Julia Roberts's character in the 1999 romantic comedy Runaway Bride.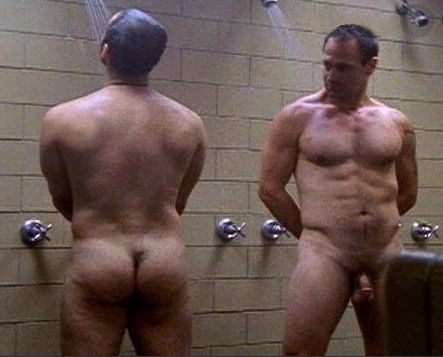 From 1998 to 2003, Meloni portrayed the bisexual criminal Chris Keller on the HBO series Oz with its famous nude scene.
Meloni has appeared in many public service announcements in support of lesbian, gay, bisexual, and transgender issues. In 1999, Meloni jokingly kissed Lee Tergesen (who played Tobias Beecher, Meloni's on-screen boyfriend on Oz) at an awards dinner for GLAAD. In 2006, Meloni was given the Human Rights Campaign's Equality Award, along with actor Jake Gyllenhaal and director Ang Lee, for his work on behalf of LGBT issues. In addition, in 2011, Meloni appeared in the Human Rights Campaign's "New Yorkers for Marriage Equality" video. Meloni was included in the 2006 edition of People magazine's Sexiest Men Alive.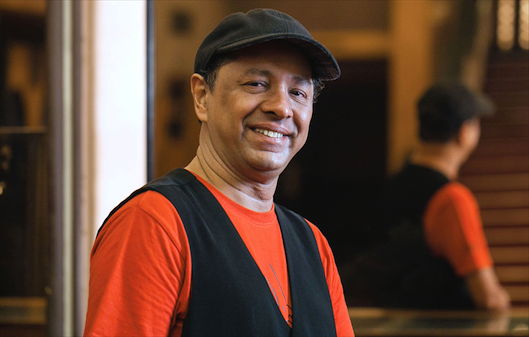 1962 – Sridhar Rangayan born in Mandya, Karnataka is an Indian Director who has made films with special focus on queer subjects. His queer films The Pink Mirror and Yours Emotionally have been considered groundbreaking because of their realistic and sympathetic portrayal of the largely closeted Indian gay community. His film The Pink Mirror still remains banned in India by the Indian Censor Board because of its homosexual content.
He is also a human rights activist fighting for rights of sexual minorities. He is a Founder Member and Trustee of The Humsafar Trust, the first gay NGO in India, along with Ashok Row Kavi. He also designed and edited India's first gay magazine Bombay Dost between 1999 - 2003.
In 2006, he was awarded the 'South Asian Achievers Award' for his contribution to global mainstream media by Triangle Media Group (TMG), UK.
In 2016, Montreal Pride Parade chose the Indian filmmaker Sridhar Rangayan as one of its Grand Marshals alongside Justin Trudeau.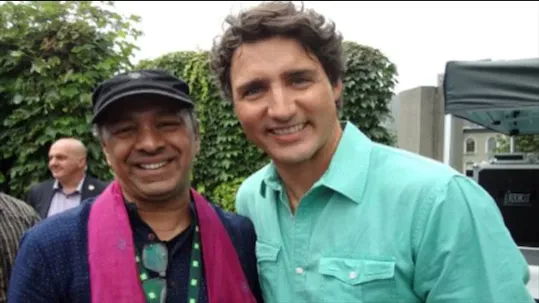 1977 – In Argentia, Newfoundland, Master Corporal Gloria Cameron and eight other women are dismissed from the Canadian Armed Forces because they are lesbian. Cameron launched an appeal and went public with her story. The appeal was rejected Jul 2, 1977


1980 – Montreal Municipal Court judge finds owner of Truxx bar guilty of keeping a common bawdyhouse and sentences him to ten days in jail and $5,000 fine.

2013 – Uruguay senate approves same-sex marriage by a vote of 23-8, becoming the fourteenth country in the world to legalize marriage equality.

APRIL 3 →
[{(o)}]|[{(o)}]|[{(o)}]|[{(o)}]| [{(o)}]|[{(o)}]