January 3
[{(o)}]|[{(o)}]|[{(o)}]|[{(o)}]| [{(o)}]|[{(o)}]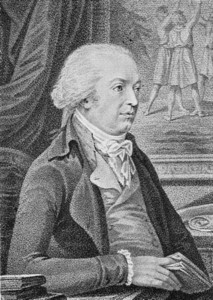 1752 – Johannes von Müller, Swiss historian, born (d.1809); Müller's Geschichten der Schweizer (Swiss History), a project that occupied most of his life and took him more than forty years to complete. Müller's tome (18 volumes in the French translation) is now considered hopelessly unreliable, even though in its day it stirred Swiss nationalism and had profound influence.
Müller's place here is due to his favorite extracurricular activity - writing love letters to Charles Victor de Bonstetten, a young, devastatingly handsome Swiss writer. Bonstetten was also the object of desire for Thomas Gray, the English poet. Müller's love letters, among the loveliest ever penned, were published in 1835, twenty-five years after his death. Long before then, however, Goethe had gone on record declaring Müller's sexuality.

1757 – In England, the 18-year-old son of Lord Denbigh successfully resists an attempt to extort money from him on grounds of his being a sodomite.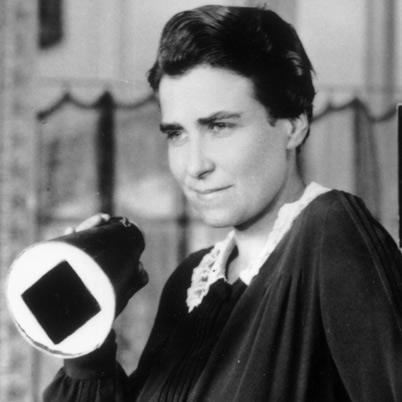 1900 – Dorothy Arzner (d.1979), although not the first woman to direct films in Hollywood, was the only woman director to work through the turbulent, richly productive, 1930s and 1940s—the period crucial to the development of Classical Hollywood Cinema.
Born in San Francisco, she grew up around the filmmakers and actors who frequented her father's Hollywood restaurant. After dropping out of university, where she had intended to become a doctor, Arzner interviewed with William DeMille (of the Famous Players-Lasky Corporation, i.e., Paramount Studios) and accepted her first film job as a script typist. She soon moved on to cutting and editing, eventually editing fifty-two pictures as chief editor for RealArt, a subsidiary of Paramount.
Arzner made her directorial debut at Paramount with Fashions for Women in 1927. Between 1927 and 1933, she directed eleven films for Paramount; in the ten years between 1933 and when she left the Hollywood film industry in 1943, Arzner directed another six films as a freelancer with RKO, United Artists, MGM, and Columbia.
During this time, Arzner received media attention as a "woman director" in the popular press; and as a woman, her work and her career were constantly scrutinized. For all this, however, Arzner remained enigmatic, even provocatively so: observers commented on the juxtaposition of her petite figure and her "mannish" dress; journalists reassured readers that this woman gave her orders on the set with a soft and "feminine" voice; and publicity photos regularly romanced her relationship with her female stars, who included such actresses as Clara Bow, Claudette Colbert, Rosalind Russell, Katherine Hepburn, and Joan Crawford.
Arzner's lesbianism seems to have been well-known within the Hollywood community, though little attention was paid to it publicly. She lived openly with her companion Marion Morgan, a choreographer and dancer, from 1930 until Morgan's death in 1971. The prominence of dance in several of Arzner's films may reflect Morgan's influence.
Arzner left Hollywood in 1943 to recover from an illness, and she never returned. Coincidentally, post-World War II Hollywood experienced a radical movement towards conservative "family values" quite incompatible with Arzner's general themes and interests, and her work seems to have fallen out of favor.
After her Hollywood career, Arzner directed training films for the Women's Army Corps, taught in the film program at UCLA (1959-1963), and was honored by the Director's Guild of America in 1975. She died on October 1, 1979.
As a woman "pioneer" in the film industry, and as a lesbian, Arzner has attracted considerable attention recently. She has been recognized for her innovations in using sound and her films, though many are still hard to find outside of archives, have seen a renewed interest both academically and popularly.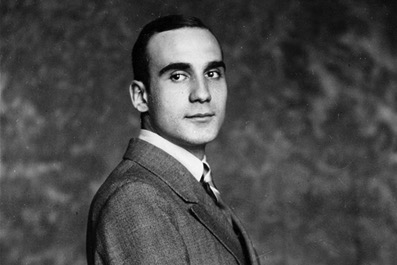 1904 – Boris Kochno (d.1990) was a Russian poet, dancer and librettist. He was a lover of Karol Szymanowski while a schoolboy of fifteen in Elisavetgrad (now Kirovohrad) in 1919, where he received as a gift a Russian translation of the chapter The Symposium from Efebos, the composer's unpublished novel on male love. Szymanowski also dedicated four love poems to the youth.
In 1920 he became Sergei Diaghilev's secretary, librettist, and eventually main collaborator. They were also lovers until Diaghilev's death in 1929 at 57. Kochno wrote the libretto of Mavra (1921), the Fâcheux (1924), La Chatte (1927) and of le Fils prodigue(1929). He also had an affair with Cole Porter in 1925, with whom he carried on a lengthy correspondence.
Upon Diaghilev's death he and Serge Lifar tried but failed to hold the Ballets Russes together. The two inherited part of Diaghilev's archives and collections, which Kochno completed and part of which was acquired by the Bibliothèque Nationale de France. His later career included a position as Monte Carlo ballet director, where he became an influential figure in post-WWII French ballet. In 1933 he co-founded, together with George Balanchine, the short-lived company Les Ballets 1933, which made its debut that summer at the Théâtre des Champs-Élysées. At the end of WWII, Kochno entered into collaboration with Roland Petit, with whom he founded the Ballets des Champs-Élysées.
There are a number of published works by him. One, Diaghilev and the Ballets Russes, is a record of the Diaghilev era. The other, Christian Bérard, is a scrapbook of reminiscences about, and art of, his former friend and collaborator.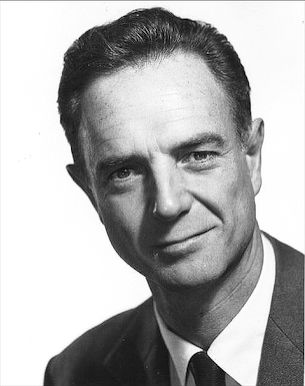 1912 – Benjamin Arthur Flemyng OBE MC, known professionally as Robert Flemyng, was a British actor (d.1995) The son of a doctor, and originally intended for a medical career, Flemyng learned his stagecraft in provincial repertory theatre. In 1935 he appeared in a leading role in the West End, and the following year had his first major success, in Terence Rattigan's comedy French Without Tears. Between then and the Second World War he appeared in London and New York in a long succession of comedies.
On the outbreak of war in 1939 Flemyng volunteered for the Royal Army Service Corps, and served with distinction, winning the Military Cross. After the war he continued to appear in light comedies, but also took on more serious roles in plays by T. S. Eliot, Graham Greene, John Whiting and others. He toured Australia, Britain, Canada, India, South Africa and the US in a wide range of parts, from comedy to classic drama.
Flemyng's broadcasting was principally in two television series in the 1960s, in the second of which, Compact, he appeared in more than 100 episodes. He made more than 30 cinema films, including The Guinea Pig (1948), The Blue Lamp (1950), The Man Who Never Was (1956), Blind Date (1959) and The Quiller Memorandum (1966).
Flemyng married actress Carmen Sugars in November 1939; by this time, she had switched from acting into theatrical décor, joining the design team Motley. The couple had one daughter. According to a 2003 biography of Alec Guinness, Flemyng, though a devoted family man, was essentially gay, and fell in love in middle age with a younger man, suffering emotional distress that affected his health. The marriage survived, lasting until Carmen Flemyng's death in 1994.
Flemyng suffered a stroke in April 1995, and died on 22 May, aged 83. In his obituary,
The Stage
called him
"one of this country's most distinguished and respected performers, the last of the great matinee idols".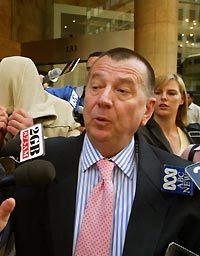 1942 – John Marsden (d.2006), was a prominent Sydney-based Australian solicitor and former President of the Law Society of New South Wales. He was known for his high-profile clients, his gay rights activism, and his victory in a defamation action against the Seven Network.
Serial killer Ivan Milat was a client of Marsden. Marsden had a long association with the Milat family and had successfully represented Ivan Milat on charges of rape in the 1970s. Milat sacked Marsden shortly after being arrested in 1994 for the backpacker murders. In 2005, after falling ill with cancer, Marsden indicated his belief that Milat had had an accomplice, and expressed some regrets about his success in helping Milat avoid conviction on the earlier rape charges. He recounted an incident that had happened during trial on those charges: after the first day in court, during which Milat appeared likely to be convicted, Marsden - then a closeted homosexual - went to a gay bar and noticed the two alleged victims there. The next day in court he outed them as lesbians and relied on the jury's prejudices to attack their credibility and win acquittal for Milat.
Deirdre Grusovin, a member of the New South Wales Legislative Assembly, speaking under parliamentary privilege in 1994, accused Marsden of having sex with minors. In 1995 and 1996, the Seven Network's shows Today Tonight and Witness also aired allegations of having sex with minors against Marsden. In response, Marsden described himself as a "promiscuous homosexual" but denied allegations of paedophilia. Channel Seven produced witnesses who claimed to have sex with Marsden while underage, but many were discredited by errors on points of fact, such as the type of house Marsden lived in and, in one case, whether he was circumcised.
In 2001, after 214 days of hearings, Justice David Levine ruled that Seven had failed to prove its allegations of child sexual abuse. Marsden was awarded A$525,000 in damages and legal costs, much less than Marsden's actual costs which have been estimated at around A$6 million; Seven's own costs at that stage were estimated at A$10-12 million.
Although Levine ruled in Marsden's favour on the allegations of child sexual abuse, his findings were deeply critical of Marsden in other regards. He found that Marsden had lied about several issues in the trial, notably his role in drafting a statutory declaration by one of the witnesses. He also found that on the balance of probabilities, Marsden had used convicted rapist and murderer Les Murphy to persuade a witness to change his position, and had probably persuaded two other witnesses to influence another. According to then Sydney Star Observer editor Marcus O'Donnell, Marsden asked the Observer to publish the names of one of the prosecution witnesses, when there was a suppression order given on the grounds that the witness's life would be in danger if the name were published.
Legal commentator Richard Ackland described the case as "probably the biggest piece of civil litigation NSW has seen for many years… without doubt the largest, longest and most comprehensive defamation case in the history of Australia. And probably one of the biggest in the history of the common law world." In 2002, the New South Wales Court of Appeal ruled that the compensation payout should have included consideration for hurt feelings, and ordered a new trial on damages. Marsden and Seven subsequently came to a confidential out-of-court settlement, estimated by various parties as somewhere between A$6 million and A$9 million.
Marsden died of stomach cancer while on holiday in Turkey on 17 May 2006.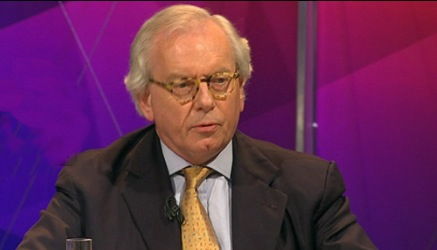 1945 – David Starkey is a British constitutional historian, and a radio and television presenter.
He was born the only child of Quaker parents, and attended Cambridge through a scholarship. There he specialised in Tudor history, writing a thesis on King Henry VIII's household. From Cambridge he moved to the London School of Economics, where he taught history until 1998.
Starkey is a well known radio and television personality, first appearing on the latter in 1977. While a regular contributor to the BBC Radio 4 debate programme The Moral Maze, his acerbic tongue earned him the sobriquet of "rudest man in Britain"; his frequent appearances on Question Time have been received with criticism and applause. Starkey has presented several history documentaries. In 2002 he signed a £2 million contract with Channel 4 for 25 hours of programming. Recently, he was a contributor on the Channel 4 series, Jamie's Dream School. An accomplished author, Starkey has written several books on the Tudors.
He was appointed CBE in 2007, is an honorary associate of the National Secular Society and an ardent supporter of equality between heterosexuals and homosexuals. He is openly gay and lives with his long-time partner, James Brown, a publisher and book designer, in the south of England.

1948 - Sex Researcher Alfred Kinsey revealed a high incidence of same-sex acts among men. Behavior in the Human Male is published, in which the researcher concludes that 37% of American males have had at least one gay sexual experience to the point of orgasm. Five years later Kinsey publishes his report on women, which puts the comparable figure at 13%.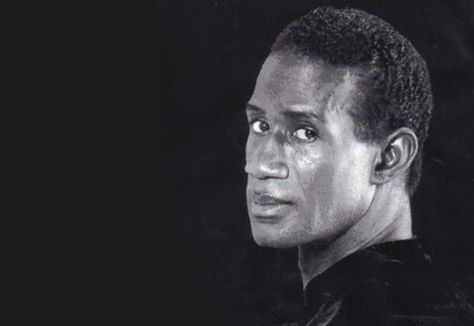 1954 – Mel Tomlinson is an American dancer and choreographer. At the time of his debut with the New York City Ballet in 1981, he was the only African-American dancer in the company. Ballet choreographer Agnes de Mille referred to Tomlinson as "the most exciting black dancer in America."
Tomlinson was born in Raleigh, North Carolina and grew up in the Chavis Heights public housing neighborhood in Southeast Raleigh. He began dancing while a student at Fred J. Carnage Junior High School, taking lessons from Betty Kovach. In the 1960s he attended the segregated John W. Ligon Senior High School, where he partook in dance and gymnastics. He went on to earn a B.F.A. in dance at the North Carolina School of the Arts.
Tomlinson began his professional dance career as a principal dancer with Agnes de Mille Heritage Dance Theater, which was founded at the North Carolina School of the Arts. In 1974 Tomlinson moved to New York City to join Dance Theatre of Harlem, choosing the company after also receiving invitations from Joffrey Ballet and Boston Ballet. He was promoted to soloist with Dance Theatre of Harlem, performing in Manifestations, Swan Lake, and Scheherazade. He later took leave from Dance Theatre of Harlem to join Alvin Ailey American Dance Theater; dancing in Pas de Duke and The Time Before the Time After. Tomlinson joined the New York City Ballet in 1981; at the time the only African-American dancer at the company. He made his debut at New York City Ballet on November 27, 1981 in George Balanchine's Agon, dancing with Heather Watts.
In 1983, Tomlinson received the first annual North Carolina Prize for outstanding work in the visual or performing arts. In 1987 Tomlinson retired from New York City Ballet, having reached the rank of soloist, and moved back to North Carolina to join the faculty at the University of North Carolina School of the Arts. He came out of retirement to dance as a principal dancer for the North Carolina Dance Theatre under the direction of Salvatore Aiello. In 1991 he left North Carolina Dance Theatre and joined Boston Ballet as a principal dancer and master teacher in the CITYDANCE program, dancing with the company until 1994. Tomlinson has also taught at Boston Conservatory of Music, Harvard University, the University of North Carolina at Charlotte, the School at Greensboro Ballet, and Charlotte Ballet.
Tomlinson is openly gay. He was diagnosed with HIV in the 1990s and developed AIDS. On December 8, 1998 Tomlinson was admitted into the House of Mercy, a ministry of the Catholic Sisters of Mercy in Belmont, North Carolina that assists people in the final stages of AIDS. Shirley Stowe, director of nursing at the House of Mercy, expected Tomlinson to die within six months after being admitted. He made a slow recovery and was eventually released from the house on September 10, 2000.
Tomlinson now lives in Charlotte, North Carolina and is a dance teacher and director of The Hallelujah Dance Corps at St. Paul Baptist Church.

1962 – Illinois decriminalizes same-sex acts between consenting adults.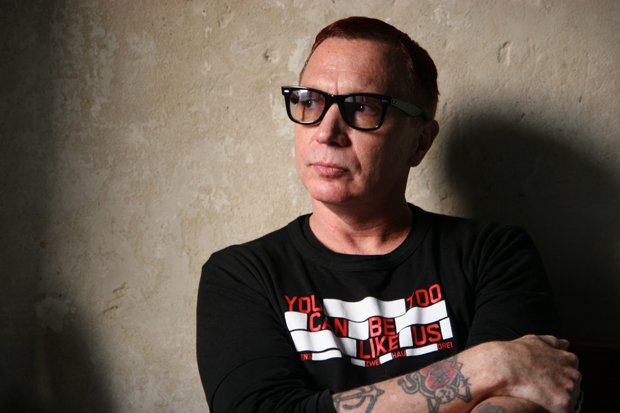 1964 – Bruce LaBruce is a Canadian writer, filmmaker, photographer and underground gay porn director based in Toronto, Ontario.
LaBruce was born Bryan Bruce in Tiverton, Ontario, and wrote for Cineaction magazine, curated by Robin Wood, his teacher. He first gained public attention with the publication of the queer punk zine J.D.s, which he co-edited with G.B. Jones. He currently writes and photographs for a variety of publications including Vice, Nerve.com and BlackBook magazine, and has made a number of films which merged the artistic techniques of independent film with gay pornography.
He has also previously been a columnist for the Canadian music magazine Exclaim! and Toronto's eye weekly, and he was a contributing editor and photographer for many years at New York's index magazine. He has also been published in Toronto Life and the National Post as well as the UK Guardian. His movie, Otto, or, Up With Dead People debuted at the 2008 Sundance Film Festival. L.A. Zombie was banned from the Melbourne International Film Festival in 2010 because, in the opinion of Australian censors, it would have been refused classification. However, the film was subsequently able to screen at OutTakes, a New Zealand lesbian and gay international film festival, in May 2011.
In March 2011, LaBruce directed a performance of Arnold Schoenberg's opera Pierrot Lunaire at the Hebbel am Ufer Theatre in Berlin. As one no doubt assumes, this iteration of the opera included gender diversity, castration scenes and dildos, as well as a female to male transgender Pierrot.

JANUARY 4 →
[{(o)}]|[{(o)}]|[{(o)}]|[{(o)}]| [{(o)}]|[{(o)}]