June 13
[{(o)}]|[{(o)}]|[{(o)}]|[{(o)}]| [{(o)}]|[{(o)}]

Zeus and Ganymede
1574 – Richard Barnfield, the English poet, was baptised on this date (we don't know his date of birth, but he died in 1620).
In November 1594, in his twenty-first year, Barnfield published anonymously his first work, The Affectionate Shepherd, dedicated with familiar devotion to Penelope Rich, Lady Rich. This was a sort of florid romance, in two books of six-line stanzas, in the manner of Lodge and Shakespeare, dealing at large with the love of the young man Daphnis for the love of the boy, Ganymede. (In Greek Mythology, Ganymede is a beautiful boy raped by Zeus. The word catamite derives from his name.)
Although the poem was successful, it did not pass without censure from the moral point of view because of its openly homosexual content. It scandalized Renaissance England by describing in florid detail the love of Daphnis and Ganymede,
Scarce had the morning starre hid from the light
Heavens crimson canopie with stars bespangled,
But I began to rue th' unhappy sight
Of that faire boy that had my hart intangled;
Cursing the time, the place, the sense, the sin;
I came, I saw, I viewd, I slipped in.
If it be sinne to love a sweet-fac'd boy,
Whose amber locks trust up in golden tramels
Dangle adowne his lovely cheekes with joy,
When pearle and flowers his faire haire enamels;
If it be sinne to love a lovely lad,
Oh then sinne I, for whom my soul is sad.

- From The Affectionate Sheherd
Two months later, in January 1595, Barnfield published his second volume, Cynthia, with certain Sonnets, and the legend of Cassandra, and this time signed the preface, which was dedicated, in terms which imply close personal relations, to William Stanley, 6th Earl of Derby. In the preface Barnfield distances himself from the homoeroticism of his previous work, writing that some readers "did interpret 'The Affectionate Shepherd' otherwise than in truth I meant, touching the subject thereof, to wit, the love of a shepherd to a boy". He excuses himself by saying he was imitating Virgil. The new collection, however, also contained poems which were "explicitly and unashamedly homoerotic, full of physical desire", in the words of critics Stanley Wells and Paul Edmondson.

1766 – Everet Jans van Leeuwarden of Frisia, Netherlands was convicted of attempted seduction to sodomy and sentenced to seven years of prison labor.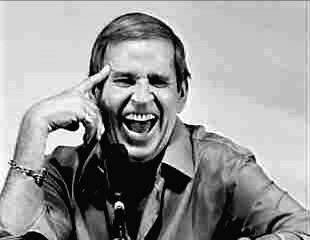 1926 – The American author and comedian Paul Lynde, was born on this date (d.1982). Lynde was an American comedian and character actor. He was well known for his roles as Uncle Arthur on Bewitched and Harry McAfee, the befuddled father in Bye Bye Birdie.
Lynde was affectionately (and disingenuously) nicknamed "America's Most Eligible Bachelor" by the public. In 1966, Lynde debuted on the fledgling game show Hollywood Squares. Eventually he assumed a permanent spot as the "center square," a move which ensured that he would be called upon by contestants at least once in almost every round. It was here that Lynde was best able to showcase his comedic talents with short, salty one-liners. Many of these gags were thinly-veiled allusions to his sexuality. Others relied on double entendre, a fondness for deviant behaviors, or dealt with "touchy" subject matter for television. Even the more generic punchlines were often punched up by Lynde's trademark snickering delivery.
In 1972, Lynde starred in the short-lived ABC sitcom, The Paul Lynde Show, playing an uptight attorney and father at odds with his liberal-minded son-in-law.
In 1965, Lynde was involved in an accident where a young actor, reputed to be Lynde's lover, fell to his death from the window of Lynde's hotel room in San Francisco. The two had been drinking for hours before 24-year old Bing Davidson either jumped or fell eight stories. Even though the scandal did not ruin his career, this incident did offer insight into the precarious life of drinking and partying that Lynde enjoyed.
Despite his television campy persona, Lynde never publicly came out as being gay and the press generally went along with the deception. In 1976, a People magazine article on Lynde featured him and Stan Finesmith, the latter was dubbed Lynde's "suite mate" and "chauffeur-bodyguard." In the 1970s, this was as close as the press would come to hinting at his sexuality
In 1978, Lynde was arrested outside of a gay bar in Salt Lake City. As a result of the arrest, he lost his guest starring role on The Donny and Marie Show. Increasingly in the late 1970s, acting jobs became harder for him to find, although it is unclear if this was because of anti-gay prejudice or his substance abuse problems, which often made him difficult to work with
Lynde was found dead in his Beverly Hills home by his friend Paul Barresi in January, 1982. Lynde is interred next to his brother Johnny and his long time love Bing Davidson at Amity Cemetery in Knox County, Ohio, some eight miles northeast of Paul's hometown.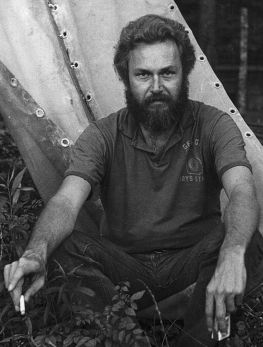 1938 – Award-winning trailblazer in post-Stonewall gay theater, Cal Yeomans (d.2001) had critically-acclaimed plays produced on both coasts and in Chicago in the late 1970s and early 1980s. However, he explored sex and sexuality so directly that it made his work difficult to produce even in the gay community.
Although majoring in business, he enrolled in several theater classes at Florida State. After three years of designing sets and acting in summer stock in Michigan, North Carolina, and the Catskills, Yeomans moved to New York, where he studied acting. In 1963 he joined the company of the Pocket Theatre in Atlanta, and a few years later, along with Fred Chappell, created the Atlanta School of Acting and Workshop Theatre. Yeomans taught acting at the school.
His first major play-writing success was Richmond Jim. Jim, the title character of the play, is ritually transformed from an innocent country boy into a menacing leather man. The climax comes when his host for the night slides a silver ring around Jim's cock, urges him to don leather chaps and vest, offers him handcuffs and bull whip, kneels before him, and pleads, "The rest is up to you."
In 1981, Yeoman's Sunsets: A Beach Trilogy was produced in New York and in San Francisco. All three plays of the trilogy are set outside a public toilet on a deserted beach in Florida. In the first, an ex-drag queen offers "mercy sex" to all comers—"to perform fellatio on the masses." In the second, a man brings his unsatisfied wife to the men's room to service men while he gets off by watching. The final act illustrates an affair between an intellectual gay man, and Dan, a married working-class man. As it ends, the two are wrestling nude on the sand until the gay man begs, "Now fuck me."
During the last twenty years of his life, Yeomans lived much of the time in and around Gainesville, Florida, where he often attended meetings of the University of Florida's gay and lesbian organization. In 1996, he learned that he had contracted AIDS. When he died of heart failure on October 31, 2001, he willed $1,000 to each of his several friends and over a half million dollars to the University of Florida to establish the Vada Allen Yeomans Term Professorship.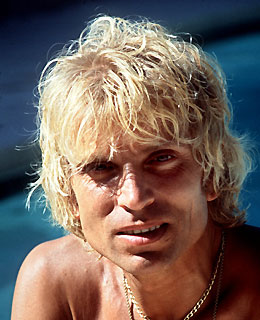 1939 – Siegrfried Fischbacher (d.2021) of Siegfried and Roy, world-renowned for their spectacular Las Vegas shows, elaborate productions that feature their trademark white tigers, as well as lions and other exotic animals. Although they refrain from discussing their sexual orientation publicly, they are widely perceived as homosexual and are popular with gay and lesbian audiences.
Both Siegfried Fischbacher, both he and Roy Horn faced difficult circumstances growing up in wartime and post-war Germany. Fischbacher, who was born in Rosenheim, Bavaria, on June 13, 1939, began learning magic at the age of eight. He discovered that he could use it to get attention from his generally uncommunicative father, who had been in a Russian prisoner-of-war camp and who had turned to drinking after returning home. Fischbacher studied carpet design for a time but then got a job as a steward on a cruise ship, the Bremen, where he also did magic tricks to amuse the passengers.
Horn, who was born on October 3, 1944, in Nordenham, near Bremen, also came from a troubled family. His once-prosperous stepfather became an abusive alcoholic after his fortunes declined. As a boy Horn sought solace in the company of animals, especially his wolf-dog, Hexe. He also visited the local zoo, where he helped with feeding the animals and cleaning cages.
At thirteen Horn became a bellboy on the Bremen, where he saw Fischbacher's magic act and suggested that he make a cheetah instead of a rabbit disappear. When Fischbacher agreed to do so, Horn smuggled a cheetah out of the zoo and onto the ship. The captain was concerned about the danger posed by the wild animal, but passengers liked the show, and so Fischbacher and Horn were allowed to continue their performances. In 1964, with the purloined cheetah still in tow, the partners took their magic act to clubs in Germany and Switzerland, where they had only moderate success. They gained greater public attention when they performed for Princess Grace at a benefit show for the Red Cross in Monte Carlo in 1966. They began playing at more prestigious venues such as the Lido in Paris. In 1970 Fischbacher and Horn contracted to perform at the MGM Grand Hotel in Las Vegas.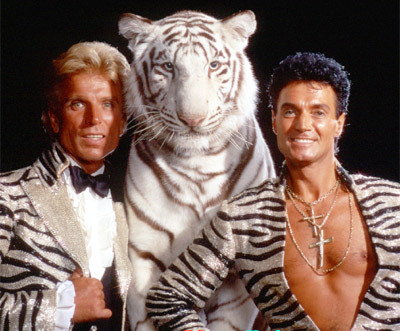 They began adding more exotic animals to their act and developing their showmanship. Their growing collection of exotic animals, including rare white tigers. Fischbacher and Horn received three white tiger cubs from the Cincinnati Zoo in 1982 and have worked with the zoo to help preserve the species. They have since bred more than thirty white tigers, including the only five pure-white tigers in the world. They are also working with the Johannesburg (South Africa) Zoological Society to breed and preserve the rare white lions of Timbavati.
Their elaborately produced stage show features music, fancifully-costumed dancers, imaginative and elaborately-engineered props, and numerous exotic animals. In 1996 the Mirage added Siegfried and Roy's Secret Garden, a spacious exhibit in which visitors can see a variety of animals in lush, tropical settings.
A 1994 television special, Siegfried and Roy: The Magic, the Mystery, also featured portions of their stage show but was centered on their interactions with their exotic animals at home. Home for Fischbacher and Horn--and dozens of animals--is a lavish mansion known as the Jungle Palace on an eight-acre estate in west Las Vegas. Although the partners have shared the residence for years, they make it clear that each has his own living quarters.
Fischbacher and Horn have not acknowledged that they are homosexual, but it is widely perceived that they are. Of their sexuality, a Las Vegas entertainment reporter said in 1997, "It's a bit like Clinton's policy on gays in the military. We don't ask and they don't tell." Shirley MacLaine, a longtime friend, has stated that the two "used to be lovers a long time ago." When asked by Vanity Fair writer Matt Tyrnauer how they felt about being perceived as gay icons, Fischbacher said that he was "very honored" and Horn called it "a wonderful thing," but neither commented on whether the perception of their sexuality was accurate. Fischbacher described the two of them as "friends." Charlie Skelton of The (London) Guardian described their stage show as one of "the most homoerotically charged performance[s]" that he had seen. He characterized it as "an excuse for two fabulously rich gay Germans to act out their wildest fantasies, night after night after night."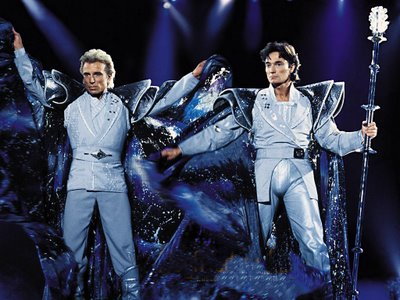 Accounts of the show mention that the cast of dancers includes "a dozen behooded men in padded pink muscle-suits" and that Fischbacher and Horn's costumes (especially Horn's) feature lamé capes, skin-tight leggings, and codpieces variously described as "ridiculously enormous," "as big as soup bowls," and "certainly more frightening" than the tigers.
Fischbacher and Horn's long-running show tragically came to an end on October 3, 2003 when Horn was bitten in the neck by a tiger during a performance. Although gravely injured, immediately after the incident Horn pleaded that the animal's life be spared. Initially in critical condition because of loss of blood and suffering a stroke, Horn, in what Fischbacher described as a "remarkable demonstration of will, courage, and faith," began to recover and was transferred from the Las Vegas University Medical Center to the UCLA Medical Center for further evaluation and treatment. A few weeks after the accident Fischbacher accepted the 2003 World Award for entertainment on behalf of the couple and optimistically declared, "The Siegfried who you see before you here will soon return again as Siegfried and Roy."
Siegfried Fischbacher died from cancer on January 14, 2021.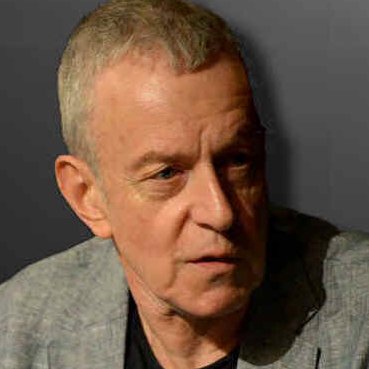 1947 – Brian Whitaker is a journalist and longtime editor for the London Guardian. Having earned a degree in Arabic from Westminster University, Whitaker also founded Al-Bab, a Web site intended to serve as a portal for non-Arabs to learn about Arab culture and the Middle East in general.
By 1999 Whitaker was made Middle East editor of the Guardian, a position he held for seven years. During this time, he wrote articles on a variety of topics, including democracy and reform, gender and sexuality, media, prejudice, society and culture, religion, and Islamic militancy. He later was made editor of the Guardian 's "Comment Is Free" section.
In 2006 Whitaker published his first book, Unspeakable Love: Gay and Lesbian Life in the Middle East. The account describes the sociocultural climate that creates a regionally unique set of difficulties for homosexuals in Arab countries. Whitaker includes many tragedies, including stories of individuals who were punished, beaten, killed, shamed, or disowned for their sexuality. Whitaker also discusses Islamic law and governmental control in addition to personal and familial relationship patterns that present obstacles for openness about homosexuality.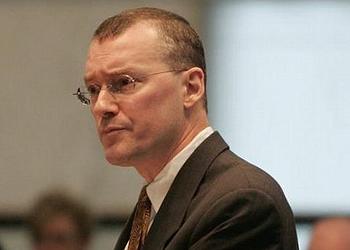 1957 – David Buckel (d.2018) is born. He was an American LGBT rights lawyer and an environmental activist. He died on April 14, 2018, by self-immolation as a protest against the use of fossil fuels.
Buckel was a senior counsel and marriage project director at Lambda Legal, the American organization that focuses on lesbian, gay, bisexual, and transgender (LGBT) communities. In 1996, Buckel represented
Jamie Nabozny
in 
Nabozny v. Podlesny
, a case heard in the United States Court of Appeals for the Seventh Circuit regarding the protection Nabozny did not receive while at school. Buckel represented Nabozny in his claims stemming from "consistent and significant anti-gay bullying and abuse."
In 2000, Buckel was the lead lawyer for of the estate of Brandon Teena, a transgender man who was raped and murdered in Nebraska, when Teena's family recovered damages against negligent law enforcement officers. Buckel stated, "It's a very important case, not only within Nebraska but nationally." The story inspired the 1999 biographical film Boys Don't Cry.
Buckel and his husband, Terry Kaelber, were raising a daughter, Hannah Broholm-Vail. They co-parented Hannah with Rona Vail and Cindy Broholm.
On April 14, 2018, Buckel's body was found by a passerby in Brooklyn's Prospect Park. It appeared that he had burned himself to death. Next to the body was a note in a manila envelope marked "To the police". The text of the note, which also was emailed to The New York Times, stated: "Most humans on the planet now breathe air made unhealthy by fossil fuels, and many die early deaths as a result—my early death by fossil fuel reflects what we are doing to ourselves."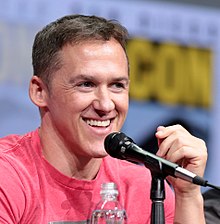 1975 – Jeff Davis is an American writer and television producer. He is best known for creating the CBS crime drama Criminal Minds and MTV's Teen Wolf, a television series reboot of the 1985 film of the same name. Davis is openly gay.
Jeff Davis was born in Milford, Connecticut. He graduated from Vassar College with a degree in film and he then went on to receive a master's degree in screenwriting from the University of Southern California. Davis worked as a script reader, editorial assistant, writer for computer software manuals and computer support specialist in Los Angeles while struggling to sell his own writing.
In 2003, Davis sold a script to CBS Television that eventually became the hit series Criminal Minds. He served as co-executive producer during the first season of the show.
In 2011, Davis began talks with MTV about a reboot of the Michael J. Fox '80s comedy Teen Wolf. He says he jumped at the project due to his love of the horror genre. He notes among his influences writers Stephen King and Thomas Harris. Davis has also stated that he is a fan of The X-Files, Cheers, and Moonlighting. As executive producer, head writer and show creator, Jeff Davis is the creative force behind MTV's Teen Wolf.
Before Teen Wolf was officially set to film in Los Angeles after the second season ended, Davis split his time between Los Angeles and Atlanta, Georgia where he filmed the show. Davis sold a series adaption of the Swedish horror film Låt den rätte komma in, for US Television A&E.The script was then ordered to pilot at TNT. The pilot was shot in Vancouver, but ultimately TNT decided not to proceed with a series.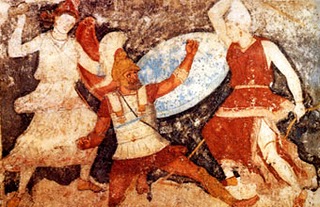 1982 – The magazine Amazones d'Hier, Lesbiennes d'Aujourd'hui (AHLA) was first published on this date. Translated from the French, the name of the magazine is Amazons of Yesterday, Lesbians of Today and the quarterly French-language magazine shared its name with a documentary film developed by a Lesbian collective in Montreal, Quebec in the early 1980s.
The film was developed from 1979-1981, and premiered on June 13, 1982 in Montreal, and the magazine followed, also in 1982, and by the same collective: Louise Turcotte, Danielle Charest, Genette Bergeron and Ariane Brunet. AHLA was written from a radical Lesbian (Lesbiennes radicales) perspective, and aimed to offer analysis and reflection about political and philosophical issues affecting Lesbians globally as well as in Quebec.
The magazine's content drew heavily from francophone material feminism, and the ideas of French theorists Monique Wittig and Nicole-Claude Mathieu. The front page of every issue clearly stated that the magazine was intended "for Lesbians only".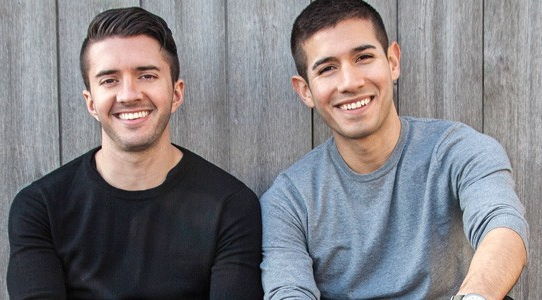 Blake (L) and husband Saul
1985 – Blake Skjellerup, born in Christchurch, New Zealand, is a short track speed skater who competed for New Zealand at the 2010 Winter Olympics, finishing sixteenth.
Skjellerup began speed skating at the age of 10 after an injury from rugby union provided him with the opportunity to try speed skating. After a few lessons Skjellerup took to the sport and has won five national titles and broken numerous national records throughout his speed skating career. He is currently working towards being at the 2014 Winter Olympics in Sochi, Russia. Skjellerup now lives and trains in Calgary, Canada.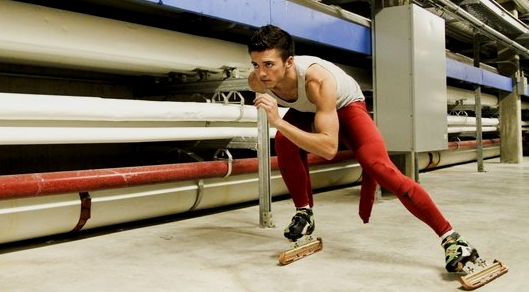 Skjellerup came out as gay in an interview with Australian magazine, DNA in May 2010, saying he had decided to wait until after the Vancouver Games to do so in order to focus on his performance and to avoid turning off potential sponsors. He is one of only a few openly gay Olympic athletes and is reported as having a boyfriend, also an athlete.
My passage into...accepting my sexuality took quite a long time. I had my first experience with another guy when I was 16. The eight years after that until I came out were full of highs and lows. I struggled with accepting how I could be gay, be successful and get everything I wanted out of life. In my teenage years there was no Gareth Thomas or Matthew Mitcham. Reading their stories and witnessing how comfortable and nonchalant Mitcham was about his sexuality at the Beijing Olympics in 2008 really opened my eyes.
I came out to break the stereotype of gay men and gay athletes. We can be anybody. We are anybody. My friends, family and team know me; they know I don't wear a skirt! I am no less of a man because I am gay…
In 2011, Skjellerup and Matthew Mitcham, a gay Olympic athlete from Australia, were named by the Federation of Gay Games as ambassadors to the 2014 Gay Games in Cleveland, Ohio. Skjellerup also became an advocate for Pink Shirt Day, a nationwide campaign to fight bullying in New Zealand.
In September 2015, Skjellerup married his boyfriend, lifestyle blogger Saul Carrasco, in Hawaii.

1992 – On this date President Clinton named Marsha Scott as the first Presidential Liaison to the Gay and Lesbian community.

2006 – A fire in a Chicago public library damaged more than 100 books, most in the gay and lesbian collection. The Chicago Police Department later upgraded the fire to a hate crime.

JUNE 14 →
[{(o)}]|[{(o)}]|[{(o)}]|[{(o)}]| [{(o)}]|[{(o)}]