December 12
[{(o)}]|[{(o)}]|[{(o)}]|[{(o)}]| [{(o)}]|[{(o)}]
1704 – The Province of New Jersey adopts a statute issuing a general pardon for any pending prosecutions for same-sex intercourse; they were abandoned as of that date.

1714 – The Province of South Carolina adopts English common law and criminalizes buggery, punishing same-sex intercourse and zoophilia with the death penalty and forfeiture of property, for males only.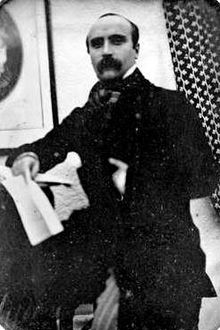 1821 – Gustave Flaubert was born on this date (d.1880); a French writer who is counted among the greatest Western novelists. He is known especially for his first published novel, Madame Bovary (1857), and for his scrupulous devotion to his art and style, best exemplified by his endless search for "le mot juste" ("the precise word"). And in this instance, the perfect word is gay.
For those who would leap to conclusions, the great French novelist made three mistakes: like Clifton Webb, he lived with his mama; he never married; and he once identified himself with the title character of his masterpiece, Madame Bovary — "Madame Bovary, c'est mois." What he meant by calling himself Emma Bovary, of course, was that, like his famous character, he hated bourgeois convention.
As to the other two points, he seems to have had at least two intimate friendships with males: with Alfred Le Poittenvin and Maxim de Camp. He also engaged in intercourse with male prostitutes in Beirut and Egypt; in one of his letters, he describes a "pockmarked young rascal wearing a white turban".
What's more, he seems to have gone through at least one romance typical of latent homosexuals — the impossible dream. His friendship with the poet Louise Colet was founded on the idea that it would be impossible to win her.
The 1870s were a difficult time for Flaubert. Prussian soldiers occupied his house during the War of 1870, and his mother died in 1872. After her death, he fell into financial difficulty due to business failures on the part of his niece's husband. Flaubert suffered from venereal diseases most of his life. His health declined and he died at Croisset of a cerebral hemorrhage in 1880 at the age of 58. He was buried in the family vault in the cemetery of Rouen.
Historian A.L. Rowse is convinced that Flaubert was homosexual; so are others. But there is, alas, little hard evidence.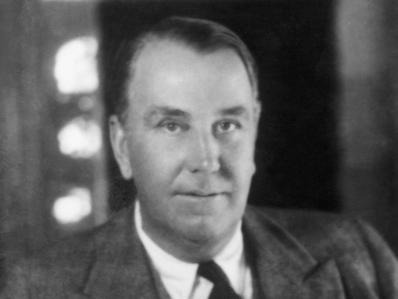 1872 – Addison Mizner (d.1933) was an American resort architect whose Mediterranean Revival and Spanish Colonial Revival style interpretations left an indelible stamp on South Florida, where it continues to inspire architects and land developers. In the 1920s Mizner was the best-known and most-discussed living American architect. Palm Beach, Florida, which he "transformed", was his home, and most of his houses are there. He believed that architecture should also include interior and garden design, and set up Mizner Industries to have a reliable source of components. He was "an architect with a philosophy and a dream." Boca Raton, Florida, began as Mizner's project.
Born in Benicia, at the time "the educational center of California", and (briefly) its first capitol, he traveled as a child with his father, Lansing B. Mizner, a lawyer, former President of the California Senate and the U. S. Minister to Central America, based in Guatemala. As a young man, he visited China in 1893, was briefly a gold miner in the Yukon (1898–99) (Canada, not Alaska). Of his seven siblings, six of them boys, he was closest to his younger brother Wilson, whose shady conduct caused Addison many problems. He kept as pets a series of monkeys, which often rode on his shoulder; his favorite had a headstone at his grave, identifying him as "Johnnie Brown, The Human Monkey, Died April 30, 1927." He had a macaw parrot.He was "a character."
In 1932 Mizner published The Many Mizners, an autobiography covering his youth, year mining, and time in New York until the death of his mother. A second volume telling of his life in Florida was begun but never completed; the Palm Beach Historical Society has the typed manuscript.
Mizner has been described as
"an early influential gay man in South Florida," "the gay father of South Florida architecture."
He is portrayed as openly gay in the
Stephen Sondheim
—
John Weidman
musical
Road Show
. Mizner described himself as a
"lifelong bachelor,"
after
"a few unsuccessful relationships with women in California and New York."
One modern researcher says that "Wilson [his brother] loved women sexually; Addison cherished their friendship and companionship." He tells us, in The Many Mizners, that he "fell desperately in love with Bertha Doffer", but the love did not last long, as she "had fallen out of a window at the Waldorf-Astoria and had been instantly killed". At the same time, when he was living in San Francisco, he had "an emotional relationship with a young man, Jack Baird".
Although at that period he could not be open, his biographer Caroline Seebohm said "his mature sexual taste was for very young men," "pretty boys with pretensions," and he had "a series of young boys in tow" during his later years.
One of these "young and handsome" men was Alex Waugh, who accompanied Mizner on buying trips and ended up manager of the antiques and reproduction furniture store for Mizner Industries. When Waugh sent recollections of Mizner to biographer Alva Johnston, they were "quite unprintable".
Another was Horace Chase, his "wild, thoroughly-likeable" nephew, for two years the manager of the "virtually inoperable pottery factory, 'Las Manos' ['The Hands']," which he bought from Paris Singer." Jack Roy was a memorable young man whom Addison made manager of his furniture factory despite his having no experience whatsoever in management or any familiarity with artisanship. Addison met Jerry Girandolle in New York and, after giving him a new Cadillac, also made him manager of the furniture factory [Jack having departed]. Later, Addison was attracted to the young painter he used on the Cosden house, Achille Angeli, 'a strikingly handsome young fellow'."
Mizner died in 1933 of a heart attack in Palm Beach and is buried in the family vault at Cypress Lawn Memorial Park.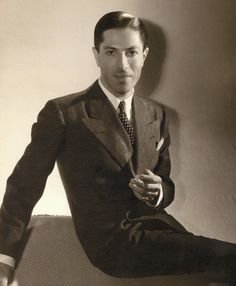 1904 – Baron Nicolas de Gunzburg (d.1981) was a banker and socialite of Russian, Polish, and Portuguese descent, who became an editor at several American publications, including Town & Country, Vogue, and Harper's Bazaar. He was named to the International Best Dressed List Hall of Fame in 1971.
Baron Nicolas "Niki" de Gunzburg was born in Paris, France, a scion of a wealthy and influential Russian-Jewish family, whose fortune had been made in banking and oil.
Raised primarily in England, where his father worked for the bankers Hirsch & Co. and served as a director of the Ritz Hotels Development Corporation, Gunzburg spent his later youth in France. Living the life of a bon vivant in the Paris of the 1920s and 1930s, Gunzburg spent money lavishly, and his costume balls featured extravagant sets designed by architects and artists.
Carl Theodor Dreyer, the Danish film director, met Gunzburg in Paris. This led to their co-production of the expressionistic horror film Vampyr (1932). Loosely based on the vampire stories by Joseph Sheridan Le Fanu collected together as In a Glass Darkly, the protagonist, Allan Gray, was played by Gunzburg under the screen name Julian West.
Legend states that upon the death of his father, Gunzburg learned the remaining family fortune was non-existent. Left with only the money he had in a checking account, he purchased his passage to America and used what was left to throw a costume ball in July 1934.
Gunzburg arrived in New York City on 10 November 1936 and rented an apartment in the Ritz Tower.
After working as an editor at
Harper's Bazaar
and as editor in chief of
Town & Country
, Guzburg was appointed senior fashion editor of Condé Nast's publication
Vogue
in 1949. Chauvinistically, he admitted that office life had its drawbacks.
"I want to be in fashion, so I have to work with women, and that's that,"
he told The New York Times in 1969.
"But what it all comes down to is the weekly paycheck, isn't it?"
Gunzburg also was a mentor to three up-and-coming fashion designers who would go on to dominate the industry: Bill Blass, Oscar de la Renta, and Calvin Klein. The last-named, whom Gunzburg met in the mid 1960s, was perhaps the baron's most famous protégé, and Klein discussed Gunzburg with Bianca Jagger and Andy Warhol in Interview magazine, published not long after the baron's death.
Gunzburg, who was homosexual and never married, had two known long-term companions: Erik Rhodes, an actor; and Paul Sherman, an artist.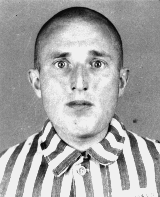 1912 – Karl Gorath (d.2003) was a gay man who was arrested in 1938 and imprisoned for homosexuality at Neuengamme and Auschwitz. He was freed in 1945.
Gorath was training for a nursing career when, at 26, he was denounced as a homosexual by his "jealous lover" and arrested under Paragraph 175 of the criminal code, which defined homosexuality as an "unnatural act".
Gorath was imprisoned at Neuengamme near Hamburg, Germany and was forced to wear a pink triangle, identifying him as gay and a transvestite.
Because of his medical training, Gorath was transferred to work at a prisoner hospital in a sub-camp of Neuengamme. When he refused to decrease the bread ration for patients who were Poles, Gorath was transferred to Auschwitz. There he wore the red triangle of a political prisoner, which he believed spared him the brutality inflicted on inmates identified as gay. In January 1945, Gorath was freed when the Allies liberated Auschwitz.
Gorath is one of six gay men who are the subject of a documentary on gays in Nazi concentration camps. The film, by producers Jeffrey Friedman and Rob Epstein and narrated by Rupert Everett, is called Paragraph 175.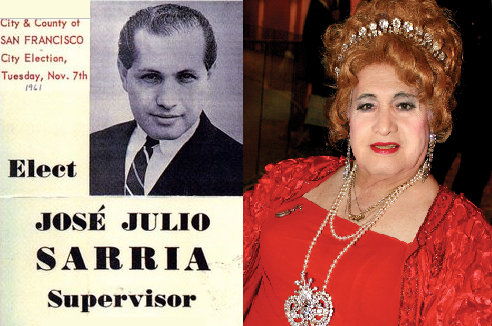 1922 (or 1923) – José Sarria (d.2013) was an American political activist from San Francisco, California. His birth certificate states December 12, 1923, but Sarria suspects that his mother added a year to deflect attention from her unmarried state. Sarria entertained patrons with satirical versions of popular songs and operas while encouraging them to live their lives as openly as possible. He frequently dressed in drag. As the founder of the Imperial Court System of charity funding, he presided over the expansion of drag culture into a vast network of charity balls and extravaganzas.
His venue from the late 1940s to 1964 was the Black Cat Cafe, a bohemian North Beach hangout that Sarria made famous by his high-camp performances. With accompanist James McGinnis (a.k.a. "Hazel"), he perfected a routine using his natural tenor voice that parodied opera and celebrities—augmented by ribald banter with the audience—and closed with the singing of "God Save Us Nelly Queens," often projected to the officers and inmates of the jail across the street.
As a pioneer in gay political theater, Sarria fought back against the oppression gay men and lesbians experienced in the 1950s and 1960s, when gay and lesbian bars were extorted for payoffs to the police and regularly raided in "clean-up" campaigns, when gay men were routinely arrested for cruising the city parks, and drag queens were habitually harassed for cross-dressing. Sarria injected his act with political commentary and with defiant pride. As one frequent patron of the Black Cat remembered, "we were not really saying 'God Save Us Nelly Queens.' We were saying 'We have our rights too."
He lived for much of his childhood with his godmother, Jesserina, while his mother worked as a live-in domestic. The women combined their households in a move from San Francisco to Redwood City during the Great Depression. Both indulged young José's fondness for dressing up in their clothes and encouraged his interest in singing and dancing. Blessed with a fine voice, he received lessons from a retired opera singer during his teens.
Already identifying as gay but not wanting to be labeled a "4-Fer," Sarria enlisted in the army during World War II. Lifelong coping strategies began to emerge during his military service. He overcame his barracks-mates' disdain by treating them to a lavish tour of his home city. By becoming a young officer's personal assistant, Sarria accompanied the occupation forces to Berlin and ended up managing the officers' mess hall.
After the war Sarria began subbing for his lover as waiter and greeter at the Black Cat. Once customers heard him sing, however, he moved to the stage and began developing his signature female impersonation roles.
In response to harassment of gay bars after the 1959 mayoral election, the San Francisco Tavern Guild was formed. In 1961, at the height of a police crackdown, the Guild backed Sarria for a seat on the city's Board of Supervisors. Thus, Sarria became the first openly gay candidate in the world to run for public office.
Sarria's activism was of the merry prankster variety that prefigured that of the Radical Faeries. He would call attention to plainclothes cops who infiltrated the Black Cat and instigate a round of applause for them. He distributed "I Am a Boy" labels for cross-dressing Halloween celebrants to wear, so police could not arrest them for "intent to deceive."
Once the target of a morals arrest himself, he urged others in that situation to demand jury trials. Filling the court dockets with such cases prompted judges to demand better evidence from officers and made prosecutions difficult. He helped found the League for Civil Education in 1960 and the Society for Individual Rights (SIR) in 1963.
In 1964 the Tavern Guild declared Sarria the Queen of the Beaux Arts Ball. Sarria rejoined that since he was already a queen, he should henceforth be Empress. His inspiration was a colorful character from the city's history: Joshua Norton, self-proclaimed "Emperor of North America and Protector of Mexico." As "Her Royal Majesty, Empress One of San Francisco, Jose I, the Widow Norton," Sarria purchased a cemetery plot adjoining that of the quirky nineteenth-century merchant and launched the Imperial Court System.
The organization now has chapters throughout the United States, Canada, Mexico, and Britain, providing both men and women arenas for creating drag personae amidst elaborate ritual.
Sarria died of adrenal cancer at the age of 89 or 90 on August 19, 2013, at his home in Los Ranchos de Albuquerque. Obituaries and tributes appeared around the United States in media including The Advocate, KALW Public Radio (San Francisco), The New York Times, and the San Francisco Chronicle. Obituaries were published in media around the world.
Sarria's imperial-drag-themed funeral was held on September 6, 2013 at Grace Cathedral of San Francisco, with the Right Rev. Marc Handley Andrus, bishop of the Episcopal Diocese of California, presiding; some 1,000 mourners attended the service.Various local and state elected officials participated, including California State Sen. Mark Leno, former San Francisco mayor Art Agnos, San Francisco Treasurer José Cisneros, and members of the San Francisco Board of Supervisors. Leaders of the Imperial Court System and the Sisters of Perpetual Indulgence attended in full regalia, with the formal mourning dress for the court dictated by Sarria in advance.
Immediately following the funeral, a cortege of approximately 500 mourners accompanied Sarria's body to Woodlawn Memorial Park in Colma, where he was buried with full military honors in a plot he had previously purchased at the foot of the grave of Joshua Norton.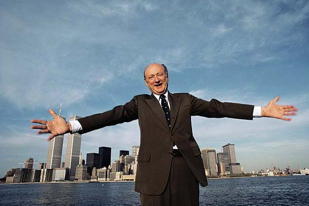 1924 – Ed Koch, former Mayor of New York City, was born on this date. (d.2013)
Koch is a lifelong bachelor, and his sexuality became an issue in the 1977 mayoral election with the appearance of placards and posters (disavowed by the Cuomo campaign) with the slogan "Vote for Cuomo, not the homo." Koch denounced the attack, later saying "No, I am not a homosexual. If I were a homosexual, I would hope I would have the courage to say so. What's cruel is that you are forcing me to say I am not a homosexual. This means you are putting homosexuals down. I don't want to do that." He was able to use this to his advantage by painting Cuomo as a homophobic bigot. After becoming mayor, Koch began attending public events with former Miss America, well-known television game show panelist and consumer advocate Bess Myerson. The strategy made Myerson, who had political ambitions of her own (she later ran for senator), seem like a "First Lady of New York" of sorts.
Koch has generally been less explicit in his denials in later life, and refused comment on his actual sexual experiences, writing
"What do I care? I'm 73 years old. I find it fascinating that people are interested in my sex life at age 73. It's rather complimentary! But as I say in my book, my answer to questions on this subject is simply 'Fuck off.' There have to be some private matters left."
Randy Shilts, in And The Band Played On, his influential history of the early AIDS epidemic in America, discusses the possibility that Koch ignored the developing epidemic in New York City in 1982-1983 because he was afraid of lending credence to rumors of his homosexuality. Author and Activist Larry Kramer has been more pointed in his criticism of Koch. He describes the former mayor as a "closeted Gay man" whose fear of being 'outed' kept him from aggressively addressing the AIDS epidemic in New York City in the early 1980s. In the 2006 movie Shortbus, an openly Gay character resembling Koch (played by Alan Mandell) claims to be an ex-Mayor of New York City, and makes reference to his negligence concerning the AIDS crisis of the 1980s. He was "outed" more directly in Kirby Dick's 2009 documentary about politics and the closet, Outrage, when Village Voice investigative journalist Wayne Barrett states that Koch is gay.

A self-portrait
1938 – Emmanuel Cooper (d.2012) was a British studio potter, writer on arts and crafts, and gay activist.
Born in Derbyshire, Cooper studied at the University for the Creative Arts. He also achieved a PhD degree at Middlesex University. He was a member of the Crafts Council and the editor of Ceramic Review. Since 1999, he was visiting Professor of Ceramics and Glass at the Royal College of Art. He was the author of many books on ceramics, including his definitive biography of Bernard Leach that was published in 2003 , and was also the editor of The Ceramics Book, published in 2006.
In the early 1970s, he was also a cofounder of the Gay Left collective which published an influential journal of sexual politics. After it dissolved he set up a gay artists group and a gay history group, and contributed widely to the gay press, increasingly on the arts and cultural issues. He remained a prominent LGBT rights campaigner throughout his life. He also published several studies of LGBT art, including The Sexual Perspective and Fully Exposed: The Male Nude in Photography.
His 30-year partnership with the television producer David Horbury was the core of his emotional stability. They celebrated their civil partnership in 2006. David survives him.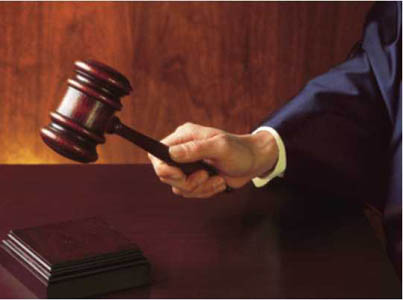 1943 – Judge Jerold Krieger (d.2002) was a judge of the Los Angeles County Superior Court known for his work fighting for civil rights for gays, minorities and the disadvantaged. As an openly gay judge, he served as Chairperson of the Sexual Orientation Fairness Subcommittee of the California Judicial Council's Access and Fairness Advisory Committee. He was a co-founder of the world's first gay and lesbian synagogue. He served on the 2nd District Court of Appeal by special temporary appointment, and he hoped for a permanent post on that court.
Krieger served as a role model on the bench for many openly gay judges who followed him.
He was a member of the California Judicial Council's Access and Fairness Advisory Committee and was chairperson of its Sexual Orientation Fairness Subcommittee.
The subcommittee conducted a six-year study, which was the first of its kind in the nation. It found many situations where people in the courts system, including parties to cases, workers, and jurors, were subject to bias. Krieger stated, "The study shows that there is both a perception and in some cases actual unequal treatment based upon sexual orientation."
"It's a wake-up call of how much work needs to be done,"
said
Jon W. Davidson,
attorney for the Lambda Legal Defense and Education Fund. "
It has important consequences, because gays and lesbians are going to use the court system. The courts need to deal with [the inequalities] if they're committed to open access for all people."
Commenting on the study, Krieger said it is the laws that are prejudiced, not the judges and court employees.
"I can be very fair,"
he said.
"But I'm still not permitted to do a marriage of a gay couple."
Krieger's subcommittee made many recommendations for "ensuring that the court system is fair and accessible to all persons in the state of California" in regards to sexual orientation. These included improving training, developing a diverse pool of clerks and interns, changing the Standards of Judicial Administration to prevent retaliation against whistleblowers, and studying bias in hiring and promotion.
Krieger also was a co-founder in 1972 of the world's first gay and lesbian synagogue, Temple Beth Chayim Chadashim.
"In the gay community, you don't feel you can be Jewish, and in the Jewish community, you don't feel you can be gay. I'm still a Jew, and I'm also gay. The temple brings it together."
Judge Krieger was co-chair of the Lesbian and Gay Caucus of the California Democratic Party. He developed a reputation as a civil rights activist and political strategist for Democratic candidates. He inspired and help found the Lawyers for Human Rights (now called the Lesbian and Gay Lawyers Association of Los Angeles) in 1979 and became its second president.
Rabbi Lisa Edwards of Temple Beth Chayim Chadashim recalls that Judge Krieger "used to laugh and sigh with me at the irony that the state of California authorized the two of us to officiate and sign marriage licenses - could even do so for a couple who had been together one day - but that same state of California wouldn't let either of us marry our own partners of so many years." Krieger's life partner was Jon Smith.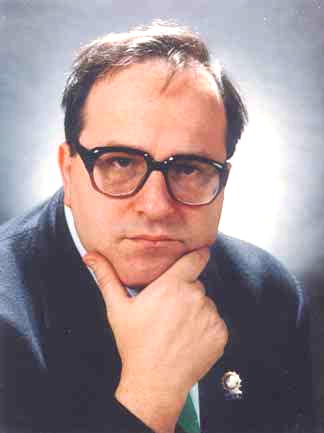 1945 – Massimo Consoli (d.2007) was known as "the father of the Italian gay movement". Besides being an activist, he was also an anarchist and an historian. In 1998, the State Archive of Italy's Ministry of Culture acquired his extensive archive of Italian gay activist history.
In Italy in the 1960s, Massimo Consoli was so eager for gay activism he subscribed to ONE and The Mattachine Review, despite having only a scant grasp of English. His own pioneering work for gay equality caught the attention of the SID —teh Italian equivalent of the CIA—which interrogated his neighbors, cost him his teaching job, and impelled him to move to the Netherlands. From that safe refuge, he published his Manifesto Gay in 1971 and as a result gay activists immediately formed FUORI! (OUT!) with branches in Rome, Milan, and Turin.
In the early 1980s he lived in New York and became good friends with Vito Russo, but after witnessing the emerging aids crisis he returned to Italy to educate people about safe sex.
Consoli attended the Gay May Day events of 1972 and arranged Italy's first commemoration of Stonewall on June 28, 1976, just one of the hundreds of political events he organized, ranging from demonstrations to conferences to book lectures.
He was the first person to discuss anti-gay violence with the Italian police, who then established a liaison to the gay community; and in 1992 he initiated the demonstration at the Vatican against Cardinal Ratzinger's antigay writings which discuss homosexuality in terms of "an intrinsic moral evil."
Consoli started the magazine Gay News Rome and wrote forty books, two standouts of which are Homocaust, about the Nazi's persecution of gay men, and an autobiographical novel Andata and Ritorno (Round Trip).
He led pilgrimages to the tomb, outside Rome, of Karl Ulrichs, annually on his birthday August 28, and last year he helped get a statue of Ulrichs placed at the grave. Consoli himself died in November 2007, of stomach cancer. His papers dating before 1998 are in the Italian national archives and those after '98 are in a gay archive.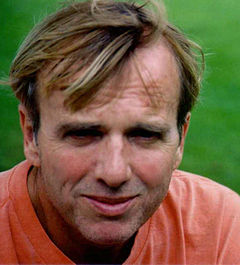 1949 – Today is the birthday of poet and writer Richard McCann.
McCann is best known as the author of the gorgeous Mother of Sorrows, a collection of linked stories that novelist Michael Cunningham has described as unbearably beautiful. It won the 2005 John C. Zacharis First Book Award from Ploughshares and was also an American Library Association Stonewall Book Award recipient, as well as a finalist for the Lambda Literary Award.
White Crane
reviewed the book, commenting that
"McCann evokes a moment with such gorgeous precision that many times I forgot I was reading a book — as if I was dreaming a reality and gasped into the night, waking myself from sleep and having to remind myself it was only a story. What one is left with is a refreshing meditation on the gritty complications of our relationships as gay men. This book has stunning power and an ability to leave the reader breathless at its beauty."
McCann's book of poems, Ghost Letters, won the 1994 Beatrice Hawley and Capricorn Poetry awards. With Michael Klein, he edited Things Shaped in Passing: More 'Poets for Life' Writing from the AIDS Pandemic.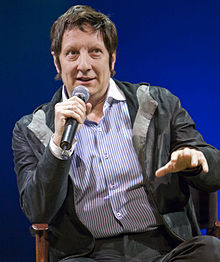 1957 – Robert Lepage, born in Québec City, is a playwright, actor, film director, and stage director from Québec City, Québec, and is one of Canada's most honoured theatre artists.
LePage was raised in Québec City. At age five, he was diagnosed with a rare form of alopecia, which caused complete hair loss over his whole body. As a teenager he struggled with depression, and turned to drama classes to conquer his shyness.
In 1994, Lepage founded Ex Machina, a multidisciplinary production company, for which he is artistic director. Lepage and Ex Machina have toured numerous productions internationally to critical and popular acclaim, most notably The Seven Streams of the River Ota (1994) and Elsinore (1995). Lepage was invited in 1994 to direct August Strindberg's A Dream Play at Royal Dramatic Theatre in Stockholm, Sweden. It premiered in the fall of 1994 and guest played in the spring of 1995 in Glasgow Scotland.
The Far Side of the Moon (French: La Face cachée de la lune, 2000), a solo show in which he juxtaposed the Cold War competition of the Americans and the Soviets in the Space Race with the story of two Québécois brothers—one straight, one gay—and their competitive relationship after their mother's death won numerous awards, including four trophies at le Gala des Masques, a Time Out Award and the prestigious Evening Standard Award. The Far Side of the Moon was adapted by Lepage—who plays both brothers—into a critically acclaimed 2003 film of the same name.
Lepage has directed four other feature films: Le Confessionnal (1995), Le Polygraphe (1997), Nô (1998) and Possible Worlds (2000), and has acted in films by other directors, notably Jésus de Montréal (1989) and Stardom (2001) by Denys Arcand.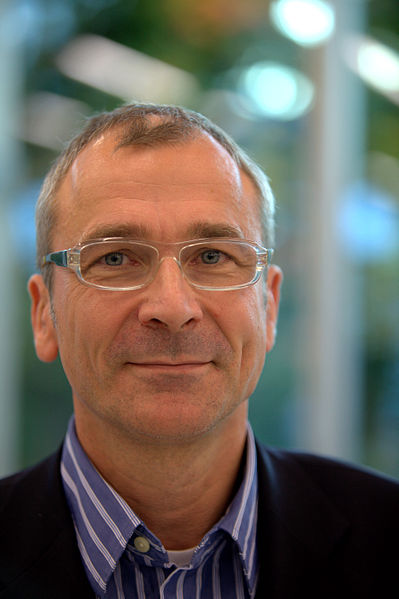 1960 – Volker Beck, born Stuttgart, Germany, is member of Germany's parliament, the Bundestag,and is known as the father of the German Registered Partnership Act.
Prior to becoming politically active in the peace movement in the 1980's, Volker Beck studied at the University of Stuttgart. In 1985, he joined the Green Party. In 1987, he became responsible for LGBT issues in the Green Party caucus in the Bundestag.
From 1991 to 2004, Beck was spokesman for the Lesbian and Gay Association in Germany (LSVD). He is credited with placing the issue of same-gender partnerships and a LGBT anti-discrimination law on the parliamentary agenda.
He is a supporter of gay marriage and has been referred to as the Father of the German Registered Partnership Act.
In 2006, he sponsored an anti-discrimination act in civil law and at the workplace, outlawing discrimination based on race, ethnic origin, sex, sexual identity, religion, age, and disability.
2006, Beck was attacked and injured during a Gay Rights demonstration in Moscow, called Moscow Pride. His attack as well as his participation at the Moscow Pride Festival is featured in the documentary Moscow Pride '06.
On May 2007 he was arrested and put in a bus in front of the Moscow City Hall by the police. He had wanted to hand over a petition signed by several Members of Parliament at Moscow City Hall. He was attacked and had eggs thrown on his head. His partner Jacques Teyssier tried to protect him from attacks by anti-gay protesters.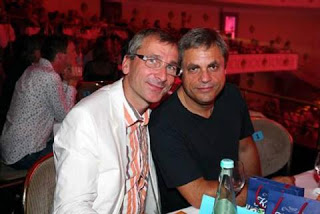 Volker Beck (L) with Jacques Teyssier
Beck lived in a long-term partnership with Jacques Teyssier until Teyssier's death from cancer in Berlin on July 25, 2009. The couple had officially registered their partnership in 2008, after 16 years together.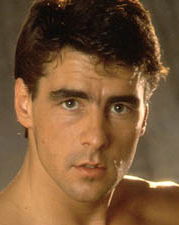 (Click for full pic)
1962 – Jon Vincent (a.k.a. Dave Phillips, John St. Vincent), real name: Jeffrey James Vickers (d.2000) was an American pornographic actor who appeared in gay and bisexual pornography. Though he performed in fewer than 40 films, he is considered a porn legend.
Vincent was known for his muscular body and hyper-masculine demeanor. He was also known for talking dirty and for saying harsh and degrading things to the men with whom he had sex in his films. "He was frequently rough with his co-stars, and was even known to put his fist through a wall during an argument with a director." He identified as bisexual and appeared also in several bisexual porn films.
He co-authored his autobiography Thousand and One Night Stands. He was raised in Louisiana. He wanted to be a professional baseball player, and signed with the Kansas City Royals when he was only 20, but either he was fired when involved in a conspiracy to sell cocaine or an injury ended that pursuit.
At one point, he dated another late gay porn star Joey Stefano. Though he only mentions having sex with whites and Latinos in his autobiography, in the autobiography of British gay porn star Blue Blake, Blake stated that Vincent had a preference for African-American men in real life
"Vincent was a thrill junkie: a compulsive seeker of sexual adventure, physical danger, steroids, alcohol, cocaine and finally heroin. Heroin was stronger than he was; it took over his life and finally killed him." He had been a severe drug addict for decades. He died of a heroin overdose in New York City.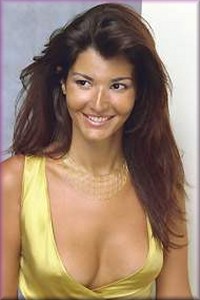 1965 – Roberta Close was born Luíz Roberto Gambine Moreira, in Rio de Janeiro, Brazil, on December 7, 1964 or, as she claims, December 12, 1965. Although born biologically male, according to some accounts, she was born with incomplete male genitalia.
In 1984, the front page of the World Weekly News proclaimed that "The World's Most Beautiful Model is Really a Man." Its claim was—in this case—amazingly true, at least at that time. Roberta Close, one of the most famous transsexual celebrities in the world today, had yet to undergo the male-to-female sexual reassignment surgery that would not only bring her even wider fame but also lead to an unprecedented challenge to Brazilian law.
As a child, Luíz felt as if she were female and began wearing female attire as an adolescent, and soon thereafter began to receive illicit hormone injections to enhance an already feminine appearance. At eighteen, Luíz reported for military conscription wearing a dress. An exemption was arranged, but her father disowned her as a result of the scandal.
For a period of time, Luíz joined the ranks of the travestis, the biologically male transgendered/transvestite prostitutes who habituate the Lapa district of Rio de Janeiro. Her remarkable beauty and physique (enhanced by silicone), however, brought her media attention, and she soon became much in demand as a model, adopting the name Roberta Close after the agency for which she worked.
At the age of twenty, Close won the "Miss Gay Brazil" beauty pageant and became the first transgendered model (still pre-operative at the time) to pose nude for the Brazilian edition of Playboy. In 1985, she had her first major film role in the comedy Si tu vas a Rio . . . tu muers (See Rio and Die), which made her one of the most visible celebrities in her native country.
She underwent sex reassignment surgery, which was performed in 1989 in a London clinic. After recovering, she was the subject of an extensive photo spread in Sexy, a Brazilian men's magazine, and readers voted her the "Most Beautiful Woman in Brazil."
In 1997, she challenged the legal statutes that prevented her from using her preferred name, Luíza Bambine Moreira, or declaring her sex as female on official documents. She took her case to the Brazilian Supreme Court which ruled against her. She persisted, and, in 1999, she was arrested for using a passport with her proscribed identity.
Having completely accepted her female identity, Close married Swiss industrialist Roland Granacher in 1993. The couple separated after seven years, however, presumably as a result of Close's highly publicized romantic exploits with various notables. In her sensational 1998 autobiography Muito Prazer, Roberta Close (Much Pleasure, Roberta Close), she claims to have been involved with Eddie Murphy, George Clooney, Robert DeNiro, and Francis Ford Coppola, among others. While a best seller in Brazil, the book has not been published in the United States, perhaps for obvious legal reasons.
n 2005, Close finally won a court decision recognizing her as a woman and awarding her a new birth certificate. Following a ruling by a Rio de Janeiro court, a new birth certificate was issued, affirming that on December 7, 1964, a child of the female sex was born and was given the name of Roberta Gambine Moreira—which may explain the contradictions in her birthdate.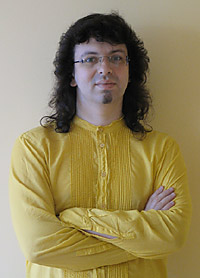 1968 – Today's the birthday of the Russian poet, critic and publisher Dmitry Kuzmin.
Kuzmin started his literary career in 1988 by organizing a group of poets who now are known as the "Vavilon" circle of poets/writers (which means "Babylon"). He and his friends started publishing an independent book series called "The Library of Young Literature". In 1993 he founded the ARGO-RISK Press, an independent poetry press. In 1996 he published the first issue of the Gay almanac called RISK. In 1997 he created the reference site Vavilon.ru where he listed a number of Russian writers. Kuzmin declared that the main purpose of the site was to resist the huge wave of "commercial literature", which began flooding the Russian market for the first time since the 1920's. In 2007, he founded LitKarta, another reference site that provides information on some members of the Russian literary community.
Kuzmin organised quite a number of poetry readings and festivals, "non- commercial", as he referred to them. He claims that he has published about 300 books by other writers (mostly leaflets). He won a few awards for promotion of the works by young writers (including the Andrei Bely Prize). He edits the literary magazine called Vozdukh, and is a contributing editor of the literary journal titled St. Petersburg Review. Kuzmin actively promotes Gay culture and fights homophobia.

1969 – Police enter the Continental Baths and arrest three patrons and three employees, charging the patrons with lewd and lascivious acts and the employees with criminal mischief. The raid is the first of several on the Continental for the following weeks. The Continental Baths was a gay bathhouse in the basement of The Ansonia Hotel in New York City which was opened in 1968 by Steve Ostrow. It was advertised as reminiscent of "the glory of ancient Rome". The documentary film Continental by Malcolm Ingram covers the height of the club's popularity through the early 1970s.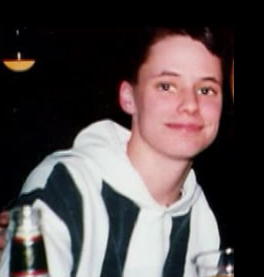 1972 – Brandon Teena (d.1993) was a transgendered man whose murder attracted national attention and spurred transgender activists to demonstrate against the ever-increasing regularity of violence towards transgendered people.
Brandon Teena, a biological female, was born Teena Renae Brandon in Lincoln, Nebraska. During childhood, Teena was a tomboy, and as an adolescent he wrestled with both gender identity and sexual orientation issues. In his late teens, Teena began passing as a male and changed his name to Brandon Teena.
By 1993 Teena had been involved in a string of relationships with women who were unaware of his birth sex. He loved to lavish expensive gifts on his girlfriends, and resorted to stealing and check forgery to do so. Having been arrested multiple times, Teena decided to leave Lincoln in November 1993. He moved to Falls City, a rural community in southern Nebraska.
Soon after arriving in Falls City, Teena, still living as a man, began dating Lana Tisdel. Following habit, he once again financed his generosity by forging checks. In the middle of December, local police arrested Teena, booked him on the misdemeanor charge of check forgery, and jailed him. During processing the police discovered that Teena was biologically female and provided this information to the local newspaper, the Falls City Journal, which printed it.
Teena's forced outing caused a stir in the small town. His girlfriend, Lana, however, did not react negatively to the news, and in fact bailed him out of jail. Nevertheless, some of Lana's male friends who had become close to Teena were shocked and angered by the disclosure.
Two of those friends, 22-year-old John Lotter (an ex-boyfriend of Lana's) and 21-year-old Tom Nissen, violently confronted Teena at a Christmas Eve party and pulled down his pants in order to humiliate him in front of Lana. Later that night, after getting him alone, Lotter and Nissen raped and severely beat Teena. They also threatened to kill him if he reported what they had done to him.
After escaping from the two men, Teena nevertheless immediately made his way to the police and reported the attack. Lotter and Nissen were brought in for questioning, but subsequently released, with no arrests having been made.
One week later, on New Year's Eve, Lotter and Nissen decided to track Teena down. They discovered him at the remote farmhouse of Lisa Lambert, with whom he had been staying. Lotter and Nissen murdered Teena by shooting and stabbing him; they also killed Lambert and another houseguest, Phillip DeVine.
Authorities soon learned of the murders, and Lotter and Nissen were arrested. During the pair's trials, Nissen agreed to testify against Lotter in return for a reduced sentence. Accordingly, after both were convicted, Nissen was sentenced to life in prison without parole, while Lotter received the death penalty.
Teena's life and death eventually became the subject of two critically acclaimed films: the 1998 documentary The Brandon Teena Story and the 1999 feature Boys Don't Cry , for which Hilary Swank, as Brandon, won an Academy Award as Best Actress.

1989 – Over 5,000 attend the "Stop the Church" protest at St. Patrick's Cathedral in New York City. The 100 activists who laid down in the aisles were arrested. They were protesting Cardinal John O'Connor's influence on government policies relating to HIV and sexuality.

1990 – The Indiana state civil rights commission ruled that the civil rights of Kenneth Westhoven had been violated when his employer, after discovering he was HIV positive, reduced his health benefits cap from $1 million/lifetime to $50,000/lifetime.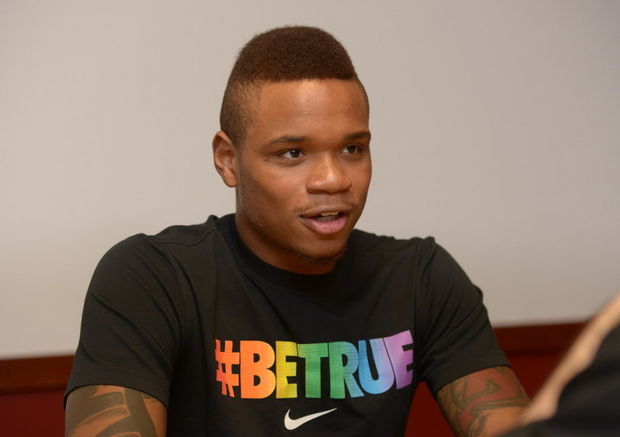 1991 – Derrick Gordon is an American college basketball player. A shooting guard, Gordon attends the University of Massachusetts and plays for the UMass Minutemen basketball team. Gordon used to attend Western Kentucky University, where he played for the Western Kentucky Hilltoppers. In 2014, he became the first men's basketball player in the National Collegiate Athletic Association's Division I to come out as gay and play in a game.
Gordon is from Plainfield, New Jersey. He has two brothers, including a twin. Gordon began to think he might be gay while attending middle school.
In April 2014, Gordon came out to his family and teammates. He subsequently chose to come out publicly, becoming the first openly gay men's basketball player in Division I. Gordon said "I just didn't want to hide anymore, in any way ... I've been waiting and watching for the last few months, wondering when a Division I player would come out, and finally I just said, 'Why not me?'". He further said that Jason Collins' becoming the first openly gay player in the National Basketball Association inspired him to come out.
Gordon's family was mixed in their responses to his coming out. He received praise from Collins and Michael Sam, who became the first openly gay player in the National Football League. Students organized a rally in support of Gordon which drew over 1,500 supporters. Five members of the Westboro Baptist Church were on hand to protest against Gordon. Later that year, he became the first openly gay player in Division I to play in a men's basketball game.
In 2014, he revealed that he was in a relationship with actor Gerald McCullouch.


Added 2021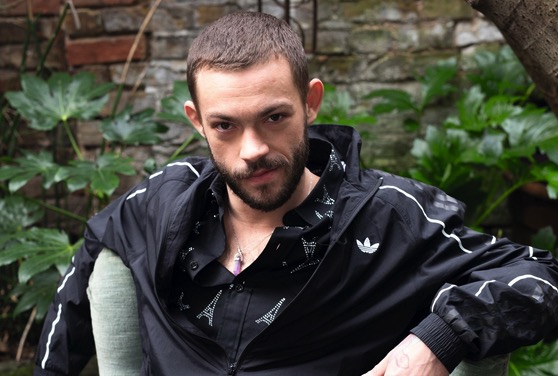 1992 – Félix Maritaud is a French actor, notable for his roles in French queer cinema.
Maritaud began to garner recognition after starring in a string of French independent films, most notably BPM (Beats per Minute). The French LGBT magazine Têtu dubbed him "the new hero of French queer cinema".
In 2018, Maritaud attracted further attention for his role in the independent film Sauvage, in which he played a homeless sex worker. Peter Bradshaw of The Guardian wrote that "Maritaud's performance has power." Tara Brady of The Irish Times wrote, "Félix Maritaud is a heartbreaking revelation as a sex worker seeking intimacy in France". Dazed called his performance a "raw, delicate depiction". He won the Lumières Award for Most Promising Actor at the 24th Lumières Awards, for his performance in Sauvage.
In 2019, Maritaud was featured in Gaspar Noé's Lux Æterna. It was screened out of competition at the 2019 Cannes Film Festival.
In 2020, Maritaud starred in a French short film titled Dustin, which was an official selection of the 2020 Cannes Film Festival, but was not able to be screened due to the cancellation of the festival in light of the COVID-19 pandemic in France. It was subsequently screened at the 2020 Toronto International Film Festival, where it was named the winner of the IMDbPro Short Cuts Award for Best International Short Film.
Maritaud is openly gay.

1995 – A "Roseanne" episode portrays a same-sex wedding when character Leon marries his boyfriend Scott. ABC moves the episode from its 8:00 time slot to 9:30 because of the adult humor.

1997 – The Kentucky state Court of Appeals ruled that gay men and lesbians are entitled to protection under the state's domestic violence laws.

DECEMBER 13 →
[{(o)}]|[{(o)}]|[{(o)}]|[{(o)}]| [{(o)}]|[{(o)}]