June 12
[{(o)}]|[{(o)}]|[{(o)}]|[{(o)}]| [{(o)}]|[{(o)}]
1730 – Netherlands: During a major anti-gay purge of the eighteenth century, five men are hanged and their bodies thrown into the sea at Scheveningen for the crime of sodomy. Hundreds of others were killed or banished. This was described as a pogrom or a reign of terror. The astonishing purges of 1730 were widely reported in the English newspapers during June and July. English news reports state that many Dutch sodomites fled to England where they were not accorded the same reception as refugees from religious persecution.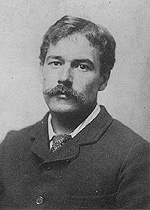 1858 - Born: British artist Henry Scott Tuke (d.1929) became part of a circle of poets and writers who wrote about and discussed the beauty of male youth. Tuke's paintings typically celebrate male beauty, as well as the artist's lifelong love of the sea, swimming, and sailing.
Tuke was born in York in 1858 to Quaker parents and moved with them to London in 1874. He was educated at the Slade School of Art, traveled to Italy in 1880, and lived in Paris from 1881 until 1883. In Paris, he studied with the French history painter Paul Laurens and met the American painter John Singer Sargent. Tuke also met Oscar Wilde in the 1880s and developed connections with the Uranian poets and writers who celebrated the adolescent male. He wrote a sonnet to youth that was published anonymously in the journal The Artist and also contributed an essay to The Studio, another journal that published Uranian verse and essays.
Tuke settled in a Cornish town near Falmouth Bay in 1885. He converted his boat into a floating studio and living quarters where he could pose his models and entertain his friends. Although he was also an accomplished portraitist, most of his works depict young men who swim, dive, and lounge on a boat or on the beach. Early in his career, Tuke's major compositions were narrative or anecdotal. In the oil painting All Hands to the Pumps! (1888-1889), for example, seven figures aboard a sailboat on a violent, stormy sea exercise their strength and endurance to fight the elements.
During the 1890s, he began to render nude figures without reference to mythological or narrative themes. This method particularly suited Tuke: his handling of paint became freer, and he began using bold, fresh color.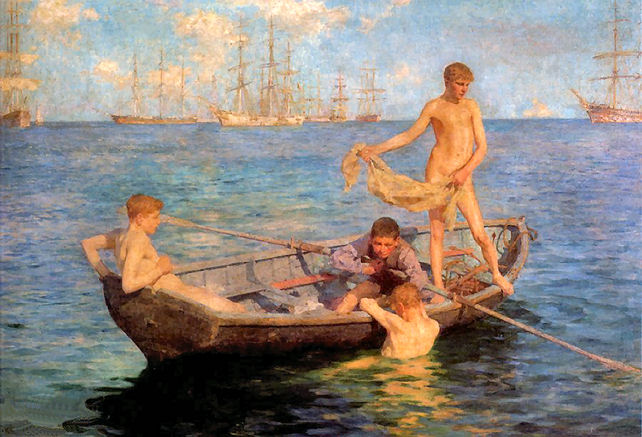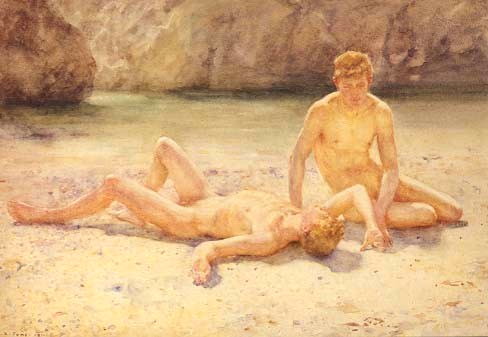 August Blue (1893-1894), one of the most famous paintings from this period, is a study of four nude youths bathing from a boat in crystal clear water under bright blue skies. The work conveys a sense of enjoyment, of the simple innocence of sunlight on flesh, sea, and sky. With August Blue, Tuke established a genre that celebrates male beauty and the seeming timelessness of youth. Tuke's paintings of nude youths illustrate sensual, rather than sexual, feelings. They are not explicit either in the relationships they describe or in the details of the body. The oil painting Noonday Heat (1903), for example, presents two youths who, relaxing on the beach, are completely engrossed in their own private world. They look at one another, perhaps engaged in conversation. Since neither of them addresses the viewer, their relationship seems intimate, exclusive, and ambiguous. Similarly, the watercolor Two Boys on a Beach (1909) captures a close, intense relationship. In this work, the absence of a horizon heightens the feeling of intimacy.
Tuke only rarely painted the genitals of his models, thereby de-emphasizing a sexual reading of his works. The artist generally arranged his models so that anatomical details are concealed. In frontal views, shadows or draped pieces of clothing obscure the genitals. Tuke's de-emphasis of the sexual may explain why his work, and his close friendships with many of his male models, created no scandals.
Although Tuke is best known today for his gently homoerotic paintings, in his own time he was also well known as a portraitist and maintained a London studio to work on his commissions. Among his best known portraits is that of soldier and writer T. E. Lawrence. After a long illness, Tuke died at Falmouth in 1929.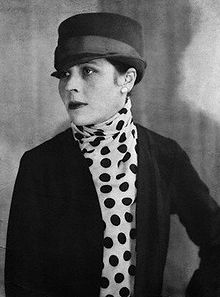 1892 - Djuna Barnes (d.1982) was an American writer who played an important part in the development of 20th century English language modernist writing and was one of the key figures in 1920s and 30s bohemian Paris after filling a similar role in the Greenwich Village of the teens. Her novel Nightwood became a cult work of modern fiction, helped by an introduction by T. S. Eliot. It stands out today for its portrayal of lesbian themes and its distinctive writing style. As a roman à clef, the novel features a thinly veiled portrait of Barnes in the character of Nora Flood, whereas Nora's lover Robin Vote is a composite of Thelma Wood and the Baroness Elsa von Freytag-Loringhoven. Since Barnes's death, interest in her work has grown and many of her books are back in print.
Barnes was born in a log cabin on Storm King Mountain, near Cornwall-on-Hudson, New York. Her father, Wald Barnes, was an unsuccessful composer, musician, and painter. An advocate of polygamy, he married Barnes's mother Elizabeth in 1889; his mistress Fanny Clark moved in with them in 1897, when Barnes was five.
At the age of 16 she was raped, apparently by a neighbor with the knowledge and consent of her father, or possibly by her father himself. She referred to the rape obliquely in her first novel Ryder and more directly in her furious final play The Antiphon.
Shortly before her 18th birthday she reluctantly "married" Fanny Clark's brother Percy Faulkner in a private ceremony without benefit of clergy. He was 52. The match had been strongly promoted by her father, grandmother, mother, and brother, but she stayed with him for no more than two months.
In 1912 Barnes's split up. Elizabeth moved to New York City. The move gave Barnes an opportunity to study art formally for the first time; she attended the Pratt Institute for about six months, but the need to support herself and her family—a burden that fell largely on her—soon drove her to leave school and take a job as a reporter at the Brooklyn Daily Eagle. Over the next few years her work appeared in almost every newspaper in New York; she wrote interviews, features, theatre reviews, and a variety of news stories, often illustrating them with her own drawings. She also published short fiction in the New York Morning Telegraph's Sunday supplement and in the pulp magazine All-Story Cavalier Weekly.
n 1915 Barnes moved out of her family's flat to an apartment in Greenwich Village, where she entered a thriving Bohemian community of artists and writers. Greenwich Village in the 1910s was known for its atmosphere of sexual as well as intellectual freedom. Barnes was unusual among Villagers in having been raised with a philosophy of free love, espoused both by her grandmother and her father.
In the 1920s she moved to Paris. She was part of the inner circle of the influential salon hostess Natalie Barney, who would become a lifelong friend and patron, as well as the central figure in Barnes's satiric chronicle of Paris lesbian life, Ladies Almanack. They probably also had a brief affair.
But the most important relationship of Barnes's Paris years was with the artist Thelma Wood. Wood was a Kansas native who had come to Paris to become a sculptor, but at Barnes's suggestion took up silverpoint instead, producing drawings of animals and plants that one critic compared to Henri Rousseau. By the winter of 1922 they had set up housekeeping together in a flat on the Boulevard Saint-Germain.
Another close friendship that developed during this time was with the Dada artist Baroness Elsa von Freytag-Loringhoven, with whom Barnes began an intensive correspondence in 1923. "Where Wood gave Barnes a doll as a gift to represent their symbolic love child, the Baroness proposed an erotic marriage whose love-child would be their book." From Paris, Barnes supported the Baroness in Berlin with money, clothing, and magazines. She also collected the Baroness's poems and letters.
Barnes dedicated Ryder and Ladies Almanack to Thelma Wood, but the year both books were published—1928—was also the year that she and Wood separated. Barnes had wanted their relationship to be monogamous, but had discovered that Wood wanted her "along with the rest of the world." Wood had a worsening dependency on alcohol, and she spent her nights drinking and seeking out casual sex partners; Barnes would search the cafés for her, often winding up equally drunk. Barnes broke up with Wood.
Much of Nightwood was written during the summers of 1932 and 1933, while Barnes was staying at Hayford Hall, a country manor in Devonshire rented by the art patron Peggy Guggenheim. Barnes had published little journalism in the 30s and was largely dependent on Peggy Guggenheim's financial support. She was constantly ill and drank more and more heavily—according to Guggenheim, she accounted for a bottle of whiskey a day. In February 1939 she checked into a hotel in London and attempted suicide. Guggenheim funded hospital visits and doctors, but finally lost patience and sent her back to New York.
With nowhere else to go, Barnes stayed at Thelma Wood's apartment while Wood was out of town. She moved into the small apartment at 5 Patchin Place in Greenwich Village where she would spend the last 42 years of her life. Throughout the 40s she continued to drink and wrote virtually nothing. Guggenheim, despite misgivings, provided her with a small stipend.
During her Patchin Place years, Barnes became a notorious recluse, intensely suspicious of anyone she did not know well. E. E. Cummings, who lived across the street, would check on her periodically by shouting out his window, "Are you still alive, Djuna?" Bertha Harris put roses in her mailbox, but never succeeded in meeting her; Carson McCullers camped on her doorstep, but Barnes only called down, "Whoever is ringing this bell, please go the hell away." Anaïs Nin was an ardent fan of her work, especially Nightwood. She wrote to Barnes several times inviting her to participate in a journal on women's writing, but received no reply. She remained contemptuous of Anaïs and would cross the street to avoid her.
Although Barnes had other female lovers, in her later years she was known to claim, "I am not a lesbian; I just loved Thelma."
Barnes was elected to the National Institute of Arts and Letters in 1961. She was the last surviving member of the first generation of English-language modernists when she died in New York in 1982.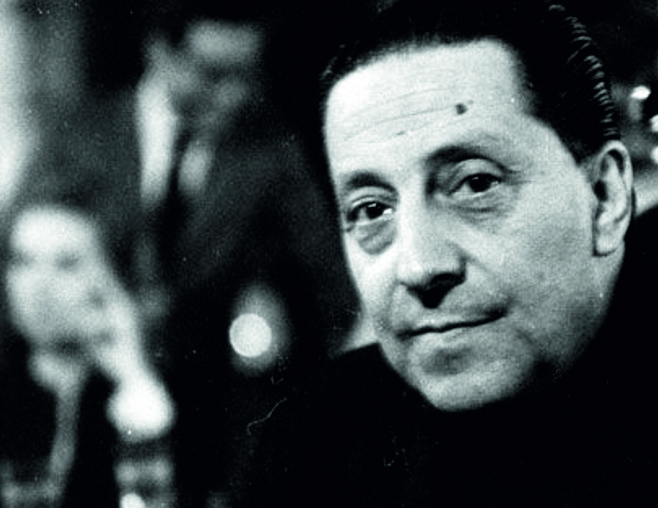 1906
- Italian poet
Sandro Penna
, (d.1977) was born on this date. For Penna, boyhood was the embodiment of desire and the inspiration for all of his poetry. Penna was born in Perugia, but after the age of sixteen, spent most of his life in Rome.
By some standards, his life was uneventful, unambitious, lonely, scruffy, and sordid. One does not have to endorse this view. Penna made firm choices about the two things in life that interested him most: poetry and boys. His affection for young boys was reflected by the constant presence of young boys in his verses, as well as in his taking a 14-year-old streetboy from Rome, Raffaele, to the home he shared with his mother in 1956 and living with him, on and off, for fourteen years.
An epigram of Penna's about the dark-skinned, dark-eyed, dark-haired Raffaele, scribbled on the back of his portrait by Tano Festa, reads
Ho visto il mio moretto
seduto giù in platea
fumava un sigaretto
e gli occhi lustri avea.

I saw my dark-haired boy
sat down in the stalls
smoking a cigarillo
and had shiny eyes.
For several years, he had a competition with Pier Paolo Pasolini to see who could have sex with the greater number of boys along the overgrown banks of the Tiber and in the scattered urinals of Rome's ugly urban landscape. It was Pasolini who most consistently championed Penna's poetry.
One poem sums up Penna's attitude to criticism of his thematic narrowness. Responding to the complaint that there are always young men in his poems, the poet replies: "Ma io non so parlare d'altre cose. / Le altre cose son tutte noiose" ("But I don't know how to write about anything else. Everything else is just boring"). If his sexual interest is a limitation, it is one he accepts with cheerful equanimity.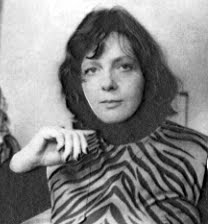 1929 - Born: English novelist, essayist, and biographer Brigid Brophy (d.1995) who was one of the 1960s' most daring voices in her explorations of the varieties of sexuality.
Brophy was born in London, June 12, 1929, the daughter of the novelist John Brophy and Charis Grundy. She was educated at St. Paul's Girls' School, London, and, in 1947, was admitted to St. Hugh's College, Oxford, on scholarship. In her second year at Oxford, she was "sent down" for "unspecified offences," which have been variously rumored to be drunkenness in chapel or lesbianism. After her expulsion, she worked as a secretary to a pornographer, among other odd jobs, in London and began to write fiction.
In 1953, she published The Crown Princess and Other Stories, a collection of short works, and Hackenfeller's Ape, a novel indicative of her ongoing interest in animal rights. Both works brought her favorable critical attention, the latter winning the Cheltenham Literary Festival prize for best first novel.
In 1954, Brophy married Michael Levey, art historian and author of The Case of Walter Pater. During the 1960s, their unconventional marriage, informed by Brophy's boldly outspoken views favoring bisexuality and opposing monogamy and institutional heterosexuality, was a cause célèbre in the British press and literary circles.
Her social and sexual concerns, outlined in essays in Don't Never Forget (1963) and Baroque 'n' Roll and Other Essays (1986), are among the recurring themes of Brophy's fiction.
Her semiautobiographical second novel, The King of a Rainy Country (1956), explores the nexus of heterosexuality and homoerotic desire against the backdrop of Wolfgang Amadeus Mozart's opera Le Nozze di Figaro. In this picaresque tale, a youthful and not-quite-straight pair, Susan and Neale, travel across Europe in search of Cynthia, Susan's long-lost love from her schoolgirl days.
The Finishing Touch (1963), a tale of romantic misadventures in a lesbian-run girls school on the French Riviera, pays homage to the novels of Ronald Firbank, another of Brophy's icons. Her most ambitious work, In Transit (1969), is a free-associative narrative set in the international terminal of an airport. While the text explores through puns and allusions many of Brophy's favorite themes (for example, opera, pornography, rationalism, varieties of sexuality), protagonist Patrick/Patricia loses knowledge of language, hence the linguistic means of differentiating sex and gender and, consequently, his/her own distinctive sex or gender.
In 1984, Brophy was afflicted with multiple sclerosis, and she and her work gradually faded from public notice. Recent reprints of her novels and renewed critical interest, however, are beginning to reverse this neglect of one of the 1960s' most daring voices of sexuality difference. Brophy succumbed to multiple sclerosis on August 7, 1995. Recently, following the death of Iris Murdoch, an affair between the two women has been made public.


Added 2022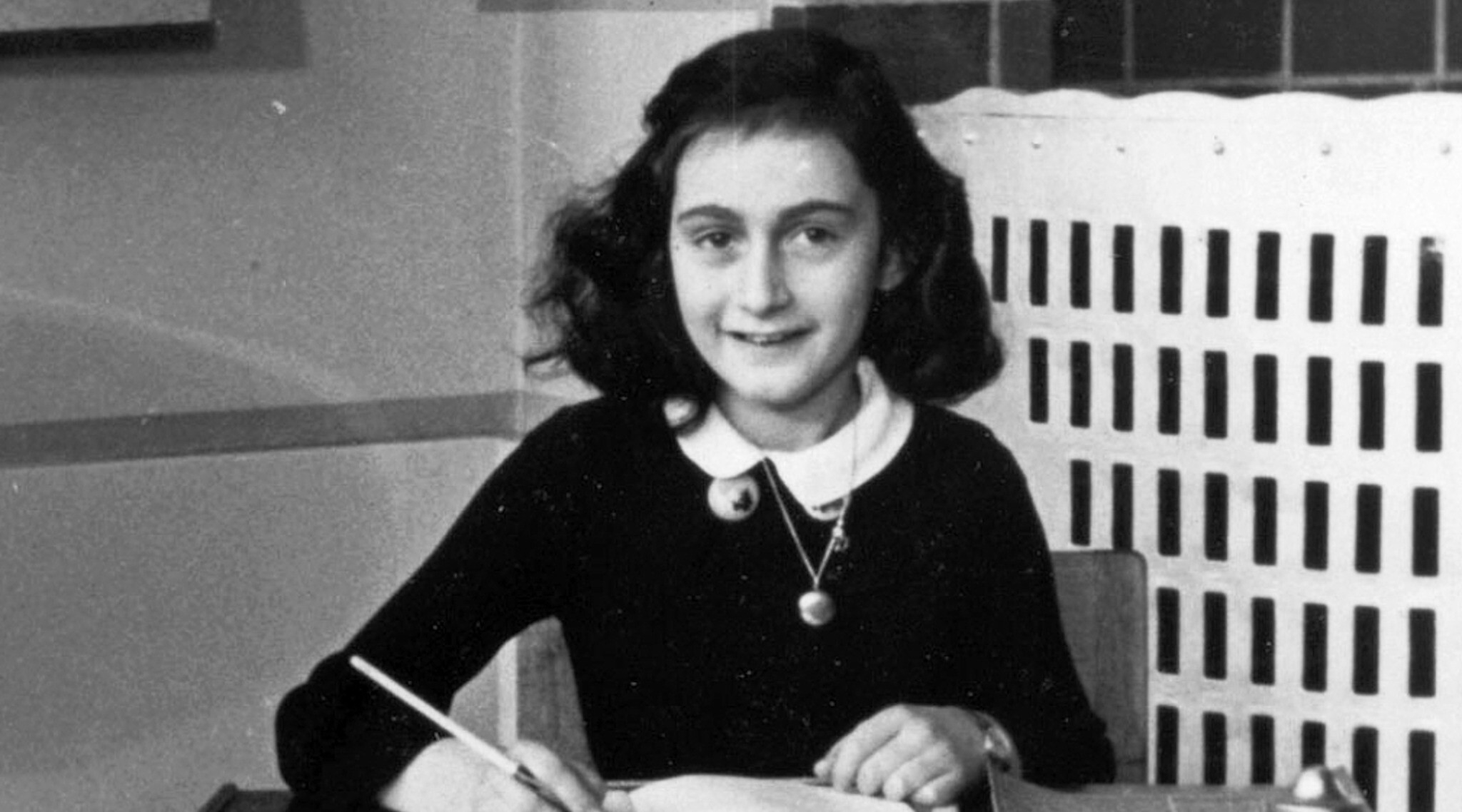 1929 – (Annelies Marie) Anne Frank  was a German-Dutch diarist of Jewish origin born on this date (d.1945). She is one of the most discussed Jewish victims of the Holocaust. She gained fame posthumously with the publication of The Diary of a Young Girl (originally Het Achterhuis in Dutch; English: The Secret Annex), in which she documents her life in hiding from 1942 to 1944, during the German occupation of the Netherlands in WWII. It is one of the world's best known books and has been the basis for several plays and films.
Born in Frankfurt, Germany, she lived most of her life in or near Amsterdam, Netherlands, having moved there with her family at the age of four and a half when the Nazis gained control over Germany. Born a German national, she lost her citizenship in 1941 and thus became stateless.
By May 1940, the Franks were trapped in Amsterdam by the German occupation of the Netherlands. As persecution of the Jewish population increased in July 1942, the Franks went into hiding in some concealed rooms behind a bookcase in the building where Anne's father, Otto Frank, worked.
From then until the family's arrest by the Gestapo in August 1944, Anne kept a diary she had received as a birthday present, and wrote in it regularly.
Following their arrest, the Franks were transported to concentration camps. In October or November 1944, Anne and her sister, Margot, were transferred from Auschwitz to Bergen-Belsen concentration camp, where they died (probably of typhus) a few months later in 1945. They were originally estimated by the Red Cross to have died in March, with Dutch authorities setting March 31 as their official date of death, but research by the Anne Frank House in 2015 suggests it is more likely that they died in February.
Otto, the only survivor of the Frank family, returned to Amsterdam after the war to find that her diary had been saved by his secretary, Miep Fies, and his efforts led to its publication in 1947. It was translated from its original Dutch version and first published in English in 1952 as The Diary of a Young Girl, and has since been translated into over 70 languages.
But there were two versions of Anne's diary. One was
A Diary of a Young Girl
and the other was
The Diary of Anne Frank: The Critical Edition.
The first edition (A Diary of a Young Girl) is a redacted version. Such edits were made by Anne's father, Otto Frank and some came from Anne herself.
After the original publication, several sections of Anne's diaries which were initially edited out have been revealed and included in new editions. These contain passages relating to her sexuality, exploration of her genitalia, and her thoughts on menstruation. Following the conclusion of an ownership dispute in 2001, new editions have also incorporated pages removed by Otto Frank prior to publication which contain critical remarks about her parents' strained marriage and discuss her difficult relationship with her mother. Two additional pages which Anne had pasted over with brown paper were deciphered in 2018, and contained an attempt to explain sex education and a handful of "dirty" jokes.
In the unedited version, Anne was much more explicit in her sexuality. We come to learn Anne likes girls.
"I remember that once when I slept with a girl friend I had a strong desire to kiss her, and that I did do so … I go into ecstasies every time I see the naked figure of a woman, such as Venus, for example … If only I had a girl friend!"
It is not, as some would suggest, idle speculation that Anne Frank was bisexual. It's there in her own hand for all to see. Of course, unlike the homosexuals who were rounded up, Anne died because she was Jewish, not because of her sexuality.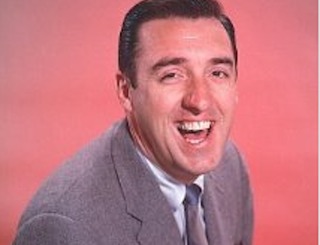 1930 - (James Thurston) Jim Nabors was an American actor and singer (d.2017). Born and raised in Sylacauga, Alabama, Nabors moved to Southern California because of his asthma. While working at a Santa Monica nightclub, The Horn, he was discovered by Andy Griffith and later joined The Andy Griffith Show, playing Gomer Pyle, a gas station attendant whom some described as dim-witted, though Nabors himself said that the Gomer character was not so much dim-witted as just wanting to see the good in people. The character proved popular, and Nabors was given his own spin-off show, Gomer Pyle, U.S.M.C.
Though best known for his portrayal of Gomer Pyle, Nabors became a popular guest on variety shows in the 1960s and 1970s (including two specials of his own in 1969 and 1974), which showcased his rich baritone voice. He subsequently recorded numerous albums and singles, most of them containing romantic ballads.
Nabors was born in Sylacauga, Alabama, where he sang for his high school and church. He attended the University of Alabama, where he began acting in skits. After graduating, he moved to New York, where he worked as a typist for the United Nations; after a year, he moved to Chattanooga, Tennessee, where he got his first job in the television industry as a film cutter. Because of his asthma, Nabors moved to Los Angeles and worked as a film cutter for NBC. He also worked at a Santa Monica tavern, The Horn, singing and acting in cabaret theater. His act featured him as a character similar to the Gomer Pyle character he would later portray: he would sing in a baritone and sometimes speak in his higher-pitched comedic voice
It was at The Horn where Nabors was discovered by Andy Griffith and was hired to play a one-shot role of Gomer Pyle, an "addlebrained" gas station attendant, on The Andy Griffith Show. Nabors's character (based on his act at The Horn) became so popular that he was made a regular on the show and was later given his own show, the spin-off Gomer Pyle, U.S.M.C., in which his character joined the United States Marine Corps.
In 1994, Nabors suffered from a near-fatal case of hepatitis B. According to Nabors, he contracted the disease while traveling in India; he shaved with a straight razor and "whacked [his] face all up." The disease caused liver failure, and Nabors was given a dim prognosis; however, his friend Carol Burnett made an arrangement with the transplant division of UCLA and secured Nabors a transplant. Nabors later became involved with the American Liver Foundation as a result of his experience.
Nabors began vacationing in Hawaii in the 1960s, and in 1976, moved from Bel Air, California, to Honolulu, Hawaii. For 25 years, he owned a macadamia plantation on Maui before selling it to the National Tropical Botanical Garden, a conservationist organization, though he still retains farming rights to the land and owns a second home on the property.
On January 29, 2013, Hawaii News Now reported that Nabors married his partner of 38 years, Stan Cadwallader, at Seattle, Washington's Fairmont Olympic Hotel on January 15. Same-sex marriage had become legal in Washington the previous month. The 82-year-old Nabors says you've got to solidify something when you've been together as long as they have. The couple met in 1975 when Cadwallader was a Honolulu firefighter. Cadwallader is 64.
Nabors says he's been open about his homosexuality to co-workers and friends but never acknowledged it to the media before.
An urban legend maintains that Nabors married Rock Hudson in the 1970s. In fact, the two were never more than friends. According to Hudson, the legend originated with a group of "middle-aged homosexuals who live in Huntington Beach" who sent out joke invitations for their annual get-together. One year, the group invited its members to witness "the marriage of Rock Hudson and Jim Nabors," at which Hudson would take the surname of Nabors' most famous character, Gomer Pyle, becoming "Rock Pyle." Those who failed to get the joke spread the rumor. At the time Nabors was dating his boyfriend, Stan, whom he eventually married; Hudson was also gay but closeted, and because of the fear that one or both of them might be outed, Nabors and Hudson never spoke to each other again.
Nabors died at his Honolulu, Hawaii, home on November 30, 2017, aged 87.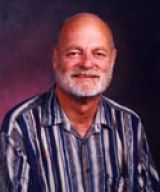 1936 – Marsh Cassady is the author of fifty-two published books and approximately 4000 shorter pieces in many different genres.
Cassady was born in Southwestern Pennsylvania where he grew up. He lived for years in Ohio before moving to the West Coast in 1980. He has written books that range from novels to poetry to how-to books to theatre texts to true crime. At one point in the 90s he had a poem a week in a Pittsburgh newspaper.
The first job he had after he received his Ph.D. degree was as a gas station attendant. He quit a few weeks after being hired when he was robbed by a traveling band of gypsies. At one point while living in NJ, he taught full-time at two universities and half-time at another. All this was when he was writing - with his wife Pat - his first published book. He often wondered why this word "sleep" was so important to most people and what it really meant. Throughout life, however, he has been well-acquainted with the word "workaholic."
In his life Marsh has been involved in theatre as an actor, a director and a scene designer. He has worked on more than fifty shows in educational, community and professional theatre. Marsh has a Ph.D. degree in theatre and taught at Kent State, San Diego State and Montclair State Universities. For still another university in California, he once taught a speech course via correspondence.
At another time, Marsh was a professional musician, singing and playing trumpet. But that ended so many years ago – except for appearing in musicals. For eleven years he also appeared regularly as a magician at schools, clubs and community events.
Currently, he is an artist. From early on he dabbled in sculpting and painting. Recently, he began splitting his working time equally between writing and art. He works with Clay, Easel art including painting and collages, and sometimes a combination, Digital art.
Marsh has five children. It was no small task to see them all into adulthood after his wife Pat died in 1978. The oldest child was then seventeen; the youngest four. Fortunately, two years after the death of his wife, Marsh met the man who would become his partner – in business and in life. Jim Kitchen, the father of four sons, helped rear the three younger kids.
He and his partner Jim Kitchen founded and operated Los Hombres Press, which published novels, nonfiction and haiku during the 80s and 90s. Their first book, The Rise and Fall of Sparrows, was named best anthology of the year by the Haiku Society of America. Jim and Marsh also publish a literary journal, Crazyquilt.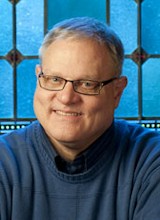 1946 - In 1972, The Rev. Dr. William R. Johnson, born in Houston, Texas, became the first openly gay person ordained in the United Church of Christ (UCC) and the first such person ordained in the Christian Church in modern times. The historic ordination took place at the Community United Church of Christ in San Carlos, California. His ordination is the subject of the documentary film, A Position of Faith. Throughout his career, Bill has provided counsel and support to hundreds of LGBT seminarians and clergypersons in the United Church of Christ and elsewhere. Bill was the primary author of the extensive body of social justice policies regarding lesbian, gay, bisexual and transgender persons adopted by UCC General Synods and UCC Executive Council dating back to 1973.
Bill Johnson was founder of the UCC Gay Caucus in 1972 (now the UCC Coalition for Lesbian, Gay, Bisexual & Transgender Concerns, aka "The Coalition"). He served as national coordinator for The Coalition from 1972-77 and in the 1980s as editor of The Coalition newsletter, WAVES . He traveled widely as a community organizer advocating the full inclusion of LGBT people in the UCC. In the late 1970s, he proposed that The Coalition hold an annual "National Gathering" of Coalition members, the first of which was held in 1981.
In 1974, Bill co-edited/authored (with Sally Gearhart) Loving Women/Loving Men: Gay Liberation and the Church. In 1976, Bill and revered lesbian activist, Phyllis Lyon, organized and facilitated the first gatherings of parents of lesbians and gays in San Francisco. That group evolved into what is now P-FLAG/San Francisco.
In 1977, Bill moved to New York City to live with Vito Russo, author of The Celluloid Closet. When their partnership ended in 1978, they became neighbors and remained close friends until Vito's death in November 1990. At Vito's request, Bill officiated at the funeral service. In NYC, Bill worked briefly for the Lutheran Church in America and the United Presbyterian Church before becoming the office secretary at the Madison Avenue Baptist Church, a block away from the UCC national office, in September 1978.
In the fall of 1984, he joined the staff of the New York law firm of Stuart, Zavin, Sinnreich and Wasserman as a legal secretary. A liberal firm, the partners supported his continued justice activism by providing paid time off to attend UCC General Synod, Coalition and LGBT meetings.
As the HIV/AIDS epidemic grew in NYC in the early 1980s, Bill became a caregiver for numerous friends. His friend and colleague, Michael Collins, was among the first people in New York to be stricken with what was then a mysterious, unnamed disease. As the epidemic grew, Bill offered his services as a pastoral counselor, sex educator, care partner and volunteer on the National AIDS Hotline. When, in 1988, he learned the United Church Board for Homeland Ministries was looking for a part-time consultant in HIV/AIDS ministry, he applied and got the job, which soon evolved into a full-time position.
In the reorganization of the United Church of Christ national setting in 2000, Bill Johnson became the Executive for Health and Wholeness Advocacy and Minister for HIV/AIDS and Gay, Lesbian, Bisexual & Transgender Concerns in Wider Church Ministries (WCM) of the UCC.
In July 2012, the Cathedral of Hope UCC in Dallas, TX presented Bill with its annual Hero of Hope Award, in recognition of a lifetime of service to the LGBT and ecumenical communities.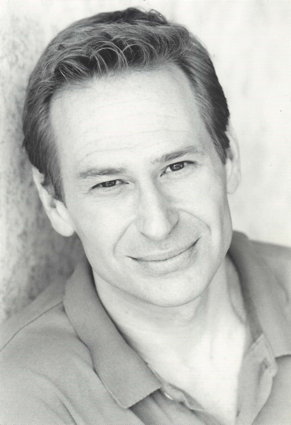 1959 - Born: Scott Thompson, Canadian television and film comedian, best known for his time as a member of the comedy troupe Kids in the Hall.
Thompson was born in North Bay, Ontario, Canada, and grew up in Brampton, Ontario. He is the second oldest of four brothers. He attended Brampton Centennial Secondary School and was a student there at the time of a 1975 shooting massacre. He enrolled in York University but in his third year was asked to leave for being 'disruptive'. He joined the comedy troupe The Love Cats and while performing with them met Mark McKinney. In 1984 he became a member of The Kids in the Hall, who went on to have several successful TV series shown in Canada, the US and the UK.
Openly gay, he became best-known on the show for his monologues as the effeminate, Truman Capote-esque Buddy Cole, as well as his appearances as Queen Elizabeth II. He also acted regularly on The Larry Sanders Show and made numerous guest appearances on other television series including Politically Incorrect, The Late Show, Late Night with Conan O'Brien, and Train 48. Scott Thompson was also the host of a reality television program in Canada called My Fabulous Gay Wedding.
In 2014, Thompson, in character as Buddy Cole, did a series of reports on The Colbert Report as the program's correspondent for the 2014 Winter Olympics.


1981 – A Provincial Court judge in Toronto finds two employees guilty and three owners not guilty of keeping common bawdyhouse. Charges relate to the Barracks Steambath, raided by police December 9, 1978. Toronto's oldest steambath at 56 Widmer Street had been open since 1974. They had the privilege of watching Toronto come from the days of raids, arrests, fear and oppression to general acceptance. After over 30 years of service to the gay leather community, The Barracks in Toronto closed in 2005.


1993 - Unknown persons toss three Molotov cocktails at the front door of the St. Marc Spa in Toronto. Bomb threats are also called in against Woody's, Bar 501 and the offices of Xtra! the following night.


2003 - The Court of Appeal for Ontario rules, in Halpern v. Canada, that the common law definition of marriage as being between one man and one woman violates section 15 of the Canadian Charter of Rights and Freedoms. The decision immediately legalizes same-sex marriage in Ontario, and sets a legal precedent — over the next two years, similar court decisions legalize same-sex marriage in seven provinces and one territory before the federal Civil Marriage Act is passed in 2005.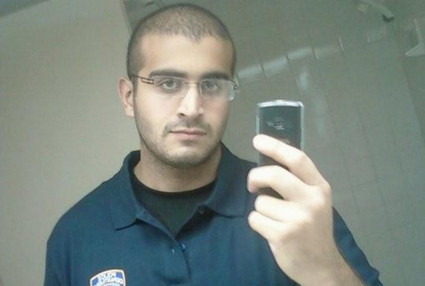 2016 – Omar Mateen, a 29-year-old Muslim American security guard, killed 49 people and wounded 53 others in a terrorist attack inside Pulse, a gay nightclub in Orlando, Florida, United States. He was shot and killed by Orlando police after a three-hour standoff. Pulse was hosting Latin Night and most of the victims were Hispanic. It was both the deadliest mass shooting by a single gunman and the deadliest incident of violence against LGBT people in U.S. history, as well as the deadliest terrorist attack in the U.S. since the September 11 attacks in 2001. It was also considered a hate crime.
The mass shooting at a gay nightclub in Orlando, Florida, prompted an outpouring of sympathy across the globe, with people unfurling rainbow flags and holding vigils in tribute to the victims.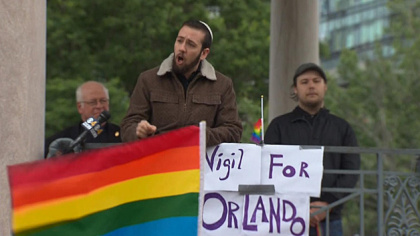 JUNE 13 →
[{(o)}]|[{(o)}]|[{(o)}]|[{(o)}]| [{(o)}]|[{(o)}]