May 7
[{(o)}]|[{(o)}]|[{(o)}]|[{(o)}]| [{(o)}]|[{(o)}]
1365 – Italy Fifteen year-old Giovanni de Giovanni is castrated and killed for having sex with other men. He is one of the youngest victims of the campaign against sodomy waged in 14th-century Florence.

1726 – A London newspaper publishes a list of Gay cruising spots.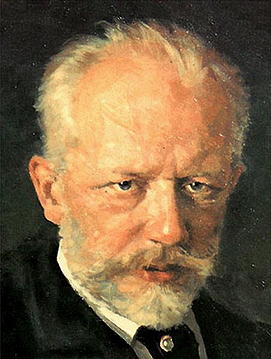 1840 – On this date the great composer Peter Ilyich Tchaikovsky was born in Votinsk, Russia (d.1893). His music has made an indelible impression on the world, yet many things seemed to be stacked against him. His mother died from Cholera when Tchaikovsky was only 14 years old and this great loss affected the boy deeply. As a boy and also in later life, he suffered from various neuroses and experienced periods of deep depression. Although he learned the piano as a boy, Tchaikovsky was initially to study law and his first profession was as a clerk performing administrative functions. It was only at the age of 23 that he made a career change and decided to study composition at the new St Petersburg Conservatory.
Undoubtedly a major contributor to the composer's bouts of depression was his homosexuality. This is not surprising since at that time in Russia, the state considered certain acts to be crimes carrying the death penalty. At one stage Tchaikovsky married a female admirer, perhaps to conceal his true nature, but the marriage was a disaster. It broke up within a short period of time, and Tchaikovsky suffered a breakdown and attempted suicide. It is not surprising that some of Tchaikovsky's music is full of sadness and despair. What is surprising perhaps is that much of his music is bright and happy.
However his life was to end in tragedy. The official story is that he contacted Cholera (the same disease which had struck his mother years before) by carelessly drinking a glass of unboiled water, though a later story suggested that he committed suicide. Shortly before he died, Tchaikovsky had completed his 6th Symphony. The premier was not a great critical success, but the piece's mood of deepest despair seems prophetic.
Tchaikovsky has left us a wealth of great music including Symphonies and Concertos, some Operas and many shorter works. He is particularly remembered for his story-telling music, including Romeo and Juliet and the evocative free-flowing ballet music for Swan Lake, The Nutcracker and Sleeping Beauty.
The importance of Tchaikovsky's homosexuality and its consequences on the personal expression in his compositions cannot be underestimated. Tchaikovsky's gayness in itself has been known to the West for at least 75 years, gathered from the composer's own writings as well as those of his brother Modest, who was also gay. More debatable is how well he accepted his sexuality or was comfortable with it.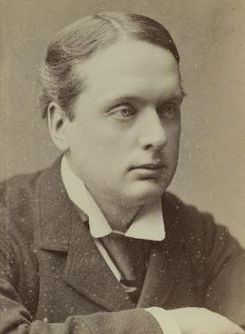 1847
–
Archibald Primrose, 5th Earl of Rosebery,
1st Earl of Midlothian, KG, PC (d.1929) was a British Liberal statesman and Prime Minister. Between the death of his father, in 1851, and the death of his grandfather, the 4th Earl, in 1868, he was known by the courtesy title of
Lord Dalmeny
.
Primrose was a Liberal Imperialist who favoured strong national defence and imperialism abroad and social reform at home, while being solidly anti-socialist. His parents were Scottish and his earldom title was part of the peerage of Scotland. He married Hannah de Rothschild, the heiress of Mayer Amschel de Rothschild.
Primrose was educated at Christ Church, Oxford, from 1865 until 1869. The three Prime Ministers from 1880 to 1902 - Gladstone, Salisbury and Primrose/Rosebery - all went to both Eton and Christ Church. A prominent figure on the turf for 40 years, Primrose bought a horse, Ladas, in 1868, though a rule banned undergraduates from owning horses. When he was found out, he was offered a choice: sell the horse or give up his studies. He chose the latter.
Primrose/Rosebery is reputed to have said that he had three aims in life: to win the Derby, to marry an heiress, and to become Prime Minister. He managed all three.
It was also speculated that he was bisexual. Like Oscar Wilde, he was hounded by John Douglas, 9th Marquess of Queensberry for his association with one of Queensberry's sons — Francis Douglas, Viscount Drumlanrig, who was his private secretary.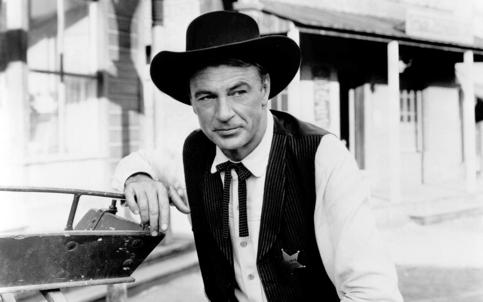 1901 – Gary Cooper (d.1961) was an American actor known for his natural, authentic, and understated acting style. He won the Academy Award for Best Actor twice and had a further three nominations, as well as receiving an Academy Honorary Award for his career achievements in 1961. He was one of the top 10 film personalities for 23 consecutive years, and one of the top money-making stars for 18 years. The American Film Institute (AFI) ranked Cooper at No. 11 on its list of the 25 greatest male stars of classic Hollywood cinema.
Cooper's career spanned 36 years, from 1925 to 1961, and included leading roles in 84 feature films. He was a major movie star from the end of the silent film era through to the end of the golden age of Classical Hollywood. His screen persona appealed strongly to both men and women, and his range of performances included roles in most major film genres. His ability to project his own personality onto the characters he played contributed to his natural and authentic appearance on screen. Throughout his career, he sustained a screen persona that represented the ideal American hero.
Cooper began his career as a film extra and stunt rider, but soon landed acting roles. After establishing himself as a Western hero in his early silent films, he appeared as the Virginian and became a movie star in 1929 with his first sound picture, The Virginian. In the early 1930s, he expanded his heroic image to include more cautious characters in adventure films and dramas such as A Farewell to Arms (1932) and The Lives of a Bengal Lancer (1935). During the height of his career, Cooper portrayed a new type of hero—a champion of the common man—in films such as Mr. Deeds Goes to Town (1936), Meet John Doe (1941), Sergeant York (1941), The Pride of the Yankees (1942), and For Whom the Bell Tolls (1943). He later portrayed more mature characters at odds with the world in films such as The Fountainhead (1949) and High Noon (1952). In his final films, he played non-violent characters searching for redemption in films such as Friendly Persuasion (1956) and Man of the West (1958).
Cooper was formally introduced to his future wife, twenty-year-old New York debutante Veronica Balfe, at a party given by her uncle, art director Cedric Gibbons. Called "Rocky" by her family and friends, she grew up on Park Avenue and attended finishing schools. Her stepfather was Wall Street tycoon Paul Shields. Cooper and Rocky were quietly married at her parents' Park Avenue residence on December 15, 1933. According to his friends, the marriage had a positive impact on Cooper, who turned away from past indiscretions and took control of his life.
But he soon slipped back into his earlier philandering ways. Cooper and Rocky were legally separated on May 16, 1951, when Cooper moved out of their home. For over two years, they maintained a fragile and uneasy family life with their daughter. Cooper moved back into their home in November 1953, and their formal reconciliation occurred in February 1954.
Prior to his marriage, Cooper had a series of romantic relationships with leading actresses, beginning in 1927 with Clara Bow, who advanced his career by helping him get one of his first leading roles in Children of Divorce. Bow was also responsible for getting Cooper a role in Wings, which generated an enormous amount of fan mail for the young actor. In 1928, he had a relationship with another experienced actress, Evelyn Brent, whom he met while filming Beau Sabreur. In 1929, while filming The Wolf Song, Cooper began an intense affair with Lupe Vélez, which was the most important romance of his early life. Vélez purportedly claimed that Cooper "has the biggest organ in Hollywood but not the ass to push it in well." During their two years together, Cooper also had brief affairs with Marlene Dietrich while filming Morocco in 1930 and with Carole Lombard while making I Take This Woman in 1931
After he was married in December 1933, Cooper remained faithful to his wife until the summer of 1942, when he began an affair with Ingrid Bergman during the production of For Whom the Bell Tolls. Their relationship lasted through the completion of filming Saratoga Trunk in June 1943. In 1948, after finishing work on The Fountainhead, Cooper began an affair with actress Patricia Neal, his co-star.
Cooper biographers have also explored his friendship in the late twenties with the openly gay actor Anderson Lawler, with whom Cooper shared a house on and off for a year, while at the same time seeing Clara Bow, Evelyn Brent and Lupe Vélez. Lupe Vélez once told Hedda Hopper that during Velez' affair with Cooper, whenever he would come home after seeing Lawler, she would take down his pants and sniff for Lawler's cologne. Vélez' biographer Michelle Vogel has reported that Velez consented to Cooper's sexual behavior with Lawler, but only as long as she, too, could participate.

1909 – The Kentucky Court of Appeals rules that the "crime against nature" outlaws anal sex only. The Court says: "… the word 'sodomy' is derived from the city of Sodom, where the crime against nature had its origin, and was universally prevalent until that city was destroyed by the wrath of God."
Speaking of the defendants, the Court says: "The acts charged against the appellees are so disgusting that we refrain from copying the indictment in the opinion."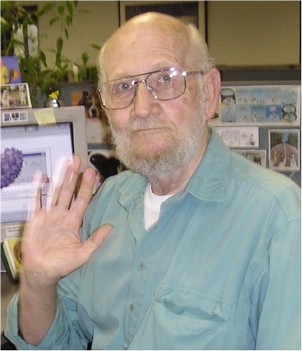 1933 – Dirk Vanden (d.2014), born Richard Fullmer, was an American author and illustrator. He is considered the first gay Mormon writer and has been called a "pioneer of gay literature" by the Lambda Literary Review.
He wrote:
I discovered, at age 16, that I was 'one of those men who liked other men.' My Bishop told me that such men were 'Abominations in the sight of God' and would burn in Hell forever for their sins if they didn't repent. Not only didn't I repent, I left the Church and became an 'Out' homosexual, had two long-lasting Gay relationships, long before Gay Marriage was even dreamed of.
A graduate of the University of Utah, his work appeared in ONE Magazine, Vector, and California Scene, as well as in Latter-Gay Saints: An Anthology of Gay Mormon Fiction. His novel I Want It All was the first book to explore San Francisco's leather subculture. His greatest success was his All trilogy: I Want It All, All or Nothing, and All Is Well. Vanden received a Lambda Literary Award for Gay Erotica in 2012 for the revision of this trilogy, All Together.
In spite of his success, Vanden, together with Richard Amory, was highly critical of the way editor Earl Kemp and publisher Greenleaf Classics treated his work, citing Greenleaf's non-payment of royalties, employment of editors not familiar with gay literature, and insistence on inserting graphic sex into his books as examples of their heavy-handed approach to LGBT publishing.
He died of cancer at his home in Carmichael, California in October 2014.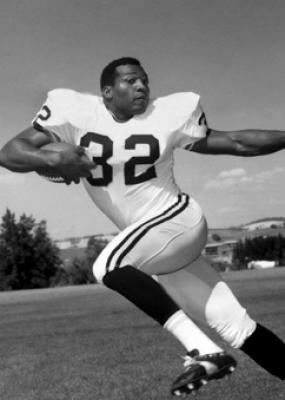 1944 – Ray McDonald (d.1993) was a professional football player, a running back in the National Football League for the Washington Redskins for two seasons, from 1967-68.
McDonald was born in McKinney, a segregated suburb of Dallas. After years in McKinney, he began high school in Alamogordo, New Mexico, and then moved to Caldwell, Idaho, after his sophomore year. A three-sport star for the Cougars for two years, he graduated from Caldwell High School in 1963. At 6 ft 2 in (1.88 m) and 220 lb (100 kg), he was a high school All-American and was compared to NFL great Jim Brown.
McDonald was timed in the 100-yard dash at 9.9 seconds and was a first-team All-American. He threw the shot put and discus and was a national-class hurdler.
In 1968, while still a member of the Redskins, he was arrested by Washington, D.C. police for having sex with a man in public. Injuries also played a part in cutting short his career and by 1969 he was out of pro football.
McDonald eventually became a junior high music teacher. After an extended battle, he died of complications due to AIDS.The cause of death was originally reported as complications from sickle cell anemia

1954 – The Florida Supreme Court upheld a sodomy conviction by a vote of 5-2 in the case of McElveen et al. v. State.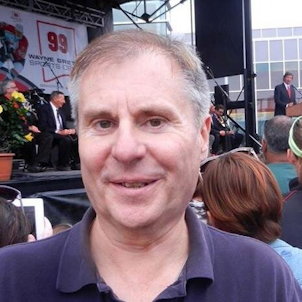 1954 – Phil Gillies is a former politician in Ontario, Canada. He served in the Legislative Assembly of Ontario from 1981 to 1987 as a Progressive Conservative, and was a cabinet minister in the government of Frank Miller.
Gillies took an interest in labour and human rights issues, and was one of the first PC MPPs to work for LGBT rights in Ontario. He was defeated in the 1987 provincial election.
After leaving politics, Gillies became a vice-president of the public relations firm Hill & Knowlton. He later worked as a consultant for the Liquor Control Board of Ontario, the Royal Bank of Canada and other corporations and non-profit organizations, and came out as gay.
He has served as a director of Orchestra London, the Brant Social Development Council, the Brantford Symphony Orchestra, and the Enos Foundation, and serves on the advisory council of Proud Politics. Gillies has also served on committees for Autism Speaks Canada and TV Ontario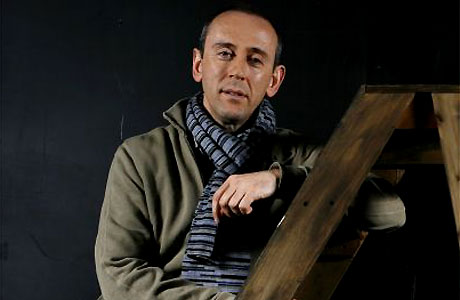 1956 – British film producer and director Sir Nicholas Hytner was born on this date. Many regard as the most prolific and accomplished theatre director of his generation on either side of the Atlantic. He has been the artistic director of London's National Theatre since 2003, a position which in the theatrical climate of the early 21st century offers unrivaled influence over the contemporary stage.
Hytner was born in Manchester, England to a Jewish family, the son of the barrister Benet Hytner QC. He attended Manchester Grammar School and Trinity Hall, Cambridge. In the early 1980s he worked at Exeter University's Northcotte Theater, and in the theater department. He later became an Associate Director at Manchester's Royal Exchange Theater, where he worked between 1985 and 1989. Hytner first found himself working regularly at the National Theater in London between 1989 and 1997.
Hytner's directorial work includes The Country Wife, Edward II, Don Carlos, Ghetto, Miss Saigon, Orpheus Descending, a 2-part adaptation of Philip Pullman's His Dark Materials trilogy, Alan Bennett's The History Boys, Carousel, Southwark Fair and The Alchemist, Measure For Measure (1987), The Tempest (1988) King Lear (1990), The Recruiting Officer by George Farquhar (1992), Carousel by Rodgers and Hammerstein (1992), The Cripple of Inishmaan by Martin McDonagh (1997), The Winter's Tale (2001), Mother Clap's Molly House by Mark Ravenhill (2001) and Henry V (2003). In short: a lion's share of some of the most important modern theater on both sides of the Atlantic.
Hytner has also directed movies, such as
The Crucible, The Madness of King George, The Object of My Affection and Center Stage
.
Openly gay, Hytner strived to avoid stereotypical gay characters in The Object of My Affection. The film was later criticized by some gay critics as a "commercial whitewash."
Hytner is also a successful opera director with his production of Xerxes winning the Laurence Olivier Opera Award in 1985. Xerxes and his production of The Magic Flute are both still in the English National Opera repertory. He has also directed opera for Kent Opera, Covent Garden, Glyndebourne, Paris Opera, Théâtre du Châtelet, Grand Théâtre de Genève and Bavarian State Opera.
Hytner was appointed director of the National Theatre in London in April 2003. He made drastic changes at the National, choosing much more political and controversial pieces than his predecessors, but he was famously quoted upon being appointed the job that he himself was "a member of all sorts of interesting minorities".
Hytner's film version of the very successful stage play The History Boys was released in 2006 to critical acclaim. Sir Nicholas was knighted in 2010.
In April 2013, he announced that he would step down as Director of the National Theatre at the end of March 2015.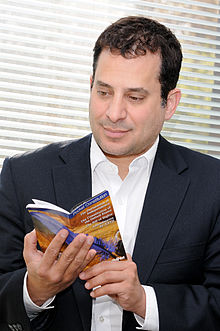 1966 – Mark Levine is the Democratic Delegate to the Virginia House of Delegates from Virginia's 45th District. A Constitutional lawyer, Levine served as Legislative Counsel to Congressman Barney Frank from 2001 to 2003 and was an early advocate in the "Marriage Equality" movement. Since 2003, Levine has hosted a nationally syndicated progressive public policy radio program and worked as a TV pundit.
Born in Nashville, Tennessee, Levine earned an economics degree magna cum laude from Harvard University, was a Fulbright scholar in Switzerland, and obtained a Juris Doctor from Yale Law School. Levine worked as a Nazi hunter, Jewish historian, and inner-city school teacher before becoming a trial attorney at Hughes Hubbard & Reed LLP in Los Angeles, California.
In 1996, Levine's sister Janet Levine March was murdered by her husband Perry; her body has never been found and it took a decade to amass enough other evidence to convict him. In response, Levine drafted a Tennessee law to protect victims of domestic violence and their children. The law passed unanimously. Levine flew to Mexico to track down his sister's killer and testified in court against him. March was sentenced to 56 years in prison for murdering Janet and conspiring to kill Levine's parents. According to the Washington Post, the murder spawned "Levine's interest in lawmaking."
In 1994, Levine helped organize a march on Hollywood and met personally with high-ranking studio executives to demand they depict gay and lesbian characters in a positive light.
In 1999, Levine was one of the four original founders of Marriage Equality California. He barnstormed across California to oppose Proposition 22 and then arranged America's first public "mass-marriage" protest for gay and lesbian couples. This modest attempt on February 14, 2000 to marry at a Beverly Hills courthouse became the first of the "Valentine's Day Marriage Protests" that would later sweep the country. Levine writes he:
promised the police and court officials that we would not be violent in any way. And court officials, in turn, graciously agreed to waive the marriage license fee, since we all knew they would reject our attempts to get married. I remember it was a beautiful day, and a joyful one: We all smiled ear-to-ear knowing we were attempting something that was then impossible but which every one of us thought would eventually become possible.
Later that year, Levine drafted the first law introduced in the United States to give lesbian and gay couples equal rights to straight couples at both the state and federal levels. Levine's law, introduced in California in February 2001 as AB 1338 by Assemblyman Paul Koretz, went further than Vermont's civil unions law which only protected same-sex couples at the state level. Levine says local and nationwide gay and lesbian organizations opposed Levine's marriage equality law at the time as too "radical" and "politically impossible" and forced Koretz to withdraw it. At the time Levine's bill was introduced, no same-sex couples could get married anywhere in the world.
Although Levine's first legislation to help same-sex couples did not become law, his second attempt was a success.

1973 – Gay youth activist Mark Segal interrupted a taping of the Mike Douglas Show, which had recently cancelled two appearances with Rev. Troy Perry, founder of the Universal Fellowship of Metropolitan Community Churches. It was his second arrest.


1977 – Ten groups attend the first Manitoba Gay Conference in Winnipeg and form the Manitoba Gay Coalition.

1978 – The Austin Texas Human Rights Commission sponsored a Human Rights Festival at Municipal Auditorium to protest an appearance by Anita Bryant in Austin. Over 1,000 people attended.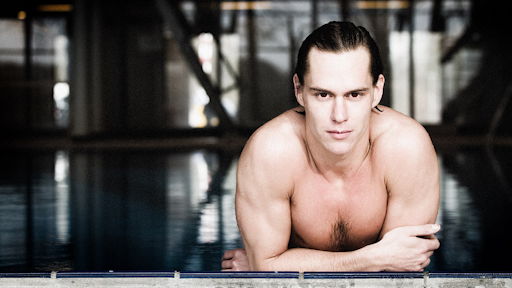 1980 – Johan Kenkhuis, born in Vriezenveen, Overijssel, is an Olympic medal winning Dutch swimmer.
From a young age, Kenkhuis had a strong interest in swimming. In 1998, he won gold medals in both the 100 meter and 200 meter freestyle events in the European Junior Championships. At the 2000 Olympic Games in Sydney, Australia, Johan was a member of the bronze medal 4x200 meter freestyle relay team. He also helped the Netherlands win a silver medal at the FINA World Championships in Fukuoka, Japan in 2001 as a member of the 4x100 meter freestyle relay team.
However, by 2002, he was growing tired of the sport and close to retirement. His coach, Fedor Hes, helped him develop a different training strategy which involved spending more time on dry land. Seemingly invigorated by the new training style, Johan quickly progressed enough to win fourth place at the 50 meter freestyle event in the World Championships in Barcelona, Spain. He finished only 0.01 seconds behind the bronze medalist.
In the 2004 Olympic Games, Johan was a member of the Dutch Olympic swim team. As the starting swimmer in the 4x100 meter freestyle relay, alongside Pieter van den Hoogenband, Mitja Zastrow, and Klaas-Erik Zwering he played a critical role in securing a silver medal in the event.
Kenkhuis is currently living in Amsterdam where he is a member of De Dolfijn SPAX swim club but trains with XLence Swimteam. He is a Business and Marketing major at the Johan Cruyff University in Amsterdam.
Kenkhuis was one of only eleven openly gay athletes to participate in the 2004 Olympic Games in Athens.


1982 – Toronto Morality Squad officers appeared at The Body Politic office with search warrant, but leave empty-handed after a brief search.

1986 – A former Soviet deputy health minister tells readers of Literaturnaya Gazeta, a popular weekly newspaper, that AIDS is not a concern in the USSR because homosexuality and drug use are both illegal.

1988 – In Sacramento, California, 8,000 activists mark the National Day of Protest with the largest gay and lesbian rights rally in the state's history.

1988 – In New York City, some 500 ACT Up activists protest the nation's lethargic response to the AIDS crisis by blocking traffic in the financial district.

1993 – The Hawaii Supreme Court rules that the state must prove a "compelling interest" for denying same-sex partners a marriage license.

1996 – The Boulder Colorado city council voted unanimously to approve a domestic partner registry.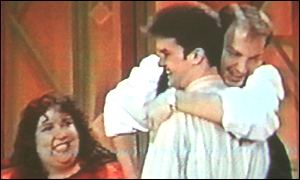 Scott hugs Jonathan on the TV show
1999 – A jury finds The Jenny Jones Show and Warner Bros. liable in the shooting death of Scott Amedure, after the show purposely deceived Jonathan Schmitz to appear on a secret same-sex crush episode. Schmitz later killed Amedure and the jury awarded Amedure's family US $25 million.


2001 Leslie Cheung, a Hong Kong-born Canadian singer and actor, credited as the parent of modern Cantonese and Mandarin pop music, comes out as bisexual in Time Magazine. Cheung committed suicide on April 1, 2003 by jumping off the 24th floor of the Mandarin Oriental hotel in Hong Kong. A suicide note left by Cheung stated that he had been suffering from depression.

MAY 8 →
[{(o)}]|[{(o)}]|[{(o)}]|[{(o)}]| [{(o)}]|[{(o)}]