March 26
[{(o)}]|[{(o)}]|[{(o)}]|[{(o)}]| [{(o)}]|[{(o)}]
1796 – New York reduces the penalty for sodomy from death to ten years in prison.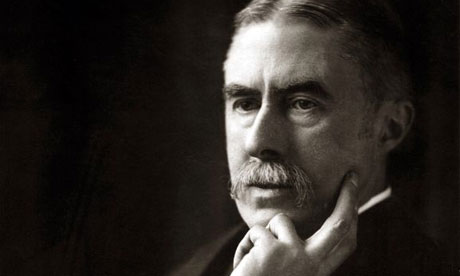 1859 – A.E. Housman English scholar/poet, born, (d.1936); Alfred Edward Housman was a classical scholar and poet of note. He was once viewed as a great grey presence, divorced from the flesh and married to the mind.
To mainstream readers of poetry, A.E. Housman was the much admired of author of two best-selling collections, A Shropshire Lad (1896) and Last Poems (1922), whose texts were taken as universal statements. But for all its universality, Housman's poetry is deeply rooted in homosexual experience and consciousness, and even reflects gay history.
Those 'in the know' were always aware of this, for despite being forced to write in code, Housman was reasonably bold, and it would appear from some of his poems and from the work of his brother Laurence, his literary executor and also gay, that Housman wrote the bulk of his work for a secret and oppressed homosexual readership.
Housman is unusual in that he not only wrote a large amount of private work of a more open nature, but it was not destroyed. In fact, Laurence assembled two further volumes from his brother's surviving manuscripts - More Poems (1936) and Additional Poems (1937).
The inspiration for Housman's poetry comes from two sources - the unrequited love (and lifelong friendship) he had for a fellow student named Moses Jackson; he also had a brief affair and long friendship with Moses' brother, Adalbert. The second driving force behind his work was his anger at the treatment of homosexuals, particularly the public hostility generated by the Wilde trial, and the ensuing need for secrecy that followed for decades. Housman wrote as openly as he could.
However, for all the secrecy, it seems that Housman was not exactly a virgin when it came to man on man sex. We now learn that the scholarly Cambridge don used to make merry with a string of Italian gigolos supplied by his friend Horatio Brown, and was as well a regular patron of the male brothels in Paris. But it was not for many years that any of this became public.
In 1942 A.E. Houseman's brother, Laurence Housman, deposited an essay entitled "A. E. Housman's 'De Amicitia'" in the British Library, with the proviso that it was not to be published for 25 years. The essay discussed A. E. Housman's homosexuality and his love for Moses Jackson. Given the conservative nature of the times it is not surprising that there was no unambiguous autobiographical statement about Housman's sexuality during his life.
It is certainly present in A Shropshire Lad, for instance, #30:
'Others, I am not the first /have willed more mischief than they durst', in which 'Fear contended with desire', and in #44, in which he commends the suicide, where 'Yours was not an ill for mending'... for 'Men may come to worse than dust', their 'Souls undone, undoing others': he has died 'Undishonoured, clear of danger, / Clean of guilt..'.
More Poems was more explicit, as in #31 about Jackson 'Because I liked you better / Than suits a man to say', in which his feelings of love break his friendship, and must be carried silently to the grave.
His poem 'Oh who is that young sinner with the handcuffs on his wrists?', written after the trial of Oscar Wilde, addressed more general societal injustice towards homosexuality. In the poem the prisoner is suffering 'for the colour of his hair', a natural, given attribute which - in a clearly coded reference to homosexuality - is reviled as 'nameless and abominable' (recalling the legal phrase 'peccatum horribile, inter christianos non nominandum', 'the horrible sin, not to be named amongst Christians').
So if you read all those poems in A Shropshire Lad that talk of 'lads', 'fellows' and 'comrades' , don't be under any illusions what he was really talking about...
The street sounds to the soldiers' tread,
And out we troop to see:
A single redcoat turns his head,
He turns and looks at me.

My man, from sky to sky's so far,
We never crossed before;
Such leagues apart the world's ends are,
We're like to meet no more;

What thoughts at heart have you and I
We cannot stop to tell;
But dead or living, drunk or dry,
Soldier, I wish you well.

- from A Shropshire Lad

1892 – Iowa outlaws sodomy, leaving it legal only in the District of Columbia. The law states that it will become effective upon publication in the two Des Moines newspapers, giving the papers a veto power over the law if they fail to print it. Both print it without delay.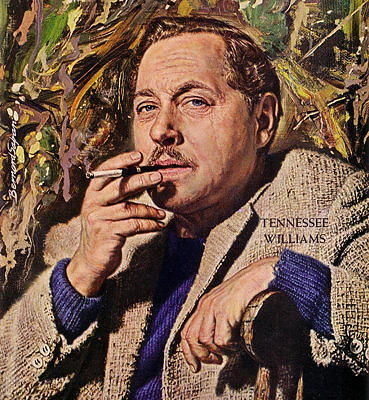 1911 – Tennessee Williams, American dramatist (d.1983); born Thomas Lanier Williams III, Tennessee Williams, was a major American playwright of the 20th century who received many of the top theatrical awards for his work. He moved to New Orleans in 1939 and changed his name to "Tennessee," the state of his father's birth because he thought "Thomas Lanier Williams" sounded "like it might belong to the sort of writer who turns out sonnet sequences to Spring,"
Tennessee won the Pulitzer Prize for Drama for A Streetcar Named Desire in 1948 and for Cat On A Hot Tin Roof in 1955. In addition, The Glass Menagerie (1945) and The Night of the Iguana (1961) received New York Drama Critics' Circle Awards. His 1952 play The Rose Tattoo —dedicated to his lover, Frank Merlo— received the Tony Award for Best Play.
Conflicted over his own sexuality, Tennessee Williams wrote directly about homosexuality in his short stories and poetry, but only rarely in his plays.
In Cat on a Hot Tin Roof , Brick, a former football star, is drinking himself to death, following in the footsteps of his beloved friend, Skipper, who was sexually attracted to him, and his wife wants their marriage to have, in addition to sex, the honesty of a friendship. Hung up on his friend's admission of desire, Brick has shut out his wife sexually and emotionally. Unable to endure any kind of intimacy, Brick drinks himself into detachment, denying his own sexuality, keeping it a deep, dirty secret.
Williams's own sexuality was an open secret he neither publicly confirmed nor denied until the post-Stonewall era when gay critics took him to task for not coming out, which he did in a series of public utterances, his Memoirs (1975), self-portraits in some of the later plays, and the novel, Moise and the World of Reason (1975), all of which document, often pathetically, Williams's sense of himself as a gay man.
Williams is nothing less than the stuff of theater history, on and off the stage. If at times Williams appeared to be his own worst enemy, he long lived with the pressure of having been the first publicly-known gay celebrity in America. It cannot have been much fun to see his great Blanche DuBois savaged by homophobic critics obsessed with proving that gay men know nothing about straight love. His other heroines have been similarly violated. If all writers pay a price for fame, Williams, being open and out as a gay man, paid more than his fair share.
Williams's relationship with Frank Merlo, a second generation Sicilian American who had served in the U.S. Navy in World War II, lasted from 1947 until Merlo's death from cancer in 1963. With that stability, Williams created his most enduring works. Merlo provided balance to many of Williams' frequent bouts with depression and the fear that, like his sister Rose, he would go insane.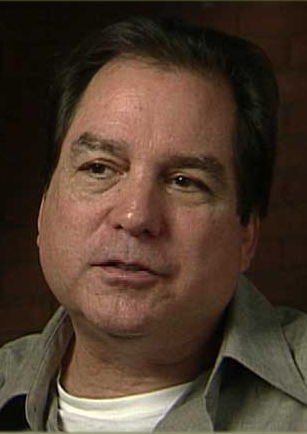 1944 – D. Michael Quinn is an American historian who has focused on The Church of Jesus Christ of Latter-day Saints. He was a professor at Brigham Young University from 1976 until his resignation in 1988. At the time, his work concerned church involvement with plural marriage after the 1890 Manifesto, in which the practice was officially renounced. He was excommunicated from the church as one of the September Six (who were excommunicated for criticizing church doctrine) and is openly gay.
Quinn has publicly argued that homosexual relationships, between both men and women, were quietly accepted by the Church of Jesus Christ of Latter-day Saints and its leadership up until the 1940s. This theme has arisen in Quinn's The Mormon Hierarchy: Extensions of Power and is the central topic of Same-Sex Dynamics Among Nineteenth-Century Americans: A Mormon Example.
Several LDS scholars have disputed Quinn's work, calling it a distortion of LDS history and saying he completely misrepresented the facts. They deny any acceptance from previous leaders of homosexuality, suggesting that Quinn conflated an absence of early Church proscriptions of homosexuality with tacit acceptance of same, and state the current leadership of the church "is entirely consistent with the teachings of past leaders and with the scriptures."
Despite his excommunication, Quinn believes in the Latter Day Saint movement, although he is in disagreement with certain policies and doctrines.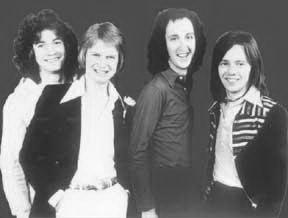 Lyall (second from left) in Pilot
1953 – Billy Lyall (d.1989) was a Scottish musician.
Born William Lyall in Edinburgh, Scotland, Lyall was a keyboard player, vocalist and occasional flautist with Pilot, and an early member of the Bay City Rollers. He also contributed to The Alan Parsons Project with fellow Pilot members, and released a solo album, Solo Casting in 1976.
Lyall died of AIDS-related causes in 1989, aged 36. Tam Paton later revealed that Lyall was gay.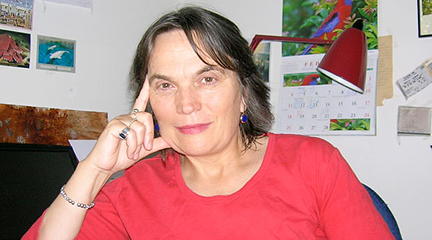 1954 – Australian lesbian poet Dorothy Porter, born in Sydney (d.2008), presents a cheeky challenge to a literary establishment whose poetry has often been defined by pretension and obfuscation. While her innovative "verse novels" owe a debt to the lusty epic adventures of ancient writers such as Homer, Virgil, and Chaucer, Porter's work is uproariously modern.
Porter began keeping a journal at an early age, and, by the time she was fourteen, had decided to become a writer. Also during her childhood, she began falling in love with women, though she developed romantic relationships with men as well. She was contentedly bisexual until she was thirty-one, when she came out as a lesbian.
While developing her poetic art, she taught classes, becoming a poetry and writing lecturer at Sydney's University of Technology. She also tried her hand at fiction for young adults, publishing two mildly successful novels: Rockwood (1991) and The Witch Number (1993).
In 1991, Porter published the verse novel Akhenaten, a dreamy and sensual imagining of the psyche of the rebel Egyptian pharaoh who worshipped the disk of the sun. Though Akhenaten was popular with both critics and readers, it was Porter's second verse novel, The Monkey's Mask (1994), that gained her a place in Australian popular literature and established her reputation.
Written in the form of a long collection of interconnected poems, The Monkey's Mask is a noir-style detective novel, complete with hardboiled lesbian detective, irresistible femme fatale, and ominous plot twists.
Jill Fitzpatrick, Porter's dyke gumshoe, narrates with a wounded cynicism that is only made more powerful by the driving economy of the verse form.The Monkey's Mask is a lushly erotic book. Jill is drawn helplessly into an affair with a prime suspect, and reels with the unexpected passion:
You forget you get old and blunt
you forget what it's like

her taste on my mouth
her smell on my hands

the cops should pick me up
I can't walk a straight line.
Porter also manages to sneak in some scathing satire of the pretensions of Sydney's poetry elite, as Fitzpatrick tracks a missing poet through the words of her poems and the cocktail parties of the intelligentsia:
Diana warned me
about poetry readings

"They're only supposed to read
for fifteen minutes,
you'll learn
Einstein's Theory of Relativity
firsthand, my dear,
fifteen minutes can stretch
like an old rubber band."
The success of The Monkey's Mask enabled Porter to support herself by her writing. Porter continued to create verse novels, including What a Piece of Work (1999), the anguished story of a psychiatrist gone mad, and Wild Surmise (2002), a lesbian science fiction novel about the exploration of outer space and inner consciousness. In April 2007, Porter published another verse novel, El Dorado, a dark and enigmatic thriller about two childhood friends trying to find a suburban child murderer.
During the early 1990s, Porter moved to Melbourne to live with novelist Andrea Goldsmith. The couple supported each other's endeavors and even edited each other's work. In May 2003, they had the unusual distinction of both being shortlisted for tone of Australia's most prestigious literary awards.
When she died on December 8, 2008, of complications arising from breast cancer, she was mourned not only by her close survivors—her partner Andrea Goldsmith, her parents, and her two sisters—but also by the entire Australian arts community.

1969 – The San Francisco Society for Individual Rights (SIR) president Leo Laurence and his lover are featured in a photo-illustrated article in the Berkeley Barb. Calling for "the Homosexual Revolution of 1969," Laurence exhorts gay men and lesbians to join the Black Panthers and other left-wing groups and to "come out" en masse.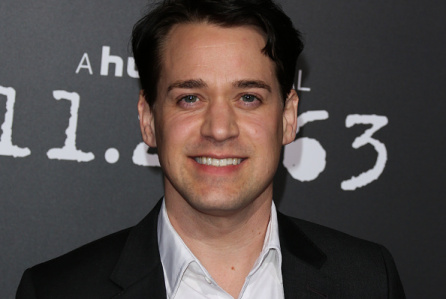 1973 – T.R. Knight, American actor, born; An Emmy Award-nominated and Screen Actors Guild Award-winning American actor , Knight's most high-profile role to date is his role as Dr. George O'Malley on ABC's top-rated, hit medical soap opera Grey's Anatomy.
Knight was born in Minneapolis, Minnesota. After finishing high school , Knight enrolled at the University of Minnesota for a brief period of time. He dropped out and soon landed leading roles at the Guthrie Theater. Knight moved to New York City and has appeared on Broadway; his most notable role was playing opposite Patti LuPone in the 2001 revival of Noises Off.
Rumors over Knight's sexuality gained momentum when news reports surfaced in October 2006 that
Grey's Anatomy
co-stars
Patrick Dempsey
and
Isaiah Washington
were involved in an argument during which, Knight and others allege, Washington used an anti-gay slur directed at an unnamed co-star. Washington later apologized, stating
"I sincerely regret my actions and the unfortunate use of words during the recent incident on-set".
Knight, who is gay, did not disclose his sexuality to the public until October 19, 2006—after the kerfuffle—when he released a statement through People magazine stating, in part, "I guess there have been a few questions about my sexuality, and I'd like to quiet any unnecessary rumors that may be out there. While I prefer to keep my personal life private, I hope the fact that I'm Gay isn't the most interesting part of me."
Knight appeared on The Ellen DeGeneres Show later the same month and stated that Washington in fact had referred to him as a faggot on the Grey's Anatomy set on October 9, 2006.
In June 2007, Knight's role was secured for an additional season of Grey's Anatomy, while Isaiah Washington's contract was not renewed. Knight was written out of Grey's Anatomy in 2008 when George O'Malley was killed off in a dramatic severe trauma storyline. Producers claim that Knight asked to be released from his contract but he has maintained that he left because of 'trust issues' with the show's creator, Shonda Rimes.
Since Grey's Anatomy, Knight's career has mostly been in theatre. Knight starred in a production of the musical Parade, opening October 4, 2009, at the Mark Taper Forum in Los Angeles as Leo Frank. Knight returned to Broadway in David Mamet's A Life in the Theatre in 2010, where he played the role of John, opposite Patrick Stewart.
On October 5, 2013, Knight married his boyfriend of three years, Patrick Leahy, in Hudson, New York.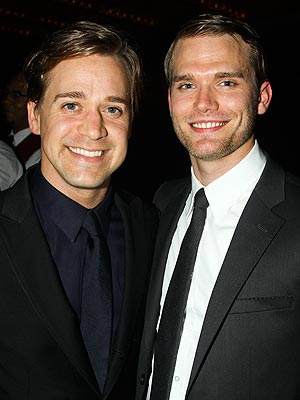 Knight and husband Patrick Leahy

1973 – The first formal meeting of PFLAG  – Parents and Friends of Lesbians and Gays (later broadened to Parents, Families and Friends of Lesbians and Gays) – took place on 26 March 1973 at the Metropolitan-Duane Methodist Church in Greenwich Village (now the Church of the Village). Approximately 20 people attended, including founder Jeanne Manford, her husband Jules, son Morty, Dick and Amy Ashworth, Metropolitan Community Church founder Reverend Troy Perry, and more.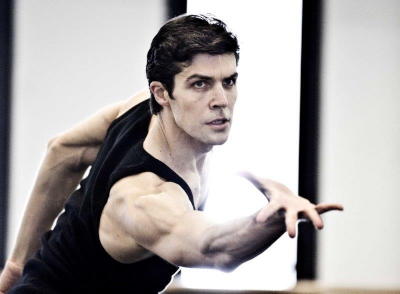 1975 – Roberto Bolle is an Italian danseur. He is currently a principal dancer with American Ballet Theater and also holds guest artist status with The Royal Ballet and La Scala Theater Ballet, making regular appearances with both companies.
Bolle was born in Casale Monferrato in the Piedmont Region of Italy. He began ballet studies at age seven at a local school, and was accepted at the la Scala theater ballet school in Milan at the age of eleven. Rudolph Nureyev chose Roberto to interpret Tadzio in the ballet Death In Venice.
In 1996, following an appearance in
Romeo and Juliet
, twenty year old Bolle was promoted to principal dancer at La Scala. He left that position when he was 21 to pursue a freelance career. Since then he has starred in many ballets including
Sleeping Beauty, Swan Lake, Cinderella, The Nutcracker, Giselle
, and
Notre Dame de Paris
.
Bolle has danced for the Royal Ballet, the Tokyo Ballet, the National Ballet of Canada, the Stuttgart Ballet, the Finnish National Ballet, the Staatsoper in Berlin, the Vienna State Opera and every other major ballet company in the world.
Derek Deane, the English National Ballet director, created two productions for him: Swan Lake and Romeo and Juliet, both of them performed at the Royal Albert Hall in London. On the 10th anniversary of the Opera Theater in Cairo, he performed in Aida at the pyramids of Giza and afterwards at the Arena in Verona for a new version of the opera live worldwide.
In October 2000 he opened the season at Covent Garden Opera House in London performing Swan Lake, and in November he was invited by the Bolshoi Ballet to celebrate Maya Plisetskaya's 75th anniversary.
In June 2002, on the occasion of Queen Elizabeth's Golden Jubilee, he danced the Swan Lake Act III pas de deux with Royal Ballet principal dancer Zenaida Yanowsly in the ballroom at Buckingham Palace in the presence of the Queen.
In 2009 he revealed to the world the open secret that he is gay.
Bolle has appeared in numerous fashion and style magazines and has been featured in advertising campaigns; Ferragamo featured him in a 2008 promotion and he also was featured in Vogue US 2009 alongside supermodel Coco Rocha in an editorial spread. Bolle also has an agreement with Giorgio Armani, who supplies him with clothes.

1975 – After the local district attorney's office rules that there are no county laws preventing two people of the same-sex from getting married, Boulder, Colorado county clerk Clela Rorex issues a marriage license to two gay men, Dave McCord and Dave Zamora,. It is the first same-sex marriage license issued in the United States. She says in a statement, "I don't profess to be knowledgeable about homosexuality or even understand it, but it's not my business why people get married.  No minority should be discriminated against."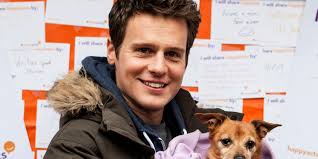 1985 – Jonathan Groff is an American who portrayed Jesse St. James in the American television series Glee.
Jonathan was raised in Lancaster, PA as a Methodist. He first decided he wanted to work in show-business when he was 10 years old and saw a production of Annie Get Your Gun with his school. Before deciding he wanted to be an actor, Jonathan aspired to be a professional trumpet player. Groff came out as gay in October 2009 during the National Equality March in Washington.
He first appeared on Glee in the episode Hell-O and appeared on the show for the rest of the season. He returned to Glee in season two. Groff also returned later in season 3, as coach of the New Directions' biggest threat; Vocal Adrenaline.
Groff, along with other openly gay actors (including Sean Hayes and Neil Patrick Harris), were the target of a highly controversial April 2010 Newsweek article by Ramin Setoodeh that argued gay actors are not convincing playing straight characters. The article created a huge media backlash with many public figures (including Groff and Hayes' co-star, Kristin Chenoweth) decrying it as homophobic and defending Hayes's, Harris's, and Groff's performances as straight characters.
In 2014 he won the lead role in Looking, a sort of gay version of Sex and the City, with less glamour and more grit, set in San Francisco. Looking ran for two seasons.
He had been in a relationship with Zachary Quinto for quite a while, but Quinto "felt that they couldn't take their romance public - until now." In July 2013, it was reported that the two had broken up.
An advocate for the LGBT community, Groff was listed in Out Magazine's OUT100 as one of the 100 most compelling LGBT people in 2013 and again in 2014, this time alongside Murray Bartlett and Russell Tovey, his fellow out co-stars in Looking. Also in 2014, he was named a Grand Marshal of the New York City Pride Parade. In April 2015, he was honored by the Point Foundation with the Point Horizon Award, saying Groff is "a proud member of the LGBTQ community and uses his position to speak about both the challenges and opportunities young LGBTQ people face in society. As an actor and an advocate, Groff is an inspiration to the next generation of LGBTQ leaders." In December 2015, he was honored by the Equality Pennsylvania organization with the Bayard Rustin Award. According to the organization, Groff "is a highly visible role model and activist for the LGBT Community. And in this role, every day, he brings home the strong and resonant message that LGBT people can do anything, be anything, and can live lives of value and worth."

1985 – The U.S. Supreme Court overturns (via a tie vote) an Oklahoma law that would have banned homosexuals (or those who "promote the lifestyle") from teaching in the state's public schools.

1990 – Common Threads, the documentary about the AIDS quilt, wins the Oscar for Best Documentary.

1991 – Montana enacts a law stating that a person's seeking treatment for HIV-related disease can not have that fact used as a basis for initiating a sodomy conviction.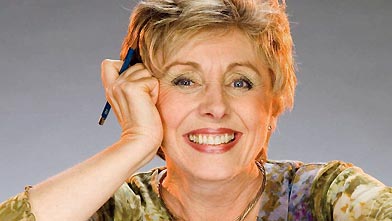 1994 – Canadian cartoonist Lynn Johnston introduces a Gay character into her nationally syndicated strip, "For Better or For Worse." 19 papers cancelled the strip and 40 asked for substitutions. One result of the storyline was that Johnston was made a jury-selected "nominated finalist" for the Pulitzer Prize for Editorial Cartooning in 1994. The Pulitzer board said the strip "sensitively depicted a youth's disclosure of his homosexuality and its effect on his family and friends."
The panel below is from the second day of the storyline: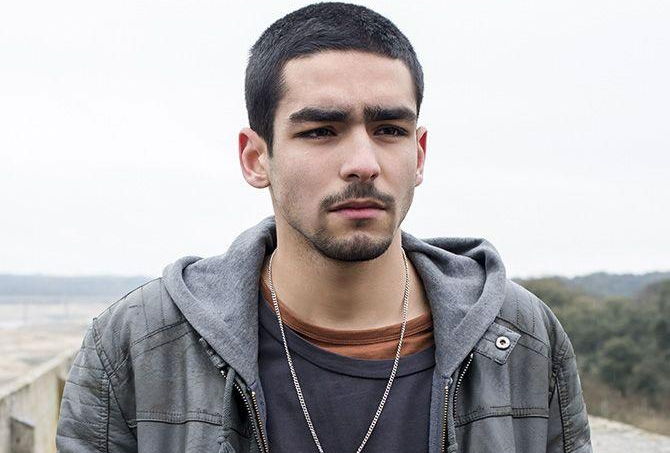 1998 – Omar Ayuso is a Spanish actor. He is best known for his role as Omar Shanaa on the television series Elite (2018–present).
Ayuso was born in Madrid and raised in Manzanares el Real. After seeing Bad Education as a child, he became interested in becoming an actor or filmmaker. Ayuso studies audiovisual communication at the Charles III University of Madrid.
In 2018, Ayuso was cast in the Spanish web television series Elite as Omar Shanaa, a closeted gay Muslim who develops a relationship with Ander Muñoz who is played by Arón Piper. In preparation for the role, Ayuso worked for two months with director Ramón Salazar to absorb his character's role.
In 2019, Ayuso starred in three short films including Maras' de Salvador Calvo and Ráfagas de vida salvaje by Jorge Cantos and Disseminare by Jools Beardon.
In January 2020, Ayuso was featured in the music video of "Juro Que" by singer songwriter Rosalía.
Ayuso plays the character, David, in the upcoming film, 8 Años, a gay drama where he reflects on an eight-year relationship.
Ayuso and Piper's onscreen relationship, coined "Omander", and their offscreen friendship has generated a global following. As of June 2020, he had over four million followers on social media. The role has boosted LGBT visibility although Ayuso resists the notion that he serves as a role model. As a gay man, Ayuso has been the subject of homophobic commentary. He believes the widespread support for his onscreen relationship with Piper is due to it being easier for homophobic people to accept gays in fiction rather than in real life.
In 2019, Ayuso moved into an apartment in downtown Madrid. He has a tattoo of a flame and an eye on his hand inspired by artist Ricardo Cavolo. Ayuso is gay. He has stated in interviews that he is proud of his generation's social progress on topics including feminism, LGBT rights, and efforts against racism. As of March 2020, Ayuso is in a relationship with artist
Alonso Díaz
.

[{(o)}]|[{(o)}]|[{(o)}]|[{(o)}]| [{(o)}]|[{(o)}]
Today's Gay Wisdom:

Tennesee Williams
[{(o)}]|[{(o)}]|[{(o)}]|[{(o)}]| [{(o)}]|[{(o)}]
Most of the confidence which I appear to feel, especially when influenced by noon wine, is only a pretense. - Tennessee Williams
Why you're not crippled, you just have a little defect — hardly noticeable, even! When people have some slight disadvantage like that, they cultivate other things to make up for it - develop charm - and vivacity - and - charm! - The Glass Menagerie (1944)
You are the only young man that I know of who ignores the fact that the future becomes the present, the present the past and the past turns into everlasting regret if you don't plan for it! - The Glass Menagerie (1944)
I wish you were my sister. I'd teach you to have some confidence in yourself. The different people are not like other people, but being different is nothing to be ashamed of. Because other people are not such wonderful people. They're one hundred times one thousand. You're one times one! They walk all over the earth. You just stay here. They're common as - weeds, but - you - well, you're - Blue Roses! - The Glass Menagerie (1944)
But there's one thing you can't buy in a Europe firesale or in any other market on earth. And that's your life. You can't buy back your life when it's finished... The human animal is a beast that eventually has to die. And if he's got money, he buys and he buys and he buys. The reason why he buys everything he can is because his crazy hope is one of the things he buys will be life everlasting - which it never can be. - Cat on a Hot Tin Roof

MARCH 27 →
[{(o)}]|[{(o)}]|[{(o)}]|[{(o)}]| [{(o)}]|[{(o)}]