January 11
[{(o)}]|[{(o)}]|[{(o)}]|[{(o)}]| [{(o)}]|[{(o)}]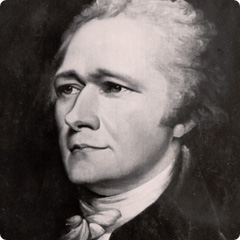 1755 – Alexander Hamilton, 1st United States Secretary of the Treasury (d.1804); One had to wonder what the current occupants of the White House would think if they knew of the ruckus caused a couple of centuries ago by Alexander Hamilton and George Washington, the American patriots who became the first secretary of the treasury and president, respectively.

George, whom everyone knows had no children of his own, surrounded himself with a circle of young male revolutionaries who he called his "family." Among his favorites were John Laurens, who once fought a duel to defend George's honor sullied by some cad now lost to history; and Alexander Hamilton. George was thought by his enemies to be a bit soft on the boys and was suspected over being overly fond of young Hamilton in particular.
While in Washington's service Hamilton befriended a group of other young officers, with one of whom, John Laurens of South Carolina, he had a particularly close relationship. When the two were apart on separate assignments, they exchanged affectionate letters. In September 1779, gently chiding Laurens for not corresponding as often as he would have liked, Hamilton wrote, "like a jealous lover, when I thought you slighted my caresses, my affection was alarmed and my vanity piqued."
Between 1779 and 1782, Hamilton and Laurens exchanged a series of love letters, reprinted in Jonathan Katz's Gay American History, in which Laurens addressed Hamilton as "'My Dear' and offered flowery protestations of undying affection, to which Hamilton responded with the touching declaration: "'I love you'." To this day the letters are explained away on the grounds that 18th century men "were classical scholars whose thoughts and actions were colored by the grandeur of antiquity."
Despite the prestige of his appointment on Washington's staff, Hamilton wished to serve in combat like—and perhaps with—his friend Laurens. Using the pretext of a minor disagreement with the general, Hamilton requested and received a transfer in February 1781. The incident left no hard feelings on either side.
Hamilton and Laurens participated in several military campaigns together later that year but were again separated on August 15, 1782, when Hamilton wrote to his friend, addressing him as "My Dear Laurens." Looking beyond the successful conclusion of the war, Hamilton suggested that both of them should be members of the congress of the new country. "We have fought side by side to make America free, let us hand in hand struggle to make her happy," he wrote in a letter ending, "Yours forever."
It is doubtful that Laurens ever read this letter, for he was killed in a skirmish on August 27. Upon hearing of his friend's death from Major General Nathanael Greene, Hamilton wrote back that he felt "the deepest affliction at the news," adding, "I feel the loss of a friend I truly and most tenderly loved."


Added 2022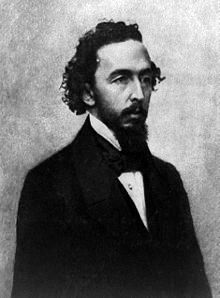 1825 – Bayard Taylor (d.1878) was an American poet, literary critic, translator, travel author, and diplomat. Bayard Taylor wrote novels and essays that dealt with passionate relationships between men, including Twin Love and the poem "To a Persian Boy." Joseph and His Friend (1870) is considered to be the first American novel to deal with gay feelings.
Taylor was born in Chester County, Pennsylvania. He was the fourth son, the first to survive to maturity, of a Quaker couple. His father was a wealthy farmer. Bayard received his early instruction in an academy at West Chester, Pennsylvania, and later at nearby Unionville. At the age of seventeen, he was apprenticed to a printer in West Chester. The influential critic and editor Rufus Wilmot Griswold encouraged him to write poetry. The volume that resulted, Ximena, or the Battle of the Sierra Morena, and other Poems, was published in 1844 and dedicated to Griswold.
Using the money from his poetry and an advance for travel articles, he visited parts of England, France, Germany and Italy, making largely pedestrian tours for almost two years. He sent accounts of his travels to the Tribune, The Saturday Evening Post, and Gazette of the United States.
In 1848, he met George Henry Boker and Richard Stoddard, who would be long-lasting friends. This group of young men supported and encouraged each other in the face of official journalistic criticism. It is believed Boker and Taylor were long-time lovers.
In 1849 Taylor married Mary Agnew, who died of tuberculosis the next year. That same year, Taylor won a popular competition sponsored by P. T. Barnum to write an ode for the "Swedish Nightingale", singer Jenny Lind. His poem "Greetings to America" was set to music by Julius Benedict and performed by the singer at numerous concerts on her tour of the United States.
In 1851 he traveled to Egypt, where he followed the Nile River as far as 12° 30' N. He also traveled in Palestine and Mediterranean countries, writing poetry based on his experiences. Toward the end of 1852, he sailed from England to Calcutta, and then to China, where he joined the expedition of Commodore Matthew Perry to Japan. The results of these journeys were published as A Journey to Central Africa; or, Life and Landscapes from Egypt to the Negro Kingdoms of the White Nile (1854); The Lands of the Saracen; or, Pictures of Palestine, Asia Minor, Sicily and Spain (1854); and A Visit to India, China and Japan in the Year 1853 (1855).
His novel,
Joseph and His Friend: A Story of Pennsylvania
(1870), first serialized in the magazine
The Atlantic
, was described as a story of young man in rural Pennsylvania and
"the troubles which arise from the want of a broader education and higher culture"
. It is believed to be based on the poets
Fitz-Greene Halleck
and
Joseph Rodman Drake
, and since the late 20th-century has been called America's first gay novel.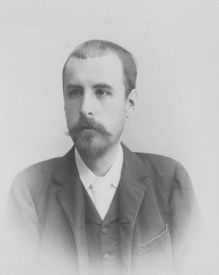 1868 – Prince Bojidar Karageorgevitch (d.1908), Serbian artist and writer on art, was a member of the Serbian House of Karaorđević. He was a world traveller. He gave singing and drawing lessons and later earned his living as an art critic and translator. He was a contributor to the Encyclopædia Britannica, Figaro, La Revue de Paris, Revue des Revues, Magazine of Art, and other publications.
Prince Bojidar lived in France for most of his life as this family were in exile. Bojidar travelled a lot and went on a number of trips around the world. He served in the French Army and fought in the French campaign at Tonking and was decorated with the Cross of the Legion of Honour. To earn a living he gave singing and drawing lessons before becoming a translator and journalist
During one of his trips abroad, he travelled extensively around India, visiting thirty eight cities. He wrote a book about his experiences called Enchanted India in which he offered an account of the Indian people, their religious rites, and other ceremonies.
He was drawn to the cabarets of Montmarte, the haunt of artists, writers, poets, philosophers. It was there he met and befriended French stage actress Sarah Bernhardt, pioneer of modern dance Loïe Fuller, French poet, novelist and noted orientalist Judith Gautier, Suzanne Meyer-Zundel, Austrian composer Hugo Wolf, painter and illustrator Henri de Toulouse-Lautrec, and founder of the Ballets Russes Sergei Diaghilev.
His lover was painter Jules Bastien-Lepage, fourteen years his senior, who predeceased him when Prince Bojidar was only 22 years old. The artist, long ailing, had tried in vain to re-establish his health in Algiers. He died in Paris in 1884. Prince Bojidar, was with him at the end and wrote,
"At last he was unable to work anymore; and he died on the 10th of December, 1884, breathing his last in my arms. At his grave's head his mother and brother lovingly planted an apple-tree, which every spring showers down its wealth of pearly petals over the last resting-place of the great master whose loss we all mourn."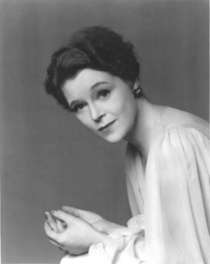 1899 – On this date the great British actress, producer, director and translator Eva Le Gallienne was born in London, England (d.1991). She made her stage debut in 1914 at the Prince of Wales Theatre in London. She was fifteen at the time. The next year Eva sailed for New York, and then on to Arizona and California where she performed in several theater productions. After traveling in Europe for a period of time, she returned to New York and became a Broadway star in several plays including Arthur Richman's Not So Long Ago (1920) and Ferenc Molnár's Liliom (1921).
Disillusioned by the state of commercial theater in the 1920s, Eva founded the Civic Repertory Theatre in New York, with the financial support of one of her lovers, Alice DeLamar, a wealthy Colorado gold mine heiress, whose support was instrumental in the success of the repertory theater movement in the U.S. In 1928 she earned a great success with her performance in Ibsen's Hedda Gabler. The Civic Rep. disbanded at the height of the Depression in 1935.
Eva never hid her Lesbianism inside the acting community. In early Hollywood and acting circles, Lesbianism was fairly common, and although generally not divulged to the public, it was accepted behind the scenes. Le Gallienne was very protective of her private life, and although she had no problems with people inside the acting community knowing her sexuality, she was very opposed to anything going public. During those early days of her career she often was in the company of outspoken and bisexual actress Tallulah Bankhead and actresses Estelle Winwood and Blyth Daly, with the four of them being dubbed "The Four Horsemen of the Algonquin," referring to the Algonquin Round Table.
Her lovers included the great actress Alla Nazimova (at the height of her fame), Bankhead, Beatrice Lillie, Laurette Taylor. Her only heterosexual relationship seems to have been with the actor Basil Rathbone. She was later involved with the writer Mercedes de Acosta and palled around with Natalie Barney. De Acosta wrote two plays for Eva during that time, Sandro Botticelli and Jehanne de Arc.
By early 1927, Eva was involved with the then married actress Josephine Hutchinson. Hutchinson's husband started divorce proceedings and named Le Gallienne in the divorce proceedings as "co-respondent". The press began accusations that named Josephine Hutchinson as a "shadow actress", which at the time meant Lesbian. Five months later, Le Gallienne performed in the daring play about Emily Dickinson, entitled Alisons House. The play won the Pulitzer Prize that year.
She appeared on the cover of TIME magazine and during the Great Depression she was offered directorship of the National Theater Division of the Works Progress Administration by President Franklin D. Roosevelt. She later co-founded the American Repertory Theater, which operated from 1946 to 1948. In 1964 Le Gallienne was presented with a special Tony Award in recognition of her 50th year as an actress and in honor of her work with the National Repertory Theatre.
Although known primarily for her theater work, she has also appeared in films and television productions. She earned an Oscar nomination for her work in Resurrection, for which she gained the honor of being the oldest Oscar nominee up to that time (1980) ; and won an Emmy Award for a televised version of The Royal Family after having starred in a Broadway theatre revival of that play in 1976. The National Endowment for the Arts recognized her with the National Medal of Arts in 1986. She died at her home in Connecticut of natural causes at the age of 92.
Some biographers have attempted to paint Le Gallienne as a self-hating Lesbian. This seems contradicted by her biographer, Helen Sheehy, who quotes Le Gallienne's words of advice to her close friend, the poet May Sarton: "People hate what they don't understand and try to destroy it. Only try to keep yourself clear and don't allow that destructive force to spoil something that to you is simple, natural, and beautiful." Similarly, Le Gallienne told her heterosexual friend, Eloise Armen, that love between women was "the most beautiful thing in the world."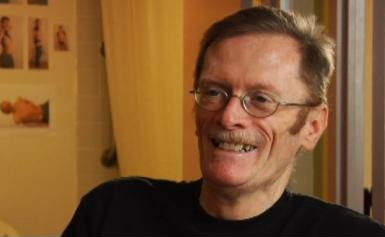 1950 – Rick Bébout is best known for his role in The Body Politic collective in the 1970s and '80s, and for his writings then and since on gay life in Toronto.
One of thousands who had fled to Canada from the United States during the Vietnam War, in 1977 Bébout joined a small group of Toronto lesbian and gay activists who were publishing The Body Politic, a 'gay liberation journal' that had soared to prominence both in Canada and abroad.
Particularly interested in design, he brought the resource-poor publication to an astonishing level of graphic sophistication, while also contributing to its unique voice by writing in its pages.
But his interests extended well beyond sexual politics. Like many other refugees who have settled in Toronto, he was passionate about the city that had embraced him, editing in 1972 The Open Gate: Toronto Union Station, a book that helped prevent the destruction of the iconic building.
Despite his interest in mass politics, he was intensely private and writing was the medium in which he conducted much of his life, particularly in his later years. Notably, he carried on a decades-long correspondence with novelist Jane Rule. (Their letters are being prepared for publication by a US scholar.)
Living with HIV since the mid-1980s, Rick suffered an apparent stroke on June 4, 2009, and died on June 10, 2009, of HIV-related illnesses.

1957 – Ed Sikov, born in Pennsylvania, is an American film scholar and author. His books include Mr. Strangelove: A Biography of Peter Sellers (published in 2002), On Sunset Boulevard: The Life and Times of Billy Wilder (published in 1998), and Laughing Hysterically: American Screen Comedies of the 1950s (published in 1994).
Sikov was born in Natrona Heights, Pennsylvania, majored in English at Haverford College, and has a PhD from Columbia University; Sikov has since written eloquently of the difficulties he experienced as a gay student in the 1970s. He has lived in New York City since 1979, and currently resides with his husband, Bruce Schackman.
Sikov's most recent book is a textbook – Film Studies: An Introduction; before that was Dark Victory: The Life of Bette Davis (2007). He recorded a commentary track for the Special Collector's Edition DVD of Billy Wilder's Sunset Boulevard, and is often called upon as a film expert for articles and documentaries, such as the 10-part American Cinema series produced by the New York Center for Visual History in association with the BBC and PBS. He has also written for the British and US editions of Premiere magazine as well as for Out, The Advocate, Connoisseur, Spy, Village Voice and Film Quarterly.
Sikov's contributions as an author and teacher have been curtailed by the onset of Parkinson's disease. He continues to write the Media Circus column in the New York-based Gay City News.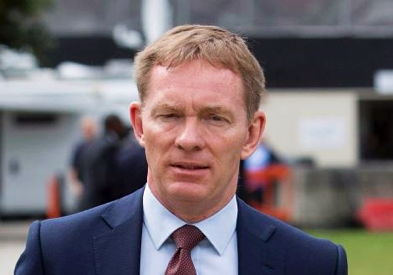 1962 – Today's the birthday of Welsh politician Chris Bryant. Born in Cardiff, Wales. He studied English at Oxford University and theology at Rippon College, Cuddesdon.
Bryant is openly gay, but he was ridiculed in the press when he was discovered to have a Gaydar profile featuring pictures of him wearing only underpants, whilst an MP. In an interview with Attitiude magazine he later described the incident as 'very, very, very, very unpleasant ... I didn't sleep much for about three months.'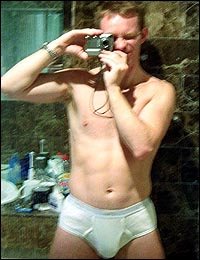 Chris Bryant's "Gaydar" picture.
He later appeared looking very buff in swimming trunks at a parlimanetary swimming fundraiser.
In early 2010 Bryant 'married' his partner Jared Cranney in the first civil partnership to be held in the Houses of Parliament.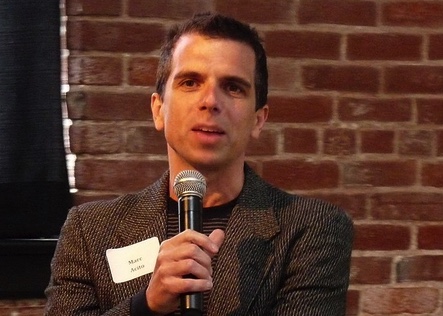 1966
– Today is also the birthday of American writer
Marc Acito
. Born in Bayonne, New Jersey, his comic novel
How I Paid for College
won the Oregon Book Awards' 2005 Ken Kesey Award for Best Novel, and was voted a 2005 "Teens Top Ten for Favorite Young Adult Book" of the American Library Association. He is also the writer of the syndicated humor column
"The Gospel According to Marc"
, which ran for four years in nineteen gay publications. His humorous essays have appeared in many publications including
The New York Times
and
Portland Monthly
magazine; as well as on NPR's
All Things Considered
.
Acito is openly gay and lives in Portland, Oregon with his partner Floyd Sklaver.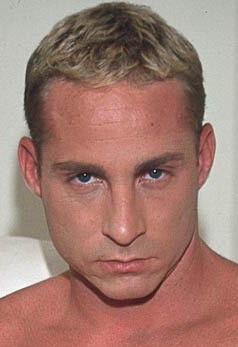 (Click for full Monty)
1972 – Chad Donovan is an American performer and director of gay pornographic films. He has won numerous awards as a performer and director, and is a member of the GayVN Awards Hall of Fame and the Grabby Awards Hall of Fame.
Donovan was born into a Southern Baptist family. His rigid religious background and sexual precocity led to experimentation at an early age. "My first experience with a guy was about eight, just playing around and fingering buttholes. We probably didn't even get hard." Donovan's large endowment prompted teasing from his classmates as he reached puberty. "Through high school I had a difficult time because I had to change clothes for gym and stuff. I nearly failed gym class because I didn't want to change clothes. I got made fun of. Plus, not to mention, I hit puberty at ten. So all these little boys were bald as a peacock and here I am, full out baby's arm holding an apple."
Donovan was introduced to the gay pornographic industry by performers Chase Hunter and Tony DeAngelo. They worked as strippers at a 1470 West, a gay bar in Dayton, Ohio where Donovan was bartending. "We were kind of fucking around, having threeways occasionally. They took pictures of me, sent pictures all around," he recalls. Gay adult studios Catalina Video and Falcon Studios showed interest, and Donovan chose to work for Falcon. He was eighteen years old.
Donovan earned a $2,000 scene rate for his first movie. "When you're a kid living in Ohio, that's a lot of money. And a trip to San Francisco for three days. I did the one scene and two photo layouts. It was fantastic. What more could you ask for?" He filmed the scene with Hunter Scott and Anthony Moore. The scene was released by Falcon in 1994 in the film "Workin' Stiff." Donovan went on to film roughly 50 titles as a performer over the next decade.
In 2001, Bob East of Men of Odyssey broached the idea of directing. "He asked me if I'd be interested in directing. He said I seemed to have a good knack for finding talent, I've been in the industry long enough, why don't I try putting a movie together? So I did." That film was titled "Movin' On," and it was during production that he met and began a relationship with cast member Antonio Madiera, which continues to this day. "I had no intention of getting a boyfriend out of it. I hired the kid, I really liked the way he looked, he performed like a champ, and every time I looked down—when I wasn't even shooting him, I'd be shooting other boys in a scene—he'd be looking up at me with these puppydog eyes. I just couldn't resist."
Donovan's final onscreen sexual performances (as of December 2007) were in 2004. One of those films, "Studs 'N Pups" for MSR Videos, was the first time he and boyfriend Madiera performed together. Madiera continues to act occasionally, usually in films that Donovan directs. In 2007, Donovan helmed Basic Plumbing 3 for Falcon Studios; the film starred Chase Hunter and brought them back together 16 years after Hunter introduced Donovan to the industry. Although essentially retired as a sexual performer, Donovan occasionally appears in nonsexual roles. His early roles remain in circulation as they are continually repackaged into compilation tapes.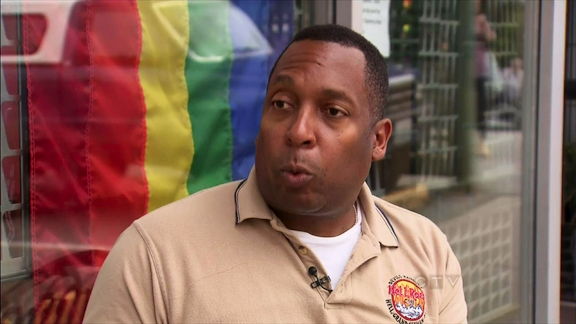 1973 – Robert Joseph Greene is a Canadian author of gay romance fiction, best known for The Gay Icon Classics of the World, a collection of gay-themed love stories from over 12 different countries. Each story represents a culture and a people. The book was listed by PFLAG Canada as a recommended book in their "Books Worth Reading" section.
One of the short stories in the Gay Icon Classics collection is "Halo's Golden Circle", a tragic love story set in ancient Judea. Author and Jewish scholar Steven Greenberg remarked that it was a "beautiful story".
Letters From Camp Rehoboth published an excerpt from "The Journey and the Jewels" in 2006. The Watermark, a weekly LGBT publication in Florida, gave kudos in their story which honored the writer.
In February 2008, Greene filed a complaint with the Canadian Broadcast Standards Council (CBSC) against CKYE-FM and the Harjinder Thind Radio Show that aired on January 31, 2008. The complaint cited bias against the LGBT community. Greene also stated that the radio show allowed callers to make inaccurate statements against the LGBT Community and did not allow or invite any discussion for an opposing view. After a formal investigation, on October 23, 2008, the CBSC issued their decision and sided with Greene and found CKYE-FM and the Harjinder Thind Show in violation of the Canadian Human Rights Act and the Canadian Association of Broadcasters Code of Ethics, Clause 7. CKYE-FM and the Harjinder Thind Show were required to air the decision and correction both in Punjabi and English.
Following the release of The Gay Icon Classics of the World II in 2012, a group of Russian students translated "The Blue Door", a story from the collection about a young Russian prince who comes out as gay, and used it as a protest against the "homosexual propaganda" laws enacted in Saint Petersburg. In 2013, Greene publicly stated that he had received death threats from readers in Russia over the story.
Greene's This High School Has Closets was a nominee for the Lambda Literary Awards in the 2012 young adult novels category.
In January 2014, Greene embarked on a lobbying campaign among ornithologists to get Merriam-Websters Dictionary to have a "Jabber of Jays" as an official term under bird groups.


1974 – L'Association homophile de Montréal / Gay Montreal Association holds its first public meeting.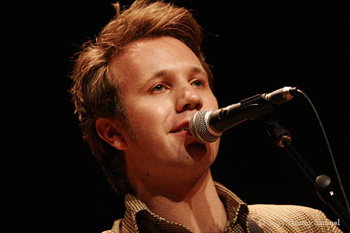 Dylan Rice at the OUT Music Awards
1976 – Today is also the birthday of American singer Dylan Rice. He graduated from Northwestern University in 1998 (where he studied poetry) and now lives in Chicago. In 2004 he released an album called Wandering Eyes. P>
In July 2006, Dylan, who is openly gay, performed his stadium-rock anthem "The Faces of Victory" for 20,000 people at the Gay Games Closing Ceremonies at Wrigley Field in Chicago, joined onstage by Styx bassist Chuck Panozzo, and backed by a chorus of Chicago LGBT rockers. Written especially for the Gay Games, the song was also recorded in the studio with Panozzo, released as a single, and was highlighted in the official Gay Games VII commemorative DVD in December 2006.
For more information about Rice, visit his website at www.dylanrice.com Under the "Music" tab you can even download some of his songs.

1984 – The Wall Street Journal allows staff writers to now use the word "gay" as a synonym for "homosexual" in article and headlines.

2000 – Britain lifted its ban on gays in the military.

2007 – On this date the northern Mexican state of Coahuila approved Gay unions. Coahuila, population 2.3 million, borders Texas. The Institutional Revolutionary Party, or PRI, were responsible for bringing the bill before the legislature, where it passed by 20 votes to 13. The new civil unions granted a range of social benefits to Gay and Lesbian couples. To put this in perspective, Gay couples in the Mexican state of Coahuila have more legally established rights than couples across the border in Texas. A few weeks later the Mexico's first same-sex civil union was performed in Saltillo, Coahuila.

2008 – On this date, Salt Lake City, Utah's newly elected mayor Ralph Becker, proposed a domestic partner registry for same-sex couples and for opposite-sex couples who cannot or chose not to marry.

2008 – It was reported on this date that the Socialist mayor of Paris, Bertrand Delanoë, had been given increased police protection after US security services informed their French counterparts that he might be attacked by terrorists. While monitoring internet traffic related to Al-Qaeda the CIA discovered that Delanoë was listed as a target. As mayor of France's biggest city he is the most prominent gay politician in the country.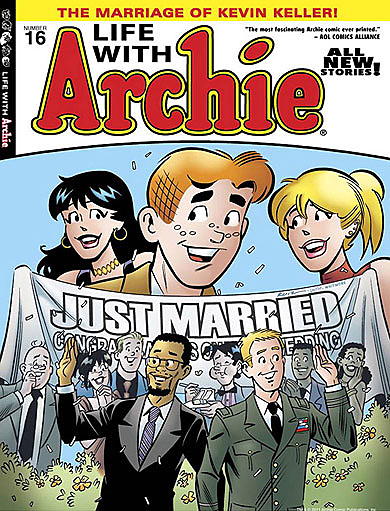 2012 – In Life with Archie #16, Archie Comics' first gay character, Kevin Keller, married his partner.
In the storyline, Kevin returns to Riverdale as an adult after having served in the Army and having recovered from a battle-related injury in Iraq. He eventually ties the knot with Dr. Clay Walker, an African-American rehabilitation expert who helped Kevin regain his ability to walk, in a ceremony presided over by Riverdale's mayor.
Keller first appeared in the venerable Archie series in Veronica #202, published in September 2010, in a story entitled, "Isn't It Bromantic?" In that story, Veronica expresses interest in dating Kevin, but he explains to Jughead that the reason he does not want to date Veronica is because he is gay.
The issue sold out, prompting Archie Comics to issue a reprint for the first time in its 70-year history.
Keller returned in Veronica #205 and then in 2011 headlined his own 4-issue miniseries, Kevin Keller. That series focuses on Keller's life before he arrived in Riverdale, including his struggles in junior high school.
Anti-gay activist Peter LaBarbera sees the whole development as an insidious plot to indoctrinate children.
LaBarbera has fulminated that the storyline is "really manipulative. Of course they are going to have a soldier having a homosexual so-called marriage with a black, so it's interracial, they want to work that in there, which is fine, interracial marriage is good but not between two men, and he was the physical therapist for this soldier so they're really manipulating these kids. Here you are taking something that parents take for granted is wholesome, Archie Comics, and now even that is being turned into a promoter of the radical homosexual agenda."
Of course, what really infuriates homophobes like LaBarbera is precisely what Teresa Theophano noted: comic books serve as a barometer of shifting attitudes toward sexual minorities and thus the mainstreaming of same-sex marriage in a beloved comic strip like Archie Comics is a reflection of increased acceptance of glbtq people.

2013 – African American Marco McMillian is the first openly gay candidate for political office in Mississippi when he announces his candidacy for mayor of Clarksdale, MS. He is slain a month later.

JANUARY 12 →
[{(o)}]|[{(o)}]|[{(o)}]|[{(o)}]| [{(o)}]|[{(o)}]