October 22
[{(o)}]|[{(o)}]|[{(o)}]|[{(o)}]| [{(o)}]|[{(o)}]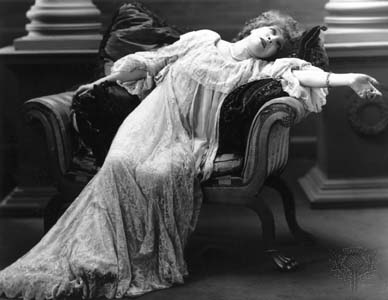 1844 – Sarah Bernhardt, French actress born (d.1923); She has been referred to as "the most famous actress the world has ever known". Bernhardt made her fame on the stages of France in the 1870s, and was soon in demand in Europe and the Americas. She developed a reputation as a serious dramatic actress, earning the nickname "The Divine Sarah".
Sarah's close friends included several artists, most notably Gustave Doré and Georges Clairin, and actors Mounet-Sully and Lou Tellegen, as well as the famous French author Victor Hugo. Alphonse Mucha based several of his iconic Art Nouveau works on her.
Her friendship with Louise Abbéma (1853-1927), a French impressionist painter, some nine years her junior, was so close and passionate that the two women were rumored to be lovers. In 1990, a painting by Abbéma, depicting the two on a boat ride on the lake in the bois de Boulogne, was donated to the Comédie-Française. The accompanying letter stated that the painting was "Peint par Louise Abbéma, le jour anniversaire de leur liaison amoureuse" (loosely translated: "Painted by Louise Abbéma on the anniversary of their love affair.")
She later married Greek-born actor Aristides Damala (known in France as Jacques Damala) in London in 1882, but the marriage, which legally endured until Damala's death in 1889 at age 34, quickly collapsed, largely due to Damala's dependence on morphine and his being a homosexual. During the latter years of this marriage, Bernhardt was said to have been involved in an affair with the Prince of Wales, who later became Edward VII.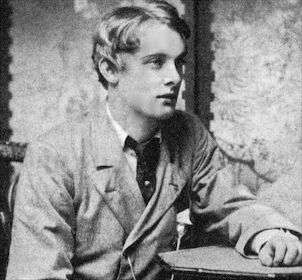 1870 – On this date Lord Alfred Douglas was born near London (d.1945). Forever known as Bosie, the lover of Oscar Wilde was regarded at the time as a mincing queen intent on self-destruction. In the end it was Wilde who was destroyed.
In 1891, Douglas met Oscar Wilde; they soon began an affair, though, according to Douglas, they never engaged in sodomy. Though Douglas consented to be the lover of the older Wilde, he shared Wilde's interest in younger partners. Of the two, Douglas was known for preferring schoolboys, while Wilde liked older teenagers and young men.
When his father, Lord Queensberry, suspected that their liaison may have been more than a friendship, he began a public persecution of Wilde. In addition to invading the playwright's home, Queensberry planned to throw rotten vegetables at Wilde during the premiere of The Importance of Being Earnest. In 1894, the Robert Hichens novel The Green Carnation was published. Said to be based on the relationship of Wilde and Douglas, it would be one of the texts used against Wilde during his trials in 1895.
When Lord Drumlanrig (Douglas' eldest brother and the heir to the marquessate of Queensberry) died in a suspicious hunting accident, rumors circulated that Drumlanrig had been having an affair with the Prime Minister, Lord Rosebery. As a result, Lord Queensberry began a crusade to save his youngest son.
That his life was ruined by the celebrated trials of his lover, Oscar Wilde is hardly debatable. Still, Bosie was as thoroughly unpleasant as a grown man as he was when he was young. A snob, an anti-Semite (Douglas translated The Protocols of the Elders of Zion in 1919, one of the first English language translations of that anti-Semitic work), and a bit of a liar too, Douglas, who never had to worry about money as do us lesser mortals, published tolerable poetry. Douglas's 1892 poem "Two Loves", which was used against Wilde at the latter's trial, ends with the famous line that refers to homosexuality as "the love that dare not speak its name."
He went on to crank out reminiscences that vilified almost everyone from the Wilde circle, eventually married, and declared to the world that he had long ago thrown off his childhood vices. He described Wilde as "the greatest force for evil that has appeared in Europe during the last three hundred and fifty years". Douglas added that he intensely regretted having met Wilde, and having helped him with the translation of Salome which he described as "a most pernicious and abominable piece of work".

1916 - Police in New York City raided an all-male Turkish bath after agents from the New York Society for the Prevention of Vice, who had infiltrated the establishment, filed a detailed report. Thirty-seven men, including the manager, were arrested. Twenty-five of them were convicted and sentenced to prison. The manager committed suicide.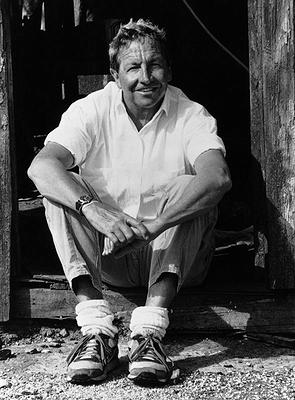 1925 – Robert Rauschenberg (d.2008) was an American artist who came to prominence in the 1950s transition from Abstract Expressionism to Pop Art. Rauschenberg is well-known for his "Combines" of the 1950s, in which non-traditional materials and objects were employed in innovative combinations. Rauschenberg was both a painter and a sculptor and the Combines are a combination of both, but he also worked with photography, printmaking, papermaking, and performance. He was awarded the National Medal of Arts in 1993.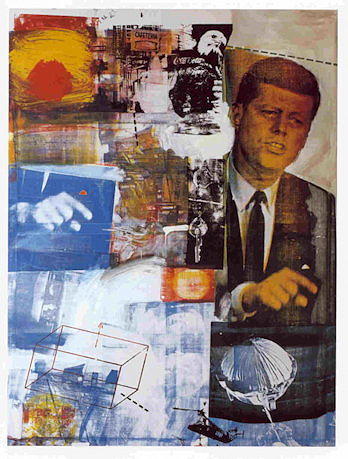 "Kennedy" by Rauschenberg
(Click for larger)
Rauschenberg married Susan Weil in 1950. Their only child, Christopher, was born July 16, 1951. They divorced in 1953. According to a 1987 oral history by the composer Morton Feldman, after the end of his marriage, Rauschenberg had romantic relationships with fellow artists Cy Twombly and Jasper Johns. An article by Jonathan D. Katz states that Rauschenberg's affair with Twombly began during his marriage to Susan Weil.
Rauschenberg died on May 12, 2008, on Captiva Island, Florida. He died of heart failure after a personal decision to go off life support,. Rauschenberg is survived by his partner of 25 years, artist Darryl Pottorf, his former assistant.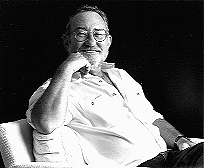 1935 – Delmas Howe is an American Painter and muralist whose figurative work depicts mythological and archetypal - often homoerotic - themes in a neoclassical, realist style. In paintings of the American West, such as Atlas (1982), he endows cowboys with the heroism and dignity of ancient classical gods, while managing to capture the aura of "whiskey, tobacco, leather, and sweat" that he obviously finds exciting.
Born in El Paso, Texas, Howe grew up in Hot Springs (renamed Truth or Consequences in 1950), New Mexico. Believing that formal education was a waste of time, Howe's father encouraged him to become a cowboy and occupied his time with jobs involving "fixing the fence, [and] stuff with animals." Although Howe hated these tasks, he was excited sexually by his father's cowboy friends, and he still cherishes childhood memories of sitting on their laps.
After graduation from high school he progressed through undergraduate work at Wichita State University, then four years in the US Air Force, a move to the East Coast, graduate work at Yale University and several years of classes in NYC at the Art Students' League and the School of the Visual Arts while working as a professional musician.
Howe chose New York as his destination partly because he felt that it would provide an environment in which he could begin to act upon his sexual and romantic attraction to other men. His exploration of his own sexuality corresponded with the emergence of the gay community in New York from underground clubs and with the flourishing of what Howe has described as an "incredible, sexual party."
After a return to the West and a successful design studio in Amarillo, Texas he returned to Truth or Consequences, New Mexico.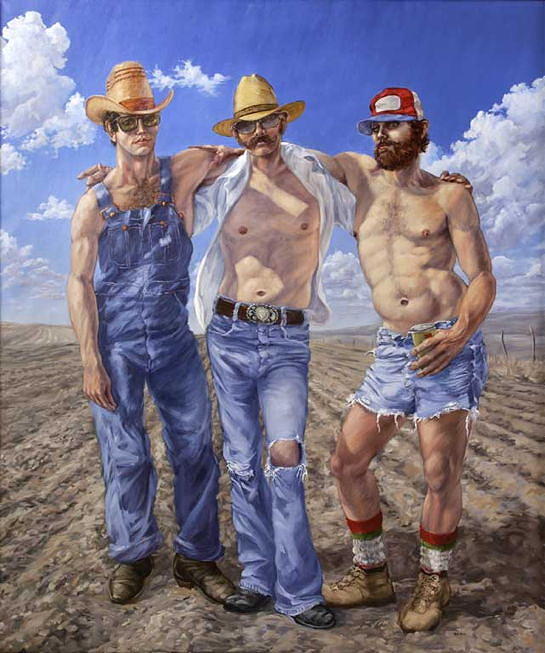 The Three Graces
(Click for larger)
His work is in the collections of a number of museums including the Albuquerque Museum of Art and History where his important transitional painting "The Three Graces" from 1978 is on permanent view.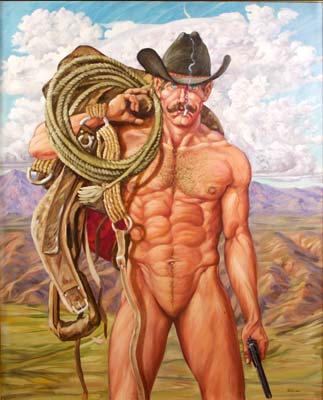 In response to Jesse Helms' emasculation of the Robert Mapplethorpe exhibition in 1989-90, produced his Painting for Jesse Helms (above).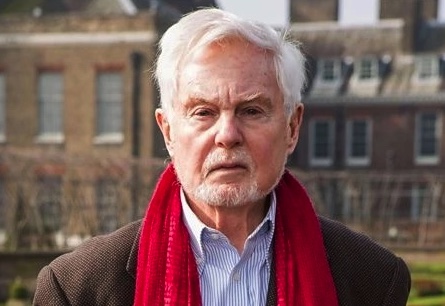 1938 – The English actor and director, Sir Derek Jacobi was born on this date. Knighted in 1994 for his services to theatre, like Laurence Olivier, he bears the distinction of holding two knighthoods, Danish and British. At 18, he won a scholarship to the University of Cambridge, where he studied history. Other younger members of the university at the time included Ian McKellen (who had an "undeclared and unrequited" crush on him) and Trevor Nunn.
During his stay at Cambridge, he played many parts including Hamlet, which was taken on a tour to Switzerland where he met Richard Burton. As a result of his performance of Edward II at Cambridge, he was invited to become a member of the Birmingham Rep immediately upon his graduation in 1960.
Jacobi quickly came to the fore, and his talent was recognized by Laurence Olivier, who invited him back home to London to become one of the eight founding members of the new National Theatre, even though at the time he was relatively unknown. He played Laertes in the National Theatre's inaugural production of Hamlet opposite Peter O'Toole in 1963, and Olivier gave him the role of Cassio in his 1965 film of Othello and of Andrei in Three Sisters in 1970.
Although Jacobi's name was becoming well known and he was increasingly busy with stage and screen acting, his big breakthrough did not come until 1976. It was the title role of the BBC's blockbuster series I, Claudius that finally cemented his popular reputation with his performance as the stammering, twitching Emperor Claudius winning him many plaudits.
In 2001, he won an Emmy mocking his Shakespearean background in the television sitcom Frasier episode "The Show Must Go Off", in which he played the world's worst Shakespearean actor: the hammy, loud, untalented Jackson Hedley. This was his first guest appearance on an American television program.
His TV career includes Inside the Third Reich (1982), where he played Hitler; Mr. Pye (1985); Little Dorrit (1987), from Charles Dickens' book; The Tenth Man (1988) with Anthony Hopkins and Kristin Scott Thomas.
Jacobi continued to play Shakespeare, notably in Kenneth Branagh's 1989 film of Henry V (as the Chorus) and as Branagh's director in the Renaissance Theatre Company's's production of Hamlet.
Film appearances included performances in Branagh's Dead Again (1991), Hamlet (1996) as King Claudius, in John Maybury's Love Is The Devil (1998), a portrait of Gay painter Francis Bacon (with lovely frontal nudity of Daniel Craig in the role of Bacon's boyfriend), and as "The Duke" opposite Christopher Eccleston and Eddie Izzard in a post-apocalyptic version of Thomas Middleton's The Revenger's Tragedy (2002).
In March 2006, after 27 years together, he registered his civil union with long-term partner Richard Clifford, four months after such unions became legal in England and Wales.
In 2013 he starred alongside Ian McKellen in Vicious, a British television sitcom seen in the USA on various PBS stations.  The series revolved around Freddie and Stuart, an elderly gay couple who have been together for 50 years but endure a love/hate relationship. The series premiered on 29 April 2013 with 5.78 million viewers. It ran until a finale special aired on 16 December 2016.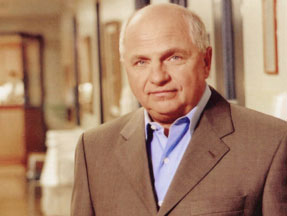 1946 – Claude Charron, born in L'Île-Bizard, Quebec, is a former teacher, provincial politician, writer and broadcaster. He graduated from the Université de Montréal with a degree in political science. During 1969 and 1970 he taught at Cégep Édouard-Montpetit and the Cégep du Vieux Montréal.
In 1970, Claude Charron entered provincial politics. He was elected to the National Assembly of Quebec as a Parti Québécois candidate, iand was reelected in 1973, 1976, and 1981. Following the election of his party to power in 1976 he was appointed Minister responsible for High Commission on Youth, Recreation and Sports and in 1979 was named the Government House Leader and Minister responsible for Parliamentary Affairs.
In February 1982 Charron resigned his cabinet position after pleading guilty to a charge of shoplifting in the Eaton's Montreal department store. In November of that year he was charged with drunk driving and resigned his seat in the Quebec National Assembly. The following year Charron published his memoir in the French language under the title Désobéir. In this book he confirmed his homosexuality.
Since leaving politics Charron has worked in radio and television, notably with the TVA network and Radio-Canada, and has contributed to the news magazine L'actualité. He is currently the correspondent for TVA in Paris.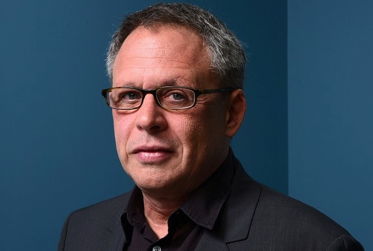 1955 – Bill Condon is an American screenwriter and director. Condon is best known for directing and writing the critically acclaimed films Gods and Monsters, Chicago, Kinsey, Dreamgirls and the two final installments of the Twilight series, The Twilight Saga: Breaking Dawn - Part 1 and The Twilight Saga: Breaking Dawn - Part 2.
Condon was born in New York City, the son of a detective, and was raised in an Irish Catholic family. He attended Regis High School and Columbia College of Columbia University, where he studied philosophy.
After earning his Bachelor of Arts degree, Condon began to work as a journalist for film magazines including American Film and Millimeter. He got his start writing the indie feature Strange Behavior (1981) and the big budget sci-fi romp Strange Invaders (1983).
In 1998, Condon debuted as a screenwriter with Gods and Monsters, which won him his first Academy Award. He was also nominated for Chicago. In 2006, Condon won a Golden Globe for his film Dreamgirls, which he wrote and directed. Condon's films have been both commercial and critical successes.
He is openly gay, and previously dated Ryan Murphy, screenwriter, director, and producer, best known for creating/co-creating the television series Glee.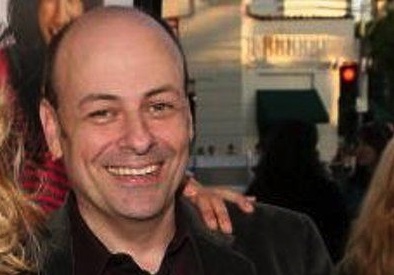 1959 – Todd Graff is an American actor, writer and director, best known for his 2003 independent film Camp and his role as Alan "Hippy" Carnes in the 1989 science fiction film The Abyss.
Graff was born in New York City, the son of Judith Clarice , a piano teacher and choirmaster, and Jerome Lawrence Graff, a musician. His sister is actress Ilene Graff.
Graff is an alumnus both as a camper and counselor of the Stagedoor Manor performing arts summer camp in upstate New York. He sang on the original-cast albums of Sesame Street (1970) and the follow-up Sesame Street 2 (1971). He garnered fame in 1975 when he joined the cast of the PBS children's television series The Electric Company. Playing the role of Jesse, a member of the Short Circus, he remained with the show to the end of its production in 1977.
Graff's writing credits include Camp, Used People, The Vanishing, and The Beautician and the Beast. Graff acted in several films including Death to Smoochy, Dominick and Eugene, Strange Days, Not Quite Paradise, and The Abyss.
He was nominated for a Tony Award for his portrayal of Danny in Broadway's Baby in 1984. He starred in the 1987 Off-Broadway musical Birds of Paradise as Homer. In 2009, he co-wrote and directed the film Bandslam. In 2012 he wrote and directed the film Joyful Noise.
He is married to Jhon Lafaurie.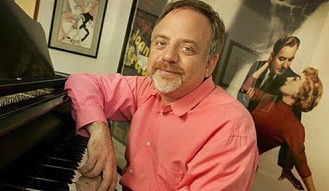 1959 – Born: Mark Shaiman, the American composer, lyricist, arranger, musical director and music producer. Born in New Jersey, Shaiman has worked with Bette Midler, Rosemary Clooney, Nathan Lane and Barbra Streisand.
Shaiman, a longtime fan of Bette Midler, became her arranger and producer for albums and concert appearances. Shaiman also wrote for television shows including Saturday Night Live, on which he began working in 1975. Through that job he met Billy Crystal, with whom he worked frequently over the years in film as well as television.
He played Skip St. Thomas, the Sweeney Sisters' pianist on SNL. He's produced hit songs ("Wind Beneath My Wings" and "From a Distance") written the music and lyrics for fifty-one movies (Broadcast News, When Harry Met Sally, The Addams Family, South Park, Bowling for Columbine, Team America) and fifteen theater shows (Bette: Divine Madness, The Odd Couple, Hairspray). He's won a Tony, a Grammy, and an Emmy, and has been nominated for an Oscar five times.
One of Shaiman's best-known projects is the score for Trey Parker's South Park: Bigger, Longer & Uncut (1999), particularly the hilarious march "Blame Canada" for which he received one of his five Academy Award nominations.
All that, and he has been with his partner Scott Wittman, who is also his music collaborator, since 1979 when Shaiman was 20. They have never, ever lost their sense of fun, as their music and their wardrobes attest. Their next two projects: The unforgivable Jack Nicholson mawkfest The Bucket List and the Broadway musical version of Catch Me If You Can.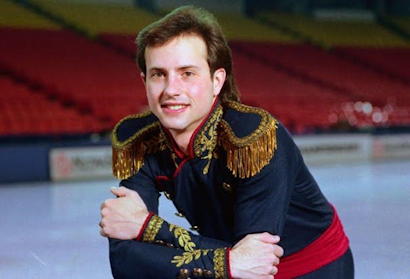 1963 – Brian Boitano is an American figure skater from Sunnyvale, California. He is the 1988 Olympic champion, the 1986 and 1988 World Champion, and the 1985–1988 U.S. National Champion. He turned professional following the 1988 season. He returned to competition in 1993 and competed at the 1994 Winter Olympics, where he placed sixth.
Brian Boitano was born in Mountain View, California, and as an adult has lived in San Francisco.
Brian Boitano first made his mark on the international scene when he won the bronze medal at the 1978 World Junior Figure Skating Championships, beating future rival Brian Orser for that medal.
In 1982 Boitano became the first American to land a triple axel. In 1987 he introduced his signature jump, the 'Tano triple lutz' in which the skater raises his left arm above his head. He attempted a quadruple jump throughout the 1986–87 season and at the 1988 World Figure Skating Championships, but did not cleanly land the jump; he double-footed the landing on two occasions.
Boitano placed second at the 1984 United States Figure Skating Championships, earning himself a trip to the 1984 Winter Olympics. He placed 5th at the Olympics, setting the stage for his success over the next four years.
The Battle of the Brians at the 1988 Winter Olympics was the highlight of Boitano's amateur career. Boitano and Orser were effectively tied going into the free skating portion of the event and whoever won that portion would win the event. Alexander Fadeev had won the compulsory figures section of the competition with Boitano second and Orser third. In the short program, Orser placed first and Boitano second. The free skating was, at the time, worth 50% of the score, and so Boitano's lead would not be enough to hold him in first place if he lost the free skate.
Boitano skated a clean, technically excellent long program, with eight triple jumps, two Axels, and a triple-triple combination. Orser made one small mistake on a jump and omitted his planned second triple axel. Boitano won the Battle in a 5–4 split. Boitano won the gold medal, wearing skates with American flag appliqués that are now part of the collections of the National Museum of American History at the Smithsonian Institution.
Following the Olympics, both Orser and Boitano went to the World Championships, which Boitano won. Boitano turned professional soon after.
In December 2013, Boitano was named to the United States delegation to the 2014 Winter Olympics in Sochi, Russia. In conjunction with that appointment, Boitano publicly came out as gay. The Sochi games and Russia have been the targets of criticism and LGBT activism because of a Russian anti-gay "propaganda" law passed in June 2013. In January 2014, he told Associated Press that he had never wanted to come out until the delegation announcement.
A caricature of Boitano as a superhero appears as a semi-recurring character in the cartoon series South Park. The movie South Park: Bigger, Longer & Uncut (1999), features a musical number titled "What Would Brian Boitano Do?". The name of the song is a parody of the popular evangelical Christian slogan What Would Jesus Do?


Added 2021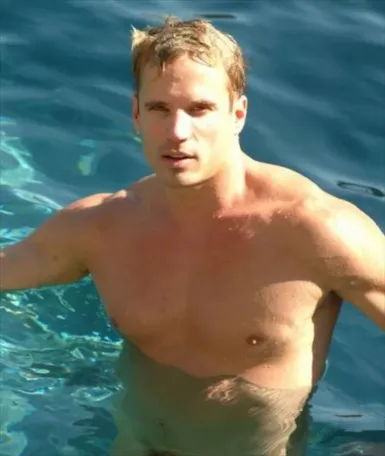 1966 – Paul Lekakis is an American actor, model, filmmaker and club music / Hi-NRG singer, who was discovered for his musical and dancing skills at a nightclub while on assignment as a model in Italy.
His debut single, "Boom Boom (Let's Go Back to My Room)", was released in 1987. The song was originally released on ZYX Records and peaked at No. 43 on the Billboard Hot 100, No. 60 on the UK Singles Chart, No. 7 in New Zealand, No. 2 in Canada and No. 1 on the Pop charts in Australia (for 5 weeks) and Japan. This single received attention for its suggestive lyrics (Boom boom boom / Let's go back to my room / So we can do it all night / And you can make me feel right) and is Lekakis's best-known song. This led to a recording contract with Sire Records, who released his debut album Tattoo It in 1990. The album included the Top 20 Hot Dance Club Play hit, "My House".
Lekakis sang the title track to the British film The Fruit Machine, which was released in 1988. In the US, the film was renamed Wonderland.
Lekakis had roles in Sex, Politics & Cocktails in 2002, then in the queer horror film, Hellbent, a co-starring role in the 2001 film Circuit, and various roles on the television programs Out of Practice and Passions.
He performed in the James Edwin Parker two-man stage play 2 Boys in a Bed on a Cold Winter's Night alongside Scott Douglas Cunningham at the Lorraine Hansberry Theatre in San Francisco, California in July 2007.
Lekakis tested positive for HIV around 1989, though he did not make this widely known until the 1990s. In recent years, he has played HIV-positive characters in several of his film appearances and has spoken out publicly on HIV-related issues. In 2000, Lekakis appeared on the cover of the February issue of POZ magazine, where he also gave an interview, relating, among other reminiscences, his time as a male prostitute in West Hollywood between 1994 and 1997, and in the interview admitted to intentionally exposing his escort johns to HIV. Lekakis says in the article "he had unprotected sex with clients (as a male escort) whom he did not inform of his HIV status. He also admits to lying to clients about his status and then having unprotected sex with them". He eventually "joined a 12-step group and quit drinking, doing drugs and turning tricks".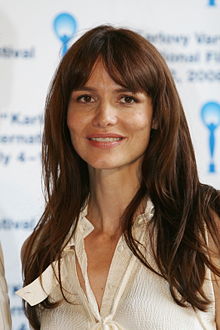 1972 – Saffron Burrows is an English actress who has appeared in such films as In the Name of the Father (1994), Circle of Friends (1995), Deep Blue Sea (1999), Enigma (2001), Troy (2004), Reign Over Me (2007) and The Bank Job (2008), as well as starring as Lorraine Weller on Boston Legal (2007-2008), Dr. Norah Skinner on My Own Worst Enemy (2008) and Det. Serena Stevens on Law & Order: Criminal Intent.
Burrows was born in London, England, to a politically active family; both her parents are socialists. Her father is an architect and teacher; her mother, Susie, is a teacher and feminist. At 15, she was discovered by Beth Boldt, and began a successful modelling career before making her film debut in 1993 with a small role in Jim Sheridan's In the Name of the Father.
She joined an anti-racism group when she was 11 years old and she went on to become the Vice President of the National Civil Rights Movement. Burrows is a campaigner for disabled rights and equality.
For a number of years, Burrows was involved with film director Mike Figgis, and she starred in some of his films, including Miss Julie. Burrows was romantically involved with Alan Cumming for several years, while he was separated from his first wife. She has been romantically linked with another co-star, actress Fiona Shaw. The two appeared together in the National Theatre's production of The PowerBook, a play based on the novel of the same name by Jeanette Winterson, in which they played lovers.
In 2006, the
Independent on Sunday
listed Burrows as the 90th most influential gay person in the UK. In a 2003 interview, Alan Cumming said,
"I was really lucky that the first relationship I had after [my divorce] was with Saffron, who's really... understanding and a broadminded person. And who's now... As I'm sure you know ... Well. She bats for both teams, too."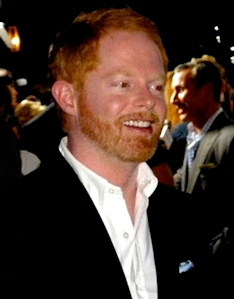 1975 – Jesse Tyler Ferguson is an American actor known for portraying Mitchell Pritchett, the openly gay lawyer on the ABC sitcom Modern Family, which has earned him 3 nominations for Primetime Emmy Award for Outstanding Supporting Actor in a Comedy Series.
In March 2012, Ferguson was featured in a performance of Dustin Lance Black's play, 8 - a staged reenactment of the federal trial that overturned California's Prop 8 ban on same-sex marriage - as Dr. Ilan Meyer.The production was held at the Wilshire Ebell Theatre and broadcast on YouTube to raise money for the American Foundation for Equal Rights, a non-profit organization funding the plaintiffs' legal team and sponsoring the play.
Commenting on Kirk Cameron's remarks on the March 6, 2012 episode of Piers Morgan Tonight, in which Cameron called homosexuality unnatural and "detrimental to society", Ferguson said "The only unnatural thing about me being gay is that I had a crush on Kirk Cameron until about 24 hours ago."
In September 2012, Ferguson announced his engagement to lawyer Justin Mikita, his boyfriend of nearly two years.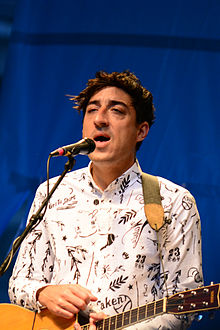 1978 – Ed Droste is an original member of the Brooklyn-based indie-rock group Grizzly Bear. The group began as the solo effort of Droste with the release of 2004's Horn of Plenty, originally released on Kanine Records. All songs were written and performed by Droste. By 2005, the group expanded into a four-piece, with Droste still as a contributing songwriter.
Droste began composing and performing songs on a solo basis as Grizzly Bear, releasing the album Horn of Plenty in 2004, with some contributions from drummer Christopher Bear. The two then joined with Chris Taylor, and eventually Daniel Rossen, to form the current four-piece band.
On September 2011, Droste married his long-time boyfriend, interior designer Chad McPhail. On August 4, 2014, Droste announced his divorce from McPhail via Twitter, stating that he's "amicably and lovingly divorcing [his] husband".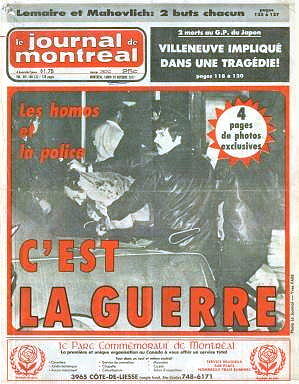 The Homos and the Police: This is War!

1977 – Police raided several of the Montreal gay bars on Stanley, including Truxx and Le Mystique, in the wee hours. The police used ludicrously heavy-handed tactics, arriving with guns drawn, arresting 146 gay men on spurious charges. It is now thought that, beyond homophobia (which obviously played a part), it was part of the municipal government's plan to continue to harass the city's gay milieu and the businesses that served them, effectively pushing them away from the downtown core and further east. Since most of the arrests happened at Truxx, the night has since become known as the Truxx Raids.
The police action prompted a potent counter-reaction, however. It inadvertently helped to galvanize the gay community. Gay men who previously had felt no political connection to being gay began speaking out and protesting. By the very next night, over 2,000 gay men and allies blocked the corner of Ste-Catherine and Stanley, effectively paralyzing the downtown core. This drew huge amounts of media attention and put the issues of human rights front and centre. Many said they felt that a majority of straight people supported their cause, and that enough was enough in terms of police harassment.
By the following December, the effects could be felt. Quebec's national assembly, then in the hands of the PQ, approved Bill 88, which added sexual orientation to Quebec's charter of human rights as an illegal basis for discrimination. This made Quebec the first place in North America to have such protection (and it would be quite some time before another province would follow suit). It also led to one of Montreal's first Pride Parades, in 1979.

1986 – U.S. Surgeon General C. Everett Koop advised that sex education that includes information on both Gay and straight relationships would help prevent the spread of AIDS. His advice was ignored by the Reagan/Bush administration he served.

1992 – On this date a report on hate crimes in Michigan was rejected by George H.W. Bush's United States Civil Rights Commission because it included documentation of anti-Gay hate crimes.

1993
– US Air Force Lt.
Heide De Jesus
announced that she was dropping her lawsuit challenging her discharge from military service under the ban on Gay and Lesbian service personnel because the fight had left her literally broke.

1999 – Boeing announced it would begin offering domestic partner benefits to its Gay and Lesbian employees. The company explained that unmarried opposite sex couples would not be included because marriage is an option for them, which brought criticism from union leaders.

2009 – The Church of Sweden votes to allow same-sex marriages.

2013 –The Legislative Assembly of the Australian Capital territory (ACT) (Canberra), votes in favor of legalizing same-sex marriage.

OCTOBER 23 →
[{(o)}]|[{(o)}]|[{(o)}]|[{(o)}]| [{(o)}]|[{(o)}]