May 18
[{(o)}]|[{(o)}]|[{(o)}]|[{(o)}]| [{(o)}]|[{(o)}]
1846 – Michigan raises the maximum penalty for sodomy from 3 years to 15 years and repeals the 1841 law allowing prosecution on proof of penetration only.


Added 2022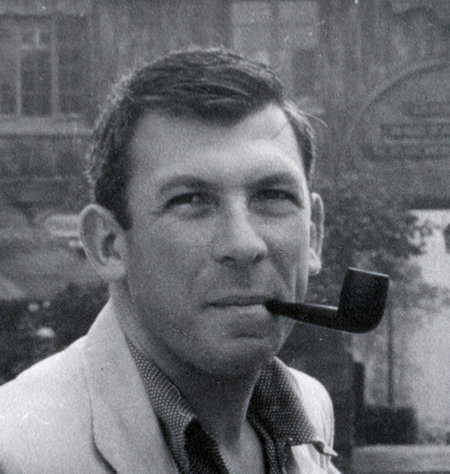 1912 – Richard Brooks, born in Philadelphia, Pennsylvania, was an American screenwriter and director whose best-known movies were adaptations of literary works, notably Blackboard Jungle (1955), Elmer Gantry (1960), and In Cold Blood (1967).
After attending Temple University in Philadelphia, Brooks began his writing career as a sports journalist and later was a radio commentator for NBC. In the early 1940s he moved to Hollywood, where he worked at Universal on the screenplays for such films as Men of Texas (1942) and Cobra Woman (1944).
After serving (1943–45) in World War II, Brooks wrote The Brick Foxhole (1945), a novel about the persecution of a homosexual. The book was the basis for Edward Dmytryk's noir classic Crossfire (1947), though the film centres on anti-Semitism. Brooks later provided the scripts for such notable films as the Jules Dassin noir Brute Force (1947) and John Huston's Key Largo (1948).
Brooks subsequently entered the most-successful period of his career, transferring a series of prominent literary works to the big screen. Cat on a Hot Tin Roof (1958) was his adaptation of Tennessee Williams's Pulitzer Prize-winning play about a troubled Southern family. Despite numerous changes to satisfy the Production Code, even today it still carries considerable force, in large part because of strong performances by Paul Newman, Elizabeth Taylor, and Burl Ives. The film received six Oscar nominations, including for best picture and director. In addition, Brooks also received (with James Poe) a nod for the screenplay.
Brooks hated bigotry, which was a central theme of his novel The Brick Foxhole, his co-written screenplay for Storm Warning (1951), and his first western, The Last Hunt (1956). Racial division and reconciliation was also at the heart of Something of Value (1957). He saw Blackboard Jungle as encouraging teachers to continue striving to help their students and as reassuring them that they can make a difference. Opposed to the death penalty, he used In Cold Blood to suggest that executing criminals solves nothing and only creates more violence.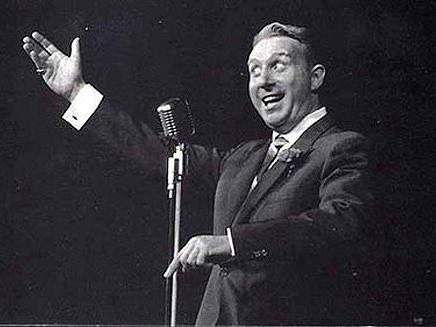 1913 – The French singer, songwriter and writer, Charles Trenet was born on this date (d.2001). Born in Narbonne. He was one of France most famous chansonniers. Trenet wrote his first song when he was 10. He studied at the Academie des Arts Decoratives in Paris and made his first recording in 1934, together with Swiss singer Johnny Hess as the duo 'Charles et Johnny'. Trenet was known as 'Le Fou Chantant' (The singing fool).
His best known songs include "Boum!", "La Mer", "Y'a d'la joie", "Que reste-t-il de nos amours?", "Ménilmontant" and "Douce France". While many of his songs mined relatively conventional topics such as love, Paris, and nostalgia for his younger days, what set Trenet's songs apart were their personal, poetic, sometimes quite eccentric qualities, often infused with a warm wit.
At the start of World War II, Trenet was mobilized. He was in barracks at Salon-de-Provence until he was demobilized in June 1940, when he moved back to Paris. There he would perform at the Folies Bergère or at the Gaîté Parisienne (two famous cabarets) in front of a public often consisting of German officers and soldiers.
The collaborationist press tried to compromise his name and published that "Trenet" was the anagram of "Netter" - a Jewish name. He was able to show his family tree to the authorities, proving that he had no Jewish origin. This act of self-defence was held against him long after the end of the war. Like many other artists of the time, he chose to go on entertaining the occupying forces rather than sacrifice his career, showing little interest in the Jewish issue. He agreed, when asked by the Germans, to go and sing for the French prisoners in Germany.
As a homosexual, Trenet was himself in grave danger of deportation to the camps and may have had little choice but to co-operate and keep a low profile. The Épuration légale (French "legal purge"), the wave of official trials that followed the Liberation of France and the fall of the Vichy Regime, examined whether Trenet was guilty of collaboration but the inquiry resulted in a mere reprimand without any further consequences.
After the war he moved to the United States, where he quickly became a success. After a few triumphant concerts at the Bagdad in New York, Trenet became a big hit and was approached by Hollywood. He met the likes of Louis Armstrong and began a long-lasting friendship with Charlie Chaplin. In September 1951, Trenet returned to Paris
In 1963, Trenet spent 28 days in prison in Aix-en-Provence. He was charged with corrupting the morals of four young men under the age of 21 (they were 19). His chauffeur claimed that Trenet was using him as a pimp. The charges were eventually dropped, but the affair brought to public light the fact that Trenet was homosexual. He was never particularly public about it and spoke of it rarely. In his authorized biography of Maurice Chevalier, author David Brett claims that Chevalier and Mistinguett were the ones who first "shopped" Trenet to the police for consorting with underage boys, around 1940. Trenet never learned of their action.
In April 2000, Trenet was rushed to hospital after suffering a stroke, but by the autumn of that year he was well enough to attend the dress rehearsal of Charles Aznavour's show at the Palais des Congrès (on the 25 October). This was his final public appearance. Trenet died 19 February 2001.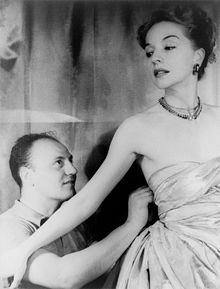 1914 – Pierre Balmain was a French fashion designer (d.1982). Known for sophistication and elegance, he said that 'dressmaking is the architecture of movement'.
Balmain's father, who died when the future designer was 7 years old, was the owner of a wholesale drapery business. His mother and her sisters operated a fashion boutique. After first studying architecture, he went to work for the fashion designer Edward Molyneux, for whom he worked from 1934 until 1939. He joined Lucien Lelong after World War II and opened his own fashion house in 1945. He collaborated closely with Christian Dior while working for Lelong.
He was a leading practitioner of the 'New French Style' (or 'New Look') of Paris couture following World War II and the 'Jolie Madame' style of the mid-1950s, but was not hemmed into the heavily draped and embroidered styles of his early designs, as he changed to structural, uncluttered designs in the 1960s. Balmain claimed that he, not Dior, deserved credit for the small-waisted, bell-shaped skirts that were a key component of the 'New Look'.
Balmain was nominated for the Tony Award for Best Costume Design and won the Drama Desk Award for Outstanding Costume Design for Happy New Year (1980). Additional Broadway theatre credits include costumes for Katharine Hepburn in The Millionairess (1952) and Josephine Baker for her eponymous 1964 revue. He also was a costume designer for 16 films, including the Brigitte Bardot vehicle And God Created Woman, and designed on-screen wardrobes for the actresses Vivien Leigh and Mae West.
Balmain's 1964 autobiography was titled My Years and Seasons.
His companion was the Danish designer Erik Mortenson, who worked as a designer at Balmain from 1948 until 1991.
The house of Pierre Balmain has continued, first under the leadership of Erik Mortensen (of whom Pierre Balmain said 'He is more Balmain than me') and then to Herve Pierre, Oscar de la Renta, Laurent Mercier, and now Christopher Decarnin.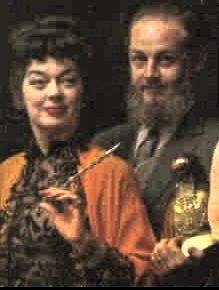 Patrick Dennis with Roz Russell as Auntie Mame
1921 – On this date Patrick Dennis, the writer who created Auntie Mame was born in Chicago. Patrick Dennis, né Edward Everett Tanner III, (d.1976) was almost as camp as his heroine and is the only author to have had three novels on the New York Times best-seller list at the same time (for 8 weeks in 1956).
Auntie Mame's first edition spent 112 weeks on the bestseller list, selling more than 2,000,000 copies in five different languages. The manuscript was turned down by fifteen publishers before being accepted by the Vanguard Press.Dennis and a friend marketed the book to the booksellers. At the height of its popularity, it was selling more than 1,000 copies a day; throughout 1955 and 1956, it sold between 1,000 and 5,000 a week. In 1956, with Auntie Mame, The Loving Couple: His (and Her) Story, and Guestward, Ho!, Dennis became the only writer ever to have three books on the New York Times bestseller list at the same time.
Working with longtime friend, actor and photographer Cris Alexander, Dennis created two parody memoirs, complete with elaborate photographs. The first, Little Me, recounts the escapades through life and love of glamour girl Belle Poitrine "as told to Patrick Dennis." His wife, Louise, appeared as "Pixie Portnoy" in the book's photographic illustrations, which included their children and an employee as well. The second "bio", First Lady (1964), is the life story of Martha Dinwiddie Butterfield, oblivious wife of a robber baron who "stole" the U. S. presidency for thirty days at the turn of the century.
Dennis' work fell out of fashion in the 1970s, and all of his books went out of print. In his later years, he left writing to become a butler, a job that his friends reported he enjoyed. At one time, he worked for Ray Kroc, the founder of McDonald's. Although he was at long last using his real name, Edward Tanner, he was in essence working yet again under a pseudonym; his employers had no inkling that their butler, Tanner, was the world-famous author Patrick Dennis.
Dennis led a double life as a convential husband and father, and as a bisexual, in later life becoming a well-known participant in Greenwich Village's gay scene. He died from pancreatic cancer in Manhattan at the age of 55.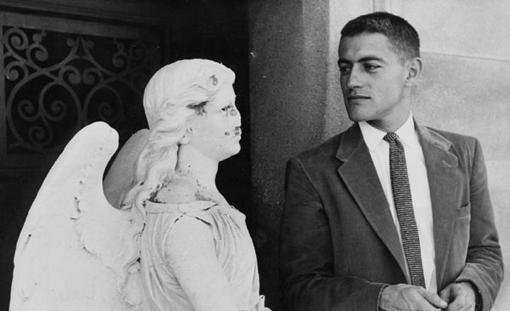 1925 – Robin Blaser – Author and poet born (d.2009) A noted writer in both the U.S. and Canada, Blaser grew up in Idaho, and came to Berkeley, CA, in 1944. There he met Jack Spicer and Robert Duncan, and became a key figure in the so-called San Francisco Renaissance of the 1950s and early 1960s. Along with his lover at the time, writer-poet Stan Persky, he moved to Canada in 1966, joining the faculty of Simon Fraser University; he held the position of Professor Emeritus. He lived in the Kitsilano neighborhood of Vancouver, BC.
In June 1995, for Blaser's 70th birthday, a conference was held in Vancouver to pay tribute to his contribution to Canadian poetry. The conference, known as the "Recovery of the Public World" (a phrase borrowed from Hannah Arendt), was attended by poets from around the world, including Canadian poets Michael Ondaatje, Steve McCaffery, Phyllis Webb, George Bowering, Fred Wah, Stan Persky and Daphne Marlatt; and poets who reside in the United States, including Michael Palmer and Norma Cole (who was born in Canada, subsequently migrating to San Francisco).
Blaser was also well known as the editor of The Collected Works of Jack Spicer, which includes Blaser's essay, The Practice of Outside. The 1993 publication The Holy Forest represents his collected poems to that date. In 2006, Blaser received a special Lifetime Recognition Award given by the trustees of the Griffin Trust for Excellence in Poetry, which also awards the annual Griffin Poetry Prize. Blaser won the Prize itself in 2008.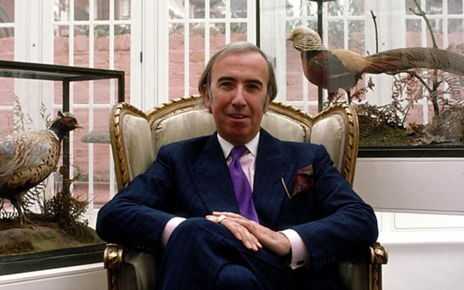 1929 – Norman St John-Stevas, Baron St John of Fawsley, (d.2012), was a British politician, author, and barrister. A member of the Conservative Party, he served as the Leader of the House of Commons in the government of Prime Minister Margaret Thatcher from 1979 to 1981. He was a member of parliament (MP) representing the constituency of Chelmsford from 1964 to 1987, and was made a life peer in 1987. His surname was created by compounding those of his father (Stevas) and mother (St John-O'Connor).
He was noted for his many personal affectations, including proffering his hand in papal fashion, lapsing into Latin whilst speaking, and deliberately mispronouncing modern words. A loyal monarchist, Lord St John enjoyed a close relationship with the British Royal Family. Soon after his elevation to the Lords, photographs of him in purple bedroom slippers appeared in
Hello!
magazine while he lounged in the bedroom of his Northampton rectory with a signed photograph of Princess Margaret prominently displayed. All personal notes were written in purple ink. After his elevation to the Lords he was an active member and used only official House of Lords headed stationery. He lived in Montpellier Square, Knightsbridge, and had a house in Northamptonshire.
The Catholic Herald
, a newspaper that St John-Stevas had contributed to on many occasions, wrote on his death that
'Unlike a lot of people who have trodden the corridors of power, he was not in the least secretive about his experiences. He loathed Mrs Thatcher, and he idolised the Queen Mother, Princess Margaret and Pius IX. His house in Northamptonshire was filled with relics and pictures of all three. He even had a cassock which was supposed to have belonged to the Blessed Pius, and … on occasions he wore it to fancy dress parties'
His partner of over fifty years was Adrian Stanford. They met each other in 1956 at Oxford, where Lord St John taught Stanford law. They entered into a civil partnership shortly before Lord St John's death in order to avoid paying inheritance tax, which would have taxed 40% of his £3.3 million estate.
He died in March 2012 from undisclosed causes, aged 82. His homosexuality was summarised by
Simon Hoggart
in
The Guardian
obituary note:
"He lived in that period where gay politicians never came "out", yet were happy for everyone to know. He lived life as a camp performance."

A young Don Bachardy with Christopher Isherwood
1934 – American artist Don Bachardy was born. The lifelong partner of writer Christopher Isherwood, Bachardy is one of the most respected portrait artists in the U.S. and an artist in his own right. Born in Los Angeles , Bachardy began drawing as a child. By his early teenage years, he was specializing in portraits rendered in ink and acrylics. Bachardy attributes his interest in looking at people to his childhood obsession with movies, a passion carried into his adult life. The close-ups of screen actors upon which he gazed as an impressionable child are at least partially responsible for his lifelong interest in portraiture.
Bachardy was only eighteen years old when he met Isherwood, who was thirty years his senior. The discrepancy in their ages shocked many of their friends; but in his memoir My Guru and His Disciple (1980), Isherwood observes that "I myself didn't feel guilty about it, but I did feel awed by the emotional intensity of our relationship, right from its beginning; the strange sense of a fated, mutual discovery. I knew that, this time, I had really committed myself."
He is the recent subject of a documentary about his relationship with Isherwood, Chris and Don. The trailer for the documentary is below:
Through his relationship with Isherwood over the years in Hollywood, Bachardy came in contact with most of the major names of the day, and painted their portraits. The book Stars in My Eyes catalogs some of the most famous of these exquisite pen and ink drawings. He has moved on to full blown acrylic paintings of his subjects. When asked about the pen and ink drawings Bachardy simply said that he wanted to be "confident of my drafting skills" so he could move on to paint.
Most recently, Bachardy made a cameo appearance in the movie A Single Man (starring Colin Firth) based on Isherwood's book of the same name — he portrays a professor in the teacher's lounge, to whom Firth says "Hello. Don." Bachardy told Angeleno Magazine in their December 2009 issue: "Chris got the idea for that book when he and I were having a domestic crisis. We'd been together 10 years. I was making a lot of trouble and wondering if I shouldn't be on my own. Chris was going through a very difficult period (as well). So he killed off my character, Jim, in the book and imagined what his life would be like without me."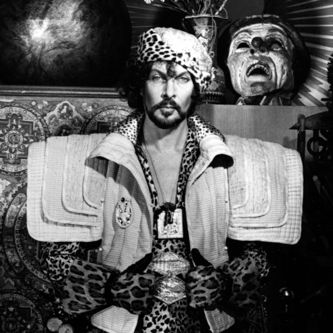 1943 – Steven Arnold (d.1994) was an American multidisciplinary artist and protégé of Salvador Dalí. He was a filmmaker, photographer, painter, illustrator, set and costume designer, and assemblage artist.
Steven Arnold was born to a seamstress mother, and a hardware clerk father in Oakland, California. At four or five years old, he found a chest of theatrical costumes and make-up belonging to his uncle in the attic of his parent's house, and from then on devoted himself to the art of transformation, constantly dressing up to amuse himself, his fashion model sister, and his babysitter. His parents encouraged his fantasies, and allowed him to build sets and puppets to put on shows for the neighborhood children, to whom, he said, he never related.
In the fall of 1958 Arnold entered Oakland Technical High School, where he met his lifelong friend, muse, and collaborator, Pandora. The pair became inseparable, and would spend hours in Steven's bedroom drinking champagne and Romilar cough syrup, smoking opium, marijuana, and cigarettes, dressing up, and playing with make-up.
After graduating from high school in the spring of 1961, Arnold won a full scholarship to the San Francisco Art Institute. In the spring of 1964, after earning perfect grades for two years at the Institute, Arnold took a break to study abroad in Paris and enrolled at École des Beaux-Arts. Feeling confined by the stiff, traditional curriculum at École des Beaux-Arts, Arnold and a group of American classmates rented villas on the small island of Formentera off the coast of Spain. For the next several months the group lived communally, taking LSD every day, experimenting with paints and costumes, taking up residence in caves, and exploring the small island.
Returning to San Francisco in the spring of 1965, Arnold resumed his studies at the San Francisco Art Institute, turning his eye on film-making. He wrote, directed, and designed three short films over the next two years. By late 1967 Arnold was about to receive his BFA, and his final student film, Messages, Messages (starring Ruth Weiss), was drawing critical attention. The film went on to win invites to Cannes' Directors' Fortnight, the Chicago International Film Festival, and the Toronto International Film Festival.
In addition to Messages, Messages, Arnold also curated "a rare collection of early surrealist films by Man Ray, Melies, and old French animations." The evening was such a success that the theater owner offered to allow Arnold to continue holding screenings. This led to the March 1968 inauguration of Arnold's Nocturnal Dreamshows, the first of the weekly midnight movie showcases that became nationally popular in the 1970s. The Nocturnal Dreamshows also launched The Cockettes, a psychedelic San Francisco drag troupe, into underground fame. Since 1967, Arnold had also been illustrating posters for local businesses, and was among the original group of rock poster artists in San Francisco, creating some of the first rock posters.
In 1969, while working on his MFA at San Francisco Art Institute, Arnold began filming Luminous Procuress, which went on to win him the 1972 New Director's award at the San Francisco International Film Festival, an extended exhibition at the Whitney Museum of American Art, and a second invite to Cannes' Director's Fortnight. Salvador Dalí was so impressed with the film that he arranged a private screening at the St. Regis Hotel, to which he invited New York's elite, including Andy Warhol, who also praised the film's genius. Arnold became a favorite of Dalí's, and in 1974 he went to study with Dali in Spain, helping Dali to embellish and inaugurate his Teatro-Museo Dalí.
From 1982 to 1989, Arnold found his niche, designing and shooting tableau-vivants for four books; he left thousands of living tableau photographs and negatives unpublished.
Arnold was diagnosed with AIDS in 1988 at the height of his popularity and died in 1994.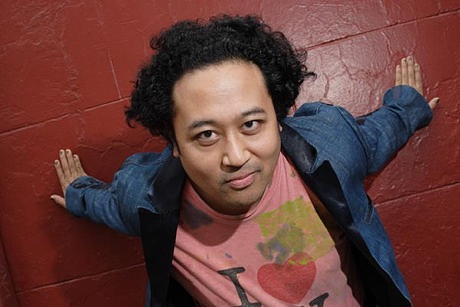 1960s – Regie Cabico poet and spoken word pioneer was born on this date (though we can't seem to find the year...so I'm guessing here). Cabico won the Nuyorican Poets Café Grand Slam in 1993. Television appearances include two seasons on HBO's "Def Poetry Jam." His work appears in over 30 anthologies. He co-edited Poetry Nation: A North American Anthology of Fusion Poetry (1998). He has directed two plays for the 2007 and 2008 Hip Hop Theater Festival, Elegies in the Key of Funk and The Other Side. He has been artist-in- residence for New York University's Asian American Studies program and at Deanza College. He is the artistic director of Sol & Soul, an arts and activist organization in Washington, D.C.
Regie Cabico, a Filipino-American spoken word artist, incorporates his sexual identity as a gay man, and his racial identity as an Asian-American into his work. Here he is performing his "Coming Out" poem at the Canadian Festival of Spoken Word:
If you like his stuff, check out more of his pieces on youtube; in particular, "What Kind of Guys are Attracted to Me," about his being orientalized and fetishized by white gay men, and "The Porno of My Life," a comedic piece about sex, love and life. Cabico is an out and proud gay man who has been called the Lady Gaga of spoken word poets.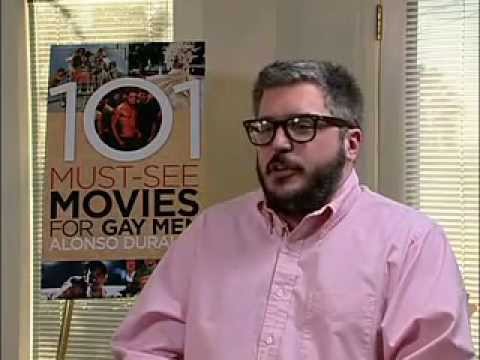 1967 – Alonso Duralde is an American writer and film critic.
Duralde was born in East Point, Georgia, the youngest of seven children. He lives in West Hollywood, California with his husband, fellow writer and film critic Dave White. They co-host the podcast Linoleum Knife, which began in late 2010. He was raised Catholic, but now identifies as an atheist. In January 2010, Duralde was a contestant on Jeopardy!.
He was the artistic director at the USA Film Festival/Dallas for five years. He was also the former arts and entertainment editor at the national gay and lesbian magazine The Advocate. In 2007, he became the film critic for MSNBC.com, and in 2009, his reviews began appearing regularly on The Rotten Tomatoes Show. Duralde is a member of the Los Angeles Film Critics Association. His writing has appeared in The Village Voice, Movieline, and Detour.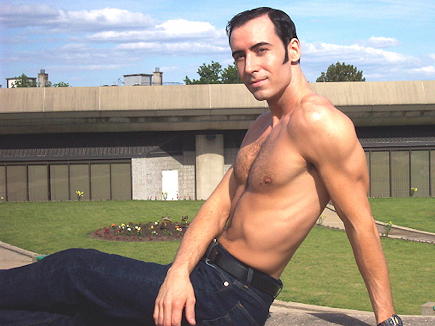 1968 – Breck Stewart is a Canadian singer, actor and director in various projects who first started his career as a porn star. He appeared in gay pornographic films starting in 2000 for various movie studios. His first movie was Fuck Friends.. His latest is Utopia X. He now lives in San Francisco.
He founded a company called MoonDaze Productions and became involved with many ongoing projects in music and video productions both in front of the camera and behind the scenes. Stewart officially came out as a bisexual.
As a singer he released a first MP3 Album called Utopia on October 25, 2007 through the tunecore.com digital distribution company. Utopia was then released again in late 2009 but this time as a 2-Disc Ultimate Edition on a CD physical package. To coincide with the re-release of the album Utopia, MoonDaze Productions also released a new porn movie called Utopia X on November 5, 2009 in Australia, France, UK and the US featuring the music from the album Utopia as the Soundtrack.
Subsequently, a different release date November 18, 2009 was specified for the Canadian market which is handled by the Wega Video distribution company and retail store located in Montreal, Canada. Utopia X starring Breck, Eric Deslauriers and Mario Estes (both newcomers) is unusual in that it features quickly edited images with explicit sexual content shown out of sequence. The movie was released in both NTSC and PAL standards in 2 different DVD package versions which requires customers to choose the specific version applicable to their country's respective standards when they buy a copy online.
On October 1, 2010, Breck released his second album called Mister E. It contains 10 songs all about the subject of drug MDMA commonly known as Ecstasy and how destructive and habit forming it can be. The first single is Desert Breeze. Breck also added several new collaborators to his company including Mario Beauchesne as his manager/agent along with 604-ToKaY, Fafnirrockson and Jim Robson as music composers.

1969 – FREE (Fight Repression of Erotic Expression) is formed at the University of Minnesota. It is the first student-led group in the United States for Gay and Lesbian collegians; it is also the first Gay and Lesbian organization in the state of Minnesota. Its successor is now called the Queer Student Cultural Center.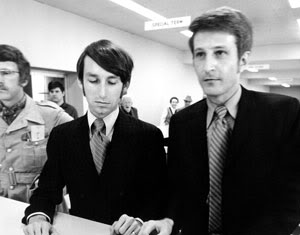 1970 – On this day Jack Baker and James McConnell applied for a marriage license as a gay couple in Hennepin County, Minnesota. This is apparently the first attempted gay marriage in the United States. The Clerk of Court denied them a license. They sued and lost in District Court, appealed and lost in the Minnesota Supreme Court, and appealed to the U.S. Supreme Court, which dismissed the case for want of a substantial federal question. The case opinion, Baker v. Nelson, has been frequently cited as precedent in various gay marriage cases since then.
Later in 1971, the couple applied for and were awarded a marriage license in Mankato, Blue Earth County, and were married before a Methodist minister (Rev. Roger Lynn) in Minneapolis,Minnesota. They maintain that they are legally married under this license; the government claims that the Supreme Court ruling automatically makes this marriage license null and void. During the early 1970s, they filed joint tax returns, which were accepted by the IRS. In 2004, after passage of Defense of Marriage Act, their joint tax return was rejected, and they filed suit against the IRS.
In June 1972, at the State Convention of the DFL (Democratic) party, Baker and other LGBT delegates persuaded the Convention to adopt a Party platform plank supporting equal marriage rights for all adults. This is believed to be the first support for gay marriage by any major United States political party.


1974 – The first prairie conference of gay organizations is hosted by Saskatoon Gay Action.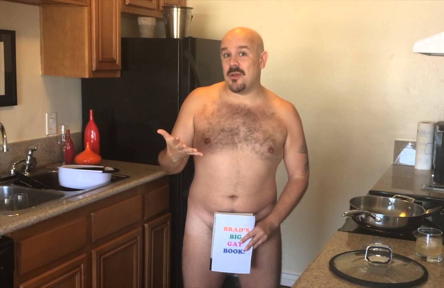 1978 – Brad Loekle is an American comedian. He started performing comedy routines after receiving a degree at the University of the Arts in Philadelphia, Pennsylvania, where he majored in acting and music.
Since 2008, he has been one of the commentators on TruTV Presents: World's Dumbest..., a humorous reality television series. Loekle's voice has been heard on Sirius XM Radio's Morning Jolt, in which he served as a guest co-host. He has also a columnist for the Key West Gay Rag, which is a monthly publication for the LGBT community in Key West, Florida. In his columns, he talks about political issues affecting the gay community as well as his own sexual escapades. When he is not writing about himself in the Key West Gay Rag, he opens up to his readers listening to what they have to say. He calls this section of the column, "Ask Nana".
Loekle is a regular at the clubs in New York City. He attends clubs such as Carolines, Comix, and Gotham Comedy Club. He has also toured the country and performed at several venues such as night clubs, casinos, colleges, and resorts.
In addition, he is a frequent performer on cruise ships and in resorts chartered by Atlantis Events.

1979 – Massachusetts bans those convicted of sodomy from being school bus drivers.

1983 – An Ohio trial court dismisses an importuning charge against a man who had been blatantly solicited by an undercover police officer and responded to the solicitation.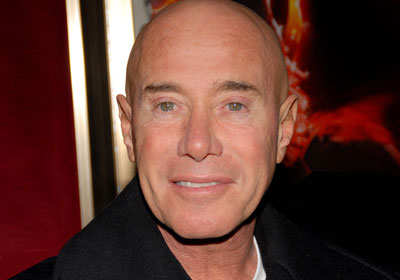 1992
– Recording tycoon
David Geffen
donated $1 million to the Gay Men's Health Crisis in New York.

1998 – Voting members of the American Baptist Churches of the Northeast approved a statement declaring homosexuality inconsistent with Christian teachings. A proposal to dismiss two congregations which accept gay and lesbian members from the regional denomination was withdrawn.

1998 – Senator James Inhofe accused James Hormel, nominee for US ambassador to Luxembourg, of being more interested in promoting the gay agenda than representing the US and compared him to a Ku Klux Klan leader.


Added 2022

1999 – The Five Senses by Jeremy Podeswa gets is first release before going on to be an award winner.
Jeremy Podeswa (born 1962) is a Canadian film and television director. He is best known for directing the films The Five Senses (1999) and Fugitive Pieces (2007). He has also worked as director on the television shows Six Feet Under, Nip/Tuck, The Tudors, Queer as Folk, and the HBO World War II miniseries The Pacific. He has also written several films.
In 2014, he directed episodes five and six of the fifth season of the HBO series Game of Thrones, earning a Primetime Emmy Award nomination for Outstanding Directing for a Drama Series for the latter episode. He returned the next season, directing the season premiere and the second episode. He also directed the season premiere as well as the season finale of the seventh season. In 2021, he directed an episode of the TV series adaptation of The Mosquito Coast.
Jeremy Podeswa was born in 1962 in Toronto, Ontario. He is Jewish, and his Polish Jewish father, a painter, was the only one of his immediate family to make it out of the German Nazi camps alive. He attended the Community Hebrew Academy of Toronto before graduating from Ryerson University's Film Studies program and the American Film Institute's Center for Advanced Film Studies (now the AFI Conservatory). He has recently identified as queer and states that it is only one part of his identity:
"...my sexual orientation is one element among others. I believe that the experience of belonging to a minority, whether tied to sexual orientation, religion or race, changes your perspective you can have on of our environment and things in life. My orientation is only one part of me: I am Jewish, my parents are immigrants, I am North American. All these things and many others make what I am. It would be very restrictive, even a mistake, to say that my work or any other filmmaker's can be reduced to the dimension of sexual orientation."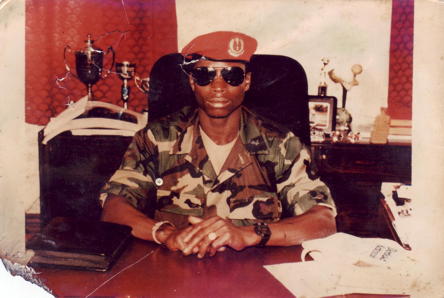 2008 – Gambian President Yahya Jammeh said he would 'cut off the head' of any homosexual caught in his country. Addressing supporters at the end of his "meet the farmers tour", Jammeh also ordered any hotel or motel housing homosexuals to close down, adding that owners of such facilities would also be in trouble. He said the Gambia was a country of believers, indicating that no sinful and immoral act as homosexual would be tolerated in the country. He warned all homosexuals in the country to leave, noting that a legislation 'stricter than those in Iran' concerning the vice would be introduced soon. Unbelievably, Jammeh gave the commencement address at St. Mary's College of Maryland in 2004.

MAY 19 →
[{(o)}]|[{(o)}]|[{(o)}]|[{(o)}]| [{(o)}]|[{(o)}]