July 8
[{(o)}]|[{(o)}]|[{(o)}]|[{(o)}]| [{(o)}]|[{(o)}]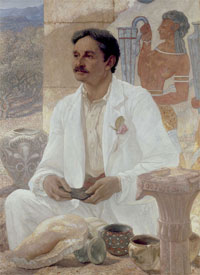 1851 – Sir Arthur Evans (d.1941) was a British archaeologist most famous for unearthing the palace of Knossos on the Greek island of Crete and for developing the concept of Minoan civilization from the structures and artifacts found there and elsewhere throughout eastern Mediterranean. Evans was the first to define Cretan scripts Linear A and Linear B, as well as an earlier pictographic writing.
Along with Heinrich Schliemann, Evans was a pioneer in the study of Aegean civilization in the Bronze Age. The two men knew of each other and Evans visited Schliemann's sites. Schliemann had planned to excavate at Knossos, but died before fulfilling that dream. Evans bought the site and stepped in to take charge of the project that was then still in its infancy. He continued Schliemann's concept of Mycenaean civilization but soon found that he needed to distinguish it from his own concept - the Minoan.
Outwardly a loving family man, Evans may have a hidden side. The father of modern archeology, who helped to shape and perpetuate the myth of the Minotaur, one of the ancient world's most enduring legends, was allegedly a closet homosexual. Later in life Evans was convicted of "gross indecency," a term usually applied to homosexual activity, usually sodomy. "People with closet tendencies, things to hide, would often go abroad to satisfy themselves. It gave them their energy," says Sandy MacGallivray in his book Minotaur: Sir Arthur Evans and the Archeology of the Minoan Myth.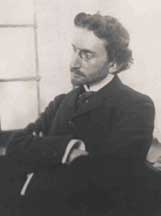 1864 – Fred Holland Day, American photographer and publisher, born (d.1933). He was considered by many to be the first in the U.S.A. to advocate that photography should be considered a fine art. Day's life and works had long been controversial, since his photographic subjects were often nude male youths. Pam Roberts in F. Holland Day writes: "Day never married and his sexual orientation, whilst it is widely assumed that he was homosexual, because of his interests, his photographic subject matter, his general flamboyant demeanor, was, like much else about him, a very private matter."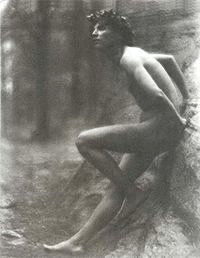 At the turn of the century, his influence and reputation as a photographer rivaled that of Alfred Stieglitz, who later eclipsed him. The high point of Day's photographic career was probably his organization of an exhibition of photographs at the Royal Photographic Society in 1900. He was a major patron of Aubrey Beardsley.
Now that the attitudes toward homosexuality have changed so radically, since the 1990s Day's works have been included in major exhibitions by museum curators, notably in the solo Day retrospective at the Boston Museum of Fine Arts in 2000/2001 and similar shows at the the Royal Photographic Society in England and the Fuller Museum of Art. Art historians are once again taking an interest in Day, and there are now significant academic texts on Day's homoerotic portraiture, and its similarities to the work of Walter Pater and Thomas Eakins.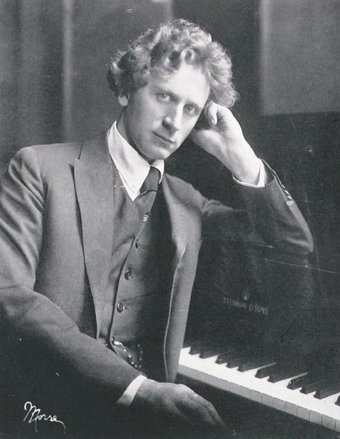 1882 – Percy Grainger, Australian-born composer, born (d.1961); A composer, pianist, and champion of the saxophone and the concert band, Grainger was the object of affection (or obsession) of several leading lights of his day, including composer Edvard Grieg and poet Vachel Lindsay.
Grainger was a sado-masochist, with a particular enthusiasm for flagellation, who extensively documented and photographed everything he did. His walls and ceilings were covered in mirrors so that after sessions of self-flagellation he could take pictures of himself from all angles, documenting each image with details such as date, time, location, whip used, and camera settings.
He gave most of his earnings from 1934-1935 to the University of Melbourne for the creation and maintenance of a museum dedicated to himself. Along with his manuscript scores and musical instruments, he donated the photos, 83 whips, and a pair of his blood-soaked shorts. Although the museum opened in 1935, it was not available to researchers until the 1960s.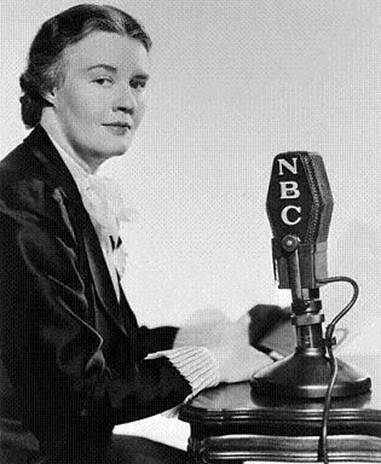 1894 – Dorothy Thompson (d.1961) was an American journalist, radio commentator, lecturer and political analyst, who was noted by Time magazine in 1939 as one of the two most influential women in America, the other being Eleanor Roosevelt. In the 1930s she became an overnight sensation when Hitler expelled her from Germany because of her critical reports on Nazism.
In 1931, when her marriage to Sinclair Lewis was already disintegrating, she met and fell in love with the Baroness Hatvany, better known as Christa Winsloe, the author of Mädchen in Uniform, the celebrated novel about love in a girls' school. Although Thompson's affair with Winsloe was not her first - she had previously been in love with Gertrude Franchot Tone, the politically active feminist mother of the movie actor - it was her most intense Lesbian attachment and resulted in an outpouring of feeling that she confided to her diary: "I put the incident down here as a record of my own sensibility if it not be love? This extraordinary heightening of all one's feeling?...This incredible feeling of sisterhood."
Sinclair Lewis was virtually impotent and, knowing of his wife's bisexuality, had just published Ann Vickers, a novel about a career woman driven to suicide because of a Lesbian relationship. No time could have been better chosen for Thompson's affair with Winsloe, a love affair that her biographer, Vincent Sheean, with little understanding, called "a rather strange interlude."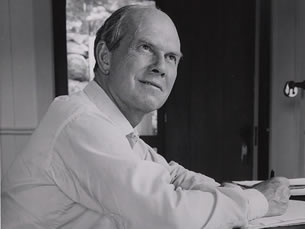 1898 – Bisexual, Alec Waugh (d.1981), was a British novelist, the elder brother of the better-known Evelyn Waugh and son of Arthur Waugh, author, literary critic, and publisher. His first wife was Barbara Jacobs (daughter of the writer William Wymark Jacobs), his second wife was Joan Chirnside and his third wife was Virginia Sorenson, author of the Newbery Medal-winning Miracles on Maple Hill.
Waugh was born in London, and educated at Sherborne School, a public school in Dorset. However, in 1915 Alec was asked to leave, after a homosexual relationship came to light. The result of his experiences was his first, semi-autobiographical novel, The Loom of Youth (1917), in which he remembered and reflected on his schooldays. The book was clearly inspired by The Harrovians by Arnold Lunn, published in 1913 and discussed at some length in The Loom of Youth.
The Loom of Youth was so controversial at the time (it openly mentioned homosexual relationships between boys) that he remains the only former pupil to be expelled from the old boys society (The Old Shirburnian Society). It was also a best seller.
When the book was published Waugh was serving in France, although he did not see action in the First World War until Passchendaele. He was subsequently captured by the Germans near Arras and spent the rest of the war in a prisoner-of-war camp in Karlsruhe. He went on to a career as a successful author, although never as successful or innovative as his younger brother. He lived much of his life overseas, in exotic places such as Tangier - a lifestyle made possible by his second marriage, to a rich Australian (Joan Chirnside). His work, possibly in consequence, tends to be reminiscent of Somerset Maugham, although without Maugham's huge popular success. Nevertheless, his 1957 novel Island in the Sun was a best-seller, as was his 1973 novel, A Fatal Gift. According to his nephew Auberon, Alec Waugh "wrote many books, each worse than the last."
Alec Waugh was the author of In Praise of Wine & Certain Noble Spirits (1959), an amusing and discursive guide to the major wine types, and Wines and Spirits, a 1968 book in the Time-Life series Foods of the World. This was not a stretch as he was a noted connoisseur. Waugh is said to have invented the cocktail party when he was active in London social life in the 1920s when he served rum swizzles to astonished friends who thought they had come for tea. Within eighteen months, early evening drinks had become a widespread social entertainment.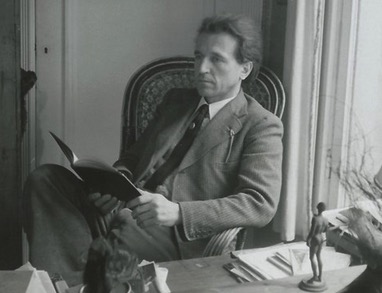 1902 – Wolfgang Frommel, born in Karlsruhe, Germany, (d.1986) was a German writer who helped many Jewish youth escape tha Nazis, but was also the center of a pederastic scandal.
Wolfgang Frommel was the son of the theologian Otto Frommel and the older brother of the composer Gerhard Frommel. He attended schools in Heidelberg. From 1922 he studied German , theology and pedagogy at the Ruprecht-Karls-Universität Heidelberg. The friendship with his homosexual fellow student Percy Gothein was a turning point in Frommel's life.
While he continued his studies in Berlin , he dealt intensively with the spiritual world and gathered a group of like-minded people around him. During this time, around 1924, he also met thirteen-year-old Billy Hildesheimer, who later called himself William Hilsley. A lifelong friendship developed between Hilsley and Frommel.
In 1930 Frommel founded, together with Edwin Maria Landau and Percy Gothein, the publishing house Die Runde , in which Frommel's work The Third Humanism, which was highly regarded at the time, appeared in 1932 under the pseudonym Lothar Helbing (after his mother's maiden name).
In July 1933 Walther Beumelburg, the new director of the Südwestdeutscher Rundfunk, brought him to Frankfurt and made him head of the word department. In the autumn of 1933 Frommel was able to start his own midnight program, which he continued with the Reichssender Berlin . In the series Vom Schicksal des Deutschen Geistes he invited one guest each week "The Best of the Nation", including Jewish authors under pseudonyms, who thus had the opportunity to skilfully bypass the official censorship while making comments critical of the system.
Another fateful encounter occurred during Frommel's time in Frankfurt. In August 1933 he met fourteen-year-old Adolf Friedrich Wongtschowski, who later called himself Friedrich W. Buri. In 1937 he helped him to flee to the Netherlands and there - together with William Hilsley - to get a job at the Quaker School Eerde.
In the summer of 1935, the circle around Wolfgang Frommel met for the last time. In a remote country house, the group read and discussed Dante's Divine Comedy daily . The "group" now dissolved and some of the members emigrated in 1936. Frommel followed in 1937. He first went to Basel, where he was accepted by the publisher Benno Schwabe.
From there he made his way to the Netherlands in 1939. With the help of Dutch friends he received a residence permit. Soon after his arrival in the Netherlands, Frommel was a regular guest at the Quaker School in Eerde, where he gave lectures on literary subjects and became the "master" to the young people who Hilsley and Buri had gathered around them.
After the occupation of the Netherlands by the German Wehrmacht and the decision of the Quakers to banish the Jewish children from Eerde Castle to an adjoining building, Frommel and Wolfgang Cordan tried to win the school management over into helping the Jewish children to hide. When the school management opposed this plan and even threatened to report to the Gestapo , Frommel decided to act and help the students who were close to them to escape, while others went into hiding. , Frommel and Cordan decided to act on their own and help the students who were close to them to escape. Claus Victor Bock, went into hiding. Bock lived, like his former teacher Buri, from 1942 in hiding in Amsterdam's Herengracht 401, which became known as Castrum Peregrini.
This hiding place was thanks to Frommel's acquaintance with the painter Gisèle van Waterschoot van der Gracht , whom Frommel met in 1941 in Bergen.. In July 1942 he moved into the painter's Amsterdam apartment at Herengracht 401, which then became a hiding place for some of the young people who had gone into hiding. The place was a haven for those who had fled from the Quaker School in Eerde who had not found shelter elsewhere. They all survived the German occupation.
After the end of the Second World War , Wolfgang Frommel stayed in the Netherlands and published under pseudonyms such as CP de Fournière , FW L'Ormeau and Karl Wyser . He kept the apartment in Amsterdam until his death. In 1951 he and Gisèle van Waterschoot van der Gracht founded the literary magazine Castrum Peregrini , named after the last fortress of the Crusaders in the Holy Land , the Château Pèlerin, located around 20 km from the city of Haifa and considered impregnable at the time. "Castrum Peregrini" was also the code name of the group around Frommel, which he had hidden and thus saved during the German occupation. In 1973 he was honored by the State of Israel for his rescue of persecuted Jews.
It was an open secret that there had been erotic-sexual contacts in Wolfgang Frommel's environment. Even before the Second World War, rumors of homosexual contacts were circulating at the Quaker School in Eerde, the focus of which was on Frommel's frequent visits to the school and his closest friends, William Hilsley and Friedrich W. Buri, who taught there. The school management considered it and declared this to be a question of individual sexual preference. Claus Victor Bock reported from the same time about his first erotic-sexual encounter with Frommel in the apartment of a teacher couple who taught in Eerde.
In 2013, Joke Haverkorn's book distant memories to W was published. In it, she described how Frommel's system worked, how sexual abuse was part of everyday life under the guise of pedagogical eros, in which mostly older men made young men or boys "companions" and believed they were in harmony with them. It was deliberate that Haverkorn used the term "friends" for these companions and consistently put it in quotation marks, because in Frommel's world there was always a sexual component that deviated from everyday meaning when talking about friends. This led to a sexual scandal around Frommel and the schools he was associated with in Germany and the Netherlands.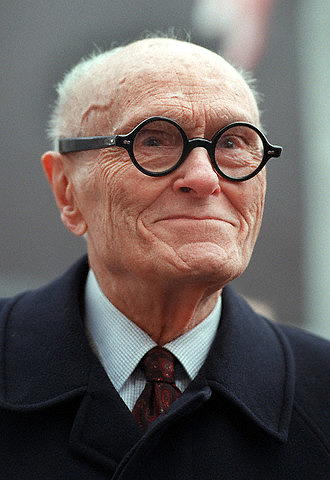 1906 – Controversial and provocative, Philip Johnson (d.2005) was a towering force in American architecture for many years. Known both for promoting the International Style in the United States and for helping to define Post-Modern architecture, he had an uncanny ability to sense new trends and to adapt his style to those trends.
Philip Cortelyou Johnson was born into a wealthy family in Cleveland on July 8, 1906. After graduating from Harvard with a B.A. in Architectural History, he became the founding director of the Department of Architecture at the Museum of Modern Art in New York. At the age of 26, he co-curated, with Henry-Russell Hitchcock, the influential 1932 exhibit entitled "International Style: Architecture since 1922." With this exhibit Hitchcock and Johnson effectively brought modern European architecture to America.
Johnson also used his own personal wealth to introduce Mies van der Rohe and le Corbusier to the United States. After a brief period of residence in Europe, during which he spoke admiringly of the Nazi movement (beliefs he later recanted), Johnson returned to the United States to attend Harvard's Graduate School of Design. At the age of 37, after having been an author, historian, museum director, curator, and critic, Johnson became an architect.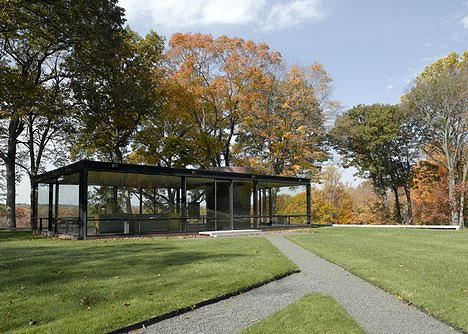 In 1949, he designed his own residence in New Canaan, Connecticut. It has since become one of the most famous houses in the world. Made with steel frame and glass, the see-though "Glass House" has an open plan with a bath and fireplace in a brick cylinder.
In the 1950s, Johnson worked on a number of glass towers, as well as the Crystal Cathedral in Garden Grove, California (completed in 1980), and, as an associate of van der Rohe, the Seagram Building in New York.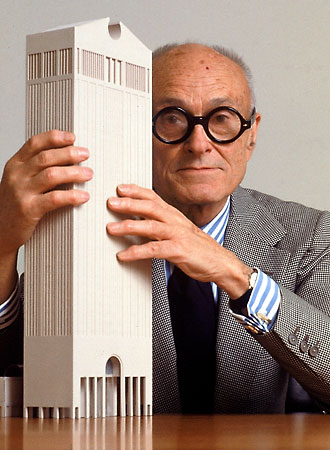 Philip Johnson & AT&T Building
With the State Theater at Lincoln Center and New York State Pavilion at the New York World's Fair, Johnson's style became more eclectic. In 1984, his New York City AT&T Building with its Chippendale top became the most talked about building of the year. Johnson's later projects were smaller and more personal.
While never completely hiding his long term relationship with curator David Whitney, which began in 1960, Johnson did not officially "come out" publicly until 1994, when his biography by Franz Schulze was released.
Not long afterwards, he was asked to design a new sanctuary for Dallas's Cathedral of Hope, then a member of the Universal Fellowship of Metropolitan Community Churches (MCC), the nation's largest predominantly gay and lesbian religious denomination. Johnson's Cathedral of Hope, still unbuilt because of a lack of funds, is a 2,000-seat sanctuary with an altar under a ceiling that rises more than 100 feet. The design has no parallel lines; the walls twist, tilt, and bend into ceilings and floors. Monumental, unconventional, and ever-changing, the proposed building will be a symbol of strength, hope, and unity. As Herbert Muschamp observed in reaction to the design, "It ministers not only, or even primarily, to the needs of gay people for self-acceptance. It ministers to society's need for self-acceptance; for the wisdom to perceive that gay men and lesbians are integral to society, not alien from it."
Johnson died on January 25, 2005 at his home in New Canaan, Connecticut. He is survived by his life-partner, David Whitney.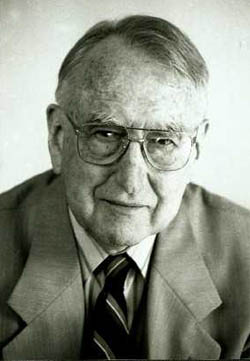 1921 – John Money (d.2006) was a psychologist and sexologist who researched gender identity and sexual preferences and coined the terms 'gender identity' and 'gender role.'
John Money was born in Morrinsville, New Zealand. He taught philosophy and psychology as a junior lecturer at the University of Otago before relocating to the United States to pursue graduate studies. He became a professor of medical psychology and pediatrics at John Hopkins University, where he was heavily involved with the Sexual Behaviors Unit, which studied sex reassignment surgery.
Money devoted much of his research to sexual preferences, sexual orientation, and gender and sex differences.
Money coined the terms "gender role" and "gender identity." He emphasized that one's gender role — traits associated with one's public presentation of gender — had to be learned. For example, a woman who wears a dress and high heels is publicly displaying a culturally accepted female gender role, which is a learned behavior. Gender identity, on the other hand, illustrates one's internal experience of sexuality. Money was one of the first scientists to acknowledge that one's biological sex may not correspond with his or her gender identity.
Money urged researchers to move away from a strict dichotomy between heterosexuality and homosexuality.
Money studied pedophilia, and he identified a distinction between love-based attraction to children and sadistic pedophilia. Sadistic pedophiles, according to Money, abuse and sometimes even kill their victims. Affectional pedophilia, by contrast, was due to eroticized parental love, and Money emphasized that this type of pedophilia had little to do with sex.
Because Money believed that much of gendered behavior was arbitrary and learned rather than the product of biological drives, he was interested in the effects of sex reassignment surgery. In the 1960s, the son of Janet and Ronald Reimer experienced a botched circumcision that left him with a severely mangled penis. When John Money was consulted, he suggested that the boy be raised as a girl, and the child underwent sex reassignment surgery to remove his penis and testicles and create a rudimentary vulva.
Money used the case as evidence that gender is learned and not innate, demonstrating that the child had fully adapted to a female role as Brenda. However, Reimer claims he always felt more like a boy while growing up; in fact, as soon as the truth was revealed to Brenda as a teen, Brenda began to identify as male and changed his name to David. David Reimer later committed suicide at age 38.
Many researchers have pointed to the case as evidence that gender is at least partially biologically determined, and intersex activists have used the case to point to the damage that genital surgery can cause to children.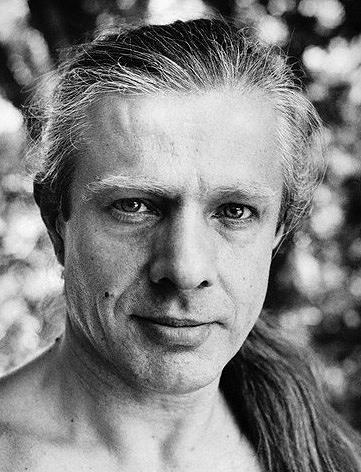 1933 – Peter Orlovsky, poet (d.2010), was Allen Ginsberg's soulmate. Orlovsky met Ginsberg while working as a model for the painter Robert La Vigne in San Francisco in December 1954.
Prior to meeting Ginsberg, Orlovsky had made no deliberate attempts at becoming a poet. It was Ginsberg who encouraged Orlovsky to write poetry. With Ginsberg's encouragement, he began writing in 1957 while the pair were living in Paris. Though he published only a few slim volumes, his voice was singular, and his early work was admired by William Carlos Williams and Gregory Corso. It had outsider-ish originality (the spelling and phrasing were eccentric), a blunt, innocent earthiness, especially about bodily functions.
Accompanied by other beat writers, Orlovsky traveled extensively for several years throughout the Middle East, Northern Africa, India, and Europe.
Ginsberg and Orlovsky wrote and spoke openly about their relationship, which they deemed a marriage. Because of Ginsberg's prominence, the two men were social pioneers, the first gay married couple that many people had ever heard of. He and Ginsberg lived together on the Lower East Side of Manhattan and on a farm in Cherry Valley in Upstate New York, for a time.
In 1974, Orlovsky joined the faculty of the Jack Kerouac School of Disembodied Poetics at the Naropa Institute in Boulder, Colorado, teaching poetry. In 1979 he received a $10,000 grant from the National Endowment for the Arts to continue his creative endeavors. He died of lung cancer in 2010.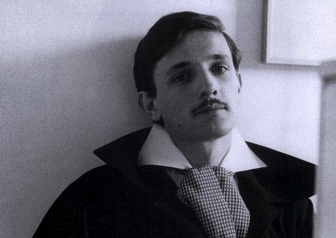 1951 – Jacques de Bascher or Jacques "Bascher de Beaumarchais", born in Saigon (French Indochina) and died September 3, 1989 at Garches Hospital, was a Parisian dandy, member of the French Jet set and Karl Lagerfeld's companion from 1971 until his death, as well as Yves Saint Laurent's lover in 1973.
Jacques de Bascher was the member of de Bascher family, the son of Antony de Bascher, governor of the province of Cholon in Vietnam and an executive of Shell's insurance department on his return to France in 1955. He spent his childhood in a bourgeois Catholic family, between an apartment in Neuilly-sur-Seine on boulevard Commandant-Charcot, which overlooks the Bois de Boulogne and the castle Berrière near Nantes. He studied at the small high school Pasteur, then high school Janson de Sailly, and finally high school Charlemagne. He seduced one of his high school teachers, realising his beauty and physical demeanor.
At the age of twenty, he did military service in the French Navy. He started his service on the ship Orage, which was sailing to Martinique and Papeete. He became some sort of reporter, writing a ship's newsletter and airing music and interviews on the ship's radio. He served a month's imprisonment at the Arue camp in Tahiti for provocative behavior and misbehaving with his mates. After just nine months in the navy, he was sent back to France. During this service, he befriended a lot of people, including Philippe Heurtault, who became his photographer in later years.
When he returned to Paris, he attended the Panthéon-Assas University for a few months and became a steward for Air France in 1972, but it was high society clubs that attracted him.
Jacques de Bascher first met Karl Lagerfeld at the Nuage at the age of twenty-one. A few months later, after Jacques de Bascher resigned from Air France, they began living together until 1989. Lagerfeld claimed their relationship was platonic and non-physical. Lagerfeld told French journalist
Marie Ottavi
:
I infinitely loved that boy but I had no physical contact with him...Of course, I was seduced by his physical charm...
Karl Lagerfeld appreciated Bascher's vast literary culture and impertinence, his aristocratic appearance and his manner of dressing. They usually spend their time in gay nightclubs, like "Le 7".
In 1973, Yves Saint Laurent, at the time still companion of Pierre Bergé, fell in love with Jacques de Bascher. While Lagerfeld pretended he didn't notice, Yves Saint Laurent and Jacques de Bascher had an unbalanced and destructive relationship. Bergé threatened Bascher, who put an end to this affair.
During these years, Jacques de Bascher, who did not work and was maintained by Karl Lagerfeld fell into risky sexual practices, and eventually drugs and alcohol put him into a paranoid state. Sex was a huge part of de Bascher's life. He had relationships with both men and women. He was known for organizing of orgies and an infamous BDSM party, named "Black Moratorium", which was funded by Lagerfeld.
Jacques de Bascher discovered that he was HIV positive in 1984. At the end of his life, he cut himself off almost from everyone, unable to bear the physical decline. He died of AIDS at Raymond Poincaré University Hospital in 1989, watched over by Karl Lagerfeld, who had an extra bed installed at his bedside. The following year Karl Lagerfeld bought a house near Hamburg, which he named Villa Jako in Jacques de Bascher's memory. In 1998, Lagerfeld launched a fragrance called Jako. The intimate, family-only funeral mass took place in the chapel of the Père-Lachaise cemetery; a second mass was celebrated in the chapel of Mée-sur-Seine, where Karl Lagerfeld owned property, in the presence of Jacques de Bascher's mother and friends.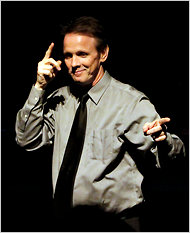 1952 – Sign language interpreter Alan Champion was born on this date (d.2011). Champion moved to New York City with the dream of performing on stage and ended up with a very different kind of role. "A very satisfying one," he said.
Born in Tulsa, Oklahoma, Champion communicated with his deaf parents as a toddler using sign language. Family members told him that he first lifted his hands to try to sign when he was two years old. Raised Southern Baptist he developed his voice as a singer in his church choir. He enrolled in Oral Roberts University but left without graduating because, he said, as a gay man he did not feel comfortable at a Christian school. He worked as an interpreter at community colleges and theater companies in Tulsa and St. Louis before heading to New York in 1980. A month after arriving he received a letter from the Theater Development Fund announcing auditions for interpreters for Broadway shows.
He was selected to sign interpret for The Elephant Man. An interpreter on the panel that selected him said he stood out for his calm but intense work when others could become distracted or flustered by the noise or energy of the performances only a few feet away.
As much at ease interpreting The Elephant Man and `night Mother as he was with musicals like A Chorus Line and Les Miserables, Mr. Champion continued signing on Broadway through two rounds of chemotherapy after he was diagnosed with cancer in 2009. Deaf and hard-of-hearing Broadway patrons considered Alan Champion a star in his own right, their own shining light on Broadway. He died of appendix cancer in April 2011
Below, some fellow signers react to a mistaken Facebook report that Alan had died, bracketting a performance of "Not Dead Yet" from the Broadway production of Monty Python's Spamalot.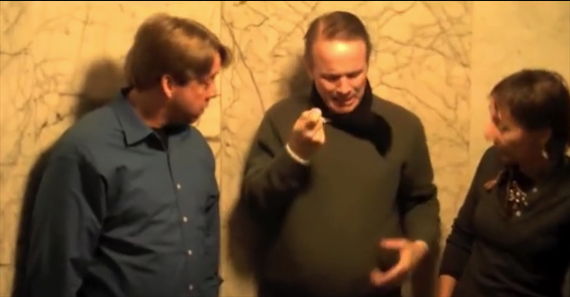 Not Dead Yet on YouTube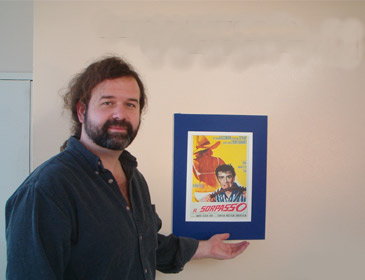 1968 – Born in New York, Thom Fitzgerald, filmmaker, performer, artist, screenwriter and director, grew up in New York City. He studied at the Cooper Union for the Advancement of Science and Art and graduated with a BFA in performance and film. Thom had spent one term as an exchange student at the Nova Scotia College of Art and Design, moved to Nova Scotia in 1988.
His debut feature, The Hanging Garden, was released to immediate and widespread acclaim. It was voted most popular film at the Toronto International Film Festival, the Atlantic Film Festival, the Vancouver International Film Festival and the Mar del Plata Film Festival in Argentina. In addition, the film won four 1997 Genie Awards from the Academy of Canadian Cinema and Television. Thom was also given the prestigious Claude Jutra Award which is given for Best Direction of a First Feature.
His next film, Beefcake was about muscle men's magazines of the 1950s and how they were primarily being purchased by gay men. Unfortunately, the docudrama didn't do nearly as well as his first film. Fitzgerald made his television directing debut with the TV movie Wolf Girl, starring Tim Curry and Leslie Ann Warren.
While filming in Romania, he was inspired by the cull of 200,000 stray dogs in Bucharest to write his next screenplay, The Wild Dogs. Fitzgerald not only directed, but took a role in the film, which starred Rachel Blanchard. The movie won Best Canadian Feature at the Atlantic Film Festival, as well as a Best Direction award for Fitzgerald.
Fitzgerald returned to his home city, New York, to shoot The Event (2003), about Manhattan's large and varied gay population. Starring Parker Posey and Olympia Dukakis, the film won a Reader Jury award at the Berlin International Film Festival. He worked again with Dukakis in Three Needles, which deals with the topic of AIDS.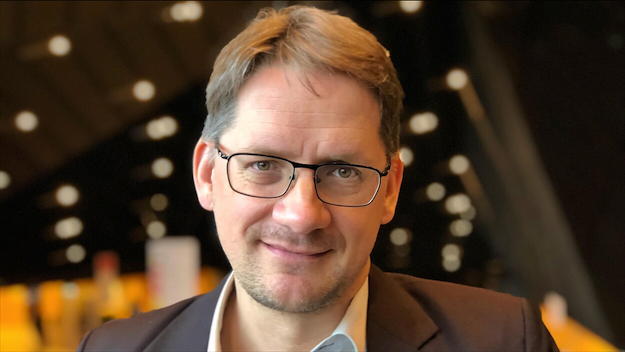 1970 – Sylvain Gaudreault is a Canadian politician and teacher. He is the current Member of National Assembly of Quebec for the riding of Jonquière in the city of Saguenay. He represents the Parti Québécois. On May 6, 2016, the party caucus chose him as interim leader following the resignation of PQ leader Pierre Karl Péladeau.
Born in Chicoutimi, Quebec, Gaudreault went to the Université du Québec à Chicoutimi and obtained a bachelor's degree in history. He also received a bachelor's degree in law at Université Laval and was admitted to the Barreau du Québec in 1996. He is also currently doing a master's degree in regional intervention and studies. He worked since 2001 as a teacher at CEGEP de Jonquière and worked for the newspaper Le Quotidien.
Gaudreault was elected in Jonquière in the 2007 elections when he defeated Tourism Minister Françoise Gauthier. He had faced controversy during the campaign, when radio host Louis Champagne attacked both Gaudreault and Parti Québécois leader André Boisclair for being openly gay.
When the PQ formed government in 2012, Gaudreault entered Cabinet as Minister of Transport and Minister of Municipal Affairs, one of two LGBT ministers. While his stint in Cabinet only last 19 months due to the PQ's defeat in the subsequent election, he announced plans to extend the Montreal Metro's Blue Line to Anjou and the Yellow Line deeper into the Monteregie. As well, he became the point person on the government's plans to further electrify public transit across Quebec.

1978 – A group of men set out to attack homosexuals in Central Park, injuring several with baseball bats, including former Olympic and world champion ice skater Dick Button.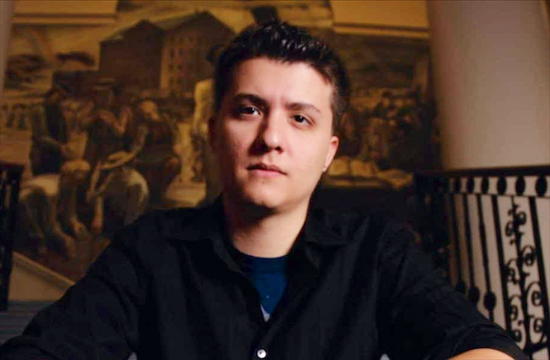 1982 – Ryan Daniel Buell is an American paranormal investigator, author and producer who was the main host of the TV show Paranormal State.
Buell was born in Corry, Pennsylvania, and raised in Sumter, South Carolina. He is of Italian and Native American ancestry. He earned bachelor degrees in journalism and anthropology from Penn State University in State College, Pennsylvania.
Buell was the main host of the TV A&E show Paranormal State. He was the executive producer for the feature film American Ghost Hunter, released in 2010. In 2011, Buell and partner Chad Calek announced a 41-city tour for the film. In 2010, Buell served as Co-Executive Producer for Paranormal State and for The Ghost Prophecies, of which he is also the co-creator. Buell and his team decided against continuing Paranormal State after the fifth season to pursue other things. Their final episode aired Monday, May 2, 2011.
Buell's memoir, Paranormal State: My Journey into the Unknown, was released in September 2010. Among other subjects, Buell discusses his bisexuality and his struggle to reconcile his sexual orientation with Catholicism, the faith with which he was raised. "I've decided to share my sexuality and struggle over faith in hopes that others will no longer feel as though they are alone or that they can't be religious."
In July 2012, Buell claimed he had been diagnosed with pancreatic cancer. In late 2013, Buell told People magazine that he was near remission. However, his mother later denied his cancer diagnosis.
In July 2014, Buell began selling tickets for a "Conversations with the Dead Tour." These shows, however, were indefinitely postponed, and many of the customers did not receive refunds or further correspondence on the status of the shows. Buell's friend and collaborator on Paranormal State, Chip Coffey, claimed that the ticket sales had exceeded $80,000, and that while he had been in charge of helping plan the shows, he learned that Buell had not actually booked any of them.
Buell was also arrested on April 21, 2017 on charges of simple assault and harassment of his boyfriend. In July 2017, after his releases from jail and rehabilitation, Buell published a personal blog post in which he admitted he was a recovering drug addict and had recently been discharged from rehabilitation. His other civil and criminal cases remain unresolved.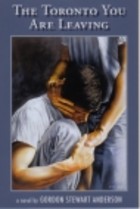 1991 – Died: Gordon Stewart Anderson (b.1958), Canadian writer, whose novel The Toronto You Are Leaving was published by his mother 15 years after his death.
Anderson was born in Hamilton, raised in Sault Ste. Marie and lived for many years in Toronto. He graduated from the University of Waterloo and the University of Western Ontario. A gay man, Anderson died of AIDS-related causes.
Three years after his death, his mother Marlene Lloyd discovered that a small publishing house had an unpublished manuscript for The Toronto You Are Leaving, a novel Anderson had written about life in Toronto's gay community in the late 1970s. She submitted the manuscript to several other publishers without success, and eventually edited and self-published the novel herself in 2006. The novel garnered a strong review in The Globe and Mail, as well as significant attention in Canada's gay press.
Marlene Lloyd had also previously published a book of her own, Not a Total Waste: The True Story of a Mother, Her Son and AIDS, about Anderson's death.

JULY 9 →
[{(o)}]|[{(o)}]|[{(o)}]|[{(o)}]| [{(o)}]|[{(o)}]