February 13
[{(o)}]|[{(o)}]|[{(o)}]|[{(o)}]| [{(o)}]|[{(o)}]
518 B.C. – Pindar, the Greek poet was born today. Again, it is impossible to say precisely when the Theban poet was born, so we're picked this arbitrary date. So this is as good a place as any to mention Pindar, the greatest lyric poet of ancient Greece, whose love for Theoxenus of Tenedos is celebrated in his verse.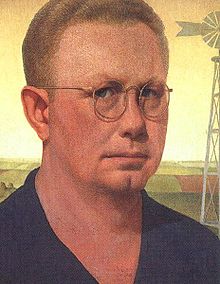 Self-portrait
1891 – Grant Wood (d.1942) was an American painter born four miles east of Anamosa, Iowa. He is best known for his paintings depicting the rural American Midwest, particularly the painting American Gothic, an iconic image of the 20th century.
After graduating from Washington High School, Wood enrolled in an art school in Minneapolis in 1910, and returned a year later to teach in a one-room schoolhouse. In 1913 he enrolled at the School of the Art Institute of Chicago and performed some work as a silversmith. From 1920 to 1928, he made four trips to Europe, where he studied many styles of painting, especially Impressionism and Post-Impressionism. But it was the work of the 15th-century Flemish artist Jan van Eyck that influenced him to take on the clarity of this new technique and to incorporate it in his new works.
From 1924 to 1935, Wood lived in the loft of a carriage house that he turned into his personal studio at "5 Turner Alley" (the studio had no address until Wood made one up himself). In 1932, Wood helped found the Stone City Art Colony near his hometown to help artists get through the Great Depression. He became a great proponent of regionalism in the arts, lecturing throughout the country on the topic. Wood taught painting at the University of Iowa's School of Art from 1934 to 1941. During that time, he supervised mural painting projects, mentored students, produced a variety of his own works, and became a key part of the University's cultural community.
One common theory is that he was a closeted homosexual, and was fired from the University because of a relationship with his personal secretary.
On February 12, 1942, one day before his 51st birthday, Wood died at the university hospital of pancreatic cancer. When Wood died, his estate went to his sister, Nan Wood Graham, the woman portrayed in American Gothic.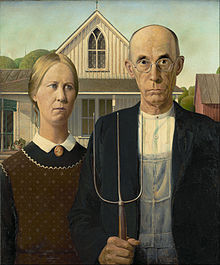 Wood's best known work, his 1930 painting American Gothic, is also one of the most famous paintings in American art, and one of the few images to reach the status of universally recognised cultural icon, comparable to Leonardo da Vinci's Mona Lisa and Edvard Munch's The Scream.
It was first exhibited in 1930 at the Art Institute of Chicago, where it is still located. It was given a $300 prize and made news stories country-wide, bringing Wood immediate recognition. Since then, it has been borrowed and satirised endlessly for advertisements and cartoons.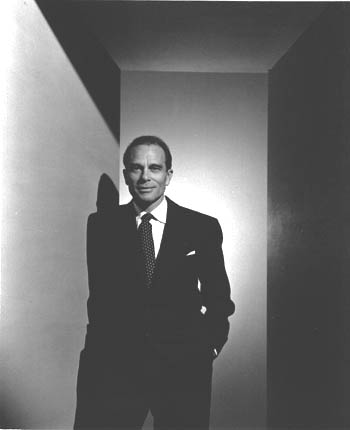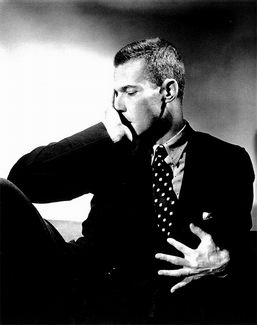 Wheeler and Wescott by Lynes
1899 – on this date the American curator Monroe Wheeler, was born (d.1988). Poet and author Glenway Wescott and Monroe Wheeler were an extraordinary couple. The two met for the first time in 1919, and it was, it seems, a classic case of love at first sight. At the time, Wescott was still in his teens and Wheeler just 20. Seemingly inured to the social mores of the time and inconstancies of youth, the two embarked on a relationship that can be called nothing short of a marriage, for the next 68 years, until Wescott's death in 1987. They are perfect gay Valentine icons.
The young couple travelled the world, stopping in on Gertrude Stein's Paris Salon and crossing paths with Jean Cocteau on the Riviera, while Wescott developed his poetry and later fiction (he authored The Grandmothers and The Pilgrim Hawk, among other bestsellers of his day) and Wheeler found his path. Eventually he would become the director of exhibitions and publications at the Museum of Modern Art.
The two moved with equal ease through the literary and artistic circles of London and the continent as well as their families' Midwestern homes. That their relationship thrived is notable enough. But 1927 brought a new challenge to their pairing. High-school student George Platt Lynes fell passionately in love with the strikingly good-looking Wheeler. And Wheeler, for his part, was entranced by Lyne's 'full, luscious mouth and his wasp-like waist'. Instead of driving a wedge between Wescott and Wheeler, as might be expected, Lynes soon became part of their shared life. When, after some casting about, he hit upon photography, the two nurtured his career and used their considerable connections to get him both work and gallery shows.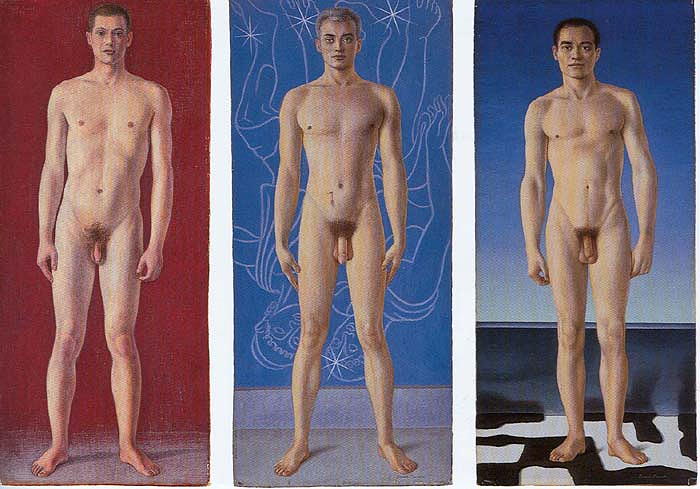 Triptych of Wescott-Lynes-Wheeler by Jared French
(Click for larger)
In 1930, while still in France, Wheeler entered into a partnership with Barbara Harrison to establish the Harrison of Paris press, the goal of which was to publish fine editions of new and neglected classics. Over 5 years, they produced 13 titles, including works by Thomas Mann, Katherine Anne Porter, and Glenway Wescott's A Calendar of Saints for Unbelievers, with illustrations by Pavel Tchelitchew.
In 1935, following the marriage of Barbara Harrison to Glenway's younger brother, Lloyd, Wheeler and Wescott moved back to the United States. They soon set up households both on the farm in New Jersey bought by Barbara Harrison and Lloyd Wescott and in New York City, where they shared a series of apartments with George Platt Lynes.
It was at this time that Wheeler began an association with the Museum of Modern Art when, in 1935, he guest-curated an exhibit. His position at MOMA became permanent in 1938 when he was hired as Membership Director, then moved quickly into the position of Director of Exhibitions and Publications. Wheeler's innovations in publication and exhibit design soon became well-known. In 1951, in recognition of his work in bringing French artists to the attention of American viewers, he was made a Chevalier of the French Legion of Honor by the government of France.
In 1967, in preparation for his retirement, Wheeler shifted his duties at the museum. Having long been a trustee of the museum, he was appointed counsellor and joined the International Council in its biannual meetings. After his official retirement in 1967, he continued to advise the museum on exhibitions and serve with a number of civic and arts organizations.
In 1969, Wheeler travelled as a cultural advisor with Nelson Rockefeller on a presidential mission to Latin America. In the 1970s, Wheeler travelled extensively and worked on projects documenting the history of MOMA and the collections of the Rockefeller family. Monroe Wheeler died in Manhattan on August 14th 1988 at the age of 89, 18 months after the death of Glenway Wescott.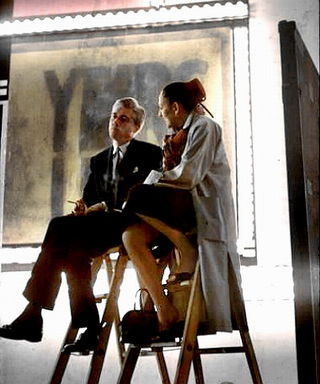 Oliver Smith and Irene Sharaff
1918 – Oliver Smith (d.1994) was one of the most distinguished and prolific Tony Award-winning scenic designers in American theatre history.
Born in Waupun, Wisconsin, Smith attended Penn State, after which he moved to New York City where he was a resedent of the famed February House and began to form friendships that blossomed into working relationships with such talents as Leonard Bernstein, Jerome Robbins, Carson McCullers, and choreographer Agnes de Mille. His career was launched with his designs for Léonide Massine's ballet Saratoga in 1941 and de Mille's Rodeo in 1942.
Smith designed for dozens of Broadway musicals, films (Guys and Dolls, The Band Wagon, Oklahoma!, Porgy and Bess, West Side Story, The Sound of Music), and operas. His association with the American Ballet Theatre began in 1944, when he collaborated with Robbins and Bernstein on Fancy Free, which served as the inspiration for On the Town. The following year, he became Co-Director of ABT with Lucia Chase, a position he held until 1980.
Smith also trained young designers for many years, serving on the faculty of New York University's Tisch School of the Arts, where he taught master classes in scenic design.
Throughout his career, Smith was nominated for twenty-five Tony Awards, often multiple times in the same year, and won ten. He was nominated for the Academy Award for Best Art Direction for his work on Guys and Dolls. The picture above, with costume designer Irene Sharaff, is on the set of Guys and Dolls
Smith died of emphysema in Brooklyn, New York in 1994.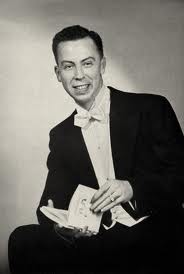 1922 – James Fugaté published the novel Quatrefoil and other works under the pseudonym James Barr, an alias he also used in his work as an activist in the homophile movement of the 1950s.
Fugaté was born on February 13, 1922 in an oilfield boomtown in either Texas or Oklahoma. His mother died of childbed fever; he never knew his father. His adoptive parents, who had money from wheat and oil in Kansas, gave him a good education.
Early in 1942 Fugaté enlisted in the U.S. Navy and sailed from San Francisco for Guadalcanal. After the war, he returned to the university in 1946 to study professional writing, but after three semesters he left for New York City, where he earned money by writing advertising copy for television and worked on Quatrefoil, which was published in 1950 by a somewhat marginal publishing house that was attempting to reach a gay readership at a time when homosexuals were feeling especially embattled by Cold War hysteria and McCarthyism.
In 1951 Fugaté went to Los Angeles with the intention of writing for the movies, but early in 1952 he volunteered to return to active duty as a reserve officer in the Navy and was sent to a base in Alaska. While reviewing his Top Secret clearance, the Office of Naval Intelligence learned that he was the author of Quatrefoil. This led to an eight-month interrogation that resulted in a General Discharge Under Honorable Conditions.
That persecution politicized Fugaté. He no longer saw homosexuality as his personal problem, which he had been fighting by trying to be "normal," but as a social condition that merited understanding and acceptance by the society as a whole. Consequently, he became active in the homophile movement.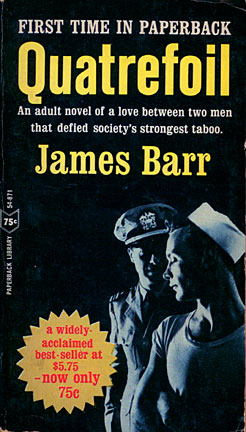 His best-known work, the novel Quatrefoil (1950), is based on his experience in the U.S. Navy during World War II, but a central character is patterned after a fraternity brother with whom Fugaté had sex as a university student.
Literary critic
Roger Austen
described
Quatrefoil
as follows:
"James Barr's Quatrefoil is one of the most intelligently written of American gay novels, with the author's lofty intellectualism appearing somewhat of a mixed blessing as the novel is reread today. The two main characters are naval officers who meet in Seattle in 1946, fall in love, and finally become lovers."
Fugaté's play Game of Fools was published in June 1955. The month before, in anticipation, he took the major step of revealing his real name in a very informative article in Mattachine Review, in which he told the story of his "Release from the Navy under Honorable Conditions." His name was given as James (Barr) Fugaté, and an editorial note disclosed that he pronounced his last name "Few-gay-tee."
The play describes the arrest—and its aftermath—of four gay college students who are spending a weekend together in a cabin in the woods. In depicting the reactions of their families and the court, he exposes the pervasive religious bigotry that threatens all homosexuals.
His second novel The Occasional Man (1966) is also rather autobiographical. It also differs from Quatrefoil in presenting several gay sex scenes—in surprising detail. Barr knew New York gay life intimately, and he used his knowledge to advantage in this story of a forty-year-old trying to recover from the sudden dissolution of a fifteen-year love affair.
Following its publication, Fugaté returned to his adoptive mother in Kansas, where he became a newspaper reporter/photographer—and enjoyed much sex. But after his mother's death in the early 1970s he collected his inheritance and returned to New York. There something occurred that years later he still could not reveal, but appears to have required him to do five years of hospital work. He returned to Oklahoma to do the hospital work. But instead of five, he worked ten years and retired with a small pension.
Fugaté died on March 28, 1995 in Claremore, Oklahoma.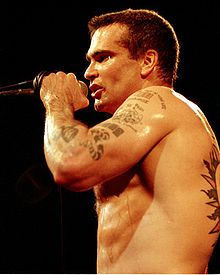 1961 – Henry Rollins is an American spoken word artist, writer, journalist, comedian, publisher, actor, radio DJ, activist and musician.
After performing for the short-lived Washington D.C.-based band State of Alert in 1980, Rollins fronted the California hardcore punk band Black Flag from August 1981 until mid-1986. Following the band's breakup, Rollins established the record label and publishing company 2.13.61 to release his spoken word albums, as well as forming the Rollins Band, which toured with a number of lineups from 1987 until 2003, and during 2006.
Since Black Flag disbanded, Rollins has hosted numerous radio shows, such as Harmony in My Head on Indie 103, and television shows such as The Henry Rollins Show, MTV's 120 Minutes, and Jackass.
He had a recurring dramatic role in the second season of Sons of Anarchy and has also had roles in several films. Rollins has also campaigned for various political causes in the United States, including promoting LGBT rights, World Hunger Relief, and an end to war in particular, and tours overseas with the United Service Organizations to entertain American troops.
Rollins has become an outspoken human rights activist, most vocally for gay rights. Rollins frequently speaks out on social justice on his spoken word tours and promotes equality, regardless of sexuality. He was the host of the WedRock benefit concert, which raised money for a pro-gay-marriage organization.
He has said of his sexuality:
"If I was gay, there would be no closet, you would never see the closet I came out of. Why? I would have burned it for kindling by the time I was 12. Because I know with all certainty in my mind, there is nothing wrong with being gay, and you know it."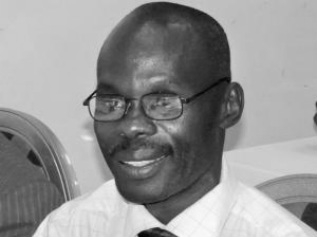 1964 – David Kato was a gay right activists in Uganda, an extremely homophobic country. Kato was born to a conservative family in a small Ugandan village. He was raised to believe it was wrong to be homosexual. He went to some of Uganda's best schools.
Kato moved to South Africa in the mid 1990's. He was inspired by South Africa's LGBT civil rights movement to became a gay rights activist. In '98, Kato he returned to Uganda where homosexuality was punishable by 14 years imprisonment. Despite the risks Kato held television news conferences pressing for LGBT civil rights. He ended up suffering several arrests and beatings due to this.
Kato continued his fight, supporting himself as a teacher. In 2004 he became the co-founder of Sexual Minorities Ugandan Group (SMUG), Uganda's first LGBT civil rights organization.
In 2009, Ugandan legislature proposed a bill that designated the death penalty for homosexuals. The next year, after a Rolling Stones article, a Ugandan national newspaper published names and photographs of Gay rights activists including Kato. The article called for homosexuals to be executed by hanging. A few months later Kato was murdered in his home. The murder weapon was a hammer. Authorities claimed his death had nothing to do with his work and was nothing more than a robbery.
In response to the murder, US secretary of State,
Hillary Clinton
said
"This crime is a reminder of the heroic generosity of people who advocate for and defend human rights on behalf of the rest of us – and the sacrifices they make."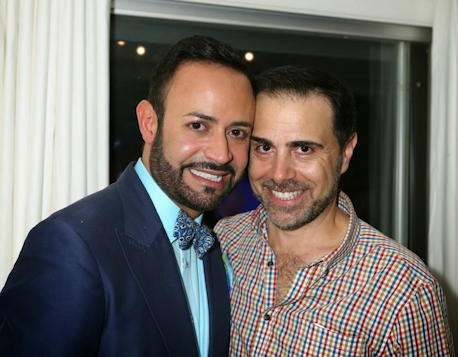 Nick Verreos (L) with Partner David Paul
1967 – Nick Verreos, born in St. Louis, Missouri, is an American fashion designer, fashion commentator, former Project Runway contestant, educator and author.
Verreos was born in Missouri on February 13, 1967 to a Greek-American father and a Panamanian mother. Though born in St. Louis, Missouri, he spent his early childhood in Caracas, Venezuela. Verreos and his family moved back to the United States when he was 10, and he finished elementary and high school in San Francisco, California. He began college at UCLA, studying Political Science and International Relations, but after graduation, turned his interest to fashion design and pursued additional work at the Fashion Institute of Design and Merchandising (FIDM) in Los Angeles. He completed the Advanced Fashion Design Program at FIDM in 1993.
After graduating from FIDM, Verreos worked for a variety of companies in Los Angeles before launching his own high-end label, NIKOLAKI, with partner David Paul in 2001. NIKOLAKI dresses and red carpet gowns designed by Verreos and Paul have been worn by a number of notable celebrities, including actress/singers Beyoncé, Katy Perry, and Carrie Underwood, and Project Runway host/supermodel Heidi Klum.
Verreos has made a personal commitment to supporting LGBTQ civil rights, and supports non-profit organizations such as The Human Rights Campaign, The Trevor Project and GLAAD. Verreos's public contributions to the LGBTQ cause include a number of personal appearances. He emceed a fundraising event for GenderPAC in 2008. In February 2009, he participated in The Trevor Project's Oscar Night celebration, which raised more than $11,000 for the organization. In Spring 2009, Verreos was invited to be photographed in one of the early photo shoots for Adam Bouska and Jeff Parshley's NOH8 Campaign, and can be seen in the "behind the scenes" video. In Fall 2009, he and swimwear from his Nikolaki collection made an appearance on the catwalk at the EQCA Equality Awards gala.
Verreos and partner David Paul live in the Los Angeles area with their dog Benny.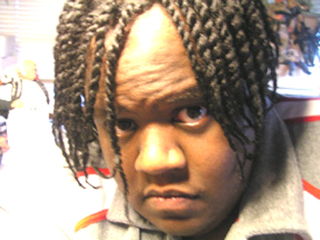 1969 – Joe Phillips is a black American artist, known for his mainstream comic book art and for his work depicting his views of gay life. Ironically, he is most recognized for portraying white, preppy males. He currently lives in San Diego, California.
Phillips was born in Atlanta, Georgia in 1969. Upon graduation he travelled to Europe where he furthered his artistic skills, taking part in various projects such as guerrilla street art.
His first major comic book job was working on the comic book "Speed Racer" for seven issues. He produced artwork for titles including "Justice League of America", "Silver Surfer", "X-Men", "Legion of Super-Heroes", "The Incredible Hulk" and "Lobo".
Phillips was one of the founding members of Gai-Jin Studios. In late 1992 he began work on the revival of "Timber Wolf," written and inked by Al Gordon, where he worked as both a penciller and as the cover artist, this run lasted for an entire story arc. In 1996 he created a new comic book character, "The Heretic", of which he was both a writer and artist. The title was released by Dark Horse Comics. Other later work included "Captain America", "Wolverine", "Green Lantern" and "Superboy".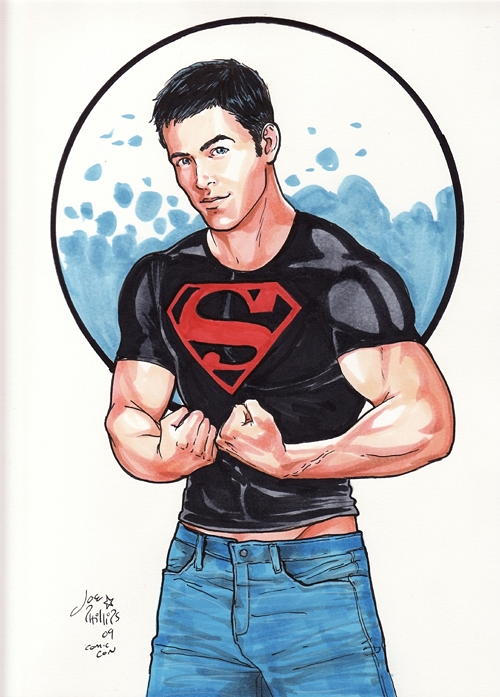 Sexy Superboy
It was while Phillips was working on a Superboy comic entitled "Superboy & Risk: Double Shot" that he first sexualized his artwork and dropped hints about homosexuality. Some readers picked up on this, one such person was art director of XY Magazine, Eriq Chang. Chang quickly offered Phillips a slot in the gay publication drawing a comic strip that would later become known as "Joe Boy".
Phillips was approached by the hardcore porn website Karas Adult Playground to produce adult animation, his first - Cumquest - was a spoof on the popular sci-fi series Star Trek. Another animation job followed for the gay porn website Absolutely Male for which Phillips created the animation The House of Morecock, a story about Jonas Morecock, a gay paranormal investigator. Morecock proved to be very popular and a set of 10 episodes was released on DVD by 10% Productions in 2001. In 2002 Morecock was nominated for a GayVN award in the category "Best Alternative Release"; it subsequently won in its category. A series of comic strip books followed alongside sets of postcard books. TLA Video lists Morecock as one of their all-time bestselling titles.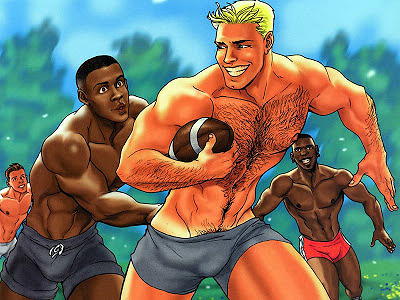 'A Boys Will Be Boys" illustration
In 2001 Phillips released "Boys Will Be Boys" - a calendar featuring original gay-themed art. In 2003 a book of the same title was released; it featured the art from the 2002 and 2003 calendars and incorporated some new original pieces. The calendar continues to be released annually.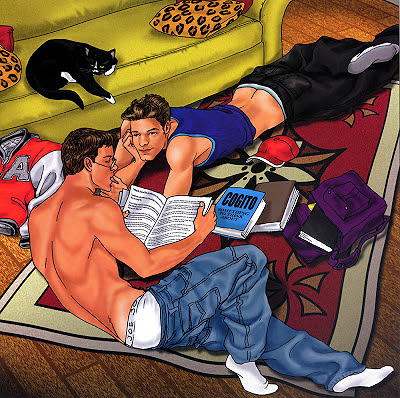 Another typical "Boys Will Be Boys" illustration
In 2006 with Adult Visual Animation, Phillips released his second adult-themed animated movie entitled Stonewall & Riot: The Ultimate Orgasm. The movie was a cross-over of the two genres Phillips was known for - Superheroes and work for the gay community. The movie was created entirely in 3D graphics. As with his previous movie, "Stonewall & Riot" was nominated for a GayVN award.
In 2013, Phillips animated and directed the official music video for UK Rock singer/songwriter Matt Fishel's single "When Boy Meets Boy". Described by Out Magazine as a "cute (and sexy)" love story "with a superhero twist", it shows an animated version of Fishel meeting a mysterious skater boy in a bar and concludes with a superhero fight and rescue sequence. British magazine The Gay UK called it "one of the best music videos we've seen in a long time." On 30 October 2013, the video for "When Boy Meets Boy" won the 2013 RightOutTV Music & Video Award for Best Pop/Rock Video. Phillips also created all the artwork for Matt Fishel's debut album Not Thinking Straight, which was released in April 2013 on Young Lust Records. The album booklet comprises 18 original illustrations by Phillips, each representing a different song's lyrics and portraying themes and issues surrounding young gay life, relationships and experiences. Phillips also created the artwork for Matt Fishel's 2013 singles "Radio-Friendly Pop Song", "When Boy Meets Boy" and "Oh Santa!"
Below: When Boy Meets Boy (3 mins 47 sec)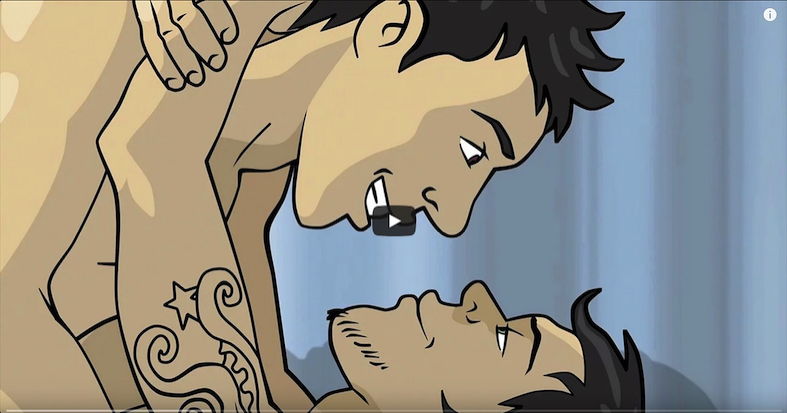 (Click image to watch on YouTube)

1987 – Steven Dehler is an American model, actor, and dancer. He has been described as the "the poster child for the modern male underwear model". He is a regular performer at The Abbey, a gay bar and nightclub in West Hollywood, California, and has been face of Marcuse Swimwear for their 2015 campaign.
With an active social media presence, Dehler has amassed over 142,000 followers on Instagram as of November 2015. Also in 2015, Dehler made the cover of Odyssey Magazine and played Mr. Coconuts on the Ellen Degeneres Show.
Steven Edward Dehler was born in Simi Valley. He is one of two children, with an older brother. While in elementary school, Dehler was the victim of bullying, where they would call him "Steven Gayler".
Dehler began his career working in West Hollywood. Originally he was a server in a small bar, then moved to doing bottle service at a club called Eleven. After winning a hot body contest at another club in West Hollywood, he was asked by a go-go dancer bookers saw Dehler and asked him to dance. After dancing at many locations around the area, by 2012 Dehler was dancing exclusively for The Abbey.
Dehler began his modeling career with Timoteo, an underwear and swimwear line. Along with Timoteo, he has also modeled for Marcuse, Freedom Reigns, and Marco Marco Underwear. Most prominently, Dehler has modeled for male underwear company Andrew Christian. One of the shoots he did involved a commercial called Freshman Car Wash, which also offered an unrated version online. Another was "Lick", which was shot with then-boyfriend (and fellow model) Montana Volby.
Well-known in the West Hollywood gay scene, Dehler is sometimes the subject of gossip columns.

1990 – Thirteen airmen are expelled from the U.S. Air Force after a four-month investigation into homosexual activity at Carswell Air Force base in Texas.

2009 – on the campus of Cornell University, a group of roughly 20 students lined up to hold a colorful banner that read "QUEER KISSIN' ... in progress" and then proceeded have a queer kiss-in. Direct Action to Stop Heterosexism sponsored the event, according to kiss-in participant Ashley McGovern. She explained that heterosexism is "kind of like homophobia except heterosexism has to do with all facets of society."
DASH didn't necessarily have sweeping or profound aims for the kiss-in, according to McGovern. "It was just supposed to be a fun action before Valentine's Day, it wasn't really a protest, it was more of a visibility thing ... just letting people know people are queer on campus and not afraid to be affectionate ... that was the goal — visibility and having fun," McGovern said.
Meanwhile at the University of Colorado in Boulder, Colorado, the Dalton Trumbo Fountain outside the University Memorial Center was the site of a mass make-out session titled "Make Out Stake Out." The "flash mob" of student couples of varying sexual orientations suddenly appeared at the fountain square, made out for two minutes — and then dispersed. "We're trying to remove the stigma that surrounds same-sex affection in public and, more importantly, the misconception that if you are queer and you are expressing affection in public that you are rubbing it in people's faces," junior Spencer Watson said.

FEBRUARY 14 →
[{(o)}]|[{(o)}]|[{(o)}]|[{(o)}]| [{(o)}]|[{(o)}]