January 17
[{(o)}]|[{(o)}]|[{(o)}]|[{(o)}]| [{(o)}]|[{(o)}]
1558
– French Cardinal
Charles de Lorraine
requests that the French Ambassador to Rome report scandals involving Cardinal
Carlo Carafa
and
Giovanni Carafa
, Duke of Paliano to Pope Paul VI. They had engaged in
"that sin so loathsome in which there is no longer a distinction between the male and female sex."
They are first exiled then sentenced to death.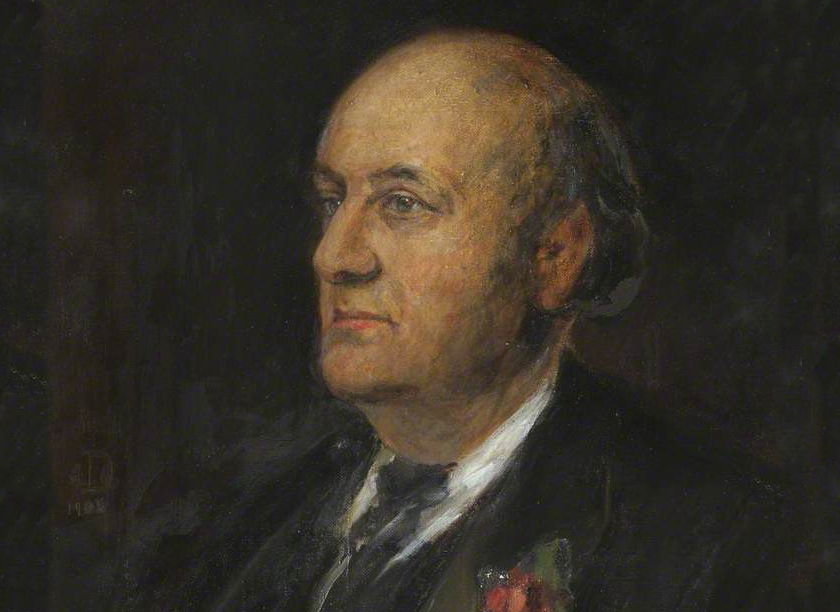 1837 – English writer, historian and educational reformer. Oscar Browning was born in London (d.1923). In 1868 he became the lover of the great English Pre-Raphaelite painter Simeon Solomon.

For fifteen years he was a master at Eton College , until he was dismissed in the Autumn of 1875 following a dispute over his "overly amorous" (but purportedly chaste) relationship with a pupil, George Curzon. . He had taken Curzon on a trip through Europe with Curzon's father's permission, despite having been warned away from the boy by the Headmaster at Eton, F W Hornby. His parents' church, St. Andrew's, in Clewer, describes the reasons for his dismissal as 'his injudicious talk, his favourites, and his anarchic spirit'.
After Eton he took up a life Fellowship at King's College, Cambridge, where he achieved a reputation as a wit, and became universally known as "O.B.".
He traveled to India at Curzon's invitation after the latter had become viceroy. He resumed residence in 1876 at Cambridge, where he became university lecturer in history. He left Cambridge in 1908 and and in 1914 was visiting Italy when World War I broke out.
He spent his later years in Rome where he died in 1923 at the age of eighty-six. A large part of his papers disappeared. These include
"all Browning's letters to his mother, diaries that covered the whole of his career from his arrival at Eton in 1851, much of his correspondence as an Eton master, and no doubt also a number of his subject files."
This disappearance has been attributed to
Hugo Wortham
, Browning's nephew and sole executor and legatee, who took the materials to produce a biography of his uncle,
Victorian Eton and Cambridge: being the life and times of Oscar Browning.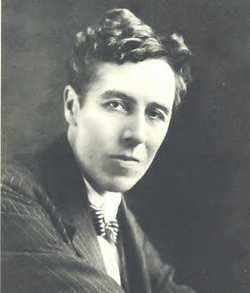 1886 – On this date the British novelist Ronald Firbank was born in London (d.1926). Firbank was a prototype for Evelyn Waugh. His best novels are Caprice (1917) and Concerning the Eccentricities of Cardinal Pirelli (1926). The latter book begins with the cardinal baptizing a police puppy named Crack, and ends when the naked cardinal ("elementary now as Adam himself") drops dead while pursuing a choirboy named Chicklet around his church.

Firbank was not without his own eccentricities. He as known to wear two dressing gowns at once, painted his nails, lived in an apartment painted black, and owned only books bound in blue leather. He dined only on champagne and flower petals and died malnourished.
At one time, Firbank visited Rome with the intention of taking holy orders; however, as he later revealed in a letter to Lord Berners, "The Church of Rome wouldn't have me, and so I mock her." Accordingly, his mature fiction is populated with a ribald gallery of homosexual choirboys, lesbian nuns, cross-dressing priests, salacious bishops, flagellants, and self-canonized saints.
His work was championed by a large number of English novelists including E. M. Forster, Evelyn Waugh, Simon Raven and the poet W. H. Auden . Susan Sontag named his novels as constituting part of "the canon of camp" in her 1964 essay "Notes on 'Camp."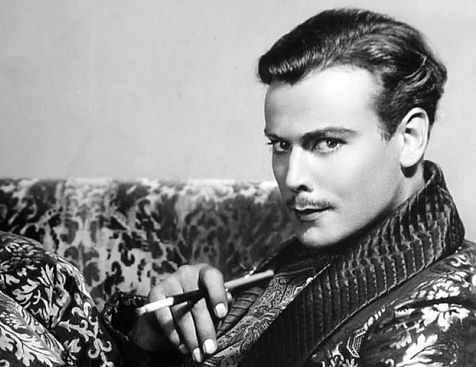 1897
–
Nils Asther
(d.1981) was a Swedish actor active in Hollywood from 1926 to the mid-1950s, known for his beautiful face and often called
"the male Greta Garbo"
. Between 1916 and 1963 he appeared in over 70 feature films, 16 of which were produced in the silent era. He is mainly remembered today for two silent films he made with his fellow Swede,
Greta Garbo
, and the pre-code interracial love affair in
The Bitter Tea of General Yen
.
Asther was the son of Anton Asther and Hilda Åkerlund. Although his parents were Swedish, Asther was born in Denmark in Sankt Matteus parish, Copenhagen, where unwed mothers at the time often went to give birth discreetly. Nils spent his first year as a foster child in Limhamn, Sweden, until his parents married in 1898 and he moved in with them in Malmö, where he would grow up. As a young man he moved to Stockholm, where he received acting lessons from Augusta Lindberg. It was through Lindberg that Asther received his first theatrical engagement at Lorensbergsteatern in Gothenburg, and in 1916 Mauritz Stiller cast him in The Wings (Swedish: Vingarne), a gay-themed Swedish silent film from 1916, directed by Mauritz Stiller, based on Herman Bang's 1902 novel Mikaël. In Copenhagen, one of Sweden's best known actors, Aage Hertel of the Royal Danish Theatre, took Asther under his wing. This soon led to a number of film roles in Sweden, Denmark and Germany between 1918 and 1926.
In 1927, Asther left for Hollywood, where his first film was Topsy and Eva. By 1928 his good looks had made him into a leading man, playing opposite such stars as Pola Negri, Marion Davies and Joan Crawford. He grew a thin mustache which amplified his suave appearance. One of his most popular films was Our Dancing Daughters. Asther was cast opposite Greta Garbo in Wild Orchids as the tempting Javenese Prince De Gace. With the arrival of sound in movies, Asther took diction and voice lessons to minimize his accent, and was generally cast in roles where an accent wasn't a problem, such as the Chinese General Yen in The Bitter Tea of General Yen.
Asther was a homosexual in a time when it was a stigma to be gay. He grew up in a deeply religious Lutheran home, believing homosexuality was a sin and society viewed homosexuality as a disease. In Sweden it was called "unnatural fornication." While sexual relations between adults of the same sex were legalized in 1944, the medical classification of homosexuality as a form of mental disorder continued until 1979.
The theatrical community and the film industry in the 1920s accepted gay actors with little reservation, always provided they remained discreet about their sexual orientation and there was no public suggestion of impropriety. Asther was closeted. He proposed marriage to Greta Garbo to hide the true nature of his sexual preferences. Asther and Garbo had known each other in Sweden, and finding themselves relatively new to a foreign land they spent a great deal of time together. They often visited a friend's ranch outside Hollywood where they could relax, ride horses, go climbing, or swim at Lake Arrowhead. "Sailor" was a favored term for Greta Garbo's male, gay/bisexual friends. In 1929 during filming on location in Catalina filming with Nils Asther, she was overheard berating the actor for grabbing her so roughly. "I'm not one of your sailors," she reminded him.
Rumors exist from the early 1930s that Nils had relationships with Swedish director Mauritz Stiller and Swedish writer Hjalmar Bergman and with other male colleagues. Nils mentions some of this in his memoirs. He had a long term relationship with actor/stuntman and World War II navy soldier Ken DuMain. According to Ken DuMain, he met Asther on Hollywood Boulevard in the early 1940s and they enjoyed a long-term relationship.
In August 1930, Nils entered a lavender marriage, with one of his Topsy and Eva co-stars, Vivian Duncan. They had one child nicknamed in the media as "the international Baby" due to her Swedish father, American mother, and Bavarian birth. Their daughter's nationality was debated and Asther offered to apply for American citizenship if it would help the process of getting their daughter into America. Right from the start, Asther and Duncan's marriage proved stormy and became fodder for the tabloids. They divorced in 1932.
Nils Asther died on October 13, 1981 at a hospital in Farsta, Stockholms län, Sweden.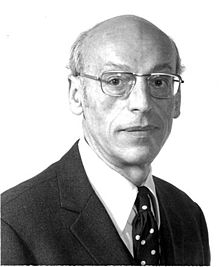 1914 – Kurt Freund (d.1996) was a Czech-Canadian physician and sexologist best known for developing phallometry (the objective measurement of sexual arousal in males), research studies in pedophilia, and for the "courtship disorder" hypothesis as a taxonomy of certain paraphilias (voyeurism, exhibitionism, toucherism, frotteurism, and what he called "preferential rape").
Freund was born into a German-speaking Jewish family in Chrudim, then part of Austrian Bohemia, later Czechoslovakia, now in the Czech Republic. He married Anna Hloun, a non-Jewish Czech pianist and music teacher, on 13 January 1942. In 1943, they divorced in order to protect Anna and their newborn daughter from anti-Jewish and anti-miscegenation legislation implemented by the German Nazi Occupators. They remarried after the war in 1945. Many of Freund's relatives died during the Holocaust, including his parents and his brother Hans.
Freund is best known for being the first to apply plethysmography (measurement of bloodflow) to the penis, thus permitting the first objective measurement of sexual arousal in males. He refined the penile plethysmograph for research on male sexual interest. Freund felt that the plethysmograph was the best measure of arousal (there was no evidence that subjects could consistently fake arousal, though they could sometimes suppress it.)
Freund was initially commissioned to use penile plethysmography to detect recruits attempting to evade military service by falsely claiming to be homosexual. (The Czechoslovakian military barred homosexuals from serving.)
Freund was also involved in administering conversion therapy: "Freund made a large-scale attempt in Czechoslovakia in the 1950s to change the sexual orientation of homosexuals to a heterosexual orientation through the use of behavioral aversive therapy." His empirical data also showed some of the first evidence that sexual orientation conversion therapy was generally futile. He demonstrated that even homosexually oriented men who appeared to have given up sexual relations with other men and established heterosexual marriages were still aroused by images of men rather than women.
Freund also challenged contemporary psychoanalytic theories of male homosexuality that suggested it was due to a fear or aversion to women. Freund concluded that homosexual men simply lacked erotic interest in females. Based on these studies, he advocated the decriminalization of homosexuality in Czechoslovakia (which took place in 1961) and the end of conversion therapy. These opinions also put him out of favor with the psychoanalytically dominated psychiatric establishment in Toronto, as he continued to argue that homosexuals needed understanding and acceptance rather than treatment.
Freund fled to Canada in 1968, in the wake of the Prague Spring. Freund then began plethysmography studies of male sexual orientation at the Centre for Addiction and Mental Health in Toronto, where much of the research and published data using PPG originated. There was controversy regarding potential abuses of devices to measure sexual interests, following fears that it might lead to discrimination against gay men. Phallometric testing has been shown, however, to be one of the most accurate, if not the single most accurate, methods of identifying the sexual offenders that are most likely to commit new sexual offenses against children.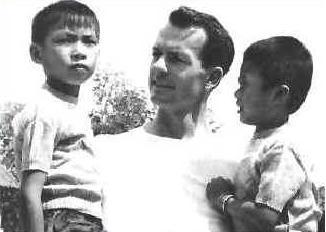 1927 – On this date the American physician and writer Tom Dooley was born (d.1961). Born in St. Louis, Missouri as Thomas Anthony Dooley III, Dooley was an American Catholic who, while serving as a physician in the United States Navy, became increasingly famous for his humanitarian and anti-Communist activities in South East Asia during the late 1950s until his early death from cancer.

Based on his experiences working in Vietnam and Laos, he authored a number of popular anti-communist books in the years preceding the Vietnam War.
According to classmate Michael Harrington, Dooley never attempted to hide his same-sex orientation. Even after cancer surgery in 1960, Dooley resorted to the 2nd floor of Bangkok's Erawan Hotel, a "central preserve of his Gay life in Southeast Asia."

The best-known victim of military homophobia in Randy Shilts's book Conduct Unbecoming: Gays and Lesbians in the U.S. Military is Thomas A. Dooley, the jungle doctor of Laos and folk hero to millions of American Catholics in the late 1950s. Shilts describes the U.S. Navy's frenzied investigation of Dooley's sexuality while Dooley was on the American lecture circuit in early 1956, promoting Deliver Us from Evil , the best-selling, highly embellished account of his role in the Navy's 1954 "Operation Passage to Freedom," which transplanted over 600,000 Catholics from North Vietnam to the new regime of Ngo Dinh Diem in the South. Fearing a scandal that would diminish its own prestige, the Navy hounded Dooley into confessing his homosexuality following a campaign of surveillance and perhaps entrapment by Office of Naval Intelligence operatives who bugged Dooley's phone and eavesdropped on his hotel room conversations.
After leaving the navy, Dooley went to Laos to establish medical clinics and hospitals under the sponsorship of the International Rescue Committee. Dooley founded the Medical International Cooperation Organization (MEDICO) under the auspices of which he built hospitals. During this same time period he wrote two books, The Edge of Tomorrow and The Night They Burned the Mountain about his experience in Laos.
In 1959 Dooley returned to the United States for cancer treatment; he died in 1961 from malignant melanoma. Following his death John F. Kennedy cited Dooley's example when he launched the Peace Corps. He was also awarded a Congressional Gold Medal posthumously. There have been efforts following his death to have him canonized as a Roman Catholic saint.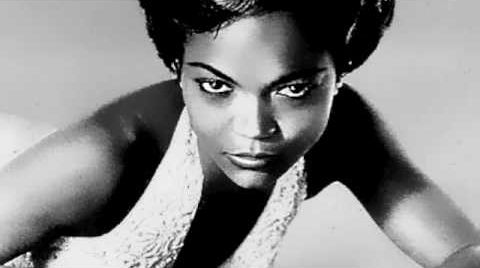 1927 – Eartha Kitt (d.2008) was an American singer, actress, and cabaret star. She was perhaps best known for her highly distinctive singing style and her 1953 hit recordings of "C'est Si Bon" and the enduring Christmas novelty smash "Santa Baby". Orson Welles once called her the "most exciting woman in the world." She took over the role of Catwoman for the third and final season of the 1960s Batman television series, replacing Julie Newmar, who was unavailable due to other commitments. She also voiced Yzma on Disney's The Emperor's New Groove and its television spinoff, The Emperor's New School, earning five Emmy Awards in the process, the last shortly before her death.
Kitt became a vocal advocate for homosexual rights and publicly supported same-sex marriage, which she considered a civil right. She had been quoted as saying: "I support it [gay marriage] because we're asking for the same thing. If I have a partner and something happens to me, I want that partner to enjoy the benefits of what we have reaped together. It's a civil-rights thing, isn't it?" Kitt famously appeared at many LGBT fundraisers, including a mega event in Baltimore, Maryland, with George Burns and Jimmy James. Scott Sherman, an agent at Atlantic Entertainment Group, stated: "Eartha Kitt is fantastic... appears at so many LGBT events in support of civil rights."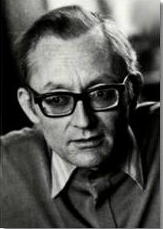 1928 – French composer Jean Barraqué was born in the Paris suburb of Puteaux (d.1973). Barraqué was born in Puteaux. He studied in Paris with Olivier Messiaen and, through Messiaen, became interested in serialism. The densely dissonant polyphonic texture of his work is often compared to that of Pierre Boulez.
Barraqué planned a large-scale collection of pieces based on Hermann Broch's novel "The Death of Virgil", a book which Barraqué's friend and sometime lover Michel Foucault recommended to him.
Barraqué's use of tone rows in his work is quite distinctive. Rather than using a single tone row for an entire piece, as Webern did, or using a number of related rows in one work, as Berg or Schoenberg sometimes did, Barraqué started by using one row, and then subtly altered it to get a second. This second row was then used for a while before being slightly altered again to make a third. This process continues throughout the work. He called this technique "proliferating series." The French music critic André Hodeir claimed that Barraqué's Piano Sonata was perhaps the finest since Beethoven.
Barraqué was involved in a car accident in 1964, and his apartment was destroyed by fire in November 1968. He suffered from bad health for much of his life. Nevertheless his death in Paris in August 1973, at the age of 45, was sudden and unexpected. His relatively small output has left him as a somewhat obscure figure, although his work is often praised, and the sonata is seen as one of the great pianistic challenges of the twentieth century. Barraqué is now recognized as one of the most important and distinctive French composers of the post War period.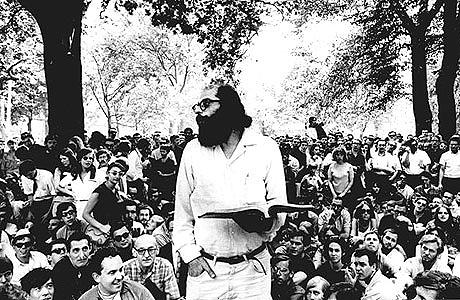 1956 – The poet Allen Ginsberg wrote his intensely personal anti-war, love-hate poem "America" on this date. He later published it in his collection "Howl." It is one of the first poems to deal openly and honestly with homosexuality. "America "is a largely political work, with much of the poem consisting of various accusations against the United States, its government, and its citizens.

Ginsberg uses sarcasm to accuse America of a ttempting to divert responsibility for the Cold War ("America you don't want to go to war/ it's them bad Russians / Them Russians them Russians and them Chinamen. / And them Russians"), and makes numerous references to both leftist and anarchist political movements and figures (including Sacco and Vanzetti , the Scottsboro Boys and the Wobblies). Ginsberg's dissatisfaction, however, is tinged with optimism and hope, as exemplified by phrases like "When will you end the human war?" (as opposed to "why don't you...?"). The poem's ending is also highly optimistic, a promise to put his "queer shoulder to the wheel," although the original draft ended on a bleaker note: "Dark America! toward whom I close my eyes for prophecy, / and bend my speaking heart! / Betrayed! Betrayed!"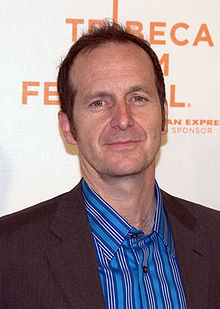 1962 – Today's the birthday of Tony-award winning American actor and singer Denis O'Hare. He came out as gay during high school.
O'Hare won a Tony Award for Best Performance by a Featured Actor in a Play for his performance in Richard Greenberg's Take Me Out, where his character's lengthy monologues in which he slowly falls in love with the game of baseball were considered the main reason for his award. He also won the 2005 Drama Desk Award for Outstanding Featured Actor in a Musical for his role as Oscar Lindquist in the Broadway revival of Sweet Charity.
In 2004 he played Charles J. Guiteau in the Broadway production of Stephen Sondheim's Assassins, for which he was nominated for the Best Performance by a Featured Actor in a Musical Tony Award. He appeared on Broadway in the 1998 revival of Cabaret. He has appeared as a guest star on several episodes of Law & Order and Brothers & Sisters. His feature film credits include 21 Grams, Garden State, Derailed, Michael Clayton, A Mighty Heart, Half Nelson, and Milk. In 2007, he appeared in the film Charlie Wilson's War. In 2009 O'Hare portrayed Phillip Steele (an amalgam character based on Quentin Crisp's friends Phillip Ward and Tom Steele) in the television biopic on Quentin Crisp, An Englishman in New York. In 2011 he starred as Larry Harvey in the FX series American Horror Story and was nominated for a Primetime Emmy Award for Outstanding Supporting Actor in a Miniseries or a Movie.
O'Hare married his partner, Hugo Redwood, on July 28, 2011 in New York.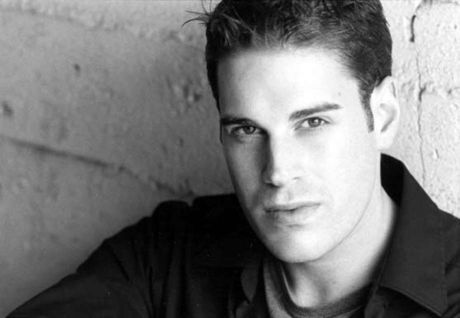 1975 – Tom Dolby is an American novelist, essayist, journalist, and editor. He is the author of the best-selling novel The Trouble Boy (2004), The Sixth Form (2008), and the Secret Society books, including Secret Society (2009) and The Trust: A Secret Society Novel (2011). He was also the co-editor of Girls Who Like Boys Who Like Boys (2007).
Tom Dolby's debut novel, The Trouble Boy, concerns a young gay freelance writer in Manhattan. It was followed by the boarding school novel The Sixth Form (2008), set in an elite Massachusetts prep school. Dolby's first young adult novel, Secret Society, was published in October 2009. Its followup, The Trust: A Secret Society Novel, was released in February 2011.
He was also the co-editor, with the novelist Melissa de la Cruz, of the personal essay anthology Girls Who Like Boys Who Like Boys: True Tales of Love, Lust, and Friendship Between Straight Women and Gay Men (2007), featuring works by various gay writers. A reality television show inspired by the anthology, entitled Girls Who Like Boys Who Like Boys aired on the Sundance Channel in Winter 2010.
He currently lives in Manhattan and Wainscott, New York. In June 2008, his engagement to Andrew Frist was announced. Dolby and Frist were legally married in Connecticut in April 2009, and celebrated their union with a wedding ceremony and reception for family and friends in Sonoma, California in September 2009. Dolby and Frist were involved in an appeal that raised over $150,000 towards efforts to promote the legalisation of same-sex marriage in California.

1977
– The
Arkansas
Supreme Court rules that the drunk tank of the local jail is a public place for sexual purposes.

1979 – The Tennessee Court of Criminal Appeals upholds a "crime against nature" conviction even though the prosecuting witness denied all accusations against the defendant.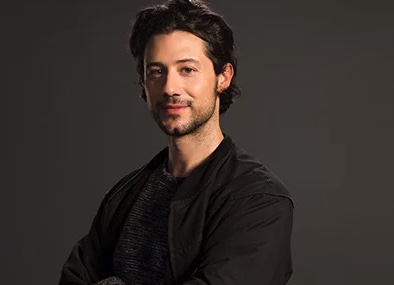 1986 – Hale Appleman is an American actor. He is known for playing Tobey Cobb in the 2007 film Teeth and Eliot in the television fantasy series The Magicians.
Appleman's credits on stage include the revival of Streamers at the Roundabout Theater Company, Clifford Odets' Paradise Lost at the American Repertory Theater, and the New York premiere of Sarah Ruhl's Passion Play as Jesus. In 2011, he played Bob in Moonchildren at the Berkshire Theatre Festival, and can be heard on the L.A. Theatre Works recording of Sam Shepard's Buried Child. Appleman was seen at The Old Globe Theater as Mercutio in The Last Goodbye.
Appleman played Zach on the NBC musical drama series Smash. He made his film debut in Beautiful Ohio and portrayed cartoonist Judd Winick in Pedro. His other credits include Mercutio in Private Romeo, the short film Oysters Rockefeller, and The Magicians, a TV series based on the novel of the same name by Lev Grossman, on which he has played the magician Eliot since 2015.
Appleman has said that he is "definitely not straight" and identifies as queer.


Added 2022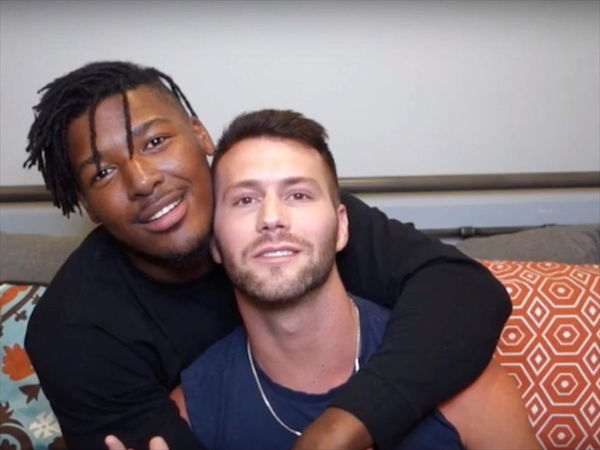 Ryan Russell (L) with Corey O'Brien
1992 – Ryan Russell is an American former professional football player who was a defensive end in the National Football League (NFL) for the Dallas Cowboys and Tampa Bay Buccaneers. He played college football at Purdue University.
Following the death of close friend and former teammate Joseph Gilliam in 2018, Russell suffered from a severe bout of depression. He moved to Los Angeles and began writing.
In August 2019, he came out publicly as bisexual in an essay for ESPN. He did so to live honestly and without fear of being outed; he also cited the fear of not being able to support his mother and grandfather if he lost his career. At the same time he introduced his boyfriend Corey O'Brien, a dancer; they opened Corey & Russ, a YouTube channel; as of June 2020, they have over 15,600 followers.
A former NFL offensive lineman Ryan O'Callaghan, who came out as gay after he left the league, said that as of August 2019 every NFL team had at least one closeted gay or bisexual player. Sarah McBride, national Press Secretary for Human Rights Campaign, praised Russell for "creating more space and opportunity for young LGBTQ people to dream big and to pursue their goals".
In April 2021, Russell penned an article in The Guardian against the anti-trans laws being proposed in multiple American states, stating that "sport is one of the strongest conduits to help show society what it is capable of when we come together, but it has to be used for the better of all of us."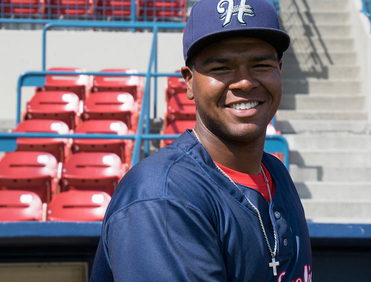 1995 – David Denson is an American professional baseball first baseman and outfielder in Minor League Baseball (MiLB) for the Milwaukee Brewers organization. In 2015, Denson became the first active player affiliated with a Major League Baseball organization to publicly come out as gay.
Denson attended Bishop Amat High School in La Puente, California, for his freshman year, and then transferred as sophomore to South Hills High School in West Covina, California. He committed to play college baseball for the Hawaii Rainbow Warriors.
The Milwaukee Brewers selected him in the 15th round of the 2013 MLB Draft. Wary of being ineligible for the draft for another three years if chose to play for Hawaii, Denson opted instead to play professionally,[9] signing with Milwaukee for $100,000. He played for the Wisconsin Timber Rattlers of the Class A Midwest League for most of 2014, where he had a .243 batting average with four home runs and 29 RBIs in 68 games. He began the 2015 season with Wisconsin, and after batting .195 with one home run and eight RBIs in 24 games, he was demoted to the Helena Brewers of the Rookie-level Pioneer League. With Helena, Denson was selected to play in the Northwest–Pioneer League All-Star Game, where he was honored as the MiLB.com Top Star for the Pioneer League after hitting a pinch hit home run while going 2-for-3 along with two RBIs and two runs scored. In late August, the Brewers promoted Denson back to Wisconsin.
During the 2015 season, while playing for Helena, Denson came out as gay to his teammates. In August 2015, with the help of Billy Bean, Major League Baseball's (MLB) Ambassador for Inclusion, Denson contacted the Milwaukee Journal Sentinel so that he could come out publicly. Denson became the first active player within a Major League Baseball organization to do so. He was also the second active pro baseball player to have come out.

2009 – In a New York Times op-ed column on this date, Mary Frances Berry, the chair of the Commission On Civil Rights from 1993-2004, called for the "abolishing" of the commission she headed for 11 years and its replacement with one that will fully address LGBT rights. She wrote:
"The Commission on Civil Rights has been crippled since the Reagan years by the appointments of commissioners who see themselves as agents of the presidential administration rather than as independent watchdogs. The creation of a new, independent human and civil rights commission could help us determine our next steps in the pursuit of freedom and justice in our society. A number of explosive issues like immigration reform await such a commission, but recommendations for resolving the controversies over the rights of Gays, Lesbians and Transgendered people should be its first order of business."

JANUARY 18 →
[{(o)}]|[{(o)}]|[{(o)}]|[{(o)}]| [{(o)}]|[{(o)}]