July 17
[{(o)}]|[{(o)}]|[{(o)}]|[{(o)}]| [{(o)}]|[{(o)}]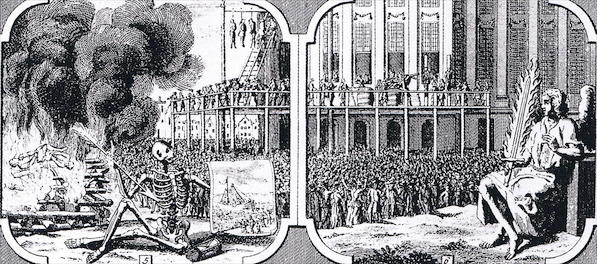 1730 – Netherlands: In Rotterdam, Leendert de Haas, age 60, candlemaker, Casper Schroder, distiller, and Huibert v. Borselen, gentleman's servant, were strangled, burnt, and their ashes carried in an ash cart out of the city and then by ship to the sea and thrown overboard during the anti-gay purge.
The largest anti-gay purge of the eighteenth century occurred in the Netherlands. In April 1730 some men were arrested in Utrecht. They incriminated others, and on June 21st,  the States of Holland issued a Placat, posted in every town, that set off wide-scale persecution. The document began with the customary warnings about the fate of Sodom and Gomorrah, then lamented that no laws had heretofore been provided to punish "this execrable crime of sodomy", and concluded with its measures for obliterating this evil: that sodomy be punished by death, that those who offer their homes for its commission also die, that their corpses be burned to ashes and thrown into the sea "or exposed as unworthy of burial", that the names of the convicted — including the fugitives — be publicly posted, and that the magistrates be specially authorized to investigate thoroughly any suspicions, particularly against those who mysteriously flee the province.
Some 250 men were summoned before the authorities; 91 faced decrees of exile for not appearing. At least 60 men were sentenced to death. The astonishing purges of 1730 were widely reported in the English newspapers (mainly in June and July), and probably sent men running for cover even in England.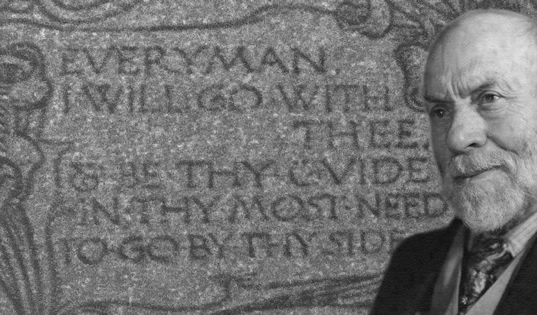 1859 – Ernest Rhys, British editor, born (d.1946); There was a time when almost every reader knew the name of Ernest Rhys because he was the editor of the Everyman Library, whose matched sets of small cloth-bound books brought the classics of the world to the average reader at low prices. By the time he retired, the series numbered 967 volumes.
Rhys, who was Gay and lived until the ripe old age of 88, made it a point know everyone in the world of letters and had a fine wit. When he was a young man and heard that John Addington Symonds was writing his memoirs he reported in the press rather snidely, that readers could look forward to learning everything racy about the `90s and Oscar Wilde. Symonds took him to task, saying that he intended telling no anecdotes about people he had known and that gossipy anecdotes had no place in serious autobiography. Rhys apologized to the older man, but, when an old man himself, wrote the delicious Everyman Remembers, in which he committed to paper every anecdote he felt Symonds should have told, plus hundreds of his own. His autobiography, therefore, chronicles the bizarre behavior of Oscar Wilde's Gay contemporaries and, though embroidered with anecdotes of suspicious origin, is nonetheless a participant's testimony and a very entertaining one at that.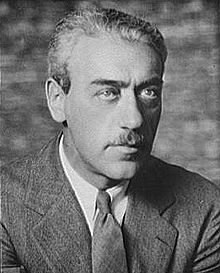 1883 – Mauritz Stiller (d.1928) was an actor, screenwriter and an influential silent film director. He was born Moshe Stiller in Helsinki, Finland. At age four, his mother committed suicide, after which Stiller was raised by family friends. From early on, Stiller was interested about acting. His talents did not go unnoticed, and soon Stiller was offered the opportunity to practice and display his acting skills in the theatres of Helsinki and Turku in Finland.
Drafted into the Russian army of Tzar Nicholas II (Finland was at the time an autonomic Grand Duchy of Russia), rather than report for duty he fled the country for exile, and settled in Sweden.
By 1912 Stiller had become involved with Sweden's rapidly developing silent film industry. He began by writing scripts, plus acting and directing in short films but within a few years gave up on acting to devote his time to writing and directing. He was soon directing feature-length productions and his 1918 effort Thomas Graals bästa barn (Thomas Graal's First Child) received much acclaim.
By 1920, having directed more than thirty-five films, Stiller was a leading figure in Swedish filmmaking. At the Royal Dramatic Theatre in Stockholm he met a young actress named Greta Gustafsson whom he cast in an important but secondary role in his film, Gösta Berlings saga (The Atonement of Gosta Berling) giving her the stage name Greta Garbo.
The director - tall, lean, Gay, with a shock of hair and long expressive hands - was in demand in Hollywood, and his price to MGM to come to Southern California was a contract for the then pudgy Greta. That his failure as an MGM director was as spectacular as her success is at the very heart of Garbo's eventual separation from Hollywood.
In Hollywood, Mauritz Stiller was assigned to direct 1926's The Temptress but he could not deal with studio structure and after repeated arguments with MGM executives his contract with the studio terminated. Stiller was immediately hired by Famous Players-Lasky Corporation where he made three successful films but was let go a second time as a result of his continuing disagreements with studio bosses.
Mauritz Stiller returned to Sweden in 1927 and died the following year from pleurisy at the age of forty-five.
Stiller's contribution to the motion picture industry has since been recognised with a star on the Hollywood Walk of Fame. In Kristianstad, a monument was erected in his honour.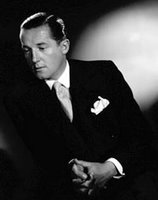 1909 – Sir Hardy Amies was for 48 years the Queen's official dressmaker (d.2003). As a couturier he was known for his restrained, conservative, but beautifully tailored suits and dresses. He was also famed for his self-confessed snobbery.
Born in London, Edwin Hardy Amies was the son of a civil servant and a saleswoman at a firm that made clothing for members of the Court. After leaving school in 1927 he worked in France and Germany, where he became fluent in French and German. He returned to England in 1933 and was appointed designer at London's House of Lachasse. By 1935 he was managing director as well as chief designer. Lachasse closed in 1939 with the outbreak of World War II.
During the war, Amies served in the intelligence corps. He also continued designing clothes for the domestic market that conformed to the requirements of clothes rationing, as well as luxury couture to sell abroad.
On leaving the army in 1946 Amies bought a bombed out house on Savile Row and set up his own couture house. In 1951 the then Princess Elizabeth asked Amies to design some day clothes for a tour of Canada. This was the beginning of a long and productive relationship.
In 1955 Amies became, by appointment, one of the new queen's dressmakers. He continued in this position until 1990 when he felt it was time for younger designers to dress the queen. In 1989, in recognition of his long service as the queen's dressmaker, he was made a Knight Commander of the Royal Victorian Order.
In addition to his royal duties, he was an influential couture and ready-to-wear designer, and occasionally designed for the stage and films - notably the costumes for Stanley Kubrick's 2001: A Space Odyssey.
In his old age Amies was relaxed about acknowledging his homosexuality, often referring to it in a witty (and somewhat bitchy) fashion. Speaking of his royal dressmaking rival Sir Norman Hartnell, he said, 'It's quite simple. He was a silly old queen and I'm a clever old queen.'
He lived quietly with one man for many years but, when he went out socially, the lover remained at home: 'It's just too common for two men to go around together,' he explained. He was, though, proud of the fact that he never lost his eye for youth and beauty.
Amies and his partner, Ken Fleetwood (who was design director of Hardy Amies Ltd), were together for 43 years until Fleetwood's death in 1996.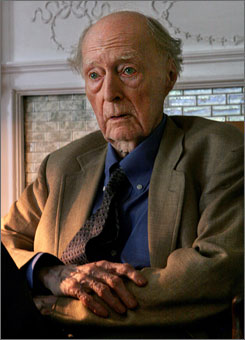 Purdy in 2005
1923 – James Purdy (d.2009) was a controversial American novelist, short-story writer, poet, and playwright who, since his debut in 1956, published over a dozen novels, and many collections of poetry, short stories, and plays. His work has been translated into more than 30 languages and in 2013 his short stories were collected in The Complete Short Stories of James Purdy
James Purdy was born in Ohio and moved to Chicago when he was still in his teens. He attended the University of Chicago and the University of Puebla in Mexico. His Chicago University studies of English literature were interrupted by army service, which he mentioned only later in life: it was pervaded by often unrequited homosexual yearnings. In 1946 he returned to take a master's at Chicago, and published stories in such magazines as Evergreen. From 1949 to 1953, he taught at Lawrence College in Wisconsin. Teaching funded travels in Latin America, Spain and France; he added Spanish to his many languages (he regularly read Latin and Greek), and was soon steeped in its literature, with a relish for Don Quixote, and then lived abroad for some years before returning to live and work in the US.
Purdy began to publish stories in magazines in the 1940s. In the 1950s, he tried without success to find an American publisher. His first book was published privately and then by a major publisher in England, where he had many supporters in the literary world, most notably Dame Edith Sitwell and Angus Wilson.
James Purdy's novels often describe obsessive love between men for whom homosexuality is unthinkable and whose fate is inevitably bleak; the themes of alienation and violence are common. His writing is characterised by bleak pessimism, tempered with some humour, and a simplicity which veers between the monumental and the gothic. His best known works include his first novel 63: Dream Palace (1956) Eustace Chisholm and the Works (1967) In a Shallow Grave (1975) and Narrow Rooms (1978). His work has been described as 'singular', 'controversial' and 'obscure'.
Following several reissues of previously out-of-print novels, as well as an appreciation by Gore Vidal in The New York Times Book Review, Purdy's work enjoyed a renaissance. As Edward Albee wrote long ago, there is a Purdy renaissance every ten years, like clockwork. Albee has been proved right every decade since.
Since the 1990s, when great age began to make itself felt, he had worked closely with his companion John Uecker (who was previously the last amanuensis of Tennessee Williams), a partnership that resulted in such late works as the novel Gertrude of Stony Island Avenue (1997) and the collection of stories Moe's Villa (2003, 2005). He continued to dictate to a small team of devoted friends, and ascribed his continued intellectual vigor to the drinking of green tea and the avoidance of alcohol and tobacco. His advice to young writers was to 'banish shame'.
Purdy continued to dictate and to draw nearly every day until his death at 94. After several years of declining health, he fractured a hip and died in Englewood, New Jersey on 13 March 2009.
Shortly after his death in 2009 a book of plays, James Purdy, Selected Plays was published. It features an insightful foreword by John Uecker (who also edited the book) about the friendship between Tennessee Williams and James Purdy. It also focuses on Purdy's play writing being his first form of writing since childhood, when he wrote plays for his brother, an actor, to perform. The book is dedicated by Purdy 'To those who stood behind me', to Tennessee Williams and John Uecker.
John Waters contributed the following blurb on the cover: 'James Purdy's Selected Plays will break your damaged little heart.' Also on the cover, Gore Vidal calls Purdy 'An authentic American genius'.
Although he never achieved either the popular success or critical acclaim he perhaps deserved, he has influenced several young gay writers.


Added 2022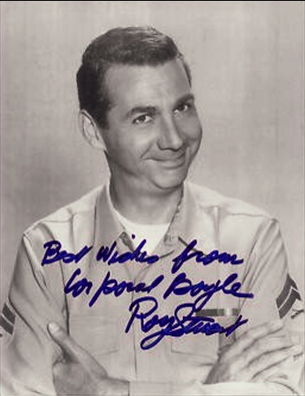 1927 – Roy Stuart (d.2005) was an American character actor. He is best known for playing Corporal Charles "Chuck" Boyle on television's Gomer Pyle, U.S.M.C. during seasons two, three, and four from 1965 to 1968.
Born in The Bronx, New York, Stuart launched his career performing in nightclubs and theatre. His stage credits include the Broadway musicals Beg, Borrow or Steal (1960) and Cafe Crown (1964).
Stuart's TV guest appearances include Mister Ed, Bewitched, The Mothers-In-Law, Room 222, The Governor & J.J.; Love, American Style; Marcus Welby, M.D.; Santa Barbara, Hotel, Gidget, Hazel, One Day at a Time, Sanford and Son, CHiPs, Scarecrow and Mrs. King, The Golden Girls, General Hospital, Laverne & Shirley and Mama's Family. He also appeared in numerous television commercials.
A long-standing member of Theatre West, Stuart also performed in local Theatre Forty productions of Absurd Person Singular and The Sunshine Boys.
Roy Stuart died at age 78 of cancer at the Motion Picture Hospital, Woodland Hills, California. He is survived by his companion, Claude Hubert.


Added 2022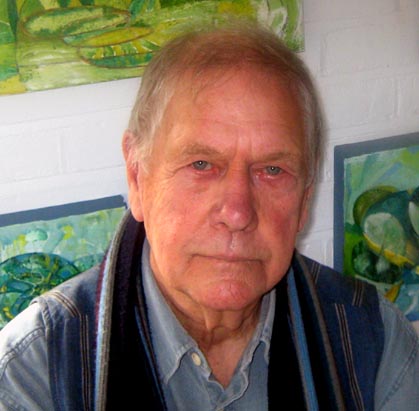 1933 – Colin Spencer is an English writer and artist who has produced a prolific body of work in a wide variety of media since his first published short stories and drawings appeared in The London Magazine and Encounter when he was 22. His work includes novels, short stories, non-fiction (including histories of food and of homosexuality), cookery books, stage and television plays, paintings and drawings, book and magazine illustrations. He has written and presented a television documentary on vandalism, appeared in numerous radio and television programmes and lectured on food history, literature and social issues. For fourteen years he wrote a regular food column for The Guardian.
Colin Spencer was born in 1933 in Thornton Heath, London, and was largely brought up in the south of England. From an early age he knew that he wanted to paint and write. He attended Brighton Grammar School and went on to study at Brighton Art College, but he feels now that he is wholly self-educated. His colourful family provided his youthful imagination with rich material for his later novels, as did his passionate emotional involvements with both men and women.
He spent his period of National Service as a pacifist in the Royal Army Medical Corps in war-ravaged Hamburg. He has subsequently lived in London, Vienna, Athens and on the Greek island of Lesbos. His first novel was published when he was 28. His portrait of E.M. Forster was painted when he was 29. He has twice been married and has one son and two grandsons. He has never stopped painting and writing, and now lives in East Sussex where he is writing the second volume of his autobiography, staring with delight at the Seven Sisters, gardening, and producing the paintings he feels he has striven to create throughout his life.
The first volume of his planned 3-part autobiography has recently been published. Backing into Light: My Father's Son tells the story of the first 3 decades of his eventful life through his wartime boyhood dominated by his raucous, womanising and irrepressible father, to his first successes in the 50s and 60s as an artist, novelist and playwright. They were years which saw ardent affairs with both women and men, a stormy marriage, the birth of a son, and a traumatic divorce.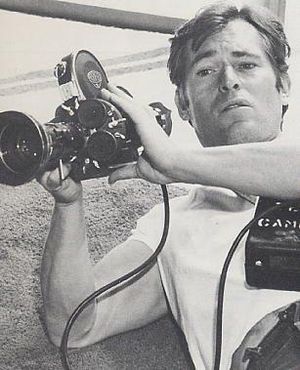 1941 – Born in Long Beach, CA, porn director Fred Halsted (d.1989) said that although they were working class and he had to help with agricultural jobs to earn money for his mom, he grew up in "paradise. A life of being free. As a kid I was able to run naked through a hundred miles of orange groves in fragrant bloom."
He maintained his joy in plants — majoring in botany at L.A. State, owning a nursery in El Monte, doing gardening work for Joey Heatherton and Vincent Price — but he couldn't yet regain that youthful sexual freedom. He said he was a petit bourgeois and "the biggest closet queen you can be" and even a raw entrapment by the vice squad in 1967 didn't change him.
What finally shattered him was RFK's assassination. After that, he decided he wanted to make the world a better place, and make a lot of money, through porn, including the first ever depictions of certain hardcore S/M acts.
Long before video and digital, Halsted spent three years shooting film for L.A. Plays Itself. It was 1972 and he says his was the first gay porn to be told from a sadist's point of view. It was definitely the first to be screened like an art film for big name New York critics. And surely the first to have a sex scene with no sex — just shots of West Hollywood traffic while you hear the voice of an older top and young hayseed negotiating their needs.
Soon enough, financial success and critical acclaim caught up with him; his vision helped define the macho man gay look of the 1970s and still today the only hardcore movies in the Film Collection of MoMA are Halsted's L.A. Plays Itself and Sex Garage.
His club, Halsted's, located at 2453 Glendale Blvd., Silver Lake, Los Angeles, California, was, as he himself described it, a naked industrial space transformed into "a stand-up fuck club". Founded by Halsted, his lover Joseph Yale, and David Webb, the club had booths with glory holes, bunk beds, and a sling. Its most distinguishing characteristic was four truck trailers that were parked in the back inside a walled yard. At the time, empty truck trailers were a popular venue for gay sex in the meatpacking district of New York City. The club only lasted about a year; Halsted admitted that "Los Angeles did not have enough perverts" to support the club. Before it closed, he filmed A Night at Halsted's there.
But the 80s were a bad time for him, with more commercialized, video porn, his worsening alcoholism, and the advent of AIDS, which killed his long-time lover, onscreen co-star, and tormentor, Joey Yale aka Joseph Yanoska, in 1986. Halsted shot himself in the head in 1989.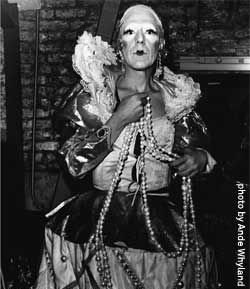 Ethyl, dressing for "Elizabeth I"
1945 – An influential figure in experimental theater, writer and drag performer Ethyl Eichelberger (d.1990) is most remembered for his repertoire of self-penned solo plays based on the lives of the great women of history, literature, and myth.
He was born James Roy Eichelberger in Pekin, Illinois. He starred in many high school plays and attended Knox College in Galesburg, Illinois, where he also performed in plays, including the title roles in Oedipus Rex and Hamlet his freshman year. In his sophomore year, he transferred to the American Academy of Dramatic Arts in New York City. After graduating in 1967, Eichelberger began to act at the Trinity Repertory Company in Providence, Rhode Island under the direction of Adrian Hall.
After working as the troupe's lead character actor for seven years, he moved back to New York City, changed his name to Ethyl, and became a member of Charles Ludlam's Ridiculous Theatrical Company. There he acted and designed wigs. Ludlam, a major influence on his theatrical vision, encouraged him to write his own plays.
From 1972 until his death in 1990, Eichelberger wrote and performed in nearly forty plays. Most of these works are solo plays written in free-form verse. In them, he played a range of grand dames from Jocasta, Medea, and Klytemnestra to Lola Montez, Nefertiti, and Carlotta, Empress of Mexico. He won an Obie Award in 1982 for Lucrezia Borgia.
Eichelberger's plays revel in a kind of poly-literacy that mixes classical references with pop culture. They frequently include such attractions as accordion-accompanied songs, fire eating, cartwheels, and splits. They are preeminently plays of strong women who survive. The plays offer sympathetic if screwball portraits of their title subjects. The plays anachronistically equate and parallel Eichelberger's own experiences as a gay man and artist with the famous subjects. In his biographical play about the eighteenth dynasty Egyptian monarch Nefertiti, for example, he writes the double edged lines:
"Isis knows it hasn't been easy! / It's a lot of hard work being a queen! / And there are factions out there who don't like what I represent! / Tough noogies! I have a right to be here!"
Eichelberger took productions of his plays on tour to such far away places as Australia and Europe. In a volatile artistic and political period, bracketed by disco and AIDS, Eichelberger's high octane performances earned his plays a devoted following. Even today, long after his death, the plays remain in performance by theater artists.
Standing a gangly six foot, two inches tall before donning his trademark stiletto heels and skyscraper wigs, Eichelberger was an imposing figure. His stage divas sported tremendous jewelry and a version of gender fuck drag that encouraged his audience to see the performer underneath the costume. His full back was tattooed with a portrait of himself in drag as an angel and he often wore backless gowns to draw attention to the tatoo. His performances were scripted, but they were also highly improvisational.
Eichelberger also enjoyed a successful commercial acting career in the late 1980s. He appeared on Broadway in The Comedy of Errors with The Flying Karamazov Brothers and as the Ballad Singer in 3 Penny Opera with Sting, as well as on HBO's children's television series Encyclopedia.
Larger than life, flamboyant, and politically outspoken on stage, Eichelberger was a deeply private individual. Reacting badly to the only AIDS medications available to him in 1990, he committed suicide on August 12 of that year. Only after his death did most people learn that he had been HIV-positive for several years.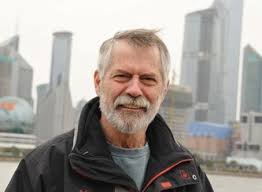 1946 – Chris Crutcher is an American novelist and a family therapist. He received the Margaret Edwards Award from the American Library Association in 2000 for his lifetime contribution in writing for teens.
Crutcher's debut novel was Running Loose in 1983 about a senior in high school who has it all until life throws him for a few loops. Many of his novels concern teenaged athletes who have personal problems. Most of his protagonists are male, teenage athletes, often swimmers.
Chris Crutcher's writing is controversial, and has been frequently challenged and even banned by individuals who want to censor his books by removing them from libraries and classrooms. Athletic Shorts: Six Short Stories and Running Loose were #63 and #92 on the ALA list of 100 books most frequently challenged during the 1990s. His books generally feature teens coping with serious problems, including abusive parents, racial and religious prejudice, mental and physical disability, and poverty; these themes are viewed as too mature for children. Other cited reasons for censorship include strong language and depictions of homosexuality. Despite this controversy, Crutcher's writing has received many awards.
Crutcher has also written an autobiography called King of the Mild Frontier (2003), an adult novel titled The Deep End (1991), and two collections of short stories, Athletic Shorts: Six Short Stories (1991) and Angry Management (2009), some of which further explore characters from his previous novels. One of the stories from Athletic Shorts: Six Short Stories, "A Brief Moment in the Life of Angus Bethune", was made into a film called Angus.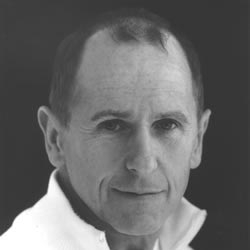 1948 - Wayne Sleep OBE is a British dancer, director, choreographer and panelist. He was a Principal Dancer with the Royal Ballet and has appeared as a Guest Artist with several other ballet companies.
At only 5'2", Sleep is famous for being the shortest male dancer ever admitted into the Royal Ballet School. Had he not left his audition for the school early and missed his final physical examination, he would not have gained a place. Because of his diminutive stature many directors were reluctant to cast him in traditional male lead roles. As a result many roles were created for him by noted choreographers. Sleep created the role of Mr. Mistoffelees in Andrew Lloyd Webber's musical Cats in London's West End, at the New London Theatre, on 11 May 1981.
Sleep runs workshops all over the Britain that children of over the age of six can attend.
Sleep is mentioned numerous times in the film Billy Elliot, and also in the British stage musical version of this film. (On Broadway references to Sleep were changed to Rudolf Nureyev.)
As well as being out as gay, Sleep has stated he is also attracted to women but has not been intimate with any for many years.
In 2011, having just recovered from a hip replacement operation, was delighted with the fact that at the age of 62, just 12 weeks after the operation, he was back on stage at Covent Garden dancing the role of an Ugly Sister in the ballet of Cinderella.

1968 – The Wall Street Journal publishes an article entitled "U.S. Homosexuals Gain in Trying to Persuade Society to Accept Them". The article, an overview of what was happening during the late 1960's, was written by Charles Alverson.

1982 – Commander Michael Trestrail, Queen Elizabeth's personal bodyguard, is forced to resign after he was outed in the British newspapers. Soon after, reports surfaced that Margaret Thatcher wanted to raise the issue of gays in the palace until the Queen reportedly summoned her to Buckingham Palace and told her to mind her own business.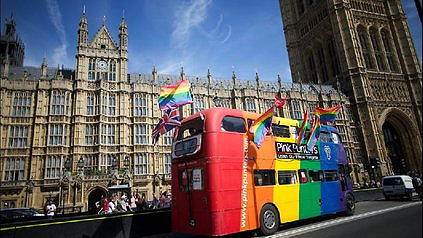 2013 – Britain legalises same-sex marriage. The bill cleared the British Parliament on the 16th and Queen Elizabeth gave her royal assent today, making the bill law. It will allow couples already in a civil partnership to convert their relationship to a marriage.

JULY 18 →
[{(o)}]|[{(o)}]|[{(o)}]|[{(o)}]| [{(o)}]|[{(o)}]