January 19
[{(o)}]|[{(o)}]|[{(o)}]|[{(o)}]| [{(o)}]|[{(o)}]
1851 – The "State of Deseret," better known as Utah, enacts a criminal code that makes sodomy illegal only between males, and sets the penalty at a prison term and/or fine in the discretion of the court.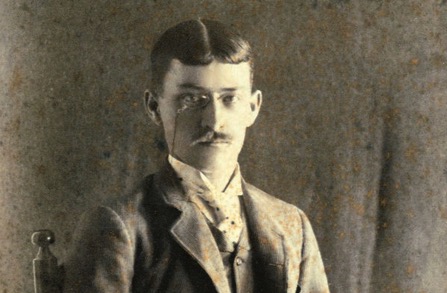 1863 – Ogden Codman, Jr. was an American architect and interior decorator in the Beaux-Arts styles, and co-author with Edith Wharton of The Decoration of Houses (1897).
Codman spent his youth from 1875 to 1884 at Dinard, an American resort colony in France, and on returning to America in 1884, studied at the MIT. Wharton became one of his first Newport clients for her home there, Land's End. Subsequently she introduced Codman to Cornelius Vanderbilt II, who hired him to design the second and third floor rooms of his Newport summer home, The Breakers.
In 1907, Codman built the Codman-Davis House in Washington, D.C. for his cousin Martha Codman, one of the few intact homes that he designed. This included a carriage house, now the Apex Night Club, ironically a gay club.
Although a noted homosexual, on 8 October, 1904, Codman married one of his commissioners, Leila Griswold Webb, widow of railroad magnate H. Walter Webb, who died unexpectedly in 1910.
In 1920, Codman left New York to return to France, where he spent the rest of his life at the Château de Grégy, wintering at Villa Leopolda in Villefranche-sur-Mer: it is his masterpiece, the fullest surviving expression of his esthetic.

1887 – Newspapers report an apparent blackmail ring in Greenville, Ohio that leads to seven indictments and one conviction for sodomy, but the Governor of Ohio pardons the one convicted.

1897 – The Missouri Supreme Court upholds a conviction for assault to commit sodomy of a St. Louis police officer who attempted sodomy with another male after threatening to arrest him unless he accompanied him to a lumber yard, where the attempt was made.

1900 – An Ohio newspaper reports that a man was arrested for sex with his 13-year-old male companion. Both claim that the younger partner's mother "gave" him to the other.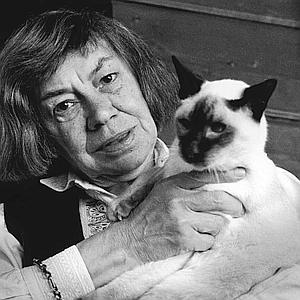 1921 – Acclaimed mystery writer Patricia Highsmith (d.1995) was the author of one explicitly lesbian novel, as well as the popular series featuring the amoral bisexual Tom Ripley.
Highsmith was born in Fort Worth, Texas, on January 19, 1921. Her father was of German and her mother of British descent. She was educated at Barnard College, New York, and became a freelance writer a year after she left college. She lived alternately in Europe and the United States, residing mostly in Switzerland.
Her first novel Strangers on a Train (1949), later a film directed by Alfred Hitchcock, depicts that pattern of peculiar psychological imprisonment between two people that she was to continue as her personal motif. Instead of an absolutely moral Holmes/Watson type of reassurance at the center of the novel, there is the subversive, explicitly homoerotic and tortured obsession of two murderers for each other.
Carol, first published in 1952 as The Price of Salt, under the pseudonym Claire Morgan, is Highsmith's only explicitly lesbian novel. It sold nearly one million copies in the United States in 1953 alone. Lesbian readers' response was one of gratitude—finally they were offered a novel that did not end in death, despair, or debasement.
Of the Ripley series, critic Kathleen Gregory Klein argues that Highsmith has gone as far as creating a new fictional form, citing her introduction of the cult-figure serial killer Tom Ripley as a new type of criminal superhero, prefiguring similar cultural icons that appeared in the 1990s. (The Talented Mr. Ripley was awarded the Edgar Allan Poe Scroll by the Mystery Writers of America in 1955.)
The Ripley books are generically akin to a series. Characters reappear in subsequent titles and undergo development, and Ripley himself inspires readerly identification, at least because he is so amorally fascinating.
René Clément's subtly homoerotic Purple Noon (1960), starring Alain Delon as Tom Ripley, was the first adaptation of The Talented Mr. Ripley.
Other adaptations of the Ripley novels include Wim Winders' The American Friend (1977), featuring Dennis Hopper as Tom Ripley in an existential take on the character; Anthony Minghella's The Talented Mr. Ripley (1999), starring Matt Damon; Liliani Cavani's Ripley's Game (2002), featuring John Malkovich; and Roger Spottiswoode's Ripley Under Ground (2005), with Barry Pepper in the title role.
According to her biography, Beautiful Shadow, Highsmith's personal life was a troubled one; she was an alcoholic who never had a relationship that lasted for more than a few years, and she was seen by some of her contemporaries and acquaintances as misanthropic and cruel.
Highsmith had relationships with women and men, but never married or had children. In 1943, she had an affair with the artist Allela Cornell (who committed suicide in 1946 by drinking nitric acid[9]) and in 1949, she became close to novelist Marc Brandel. Between 1959 and 1961 she had a relationship with Marijane Meaker, who wrote under the pseudonyms of Vin Packer and Ann Aldrich, but later wrote young adult fiction with the name M.E. Kerr.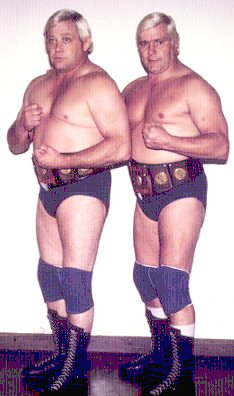 Ray Stevens & Pat Paterson (R)

1941 – Born: Pierre Clermont, better known by his ring name Pat Patterson, was a Canadian former professional wrestler (d.2020). Pat was 17 when he started wrestling. He soon became one of the biggest names in the sixties and seventies. He worked for WWE as a creative consultant. He was inducted into the WWE Hall of Fame in 1996.
Outside of the wrestling ring, Pat was really timid and shy. He was soft-spoken, with a cute French accent. Surprisingly, Pat was a former altar boy and candidate for the priesthood. He was a deeply religious man.
Pat Patterson debuted in Montreal, Quebec in 1958 as "Pretty Boy" Pat Patterson, an effeminate wrestler who wore red lipstick and pink trunks and was accompanied by his pet Poodle.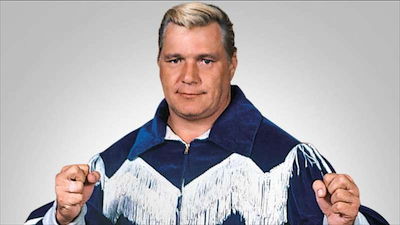 A Young Pat Patterson
Patterson wrestled frequently for affiliates of the National Wrestling Alliance throughout the 1960s, and was a ten time tag team champion in San Francisco with a variety of partners. His most famous pairing was with Ray Stevens, the two of them forming the heel tag team, the Blond Bombers.
Patterson was openly gay, although he had never stated so. It is rumored that Pat and Gerald Brisco, another of his wrestling partners, were lovers. In 1992, Patterson was accused of sexual harassment by former ring announcer Murray Hodgson and released from the company until the charges were dropped, when he was promptly rehired. After dropping the charges, Hodgson's attorney referred to Hodgson as "a lifelong con man."
In August 2006, Patterson underwent emergency heart surgery. In October, Patterson recovered from his operation and was released from the hospital.
On June 12, 2014, Patterson officially "came out" on TV. The video link is below: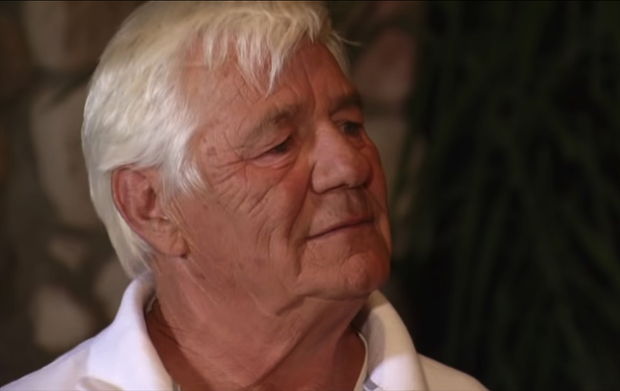 (Click to view on YouTube)
Although Patterson was openly gay, having come out in the 1970s, his sexual orientation was never directly acknowledged on television until 2014 when he spoke about it on a WWE-produced reality TV show.
Louie Dondero, Patterson's longtime partner of 40 years, died of a heart attack in 1998. Patterson himself died in December 2020.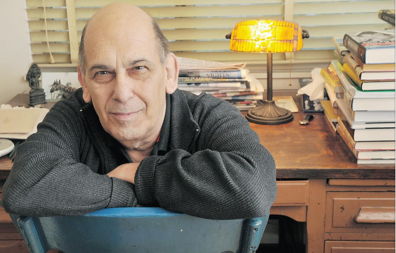 1941 – Stan Persky is a naturalized Canadian poet, writer, media commentator and philosophy lecturer.
Persky was born in Chicago, Illinois. As a teenager, he made contact with and received encouragement from Jack Kerouac, Allen Ginsberg and other writers of the Beat Generation. Persky served in the United States Navy, and then settled in San Francisco, California in the early 1960s, becoming part of a group of writers that included Jack Spicer, Robert Duncan, Robin Blaser and George Stanley – known as the San Francisco Renaissance.
In 1966, Persky moved to Vancouver, Canada, with poet Robin Blaser, who he had met in a San Francisco bar. Blaser was an English professor at Simon Fraser University in Vancouver at the time. They lived together for five years. They remained friends until Blaser's death in 2009.
Persky attended the University of British Columbia, receiving degrees in anthropology and sociology. He became a Canadian citizen in 1972. During the 1960s and '70s, he was prominent as a student and civic activist, was an early staff member of the Georgia Straight, a free alternative newspaper, and co-founder with Dennis Wheeler of the "Georgia Straight Writing Supplement," which eventually became New Star Books, specializing in topics of interest to gays.
Together with writing partner Ed Jackson he has published "Victories and Defeats: A Gay and Lesbian Chronology 1964-1982" and "Flaunting It! A Decade of Gay Journalism from The Body Politic" for New Star Books. He is also noted for his autobiographical meditations on homosexuality: "Buddy's" (1989).
After university, Persky worked at Vancouver Mental Patients Association and the Canadian Broadcasting Corporation before becoming a college lecturer in the sociology department at Northwest College in Terrace, British Columbia. He has subsequently taught political studies and philosophy in various Canadian universities. He worked as a media commentator for the CBC, a literary columnist for The Globe and Mail and The Vancouver Sun, and has written for various magazines, journals and periodicals. Stan Persky is a long-time Vancouver public intellectual and literary activist. Since 1990, in addition to living in Vancouver, he has resided part-time in Berlin, Germany.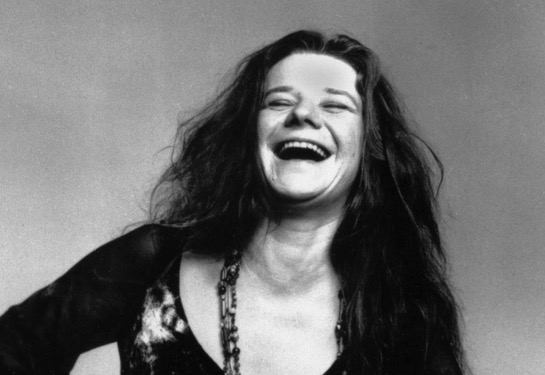 1943 – The name Janis Joplin (d.1970) is practically synonymous with the excesses epitomized by the counterculture of the 1960s: sex, drugs, and rock 'n' roll, all of which Joplin took to extreme levels. As troubled as she was talented, Joplin has been portrayed in numerous articles, full-length biographies, and documentaries as everything from a reckless, sex-crazed party animal to a victimized, lost little girl who never believed she was lovable.
Joplin was born in small, insular Port Arthur, Texas, where she grew up. She always stood out as a bright, creative misfit in her oil-refinery hometown. Joplin reportedly relished the attention that her bad-girl image brought, but her status as a social outcast hurt her deeply and would remain with her throughout her short life. She decided that school was not for her and began singing at the hootenannies of the day and at bars in Austin, San Francisco, and Venice, California. After some time spent traveling, Joplin moved to San Francisco and fully immersed herself in the counterculture there.
Before long, she joined the then-unknown group Big Brother and the Holding Company. Joplin scored a major hit at the 1967 Monterey Pop Festival with her smoldering rendition of Big Mama Thornton's blues song "Ball and Chain." That major "Summer of Love" event heralded her big breakthrough; Big Brother signed a contract with Mainstream Records, and Joplin continued to perform with them for two more years. Joplin later formed the Kozmic Blues Band, and in 1969 released I Got Dem Kozmic Blues Again Mama! When the group fell apart, she spearheaded one last project, the Full Tilt Boogie Band, a more popular-style, professional-sounding group with whom she recorded her third album, Pearl. The widely acclaimed record was released posthumously and featured her unforgettable version of the Kris Kristofferson tune "Me and Bobby McGee."
As her fame grew, so did her alcoholism and drug use; she battled her heroin addiction but never relinquished her Southern Comfort habit. Joplin's sexuality was expansive and open, encompassing both men and women; but the "freak" circles in which Joplin circulated were generally heterosexual and not immune to sexism. Hippie women, after all, were not supposed to be crass and, as Janis was often described, "ballsy."
In addition, Joplin crossed the race line. Most people had never seen a white woman singing the blues and letting it all hang out the way she did, and perhaps not everyone was ready for her full-on explosion of voice and soul. Citing influences and inspirations such as Billie Holiday, Bessie Smith, and Leadbelly, Janis interpreted the blues in a way that helped break down the old barrier of "black music" versus "white music."
Although Joplin took numerous female lovers, she never openly identified as lesbian or bisexual. Instead, she considered herself beyond categorization: she was simply sexual. Her friends mainly referred to her as bisexual, yet the press has long loved to heterosexualize her past, while lesbian culture often claims her as one of its own. The truth is that Janis maintained long-term relationships with several women, including Peggy Caserta, whose controversial 1973 memoir Going Down with Janis documented their affair and mutual drug addiction.
At the same time, Joplin was also on the lookout for "one good man" with whom to settle down. Twice engaged, she never did marry.
Although she had kicked heroin around the time she formed the Full Tilt Boogie Band, Joplin was tempted again one night when she ran into her former dealer in the lobby of the Landmark Motel in Los Angeles. She died of a heroin overdose, alone in her room at the motel, on October 4, 1970.
Joplin's music continues to flourish. Her Greatest Hits album still makes the Billboard charts. She was inducted into the Rock and Roll Hall of Fame in 1995.

1944 – Hank Tavera (d.2000) was born January 19, 1944 in East Los Angeles, California and later moved to the Mission District in San Francisco, California in 1979 where he was at the forefront of the AIDS epidemic via his involvement in various HIV/AIDS service organizations as well as AIDS theatre. He also did work around Chicano Gay Activism and teaching/advising.
Tavera died on February 27, 2000 at 56 years old. Hank Tavera was heavily involved in work surrounding the AIDS epidemic.Tavera worked at the San Francisco City Clinic as an HIV/AIDS intervention specialist. Between 1986 and 1900, Tavera joined the staff of the San Francisco Aids Foundation, running the Client Services Department. During his time there, Tavera established bilingual services that centered women and multiculturalism. In the following years, Tavera participated in the Latino Coalition on AIDS, chairing in the Third World Aids Advisory Task Force, and becoming a voting delegate for LIFE, a Sacramento LGBT and AIDS lobby.
He later co-founded LLEGO (Latina/o Lesbian and Gay Organization) in California as well as National LLEGO, which were both organizations dedicated to the overall empowerment of all who were a part of the greater LGBT community. Hank Tavera and LLEGO were present during the 1993 Washington March for Lesbian, Gay, and Bi Equal Rights and Liberation.
Tavera continued his activism in the theatrical world, in which he engaged with Mexican American theater and worked in creating the newsletter for TENAZ Talks Teatro, a publication in La Revista Literaria de El Tecolote, a San Fransico publication that showcased Latina/Chicana women in theater. In addition to this, Tavera was a well-know director of plays, directing nine consecutive years of the Performing Arts Shows of Latina/o Gay, Lesbian, Bisexual, and Transgender Artists at the Mission Cultural Center for Latino Arts.
Tavera also worked as a high school teacher at St. John Bosco Highschool as well as a college teacher at Santa Barbara City College. His work in education continued as an advisor at University of California, Santa Barbara.
Hank Tavera was heavily influenced by the United Farm Workers grape boycott and the Chicano theater movement, both of which were foundational in his political and artistic values.
He was in a domestic partnership for 20 years with Quehal Weso, who he shared a home with. He also had a boyfriend James Sales who he had been dating for a total of 9 years in 1996.
Tavera identified as a gay catholic, and was part of the San Francisco chapter for Dignity/San Francisco an LGBT Catholic Organization which dedicated itself to the "wholeness and holiness of Lesbian, Gay, Bisexual and Transgender catholics".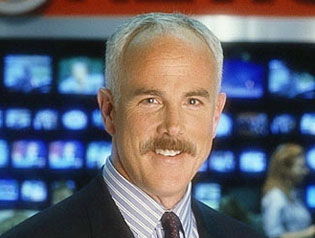 1950 – Randy Price is a television newscaster with WCVB-TV in Boston, Massachusetts, after being the lead anchor at WHDH-TV from 1998 to 2009. He is considered the U.S.'s first openly gay newscaster.
Born in Baton Rouge, Louisiana, Price attended Louisiana State University, where he began his broadcasting career in college radio, which continued with a stint in the U.S. Air Force, with Price working for the Armed Forces Radio and Television Service.
He worked in television in Bakersfield, California (KERO-TV) and Toledo, Ohio (WTVG), before moving to Boston's WBZ-TV in 1983 where he anchored for 12 years. He left WBZ in 1995 due to alcohol problems which included a drunk driving conviction.
Price joined WHDH-TV in 1996 as a freelance reporter, and in 1997 was made a full-time anchor. He moved into the morning anchor chair and then was promoted to anchor the 5, 6 and 11 p.m. newscasts. On February 6, 2009, Price was let go from WHDH-TV. His last newscast was on Wednesday, February 4, 2009. On February 7, 2009 The Boston Globe quoted Price that station owner, Edmund Ansin, had told him "we need to move in different directions."
On June 2, 2009, Price was named morning anchor at WCVB-TV, Channel 5 in Boston.
Price is openly gay and on January 3, 2007 he married longtime partner Mark Steffen in a ceremony on the steps of the Massachusetts State House in Boston, Massachusetts. They live in Kittery, Maine.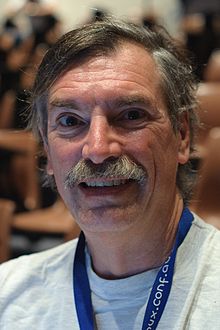 1954 – Marshall Kirk McKusick is a computer scientist, known for his extensive work on BSD, from the 1980s to FreeBSD in the present day. He was president of the USENIX Association from 1990 to 1992 and again from 2002 to 2004, and still serves on the board. He is on the editorial board of ACM Queue Magazine. He is known to friends and colleagues as "Kirk".
McKusick received his B.S. in electrical engineering from Cornell University, and 2 M.S. degrees (in 1979 and 1980 respectively) and a Ph.D. in computer science from the University of California, Berkeley in 1984.
McKusick is openly gay and lives in California with Eric Allman, his domestic partner since graduate school. McKusick is an avid wine collector and the temperature and vital statistics of his house and wine cellar are available on the web from his homepage.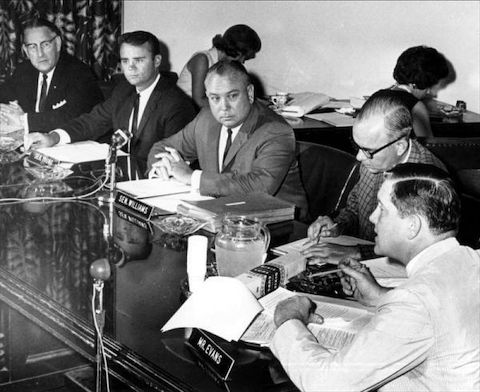 The Johns Committee in session
1959 – On this date investigators summoned the University of Florida Geography professor Sigmund Diettrich to the Manor Motel in Gainesville, Florida for "interviewing". Soon after, he was fired from his job and lost the life he loved as a beloved teacher and dean. He attempted suicide the same day he was let go from U.F. Hundreds of other professors and students across the state were also terminated or expelled because of their sexuality. Many people are familiar with the McCarthy hearings but do not realize that Florida had its own committee designed to weed out communism and homosexual activity. State Senator Charley Johns started the investigations to "protect Florida's children."
The Johns Committee pursued people in academic institutions, courthouse bathrooms and bus stations. The committee's investigators went so far as tapping phones in motels, interrogating children as young as 10, and breaking up a teenage girl's slumber party looking for evidence of moral misconduct. In 1993 more than 30,000 pages of secret documents became public, including a University of Florida administrator's statement that there was no way to prevent Gay men from lingering in university bathrooms "unless you pour sulfuric acid on the floor to make people go fast."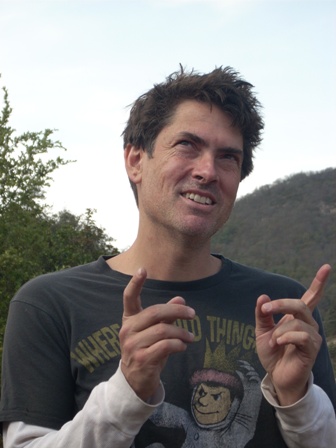 1959 – Matthew Stadler has written four novels and received several awards and fellowships in recognition of his work. More recently, he has compiled four anthologies about literature, city life and public life. His essays have been published in magazines and museum catalogs around the world, and focus on architecture, urban planning and the problem of sprawl.
The first book editor for Seattle's The Stranger, the first literary editor for nest, Matthew Stadler wrote four gay novels in the 90s. After Landscape: Memory (a high school student's jottings from WWI era San Francisco), The Dissolution of Nicholas Dee (an art historian's surreal jaunt through the Netherlands, with dwarfs and orphans), and The Sex Offender (the Orwellian, unsuccessful "rehabilitation" of a male teacher who had an affair with a 12 year-old boy), his fiction culminated with Allan Stein, a funny, beautiful, and disturbing novel again mixing art criticism, historical settings, foreign travel, and sex with students in this tale about a tutor hired to teach Gertrude Stein's 15 year-old nephew in Paris in the early 1900s. These books were widely discussed and lauded as gay fiction, although Stadler, like other gay writers of his time, has commented that his books are not concerned with gay sexuality (though he himself feels a political obligation to identify as a gay man).
Despite his transgressive preoccupations, Stadler's work was embraced by the mainstream enough to win him a Guggenheim, a Merrill, and a Whiting, but no sales, and at 40 in 1999 he turned away from fiction to focus on urban planning, the positive aspects of sprawl, and publishing. He's edited four anthologies including the urban theory reader Where We Live Now and has a book about two projects in the Dutch city Deventer.
He founded Clear Cut Press in Portland in 2001, and in 2009 he cofounded Publication Studio, a successful print-on-demand model for books that has spread to seven other cities.
Even his ardent fans may be unaware that after a dozen-year break, Stadler self-published his fifth novel in 2011. He compares Chloe Jarren's La Cucaracha set in Guanajuato, Mexico to an international mystery a la John Le Carré.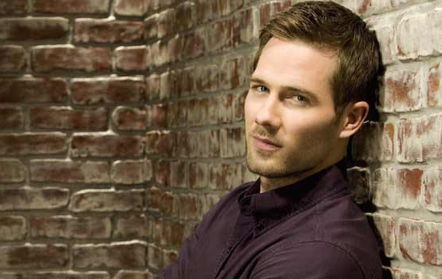 1980 – Born: Luke Macfarlane, openly gay Canadian actor and musician. Macfarlane was born Thomas Luke Macfarlane in London, Ontario, Canada. His father, Thomas (deceased), was the Director of Student Health Services at the University of Western Ontario, and his mother is a mental health nurse at a London hospital. Macfarlane attended London Central Secondary School with twin sister Ruth and older sister Rebecca.
Macfarlane went to school in Lester B. Pearson School for the Arts, then later studied drama at Juilliard in New York City, where he starred in the productions of Romeo & Juliet, Richard III, The School of Night, Blue Window, The Grapes of Wrath, and As You Like It before graduating from the drama division in 2003.

Macfarlane was one of the four leads in Juvenilia at the Playwrights Horizons Theater from November 14-December 21, 2003. He played the lead role in the American premiere of the play Where Do We Live, staged at the Vineyard Theatre in May 2004. The production was cited by the 2005 GLAAD Media Awards for Outstanding New York Theatre: Broadway and Off-Broadway. He also appeared with Jill Clayburgh and Hamish Linklater in the off-Broadway production of The Busy World is Hushed, again at Playwrights Horizons, in Summer 2006.[1] He reprised his role of Thomas for the L.A. Premiere at the Skirball Cultural Center from February 7-11 of 2007.
On television, Macfarlane is perhaps best known for his role as Scotty Wandell on ABC's Brothers & Sisters, husband to Kevin Walker (played by Matthew Rhys), one of the "brothers" of the show. Macfarlane's previous roles include Pvt. Frank "Dim" Dumphy on the 2005 FX network television series Over There.
Macfarlane was the lead singer and a songwriter for the band Fellow Nameless, which began in his 8th grade along with some of his classmates at Lester B. Pearson School for the Arts under the name of Slipnaught, a name they randomly chose from a dictionary because they did not have a name for the band when it came time to perform on stage.
His romantic interests have included Grey's Anatomy's TR Knight and Prison Break's Wentworth Miller.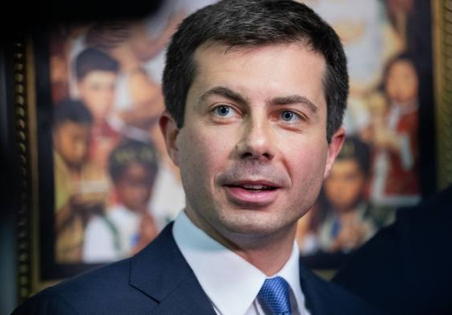 1982 – Pete Buttigieg is an American politician and candidate for the Democratic nomination in the 2020 United States presidential election. He is the first openly gay person to seek the Democratic nomination, and has built his campaign around the idea of generational change. He launched his campaign on April 14, 2019, after forming an exploratory committee in January. Initially considered a long shot, he gained significant momentum in mid-2019 when he participated in several town halls, forums, and debates. As of December 2019, several media outlets consider him one of four "top-tier candidates".
Buttigieg served as the 32nd mayor of South Bend, Indiana from January 2012 to January 2020. Before running for office, he worked on the political campaigns of Democrats Jill Long Thompson, Joe Donnelly, and John Kerry. He was defeated in the 2010 election for Indiana State Treasurer before being elected mayor of South Bend, Indiana the following year, becoming the youngest mayor of a city with a population of over 100,000. In 2015, Buttigieg publicly came out as gay. Later that year, he was reelected with over 80% of the vote. In 2017, he ran for chair of the Democratic National Committee.
From 2009 to 2017, he served as a naval intelligence officer in the United States Navy Reserve, attaining the rank of lieutenant. In 2014, he was deployed to Afghanistan for seven months and was awarded the Joint Service Commendation Medal and the Joint Meritorious Unit Award. From 2007 to 2010, he worked as a consultant at management consulting firm McKinsey & Company. Buttigieg is a graduate of Harvard College and Oxford University. He attended the latter on a Rhodes Scholarship.
In a June 2015 piece in the South Bend Tribune, Buttigieg came out as gay. By coming out, Buttigieg became Indiana's first openly gay elected executive. He was the first elected official in Indiana to come out while in office, and the highest elected official in Indiana to come out. Buttigieg is also the first openly gay Democratic presidential candidate, and the second overall, after Republican Fred Karger, who ran in 2012.
In December 2017, Buttigieg announced his engagement to Chasten Glezman, a junior high school teacher. They had been dating since August 2015 after meeting on the dating app Hinge. They were married on June 16, 2018, in a private ceremony at the Episcopalian Cathedral of St. James. As of April 2019 Chasten uses his husband's surname, Buttigieg.
Buttigieg announced that he and his husband had become parents on August 17, 2021. Buttigieg announced that they had adopted two newborn fraternal twins on September 4, 2021.
In June 2019, to mark the 50th anniversary of the Stonewall riots, a watershed moment in the LGBTQ rights movement, Queerty named him one of its "Pride50" people identified as "trailblazing individuals who actively ensure society remains moving towards equality, acceptance and dignity for all queer people."
President-elect Biden named Buttigieg as his nominee for Secretary of Transportation in December 2020. His nomination was confirmed on February 2, 2021, by a vote of 86–13, making him the first openly gay Cabinet secretary in U.S. history. Nominated at age 38, he is also the youngest Cabinet member in the Biden administration and the youngest person ever to serve as Secretary of Transportation.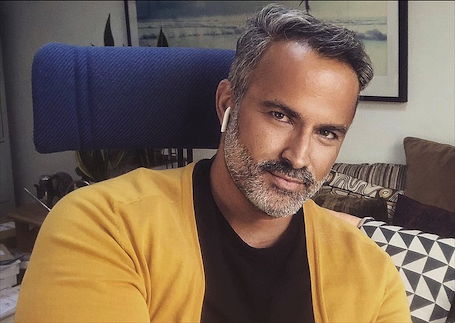 2004 – Ian Iqbal Rashid releases his movie Touch of Pink. Multi-talented Rashid is a poet, screenwriter and filmmaker known in particular for his volumes of poetry, for the BBC TV series This Life and the feature films Touch of Pink and How She Move.
Of Indian ancestry and Ismaili Muslim religion, Rashid's family lived in colonial East Africa for generations. Ian was born in Dar es Salaam, Tanzania. Different years of birth are given for Rashid in different sources, but academic work gives the year as 1968. In 1970, his family was forced to leave Tanzania. After failing to secure asylum in the UK and US, they settled in Toronto.
Rashid began his career as an arts journalist and critic and events programmer, particularly focussed on South Asian diasporic, Muslim and LGBTQ cultural work.
In the early 1990s, Rashid returned to London, Britain, where he lives today with his partner, the writer, curator, and academic Peter Ride.
In the late 1980s, Rashid was a regular contributor to the Canadian LGBT magazine Rites. Rashid published his first poetry collection, Black Markets, White Boyfriends and Other Acts of Elision, in 1991. Two more followed: the chapbook Song of Sabu in 1993 and The Heat Yesterday in 1995.
His poems "Another Country", "Could Have Danced All Night", "Hot Property" and "Early Dinner, Weekend Away" appear in John Barton and Billeh Nickerson's 2007 anthology Seminal: The Anthology of Canada's Gay Male Poets, and others were included in the 2009 anthology Forbidden Sex, Forbidden Texts: New India's Gay Poets.
Self-taught as a film-maker, in 1991, Rashid made the short film Bolo Bolo! with Kaspar Saxena. The film, part of an HIV/AIDS cable access series called Toronto Living With AIDS, resulted in the series being pulled from Rogers Television after complaints about sexually suggestive content, though it had a long and healthy life at film festivals.
Rashid went on to write two award-winning short films, Surviving Sabu (1999), and Stag (2001).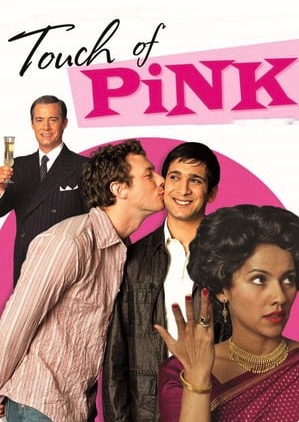 Touch of Pink, Rashid's first feature film, spent 12 years in development. In 2003, he finally had the chance to direct the project as a Canada-UK co-production. It premiered at the 2004 Sundance Film Festival to great acclaim, a bidding war, and eventually, a sale to Sony Picture Classics. The film has attracted extensive scholarly commentary.
How She Move received a similar reception at Sundance Film Festival. Directed by Rashid in 2007, the film is set in the world of step dancing. It was nominated for a Sundance World Cinema Grand Jury Prize and purchased by Paramount Vantage. The film opened to positive reviews and strong box office.
Rashid began working as a writer in UK television in the late 1990s. His credits include the soap London Bridge (Carlton Television for ITV) and the cult hit BBC2 series This Life, for which he received the Writer's Guild of England award.

JANUARY 20 →
[{(o)}]|[{(o)}]|[{(o)}]|[{(o)}]| [{(o)}]|[{(o)}]