November 2
[{(o)}]|[{(o)}]|[{(o)}]|[{(o)}]| [{(o)}]|[{(o)}]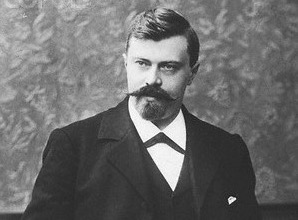 1867 – Wassily Sapellnikoff (d.1941), was a Russian pianist. A more true transliteration of his name is Vasily Lvovich Sapelnikov, however he chose the above version for his appearances in the West.
Sapellnikoff was born in Odessa. He studied at the Odessa Conservatory and became professor of piano at Moscow Conservatory in 1897. He eventually moved to Leipzig and finally settled in Munich.
He toured with Tchaikovsky in Germany, France and England. At his debut in Hamburg in 1888, he played Tchaikovsky's Piano Concerto No. 1 in B flat minor with the composer conducting. This concert was a great success and a catalyst for his budding career as a concert pianist in Western Europe. He was the first to play this concerto in England. He was the dedicatee of a piano piece by Tchaikovsky.
Tchaikovsky wrote about him affectionately in his letters to his brother Modest, in terms such as: Since the time of Kotek I have never loved anyone so warmly as him. Because they spent so much time together on these tours, it is often asserted that he and Tchaikovsky were lovers. However, Alexander Poznansky, in Tchaikovsky: The Quest for the Inner Man, writes:
it seems likely that an erotic element was present in Tchaikovsky's friendship with Sapelnikov and that he recognised it as such. Both men were quite young and good-looking. Almost certainly, however, their relations remained chaste.
Sapellnikoff first appeared in England in 1889 playing the Tchaikovsky concerto at a Royal Philharmonic concert, under the composer's baton. He became a favourite at Philharmonic concerts.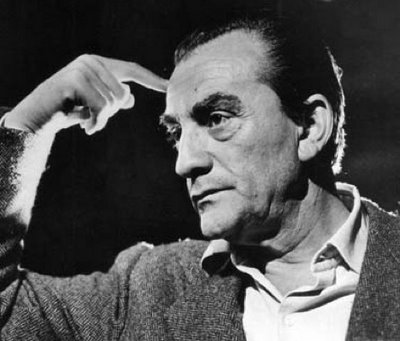 1906 – Luchino Visconti di Modrone, Count of Lonate Pozzolo (d.1976) was an Italian theatre, opera and cinema director, as well as a screenwriter. He is notably known for his films The Leopard (1963) and Death in Venice (1971).
When he was thirty years old, he began his career in film, working as an assistant director and costume designer for French director Jean Renoir, whom he knew socially. As a result of his association with Renoir, Visconti became a leftist in politics. Although he had close connections with Mussolini's son Vittorio, he became active in the anti-fascist movement and, during World War II, in the Resistance.
Also in his early thirties, he had his first serious homosexual affair, with a young German photographer named Horst, who became a well known fashion photographer. The affair lasted three years, but their friendship endured until Visconti's death.
His first feature film, Ossessione (1942), with its insistence on location shooting, proletariat subject matter, and an unvarnished approach to reality, is acknowledged as the first manifestation of Neo-Realism. However, Visconti's film, Bellissima (1951), with a brilliant star performance by Anna Magnani, is a satire of Neo-Realism, as a working-class mother tries to get her little girl cast in a Neo-Realist film.
Early in his career he maintained a scrupulous detachment from the actors and singers whose careers he helped to launch; but by the end of the 1960s, he became passionately involved with several young artists. This aspect of his life came to light when letters that he wrote to several young men, including Helmut Berger, became public in the 1980s.
Visconti made no secret, to those close to him, of his homosexuality. His last partner was the Austrian actor Helmut Berger, who played Martin in Visconti's film The Damned. Berger also appeared in Visconti's Ludwig in 1972 and Conversation Piece in 1974 along with Burt Lancaster. Other lovers included Franco Zeffirelli, who also worked as part of the crew (i.e. production design, assistant director, etc.) in a number of Visconti's films and theatrical productions.
He died in Rome of a stroke at age 69.

1909 – The District of Columbia Court of Appeals reverses the vagrancy conviction of a man who had solicited a police officer for oral sex. It says a single immoral act does not constitute vagrancy.

1912 – Dr Douglas C McMurtrie published an article in a medical journal about female sexual inversion. He stated that identifying sexual inversion in females is more difficult because women are naturally affectionate toward each other, and because "women are very generally ignorant of the details of their sexual character, not recognizing themselves the character of their tendencies."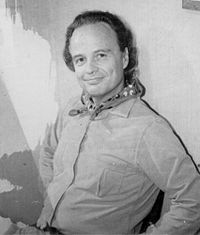 1916 – John Burnside, inventor and Gay American activist was born (d: 2008). John was the inventor of the Teleidoscope and the Symmetricon, and was the partner of Mattachine and Radical Faerie founder, Harry Hay for 39 years.
Burnside was sent to an orphanage while still a child because he was caught in sexual play with another little boy. He served briefly in the Navy, and settled in Los Angeles in the 1940s. He married, but had no children.
Burnside met Harry in 1962 at ONE Incorporated. They fell in love and became life partners. They formed a group in the early 1960s called the Circle of Loving Companions that promoted Gay rights and Gay love. In 1966 they were major planners of one of the first Gay parades, a protest against exclusion of Gays in the military, held in Los Angeles. In 1967, they appeared as a couple on the Joe Pyne television show. In the late 1970s, they were instrumental in founding the Radical Faeries.
John died of brain cancer in San Francisco, where he had been tended to by members of the Circle of Loving Companions that had taken care of Harry in his final days.


Added 2021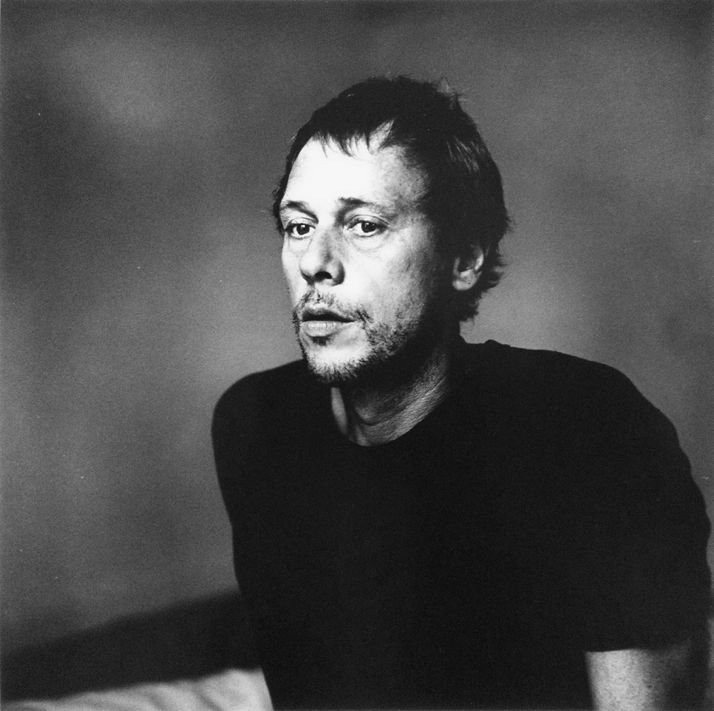 Paul Thek by Peter Hujar


(Click for larger)
1933 – Paul Thek (d.1988) was an American painter and, later, sculptor and installation artist. Thek was active in both the United States and Europe during his life, staging a number of ambitious installations and sculptural works throughout his lifetime. Posthumously, he has been widely exhibited throughout the United States and Europe, and his work is held in numerous collections including the Hirshhorn Museum and Sculpture Garden in Washington, DC, the Centre Georges Pompidou, Paris, and Kolumba, the Art Museum of the Archdiocese of Cologne.
Thek (born George Thek) was the second of four children born to parents of German and Irish ancestry in Brooklyn, New York. In 1950, Thek studied at the Art Students League of New York as well as Pratt Institute in Brooklyn, before entering Cooper Union School of the Arts in New York in 1951. Upon graduating in 1954, he moved to Miami, where he met and became involved with set designer Peter Harvey, who introduced Thek to a number of artists and writers such as Tennessee Williams.
During this time, Thek created some of his first known drawings, including studies in charcoal and graphite (now held in Kolumba's collections), later followed by abstract watercolors and oil paintings. Thek first referred to himself as Paul Thek starting in 1955; in a letter to Harvey, he writes: "Let me tell you who I am George Joseph Thek but Paul to you and Paul to me you would have to be me to know why I am Paul after all this erroneous George business."
In 1957, he exhibited his works for the first time at Mirrell Gallery in Miami. It was in Florida that Thek first met photographer Peter Hujar, who photographed Thek in Coral Gables.
By the end of 1959, Thek and Hujar, now a couple, were living in New York. Thek traveled to Italy in 1962, and with Hujar visited the Catacombs of the Capuchins in Palermo, an experience which had a strong influence on his work.
During the 1960s, Thek and Hujar associated with a number of artists and writers including Joseph Raffaele, Eva Hesse, Gene Swenson, and Susan Sontag. Thek was particularly close to Sontag, who dedicated her 1966 collection of essays, Against Interpretation, to him. According to Sontag's biographer, the title and inspiration for the eponymous essay came from Thek. One day when Sontag was "talking about art in a cerebral way that many complained was a bore," he interrupted: "Susan, stop, stop. I'm against interpretation. We don't look at art when we interpret it. That's not the way to look at art."
In 1964, he participated in Andy Warhol's Screen Tests. It was during this time that he began to work in installation and sculpture, most notably creating wax sculptures made in the likeness of meat. Between 1964–67, Thek had three solo exhibitions of his famed Technological Reliquaries at Stable Gallery and Pace Gallery in New York.
Thek was awarded a Fulbright fellowship in 1967 to Italy, leaving New York shortly after his exhibition for The Tomb opened. The figure in Thek's Tomb was popularly associated with the American hippie movement and has often been mistitled as Death of a Hippie. He traveled and lived throughout Europe during the late 1960s and early 1970s and worked on large scale installations.
After a peripatetic lifestyle, Thek took up permanent residence in New York in 1976 and began teaching at Cooper Union. Amid increasing emotional stress, he struggled to make and sell work, but began to show nationally and internationally again during the 1980s. He died on August 10, 1988 after learning he had AIDS.the year prior. After his death, Sontag dedicated
AIDS and Its Metaphors
to his memory.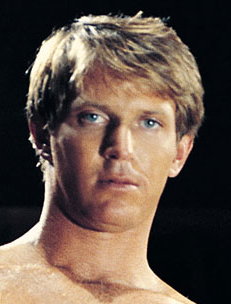 (Click for full Monty)
1943 – Casey Donovan (d.1987) was an American male pornographic actor of the 1970s and 1980s, appearing primarily in adult films and videos catering to gay male audiences.
Following a brief career as a teacher and a stint as a highly-paid male model, Donovan appeared in the film that would cement his status as a gay icon, Boys in the Sand, in 1971. Attempts to build on his notoriety to achieve mainstream crossover success failed, but Donovan continued to be a bankable star in the adult industry for the next 15 years.
Casey Donovan was born John Calvin Culver in East Bloomfield, New York. He graduated from teachers' college in 1965 and after graduation he drifted into being a prostitute and relocated to New York City. He also began pursuing an acting career, appearing in summer stock theatre with the prestigious Peterborough Players.
In 1971, Culver played a supporting role in a low budget sexploitation thriller film, Ginger. This in turn led to an offer to appear in Casey, a gay pornographic film in which Culver played the title role, a gay man who is visited by his fairy godmother Wanda (Culver playing a dual role in drag), and is granted a series of wishes which make him sexually irresistible to other men. Culver later took the character's name, Casey, and that of the popular singer Donovan to create the pseudonym under which he would appear in all his other erotic roles.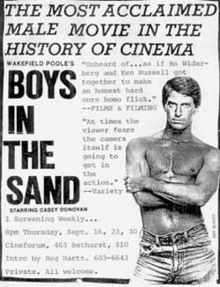 Culver first appeared as Casey Donovan in Boys in the Sand, in 1971. The film was an instant success and is considered one of the great classics of male erotic cinema. With the success and celebrity he garnered from the film, Donovan believed that he would be able to cross over into mainstream film. While there were meetings with directors like John Schlesinger and Raymond St. Jacques and talk of casting him in mainstream projects including adaptations of novels by Mary Renault and Patricia Nell Warren, the only film opportunities opened for him were as the star of more erotic films.
Donovan had a successful national tour in the play Tubstrip, written and directed by Jerry Douglas. The play was critically deemed entertaining enough to its target gay audience (having earned, in the words of one critic, a "nationwide gay housekeeping seal of approval").
Donovan's iconic status allowed him to build a lucrative career as a high-priced prostitute although it would cost him his legitimate modeling career as more and more clients made the connection between model Culver and porn star Donovan. He wrote an advice column,"Ask Casey," for the gay-oriented Stallion magazine beginning in 1982.
In 1973 at the height of his popularity, Donovan met actor-turned writer Tom Tryon and the two entered into a long-term relationship the following year. Tryon was deeply closeted and grew increasingly disturbed by Donovan's notoriety. Their relationship ended in 1977.
By 1985, Donovan's health had begun to deteriorate, as he had contracted HIV. Although he had counseled his fans through his "Ask Casey" column as early as 1982 to reduce their number of sex partners and take steps to preserve their health and urged them to be tested for HIV once the test was developed, he himself made little or no effort to change his behavior. Donovan died in 1987 of an AIDS-related pulmonary infection in Inverness, Florida, aged 43.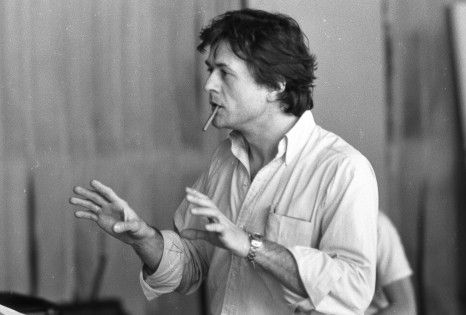 1944 Patrice Chéreau (d.2013) was a French opera and theatre director, filmmaker, actor and producer. In France he is best known for his work for the theatre, internationally for his films La Reine Margot and Intimacy, and for his staging of the Jahrhundertring, the centenary Ring Cycle at the Bayreuth Festival in 1976. Winner of almost twenty movie awards, including the Cannes Jury Prize and the Golden Berlin Bear, Chéreau served as president of the jury at the 2003 Cannes festival.
From 1966, he was artistic director of the Public-Theatre in the Parisian suburb of Sartrouville, where in his team were stage designer Richard Peduzzi, costume designer Jacques Schmidt and lighting designer André Diot, with whom he collaborated in many later productions. From 1982, he was director of "his own stage" at the Théâtre Nanterre-Amandiers at Nanterre where he staged plays by Jean Racine, Marivaux and Shakespeare as well as works by Jean Genet, Heiner Müller and Bernard-Marie Koltès.
He accepted selected opera productions, such as: the first performance of the three-act version of Alban Berg's Lulu, completed by Friedrich Cerha, at the Paris Opera in 1979; Berg's Wozzeck at the Staatsoper Berlin in 1994; Wagner's Tristan und Isolde at La Scala in 2007; Janáček's From the House of the Dead, shown at several festivals and the Metropolitan Opera; and, as his last staging, Elektra by Richard Strauss, first performed at the Aix-en-Provence Festival in July 2013. He was awarded the Europe Theatre Prize in 2008.
Chéreau was in a long-term relationship with his lover and favorite actor Pascal Greggory. He was not interested in gay topics, saying: "I never wanted to specialise in gay stories, and gay newspapers have criticised me for that. Everywhere love stories are exactly the same. The game of desire, and how you live with desire, are the same."
Chéreau died in Paris on 7 October 2013 from lung cancer. He was 68 years old.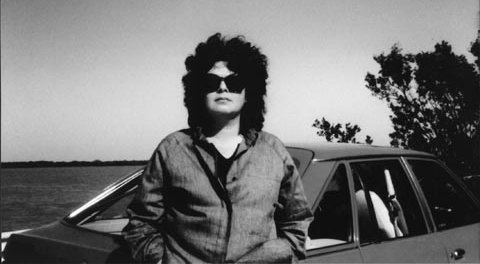 1946 – Michelle Cliff is a Jamaican-American author whose notable works include No Telephone to Heaven, Abeng and Free Enterprise.
Cliff also has written short stories, prose poems and works of literary criticism. Her works explore the various, complex identity problems that stem from post-colonialism, as well as the difficulty of establishing an authentic, individual identity despite race and gender constrictions.
The daughter of an American father and a "light-skinned" Jamaican mother, Michelle Cliff was born in Kingston, Jamaica on November 2, 1946. She spent her childhood and youth both in Jamaica and the U.S.
When Cliff was twenty-two, her mother "officially" informed her that she was a person of color, something that the light-skinned Cliff had already discerned from indirect messages as she was growing up.
She schooled at the University of London, earning a master's degree in philosophy in 1974. In the course of her studies she read the works of the neo-platonists on platonic—that is, same-sex—love, which, she stated, gained an "elite place" in her thinking. It also took on importance in her life and identity as she became romantically involved with another woman for the first time and began the process of coming out as a lesbian. At the same time she was exploring what it meant to be a person of color. Cliff did not enjoy support from her family when she acknowledged her sexual orientation. She was already estranged from her father, who had left her mother. Cliff's mother was not accepting of her lesbianism.
Cliff returned to the United States and worked as an editor at W. W. Norton. She also began writing poetry, and in 1976 she became the life partner of poet Adrienne Rich, whose own explorations into the significance of her Jewish heritage undoubtedly influenced Cliff's investigations into her own complex racial and social background.
Her first book, Claiming an Identity They Taught Me to Despise (1980), was a collection of poems reflecting her thoughts on racial prejudice and on the cultural pressures on light-skinned people like her to deny their heritage and pass for white. She also addressed the widespread homophobia in Jamaica that leads many queer people to hide their sexual orientation.

1947 – In Chicago, the Humboldt Elementary School is investigated for widespread sodomy among the students.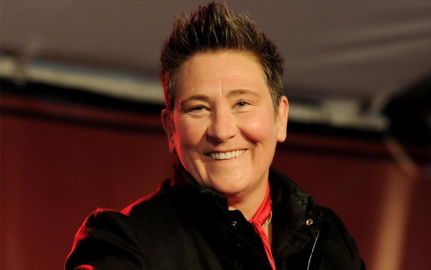 1961 – Kathryn Dawn Lang, kd lang, is a Canadian pop and country singer-songwriter and occasional actress. She styles her name in lowercase letters, with the given names contracted to initials and no space between these initials.
Lang has won both Juno Awards and Grammy Awards for her musical performances; hits include "Constant Craving" and "Miss Chatelaine". She has contributed songs to movie soundtracks and has teamed with musicians such as Roy Orbison, Tony Bennett, Elton John, Anne Murray and Jane Siberry. Lang is also known for being a vegan as well as an animal rights, gay rights, and Tibetan human rights activist. She is a tantric practitioner of the Old School of Tibetan Buddhism. She performed Leonard Cohen's "Hallelujah" live at the opening ceremony of the 2010 Winter Olympics in Vancouver, Canada.
Lang, who came out as a lesbian in a 1992 article of the LGBT-related news magazine The Advocate, has actively championed gay rights causes. She has performed and supported many causes over the years, including HIV/AIDS care and research. Her cover of Cole Porter's "So in Love" (from the Broadway musical, Kiss Me, Kate), appears on the Red Hot + Blue compilation album and video from 1990 (a tribute to Cole Porter to benefit AIDS research and relief). Her 2010 Greatest Hits album, Recollection, also includes this cover of "So in Love".
Her animal rights vegetarian stance, including a "Meat Stinks" campaign, created much controversy, particularly at her hometown in the middle of Alberta's cattle ranching industry.
Lang appeared on the cover of the August 1993 issue of Vanity Fair. The cover featured Lang in a barber chair while model Cindy Crawford appeared to shave her face with a straight razor. The issue contained a detailed article about Lang which observed that she had thought that she would be ostracized by the country music industry when she came out as a lesbian. However, Nashville was accepting, and her records continued to sell. When she appeared in an ad for PETA however, Nashville was less impressed owing to the relationship between country music and cattle ranching.
Her debut album, which was dedicated to her life partner, Jenni Coonan, was re-released as a deluxe version on February 9, 2010. An article in which Lang is interviewed states: "when she isn't working, [lang] is mostly a homebody, living quietly with a girlfriend she refers to as 'my wife' — they're not legally married — and her two dogs."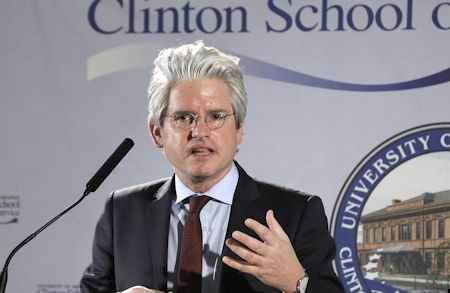 1962 – David Brock is an American journalist and author who founded Media Matters for America. He was a journalist during the 1990s who wrote the book The Real Anita Hill and the Troopergate story, which led to Paula Jones filing a lawsuit against Bill Clinton.
Three years later, Brock surprised conservatives by publishing a somewhat sympathetic biography of Hillary Clinton, titled The Seduction of Hillary Rodham. Having received a $1 million advance and a tight one-year deadline from Simon & Schuster's then-conservative-focused Free Press subsidiary, Brock was under tremendous pressure to produce another bestseller. However, the book contained no major scoops. In Blinded by the Right (2002), Brock said that he had reached a turning point: he had thoroughly examined charges against the Clintons, could not find any evidence of wrongdoing and did not want to make any more misleading claims. Brock further said that his former friends in right-wing politics shunned him because Seduction did not adequately attack the Clintons. He also argued that his "friends" had not really been friends at all because of the open secret that Brock was gay
In the late 1990s, Brock's views shifted significantly towards the left. In 2004, he founded Media Matters for America, a non-profit organization that describes itself as a "progressive research and information center dedicated to comprehensively monitoring, analyzing and correcting conservative misinformation in the U.S. media."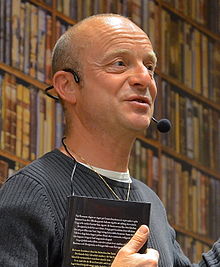 1963 – Jonas Gardell, born in Enebyberg, Stockholm County, is a Swedish novelist, playwright, screenwriter and comedian. He is the brother of religion scholar Mattias Gardell. He is well known for his books and plays in all of Scandinavia and also published in Norway, Denmark, Finland, and Iceland.
Gardell's first novel, Passionsspelet (The Passion Play), was published in 1985. Since then, he has written some ten novels, including En Komikers Uppväxt (A Comedian Growing Up), which became a TV series. He has also written several other books, nine plays and two screenplays that were made into movies, including Livet är en Schlager (Life Is A Schlager). His novels are not yet available in English.
In 2006, more than 20 years after his first novel was published, Gardell is one of Sweden's most famous stand-up comedians and probably the country's most well-known openly gay man. His husband is the Finnish-Swedish-American writer and TV presenter Mark Levengood, with whom he has two children by surrogate mothers. Gardell performed his own play Tillfällig gäst i ditt liv (Temporary guest in your life) (2007) at the Scala Theater in Stockholm.
In 2013 JG was elected "Homo Bi Trans Person of the Year" at the Swedish Gay Gala, notably for the book "Torka aldrig tårar utan handskar" ("Never Wipe Any Tears Without Gloves") - for this, he was a popular choice. His well deserved price was presented to him by none other than the Swedish Crown Princess, HRH Victoria, whom Jonas thanked with the words: "Victoria, you are our Crown Princess, but tonight I think you are also - also our little queen?" - this went down well with the Crown Princess, whom Jonas knows well.
His husband, Mark, every year hosts the immensely popular "Victoria Dagen" at the Swedish island of Öland, when the Swedes celebrate HRH Victoria's birthday at the 14. July.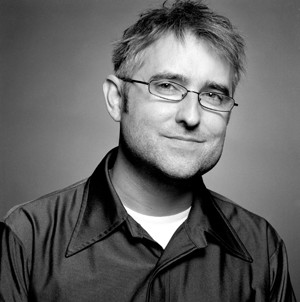 1966 – Writer and director Tim Kirkman was born in Monroe, North Carolina, the third child of a public school educator and a music teacher, and spent his childhood in nearby Wingate, North Carolina. He received a bachelors degree in graphic design from North Carolina State University and a master's degree in media studies from The New School in New York City.
His feature film debut, Dear Jesse, was released theatrically by Cowboy Pictures in 1998. A documentary film about the political and personal parallels between the gay filmmaker Kirkman and the notoriously anti-gay U.S. Senator Jesse Helms, Dear Jesse, made its cable television debut on HBO/Cinemax's "Reel Life" series and was nominated for an Emmy Award in the News/Documentary Writing category in 2000. The TV broadcast version of the film featured an interview with Matthew Shepard, a college student whose murder soon after called attention to gay-bashing and hate crimes.
When the theatrical version opened in East Coast cities, Helms attacked the papers that reviewed it, claiming that
"The New York Times and the Washington Post are both infested with homosexuals. … Just about every other person down there (at the Post) is homosexual or lesbian."
Cinemax's telecast was slightly different from the version Helms attacked. A postscript, taken from deleted scenes on the cutting-room floor, was been added. The film now ends with footage of the late Matthew Shepard, who was attending Catawba College in Salisbury, N.C., when Kirkman interviewed him. After the 21-year-old student was murdered in Wyoming that year, Kirkman remembered the interview, found Shepard's signature on a release form and decided to add the footage to the end of "Dear Jesse."
"The sheer brutality of Matthew Shepard's murder brought the reality of gay-bashing into America's living rooms," said Kirkman, "but seeing Matthew as he was - a vibrant young man - will serve to humanize this tragedy."
Below is the Matthew Shepard footage:
His second film, the performance documentary The Night Larry Kramer Kissed Me, David Drake's solo off-Broadway hit play about writer Larry Kramer, was released by FilmNext in 2000. He also directed 2nd Serve, written by James Markert and starring Josh Hopkins and Cameron Monaghan.
Kirkman's narrative feature debut, Loggerheads, which he wrote and directed, premiered at the 2005 Sundance Film Festival where it was nominated for the Grand Jury Prize for Best Dramatic Feature and won prizes at several film festivals across the United States, including the Grand Jury Prize at Outfest.

1969 – A nationwide poll of US doctors revealed 67% were in favor of the repeal of sodomy laws.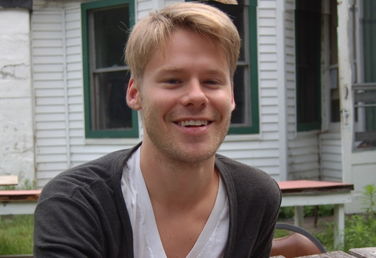 1977 - Today is the birthday of American actor Randy Harrison, Justin of Queer As Folk (US) . Harrison was born in Nashua, New Hampshire, but moved to Alpharetta, Georgia with his family at the age of eleven. He attended Pace Academy, a private prep school in Atlanta. His father is an executive with a large paper company, while he has described his mother as a "thwarted artist."
Randy, who is openly gay, has said: "I love my parents. Coming out to them was sort of coming out to myself. I educated them, and I wanted our relationship to keep growing. I wanted them to be a part of my life still. I wanted to be able to share with them what I was going through."
Harrison attended the University of Cincinnati's College-Conservatory of Music, where he ultimately received his Bachelor of Fine Arts degree in musical theatre. During his time at CCM, he starred in university productions such as Hello Again, Shopping and Fucking, and Children of Eden. He also had other roles in other theatrical venues across the United States at the time.
Randy made his television debut playing Justin Taylor, a gay teen, in 2000's American version of Queer as Folk, based upon the British television series. Known for his optimism and cheery disposition, Justin was a gay teen who sought out a gay community in his hometown of Pittsburg. After losing his virginity to Brian Kinney (played by Gale Harold) during his senior year of high school, Justin falls in love with Brian, and their relationship becomes a central part of the series. "When you watch it, you're like, Wow. I look like that. But it doesn't feel like that at all. It was about communicating with Gale Harold and getting across what I wanted to say about the character," he said. The series ran for five seasons, ending in 2005. In 2007, the character of Justin Taylor was voted number three on the list of top 25 gay television characters of all time by AfterElton.
In 2002, Randy starred in the play Deviant at the New York International Fringe Festival. In the summer of 2004, Harrison made his broadway debut as Boq in the musical Wicked. His Off Broadway credits include A Letter from Ethel Kennedy (2002), Oak Tree (2006), Antony and Cleopatra (2008), Edward II (2007-2008) and The Singing Forest (2009). He also has a substantial resume in regional theatre, most prominently as a featured player since 2005 at the Berkshire Theatre Festival. Roles with the BTF include Equus (2005), Amadeus (2006), One Flew Over the Cuckoo's Nest (2007), Mrs Warren's Profession (2007), Waiting for Godot (2008), Ghosts (2009) and Endgame (2010).
"It makes me proud, and it makes me scared," he said of acting. "More than anything, I want to be an actor and I want to keep working, and I think there's a danger in being perceived as a poster boy for something."
In 2006, Randy co-founded the Arts Bureau (tAB), an umbrella organisation encompassing theatre, film, music and writing. He shot and starred in the first tAB short film, Thinking, in 2008, which has since shown at several film festivals.
Randy dated Advertising Age columnist Simon Dumenco from 2002 to 2008; the two met when Dumenco interviewed Randy for a New York magazine cover story. Now single, he resides in Williamsburg, Brooklyn with his cats Ella and Aggie.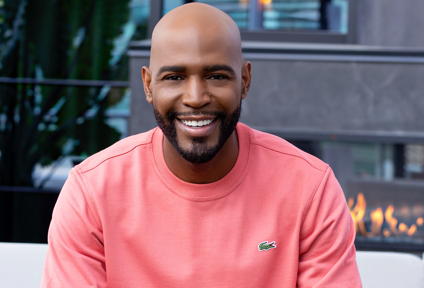 1980 – Karamo Brown is an American television host, reality television personality, author, and activist. Brown began his career in 2004 on the MTV reality show The Real World: Philadelphia. He currently stars as the culture expert in the Netflix series Queer Eye.
Brown was born in Houston, Texas and has three older sisters. He is of Jamaican and Cuban descent. He came out as gay at age 16. Brown grew up in Coral Springs, Florida and graduated from Marjory Stoneman Douglas High School in Parkland in 1999. Following the shooting at the school in 2018, Brown became an active member of the Never Again MSD movement started by the students, advocating for new gun safety legislation. He graduated from Florida A&M University, a historically black university, and worked as a social worker for nearly a decade after The Real World.
In 2007, Brown was notified that he was the father of a 10 year-old boy, Jason, receiving custody of him that year. Brown adopted Jason's half-brother Chris in 2010. Brown moved to Los Angeles with his two sons in 2011 where they currently reside. In May 2018, Brown became engaged to his partner of eight years, director Ian Jordan.
Karamo started his career in television on the MTV reality series The Real World: Philadelphia in 2004, becoming the first out gay black man on reality TV. He later competed in the Real World/Road Rules Challenge: The Inferno II, where he was eliminated in episode six. Brown made a return to reality television on TV One's The Next 15 in 2016, which followed him and five other reality stars.
Brown currently plays the role of the culture expert in the Netflix revival of Queer Eye. The first season was released on Netflix in February 2018.
In August 2019, Brown was announced as one of the celebrities to compete on season 28 of Dancing with the Stars. He came under fire for referring to Dancing with the Stars co-star and former Trump White House press secretary Sean Spicer as a "good guy" in an interview with Access. Donald Trump and his administration have been protested by LGBTQ communities for actions and policies against LGBTQ rights; with Spicer serving as a mouthpiece for many lies in service of Trump. Brown was criticized on social media, with many users including Roxane Gay calling the reality star out for normalizing Spicer and his work in the White House.
Brown co-founded 6in10.org, an organization that works to combat HIV stigma and provides mental health support and HIV education to the black LGBT community. Karamo volunteers as a youth counselor at the Los Angeles LGBT Center. Brown has also partnered with the Center for Disease Control and the National Black Justice Coalition as their health and wellness ambassador. In 2014, Brown partnered with the pharmaceutical company Janssen as part of the Positively Fearless campaign to empower the gay and bisexual community. In April 2018, he joined Creative Coalition members in traveling to Capitol Hill to petition legislators and the office of Second Lady Karen Pence for increased funding for the National Endowment for the Arts. He is also a national co-chair for Health Care Voter.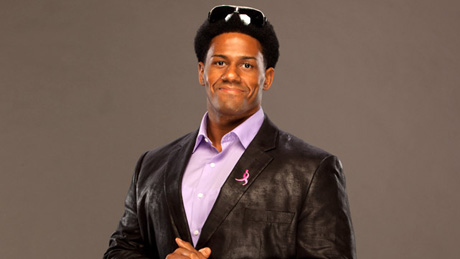 1983 – Fred Rosser who goes by the ring name of Darren Young is an American professional wrestler, currently signed to WWE . Prior to signing with WWE, Rosser competed in Northeastern and Mid-Atlantic independent promotions including Chaotic Wrestling, East Coast Wrestling Association, Independent Wrestling Federation and the National Wrestling Alliance. He is also the first WWE performer to disclose that he is gay while still active with the company.
Rosser/Young was born in Union, New Jersey. He began watching professional wrestling during the mid-1980s and became interested in becoming a professional wrestler as a teenager, wrestling in several backyard wrestling federations. He attended Fairleigh Dickinson University where he played football for a year, before deciding to focus on his academic studies and professional wrestling.
Rosser became interested in becoming a professional wrestler as a teenager, wrestling in several backyard wrestling federations. He researched a number of wrestling schools before deciding on Camp IWF in West Paterson, New Jersey. This was due in part to his employer, whose uncle was a friend of a local wrestler training there at the time, and helped him enroll in the wrestling school.
In an interview released on August 15, 2013, he publicly discussed being gay, making him the first wrestler ever to come out while still signed to a major promotion. Later that day, WWE released a statement in support of Rosser for being open about his sexuality, and various fellow wrestlers tweeted their support for him. He also revealed that he had a stuttering problem throughout childhood.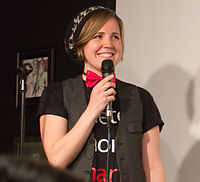 1986 – Hannah Hart, sometimes nicknamed Harto, is an American internet personality and comedian. She is best known for starring in My Drunk Kitchen, a weekly series on YouTube in which she cooks something while intoxicated. Apart from her main channel, she also runs a second channel where she talks about life in general and gives her opinions on various topics.
Hart's success is divided between her main YouTube channel called 'MyHarto', on which she uploads her My Drunk Kitchen videos, and a second channel called 'YourHarto'. The latter contains extra/blooper videos from My Drunk Kitchen, as well as travel vlogs, life updates, fanmail reviews and relationship advice.
Hart has been openly lesbian since 2011. Her content has at times been largely shaped by this, including her 'Coming Out' series which is incredibly well received by the LGBTQ community.

1999 – A United Methodist Church committee found that operators of a church campground in Des Plaines, Illinois discriminated when they refused to rent a cabin to a gay couple.

2004 – Voters in 11 U.S. states back constitutional amendment bans on same-sex marriage. The states are Arkansas, Georgia, Kentucky, Michigan, Mississippi, Montana, North Dakota, Ohio, Oklahoma, Oregon, and Utah.

2010 – Voters in El Paso, Texas pass an initiative that strips health insurance benefits from the unmarried partners of city employees. Supporters say that their intention was to target gay city employees and their partners.

NOVEMBER 3 →
[{(o)}]|[{(o)}]|[{(o)}]|[{(o)}]| [{(o)}]|[{(o)}]