November 8
[{(o)}]|[{(o)}]|[{(o)}]|[{(o)}]| [{(o)}]|[{(o)}]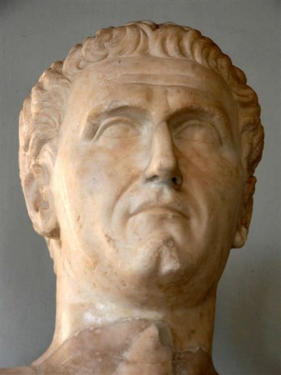 30 A.D. – Nerva, Roman Emperor born (d.98); Although much of his life remains obscure, Nerva was considered a wise and moderate emperor by ancient histories, a view which was later popularized by the 18th century scholar Edward Gibbon, who termed the rule of Nerva and his four successors as that of the Five Good Emperors. By adopting Trajan as his heir, Nerva is said to have established a tradition of succession through adoption among the emperors which followed.
Like many others of his times he enjoyed both women and his boys. Contemporary gossip records that his most celebrated liaison was with this imperial predecessor, Domitian. It appears that Domitian, while a student, had the same problem most modern students have – a shortage of funds. So he did what some enterprising young scholars continue to do today: he turned a few tricks, one of whom was the Roman senator, and later Emperor, Nerva.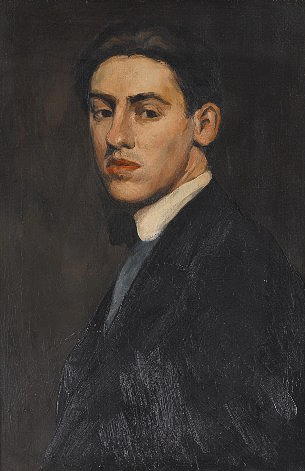 1883 – Charles Demuth was born on this date (d. 1935). He was an American Precisionist painter. Demuth was born in Lancaster, Pennsylvania and studied at Philadelphia's Pennsylvania Academy of Fine Arts. While he was a student there he met William Carlos Williams at his boarding house. The two were fast friends and remained close for the rest of their lives.
He later studied at Académie Colarossi and Académie Julian in Paris, where he became a part of the avant garde art scene. The Parisian artistic community was accepting of Demuth's homosexuality.
While he was in Paris he met Marsden Hartley by walking up to a table of American artists and asking if he could join them. He had a great sense of humour, rich in double entendres and they asked him to be a regular member of their group. Through Hartley he met Alfred Stieglitz and became a member of the Stieglitz group. In 1926, he had a one-man show at the Anderson Galleries and Intimate Gallery, the New York gallery run by Stieglitz.
Charles Demuth used the Lafayette Baths as his favourite haunt. His 1918 homoerotic self-portrait set in a Turkish Bathhouse is likely to be set there.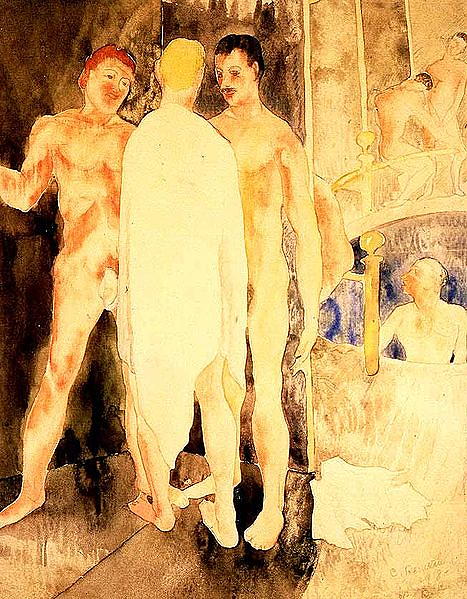 Turkish Bath with Self-portrait
(Click for larger)
His most famous painting, The Figure 5 in Gold (1928) (also sometimes called I Saw the Figure 5 in Gold), was inspired by his friend William Carlos Williams's poem The Great Figure. This is one of nine poster portraits Demuth created to honour his creative friends. He painted poster portraits for artists Georgia O'Keeffe, Arthur Dove, Charles Duncan, Marsden Hartley, John Marin and for the writers Gertrude Stein, Eugene O'Neill, Wallace Stevens and Williams.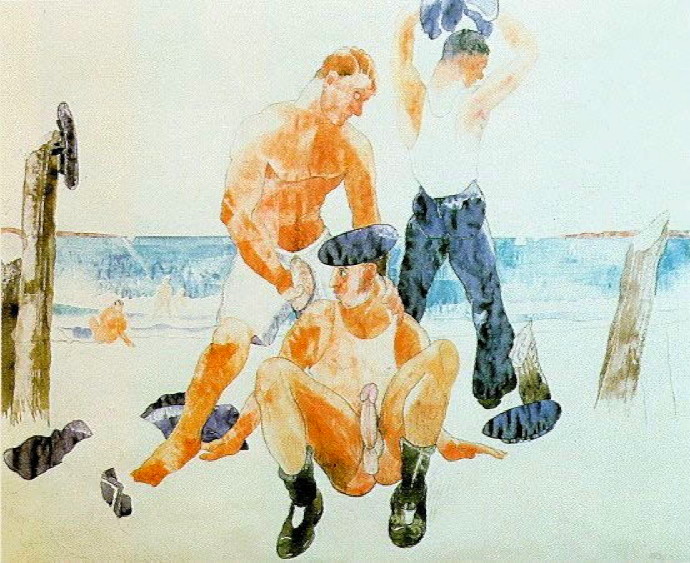 Three Sailors
(Click for larger)
Demuth's will left many of his paintings to his friend Georgia O'Keeffe. Her strategic decisions regarding which museums received these works cemented his reputation as a major painter of the Precisionist school.
Demuth suffered either an injury when he was four years old or may have had polio or tuberculosis of the hip that left him with a marked limp and required him to use a cane. He later developed diabetes and was one of the first people in the United States to receive insulin. He spent most of his life in frail health, and he died in Lancaster at the age 51 of complications from diabetes.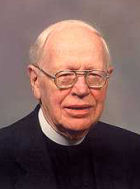 1916
– Canon
Clinton Jones, Jr
., who worked extensively with homosexual issues, was born in Brookfield, Connecticut.
He was ordained in the Episcopal Diocese of Connecticut on June 15, 1941, and pastored at St. James Church in New London from 1941 to 1945. The following year he served as a chaplain for the U.S. Maritime Service. He became assistant minister of Christ Church Cathedral in Hartford in 1946 and two years later became Canon, a position he held until his retirement in 1986. He was then named a "Life Canon." He joined the Greater Hartford Regional Ministry that serves four small churches in 1990 and continues to the present.
In 1963, Canon Jones was appointed to the Rehabilitation Committee of the Greater Hartford Council of Churches, working on issues related to alcoholism. When an inquiry was received from a parish in East Hartford seeking assistance on how to deal with a situation in which a janitor had been accused of sexual misconduct with a young boy, Canon Jones was assigned to gather information available regarding homosexuality. This sparked a personal interest and engagement in ministry with sexual minorities that Canon Jones pursued in the decades to follow.
He subsequently began a counseling ministry as well as gathering an extensive library on homosexuality. In his ministry he came into contact with a number of transgendered persons. Along with Dr. George Higgins, professor at Trinity College, Canon Jones and other professionals developed an extensive program of counseling and psychological services for persons seeking gender reassignment. The "Twenty Club," a support group for transgendered persons was created and met for more than 30 years and has since continued at the GLBT Community Center.
When persons in his congregation told hold him stories about mistreatment and abuse of homosexual prisoners, Canon Jones began a prison ministry in which he went to the prison to interview and counsel gay prisoners every two to three weeks over 20 years.
He published three books: What About Homosexuality, 1972; Homosexuality and Counseling, 1974; and Understanding Gay Relatives and Friends, 1978.
Canon Clinton Jones died at his home on June 3, 2006, survived by his partner of more than 40 years, Kenneth Woods.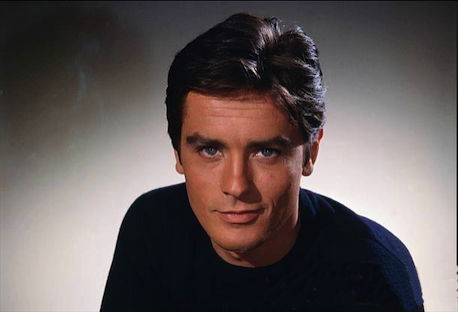 1935
–
Alain Delon
is a French actor and businessman, with French-Swiss dual citizenship since 1999.
Delon acquired Swiss citizenship on September 23, 1999, and the company managing products sold under his name is based in Geneva. He is a citizen of the community of Chêne-Bougeries in the canton of Geneva.
At 14, Delon left school, and worked for a brief time at his stepfather's butcher shop. He enlisted in the French Navy three years later, and in 1953-54 he served as a fusilier marin in the First Indochina War. Delon has said that out of his four years of military service he spent 11 months in prison for being "undisciplined". In 1956, after being dishonorably discharged from the military, he returned to France. He had little money, and got by on whatever employment he could find. He spent time working as a waiter, a porter, a secretary and a sales clerk. During this time he became friends with the actress Brigitte Auber, and joined her on a trip to the Cannes Film Festival, where his film career would begin.
At Cannes, Delon was seen by a talent scout for David O. Selznick. After a screen test Selznick offered him a contract, provided he learn English. Delon returned to Paris to study the language, but when he met French director Yves Allégret, he was convinced that he should stay in France to begin his career. Selznick allowed Delon to cancel his contract, and Allégret gave him his debut in the film Quand la Femme s'en Mêle (When the Woman Butts In). Delon then appeared in the film Faibles Femmes (Weak Women/Three Murderesses). This was also the very first of his films to be seen in America, where it became a huge success.
In 1960, Delon appeared in René Clément's Purple Noon, which was based on the Patricia Highsmith novel The Talented Mr. Ripley. He played protagonist Tom Ripley to critical acclaim; Highsmith herself was also a fan of his portrayal. He then appeared in Luchino Visconti's Rocco and His Brothers. Critic Bosley Crowther of the New York Times said Delon's work was "touchingly pliant and expressive."
He rose quickly to stardom, and by the age of 23 was already being compared with French actors such as Gérard Philipe and Jean Marais, as well as American actor James Dean. He was even called the male Brigitte Bardot. Over the course of his career, Delon has worked with many well-known directors, including Luchino Visconti, Jean-Luc Godard, Jean-Pierre Melville, Michelangelo Antonioni and Louis Malle.
He continued to make successful films through the 60s and 70s. Then followed a string of box office failures in the late 1980s and 1990s. One notable film during this time was Jean-Luc Godard's Nouvelle Vague in 1990, in which Delon played twins. Delon's last major role was in Patrice Leconte's Une chance sur deux in 1998, another box office disappointment.
On 20 March 1959, Delon was engaged to actress Romy Schneider, whom he met when they co-starred in the film Christine (1958). During their relationship, he had an affair with German actress, singer and model Nico. On 11 August 1962, Nico gave birth to a son, Christian Aaron "Ari", fathered by Delon. The child was raised mostly by Delon's parents.
In December 1963, Schneider and Delon decided to break the engagement. On 13 August 1964, Delon married Nathalie Barthélemy. Their son, Anthony Delon, was born in September. The couple divorced on 14 February 1969.
In 1969, Delon and his wife found themselves at the center of a massive scandal when their bodyguard was found shot to death, his body left in a garbage dump. The subsequent investigation into his killing threatened to implicate many of France's most prominent celebrities and politicians in a sordid web of murder, drugs, and sex. Many predicted the demise of Delon's career, but he spun the tabloid headlines to his favor. In the eyes of many filmgoers, his myriad portrayals of gangsters, killers, and sexual deviants suddenly took on new reality in light of the similar exploits he experienced in his offscreen life.
A notorious television interview in which he admitted to past homosexual liaisons – as well as many other seamy adventures – tantalized audiences even more.
Delon announced his decision to give up acting in 1997, although he still occasionally accepts roles. Since the formation of a perfume label in his name, Delon has had a variety of products sold under his name including wristwatches, clothing, eyewear, stationery and cigarettes.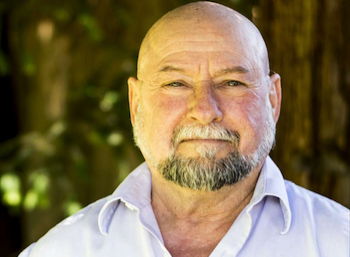 1948 – Jamison Green is a transgender rights activist.
Jamison Green was born female in Oakland, California. He considered himself a lesbian in the early part of his life. Green began his medical transition in the late 1980s with the intention of living openly about his transgender status. He is considered one of few publicly open transgender men of that time.
Green is known as an activist for the legal protection, medical access, safety, civil rights, and dignity of transgender and transsexual people. He began presenting on the fair treatment of transgender workers in 1989. He has published several essays and articles, wrote a column for PlanetOut.com and has appeared in eight documentary films.
Green has served on the boards of the Transgender Law and Policy Institute and the Equality Project, was an advisory board member of the National Center for Transgender Equality, and chaired the board of Gender Education and Advocacy. He served as president of the World Professional Association for Transgender Health from 2014 to 2016.[2][4] He was the leader of FTM International from March 1991 to August 1999.
Green helped establish the Human Rights Campaign's Corporate Equality Index in 2002 and was a member of the organization's Business Council until late 2007, when he resigned over the organization's stance on transgender inclusion in the Employment Non-Discrimination Act.
Green authored Becoming a Visible Man in 2004. The book combines two strands: autobiographical writing about Green's transition from living as a lesbian to living as a bisexual trans man, as well as broader commentary about the status of transsexual men in society. The book received the 2004 Sylvia Rivera Award for best book in Transgender Studies from the Center for Lesbian and Gay Studies and was also a finalist for a 2004 Lambda Literary Award.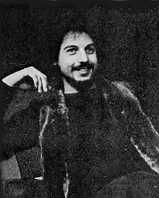 1949 – Gerald Chapman (d.1987) was an English theatre director and educator who was best known for his work with the Royal Court Theatre, London, Gay Sweatshop, the New York City Young Playwrights Festival, the American Repertory Theatre, the Circle Repertory Company, and the Double Image Theatre.
Chapman was born in Torquay, England, the younger son of hotelier Peter Chapman, whose father had been manager of the Savoy Hotel, London in the early 1900s. He spent his early years at the Castle Hotel, Taunton, Somerset, where his father was manager, and which is now owned by his elder brother, Christopher (Kit) Chapman. His mother was of Greek origin, and his summers were spent with his mother's family in Thessalonica.
In 1974, at a time when Gay Liberation was just beginning in the UK, Chapman joined other gay activists and playwrights to set up one of the first Gay Theatre seasons in the UK. The intention of the group was to counteract the prevailing conception in mainstream theatre of what homosexuals were like, therefore providing a more realistic image for the public. They realised that a great deal of hard work was required and came up with the name The Gay Sweatshop. This later became one of the best known gay theatre companies in the UK, with former members including Antony Sher, Simon Callow, Tom Robinson and Miriam Margolyes.
In the mid 1970s Chapman was appointed to the Royal Court Theatre, London in charge of the Young People's Theatre Scheme. This had originally been set up in 1966 to develop and produce the best new writing by young people under 25, encouraging writers from all sections of society to find their voice. In 1976, as part of a drive to invigorate the group,
Chapman developed the YPTS idea and held a competition to give the group a shorter and snappier name. The winning name chosen was 'The Activists'; the logo of which was the letter 'A' formed of nails, to signifying the driving edge and hard grittiness that typified the group's work.
This group had two main branches of activity - the first was a mainstream group that worked with influential writers and directors such as Edward Bond, John Schlesinger, Max Stafford Clark and many others. The second group was formed as part of an off shoot of the radical theatre company Gay Sweatshop, with which Chapman had worked previously.
Together with South African writer David Lan, workshop sessions were held with a group of gay teenagers to develop a play that would eventually became a touring production called 'Not In Norwich' This highly controversial show (for the time) aroused deep press hostility, which resulted in a front page story in the London Evening Standard "London Children in Sex Play". In contrast to the sensationalist press stories (the play actually contained no sexual scenes whatsoever, and the so called 'children' were all, at the time, actors in their late teens), the play itself was constructed from the real life personal experiences of young British gay teenagers, containing as it did, examples of the difficulties, prejudice and considerable humour of those that took part.
The Royal Court, through Chapman and then director Ann Jenkins, fought against a largely hostile press to maintain the integrity of the production, which successfully played at the Royal Court as well as on tours to regional theatres and schools. It was pioneering work of this kind that became a hallmark of Chapman's career, before it was cut so tragically short in 1987. He also taught school, ran workshops, and organized the highly successful Young Playwrights' annual festival.
In 1980 Stephen Sondheim invited Chapman to New York to start a similar project in the United States. Chapman founded and directed the acclaimed New York Young Playwrights Festival, which won a Drama Critics Circle Award in 1983.
Gerald Chapman died of AIDS on 25 September 1987 at the Beth Israel Medical Center, New York, USA. His life partner, Ivan Chatman, was by his side.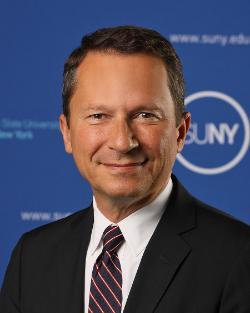 1954 – Richard Socarides is head of global corporate communications and government affairs for Gerson Lehrman Group (GLG). Previously, he led communications at New Line Cinema and has held other senior media jobs at Time Warner, AOL and in government and politics. He is also an American Democratic political strategist, writer for The New Yorker, TV commentator and a New York attorney. He was a White House adviser under United States President Bill Clinton from 1993 to 1999 in a variety of senior positions, including as Special Assistant to the President and Senior Adviser for Public Liaison. He worked on legal, policy and political issues and served as principal adviser to Clinton on gay and lesbian civil rights issues. Under Clinton, he was chief operating officer of the 50th Anniversary Summit of the North Atlantic Treaty Organization (NATO). Socarides also worked as special assistant to Senator Tom Harkin.
Socarides has written extensively on political and legal topics in his regular column in The New Yorker, as well as for The Washington Post, The Wall Street Journal, and Politico. He is a frequent commentator on television.
Socarides is a Trustee of the State University of New York (SUNY), appointed by Governor Andrew Cuomo and of Antioch College, which he attended.
Socarides, who is openly gay, was the founding president of Equality Matters in 2011. He is the son of Charles Socarides (1922–2005), a psychiatrist and psychoanalyst who was outspoken critic of the American Psychiatric Association's 1973 decision to remove homosexuality from its list of mental disorders. In 1992 the elder Socarides co-founded NARTH, in response to the American Psychoanalytic Association's 1992 decision to change its position on homosexuality.
A portion of Socarides' time in the Clinton Administration was portrayed by his brother, Charles Socarides, in the 2017 American Broadcasting Company docudrama miniseries When We Rise about the struggles of the early gay rights movement. Richard Socarides said of their father:
"Early gay activists realized that in order to win, my father was really standing in their way, because as long as we were viewed as people with a mental illness, we could never get full equality."

"They saw him as public enemy number-one, and I think perhaps rightfully so. He dug in his heels, seeing that as a threat to his professional credentials, as is sometimes the case with people who are narcissistic. I would say our dad had almost Trump-like narcissistic qualities."

"I see Donald Trump and he sometimes reminds me of my dad. I just think he got it in his mind and he felt under attack, and there was no changing his mind."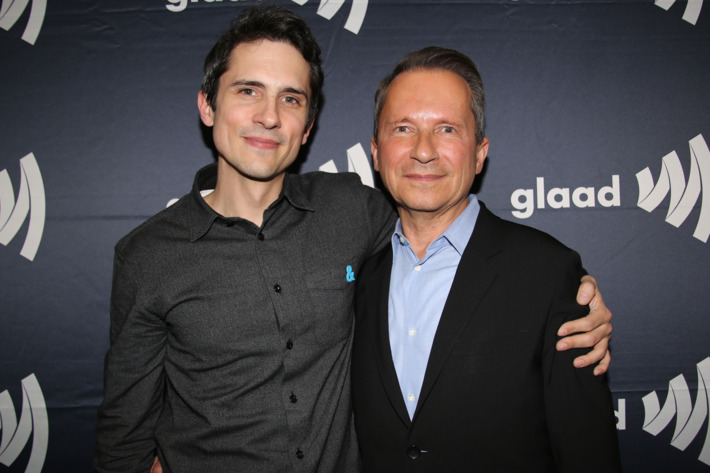 The Socarides Brothers, Charles (L) and Richard (R)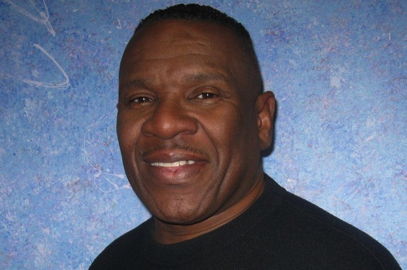 1956 – Roy Simmons (d.2014) was a former American football player who played for the National Football League. He played offensive lineman for the New York Giants and then with the Washington Redskins during Super Bowl XVIII in 1984.
In 1992, he came out of the closet as gay on the Phil Donahue Show, then promptly disappeared. No more stories would appear about Simmons for the next 12 years. Simmons, by now 47, broke his silence in an interview in the New York Times (strangely, the story ran in the Style section, not Sports) and his story is a compelling tale of a star athlete who hit rock bottom and is trying to get back up.
The
Times
story, revealed this about Simmons:
He is HIV positive
He was raped by a neighbor when he was 11
He was in drug rehab twice, and at the time of the article was sober two years
He came close to jumping off the Golden Gate bridge
He had been homeless for a short time
The article details the shame and isolation Simmons felt about being attracted to men and the central role the rape had. "
Years later as an adult, he tortured himself wondering—often while drunk or high on drugs—if he would have been straight if he had not been assaulted,"
reporter
Maureen Orth
writes.
"He blamed himself and suffered from a diminished sense of self-worth and confusion over his sexual identity. 'I think all my life it affected me,' he said. 'The acting out—the sex with the boys, the girls — the drinking.' "
The article also weaves in the difficulty of being black and gay—the "Down Low" concept where black men live a deeply closeted gay or bisexual life. It also delves into the familiar territory of how hard it is to be a gay professional athlete. "The N.F.L. has a reputation," Simmons said, "and it's not even a verbal thing—it's just known. You are gladiators; you are male; you kick butt."
An interesting aside comes from Butch Woolfolk, a former teammate of Simmons: "I played with four gay guys. Roy is the only one I didn't know about."
Simmons, who works as a supervisor in a Long Island drug halfway house, joins David Kopay, Wade Davis, and Esera Tuaolo as the only NFL players who have publicly declared they are gay.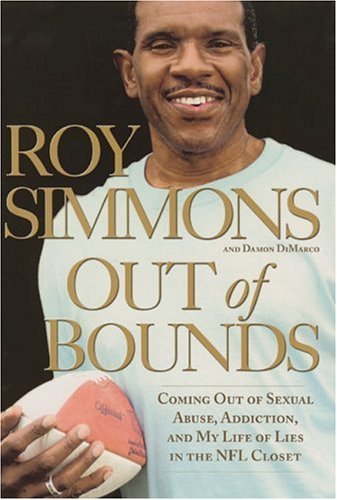 In his autobiography, Out of Bounds (written with Damon DiMarco), he speaks of his drug addiction, prostitution, and promiscuity. Around 1997, he learned that he was HIV-positive.
Later in life, he became more open about his sexuality, and did drag while in San Francisco. But in 2005, he made an about face when he appeared on TV evangelist Pat Robertson's program and said homosexuality was "against God's will."
He died 20114. Friend James Hester told the Daily he found Simmons' body in a chair in his rented room in the Bronx. He also said the athlete had been fighting pneumonia.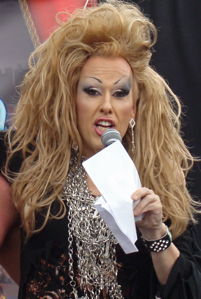 1959 – Born: Chi Chi LaRue (né Larry David Paciotti) is an American film director of gay, bisexual and straight pornography. He is best known in his drag persona as Chi Chi LaRue and has also directed under the names Lawrence David and Taylor Hudson.
Director, DJ and drag diva, Chi Chi LaRue is one of the most recognizable names and faces in the history of adult film, his fame far surpassing that of most superstars he created over the past decades. LaRue's drag persona began upon moving to the Twin Cities area where Chi Chi began performing in drag as one-half of "The Weather Gals", a "hag drag" revue. He later moved to California with a friend and was hired by Catalina Video because of his knowledge of porn and the workings of the porn industry. LaRue worked at Catalina in the late 1980s, when many of the producers and directors in the gay porn industry were falling ill or dying. Beginning in the press department for Catalina Video, a label he now owns under his company Channel 1 Releasing, it wasn't long before Chi Chi LaRue's creative spark set afire. He was soon directing some of the highest selling releases of all time. LaRue has directed hundreds of gay porn films since 1986.
In 2001 LaRue made a Cameo appearance in the U.S. independent film The Fluffer, a triangular story of obsessive love set against the backdrop of the adult film industry.
Multi-award winning and an GayVN Award Hall of Fame inductee, Chi Chi has branded his name and image creating everything from sex toys to candles to Chi Chi LaRue water, all sold at his adult boutique, Chi Chi LaRue's, on Santa Monica Blvd. in the heart of West Hollywood.
In 2005, Chi Chi LaRue became a DJ and now tours with porn stars from his movies, selling out nights in clubs all over the world. In 2007 LaRue was chosen as one of Out (magazine)'s Top 50 most influential people in the GLBT community.

1961 – The North Carolina Supreme Court rules that penetration must be proven to convict for sodomy.


Added 2022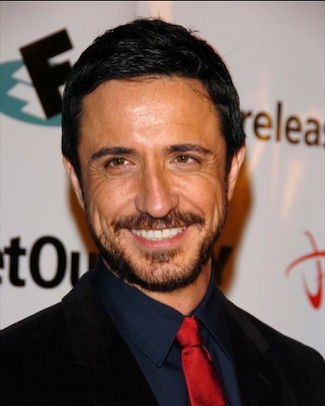 1965 – Craig Chester, born in West Covina, California, is an American actor and screenwriter.
He is best known for his performances in independent films in the 1990s, starting with his debut in Swoon (1992), which earned him an Independent Spirit Award nomination. After appearing in several more independent films, he took a break from acting and wrote the autobiographical Why the Long Face?: The Adventures of a Truly Independent Actor (2003). The title refers to the congenital disorder long face syndrome, which Craig was diagnosed with when he was eleven years old and required years of surgery to correct.
Chester's most recent projects are the 2007 film Save Me, for which he co-wrote the screenplay, and the 2005 film Adam & Steve, which he directed, wrote, and co-starred in. Adam & Steve has since developed a cult following. Craig is openly gay.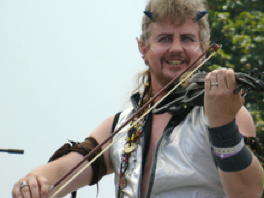 1968 – Alexander James Adams is an American singer, musician and songwriter in the Celtic and World music genres. He blends mythical, fantasy, and traditional themes in performances, switching between instrumental fiddle and songs accompanied by guitar, bodhrán, and fiddle playing. He has also been a popular and influential artist in the field of filk music and won multiple Pegasus awards.
Adams performed as Heather Alexander for 25 years before beginning to tour as Alexander James Adams. His website refers to him as the "heir" to Heather Alexander, and continues to credit songs originally released as Heather Alexander under that name.
The last public performance under the name Heather was at OryCon 2006. His debut as Alexander James Adams was at Seattle's Norwescon 30, on April 6, 2007.
In early 2007 Adams transitioned to male and since April 2007 has performed in many of the venues that he had formerly played as Heather Alexander. He has played with Uffington Horse and has also formed a new band, Tricky Pixie, with
S.J. Tucker
and
Betsy Tinney
. In summer 2007, the band released a recording of their first concert, Live!, which is the earliest released recording of Adams' post-transition voice.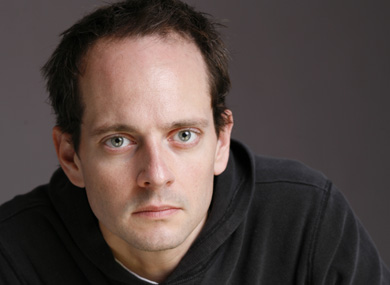 1969 – Jonathan Slavin is an American actor. Slavin may be best known for his portrayal of illustrator Byron Togler on the Fox network's sitcom Andy Richter Controls the Universe, Ogo from the CGI animated show Robot and Monster, and as scientist Phil Myman on ABC's sitcom Better Off Ted.
He has also had guest starring roles on such shows as Castle, Grey's Anatomy, My Name Is Earl, Summerland, Friends, Weeds, Wings, ER, Chicago Hope, Ugly Betty, CSI: Crime Scene Investigation, Bones, Better With You, Legit, Raising Hope, The Finder and Friends with Better Lives.
He has performed in a few films as well, including Free Enterprise, Race To Witch Mountain, Backwoods, A Cinderella Story, Hard Pill and Dirty Girl.
Slavin was raised in Wilkes-Barre, Pennsylvania.He is Jewish, openly gay and has lived with his partner Michael for 20 years as of April 2014. Slavin is also a vegan and animal rights activist, with a large menagerie of pets.

1970 – In New York City, two policemen invade a private club to interrupt a Daughters of Bilitis business meeting. The blatantly harassing nature of the police action persuades many members of the low profile group of the need for action. The Daughters of Bilitis, also called the DOB or the Daughters, was the first lesbian civil and political rightsorganization in the United States. 

1971 – Australia: The first gay rights demonstration in Sydney takes place. It's held outside the headquarters of the Liberal Party. Gay writer and activist Dennis Altman is one of about 70 protesters. He is an Australian academic and pioneering gay rights activist.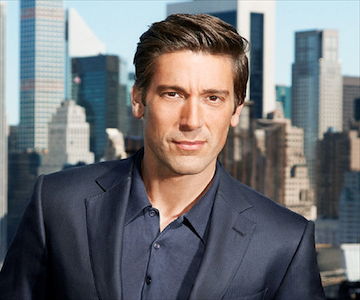 1973 – David Muir is an American journalist and the anchor of ABC World News Tonight and co-anchor of the ABC News magazine 20/20, part of the news department of the ABC broadcast-television network, based in New York City. Muir previously served as the weekend anchor and primary substitute anchor on ABC's World News Tonight with Diane Sawyer, subsequently succeeding her on September 1, 2014. At ABC News, Muir has won multiple Emmy and Edward R. Murrow awards for his national and international journalism.
When the bits of gossip claiming David Muir to be involved with ABC  field reporter Gio Benitez began, David was co-facilitating 20/20, and Gio was a standard journalist for the show. They were seen together on different evenings out, and individuals rushed to conjecture.
By 2016, Gio got hitched to Tommy DiDario which closed down the gossip for a while. David is most often seen roaming around with a man who press sources identify as his "boyfriend Sean." It is speculated that he has already married to his partner Sean and is living happy life with him. 

1977 – Harvey Milk was elected to the San Francisco Board of Supervisors, making him the first openly gay man to be elected in a major US city. Dan White, who would murder Harvey Milk just over a year later, was also elected.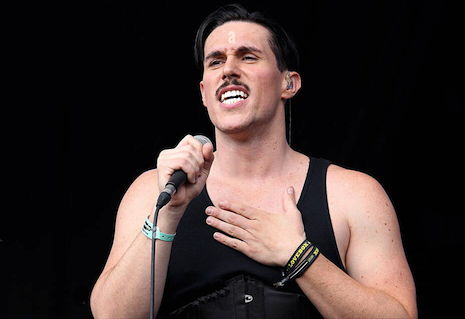 1982 – Samuel Falson, better known by his stage name Sam Sparro, is an Australian singer, songwriter and record producer. He was signed to the British record label Island Records. Sparro is best known for his 2008 single "Black and Gold".
Sam Sparro was born and raised in Sydney, Australia. Sparro's father, Chris Falson is a gospel minister and recording artist of Maltese descent who has written music for Star Trek and Queer Eye for the Straight Guy. Sparro's mother, Karyn Falson (née Frankland) is from Australia. His brother plays guitar professionally while his mother plays organ at a Baptist church.
The family relocated to Los Angeles when Sparro was ten years old. His father had signed a deal there and was recording a soul album, he took Sparro to a church in Tujunga to hear some of the genre's singers. Fellow church goers, were the McCrary family. Chaka Khan became one of his early admirers after hearing Sparro's singing through knowing the McCrarys.
His first role as a child actor was in a McDonald's commercial. His stage name was derived from a family nickname, which in turn was inspired by the Sydney radio announcer Gary O'Callaghan's on-air character "Sammy Sparrow".
Sparro left Los Angeles and returned to Sydney, where he lived with his grandparents and worked for a public relations company, before travelling to the UK, immersing himself in the music scene in London. He returned to Los Angeles in 2002, where he took a job in a coffee shop. It was during this time that he wrote his single, "Black and Gold" with his producer, Jesse Rogg.
When growing up, Sparro regularly performed backing vocals at his father's concerts and on his music releases. He states "I'm a spiritual person, but … not into any religion. I was always kind of a non-denominational Christian" and "a bit of a gypsy".
Sparro is openly gay. He did an interview for Attitude magazine and was featured on the front cover. Sparro married his boyfriend DJ Zion Lennox in a private ceremony in California on 21 September 2018.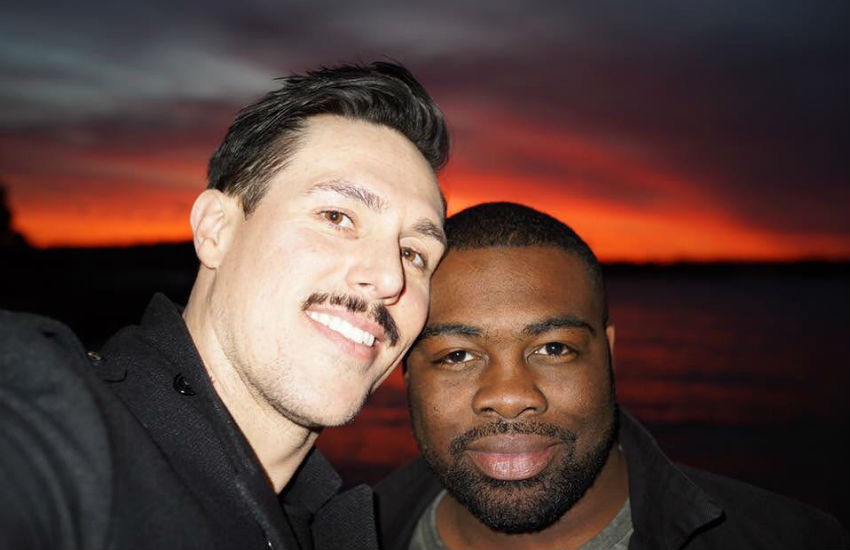 1988 – Oregon voters repealed an executive order which prohibited discrimination based on sexual orientation among state government employees.


Added 2022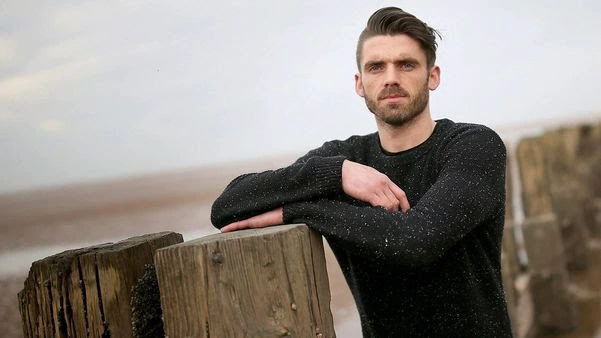 1990 – Liam Davis is an English semi-professional footballer who played for Cleethorpes City.
Liam began his career in the youngsters' teams of his home town club, Grimsby City, wherein he failed to achieve the first crew. After leaving Grimsby, Liam went onto play for Selby City, Brigg metropolis, Gainsborough Trinity, and most recently, Cleethorpe, which he represented in the 2017 FA Cup at Wembley.
In January 2014, Davis grew to be the U.K.'s highest-profile overtly gay footballer.
In December 2017, Davis publicly criticized feedback made by FA chairman Greg Clarke, who said "players who out themselves as gay would be taking a chance." Davis advised other homosexual football players to come out publicly and not worry about a backlash.
The 27-year-old has spoken out, encouraging male gay footballers not to fear coming out, sharing their very own stories as a part of Uefa's same game marketing campaign, to foster extra inclusion and variety in the sport.
The midfielder admitted receiving abuse from some quarters, but insists football's attitudes towards homosexuality are increasingly improving.

1992 – The East Nashville Cooperative Ministry denied membership to Dayspring Christian Fellowship, a mostly gay and lesbian congregation.

1995
– Representatives of
Parents and Friends of Lesbians and Gays
approached television stations in four US cities to buy advertising time for two ads, one on the prevention of suicide among gay and lesbian youth and one about gay bashing. All stations refused to air the suicide ad, and only two cable stations and one network affiliate station would air the gay-bashing ad. They were told the ads offended community standards.

1995 – In Zimbabwe, Tribal Chief Norbert Makoni addressed Parliament, saying gays and lesbians should be sentenced to whipping.

1996 – Transgender activists protested outside the offices of the American Psychiatric Association in Washington DC.


2003 – The first gay character comes out on Degrassi: The Next Generation. Marco, played by Adamo Ruggiero, comes out in the two-part episode titled "Pride."


2010 – Shawn Woodward, who physically assaulted Ritchie Dowrey in Vancouver's Fountainhead Pub (see March 13, 2009), is sentenced to six years in jail for "homophobic assault".

NOVEMBER 9 →
[{(o)}]|[{(o)}]|[{(o)}]|[{(o)}]| [{(o)}]|[{(o)}]