October 21
[{(o)}]|[{(o)}]|[{(o)}]|[{(o)}]| [{(o)}]|[{(o)}]
1797 – Reiner Pieters van Workum of Frisia, Netherlands, was convicted of seduction to sodomy and sentenced to flogging, ten years in prison, and banishment for life.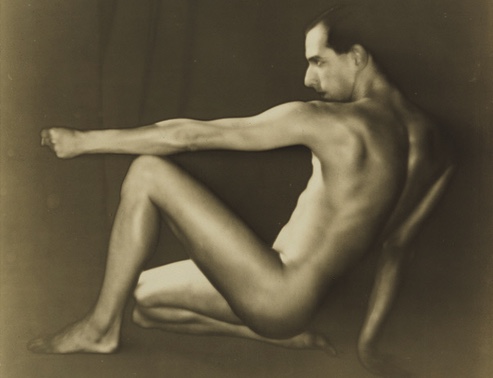 1891 – Ted Shawn (d.1972), originally Edwin Myers Shawn, was one of the first notable male pioneers of American modern dance. Along with creating Denishawn with former wife Ruth St Denis he was also responsible for the creation of the all-male company Ted Shawn and His Men Dancers. With his innovative ideas of masculine movement he was one of the most influential choreographers and dancers of his day. He was also the founder and creator of Jacob's Pillow Dance Festival in Massachusetts.
Ted Shawn was born in Kansas City, Missouri. Originally intending to become a minister of religion, he attended the University of Denver. There he caught diphtheria, which led him to take up dance in 1910 to regain his muscle strength. Shawn's dancing was discouraged by the University, which still had a Methodist affiliation, and was the reason for his expulsion the following year.
After marrying Ruth St Denis in 1914., she and Shawn opened the first Denishawn School in Los Angeles, California, where they were able to choreograph and stage many of their famous vaudeville pieces. The school and company went on to produce such influential dancers as Martha Graham, Doris Humphrey and Charles Weidman.
Although Denishawn came to an end in 1929 due to hard times both in Shawn's and St Denis' marriage as well as the economy, Shawn's second dance group Ted Shawn and His Men Dancers (1929-1940) were soon to follow in his dancing career. The new all-male company was based out of Massachusetts near his then home of Lee. In creating this company Shawn was hoping to make America become more aware, and accept the importance and dedication of the male dancer. It was with this new company that Shawn produced some of his most controversial and highly skilled choreography to date. With works such as Ponca Indian Dance, Sinhalse Devil Dance, Maori War Haka, Hopi Indian Eagle Dance, and Dyak Spear Dances he was able to showcase performances that all stressed male body movement.
His love for the relationships created by the men in his dances soon translated into love between him and one of his company members Barton Mumaw which lasted from 1931-1948. He had another partner following Mumaw, John Christian with whom he spent his life from 1949 until his death in 1972.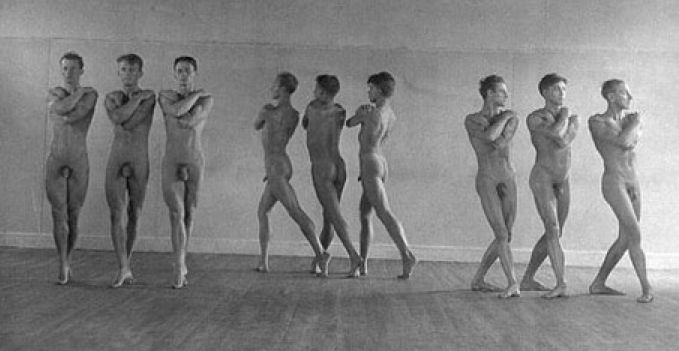 1939 – In New York, police raided a masked drag ball and arrested 99 men and charged them with masquerading as females.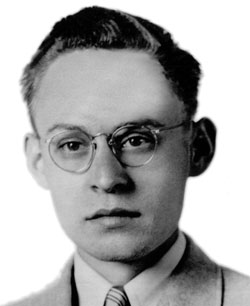 1917 – William Dale Jennings (d.2000) was an American LGBT rights activist, playwright and author.
Jennings was born in Amarillo, Texas. He and his sister Charlotte Elaine (two years older) grew up in Denver, Colorado where they were both schooled in music, Elaine playing the violin and Dale (as he was known, to distinguish himself from his father) the piano. The two made many appearances on local radio and at tent revival meetings. Dale showed an early love of dance, growing into a noted prodigy before the age of twelve. Later he joined the Lester Horton dance troupe as they traveled around the United States. In his late teens he moved to Los Angeles, with aspirations of becoming a writer and theater director, for which he had trained in Colorado. He eventually launched a theater company called the Theatre Caravan,located in a now demolished building near Olympic Blvd. and Alvarado, where he also lived. During this time he wrote and produced about 60 plays.
During World War II he was stationed at Guadalcanal. During his military service, he was awarded a WWII Victory Medal, an American Campaign medal, an Asiatic- Pacific campaign medal, and a Philippine Liberation Ribbon with one bronze star. After being honorably discharged in 1946, he returned to California where he studied cinema for two years at the University of Southern California. Before the war Jennings pursued relationships with women in the custom of the time, to avoid any suspicions about his true nature. He married once, an aspiring actress at Theatre Caravan; this lasted through the war, followed by divorce.
In November 1950, Jennings accompanied his friend Bob Hull, to a meeting with Harry Hay and Chuck Rowland to discuss a prospectus that had called on the "androgynies of the world" to unite. This meeting began the first official meeting of the International Bachelors Fraternal Order for Peace and Social Dignity, which would later be renamed as the Mattachine Society. The society sought to gain acceptance through greater communication between homosexuals and heterosexuals. The group began to grow and by the summer of that year they had adopted official missions and purposes which proclaimed homosexuals to be one of the largest minorities in America.
In the spring of 1952 Jennings was arrested for allegedly soliciting a police officer in a toilet in Westlake Park, now known as MacArthur Park. The Mattachine Society decided to help contest the charges brought against Jennings.They enlisted the help of attorney George Sibley, a member of the Citizens' Council to Outlaw Entrapment.
Jennings was one of the first homosexual men to contest charges such as this one. Most homosexuals at the time pled guilty so as not to be publicly scrutinized. His decision to fight back was a pivotal point in the movement. The organization raised funds and promoted Jennings' case nationally.
The trial began June 23, 1952 and lasted ten days. Jennings confessed to being a homosexual but denied any wrongdoing. The jury voted 11-1 for acquittal on the basis of police intimidation, harassment, and entrapment of homosexuals, and the case was dismissed. The trial brought a lot of attention to the Mattachine Society, increasing awareness of the Gay Rights Movement as a whole as well as increasing the organization's membership.
While Jennings was one of the founders of the Mattachine Society, his views on how to best fight for equal rights for homosexuals differed from the organization as a whole. Harry Hay believed that "gays were a unique and especially talented group who had been a primary part of tribal societies and needed to come together and reclaim those sacred and traditional roles". Jennings believed that there essentially was no difference between a gay man and a straight man. Jennings adopted a more private role, believing that homosexuals as a group had very little in common, and wanted to fight for the right to be left alone while Hay and the rest of the Mattachine Society collectively wanted to make homosexuality visible to the public and fought for more homosexual awareness.
In 1953, Jennings and others of like mind separated from the Mattachine and created ONE, Inc.. This organization became the dominant organization in Los Angeles and with the financial assistance of Jennings' sister Elaine and her husband James Porter its magazine became, for a period of time, the voice of the gay and lesbian movement. The magazine spoke out openly and more forcefully on behalf of the rights and interests of homosexuals.
After leaving ONE in 1955, Jennings wrote and published his first novel, The Ronin, followed by The Sinking of the Sarah Diamond. Another book, The Cowboys, based on a film treatment he sold to Warner Bros., caused considerable controversy among publishers due to its glimmers of homoeroticism. The Cowboys was made into a film in 1972, starring John Wayne. While not as successful as his first book, he made enough profit from the book that allowed him to buy a ranch outside of Los Angeles. Later he moved to northern California where he decided to re-involve himself in the movement. He contacted an old friend from ONE, Don Slater, who had also separated himself from ONE and founded a new organization, HIC (Homosexual Information Center) in 1965. Jennings was very passionate about his writings, and hoped that the HIC would accept and protect his scripts and books.
He continued to write until shortly before his death on May 11, 2000 at the age of 82.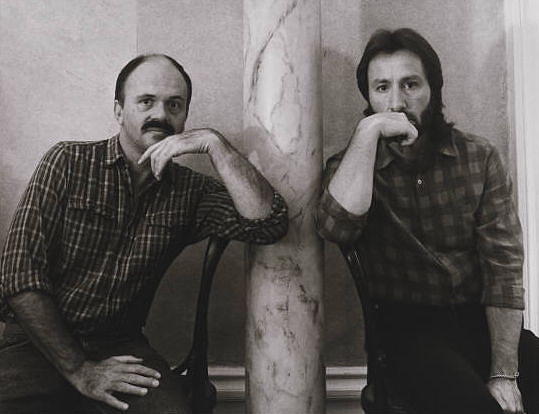 Robert Ferro (R) and Michael Grumley
1941 – Robert Ferro (d.1988) was an American novelist whose semi-autobiographical fiction explored the uneasy integration of homosexuality and traditional American upper-middle-class values.
He was born in Hoboken, New Jersey, on October 21, 1941. His father was born in America, but Ferro's mother had immigrated in 1914 from Italy, a country that would figure prominently in her son's life and writings.
After graduation, determined to become a writer, he lived for a year in Florence, Italy, where he studied Italian and wrote fiction. Ferro enrolled at the Writers' Workshop at the University of Iowa in the fall of 1965; there he studied with the Chilean novelist Jose Donoso and earned a Master of Fine Arts in Creative Writing in 1967.
During his final semester at Iowa, Ferro met Michael Grumley (1941-1988), also a student at the Writers' Workshop, and the two began a two-decade-long personal and professional partnership. Known to their friends as "the Ferro-Grumleys," the couple lived primarily on New York's Upper West Side, but also spent extended periods of time in Rome and London.
Michael Grumley and Robert Ferro were affiliated with a literary group known as the Violet Quill, whose seven members, as men writing for men, are regarded as one of the strongest collective voices of the gay male experience in the post-Stonewall era. Authors Christopher Cox, Andrew Holleran, Felice Picano, Edmund White, George Whitmore, Ferro, and Grumley met several times in 1979, 1980, and 1981 to read aloud from their works in progress. Also on the agenda were discussions of how they could work together to promote recognition, acceptance, and publication of gay literature beyond the boundaries of their own community. Of the VQ writers, Michael Grumley and Robert Ferro were the first to die from AIDS-related complications, both at age 46 in 1988, Grumley on April 28 and Ferro on July 11; they were followed by Whitmore in 1989 and Cox in 1990.
Robert Ferro knew he was suffering from AIDS when he wrote his last novel, "Second Son". It tells of the romance between two men with AIDS. Robert Ferro's companion of 20 years, Michael Grumley, died of AIDS few weeks prior to the release of the book.
Robert Ferro died of AIDS a few months after his partner in 1988. Their estate helped founding the prestigious Ferro-Grumley Award to honor culture-driving fiction from LGBT points of view.
Robert Ferro's works are especially interested in the phenomena of homosexual integration into the traditional family. Love of family is a theme that appears in both The Family of Max Desir, and Second Son and reflects his traditional Italo-American sentiments.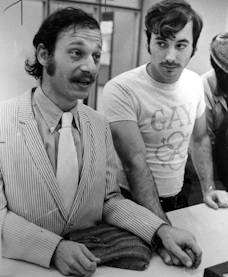 Singer/ben-Mirian with Paul Barwick
1944 – Faygele ben-Miriam, born John F. Singer, (d.2000) was a U.S. activist, particularly for LGBT rights, and a gay marriage pioneer, filing one of the first gay marriage lawsuits in American history after being denied a marriage license at the King County Administration Building in Seattle, Washington in 1971.
Singer was born New York City to Jewish parents of Lithuanian and Polish background. He and his two younger brothers and his younger sister were raised in a non-religious, politically aware household in Mount Vernon, New York. He came out to his parents in 1963 or 1964, to the initial consternation and eventual acceptance of his mother and the long-running anger of his father.
He served as a VISTA volunteer for civil-rights causes in the mid-1960s, applied for conscientious-objector status and served as an Army medic in Germany. Studying at City College of New York, he received his liberal arts degree in 1970. Later that year, he left for San Francisco and, later, went to Seattle.
On September 20, 1971, Singer and fellow activist Paul Barwick applied for a marriage license at the King County Administration Building in Seattle, not being keen on actually getting married but wanting "to make a point about having the same rights as heterosexuals." Their request was refused by then-county auditor (and current County Assessor) Lloyd Hara. They were among the first same-sex couples in the United States to apply for a marriage license, causing a flurry of media coverage and leading to a lawsuit, Singer v. Hara, which ended in 1974 with a unanimous rejection by the Washington State Court of Appeals.
Singer worked as a typist for the Equal Employment Opportunity Commission, but his taste for women's clothing and his open disclosure of his homosexuality resulted in him being fired after one year in 1972, despite the protests of co-workers. He sued the EEOC with the help of the American Civil Liberties Union, and the Ninth Circuit Court of Appeals ruled in his favor in 1974, with the U.S. Supreme Court remanding the case back to the Ninth Circuit, essentially instructing it to rule in ben-Miriam's favor, resulting in his receiving back pay from the entire span of the lawsuit. The suit also resulted in the EEOC enforcing prohibitions against discrimination on the basis of sexual preference. While ben-Miriam did not go back to the EEOC, he took up a job with the U.S. Department of Labor, from which he retired in 1995.
In 1973, Singer changed his name to Faygele ben-Miriam, Faygele being the Yiddish word for "little bird", used both as a woman's first name and a derogatory Yiddish term for "faggot", "ben" meaning "son of" in Hebrew and Yiddish, and Miriam being his mother's name, thus stressing both his Jewish and his gay identity.
ben-Miriam also participated in the Radical Faeries in Wolf Creek, Oregon and for a while published its newsletter, RFD, virtually single-handedly. He was active on the National Board of the New Jewish Agenda, worked with the International Jewish Peace Union and was active in Kadima of Seattle.
He died on June 5, 2000, at the age of 55. According to his sister, he died of lung cancer (he had been a heavy smoker) which metastasized to his brain. Although he had been HIV positive for several years, he did not die of AIDS, a fact which, again according to his sister, annoyed him: he would have preferred that his death be as political as his life.
ben-Miriam helped found the Gay Community Social Services of Seattle and also produced the first gay country music album, Lavender Country.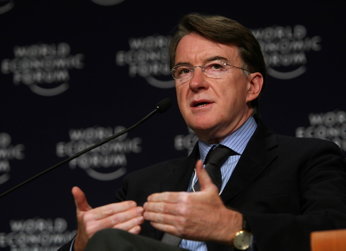 1953 – Born: British former secretary of state for Trade and Industry Peter Mandelson, Baron Mandelson. Along with Tony Blair and Gordon Brown, he is regarded as one of the main players in the rebranding of the Labour Party as "New Labour". Mandelson served as Member of Parliament for Hartlepool for twelve years (from 1992), a seat he vacated in order to become a European Commissioner (2004-2008).
In October 1998, during his first period in the Cabinet, Mandelson was the center of media attention when Matthew Parris (openly Gay former MP and then Parliamentary sketch writer of The Times of London) mentioned during a live interview that "Peter Mandelson is certainly Gay".
In 2000, Peter Mandelson publicly recognized his long term relationship with his long-time partner, Reinaldo Avila da Silva by allowing photographs of them together. His memoir, The Third Man: Life at the Heart of New Labour, was published in July 2010.
In an interview, he said:
''I would hate to think that I take a stand because I have one sexuality, or one sexual orientation. I think it's important that people should be able to get to the top of politics - or whatever profession they aspire to travel to the top of - irrespective of what they are. I think I'm actually quite a good role model for people who, without any fuss or bother, without any self-consciousness or inverse or other discrimination, (are) able to make it in politics, to make it in public life, to make it to the top places in government of our country."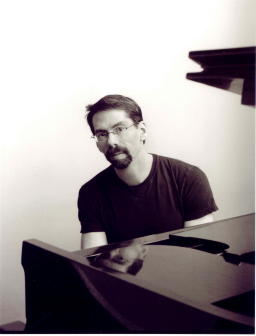 1955 – Born: American jazz pianist and composer Fred Hersch. Born in Cincinnati, Ohio, Hersch began playing piano at a very young age. He also had an early interest in mandolin. By age twelve, Fred had written his first symphony. He studied at Grinnell College in the mid 1970s and began playing in jazz clubs in Cincinnati. He later graduated from New England Conservatory of Music in Boston. He moved to New York City in the late 1970s where he soon found a place playing with artists including Stan Getz, Joe Henderson, Lee Konitz, Art Farmer, and Charlie Haden.
Hersch soon began recording his own records and composing music. Like a number of jazz pianists who have come of age over the past 20 years, he is strongly influenced by the work of Bill Evans. Although Hersch has played in a number of different instrumental combinations, he also plays as a solo performer, and many of his albums—such as Live at the Bimhuis (2005)—are solo recitals. In 2006 he was invited by club owner Lorraine Gordon to perform the first-ever solo piano booking at the legendary Village Vanguard jazz club in New York City.
Along with Gary Burton and Andy Bey, Hersch is one of the few openly Gay jazz musicians.


Added 2021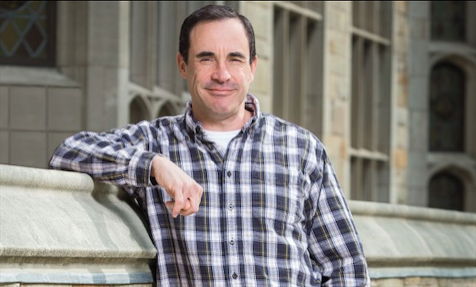 1963 – Gregg Gonsalves is a global health activist, an epidemiologist, an Assistant Professor at Yale School of Public Health and an Associate Professor (adjunct) at Yale Law School. He was born on this date in Mineola, New York and grew up in nearby East Meadow, NY and attended East Meadow High School.
He began working with the AIDS Coalition to Unleash Power (ACT-UP) in 1990, going on to co-found the Treatment Action Group (TAG) in 1992, with his colleagues from the Treatment and Data Committee of ACT UP New York, including Peter Staley, Mark Harrington and Spencer Cox. With TAG, he authored several reports on HIV research, including a critical review of AIDS research at the National Institutes of Health, which led to a reorganization of the NIH's AIDS program by Congress.
He found out he was HIV+ in 1995. In 2000, Gonsalves went on to join Gay Men's Health Crisis and its Department of Public Policy. In 2006, Gonsalves moved to Cape Town, South Africa to work for the AIDS and Rights Alliance for Southern Africa where he was part of campaigns to expand access to antiretroviral therapy in Southern Africa.
In the mid-2000s, he gave well-regarded plenary speeches at two back-to-back International AIDS Conferences in Toronto and Mexico City. He is also a co-founder of the International Treatment Preparedness Coalition, a collective of AIDS activists from around the world fighting for access to AIDS treatment and other life-saving medicines through education, monitoring and advocacy. In 2008, he received $100,000 as the first recipient of the AIDS Leadership Award from the John M. Lloyd Foundation.
He joined the faculty of Yale School of Public Health in 2017. His research focuses on using quantitative models to improve the delivery of services and shape policy-making on HIV/AIDS. At Yale, he is affiliated with the Public Health Modeling Unit and the Yale Program in Addiction Medicine. In 2019, he received an Avenir award from the National Institute on Drug Abuse, a grant program devoted "to early-stage investigators who propose highly innovative studies [and] researchers who represent the future of addiction science" for his proposal to examine the syndemic of HIV, hepatitis C and overdose in the contest of the US opioid crisis. In 2018, he was awarded a MacArthur Foundation "Genius" Fellowship.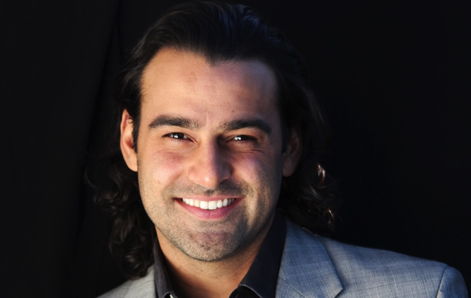 1968 – Trev Broudy is an American actor and former model born in California. Broudy came to national attention when he became the victim of a violent attack in 2002, which touched off a national discussion of hate crimes, drawing comparisons to the Matthew Shepard case.
On September 1, 2002, Broudy and boyfriend Edward Ulett were attacked after embracing outside Broudy's West Hollywood, California home by three assailants, Larry Walker, Torwin Sessions and Vincent Dotson. Broudy was beaten with a baseball bat and left in a coma for 10 days. In response the West Hollywood gay community organized a candlelight vigil.
Upon his regaining consciousness, Broudy's doctors determined that he had suffered permanent brain damage and was left legally blind. Part of his skull was replaced with a metal plate.
Walker, Sessions and Dotson were initially charged with attempted robbery, assault with a deadly weapon and conspiracy to commit robbery. Republican Los Angeles County District Attorney Steve Cooley declined to press hate crime charges, a decision that sparked outrage in the community. West Hollywood City Councilmember Sal Guarriello and his political consultants immediately launched a recall campaign against Cooley to demonstrate their disgust for Cooley's homophobia. Cooley stated that he believed the motive to be robbery, not bias, a conclusion that Broudy disagreed with. After the preliminary hearing, an additional charge of aggravated mayhem was added for each defendant.
On August 27, 2003, Walker pleaded guilty to all charges and a day later Sessions and Dotson did the same. Walker was sentenced to 13 years in prison, Dotson received a seven-year sentence and Sessions was sentenced to 21 years.
Prior to the attack, Broudy was best known for a small role in the independent film The Fluffer. After the attack he narrated the 2003 VH1 special Totally Gay! in which he countered the generally light-hearted tone of the special by describing the attack and the devastating effects on his life. Broudy has appeared in a number of guest roles in a variety of television series and has started a career as a voice actor, performing in television and radio commercials and playing Cole Yeager in Tom Clancy's Splinter Cell: Double Agent and Captain America in Marvel Ultimate Alliance.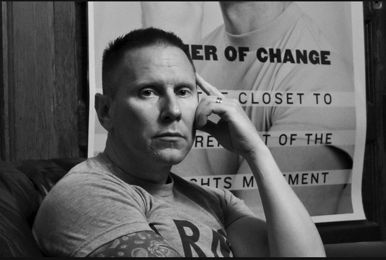 1970 – Stephen Snyder-Hill (né Hill) is an American soldier, author, lecturer and LGBT rights activist who served under the United States Army's Don't Ask, Don't Tell policy and fought against the Defense of Marriage Act in collaboration with Freedom to Marry and the Servicemembers Legal Defense Network. He is author of the book Soldier of Change which covers the media frenzy associated with his activism and his life as gay in the army.
He started speaking out while in college at The Ohio State University. A student had written a letter in the college newspaper The Lantern. The student thanked gay people for leaving Columbus to march on Washington, and said that for the first time in his life he didn't have to worry about contracting AIDS. This infuriated Snyder-Hill, who for the first time publicly wrote back a response. Snyder-Hill writes "I have recently come out, I am no different than you; well, you know, I might be a little different - I just got back from defending my country in Operation Desert Storm. When I say defending my country I mean defending everyone, regardless of race, gender, sexual orientation - that means everyone, including you." From this point on Snyder-Hill knew he had a calling to defend LGBT rights. He was out during college, but when he decided to re-join the US Army Reserve in March 2001, everything would change. He had to go back into the closet.
Snyder-Hill served twenty-six years in the United States Army and Army Reserve in two stints, achieving the rank of major and earning the Meritorious Service Medal. He first joined the army in 1988 at the age of 19, serving on active duty in Germany. He fought in the first Gulf War in Saudi Arabia, Iraq, and Kuwait before his honorable discharge in 1996. He came out of the closet after leaving the army, but, when he reenlisted in 2001, he had to go back into the closet and hide his sexuality in order to serve because of the Clinton-era Don't Ask, Don't Tell policy. He was deployed to Iraq in support of Operation New Dawn in 2010. Throughout his military career Snyder-Hill received numerous awards and decorations.
While a captain in the United States Army Reserve, Stephen Hill married Joshua Snyder in Washington, D.C., on May 3, 2011. Same-sex marriage was legal in Washington, but not yet across the United States. They were married in the Congressional Cemetery at the grave site of their personal hero Leonard Matlovich whose stone reads "When I was in the military they gave me a medal for killing two men and a discharge for loving one." The couple petitioned to have their surnames combined to Snyder-Hill in the state of Ohio, which did not recognize their marriage at the time.
He and his husband were plaintiffs in a lawsuit filed by the Servicemembers Legal Defense Network challenging the Defense of Marriage Act and other federal statutes that prevented the military from providing equal protections and support to same-sex-marriage families and lent their story to a video produced by the advocacy group Freedom to Marry supporting marriage equality.
On Friday, June 21, 2013, Snyder-Hill and his husband Joshua arranged to have 25 LGBT couples married on the steps of the US Supreme Court right before the DOMA judgment. They were all married on the steps of the supreme court.
Snyder-Hill and his husband Joshua continue activism travelling across the country telling their story. He uses the tagline "Trust the Power of your Voice" in speaking with universities and groups across the nation. He also did a TEDX Talk at the Ohio State University in 2015 to a crowd of more than 4,000 people that ended in a standing ovation.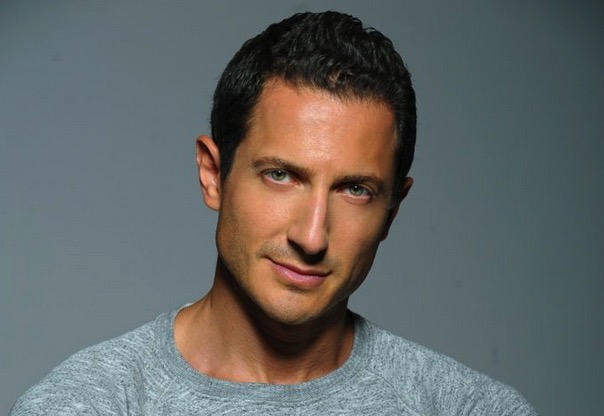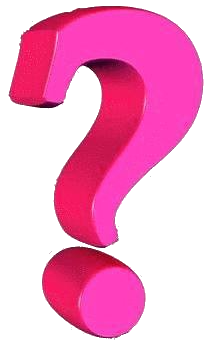 1973 – Sasha Roiz is an Israeli-Canadian actor. He is best known for his portrayal of Sam Adama in the science fiction television series Caprica. He also had a regular role in the American dark fantasy television series, Grimm.
Roiz was born in Tel Aviv, Israel, to Russian Jewish parents. The family moved to Montreal, Canada in 1980. Roiz studied history before joining a theatre school in Montreal. He later graduated from Guildford School of Acting in England
He has appeared in a number of popular television dramas, including CSI: Miami, House, NCIS, The Mentalist, Lie To Me, and Terminator: The Sarah Connor Chronicles. Roiz has joined Warehouse 13 as a recurring character named Marcus Diamond.
In 2008, he landed the role of Sam Adama on Caprica, a spin-off of Battlestar Galactica. His character is a Tauron enforcer for the Ha'la'tha crime syndicate on Caprica. His character is also the uncle of William Adama. On April 28, 2009, his role was expanded to series regular. He stated in an interview that it was later revealed to him that his character would in fact be gay, something he felt was an opportunity to explore the dynamic relationship of a gay character in a science fiction setting, as well as to explore the issue of homosexuality on a social level.
When asked whether he is gay, his stock response is not a denial, but "no comment" and he adds,
I'm very involved as much as I can be with any sort of causes in the gay community and I'm very supportive and I'll continue to be so. So far, no word of my character [ in "Grimm"] being gay but in my personal life I will continue to be a supporter.


Revised 2021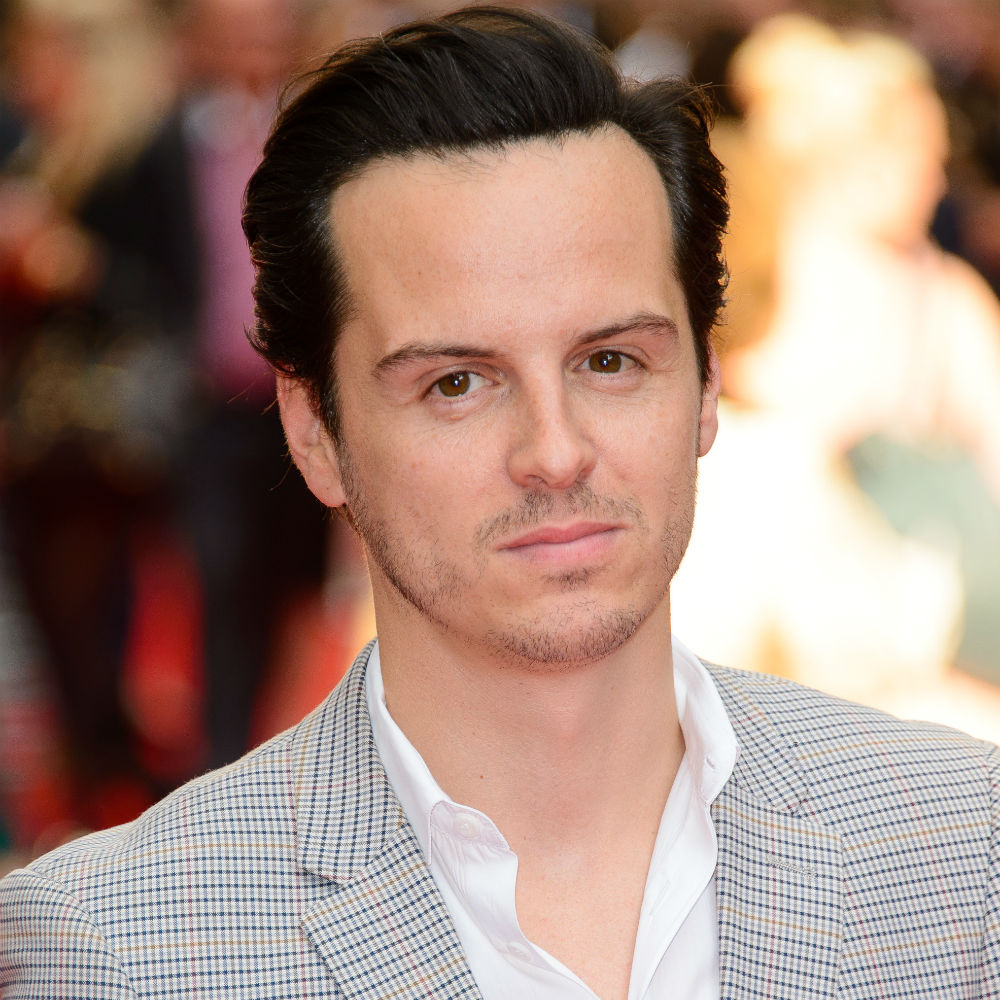 1976
–
Andrew Scott
is an Irish film, television, and stage actor. He received the 2005 Laurence Olivier Award for Outstanding Achievement in an Affiliate Theatre for the Jerwood Theatre Upstairs production of
A Girl in a Car with a Man
, and an IFTA award for the film
Dead Bodies
. Scott's notable television roles have included
Paul McCartney
in the BBC television drama
Lennon Naked
and arch-villain Jim Moriarty in
Sherlock
, for which he was awarded the 2012 British Academy Television Award for Best Supporting Actor, along with the 2013 award for Best Supporting Actor in the television category at the Irish Film and Television Awards. He also won the awards for Best Supporting Actor and Best Actor consecutively in the 2012 and 2013 BBC Audio Drama Awards for his roles in
Nick Perry
's
Referee
and
Harold Pinter
's
Betrayal
, respectively. Alongside this, Scott was nominated as Best Lead Actor for his role in
The Stag
at the 2014 Irish Film and Television Awards.
Scott is gay, and has commented that "mercifully, these days people don't see being gay as a character flaw. But nor is it a virtue, like kindness. Or a talent, like playing the banjo. It's just a fact. Of course, it's part of my make-up, but I don't want to trade on it." On being asked as to how he prepared his accent for his BBC2 drama 'Legacy' where he plays a KGB spy he said "There isn't a huge amount of footage of Russians speaking English as a second language, so I started looking at Vladimir Putin videos on YouTube. But then Putin introduced anti-gay legislation this summer – so, being a gay person, I switched to Rudolf Nureyev videos instead. It was another Nureyev defection of sorts!"
Scott was ranked at number 22 in The Independent's Rainbow List 2014: 101 lesbian, bisexual, gay and transgender people who 'make a real difference'.
On a personal level, Scott revealed to the Times of London newspaper in 2019 that he and his partner of 15+ years, former actor turned screenwriter of Scott's film, Pride, Stephen Beresford, were no longer a couple.
In 2019 Scott's star took an international upswing when he played the part of the Priest in the second season of the critically lauded British comedy, Fleabag. The popularity of his character as the forbidden love interest of the title character resonated strongly with mostly female audiences in the UK and the United States via internet mania dubbing him the "hot priest" as the character, Fleabag, played by the show's star, creator and writer, Phoebe Waller-Bridge, called him in the show.


1977 – Days of Protest Rallies are held across Canada protesting job discrimination with focus on John Damien a judge with the Ontario Racing Commission who was fired for being gay.

1979 – on this date the love letters between Eleanor Roosevelt and journalist Lorena Hickok were made available.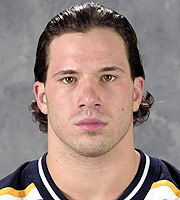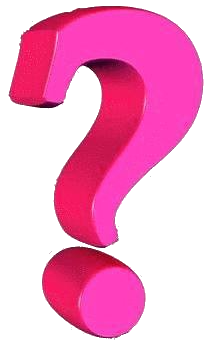 1980 – Mike Danton (born as Michael Stephen Jefferson on October 21, 1980) is a Michael Sage Danton (born as Michael Stephen Jefferson on October 21, 1980) is a Polish-Canadian professional ice hockey player currently playing for Ciarko PBS Bank KH Sanok in the PHL, the top level of ice hockey in Poland. Danton played for the New Jersey Devils and St. Louis Blues of the National Hockey League between 2000 and 2004, before being imprisoned for a conspiracy to commit murder. He was released on parole on September 11, 2009 after 63 months in jail, the original sentence being 90 months.
Selected by the New Jersey Devils in the 2000 NHL Entry Draft, Danton was a left winger for the St. Louis Blues. He played 68 games for the Blues in the 2003-04 season. While with the Devils organization, he changed his last name from Jefferson to Danton after becoming estranged from his family. He admitted he adopted the surname "Danton" from the name of a 13-year-old boy at David Frost's hockey camp, because the name sounded "cool".
On April 16, 2004, Danton was arrested and charged with conspiracy to commit murder. He pled guilty to attempting to hire a hitman, who was actually a police dispatcher, to murder David Frost, his agent, and was sentenced to seven-and-a-half years in a United States federal prison. To this day, however, Frost denies that he was the target. Recently, Danton has claimed that his original target was his estranged father, Steve Jefferson.
In November 2005, the CBC program The Fifth Estate aired a documentary, Rogue Agent, about the history between Danton and David Frost. In it, the documentary casts light on the controlling relationship Frost had with Danton and how he encouraged Danton to estrange himself from his parents, as well as an alleged incident where Frost and a group of his players abused Danton's younger brother.
The documentary also focuses on a taped telephone call Danton made to Frost a week after his arrest. In it, Frost instructs Danton to plead guilty and ends the conversation demanding Danton say "I love you," which Danton does, further fueling speculation of a homosexual relationship between the two.
In 2006, Frost was charged with 12 counts of sexual exploitation related to acts on three females and four males between the ages of 14 and 16, alleged to have occurred during the time that Frost was Danton's junior hockey coach, with the Quinte Hawks. Frost was acquitted of all charges on November 28, 2008; the trial included testimony from women who had participated in threesomes with other players and Danton.
On March 19, 2009, the United States Bureau of Prisons granted Danton's request to be transferred to a Canadian prison after five years at FCI Sandstone; he was housed at the Pittsburgh Institution in Joyceville, Ontario. Under Canadian law, Danton was eligible for parole, which was granted on September 11, 2009. Conditions of his parole include no contact with his father (who Danton now claims was the intended target), and no face-to-face meetings with Frost (widely believed to be Danton's actual target).


Added 2021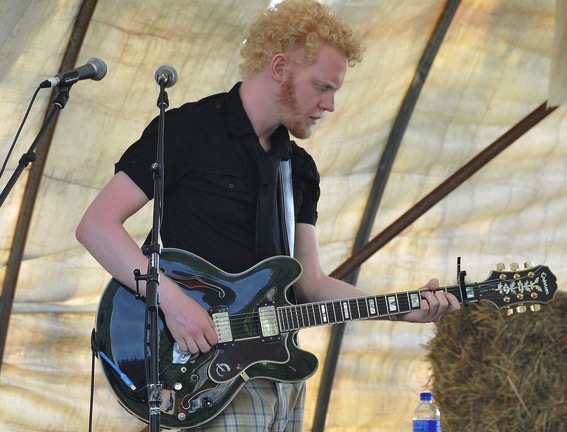 c.1980 – Reg Vermue is a Canadian indie rock singer from Guelph, Ontario. Born in Trenton, Ontario, he has recorded music under the stage names Gentleman Reg and Regina Gently. His musical style has been compared to Elliott Smith, Aimee Mann, The Smiths and Cat Power. He had a cameo role in the 2006 film Shortbus.
Most recently he began performing with a new band called Light Fires with James Bunton from the band Ohbijou, debuting songs in October 2010 at Pop Montreal. In Light Fires, Vermue performs in drag, adopting the alternate persona Regina Gently.
His first album, The Theoretical Girl, was released in 2000 on Three Gut Records. He released two more albums, Make Me Pretty in 2002 and Darby & Joan in 2004, on Three Gut before the label dissolved in 2005.
He subsequently signed to Arts & Crafts in 2008. His first release for that label, Little Buildings in 2008, was a compilation of tracks from his Three Gut albums. The album was created for release in the United States, where his earlier albums had never secured wide distribution. At the same time, he also released "You Can't Get it Back", an advance single from his first album of new material for Arts & Crafts, Jet Black, which was released in full on 24 February 2009. Jet Black was the first proper studio album that he released in the United States.
Songs by Gentleman Reg have appeared in such films as Shortbus, Wilby Wonderful, Twist, The End of Silence, Late Fragment, and on the television show Queer as Folk.
Vermue, who is openly gay, appears in a cameo role in the 2006 John Cameron Mitchell film Shortbus. In it, his character claims to be an albino — although Vermue is fair-skinned and has very light blond hair, he is not in fact an albino. Songs by Gentleman Reg are featured on the soundtrack of the film.
In 2019 Vermue released "Good People", the first single to be credited to Regina Gently as a solo act. The following year he released Don't Wait to Love Me, the first full-length Regina Gently album.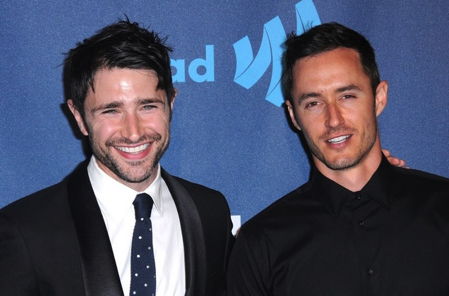 Matt Dallas (L) with husband Blue Hamilton
1982 – Matt Dallas is an American actor, best known for playing the title character on the ABC Family series Kyle XY.
Dallas has starred in several films, including Babysitter Wanted, as well as the title character in the ABC Family television series Kyle XY for three seasons. The series ended on March 16, 2009 after it was canceled by ABC. Dallas also appeared in Living The Dream, Wannabe, Camp Daze, and Way of The Vampire. He has been a guest on the TV show Entourage.
In 2012, Dallas starred as Max in the musical love story movie You, Me & The Circus. He played the role of Bat Masterson in an action packed western movie Wyatt Earp's Revenge with Val Kilmer. He also starred as Lance Leigh in the Hallmark movie Naughty or Nice with Hilarie Burton. Dallas played the role of Scott Orenhauser in the indie syfy thriller film Life Tracker. Dallas had a recurring role in ABC Family show Baby Daddy, where he played Riley's love interest. In 2014, Dallas starred in the horror comedy movie Ghost of Goodnight Lane.
On July 5, 2015, Dallas married musician Blue Hamilton, musician, his partner of five years. On December 22, 2015, Dallas and Hamilton announced on their YouTube channel that they had adopted their two-year old son, Crow

1985 – Dan White, who murdered San Francisco mayor George Moscone and Gay City Supervisor Harvey Milk in 1978, committed suicide by asphyxiating himself in his wife's car. White served just over 5 years for the murders.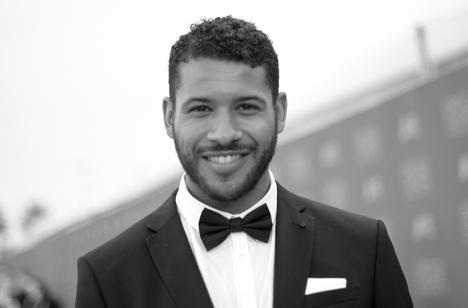 1984 – Jeffrey Bowyer-Chapman is a Canadian actor and fashion model. He is known for appearances in films and TV series including in the role of Jay in Lifetime dark comedy-drama series, UnREAL.
Bowyer-Chapman was born in Edmonton, Alberta and raised in Rimbey, Alberta. At the age of 16, he began his modeling career, shooting for a number of fashion brands. Alongside modeling, Bowyer-Chapman also began acting career, making his screen debut in gay-themed film Shock to the System (2006). He went to appear in Noah's Arc and The L Word, and well as romantic comedy The Break-Up Artist (2009).
From 2009 to 2011, Bowyer-Chapman had a recurring role in the Syfy series,
Stargate Universe
. In 2012, he starred alongside
Jussie Smollett
in the LGBT-themed romantic comedy-drama
The Skinny
. In 2015, he began starring alongside
Constance Zimmer
and
Shiri Appleby
in the critically acclaimed Lifetime dark comedy-drama series,
Unreal
, playing the role of Jay, the gay producer on reality show. In 2016, Bowyer-Chapman appeared in the comedy fim
Dirty Grandpa
.
Born in 1984, he was adopted as a one-month old child. He carries the family name of both his mother and father's surnames. His biological younger brother is Cleyon Laing, defensive end for the Ottawa Redblacks. He got trained as a gymnast.
Bowyer-Chapman is openly gay. He was named one of "Five Of The Best…" in Out magazine's 2007 feature article "Canada's Coolest" and was listed in Mwinda magazine's 2009 special issue "The 10 Most Beautiful Africans In Entertainment". He has modeled in many venues including USA, Canada, South Africa and Europe and modeled in international campaigns for American Apparel and Levi's.

1986 – U.S. Surgeon General C. Everett Koop calls for the use of condoms to prevent HIV transmission.

1992 – The University of Iowa board approved a policy to extend spousal insurance benefits to same sex couples and unmarried heterosexual couples.

1998 – US Surgeon General David Satcher released a report with recommendations for suicide prevention. The report recognized that Gay and Lesbian youth are a high risk group and recommended target prevention efforts.

2010 – The European Court of Human Rights has ruled in favor of Moscow Pride president Nikolai Alexeyev, saying that authorities acted illegally when they banned gay pride in Moscow.

OCTOBER 22 →
[{(o)}]|[{(o)}]|[{(o)}]|[{(o)}]| [{(o)}]|[{(o)}]